I shared the renovated bathroom reveal earlier this week. Thanks to everyone who had such sweet comments about it!
Taking a bathroom down to the studs and bringing it back to life takes some planning – and having a vision definitely helps.
Today I'm sharing some design tips and decisions we made in the bathroom renovation that we're really happy with.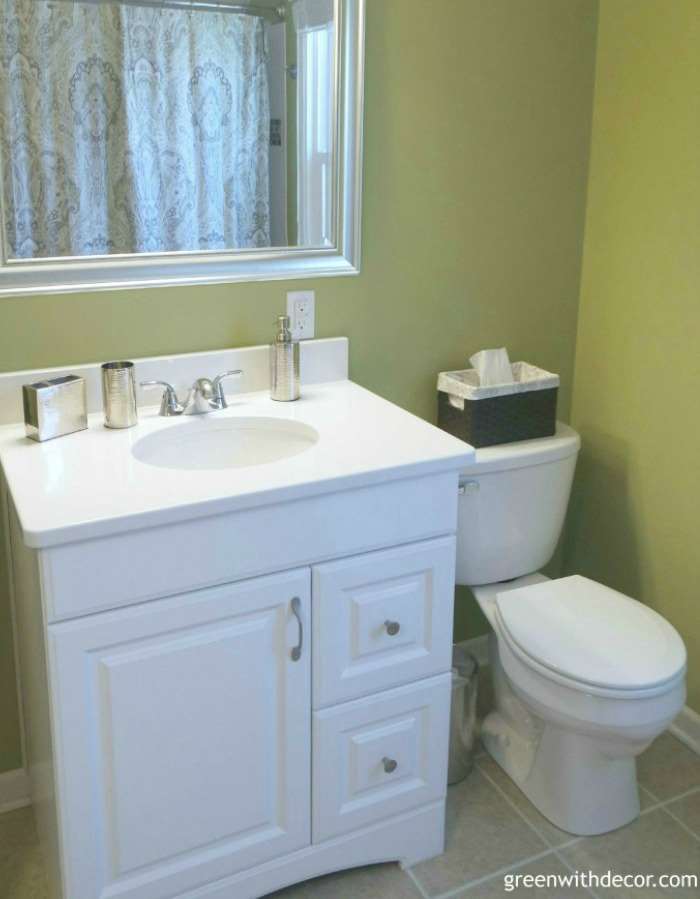 1. Don't let the toilet be the first thing you see when you walk in the bathroom
We played with the idea of changing the layout of the room. The original bathroom didn't have much counter space – which to me is a must.
In the end, we didn't actually move anything around, just added another vanity to the existing layout. Moving plumbing was too expensive!
But before we came to that decision, we were coming up with all sorts of ways to rearrange the tub, toilet and vanity. In the end, we liked the toilet where it was, hidden behind a vanity when you first walk into the bathroom.
2. A vanity doesn't have to have a sink
As I told people about our plan to add a second vanity to our bathroom, just about everyone assumed that meant a second sink.
I'm pretty sure some people thought I was crazy for not adding a second sink. I'm almost positive everyone that's ever been on House Hunters NEEDS two sinks.
This post contains affiliate links. This means if you click the link and buy something, I may receive a small percentage of sales at no extra cost to you.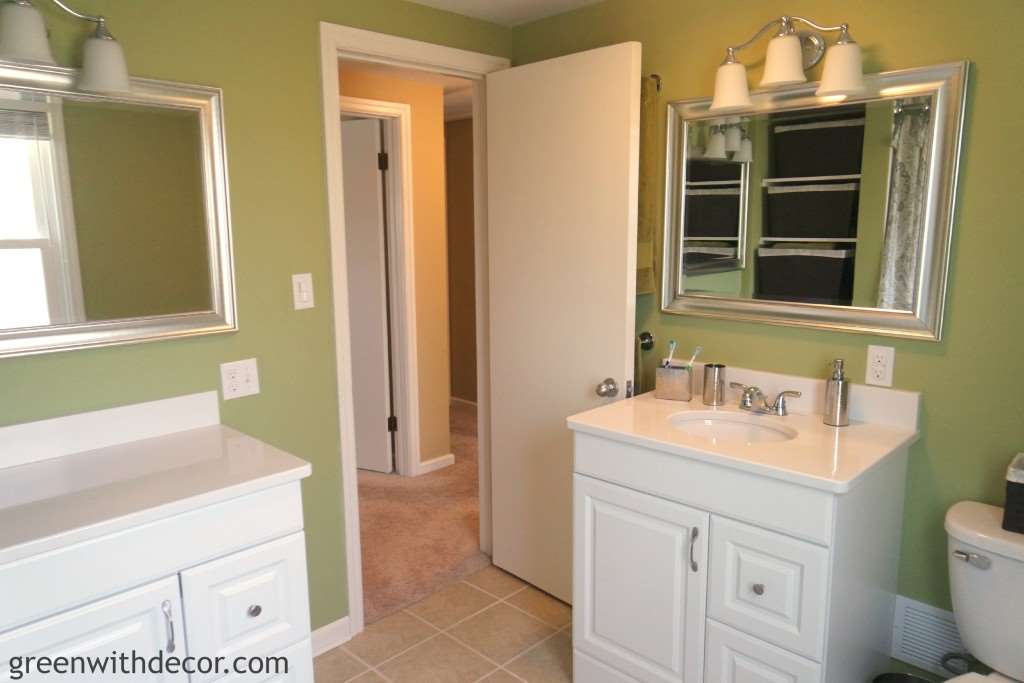 But while we were designing the room, I thought counter space was more important than a sink.
Now living in the space and using it every day, I still think counter space is more important than a sink!
In the end, remember it's YOUR space. Even if people thought we were crazy for not putting in a second sink, we did it anyway – and we love it!
3. Add trim on the vanities
We added trim to the side of the vanities where they meet the wall to create a more finished look.
It's small, but details matter!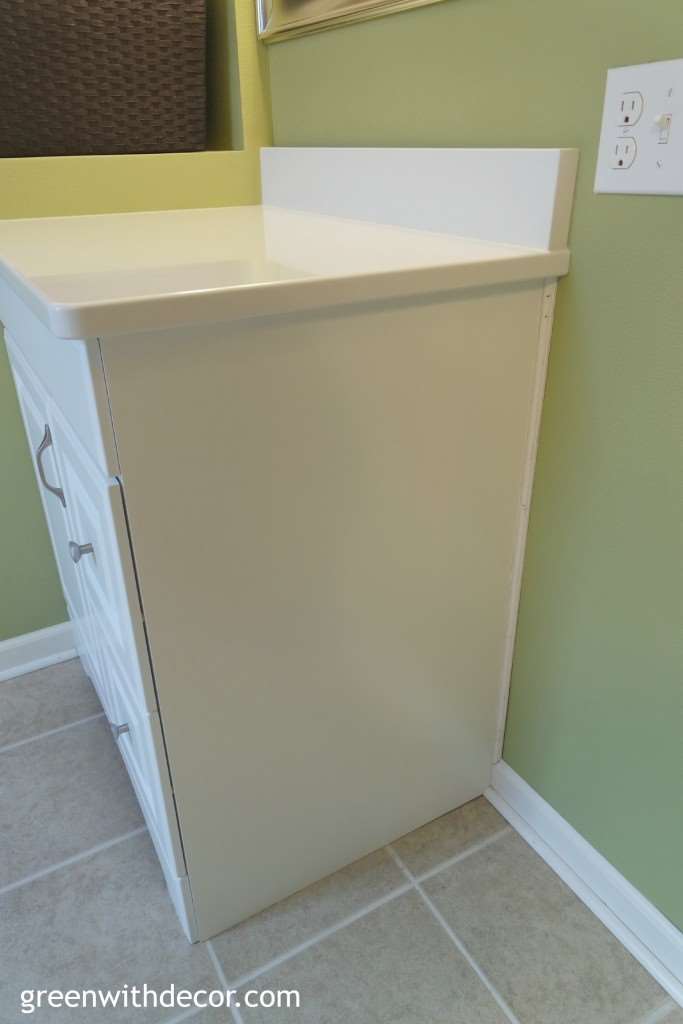 4. Opening at the bottom of the vanities
Our bathroom isn't huge. I'm not complaining. It's a fine size for what we need it for, but it's not like there's a bunch of extra room in there.
With two vanities on adjacent walls, I didn't want the room to feel too closed in.
The vanities we chose are open on the very bottom, creating the illusion of a bit more space.
What's even better, they're open but have a backstop a few inches behind the opening so any dropped mascara can't roll all the way under the vanity to the point of no return.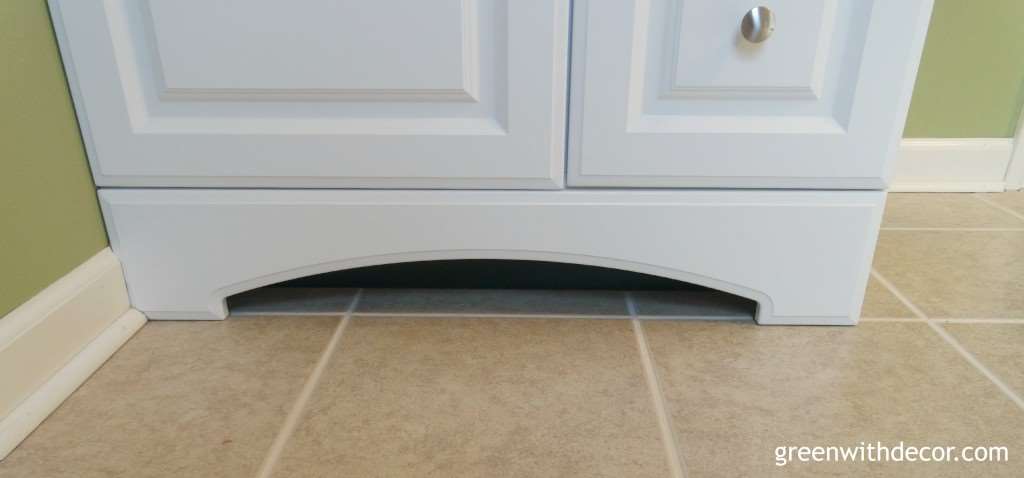 5. Vanity height matters
Vanities used to be 30-32 inches tall.
In the past few years, they've gotten taller. We went with a 34-inch tall vanity, and we love the height.
When you stand at the bathroom counter getting ready every morning, it's nice knowing the height works for you!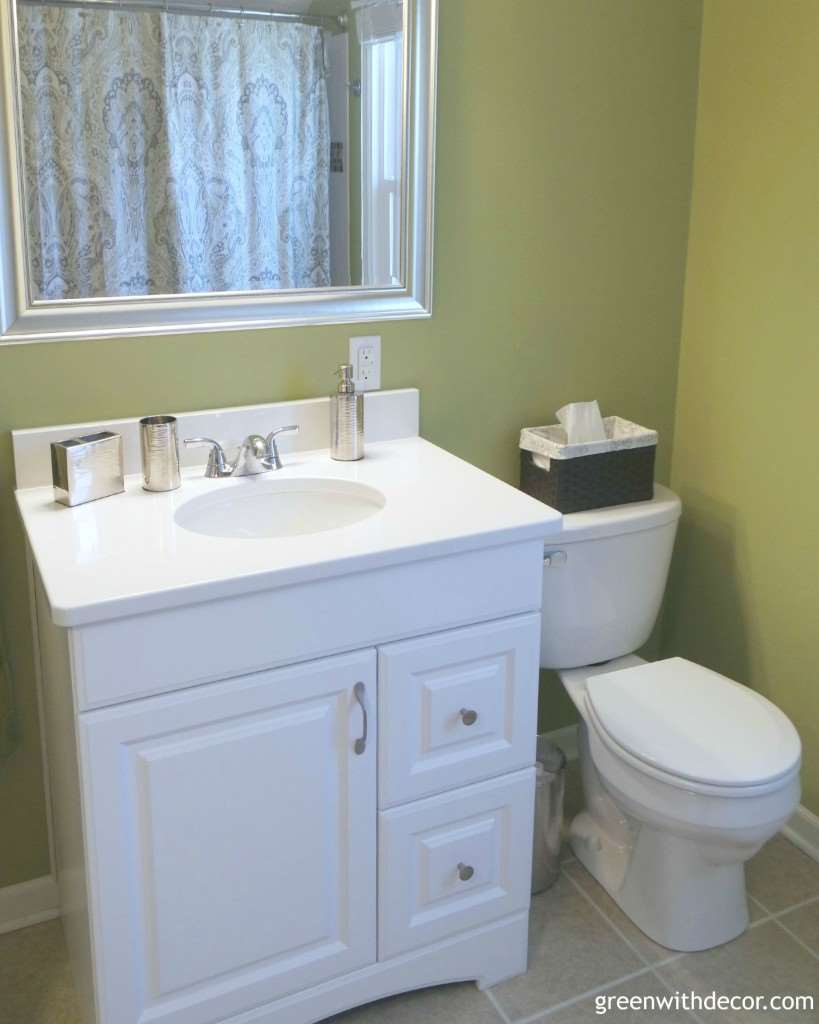 6. Add a border at the edge of the tub
We used thinner, longer subway tiles as a border around the edge of our tub. It gives the tub a clean, sleek look and really finishes off the space.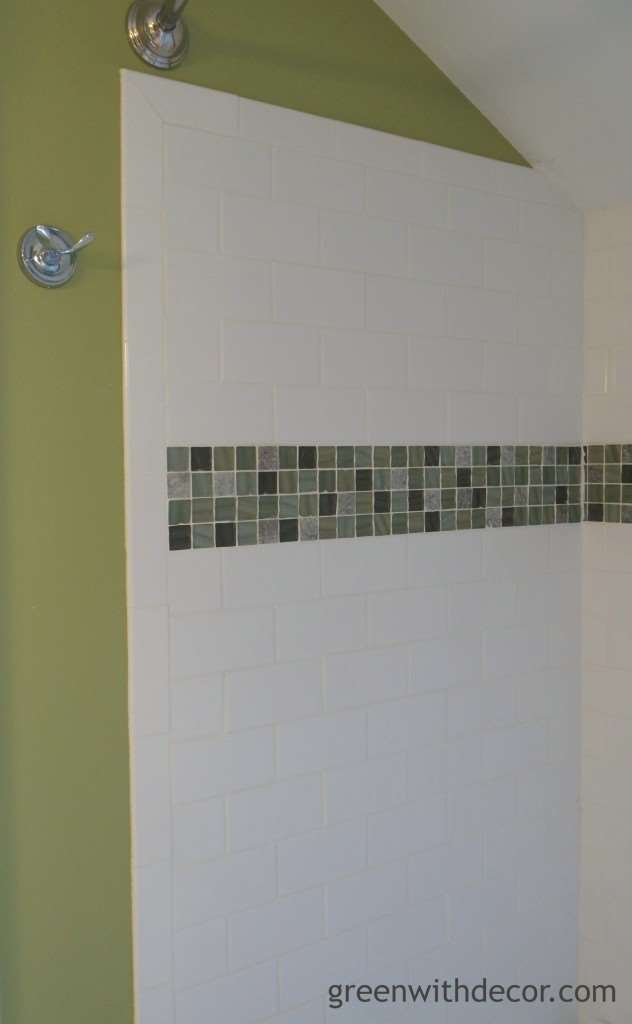 7. Use a fan/light combo
You need a fan in the bathroom, so it might as well look good, right? We had a two-in-one fan/light combo in our Cincinnati house bathroom and loved it, so went for the same look here.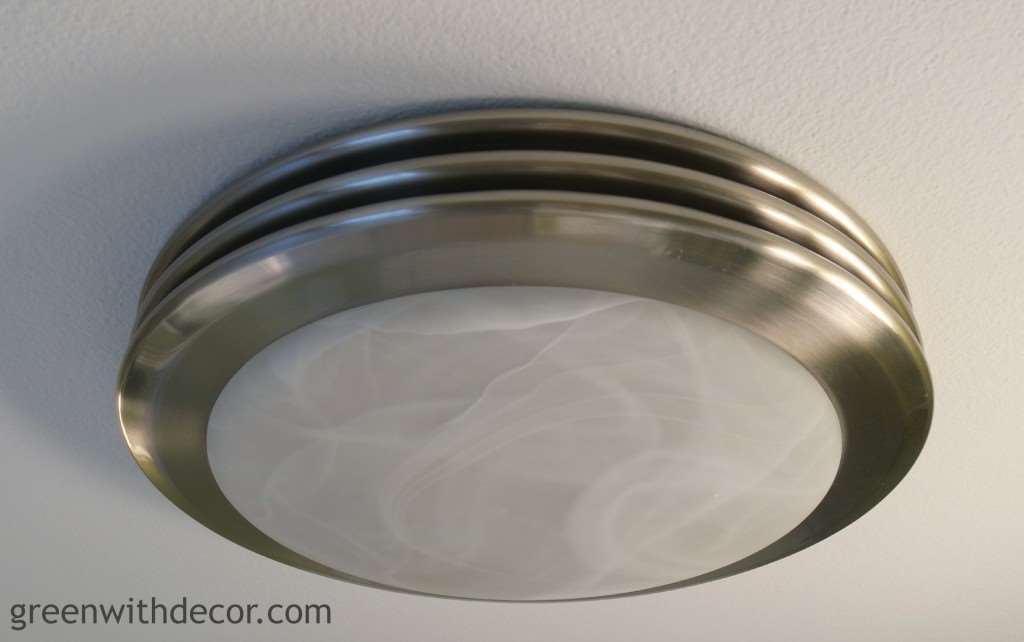 I like this look a lot better than just a regular fan on the ceiling, plus it adds some extra light.
8. Get a curved shower curtain rod
I didn't believe a curved shower curtain rod would make that much of a difference until we had one in our previous house. It really does make the shower seem bigger!
If you have a small – or even normal-sized – tub, that extra inch or two from a curved rod can all the difference.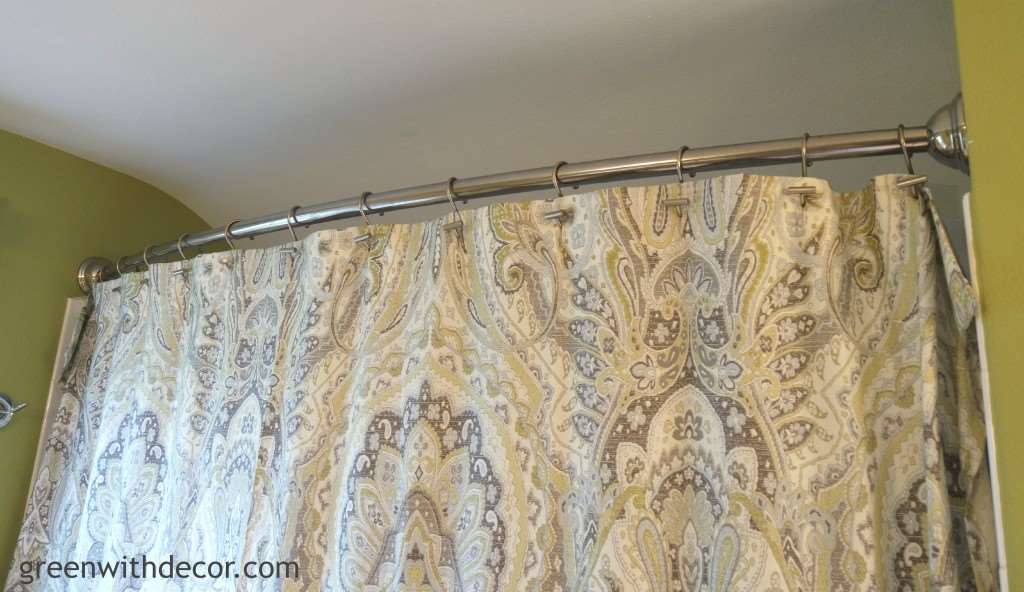 9. Use S-shaped hooks to hang the shower curtain
S-shaped hooks make it a ton easier to switch out the shower liner. You don't have to mess with taking the curtain off and putting it back on. And I think they look nicer than the rings!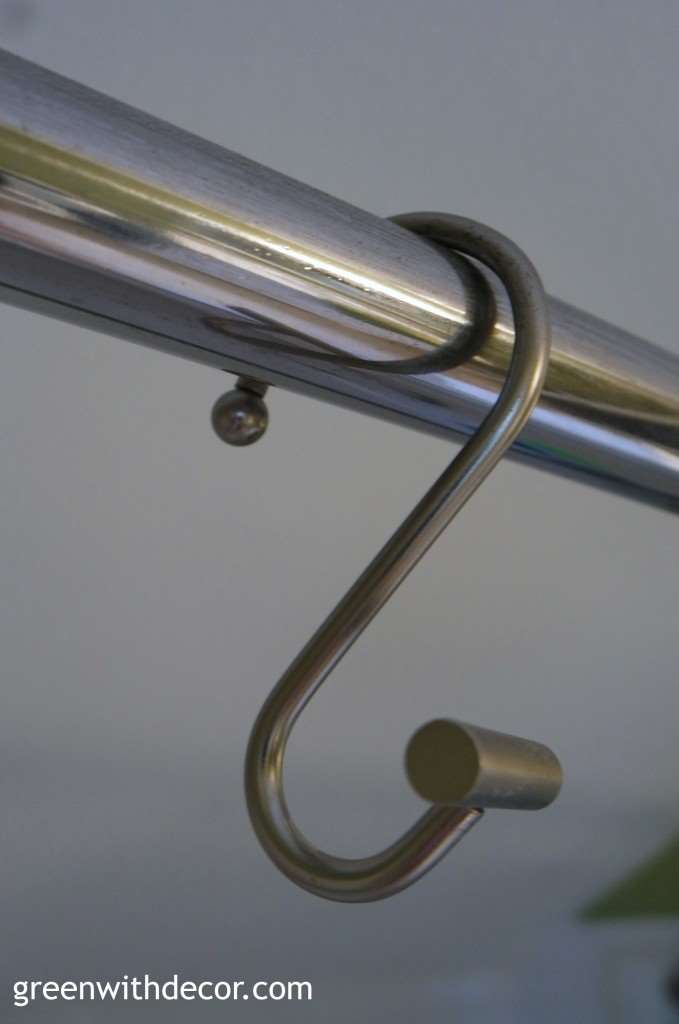 10. Have a place for guests to hang their towels
We didn't have anywhere for guests to hang their towels in our Cincinnati bathroom, and I hated it. We always ended up using a folding drying rack in the guest room or hanging them over the shower curtain rod.
I prefer towel bars over hooks, because towels dry faster on the bars. But we didn't have a ton of wall space in our bathroom for towel bars.
We put up two bars for us, but there wasn't really space to put any more. So we bought two hooks and put one on the back of the door and one on the wall next to the shower.
It's so nice to have a place for guests to hang wet towels!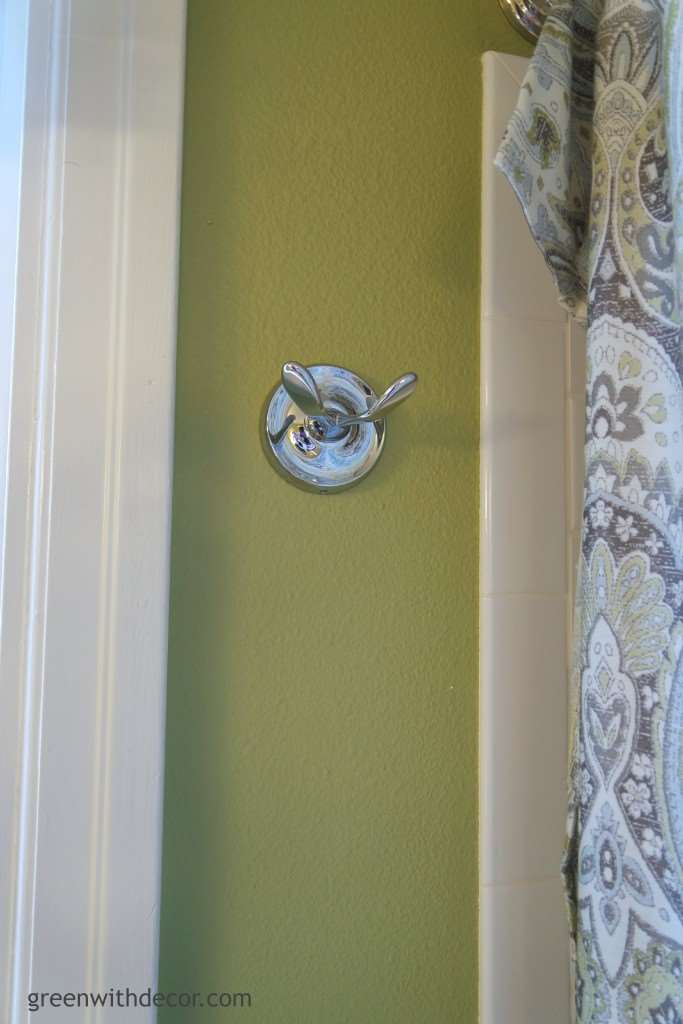 11. Vanity hardware
I'm adding an 11th tip, but I've shared this one before. We found the vanity we loved, but it came with bronze hardware. It was pretty hardware, but we wanted silver so we used these handles and these knobs instead.
This was an easy way to get the vanity and the look we wanted!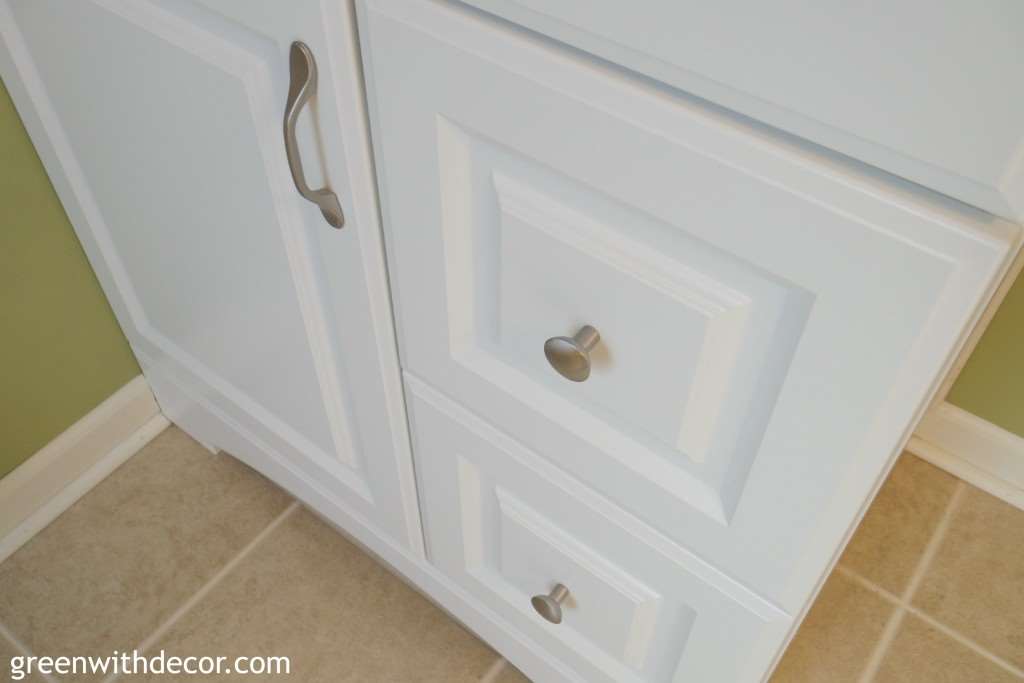 GET THE LOOK:
Since a popular question I get is "Where'd you get that?!," here are links to the same or similar sources:
Have you renovated a bathroom? What design tips do you have?
Planning your own renovation?
Download my printable Bathroom Renovation Checklist so you can easily keep track of each step. 
*Please note: All printables and downloads designed by Green with Decor are for personal use only. Please do not alter the files or claim them as your own. These files are not intended for resale, nor are the printed versions of these files.
Remember to bookmark or pin this post if you want to save it for later!


Pin it!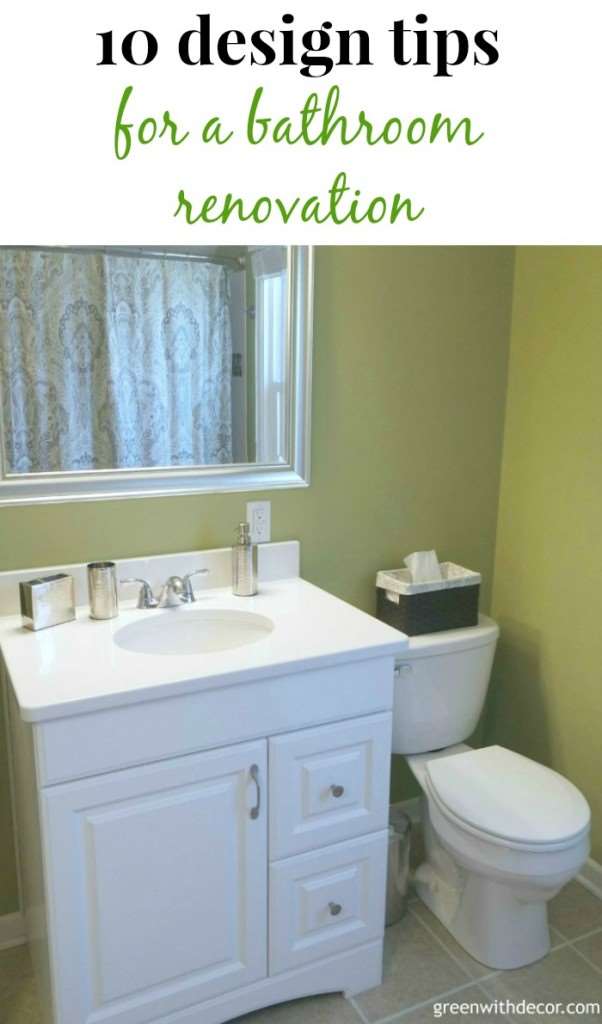 Want to read more posts like this?
Follow along: Get my emails | Facebook | Pinterest | Twitter | Instagram