If you follow me on Instagram, you know we spent the weekend in Chicago, which is one of our all-time favorite cities.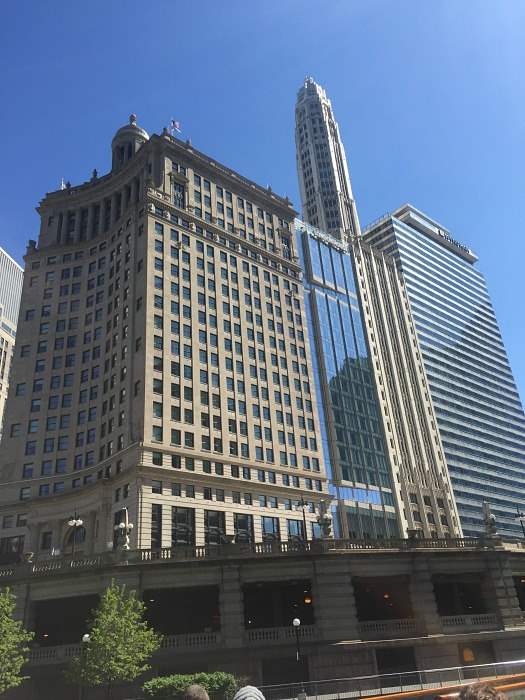 The weekend trip got me thinking about my favorite accessories that make traveling stress free, which led me to buying some of my favorites as gifts for friends and family who love to travel.
Plus I made a list of 'what to pack' and reference it whenever we're heading somewhere – for the weekend or for a whole week – and it makes a huge difference in my stress level as I'm frantically packing.
Because I just about always wait till the last minute. I've still gotta work on that whole timing thing, but the list actually makes it a whole lot easier to pack last minute, so I might never get away from it.
If you want a copy of my packing checklist, I'm sharing it with you guys at the bottom of this blog post. But first, let's chat about the best accessories to make traveling stress free! No judgement if you buy these for yourself instead. 🙂
This post contains affiliate links. This means if you click the link and buy something, I may receive a small percentage of sales at no extra cost to you.
The best gifts for travel lovers:
Just click any of the images or links below for more info. (You may have to double click on mobile.)

To back up, want to know how I used to travel with toiletries and jewelry? Plastic resealable bags. Isn't that terrible? Tell me I'm not the only one.
That is until one day a few years ago, I decided I'd had enough and I deserved travel bags for toiletries and jewelry. So I bought them. And guess what? They were really affordable and make traveling waaaay easier. I can't believe I went so long without them.
Now aren't these cute travel cases better than plastic resealable bags? Yes, by a long shot.
I just leave toiletries in them all the time so I'm never wasting time packing and unpacking them. So simple and so genius, I know.
3. Hair straightener travel case
The straightener carrier also makes a big difference when you're getting ready minutes before walking out the door. No more worrying about packing a hot straightener!
You know what's fun on vacation? Anything but untangling phone chargers and headphone cords.
Along with my plastic resealable bag travel companions, I used to throw shoes in plastic grocery bags so they wouldn't get my clothes dirty. I know, weird. These little shoe bags are so much better and cuter.
6. Organizing travel bags, 4-pack

Plus bags for your hair dryer and dirty laundry make perfect sense, too.
Drinking is a common theme on any vacation, yes? I feel like we're staying hydrated by the pool or walking around, drinking coffee or, you know, drinking.
Have you tried the Yeti yet? It keeps drinks cold forever and ever.
The foldable water bottle is so genius. We always carry empty water bottles through airport security so we can fill them up on the other side instead of spending a billion dollars on water, but carrying an empty water bottle is such a waste of space!
9. Wireless speaker/bottle opener

We're pretty obsessed with wireless speakers, too, so the speaker/bottle opener combo makes so much sense, I might have to buy it for Kalen before he reads this post and buys it for himself.
This strap is perfect for strapping your jacket to your bag as you're rushing through the airport or walking around exploring a new city.
So much better than carrying a jacket. Or not bringing one because you didn't want to carry it and then freezing later. That's the worst, isn't' it?!
The travel pillow is perfect for long (or short) flights.
12. Foldable bag

This little foldable bag is easy to pack and throw in your suitcase so you can use it as an extra carry-on when you buy too many souvenirs to fit in your suitcase on the way home.
I feel like whenever we travel with our passports, we are always so paranoid about losing them.
Then we got a passport travel case, and we could get back to relaxing on vacation. Something about having a specific case for the passports makes them much easier to keep track of than just throwing them in our carry-on bags with everything else.
The passport travel scarf is an even cuter solution to the paranoia problem!
I loooove this bag. I use all the time. You just can't go wrong with black or tan, and I love having a little zippered pouch for my phone, wallet and lip balm.
Are you a travel lover? Are you good at traveling stress free? Let's hear your tips!
Download my free packing checklist:
If you want a copy of my favorite packing list that lets me pack last minute, download it below.
Oh, first, a funny story, and by that I mean funny now, not at-the-time.
Once Kalen and I hopped in the car super late after a long workday to visit family, and I had yoga pants / slippers on already, and we forgot my shoes that were sitting right by the door. Needless to say, I made a packing list after that fun trip and haven't had to spend the weekend without shoes since.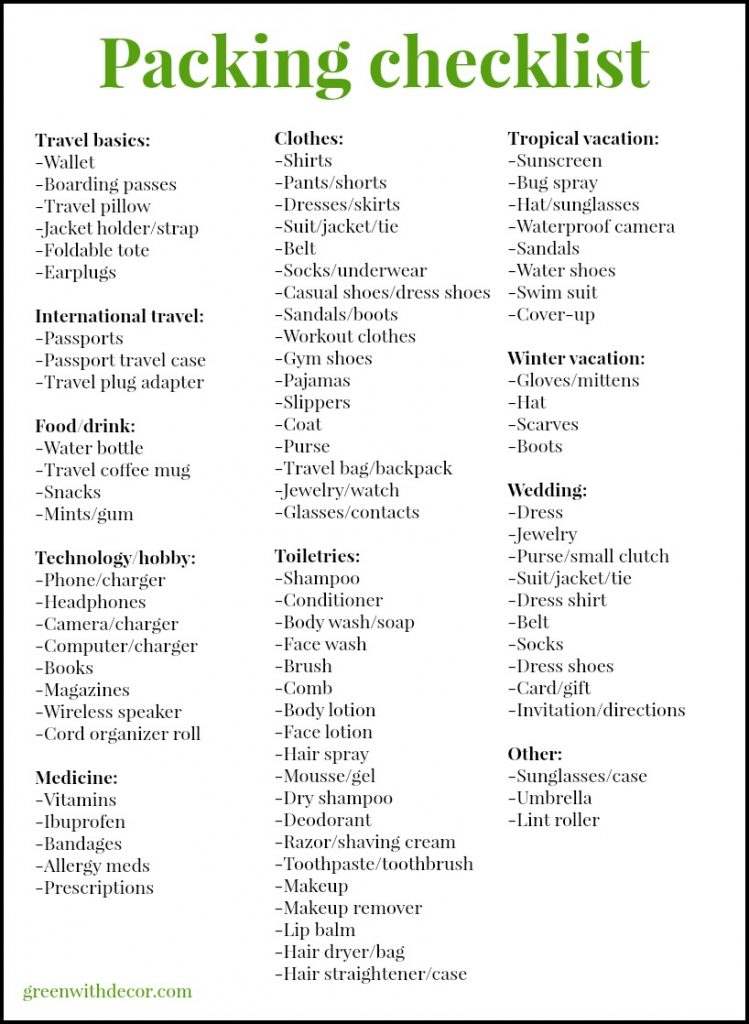 If you're already an email subscriber, hop over to my free printables library to get your copy. You also received a link right to the downloadable file in your email this morning!
If you're not an email subscriber yet, sign up in the box below to gain access to my free printables library and subscribe to new blog posts (typically 1-2 posts per week). The link for the free printable will arrive in your email inbox shortly. Enjoy!
*Please note: All printables and downloads designed by Green with Decor are for personal use only. Please do not alter the files or claim them as your own. These files are not intended for resale, nor are the printed versions of these files.
If you love traveling, check out our favorite things to do in the cities below, too!
Remember to bookmark or pin this post if you want to save it for later!

Pin it!

Want to read more posts like this?
Follow along: Get my emails | Facebook | Pinterest | Twitter | Instagram