Disclosure: This post is sponsored by Dwellbee. All opinions, images and love of decorating with trays are 100% mine.
Sometimes the best decorating ideas happen on accident. This is one of those stories.
I used to keep the table in our living room full of family photos, but after we took the Christmas village down, I never put anything back on that table. I had grand plans for a gallery wall of family photos in our upstairs hallway, so I moved the picture frames upstairs.
The table was still sad and empty when my new rustic tray from Dwellbee arrived in the mail, so I set the tray on it when I opened the box. (If you want your own tray, I have a Dwellbee discount code just for my readers at the bottom of this blog post.)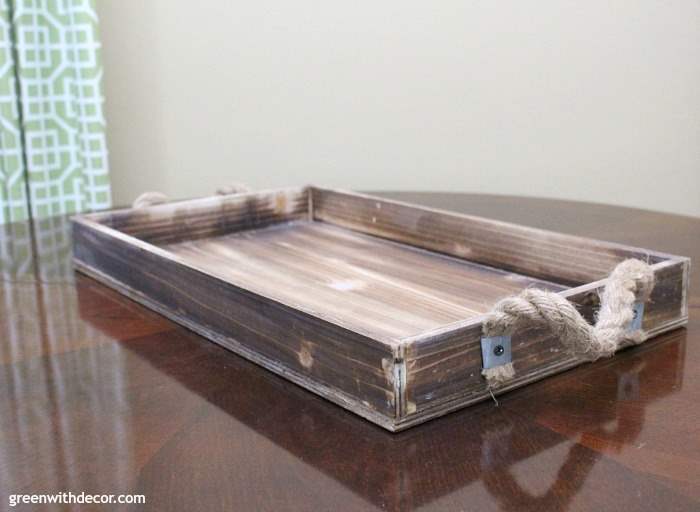 We both commented we liked the tray on the table. Love when that happens!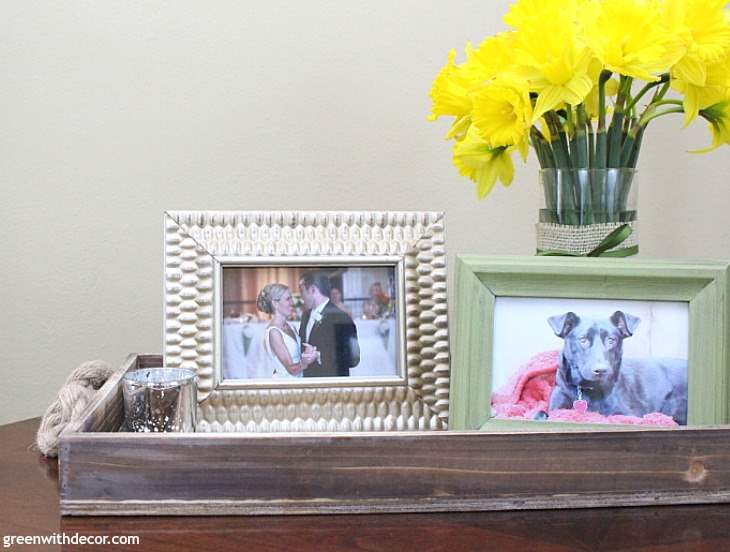 Needless to say, I abandoned my original idea to put it on one of our coffee tables. And I've already decorated it a few different ways.
This post contains affiliate links. This means if you click the link and buy something, I may receive a small percentage of sales at no extra cost to you.
1. Photo display
The first way was a total accident.
We had friends coming over so I took a few picture frames sitting in the living room and put them on the tray with a vase of flowers. It looked great! Straightening up at it's best, right?!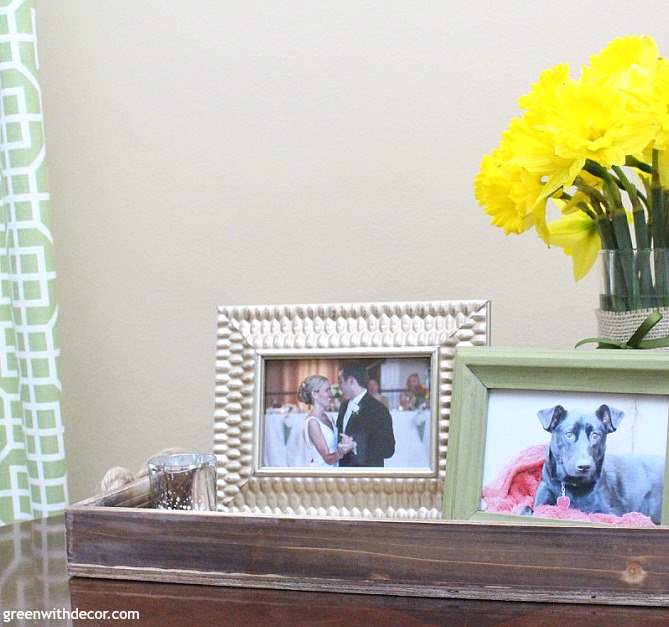 Although I did decide it still needed a little something to balance out the vase on the one side. One of these little mercury glass candleholders was perfect.
I hadn't really thought to put picture frames on top of a tray before, but I love how it's an easy way to incorporate a few family photos right into your decor. Plus it's more fun than just plopping them on a table.
And can we talk about how fun these rope handles are?! I love them. All part of my plan to lean more toward that coastal decorating style!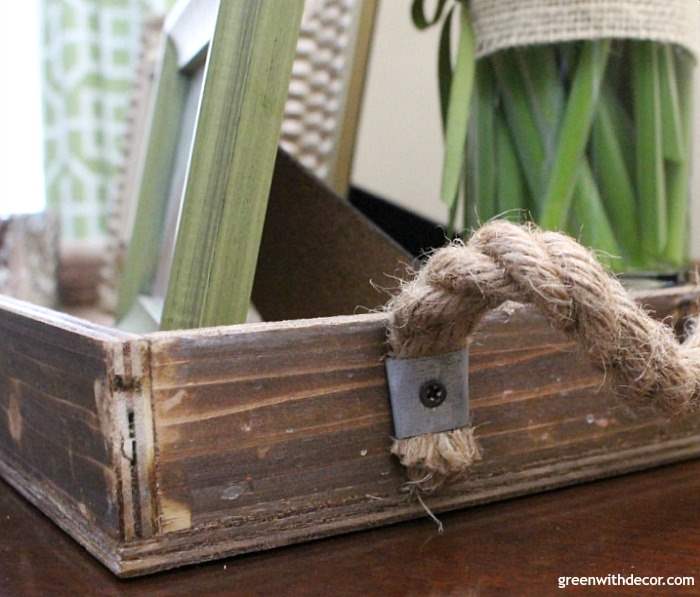 2. Seasonal swap out
I love changing things up in our house for each season, too, so of course when the sun was shining last week, I had to decorate the tray for spring.
I don't have too much in terms of 'springy' decor pieces, but I do have these little eggs (similar ones here) and Easter grass that I love pulling out each year. You may remember them on the painted cake platter last year.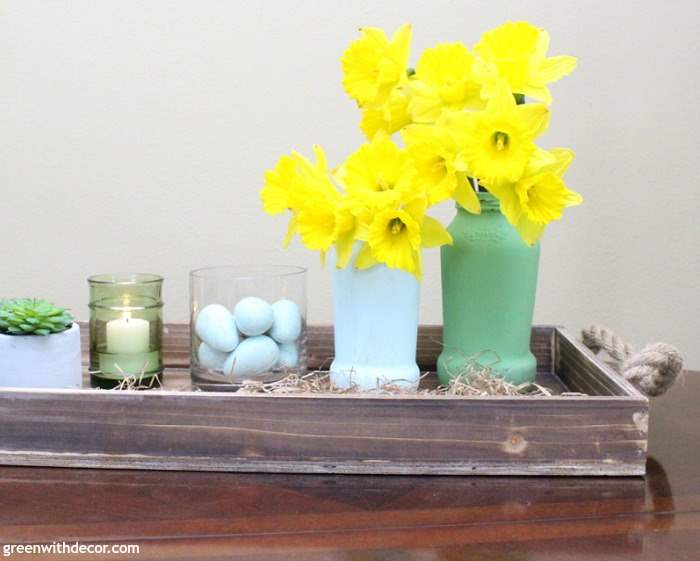 If you don't want to spend too much on seasonal decor, think about a few little seasonal items you can add to everyday decor to give a whole vignette that festive touch.
The rest of these pieces on the tray are all pretty neutral, but the eggs and Easter grass instantly make the whole tray look springy.
And you know I'm all about adding 'life' to any little decorating display no matter what the season. Real flowers or faux succulents (or both!) do the trick.
I shared these easy DIY spring vases last week in case you missed that post.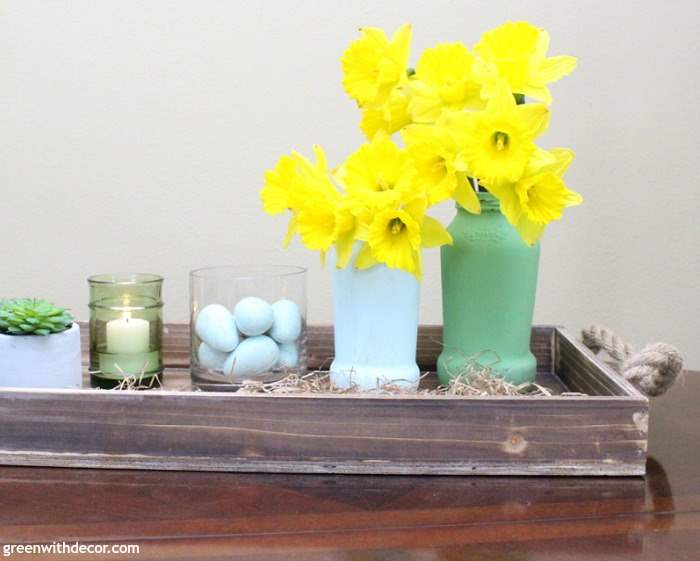 If you use a votive candle holder, remember to put a little water in the bottom so the candle doesn't melt into the candleholder, leaving you to scrape out the melted wax when the candle is done. (Ask me how I know.)
3. Afternoon snack
We bought a new car for Kalen last weekend, and the dealership mailed us a bunch of freshly baked cookies that were DELICIOUS. And therefore almost gone already, whoops.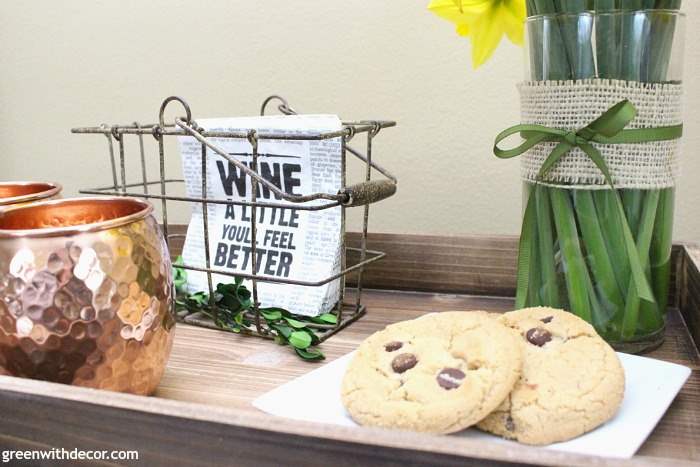 We've had a lot going on lately, and buying a car was a big item on the to-do list. We were thrilled to have that crossed off. Well Kalen even more so since, you know, he got a new car out of the deal. We celebrated with a few cookies and cocktails.
I had to set everything up on this tray for fun, of course. A tray makes a little impromptu celebration seem fancy. So do these Moscow mule mugs!
Yes, those are random little pieces of my Boxwood wreath in the napkin basket. A few 'leaves' fell off when I was tying the St. Patrick's decor on it… all worth it. I kind of like them thrown randomly in the napkin basket.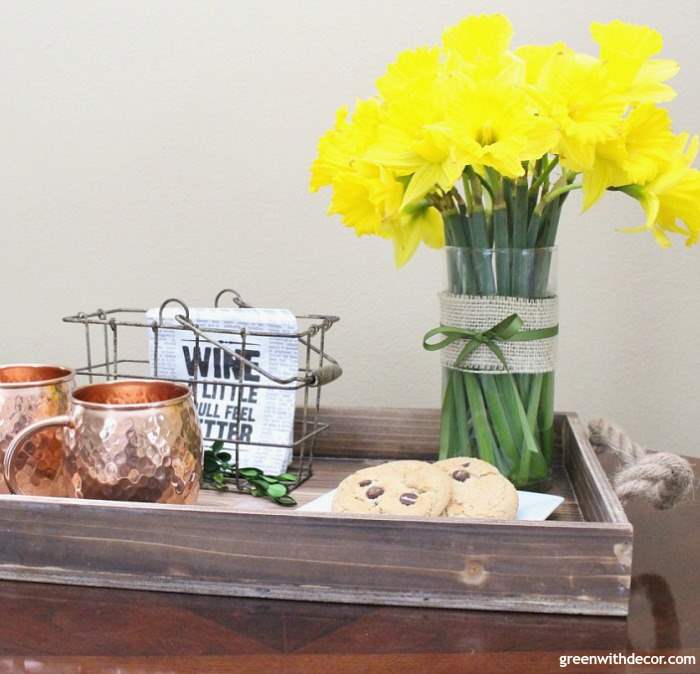 GET THE LOOK: Moscow mule mugs | 'Wine a little' napkins | Appetizer plates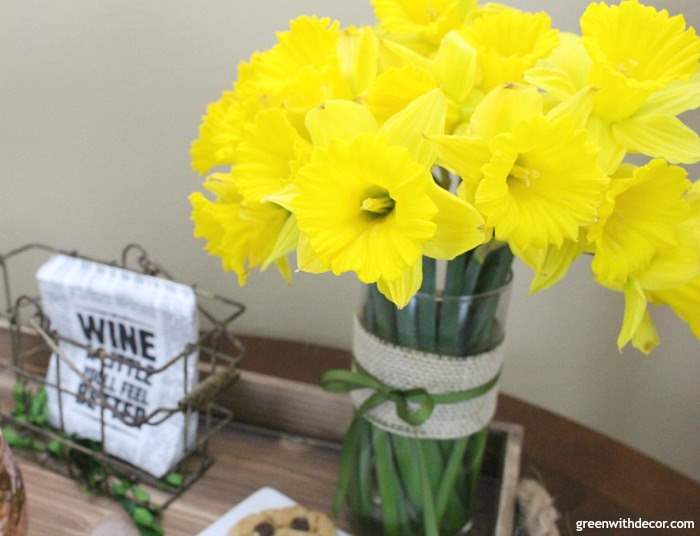 If you want your own tray to decorate and play around with, head to Dwellbee. My readers will get 15% off any item with the code GREEN15, plus everyone gets free standard shipping. Their rustic utensil tote reminds me so much of the wooden drink caddy we have that I'm always moving around. I like the wall mail sorters, too.
Happy shopping!
By the way, I always get questions on the metal napkin holder whenever I post a picture of it. I wish I had a source for you guys, but I got it at a local home decor store. I've searched and searched online to find a similar one for you guys, and I can't find anything like it, sorry about that!
Remember to bookmark or pin this post if you want to save it for later!


Pin it!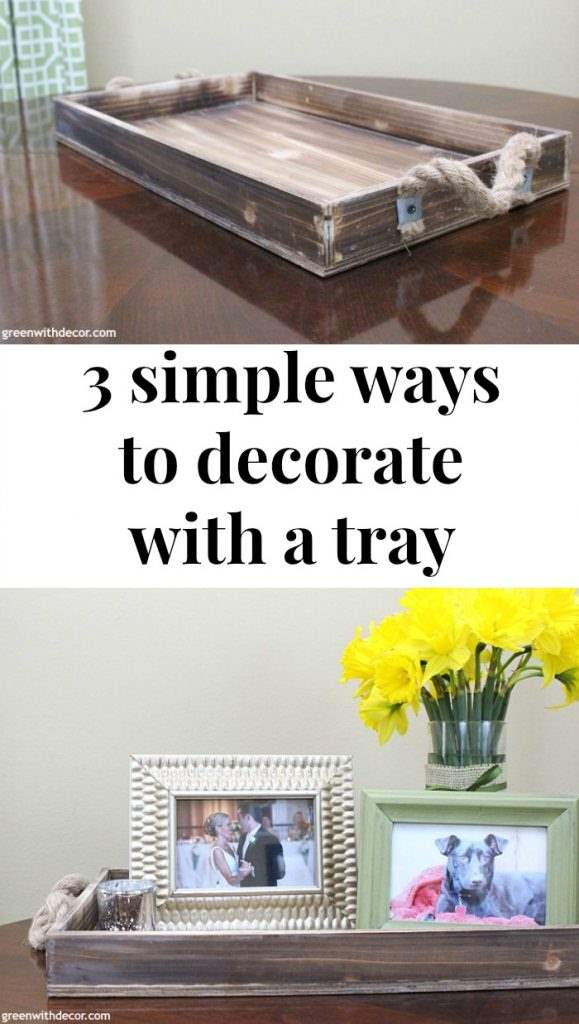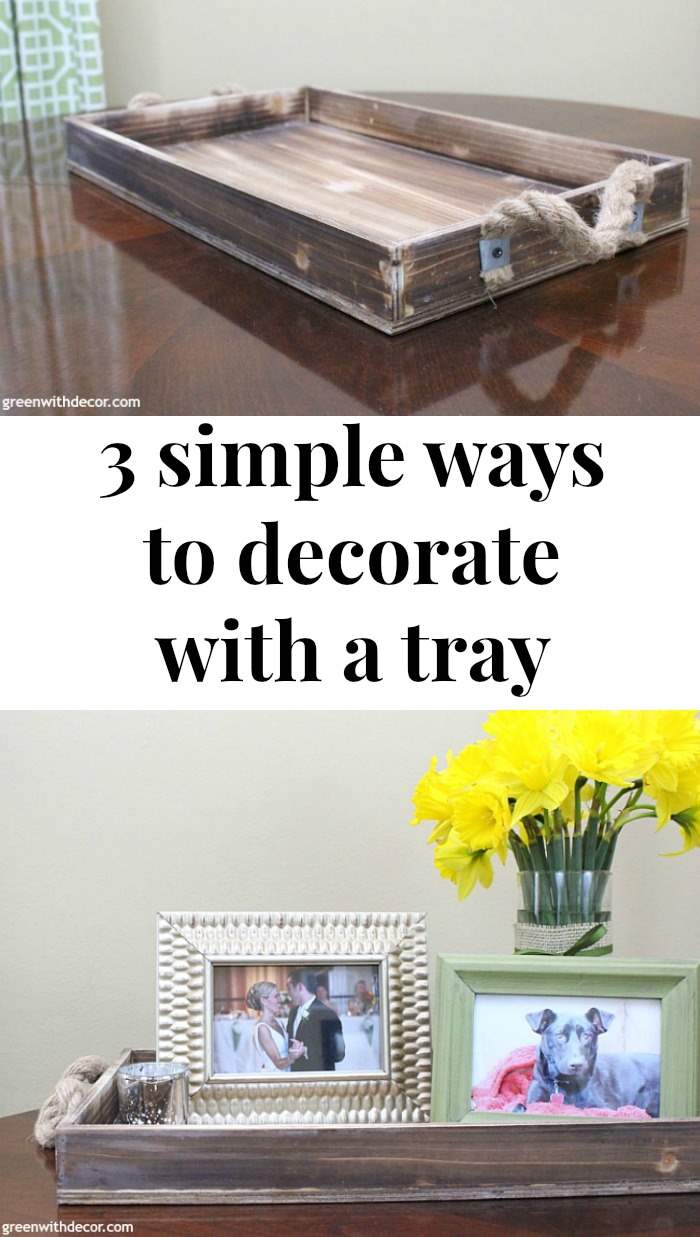 Want to read more posts like this?
Follow along: Get my emails | Facebook | Pinterest | Twitter | Instagram