"Change the whole look of a room."
Does that sentence get you excited or freak you out?
As much as I love room renovations, sometimes it sounds really stressful, doesn't it? Where to start, how much money to spend, when to have time to spend on it … the logistics can come fast and furiously.
My parents' foyer had been the same for years. It wasn't necessarily outdated, but it was in need of an update. But again, where to start, how much to spend, when to work on it!
Luckily, I got my mom hooked on my obsession with clay paint after she saw my fabulous desk makeover, and we used the same paint for her foyer table. It was the project that started the entire foyer makeover.
Yes! I just love when projects do that!
Here's the foyer after all the painting and decor updates: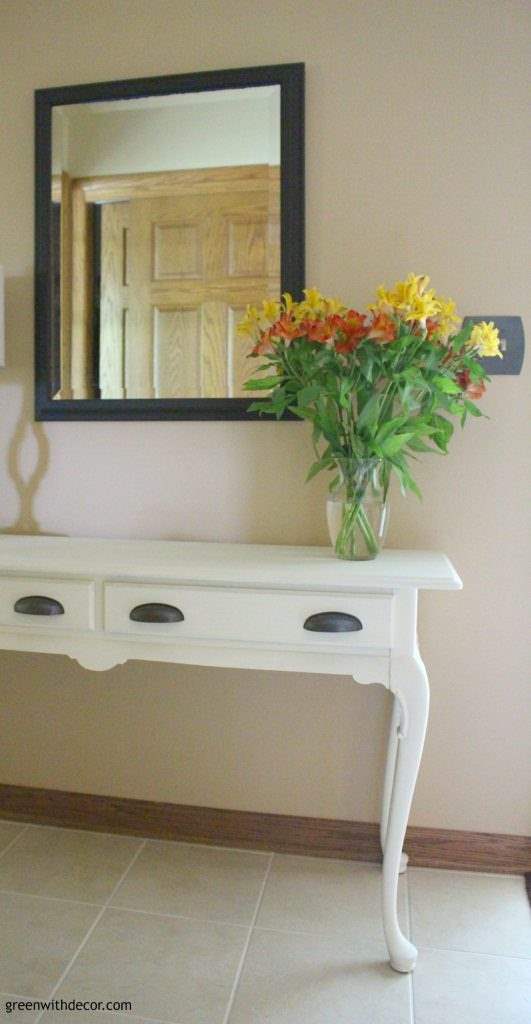 And here's how it started: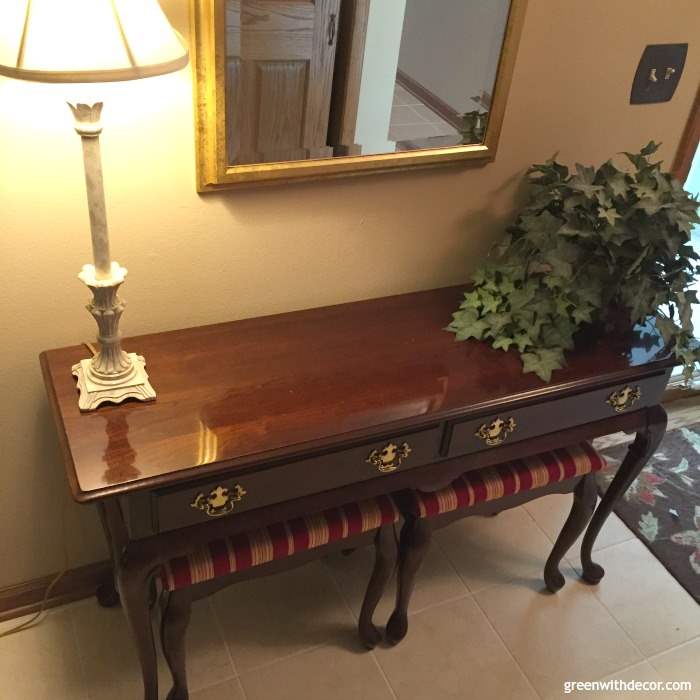 You can give your foyer a new look, too, with just a few small inexpensive (one of my favorite words!) updates:
1. Paint
I don't think I'll ever stop talking about the power of paint. I'm constantly painting pieces in my house. It's such a cheap way to update anything!
My mom and I painted her table: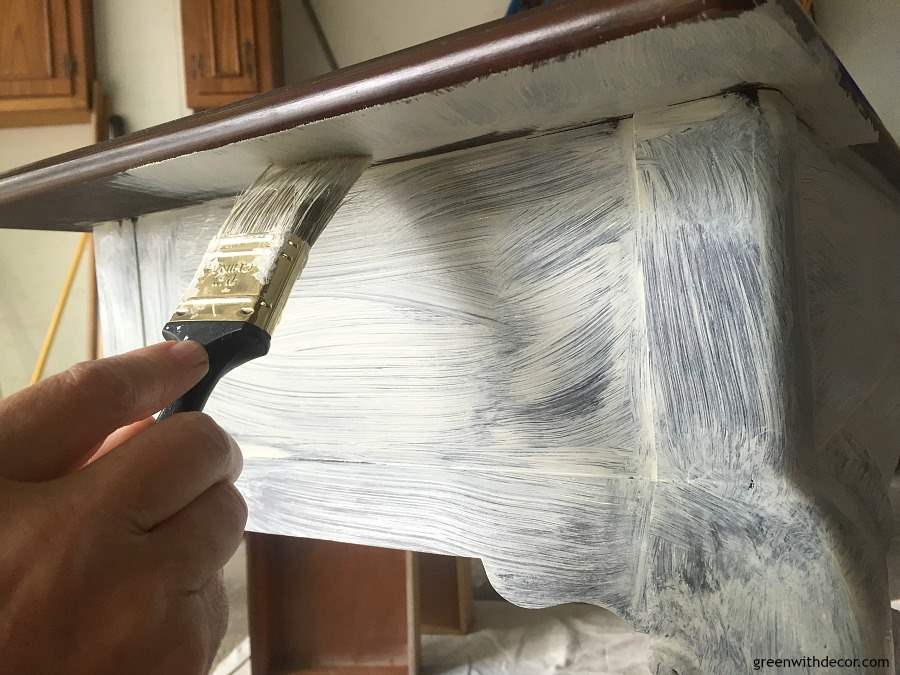 And we painted her gold foil mirror. There wasn't anything wrong with the mirror, but a coat of paint made it look new!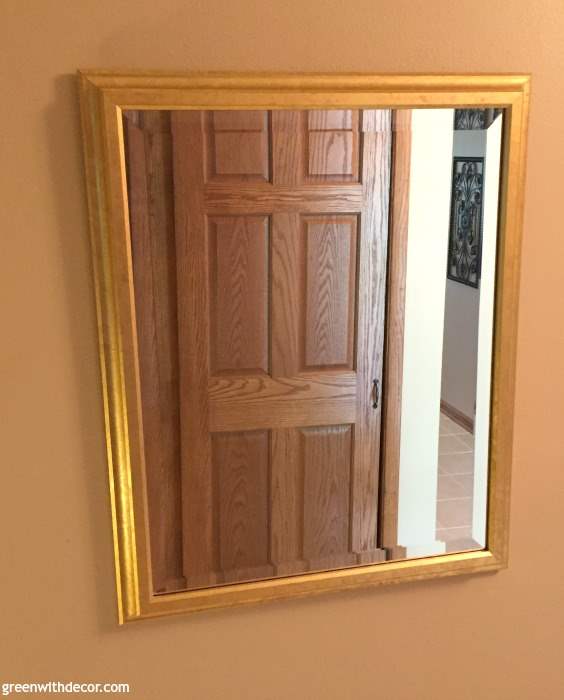 2. New hardware
Again, one of my favorite ways to quickly and cheaply update the look of a piece.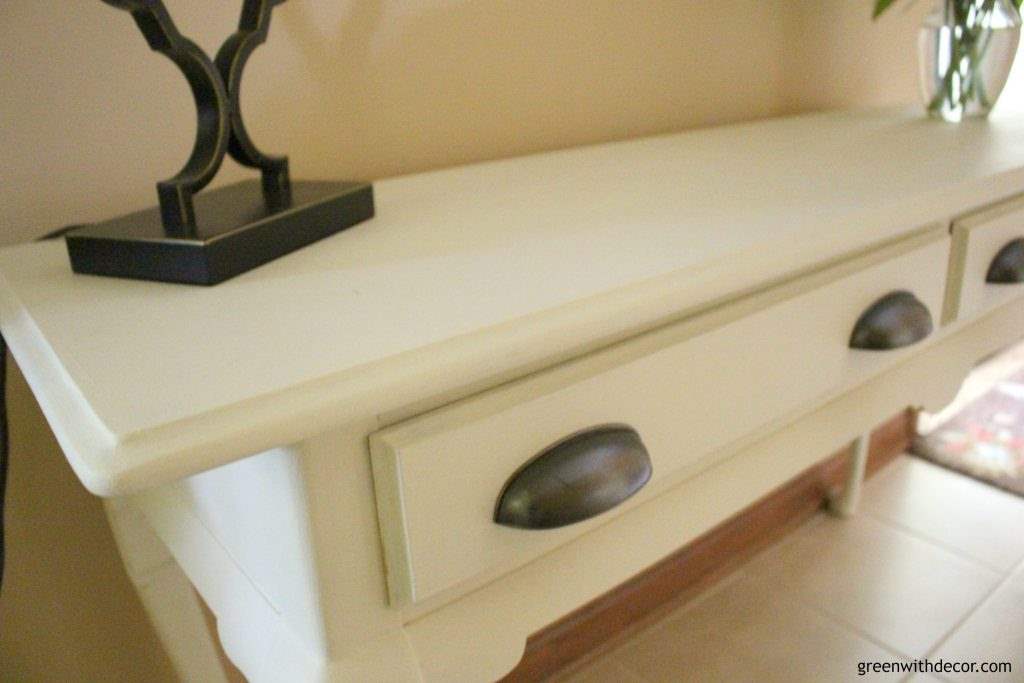 3. New lamp
Lamps are a fun way to switch out the look of space without spending a lot.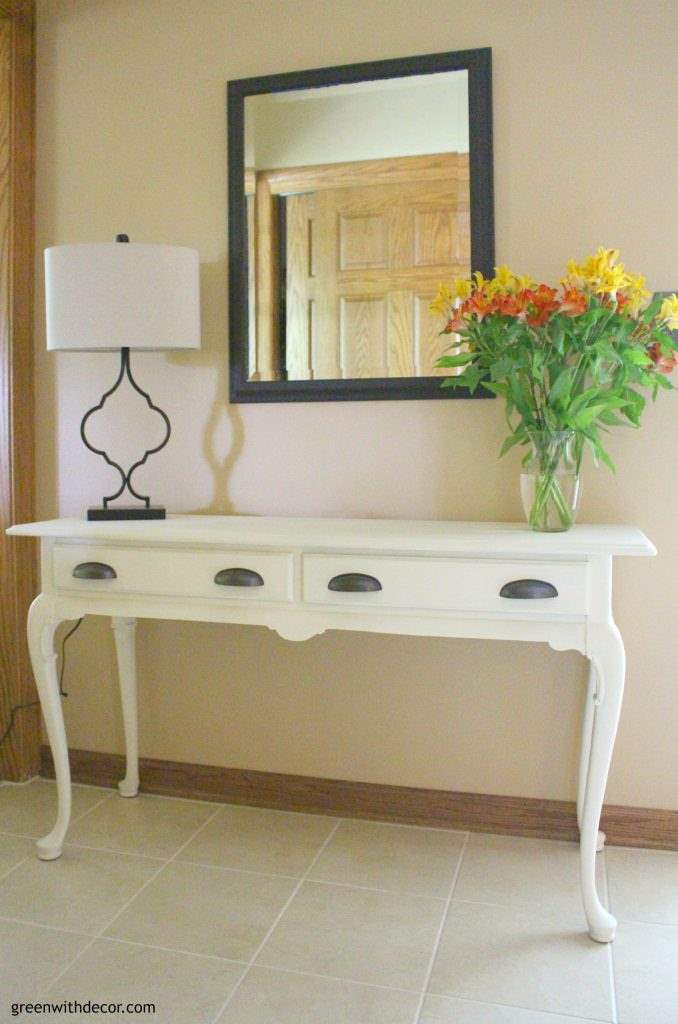 Sometimes I keep lamps so I can switch them out in different rooms at some point in the future. (I just can't stop decorating!)
Other times, I sell lamps at garage sales or on local Facebook groups. It's an easy way to make a little money, and then you won't feel bad about spending money on a new lamp!
4. Add life
I feel like I say this in just about any post about updating a room, a centerpiece, a gallery wall, whatever. Plants are just good for all spaces.
There's nothing wrong with fake plants as long as they don't look too fake. I use fake flowers throughout the year to add seasonal colors to our house.
My mom is really good at buying fresh flowers on a pretty regular basis, and she keeps some in the foyer.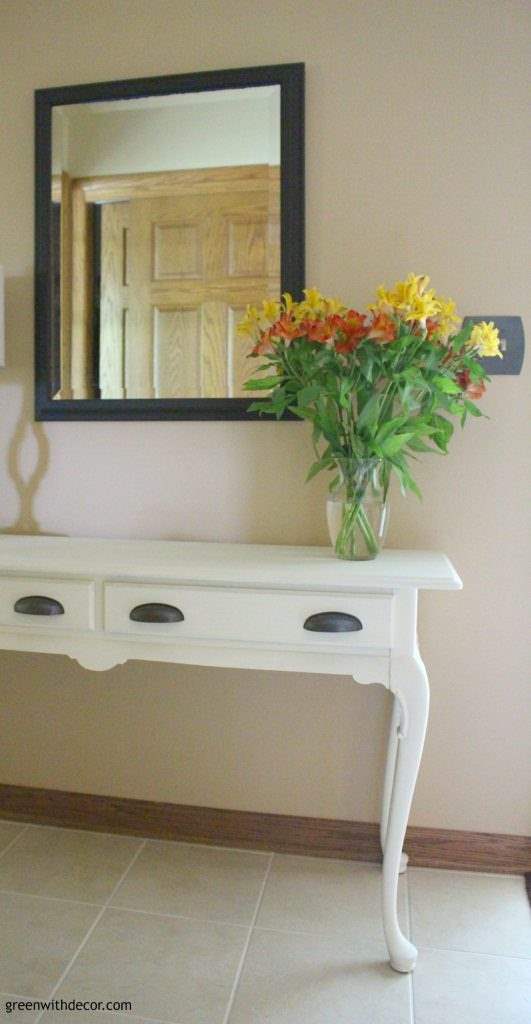 When she doesn't have fresh flowers in the house, she has dried hydrangeas (see my easy method for drying hydrangeas here) she puts on the foyer table.
Isn't the difference between the before and after of this space crazy? For less than $100, the foyer looks completely updated.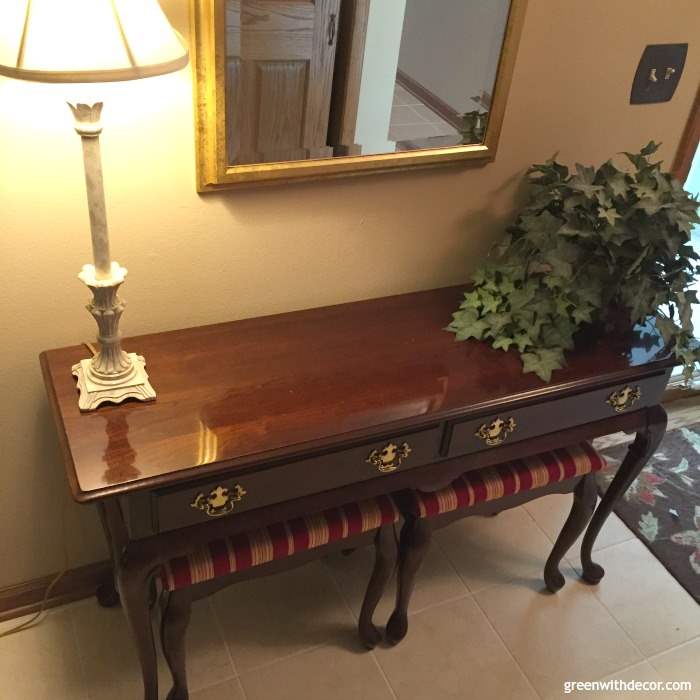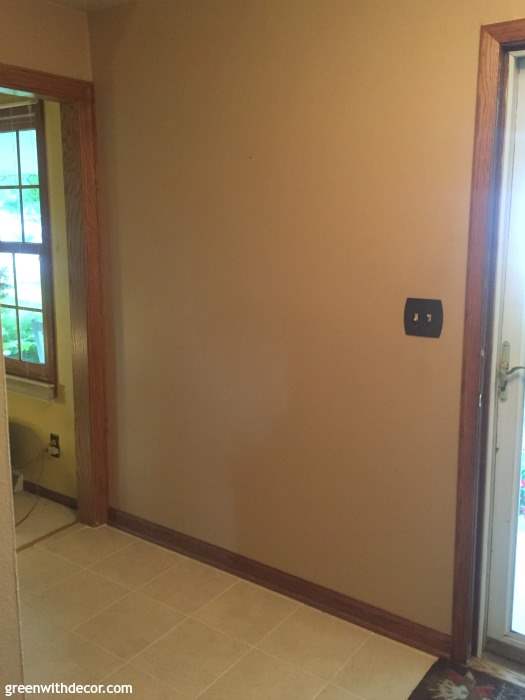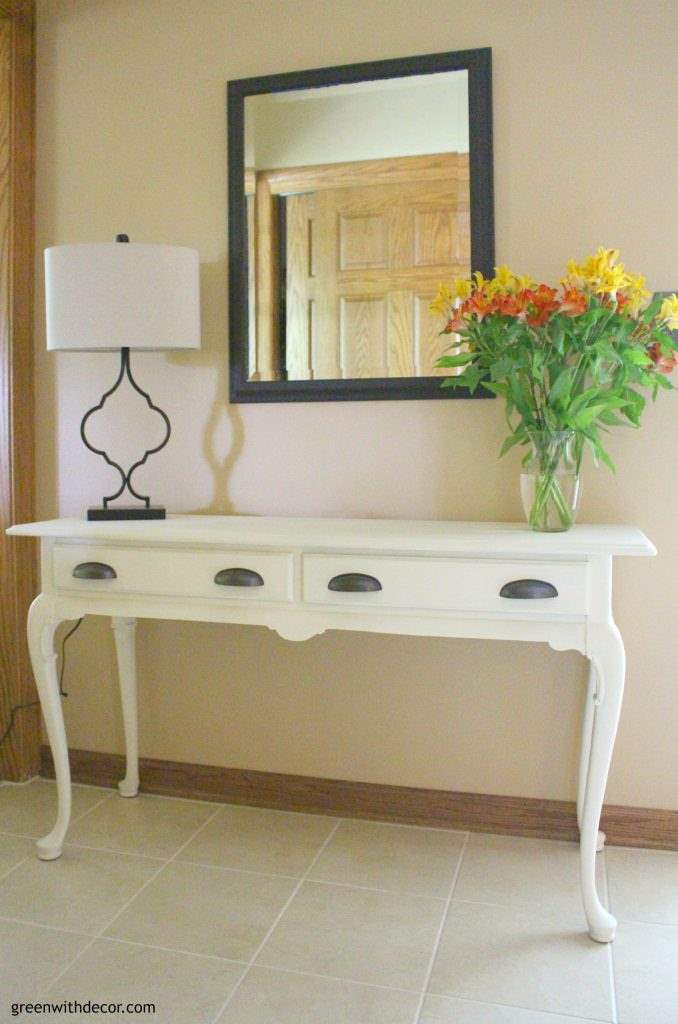 What do you think? What else do you swap out for easy room updates?
Check out these tips for foyer decorating, too:
Remember to bookmark or pin this post if you want to save it for later!


Pin it!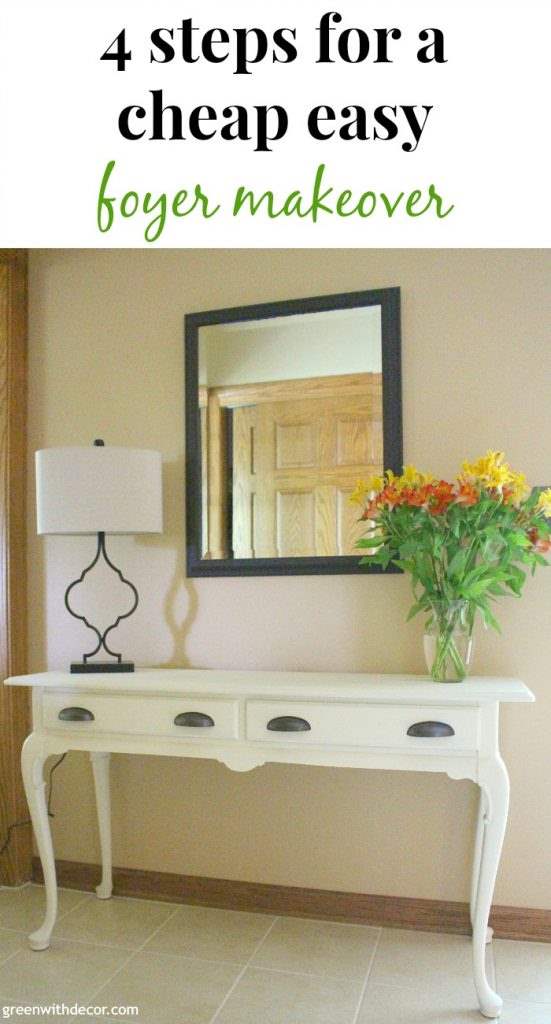 Want to read more posts like this?
Follow along: Get my emails | Facebook | Pinterest | Twitter | Instagram