Wedding season is in full swing, so I'm back today with another DIY project from our wedding.
We've had way more fall than summer weddings in the past couple of years, which I love. Fall is my favorite season in general but also for weddings.
Our anniversary is in September. I wasn't one of those girls that planned out my whole wedding years in advance, but I always knew I wanted a fall wedding. It's such a pretty time of year!
I love all the personal touches you can add to a wedding. I'm also a fan of saving money – especially during wedding planning when expenses add up so quickly.
We made a 'thank you' sign we could take a picture with and use on our thank you notes.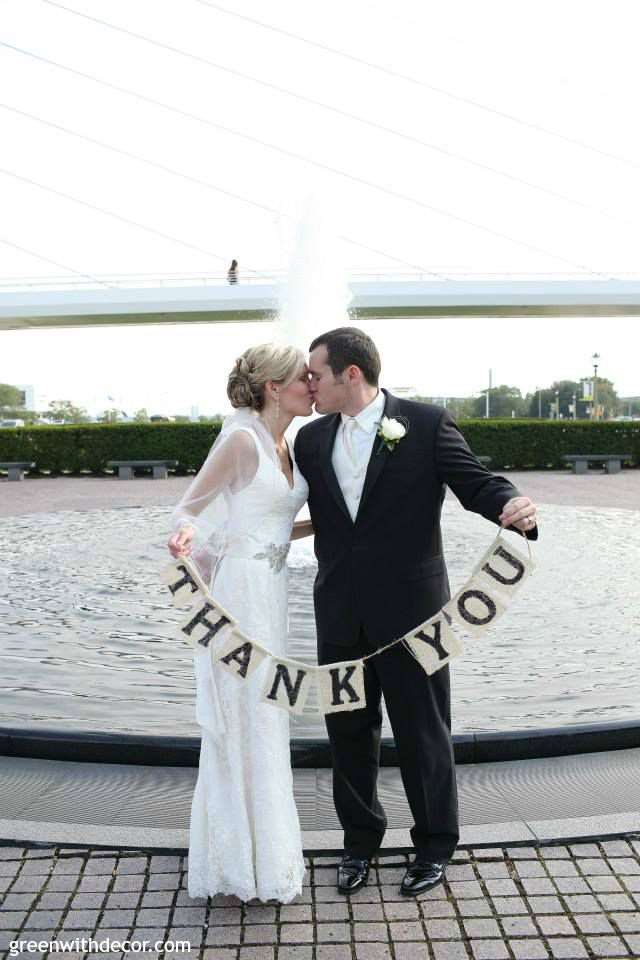 We also made a 'welcome' sign that we took a picture with months before the wedding. We had the picture out as a poster board at our reception so guests could sign it.
Now, we have the picture framed and hanging at the bottom of our stairs.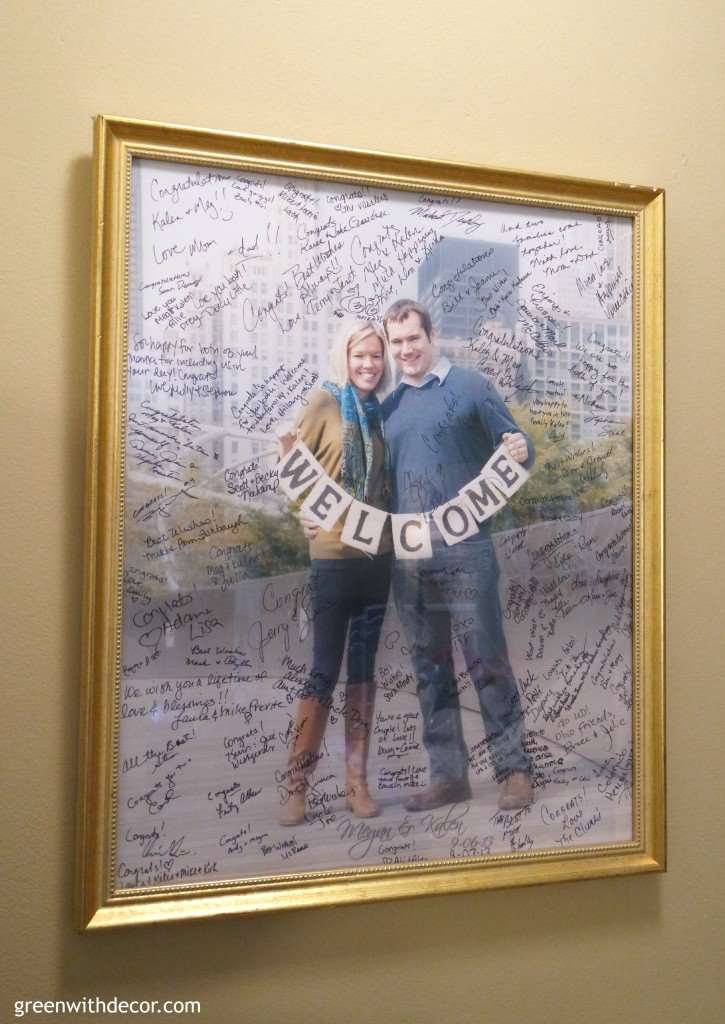 This project is pretty easy.
This post contains affiliate links. This means if you click the link and buy something, I may receive a small percentage of sales at no extra cost to you.
Supplies for a wedding thank you banner:
Thread
Stencils
Paint, color of your choice (we used black by DecoArt)
Supplies for wedding thank you notes: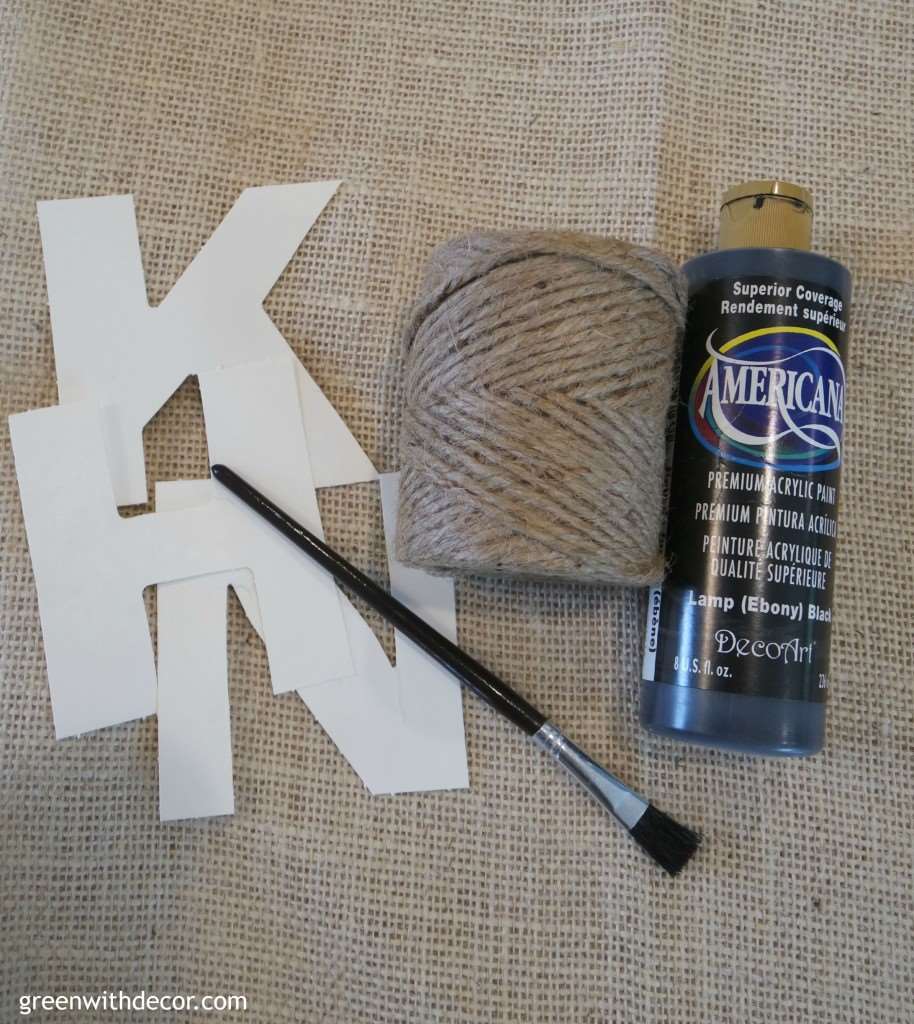 How to make a wedding thank you sign:
1. Cut the twine to 7 feet, 6 inches.
 2. Cut the burlap into 6½" x 4¼" pieces.
Cut 8 pieces – one for each letter of 'thank you' or 'welcome'.
3. Trace the stencils so you have one letter on each burlap piece.
Each letter will be centered on the bottom 5¼" of the burlap piece, leaving 1¼" extra burlap at the top so you can fold it over the twine to string all the letters together.
We used pencil so you could see the letter but just barely.
The stencils we used were 3¼" wide x 4¼" tall so they fit nicely on the burlap pieces we cut.
4. Paint the letters onto the burlap pieces.
Let the paint dry. Fill in any spots you missed.
 5. Sew that extra part of the top of the burlap so it folds back over on itself.
Leave a gap so you can slide the twine through each burlap piece.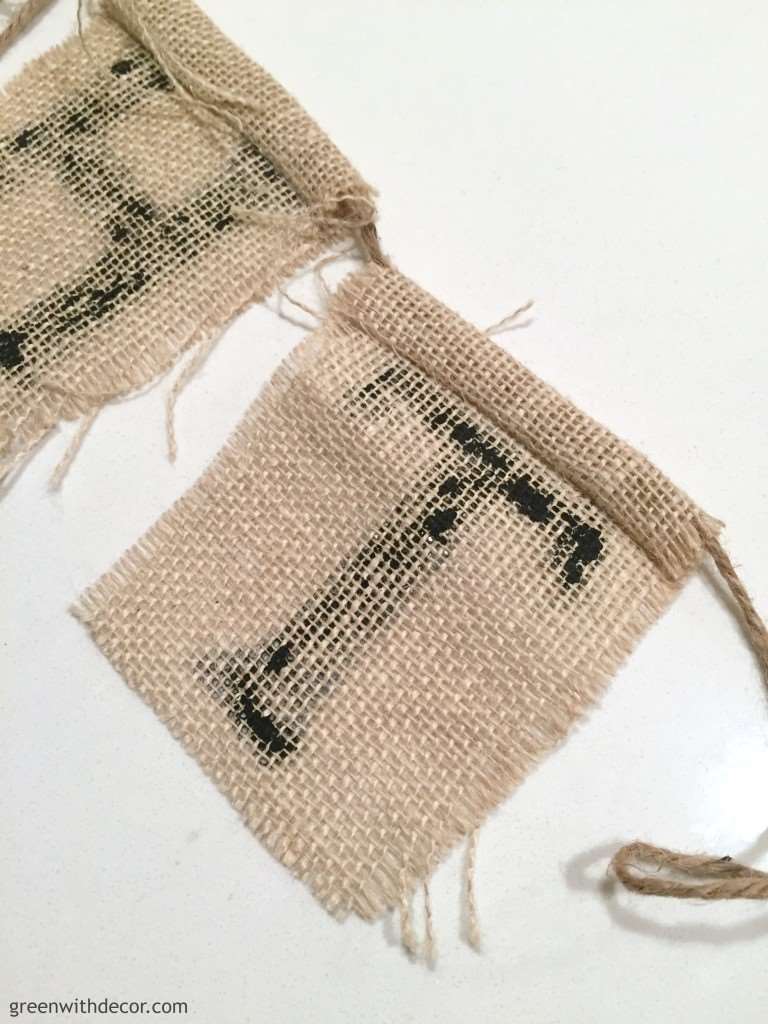 We used white thread so it wouldn't stand out.
6. Slide the twine through all the burlap pieces.
7. Take a cool picture with your banner!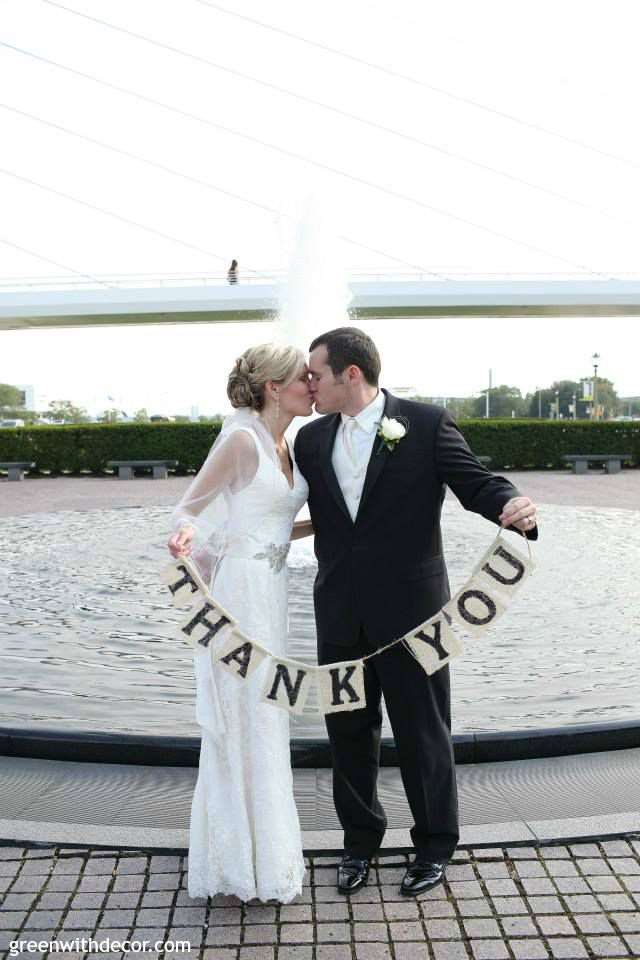 Milwaukee folks, we took a bunch of wedding pictures down by the Art Museum, which was such a pretty place for pictures.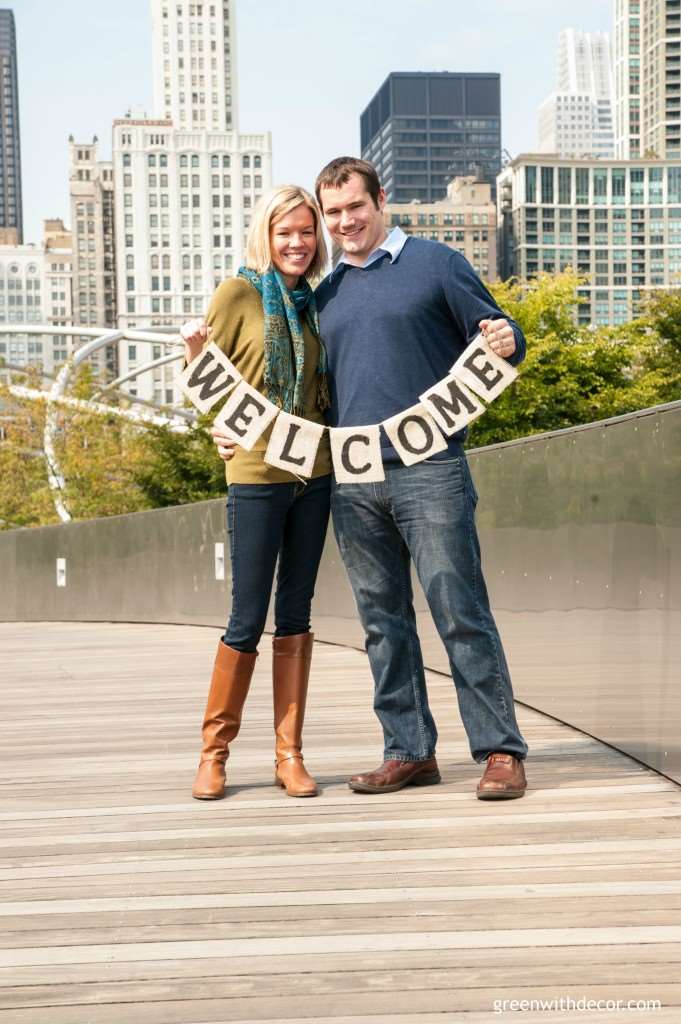 Chicago friends, we took this one in Millennium Park.
Note: These two photos were taken by Jolie Images.
8. Assemble your thank you notes.
I got white cardstock and cut it into 8" x 12" pieces (so when it's folded in half, the cards are 4" x 6").
I then printed a bunch of black and white 4" x 6"pictures of us with the 'thank you' sign and used double sided tape to stick each picture to the front of each card.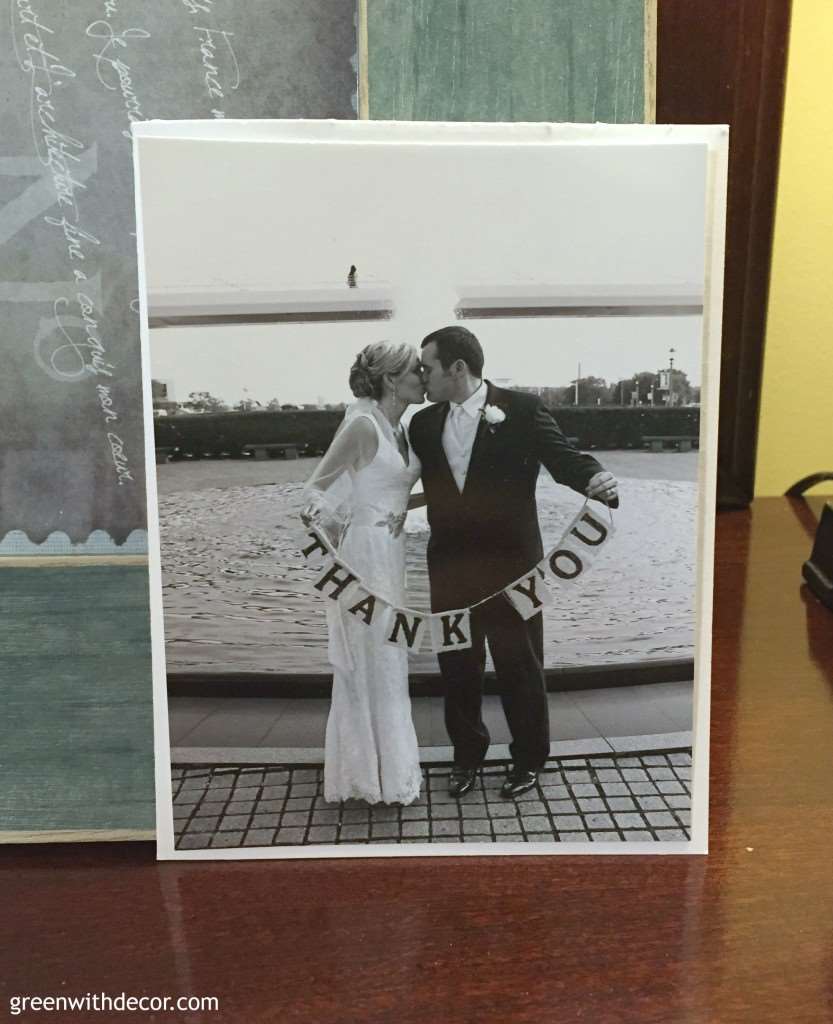 We wrote our thank you notes in the cards, slipped them inside the envelopes and shipped them off.
What are some clever wedding thank you notes you've seen?
You can see more wedding DIYs here:
Remember to bookmark or pin this post if you want to save it for later!

Pin it!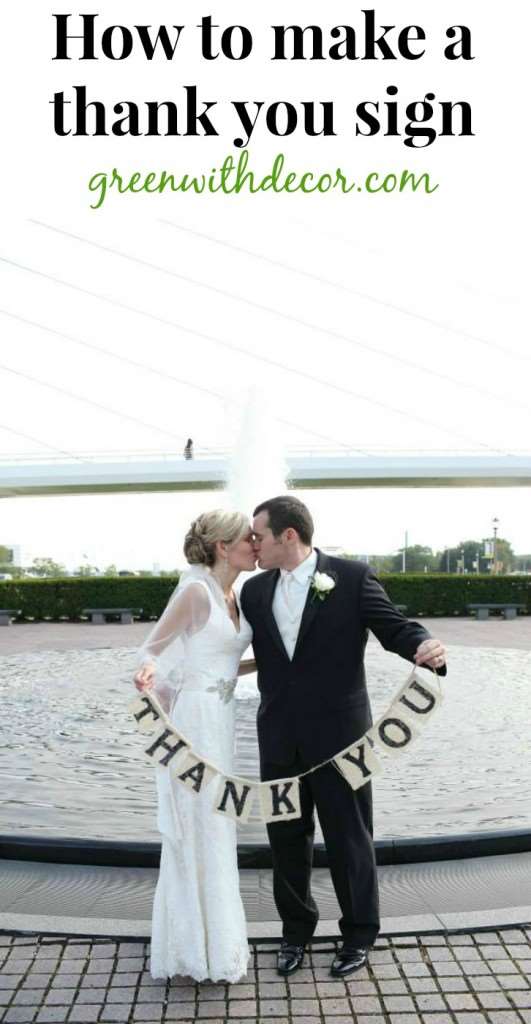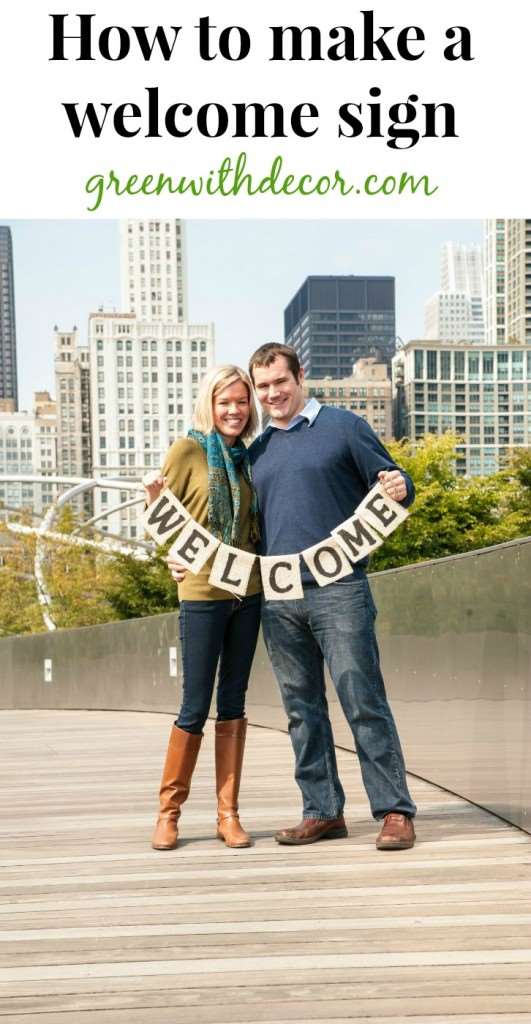 Want to read more posts like this?
Follow along: Get my emails | Facebook | Pinterest | Twitter | Instagram