We loved our big new breakfast bar! It provides so much counter space.
But we needed a bit more seating.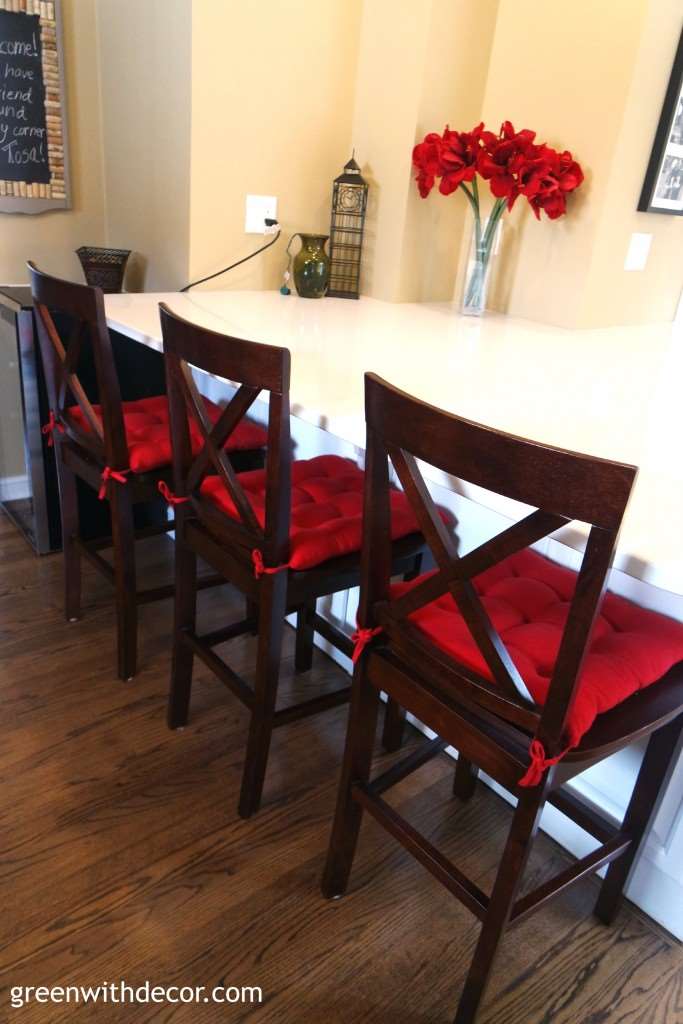 We were using a dining set that I had bought shortly after college – a bar-height table and four stools.
We had the table and two of the stools in our dining area and the other two stools at the breakfast bar.
As a recent college grad, I had bought this dining set way back when because it saved me from buying at table/chairs set AND stools for the breakfast bar in my apartment.
We used the dining set in the the same way after we renovated our house in Cincinnati and added a breakfast bar to the kitchen: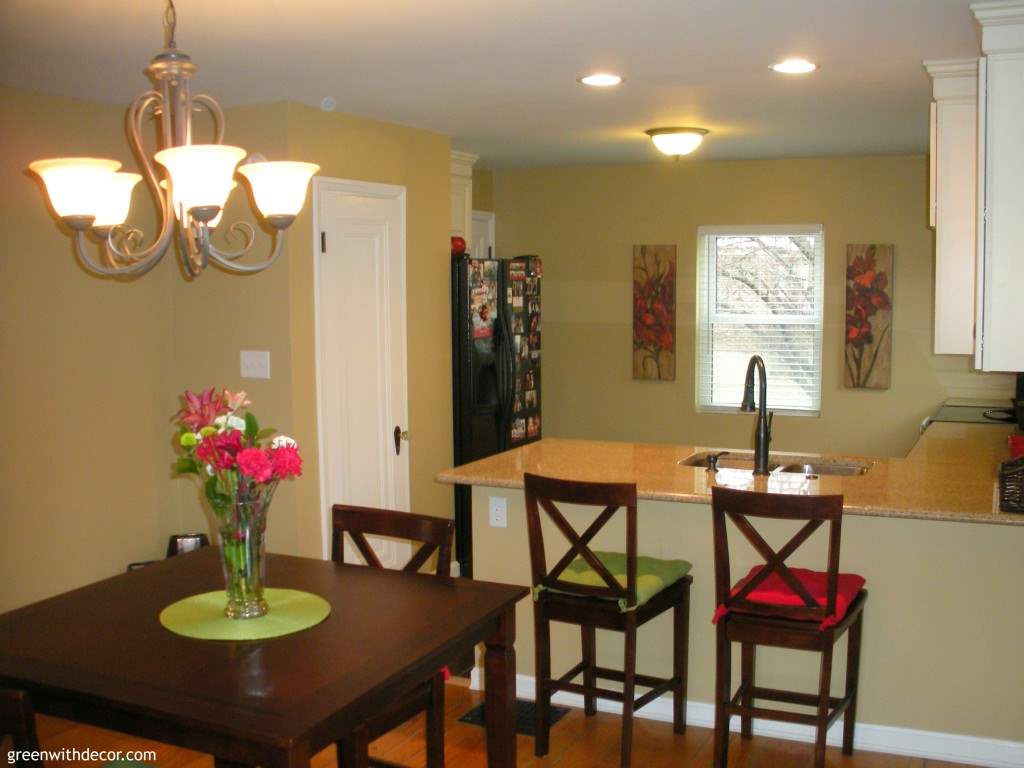 And now in this house:
This post contains affiliate links. This means if you click the link and buy something, I may receive a small percentage of sales at no extra cost to you. Thanks for supporting Green With Decor!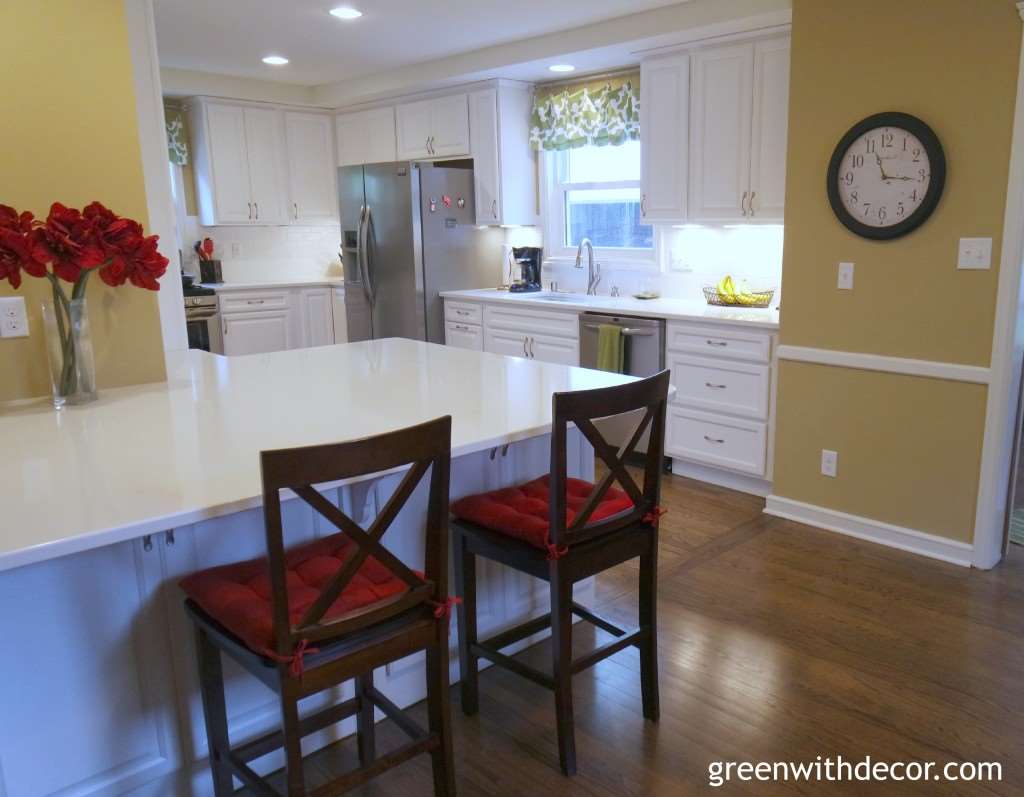 Cushions | Fridge | Curtain rod | Window valance | Faucet | Dishwasher | Cabinet hardware
But having just four spots to sit in the kitchen wasn't really enough when we had family and friends over.
We decided to buy new stools for the island, and put all four original stools back with the table.
A few things to consider when shopping for bar stools:
Color and style
I looked and looked everywhere. I wanted stools that looked similar to what we already had – dark brown with the X – but couldn't find much.
Then I looked for something completely new – maybe a green and white pattern that would complement our curtains and rug in the kitchen.
Height
I couldn't find much at the height we needed – 23 inches from floor to seat.
A lot of bar stools come at 29-32 inches tall (floor to seat) while dining chairs typically come at about 18-19 inches tall (floor to seat). Finding something in the middle of those was a bit challenging.
Back or backless
I'm a big believer in stools having a back. Sometimes, in small spaces, this isn't an option, but we have the room for it. I want people to feel comfortable hanging in our kitchen – not slouching and wishing they had a back on the chair to lean against.
Swivel
Ideally, we'd love stools that swivel. But more importantly, we wanted something that matched the look we already had, which sometimes this ends up being more work than just starting with a blank slate!
Price
This was a real driver in our decision. I couldn't find many stools we liked in the price range we were looking in. Stools can be expensive (especially when you've just finished renovating an entire house)!
The answer
Finally, we came to the conclusion it would be cheaper to buy the same five-piece set than to buy two new stools. Yep, instead of just buying the two new stools we needed, we bought four AND a new table.
Luckily, we found the same table set I had bought so many years ago!
We put the stools and table together, which was easy. Love it when ready to assemble furniture is easy to put together! We put a blanket down so we wouldn't scratch our new hardwood floors.
We're using two of the new stools in our kitchen – so we now have three at the table and three at the breakfast bar.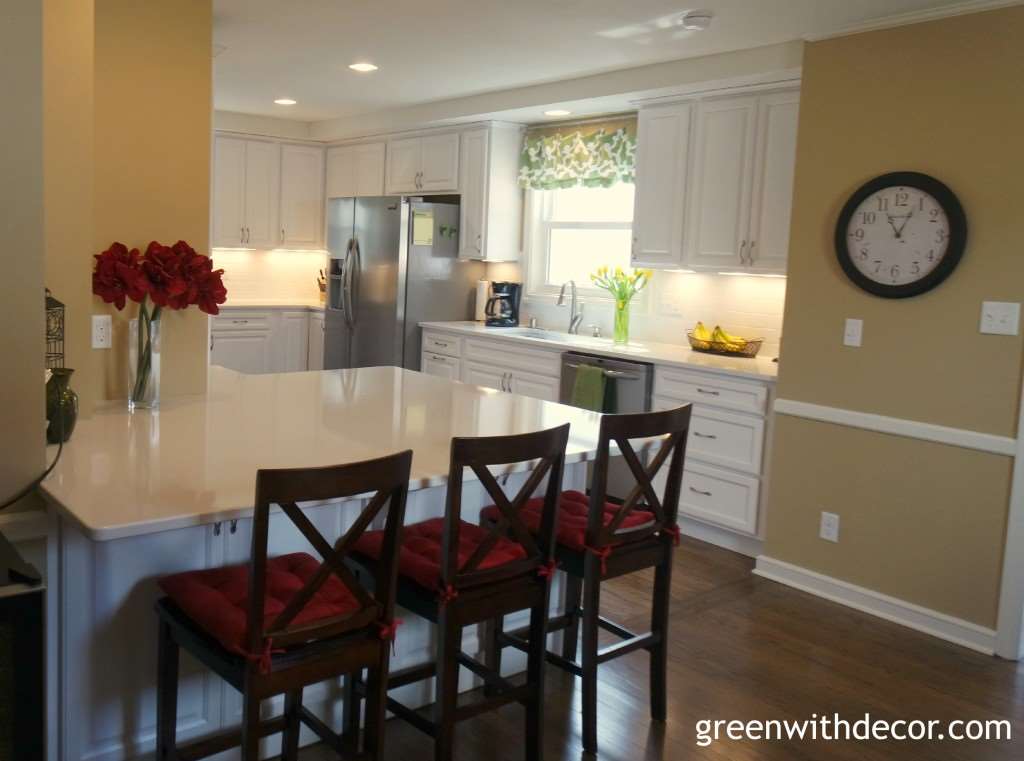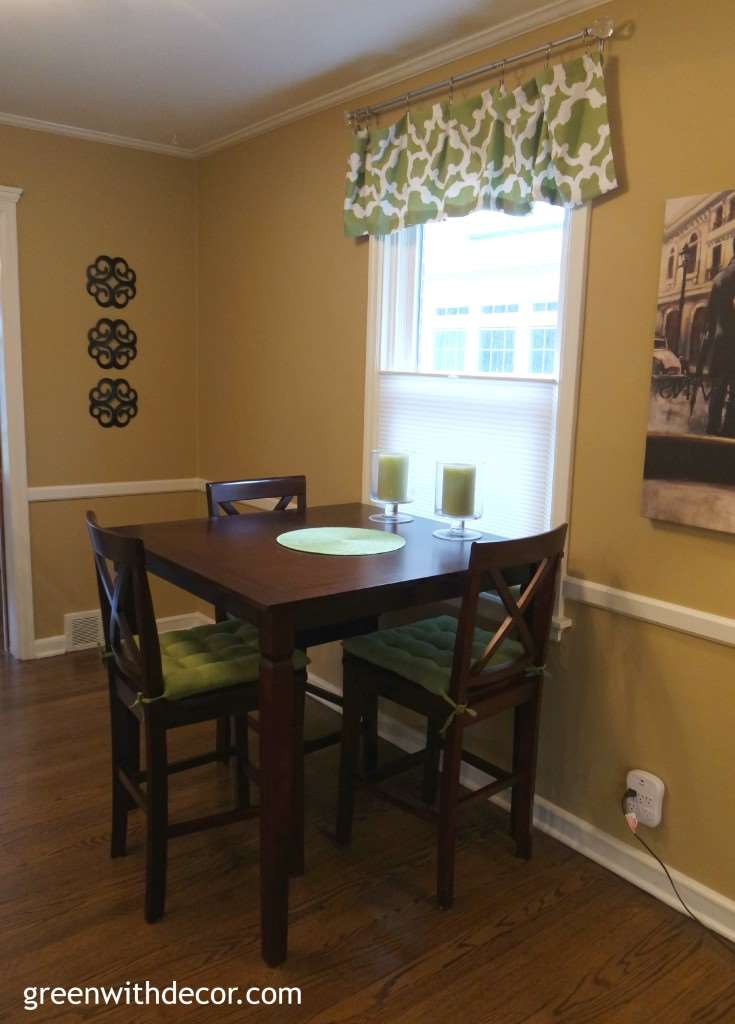 The other two new stools are in the basement with the extra table for now. Our basement is on the list of rooms to renovate – but after the rest of the house and outside is done. So it will be awhile!
I had bought the green and red cushions from World Market years ago. Luckily, they had a similar red cushion in stock that I picked up. The extra green cushion was an old one my mom had.
Eventually, we'll buy a bigger table and probably all new table-height seating for our dining area, but this was a cost-effective way to add more seating in the meantime.
Have you run out of seating in your kitchen? How'd you add more?

Want to read more posts like this?
Follow along: Get my emails | Facebook | Pinterest | Twitter | Instagram | Google+
If you want to save this post for later, remember to bookmark it or you can pin it here: