I've mentioned before that our new half bathroom is pretty small and basically has zero storage. I've been on the lookout for some kind of storage tower that we can squeeze in there for tissue and extra toilet paper.
And chapstick. You gotta have that in every room of the house.
The bathroom is coming together, you may recall with new paint color (Krypton) it's currently looking like this: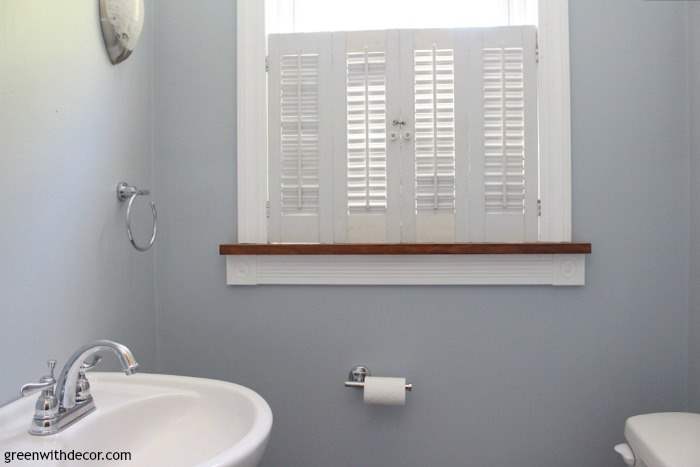 I am loving the blue walls. It's already feeling more like 'us.'
We're working to finish this room by the end of the month for under $100 as part of the $100 Room Challenge hosted by my friend Erin from Lemons, Lavender & Laundry.
You can see the coastal bathroom design plan here. Today we're focusing on storage, because extra storage is oh-so-important in every room but especially in small spaces.
We know we won't be in this house forever, so I don't want something that looks like it's for a bathroom. You know what I mean, those storage towers for over the toilet and such.
(Those are totally fine, by the way. We just don't have much of a need for them long term so I don't want to buy one.)
I'm looking for a storage piece that we can easily use in another room – in another house – in the future. Which of course led me to online searching and shopping. (Doesn't everything?!)
I found the storage towers below, all but one of which are perfect for budget shopping!
This post contains affiliate links. This means if you click the link and buy something, I may receive a small percentage of sales at no extra cost to you.
Affordable storage towers:
Click any of the images below for more info. (You may have to double click on mobile.)

Most come with baskets, which is perfect. For those that don't, I'd probably still use baskets or crates to keep the clutter organized (well, organized and hidden, ha!).
What do you think? Which is your favorite storage option? Do you have any storage towers that work perfectly from room to room?
You can see all of the bathroom makeover progress here:
Affordable storage towers for small spaces (you're here!)
You can check out the other ladies' blog posts below for more $100 room makeover inspiration.
Remember to bookmark or pin this post if you want to save it for later!

Want to read more posts like this?
Follow along: Get my emails | Facebook | Pinterest | Twitter | Instagram