One of the both best and worst parts about moving is that your furniture might not (read, probably won't) fit in the new space exactly like it did your old one.
I say this as a positive thing because hello, perfect excuse to go shopping, but also as a bad thing because if you've moved recently you know that no matter what, at some point, moves turn into a free-for-all in terms of spending on yet another roll of bubble wrap or a new light fixture for a back hall you didn't have before.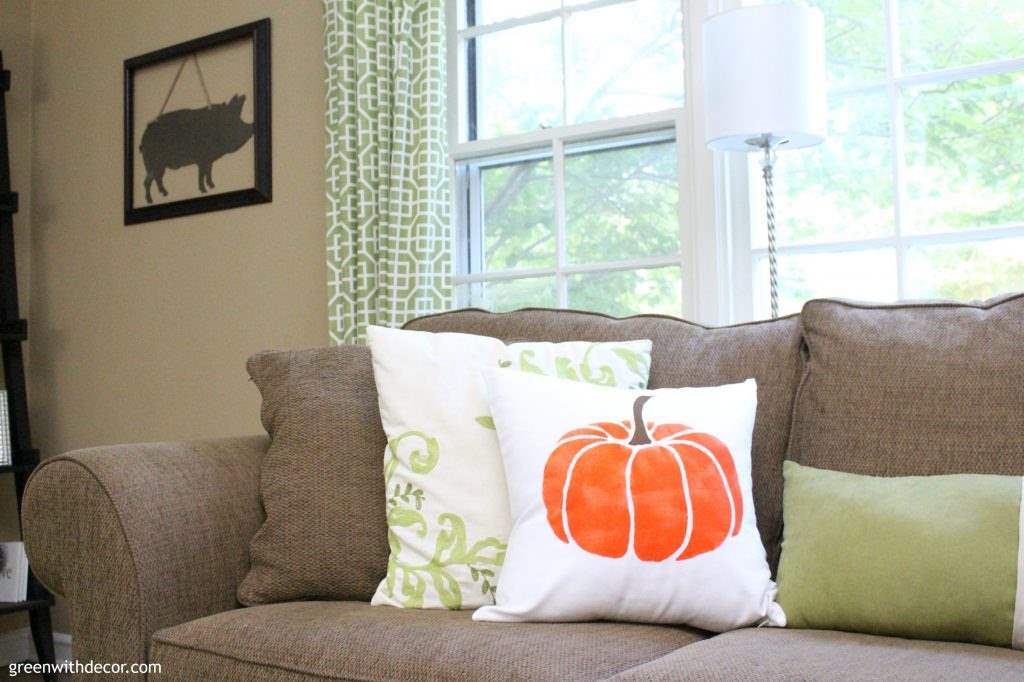 So if you can save some money by using the living room furniture you already have, I see that as a win. I also see it as a way to justify buying that new light fixture.
Today's post is part of the ongoing Room by Room series hosted by my friend Amy from My Life from Home, and you guessed it, today is all about living rooms. You can see all the other bloggers' living room posts linked at the bottom of this post.
If you're stopping over from one of the other blogs, welcome to Green With Decor! You can learn more about me here.
We've had a few living rooms to decorate and plan furniture for over the years.
We had the absolute perfect sectional for our Cincinnati living room. It fit into the big corner of the long living room like it was made for the space, and oooh let me just tell you how comfortable it is. It's the best. (Ignore this terrible photo, I definitely didn't know anything about photography back then.)
This post contains affiliate links. This means if you click the link and buy something, I may receive a small percentage of sales at no extra cost to you.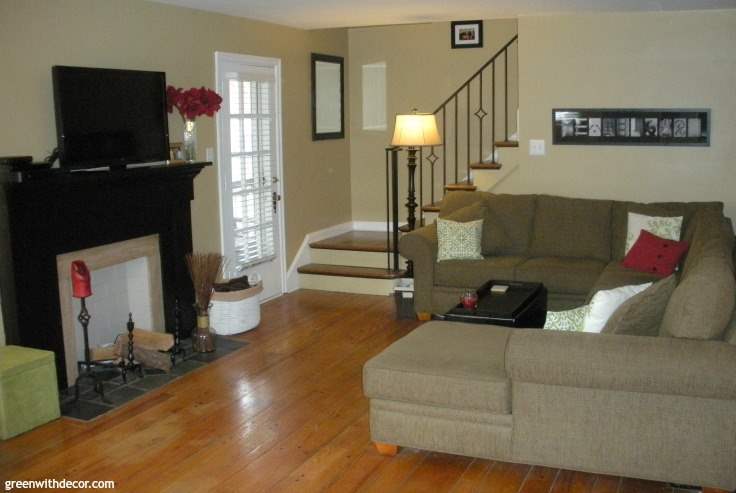 GET THE LOOK: Couch | Green pillows | Red pillows | White pillows
That being said, my advice would be to never ever buy a sectional for a house you know you won't be in forever.
It's just way too big a piece of furniture to deal with in other spaces. But it was only a few years old and still sooo comfortable when we moved, we just decided to keep it and figure it out.
Instead, we saved some money and swapped out throw pillows, accent chairs, coffee tables, lamps, artwork and curtains. Those are all more fun to shop for anyway. Plus you don't feel bad buying some new smaller pieces when it's replacing something you didn't spend much on.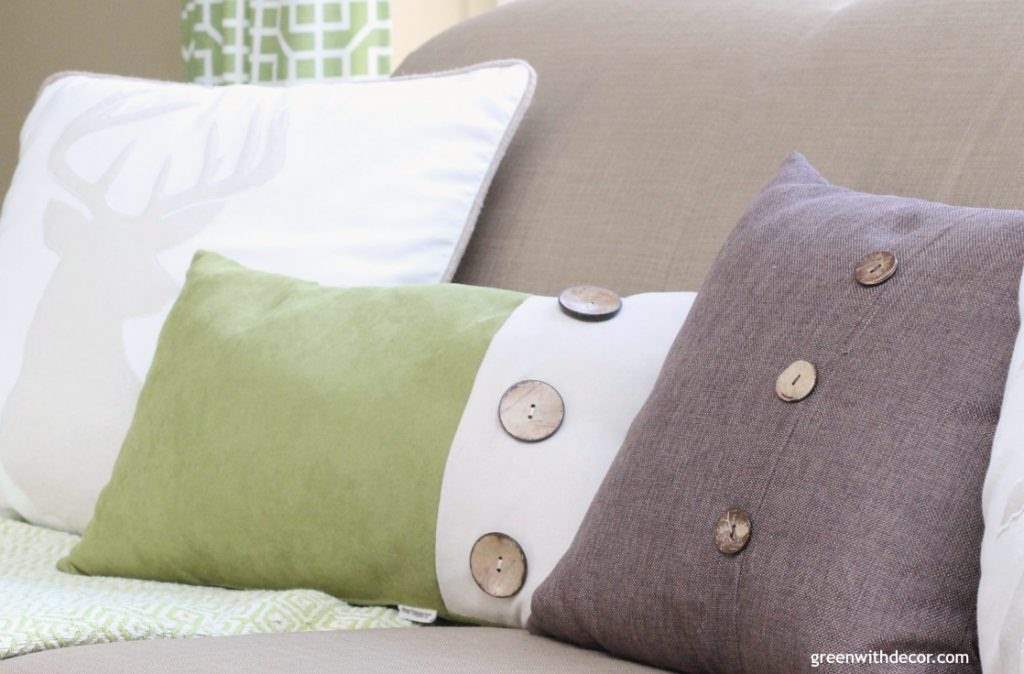 GET THE LOOK: White pillow cover | Blanket | Green pillow | Brown pillow
When we got to Milwaukee, as much as we loved the house, Kalen will be the first to tell you the worst thing about the house is that the sectional didn't fit! Such problems, I know.
We were in the middle of renovating the entire house, so buying a new couch wasn't really in our plans or in the budget. Plus, our Milwaukee house had a living room and a family room, and if one new couch wasn't in the budget, two definitely weren't.
Now this might sound weird, and I definitely thought it would be at first, but we just broke up the sectional.
It comes in three pieces anyway – the long couch piece (as seen across the back wall in the Cincinnati living room above or in the picture below), the chaise (as seen in our home office) and then the two middle cushions that sit between the two other pieces.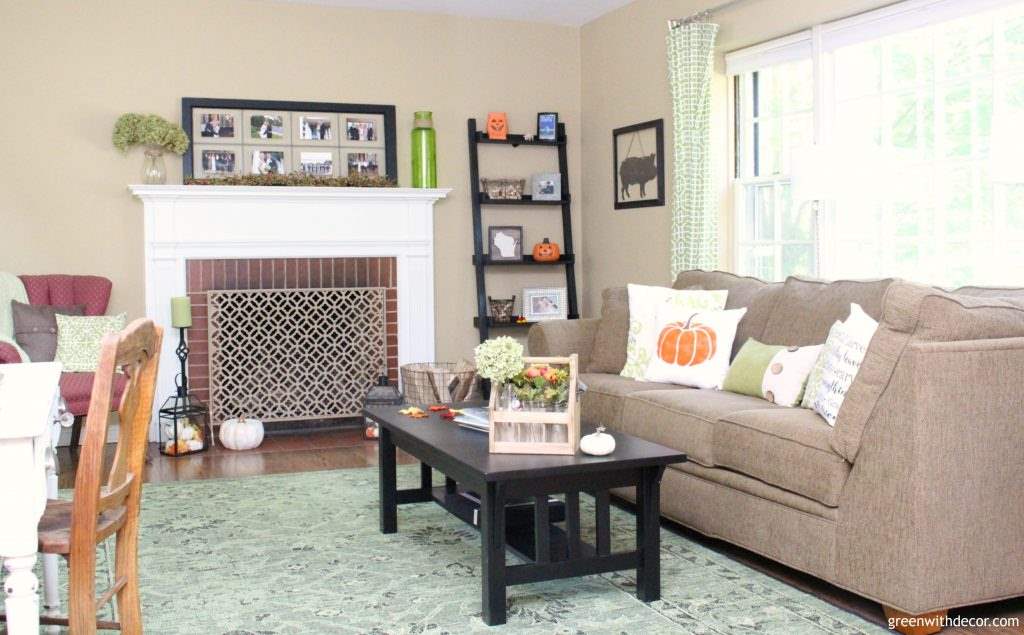 GET THE LOOK: Rug | Fireplace screen | Coffee table | Wooden caddy | Ladder shelf | Metal pig | DIY fall pillow or similar here | Green pillow
The two middle cushions are basically a loss on their own. They look incredibly sad just sitting by themselves, but the big couch piece works great on its own.
The one side is more of a 'back' of a couch than an arm, since it's supposed to connect to the middle cushions running perpendicular to it, but once you get past that – and once you sit down and remember how darn comfortable the couch is – you don't care.
Plus I think it's one of those things that you as the homeowner are much more aware of than visitors are. Sometimes in conversations with friends, it would come up that this isn't really a standalone couch, and people were always surprised it was part of a sectional.
We put the couch part of the sectional in our front living room, and recovered a couch that family friends were getting rid of for our family room. We felt sooo lucky to get that second couch, because we definitely would have been living with an empty room for a while if we hadn't.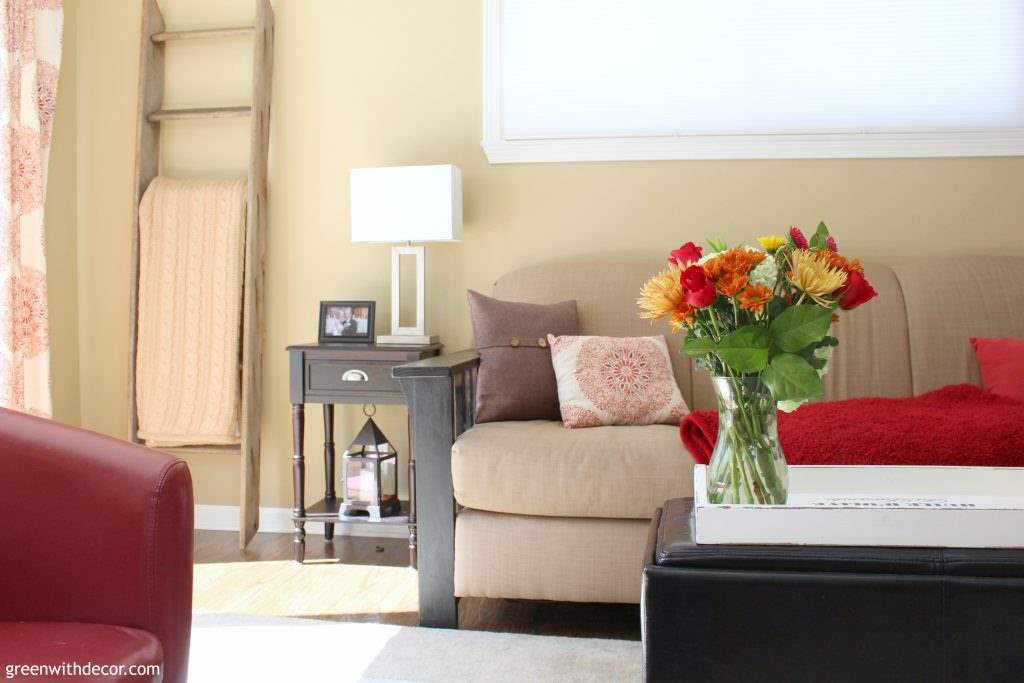 GET THE LOOK: Ladder | Tan blanket | End table | Lamp | Brown pillow | Fabric for white + red pillow | Red blanket
If you've been a read for awhile, you may actually recall that late last year, we swapped the couches in our living room and family room, because we spend all our time in the back family room and we wanted the comfortable couch back there.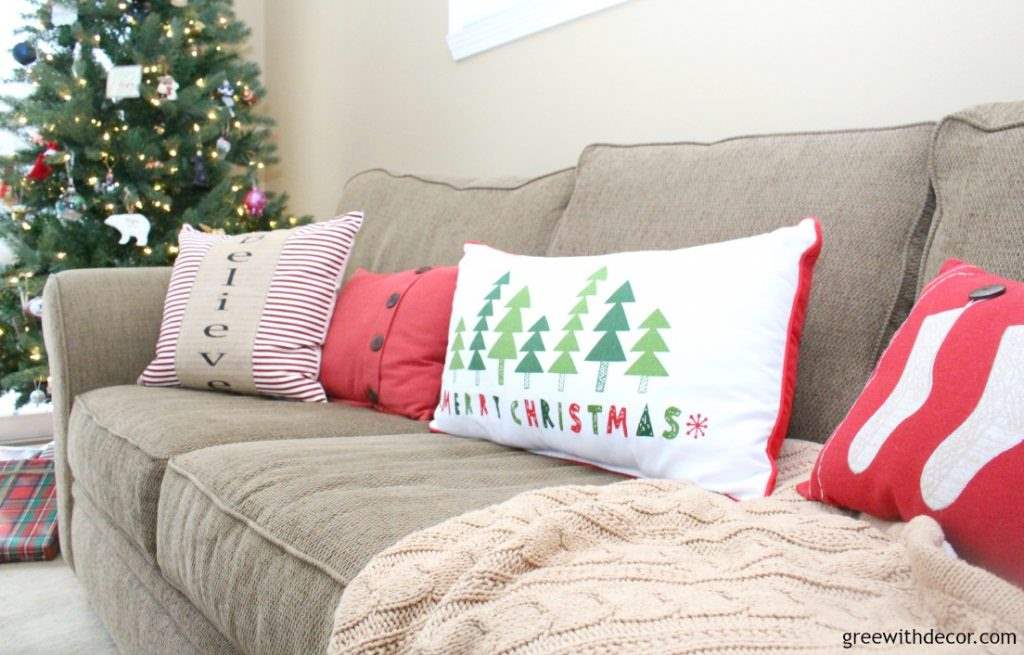 I was worried about putting the big couch in the smaller of the two rooms and vice versa, but it worked.
I didn't love the bigger couch in the smaller family room but we figured we'd replace it someday when we moved it down to a basement rec room.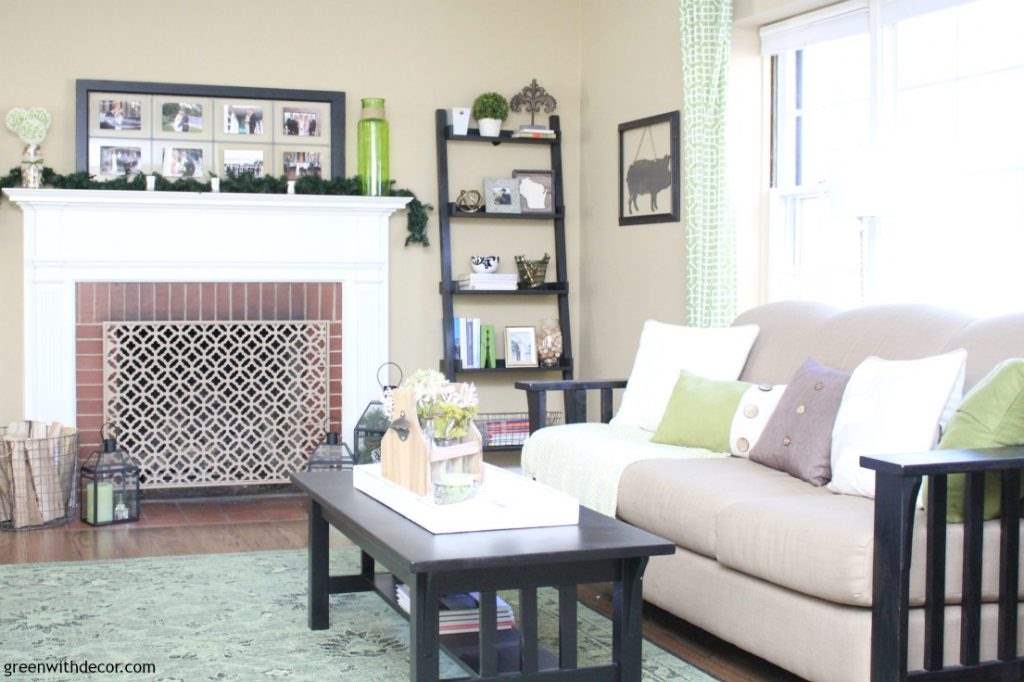 In our rental house, Kalen was dreaming of the sectional being reunited as one big piece.
The room is definitely big enough, and you can see while we were in the midst of painting, we did have it all together. Even if it was in the middle of the room in this picture. 🙂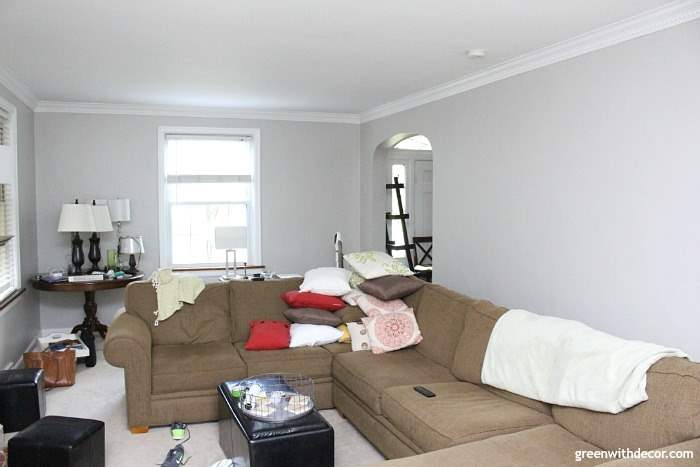 As we started playing around with the layout of everything though, it just didn't make a lot of sense. The sectional is awesome and comfortable and everything else Kalen uses to describe it, but it basically closed off the front and back of the room.
Which means the two sad middle cushions are back in the basement, and we split up the couch part and chaise again: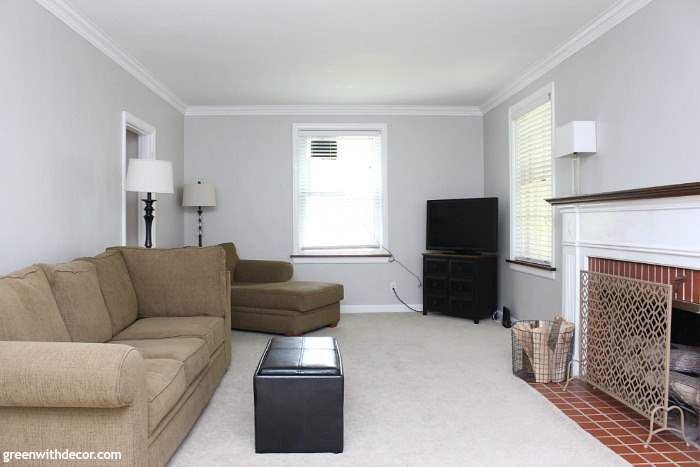 Clearly we still have all the decorating to do in this living room! (Update: You can see the finished coastal rustic living room here.)
The broken up sectional thing isn't perfect and probably not a trend you'll see in a design magazine anytime soon, but for those of us moving around a bit and not willing to fork over hundreds of dollars for a new couch to fit the new living room each time, it's a pretty good solution.
But if you are in the market for a perfect sectional for your forever house, one, I'm sooo jealous you're never packing another box again and two, you probably want to get one like we have. SOOO comfortable!
Have you been faced with decorating a whole bunch of living rooms in a short period of time? Ever been stuck with a sectional? Or have you broken one up to use different pieces like we have? If so, I'd love to hear about it – I haven't met anyone else who's crazy like us and done it!
Remember to check out the other bloggers' living room design ideas and projects below, plus are links to the other posts in the Room by Room series if there's a room you're particularly interested in.
Living rooms (you're here!)
Remember to bookmark or pin this post if you want to save it for later!


Pin it!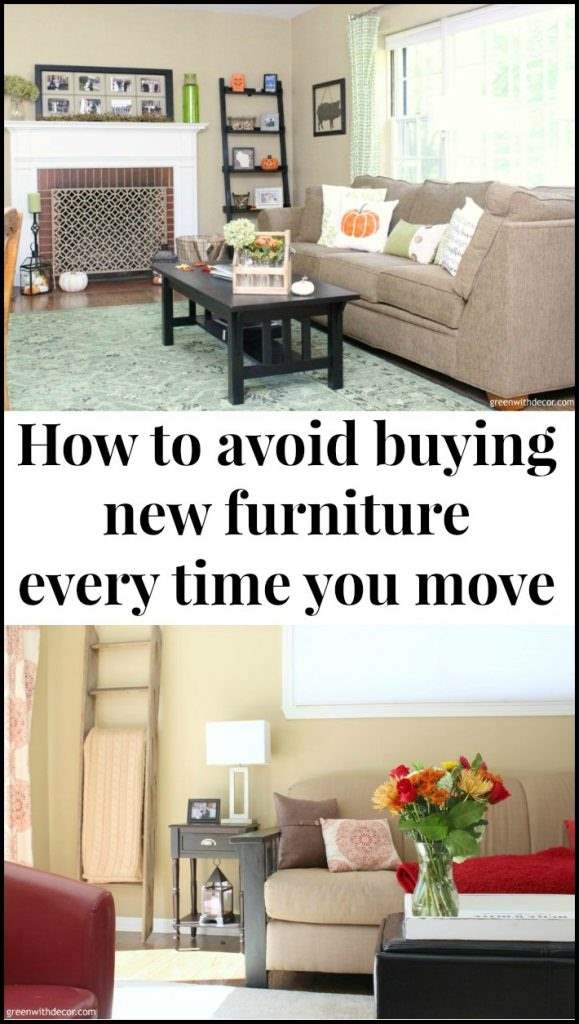 Want to read more posts like this?
Follow along: Get my emails | Facebook | Pinterest | Twitter | Instagram