Sometimes it seems like spring and summer can be the hardest seasons to decorate for. Fall and Christmas decor is so obvious and easy to grab, but spring and summer?
It's kind of just everyday decor.
I mean the spring mantel I shared earlier could really double as a summer mantel. But where's the fun in keeping mantels the same?
I'm a fan of switching up the mantel decor. I even swapped out my usual windows turned picture frames with the new artwork for a new look. I'm liking the two stacked together.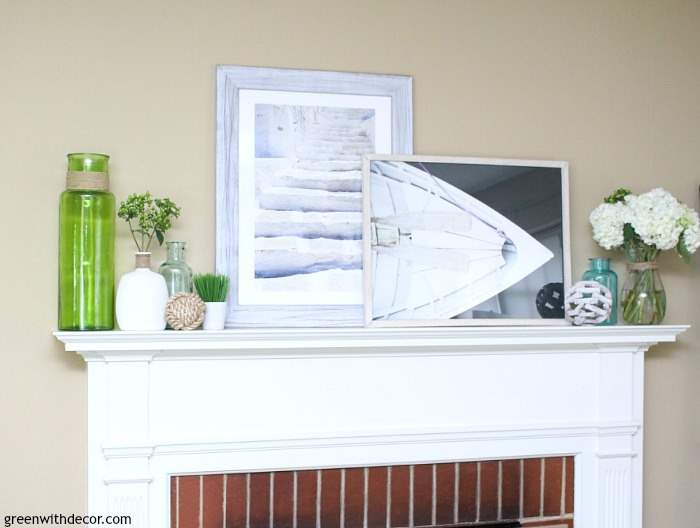 Today's post is part of the Decorate Your Mantel series hosted by my friend Amy from My Life at Home. Be sure to scroll down to the end of this post so you can hop around to see all of the other summer mantel decorating ideas.
And if you're new around here and hopping over from one of the other ladies' blog posts, welcome! You can learn more about us and tour our house here.
I'm really happy with how this mantel turned out. Sometime it's just fun to gather a bunch of decor pieces, drop them all on the coffee table and then start playing around with them on the mantel until you get a look you like.
So while this is technically a summer mantel post, I feel like this look could look year round, too.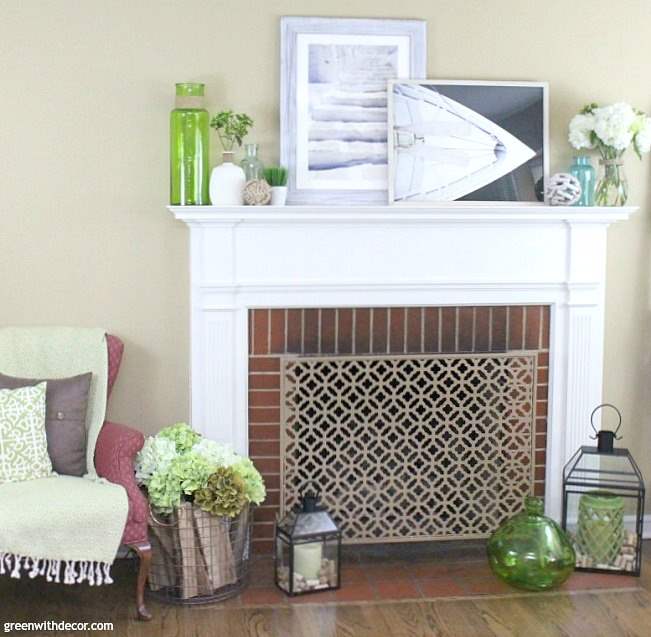 I'm into the beachy decor look lately, and as long as you have a few key pieces, you pretty much can't go wrong if you're looking to achieve a similar look:
This post contains affiliate links. This means if you click the link and buy something, I may receive a small percentage of sales at no extra cost to you.
1. Colored glass vases
I'm a big fan of green glass (obviously), and lately, I just can't get enough aqua vases. Something about glass just looks elegant and polished.
Of course you don't have to spend a lot, just shop around a bit. I've had luck finding smaller ones for cheap at HomeGoods and Marshall's. I also just bought this big aqua vase, which I'm loving in our white kitchen.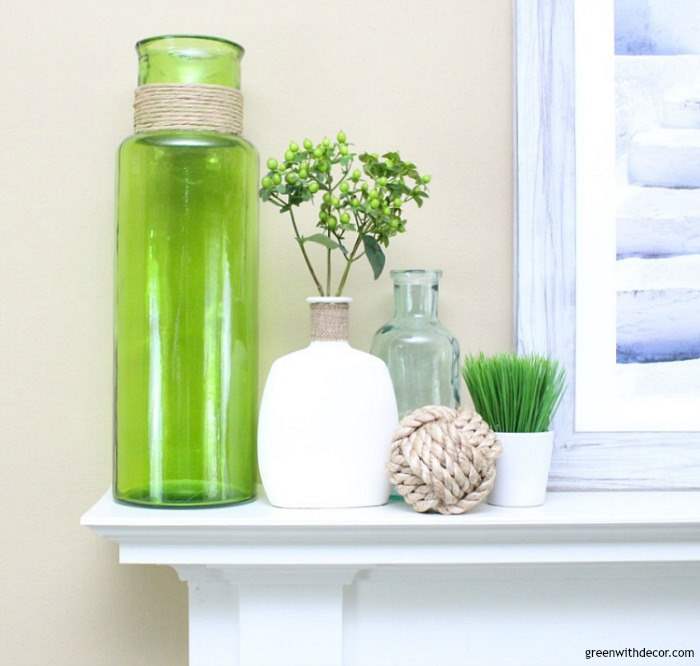 As for that white concrete-looking vase, it was such simple DIY.
2. Driftwood
Between the wood frames on the artwork, and this little driftwood sphere, I'm loving the look of the whitewashed wood lately. I know, I know, big surprise that I love decorating with white.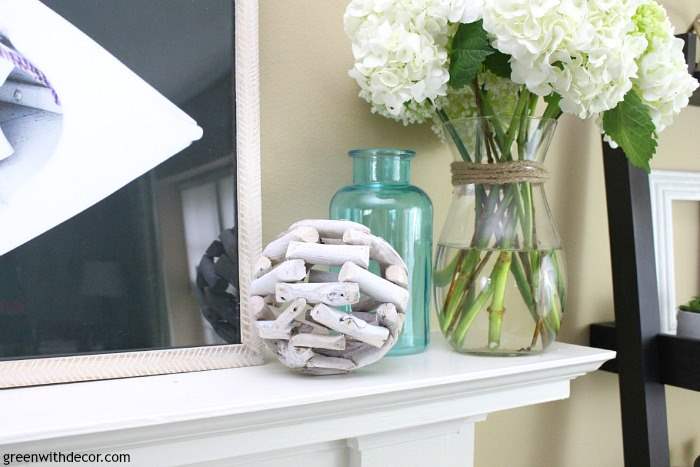 3. Rope
I love this little rope sphere. You can find it online here.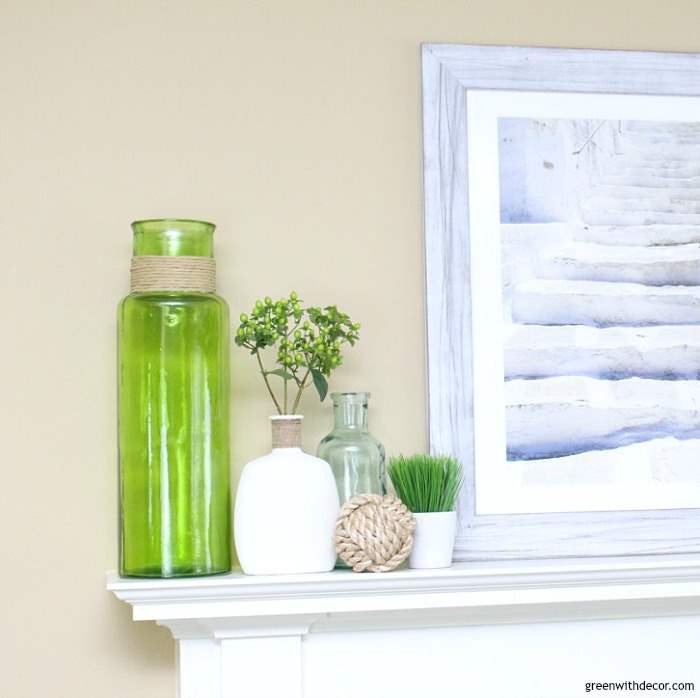 Plus the rope and burlap around the tops of vases adds a fun nautical touch.
4. Flowers or greenery (or some sort of life)
I say this for pretty much all decorating, whether you're doing a mantel or a whole room, but add some life. Hydrangeas, greenery, faux grass, really, anything works.
I tend to lean more toward the faux side of things because who can afford fresh flowers all the time, but I treated myself to some fresh hydrangeas recently. Sometimes you just gotta #treatyourself. Sorry, too many Parks & Rec reruns.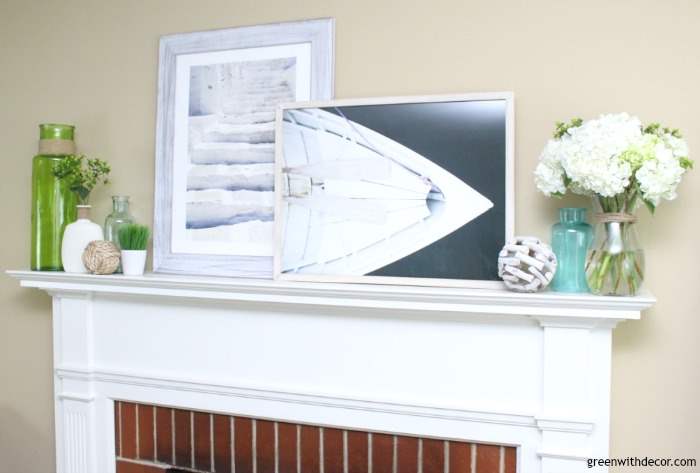 5. Beachy artwork
I talked about a bunch of my favorite beachy art picks a few weeks ago if you're looking for some, too!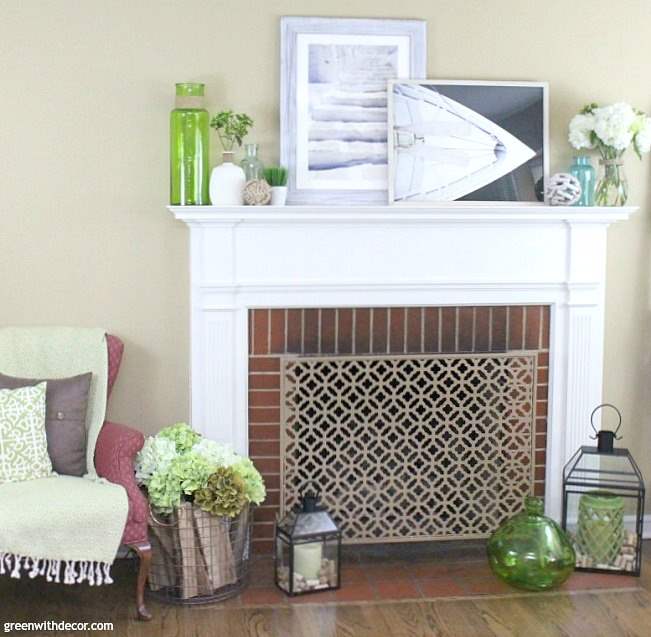 What are you doing for a summer mantel? Are you taking everything off and starting from scratch or are you just looking to swap out a few key pieces for a more summery look?
GET THE LOOK:
Since a popular question I get is "Where'd you get that?!," here are links to the same or similar sources:
Remember to bookmark or pin this post if you want to save it for later!


Pin it!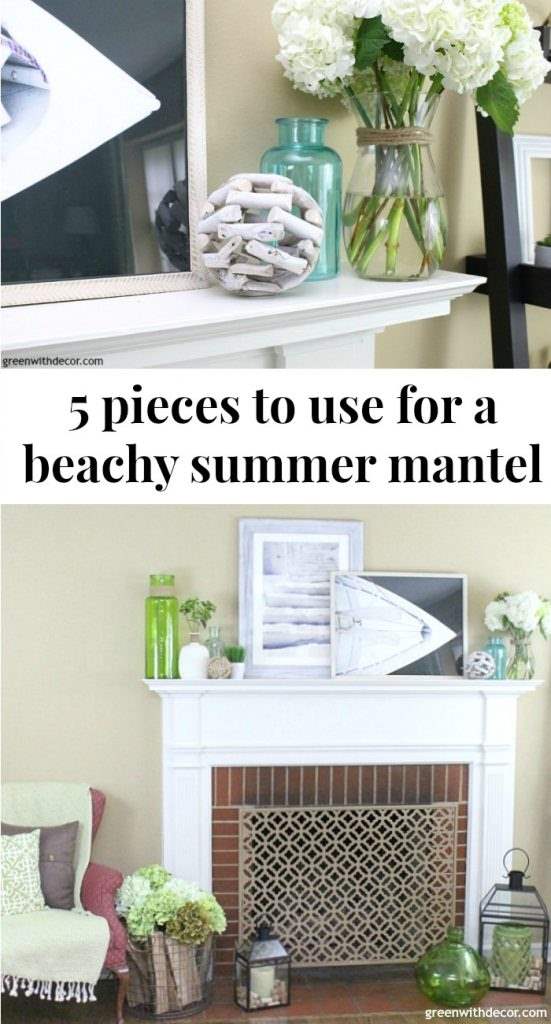 Want to read more posts like this?
Follow along: Get my emails | Facebook | Pinterest | Twitter | Instagram