Our seagrass basket gallery wall in our dining room is one of my favorite spaces, and it seems to be a reader favorite around here, too.
I bought our baskets at Target, and quite a few of you did, too. But they've been out of stock for months.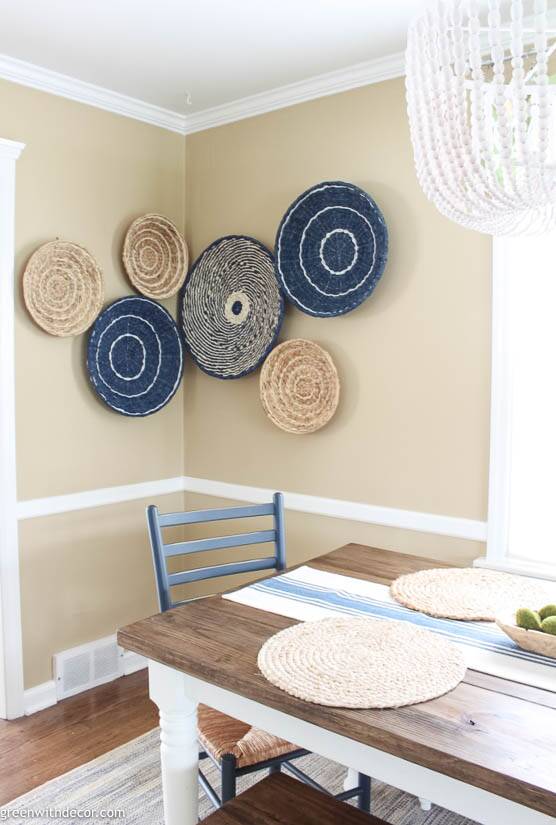 This post contains affiliate links. This means if you click the link and buy something, I may receive a small percentage of sales at no extra cost to you.
The blue and white baskets are still listed here and here even though they're not available, and the natural colored basket doesn't even come up anymore, so unfortunately, it's not looking good for any of them to come back in stock.
I've been looking for similar options so I have an answer when people ask where to buy some. Which took me down the great rabbit hole of Etsy. There are SO many good ones!
I shared my favorite gorgeous baskets at a reasonable price point below. There are a few more on their site, too that are pricier. I also listed a few at bigger stores that I found, although I really didn't find many.
Click any of the images below for more info. (You might have to double click on mobile.)

Aren't there all so pretty?!
If we didn't already have our seagrass basket gallery wall, I'd be buying some of these. I'm not sure how many basket gallery walls you can get away with in one house though, ha!
Which baskets are your favorites?
If you want more gallery wall ideas, check these out:
Remember to bookmark or pin this post if you want to save it for later!

Pin it!

Want to read more posts like this?
Follow along: Get my emails | Facebook | Pinterest | Twitter | Instagram