It's Christmas home tour day! Actually, Christmas home tour week. A group of bloggers got together, and a few of us are sharing our Christmas home tours each day, so be sure to check out the links below.
I love home tours, and I love Christmas, so these blog posts are some of my favorites.
The links to all the home tours are below – be sure to check them out! I've gotten a sneak peek, and they're gorgeous!
If you're new here, my husband Kalen and I bought our house a couple of years ago. It was a total fixer upper.
And by fixer upper, I really do mean fixer upper. It was bad. So bad that we were the only people that came back for a second showing when other houses on the street were selling within a few hours.
We renovated the entire house – including complete kitchen and bathroom remodels. The other rooms got at least a coat of paint and new/refinished floors. And we painted all the trim white.
I love green, which you'll see a lot of here. Especially around Christmas! Actually you'll see a lot of green here year round, but since green is a Christmas color, we'll say it's for Christmas.
Red is also one of my favorite colors to decorate with – so Christmas decorating works out pretty well around here!
Foyer
Come on in!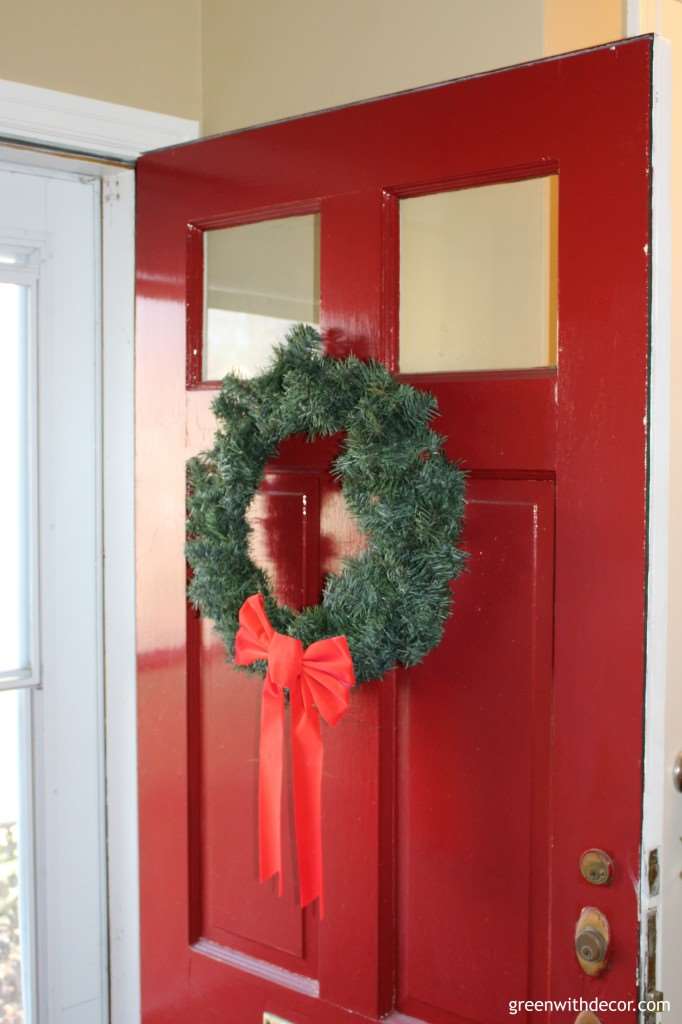 We don't have a real entry, but we fake a small foyer with this chest and mirror. And that basket is perfect for holding scarves, gloves and keys.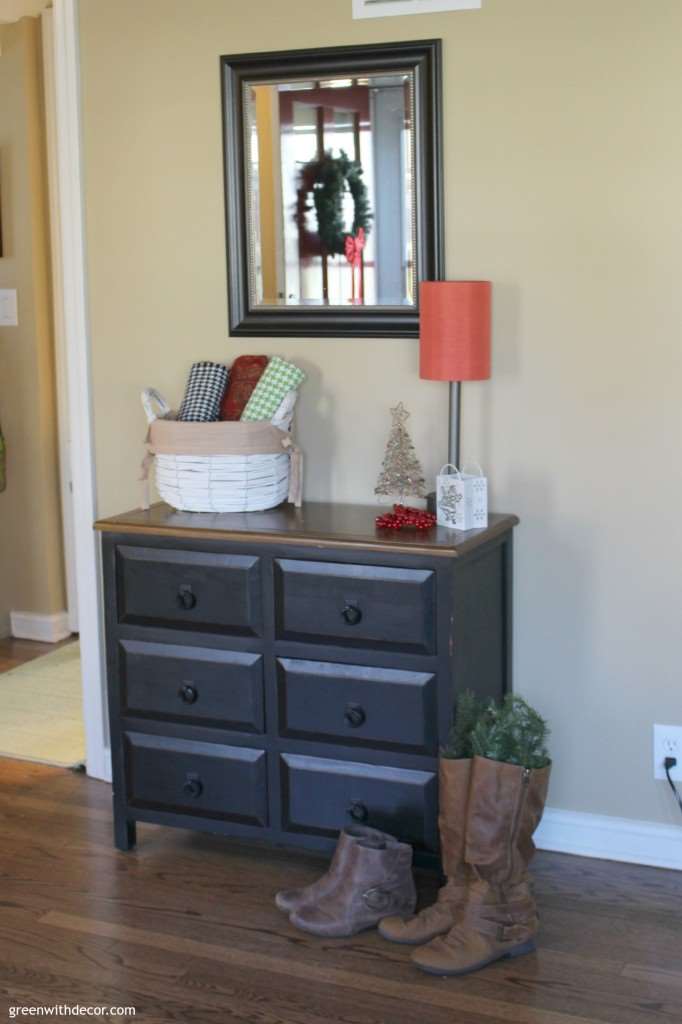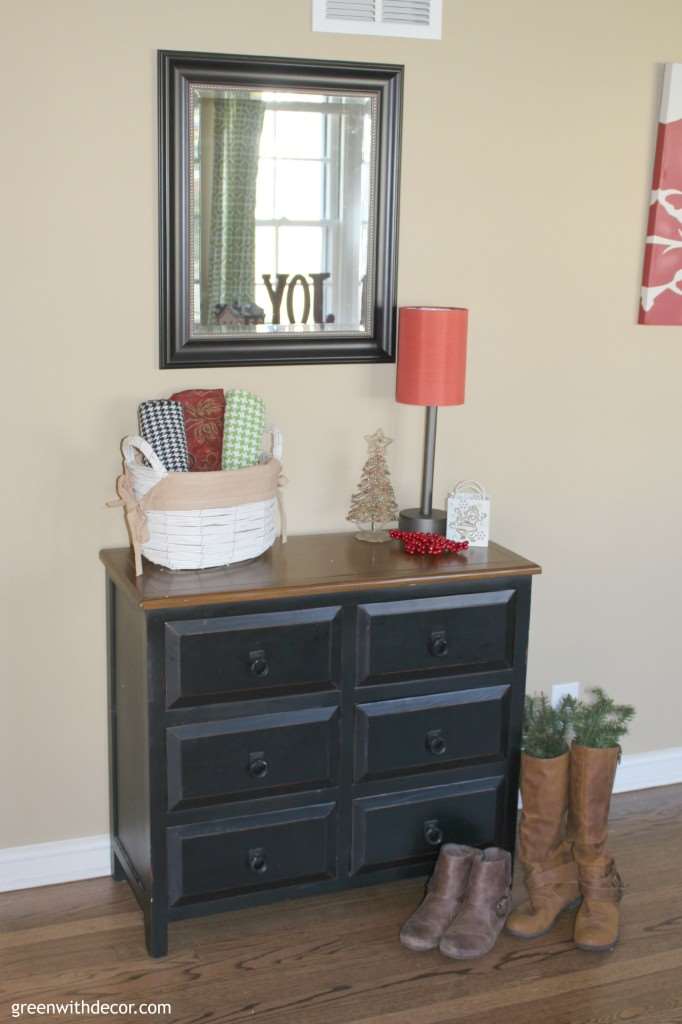 This post contains affiliate links. This means if you click the link and buy something, I may receive a small percentage of sales at no extra cost to you.
Living room

We don't really use our living room much since we spend most time in our family room, but I love our living room during the holidays because it has our Christmas village.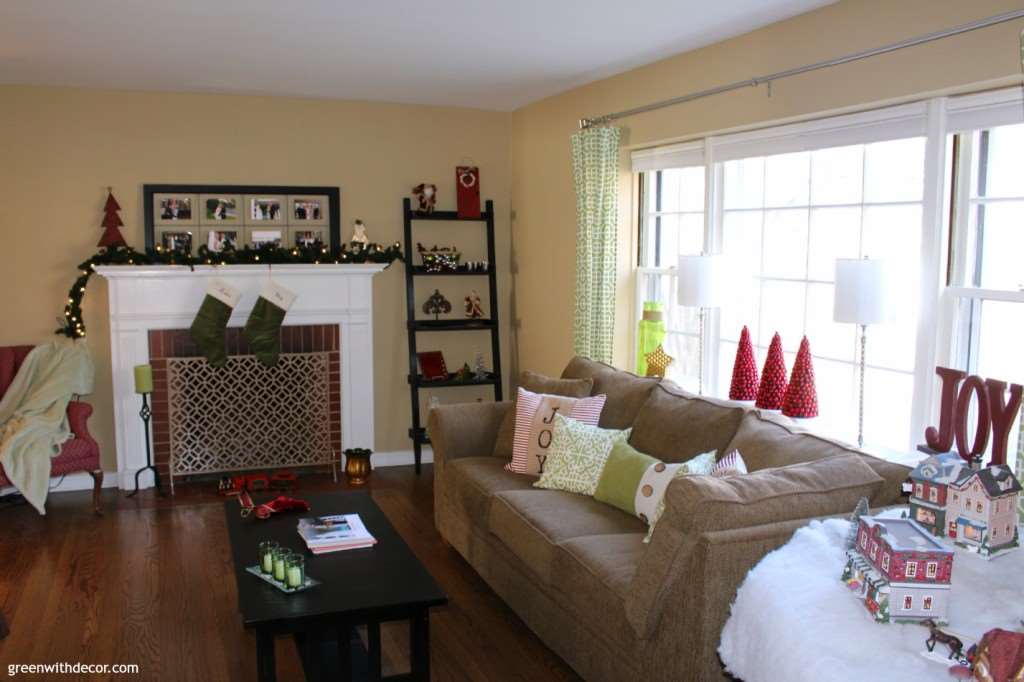 I can't decide if the Christmas tree or the Christmas village is my favorite part of Christmas decorating.
I really love our Christmas village. My parents had one growing up, and it's always been one of my favorite parts of Christmas decorating.
Kalen and I started our Christmas village as soon as we were engaged. We buy a few pieces each year that mean something to us. I could write a whole blog post on the village – more on that later!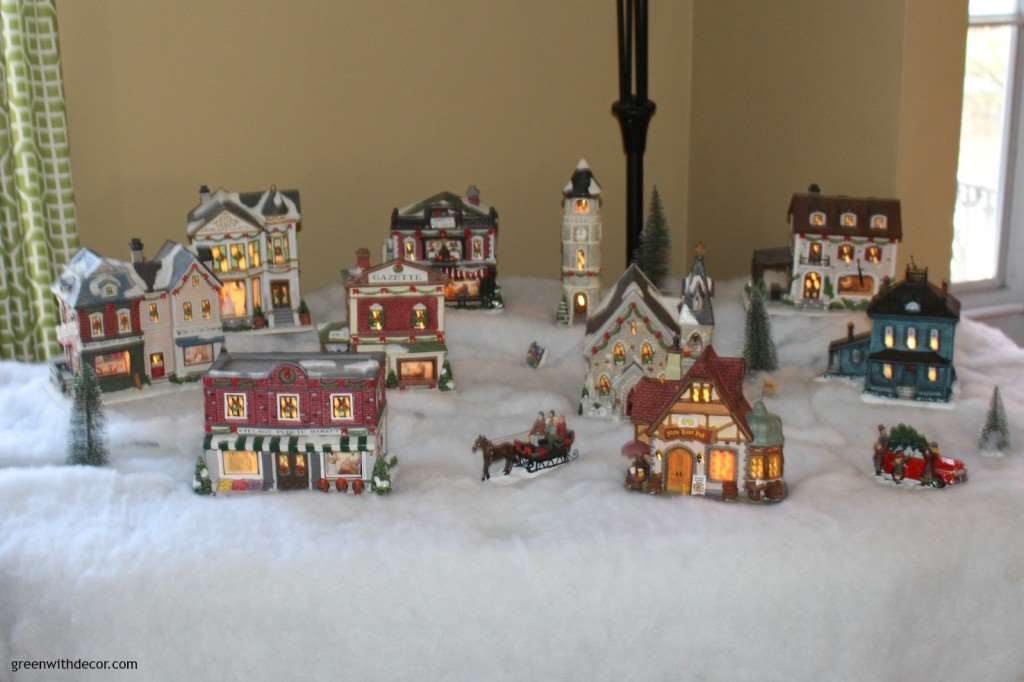 And a night shot: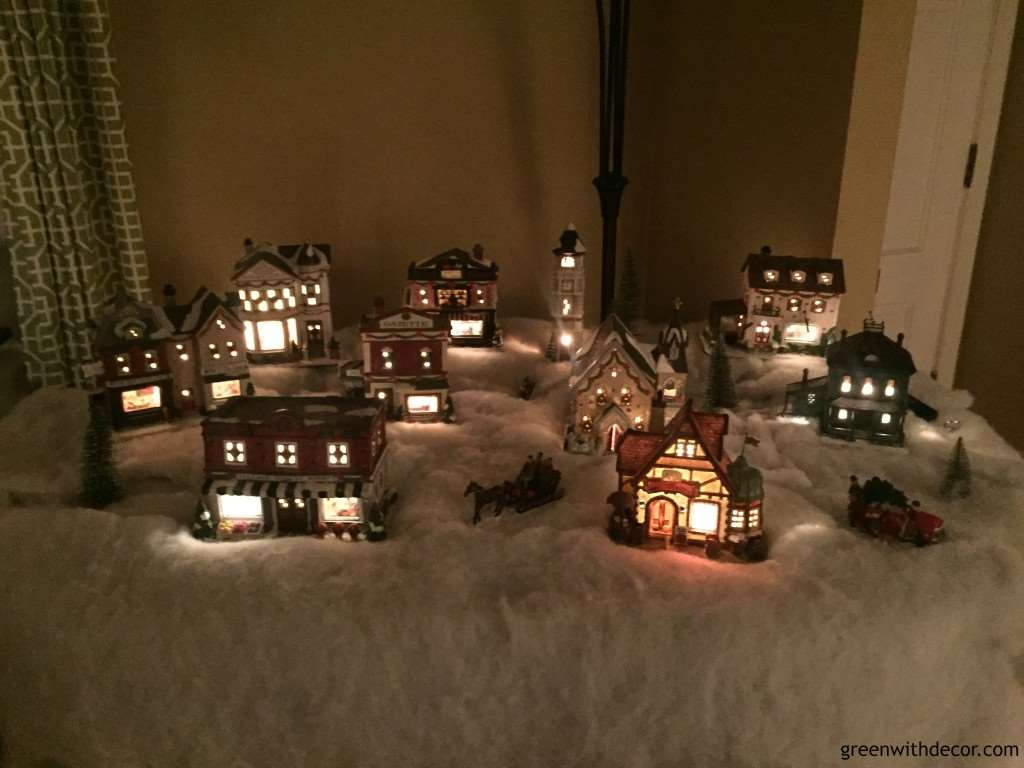 Last year we really didn't do anything with the window box behind the couch. This year, I had too much a lot of fun with it. I had to put everything on books to give it all height, otherwise you could barely see anything above the couch.
Then I put fake snow over the top so you couldn't see the books and then had to keep readjusting everything till it all looked right. Quite the process, but it was worth it!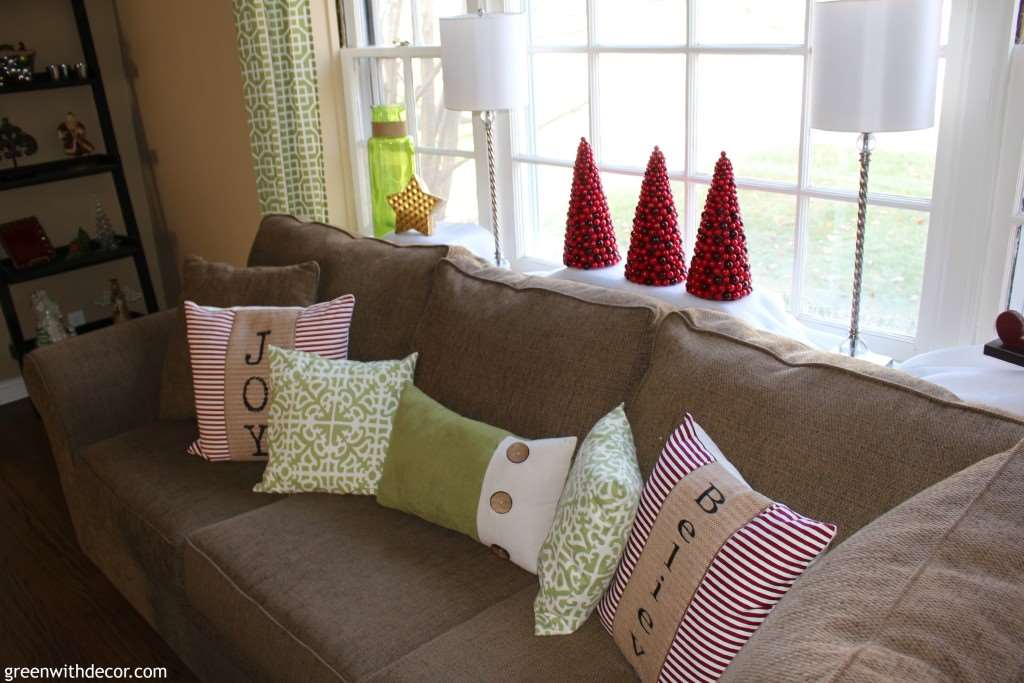 I bought these fun red trees on clearance after Christmas last year and am excited to finally use them. And my brother Stephen just got me this cool JOY sign.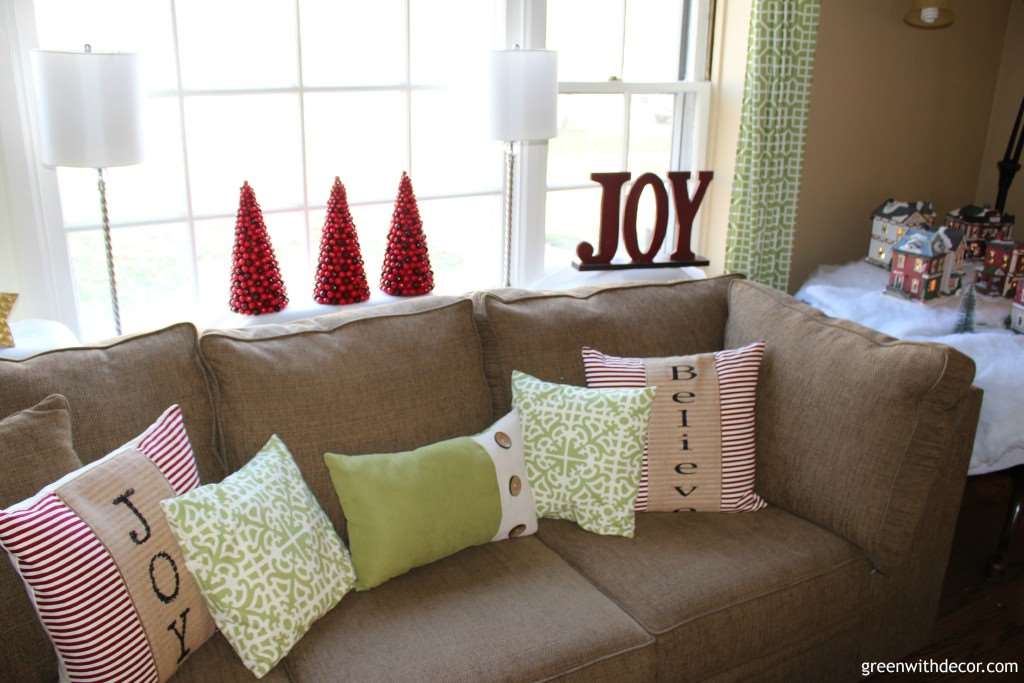 And the mantel! Honestly I'll change this a few more times before the holiday season is over. I have so many fun ways I want to decorate it – I can't settle on just one. Stay tuned for some changes there.
This is one of my favorite classic ways to decorate the mantel for Christmas.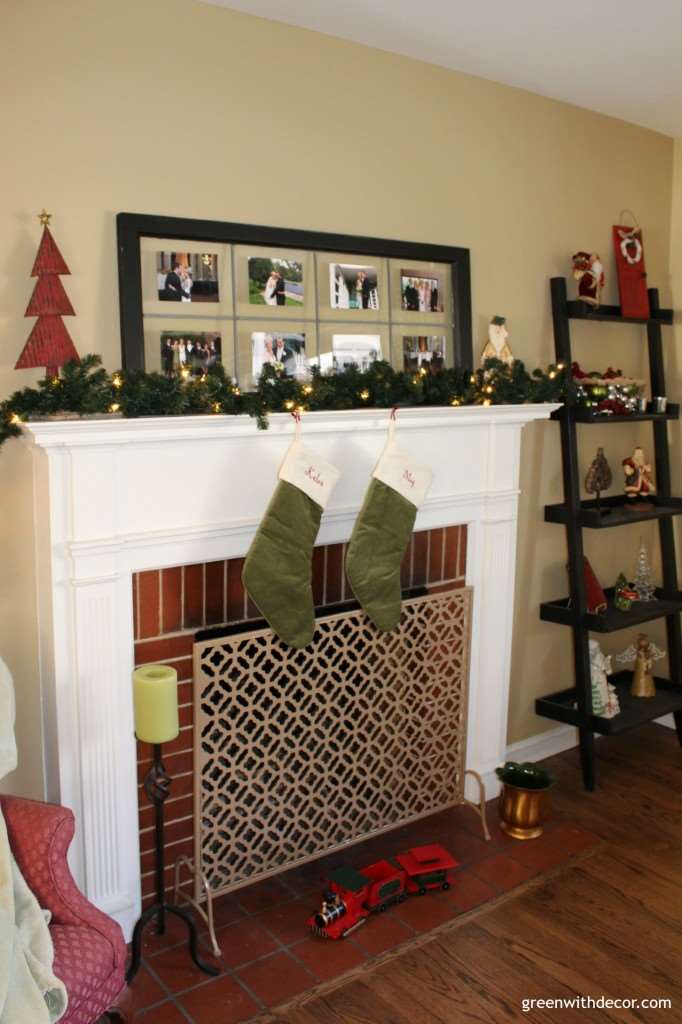 These windows turned picture frames that hold our wedding pictures were a fun DIY project, and I love how they easily fit in with any decor no matter what the season. (You can see our Thanksgiving mantel here and fall mantel here).
Here's a night shot!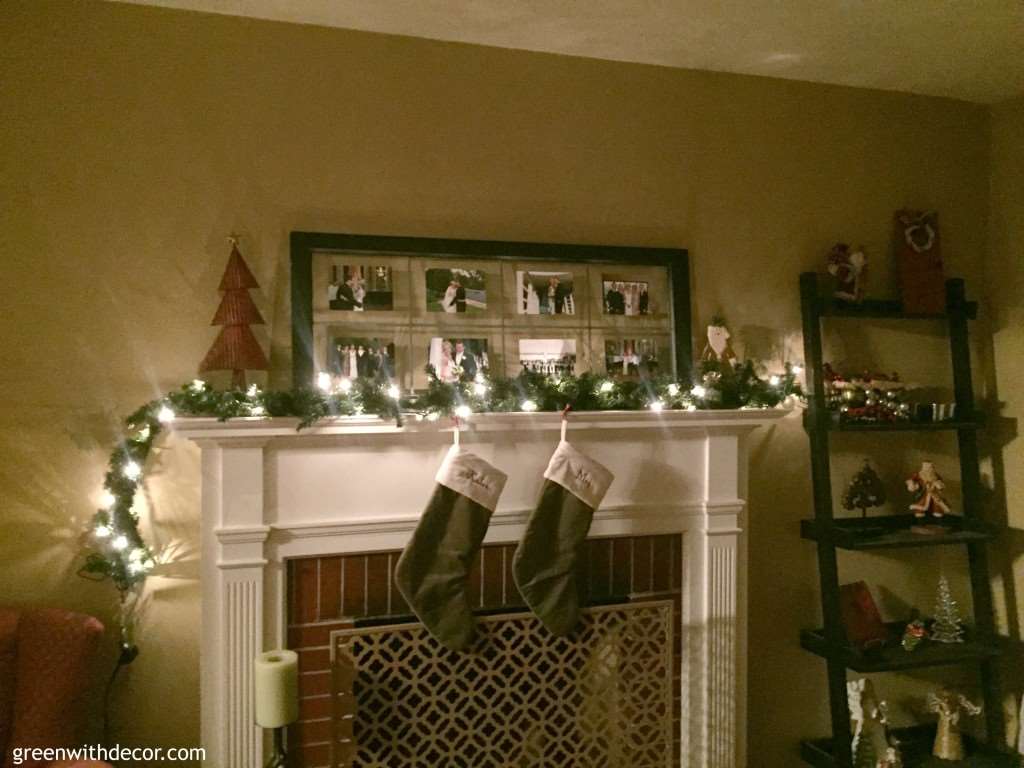 And another peek at the ladder shelf.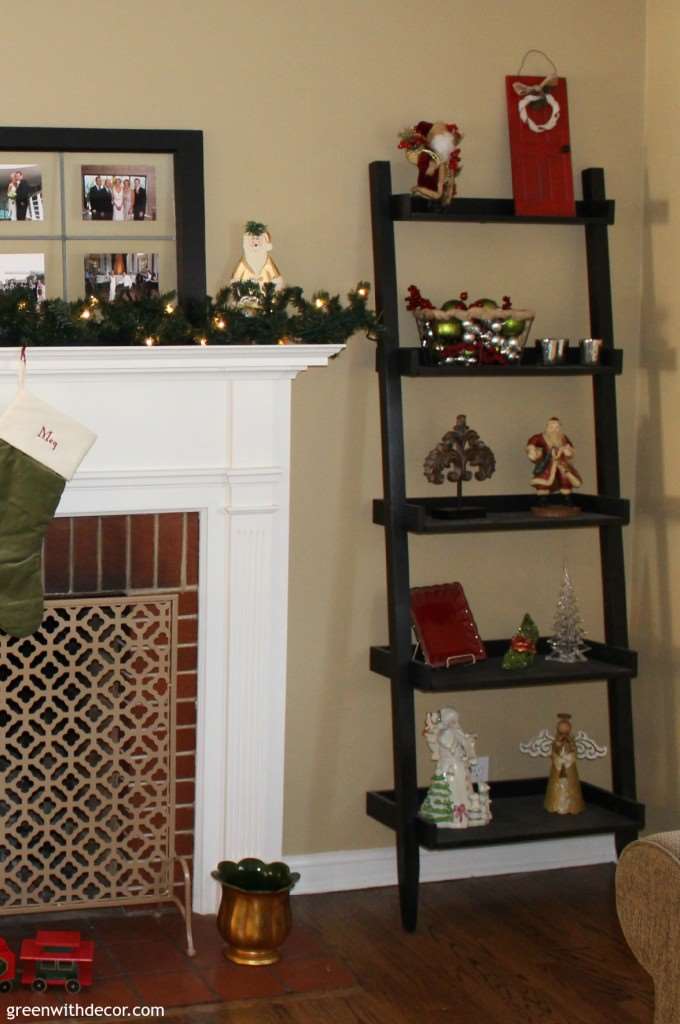 Kitchen
If you're new here, take a look at the before pictures of the kitchen. With kitchen renovations, I'm not sure you can appreciate the 'after' till you've seen the before. In this case, that means a galley kitchen with blue cabinets and a 1940s stove.
I LOVE our kitchen. Kitchen renovations are my favorite renovations, especially when it involves knocking down a wall to make room for a breakfast bar. Almost everyone spends a lot of time in their kitchen, and I really think everyone should have a kitchen they love.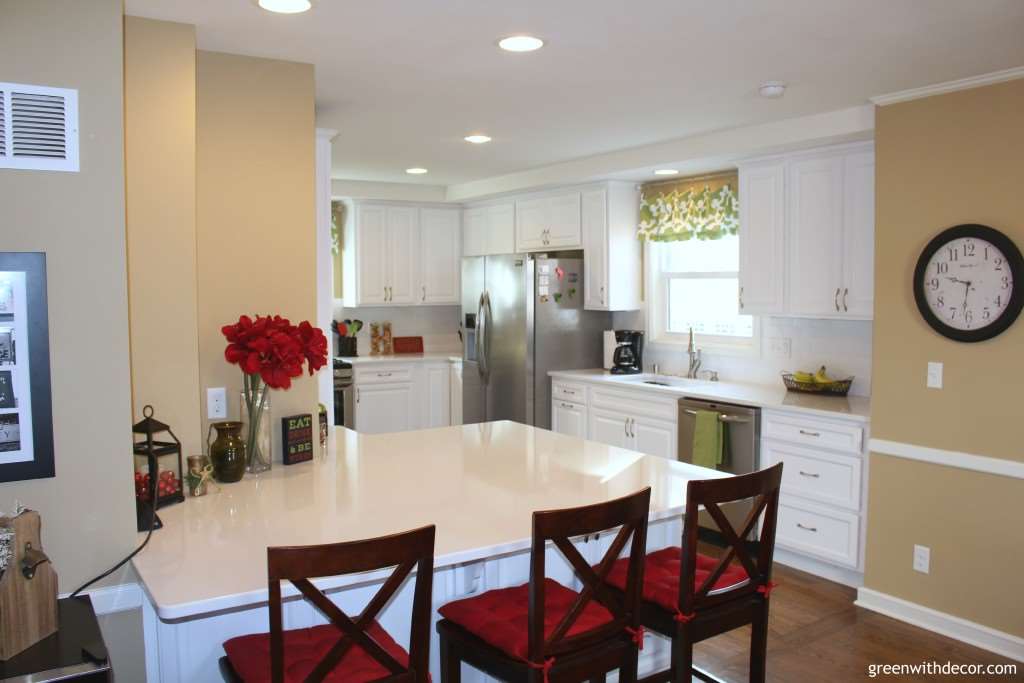 GET THE LOOK: Cushions | Curtain rod | Window valance (DIY) | Faucet| Cabinet hardware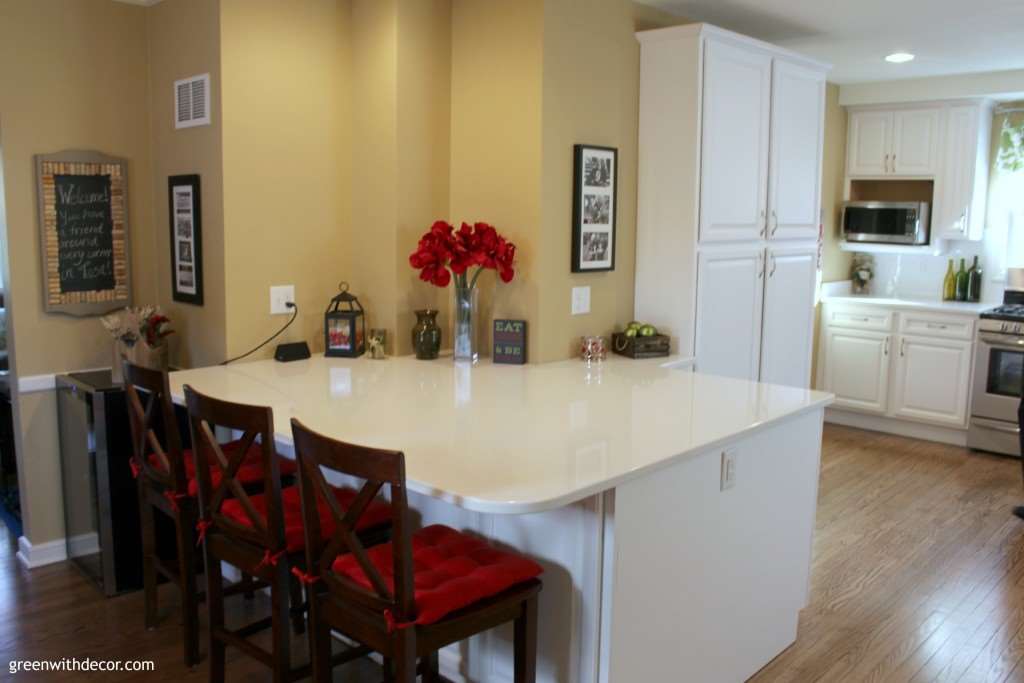 These red flowers are some of my favorites. I break them out for Christmas every year and sometimes use them throughout the year, too. They add such a pop of color!
The little gold candle is from my Grandmom. We have a few Christmas decorations from her, which makes them so special.
Being 90, she doesn't do much holiday decorating anymore. I love that instead of throwing the decorations away, she gave them to me. It's so nice looking around and seeing pieces from her house.
I've also developed an obsession with little ornaments. Yes, I did fill two lanterns with ornaments this year.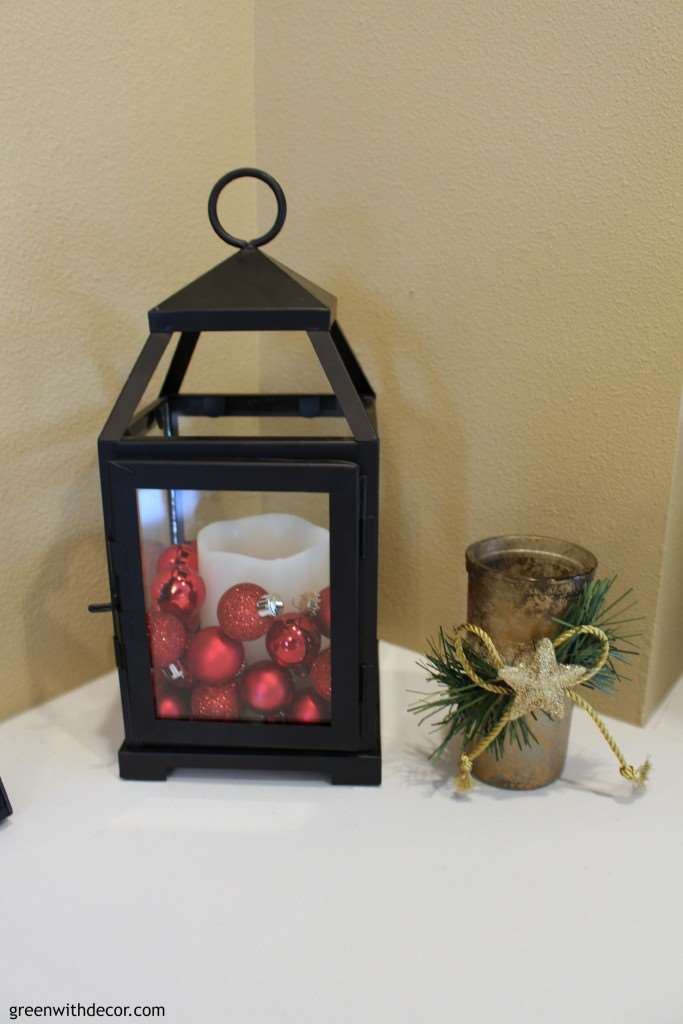 I also have a slight obsession with the word "believe," which really comes out during the holiday season.
Everyone should believe in their dreams – and this time of year, everyone should believe in the season. Cheesy, sure, but I've always loved the word "believe." So we have the word "believe" all over our house.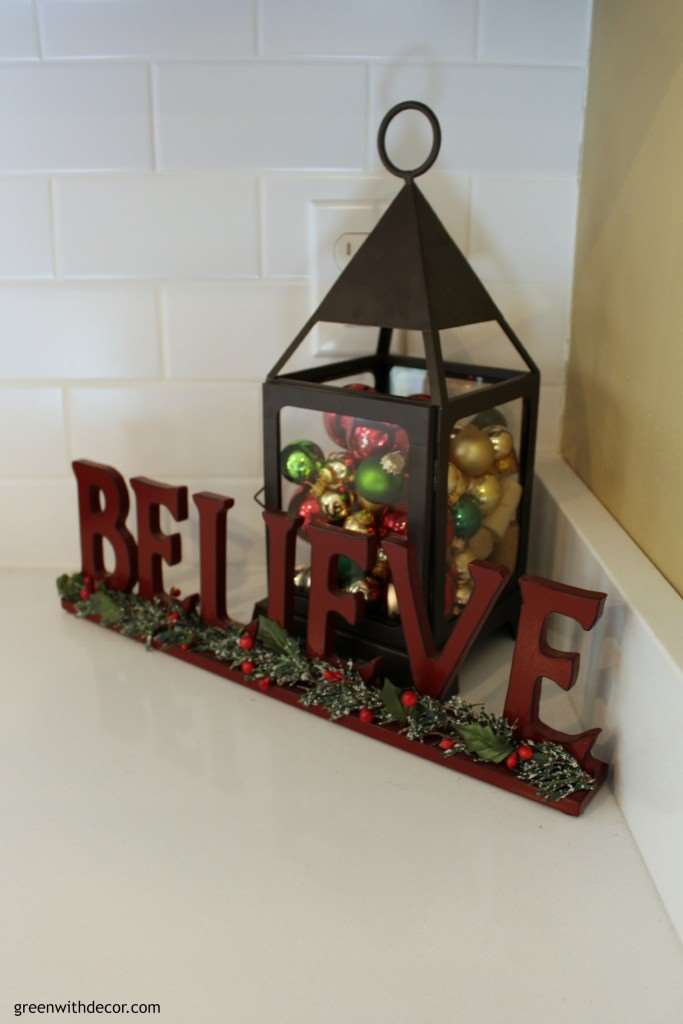 So can we talk about how awesome Kirkland's Christmas decor is?
I got this sign last week for 20 cents!
Okay, it was $15, but I had a birthday coupon from Kirkland's and a reward from previous purchases which brought my grand total to 20 cents. Seriously, if you're not signed up for their rewards program, SIGN UP NOW. It's free and you could get a sign for 20 cents!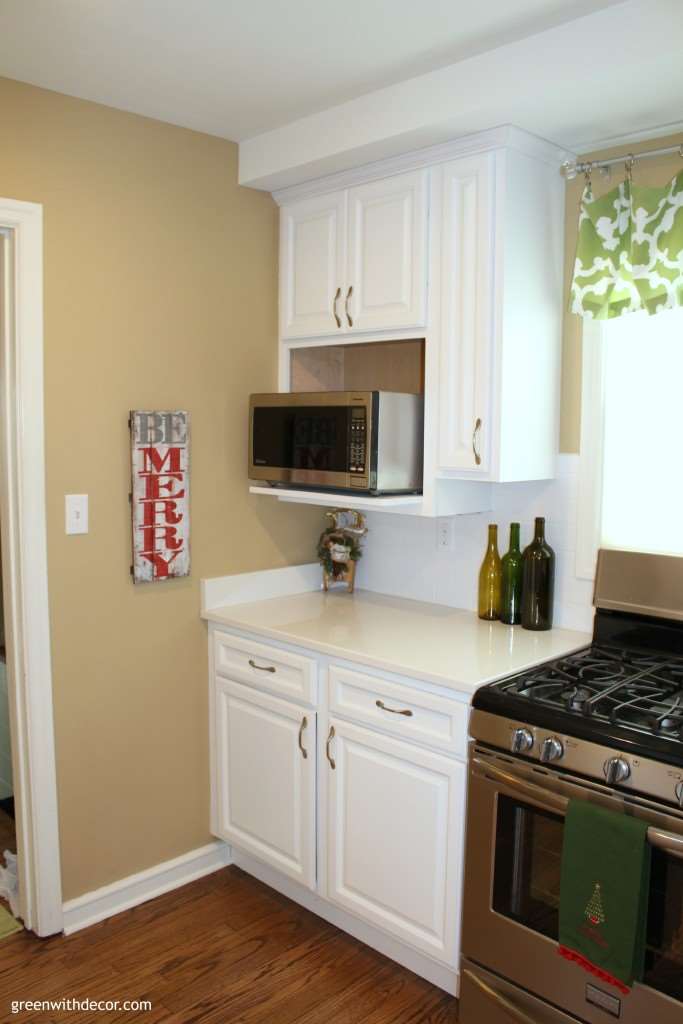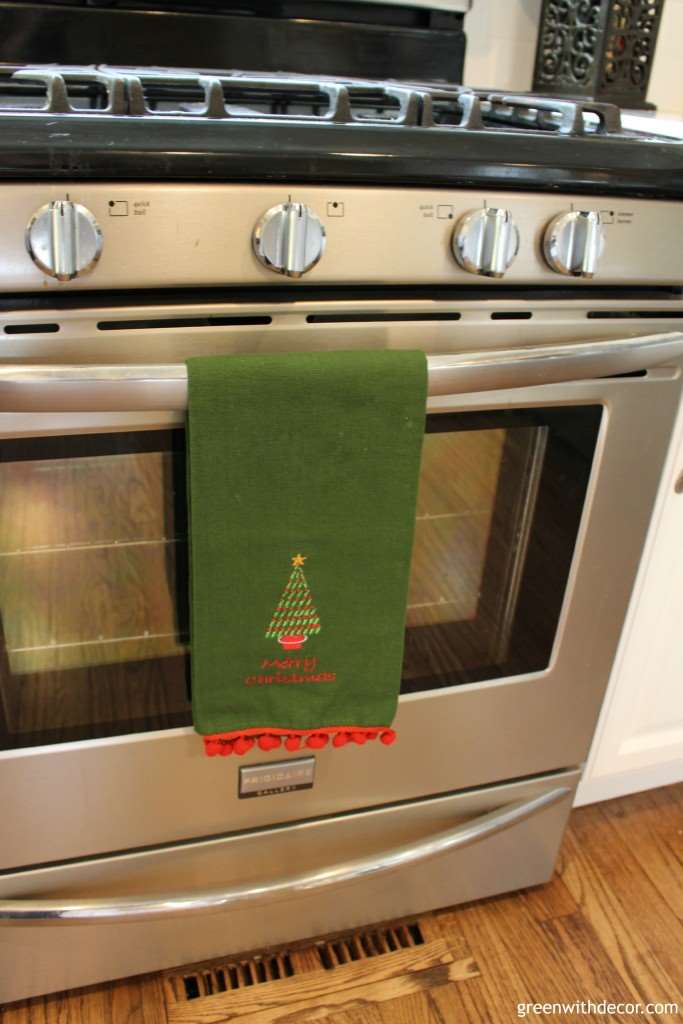 This fun merry sign is another Kirkland's find. The cork H was an easy DIY.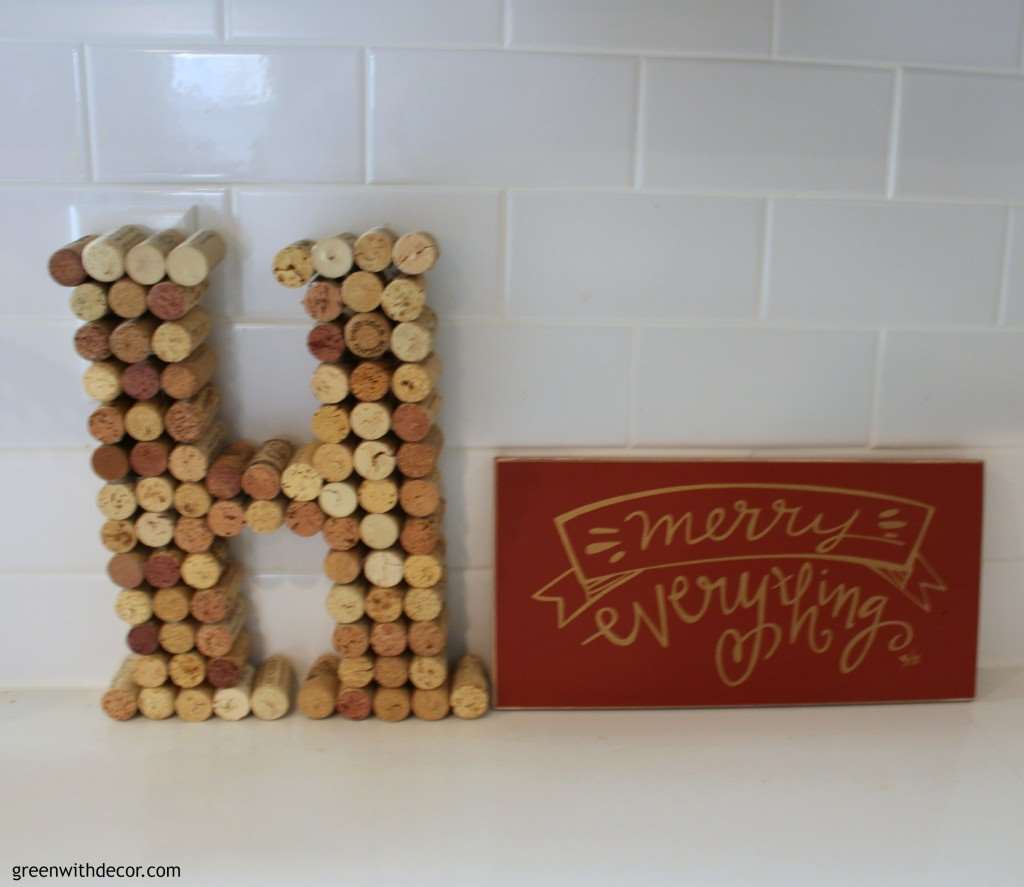 This is one of my favorite corners of the kitchen. (It has the wine fridge.) But I also love this cork chalkboard we got for a housewarming gifts and this fun name sign.
This wooden drink caddy is from World Market. I love decorating it for every season.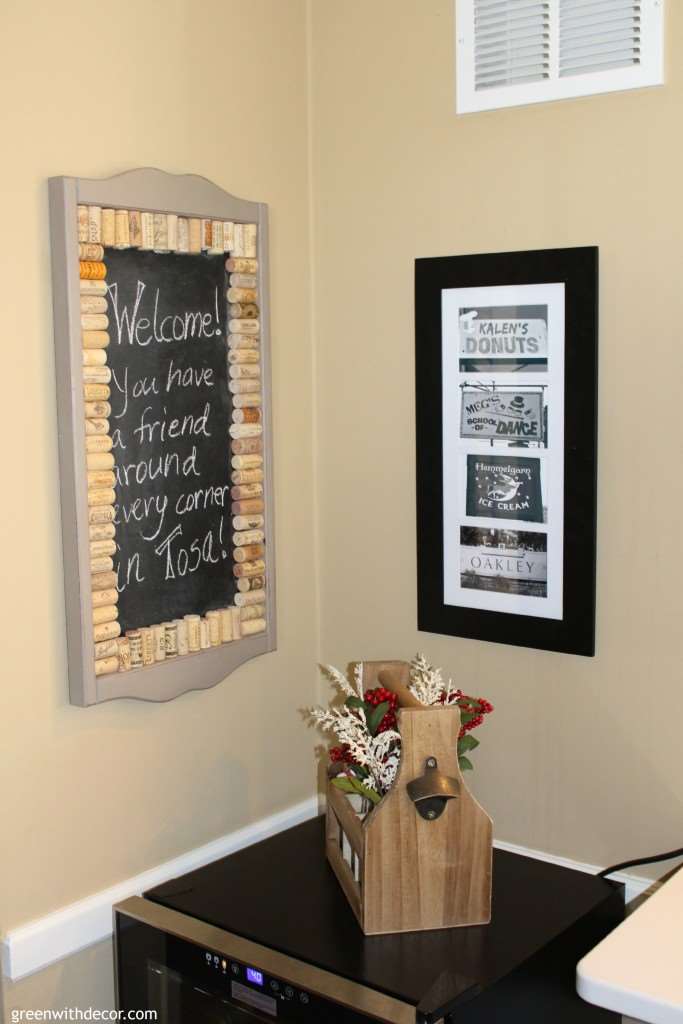 And the table. Of course I used some corks for decor there, too. And I love my new Moscow Mule Mugs, and they're perfect for a festive look on this tray.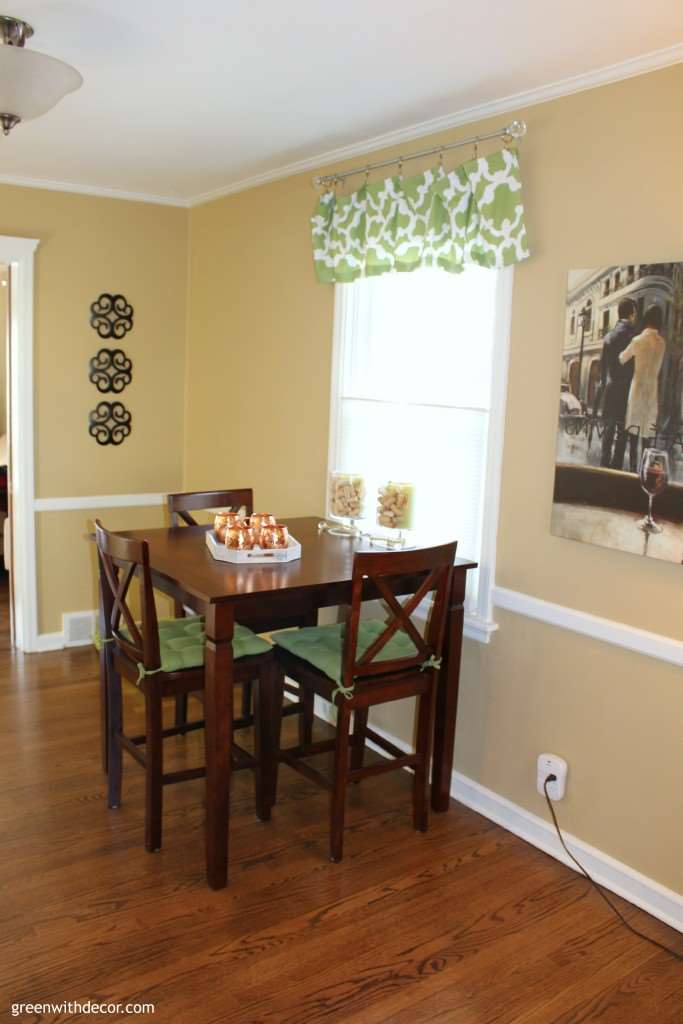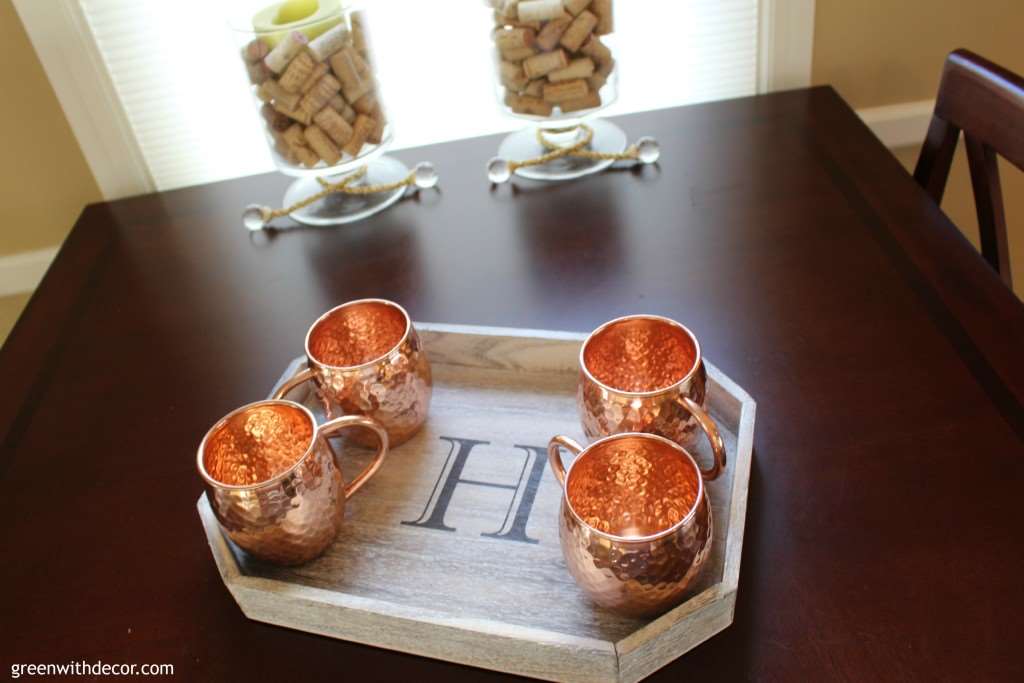 Family room
The Christmas tree!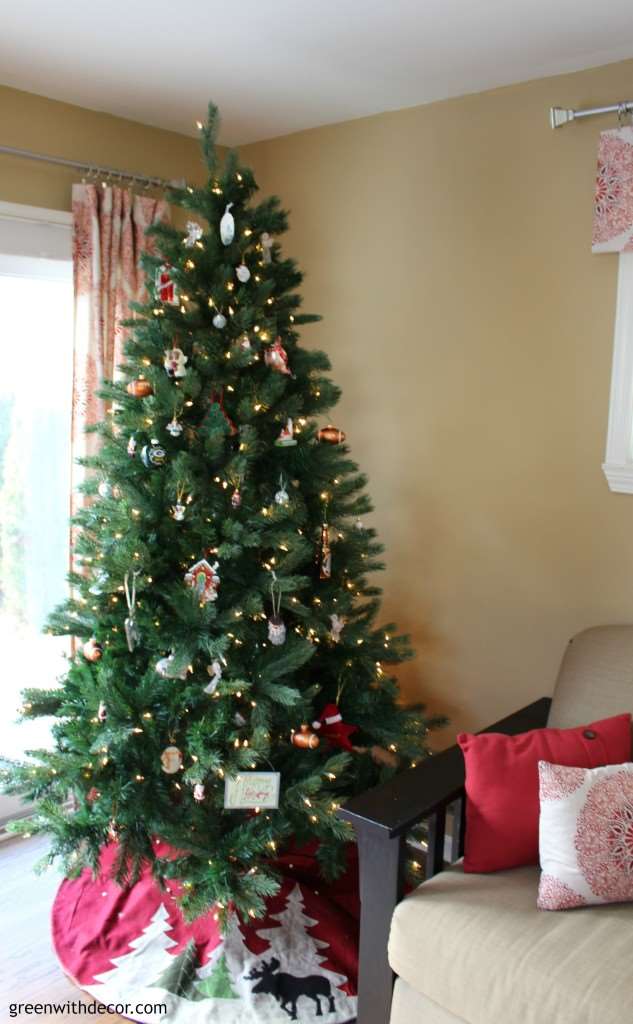 Obviously, the tree is my favorite part of this room.
This seems like a good time to mention it's Oakley's first Christmas. She's been really confused ever since the tree went up. We're pretty sure she's terrified of it.
Well, she'll just have to get used to it, because I honestly don't even think one tree is enough and am already plotting a second tree for our living room.
Anyway, you can read all about my favorite ornaments here. We collect ornaments from everywhere, which is a fun tradition.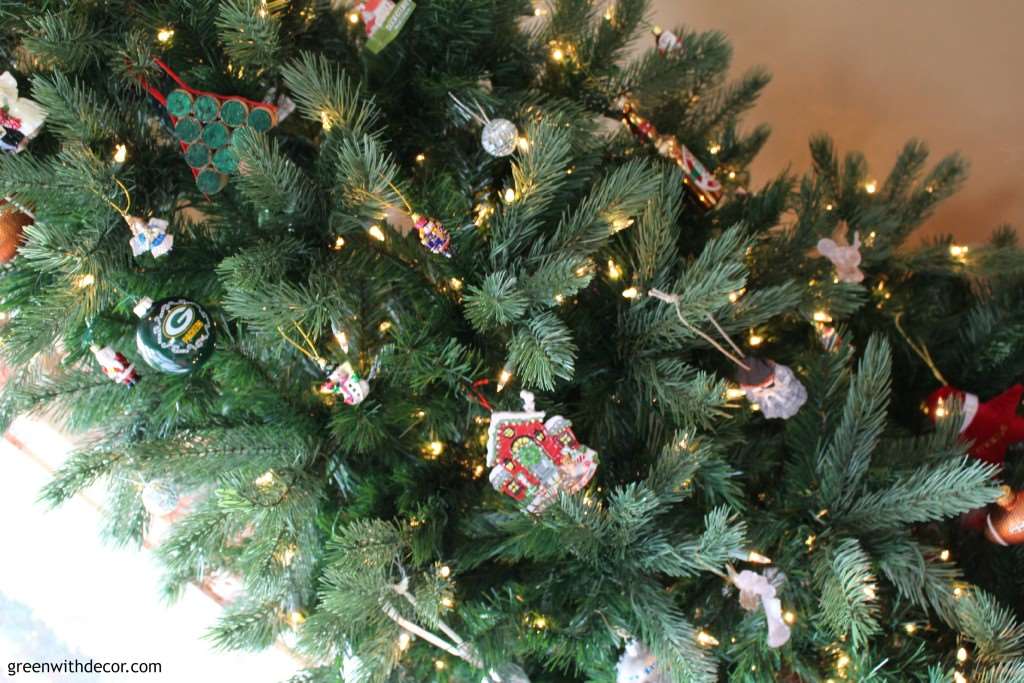 If you're new here, you should probably know about my obsession with cork DIY projects. This cork ornament is a prime example.
Another "believe" decoration in here…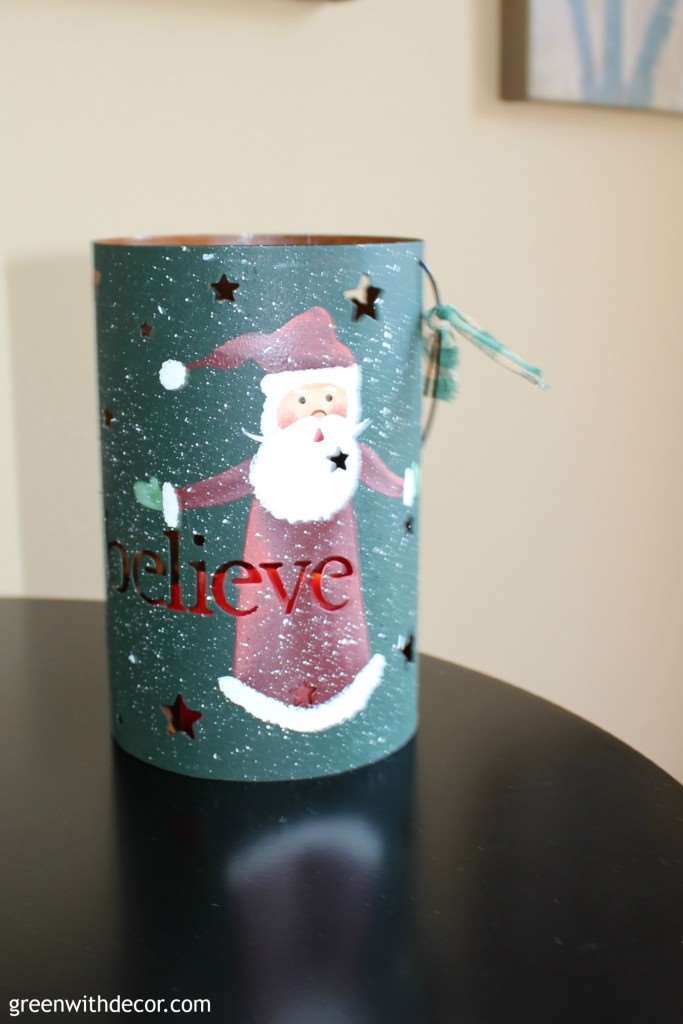 You can see we decorate with a lot of red in this room anyway, so Christmas is an easy transition.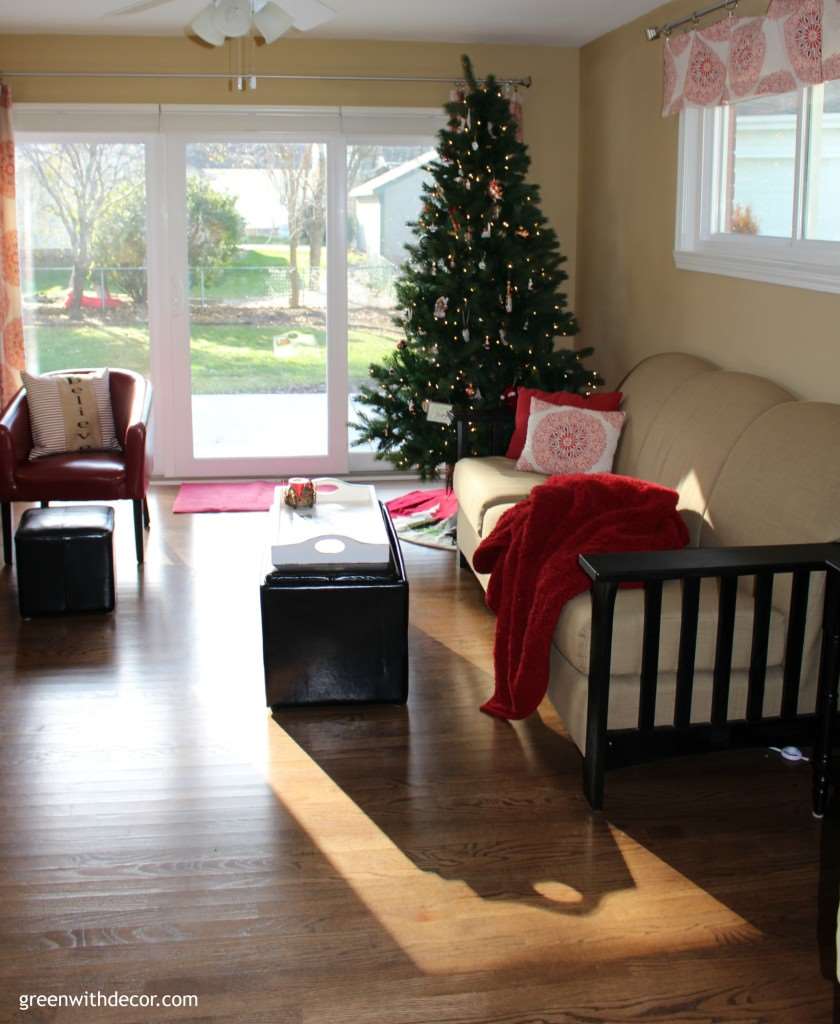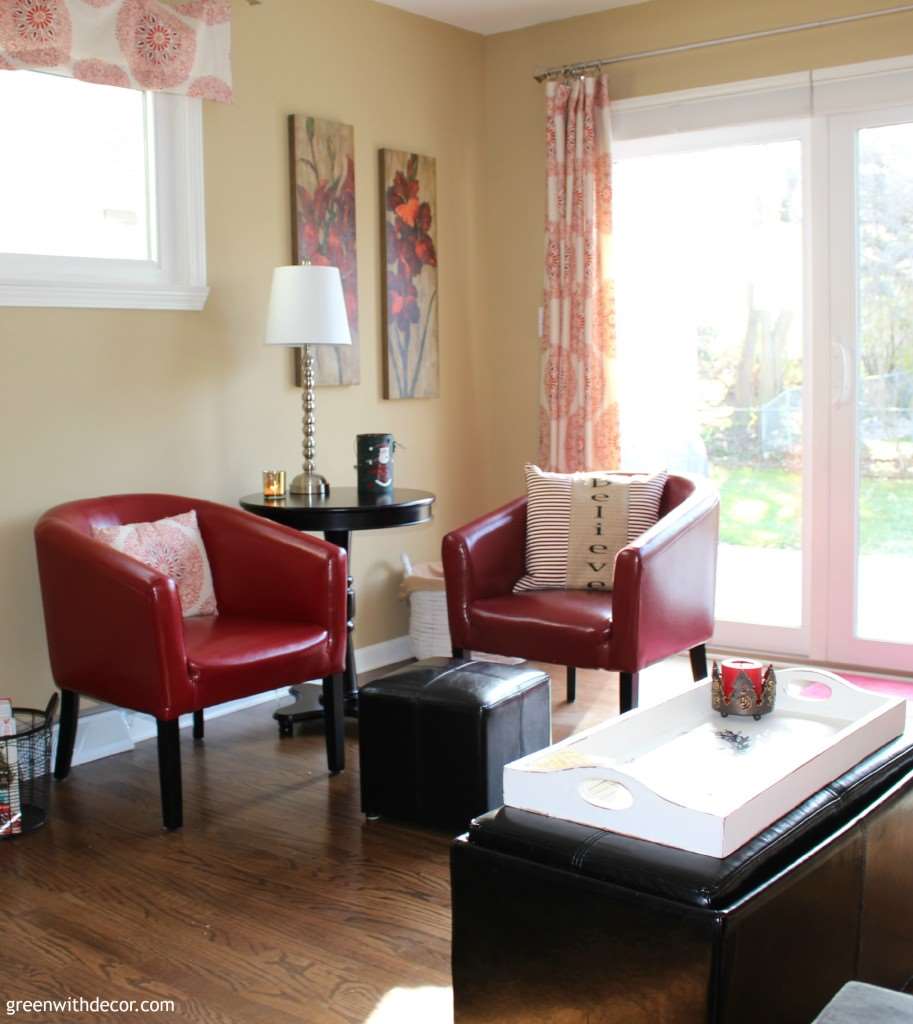 This fun tinsel tree is one of my favorite decorations. I feel like these would be pretty easy to make …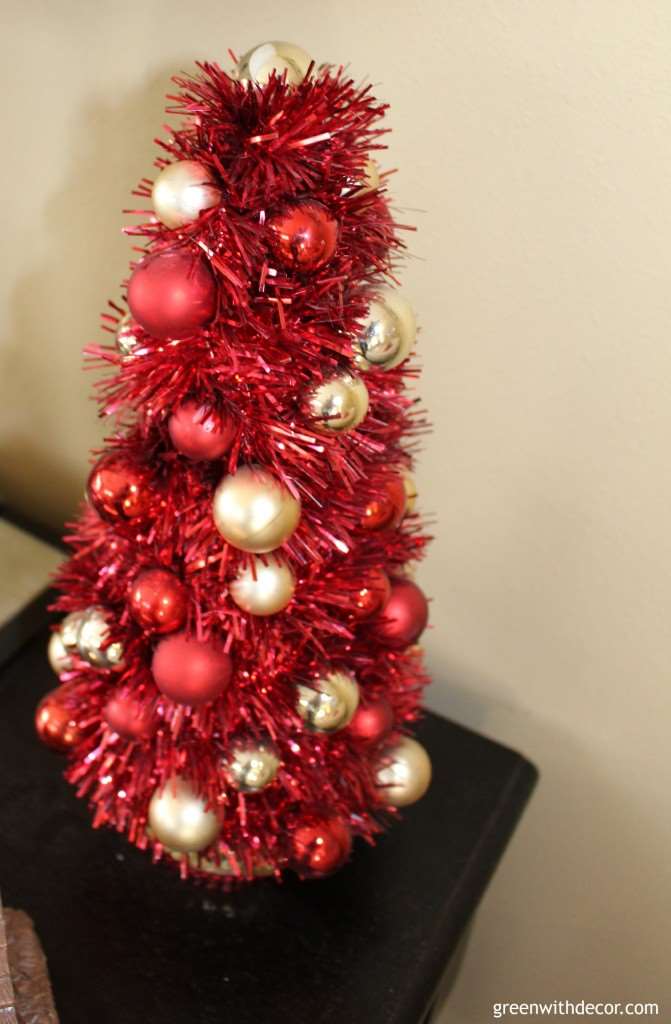 And these throw pillows! I was so excited to find them (TJ Maxx) and even more excited to discover that the covers and pillows are separate, so I can use the pillows throughout the year with other pillow covers.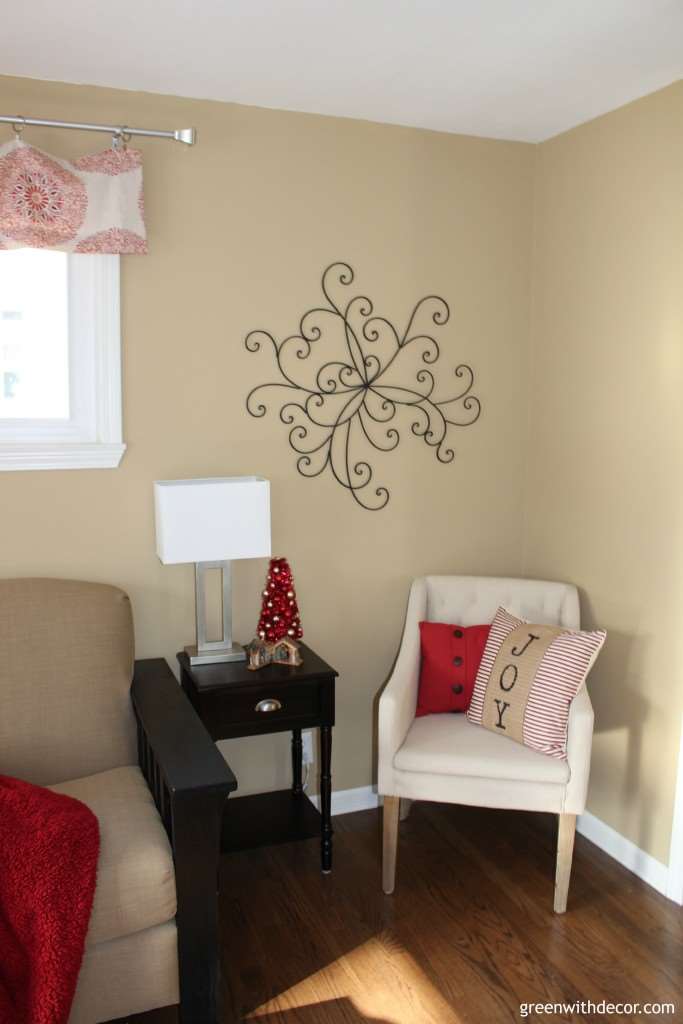 GET THE LOOK: End table | Table lamp | Metal wall decor | Red pillow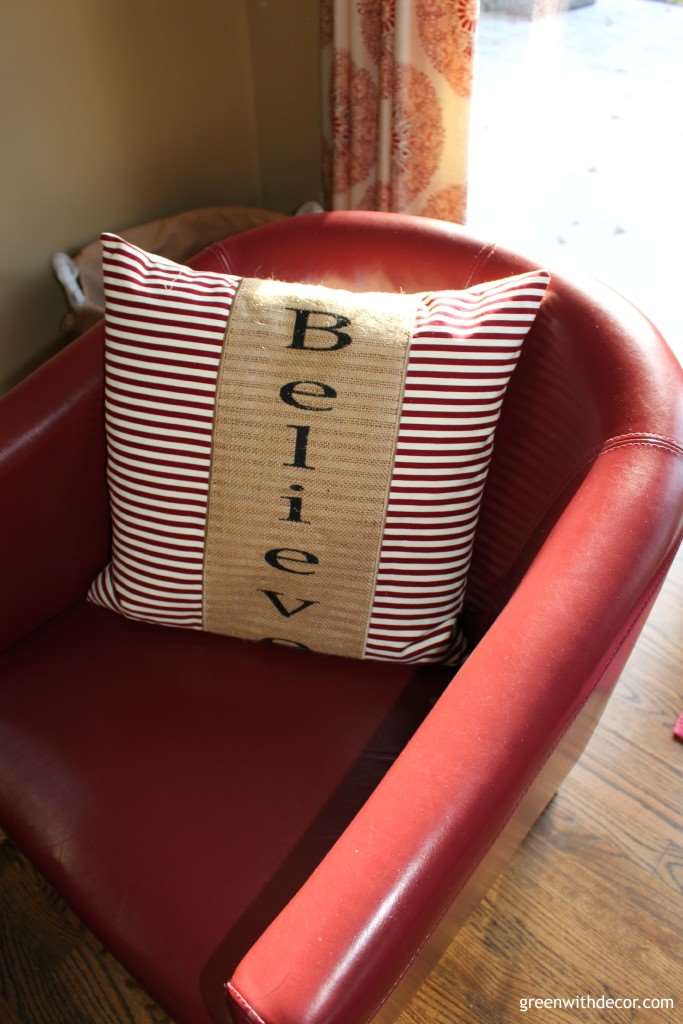 I also love cinnamon candles. They're pretty much the only scented candles I buy.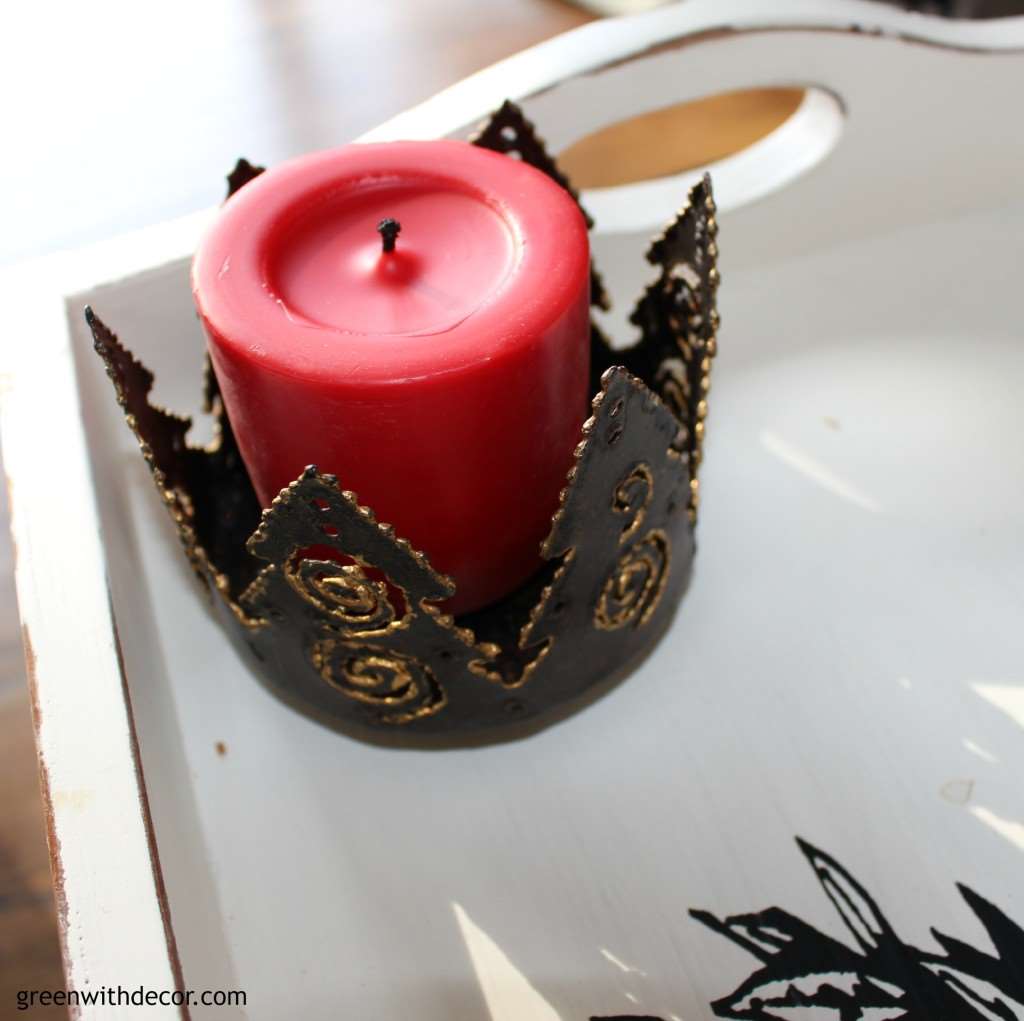 Bathroom
Towels are such an easy way to instantly get a room ready for a holiday.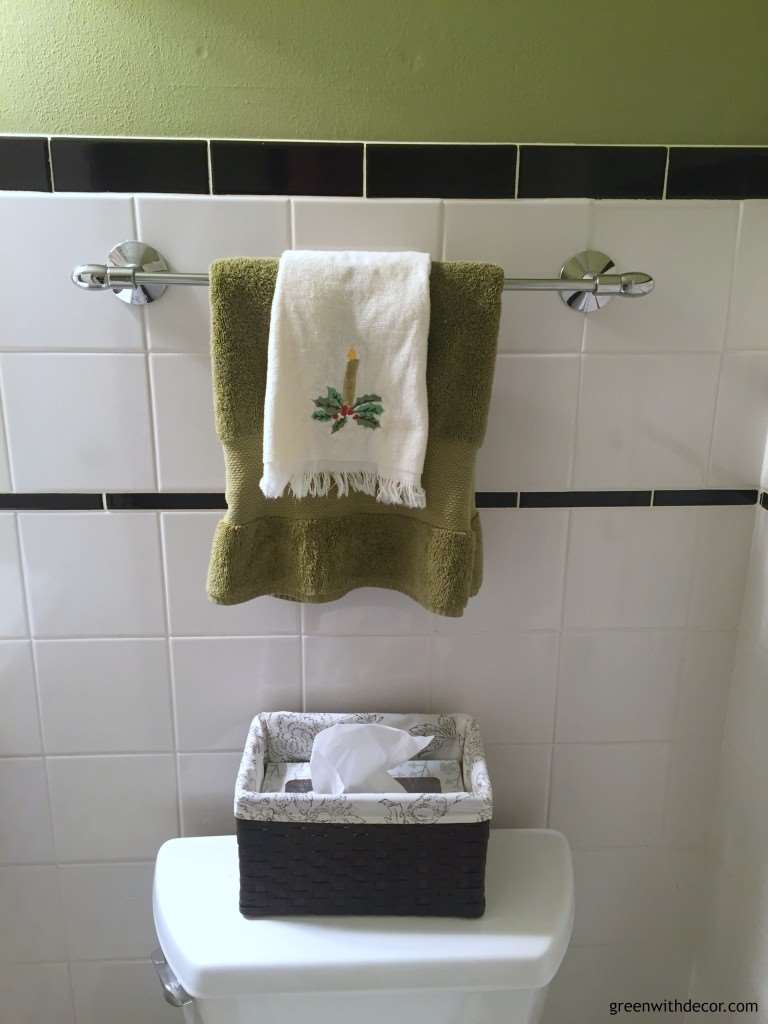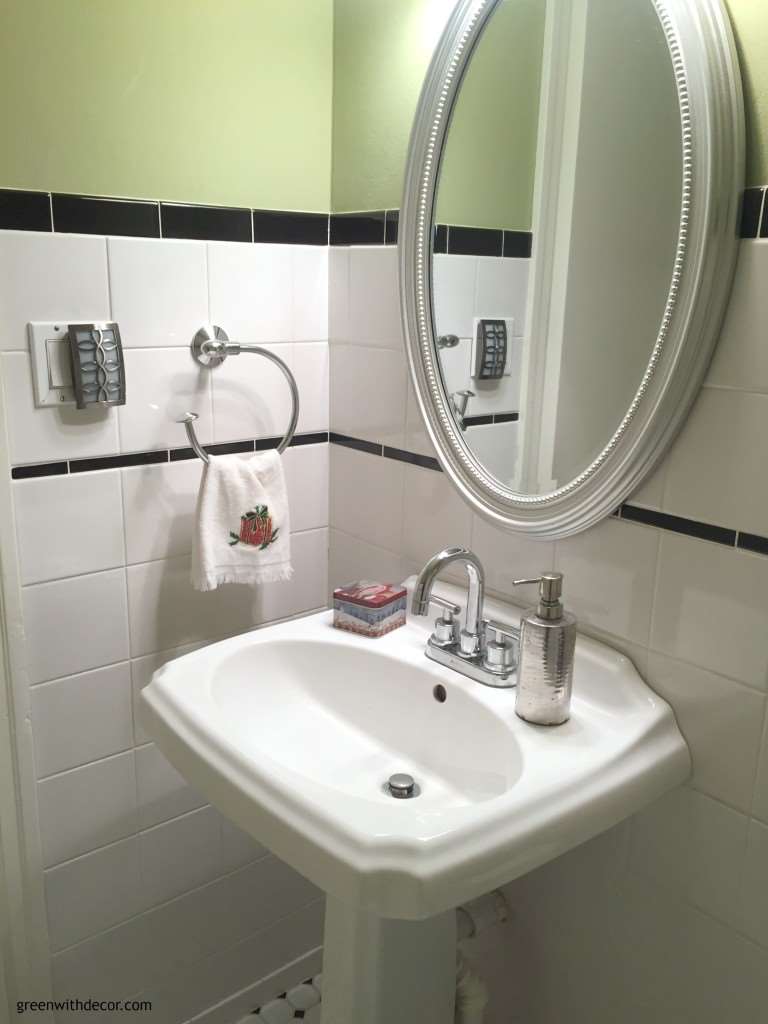 GET THE LOOK: Nightlight | Basket
I also put that little jingle bell wreath on our linen closet door knob for a festive touch.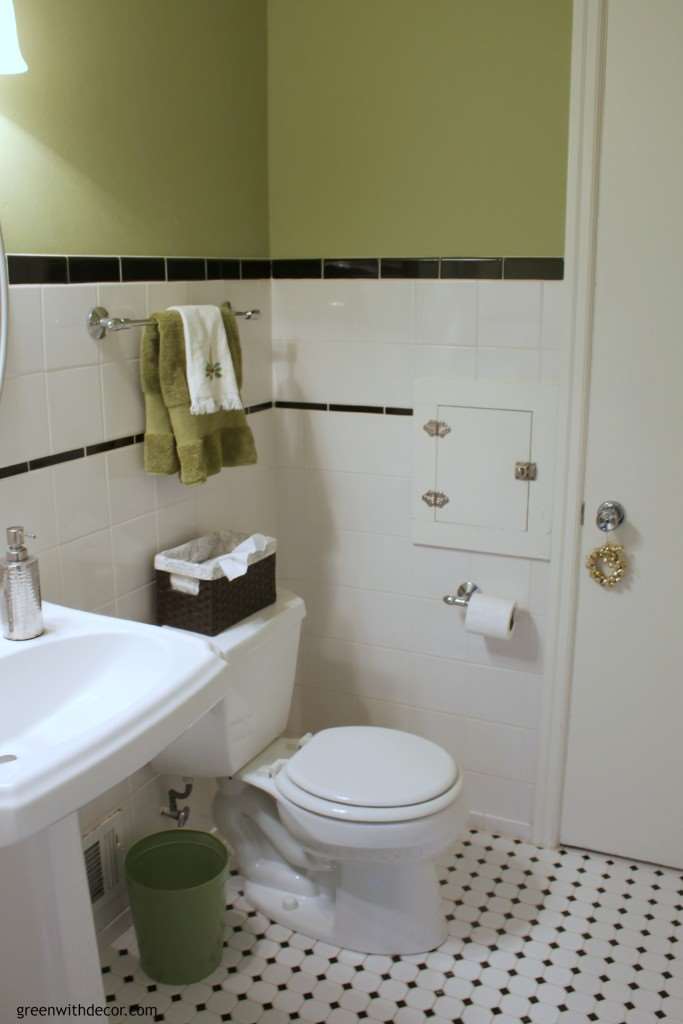 Some year I'll move the Christmas decor upstairs, too, but that didn't happen this year. The office actually looks like a Christmas wrapping station. Not a neat one.
Just a room with Christmas wrapping paper and gifts for everyone piled up all over the place.
Remember to hop around and see the other bloggers' Christmas home tours!
Green With Decor (you're here!) | 3 Little Greenwoods | Our House Now a Home
Lehman Lane | Designing Vibes
Our Crafty Mom | Domicile 37 | Shabby Grace Blog | Dream Design DIY
My Life from Home | Up to Date Interiors | Elizabeth Joan Designs
Casa Watkins | Craft + Tell | Craving Some Creativity | Vintage Romance Style
Flourish & Knot | Around the Watts House | Creatively Homespun
Remember to bookmark or pin this post if you want to save it for later!

Pin it!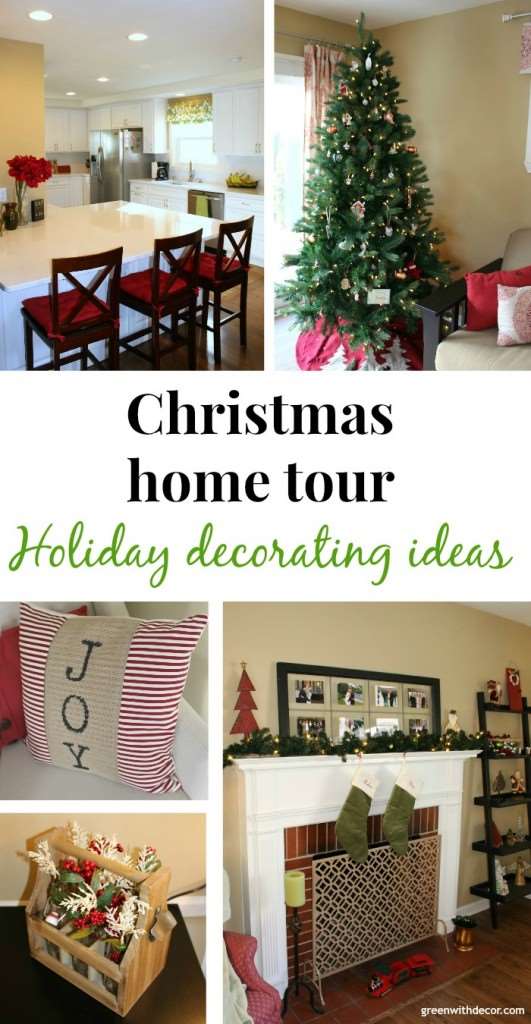 Want to read more posts like this?
Follow along: Get my emails | Facebook | Pinterest | Twitter | Instagram