Here's a comprehensive list of gorgeous blue, white, natural and wood coastal barstools if you're on the hunt for your breakfast bar or kitchen island!
Remember back in October when I talked about getting new barstools in the kitchen?
I didn't forget. Actually, I've pretty much been searching since.
I'm usually not that indecisive on decor pieces. Where to go to dinner on the other hand, umm yes, can't decide, but home decor I usually can look at a few options and pick one. But I CANNOT decide on these barstools!!
There are SO many good barstools out there right now.
I love the blue/white rattan look and the natural/woven look and just can't decide if I want to go for a pop of color or keep it neutral. Either way, I want something lighter than the current dark wood barstools we have. (Here's an old picture from a fall decorating blog post.)
This post contains affiliate links. This means if you click the link and buy something, I may receive a small percentage of sales at no extra cost to you.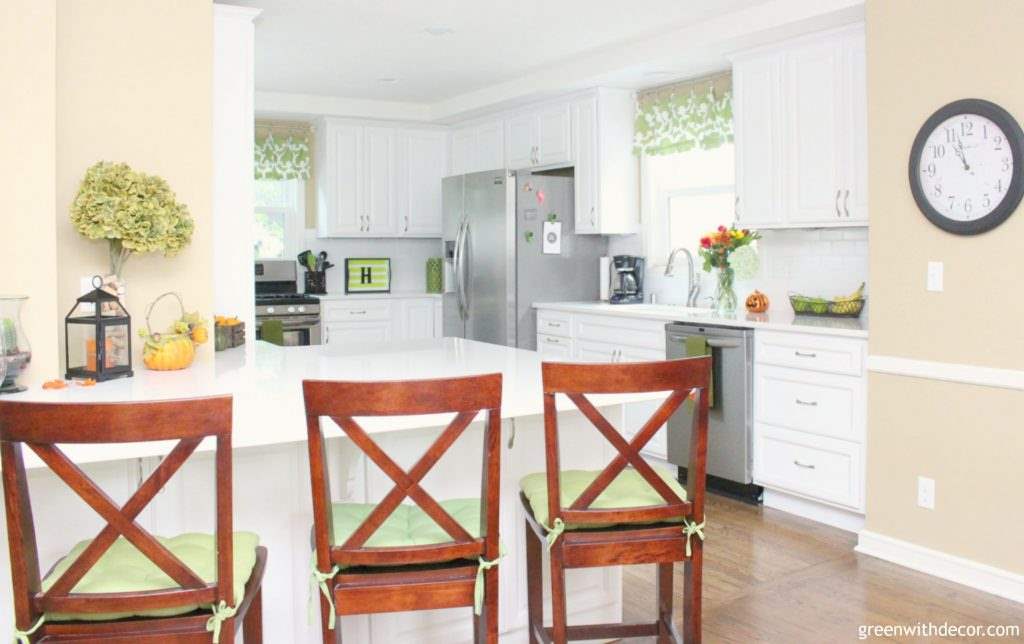 GET THE LOOK: Barstools / Cushions / Lantern / Hydrangeas / Cabinet handles
I'd prefer to not spend too much on barstools. But some of the higher priced ones are sooo pretty.
Oh, and we want something comfortable, of course.
And (last point, I promise!) something that coordinates with the chairs we now have at the heads of our DIY farmhouse dining table. Our chairs are one of those chameleon colors that looks dark blue/dark green depending on how the light hits them with rush seats.
This pic is from my Christmas centerpiece blog post, but it's the only one I have of the new chairs so here ya go!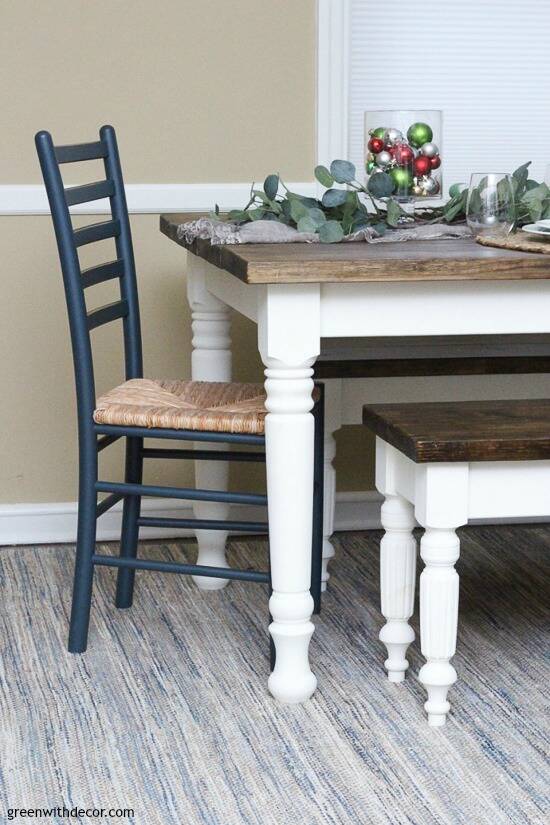 GET THE LOOK: Rug / DIY farmhouse table / DIY benches / Table runner/scarf / Faux eucalyptus (or similar here) / Hurricane candle holders
With the chairs, benches and barstools all within a few feet of each other, we can't have any wildly different looks going on in here.
Since we can pull from that green/blue color or natural rush look of the chairs or the white/wood look of the benches, we have a lot of options! Just not sure I want to introduce an additional color or texture.
Here's a peek at how our breakfast bar/dining area is set up: (Also a Christmas shot – at some point, I'll take more pictures of our kitchen. Maybe when we have new barstools!)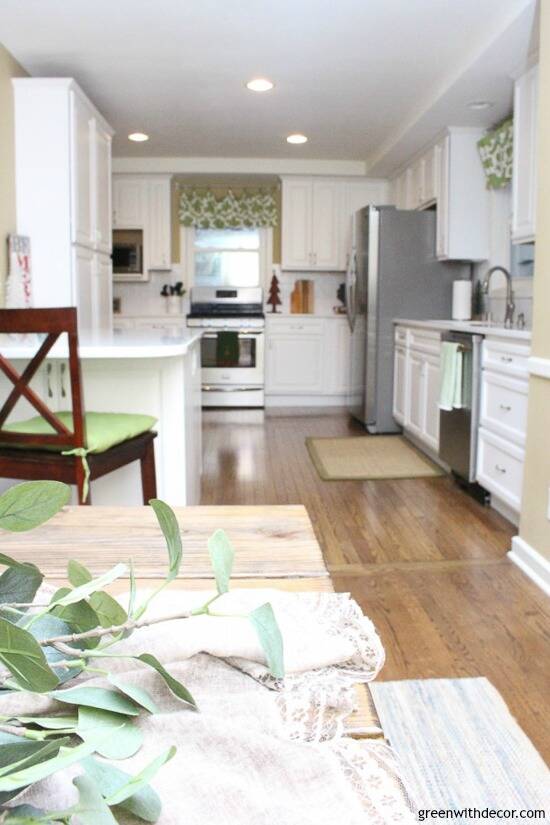 So basically here's the huge list of ALL of the coastal blue, white, natural and wood barstools I've been looking at for the past few months. I've SCOURED the internet for similar looks on various price points, and here's what I've found.
Which means if you're on the hunt for new coastal barstools, this is the post for you, because I've done ALLLLL the research for you! And I'd love your opinion on your faves!
Coastal barstool options:
Click any of the images below for more info. (You might have to double click on mobile.)
If there's multiple pics below of the same barstool, it either means it's the same one sold from different retailers (which usually means different price points – definitely helps to shop around if you want to save some money!) or they're just barstools that are really similar to each other.
A few barstools have been in and out of stock so I figured I'd include similar looking barstools … better to pay a bit more than miss out altogether if there's one you love!
We're looking for armless barstools just so our breakfast bar doesn't end up feeling too crowded, but some of these come with arms if that's what you're looking for. A lot also come in various colors (lots of grays and blacks, especially) if you're interested in that, too. Just click through to see the color options.
Note a few of the barstools come in sets so keep that in mind when looking at price.
Blue / navy barstools:
I'm really loving the blue/white rattan look, and I'm pretty sure I've found all of the ones available. Just can't decide on the shade of blue and the price.




So the rattan look gets a bit cheaper when you switch to backless options, which led me down another rabbit hole … and somehow the color options vary way more on these.








This barstool is a mix of the rattan/solid, which I'm liking A LOT. Told you I've found all the blue/rattan options, ha!


I love a few of these solid blue options, too! I think the pop of color would be fun, and they go with the rug we have in our dining area.
(Which, by the way, I also just ordered a smaller version of for our side door. Remember when I started that side door/landing makeover a million years ago? Still working on it!)








Natural barstools:
Oh my gosh do I LOVE these first two. Such statement pieces and great use of textures!




The rest of these are fun, too. Leather! Who would have thought to use that on a barstool?




And white leather and wood, how cool is that?!


And more gorgeous rattan (think I love rattan?)…


White barstools:
Again, I really, really love the mix of texture on these first two:




Of course I had to include a few rattan options!




A couple white/wood/rattan mixes …


And a couple solid white options. … I love that diamond pattern on the first one!




White and wood is always a classic combo, too.


Wood barstools:
Or do we go with the more classic timeless wood barstools?
In keeping in the spirit of this blog post, here are a few wood/rattan mixes:




Oh my gosh! SO many good choices, right?!
What do you think? Have I totally overwhelmed you with gorgeous coastal barstool options?!
I'd pretty much buy any of these so help me! Do you own any of these and love (or hate) them? Are you more decisive than me when it comes to shopping for barstools?! 🙂
Let me know your faves!
And if you're in the mood for more dining room shopping, check out these posts:
Remember to bookmark or pin this post if you want to save it for later!


Pin it!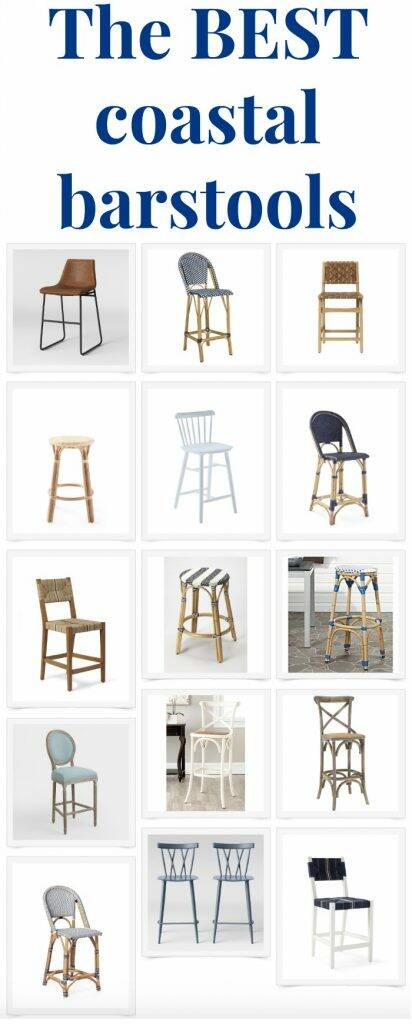 Want to read more posts like this?
Follow along: Get my emails | Facebook | Pinterest | Twitter | Instagram