There was a time when I basically refused to decorate withe blue. I was all about green and red, and that was that.
I'm so glad I've come around to blue, because I'm loving it. In our Milwaukee house, we dabbled in blue a bit with our shower curtain in the bathroom, bedspread in the main bedroom and curtains in the office.
Well here in our rental house, I'm taking blue to a whole new level and painted the bathroom walls this perfect shade of blue. (Krypton by Sherwin Williams, if you're wondering.)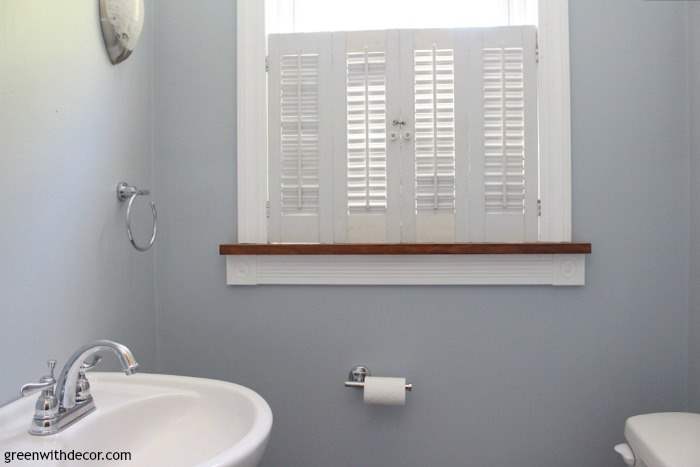 Since we're wrapping up painting over here, I'm starting to decorate. It's fun to think about how different rooms will come together.
Well, what better room to start decorating than the smallest one? Plus I'm joining a fun $100 room makeover challenge hosted by my friend Erin from Lemons, Lavender & Laundry so the bathroom seemed like a good fit. 🙂
Erin is the queen of $100 room makeovers, which led to her starting the $100 Room Challenge. Every Wednesday in July, a group of bloggers will share progress they've made on a $100 room makeover in their homes.
Talk about perfect motivation to stay on budget and get a room completely done around here. You can see all of the other bloggers' room design plans linked at the end of this blog post.
Here's what I'm thinking for the bathroom design:
Coastal bathroom design:
Click any of the images for more info. I also have a few additional options linked in the text below if you're planning a quick bathroom makeover, too.
This post contains affiliate links. This means if you click the link and buy something, I may receive a small percentage of sales at no extra cost to you.

Wall color:
The wall color is Krypton by Sherwin Williams. I looooove it, and my friend just texted me last week to say they're painting their bathroom Krypton now, too. Yay!
Mirror:
I'm thinking a white weathered wood framed mirror would be perfect in here. Something like this or this or this.
Fellow renters, no reason to be stuck with the mirrors that come with the place. We're swapping the mirrors out while we're here to make the house a bit more 'us'.
Today is a Good Day for a Good Day sign: 
One of my favorite quotes. This DIY rustic sign was a project I did for the bathroom walls in our Milwaukee house. I'm thinking it's perfect for this space. You can buy a similar sign here if you're not in the DIY mode.
Soap dispenser:
White seems to be a common theme around here. I'm thinking something like this.
Baskets/storage:
This bathroom is tiny, so I'm on the lookout for a little storage basket tower like this or this.
Shutters:
We're leaving the cute shutters on the window. Perfect beachy charm. Similar shutters here or here if you're looking.
Nightlight:
I love these for bathrooms, they're just bright enough.
Hand towel:
I picked this towel up the other day. I love the little fringe.
Garbage can:
These rope handles are too perfect. I need this garbage can.
Towel ring:
Probably just going to leave this one. Similar one here.
Pedestal sink:
Leaving this, obviously. Similar one here.
Lights:
Still debating if we're going to swap these out or not. Pros: they're silver and already installed, cons: they're not really our style. Stay tuned.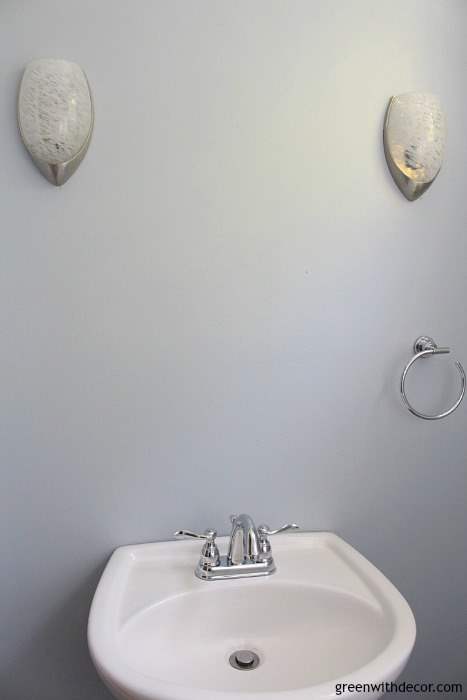 What do you think? Have any design ideas for a small coastal looking bathroom?
You can see all of the bathroom makeover progress here:
Coastal blue + white bathroom design plan (you're here!)
Remember to check out the other ladies' $100 Room Challenge makeover plans for more decorating inspiration:
Remember to bookmark or pin this post if you want to save it for later!


Want to read more posts like this?
Follow along: Get my emails | Facebook | Pinterest | Twitter | Instagram