Does that title even make sense? We're finalizing the decorating plans for the living room, and I feel like it's a mix of coastal, rustic and modern pieces so that's what I'm calling this blog post.
This room threw me off for a bit at first. It's much longer than it is wide, which made positioning our sectional a bit of a challenge.
Plus there are two doorways, four windows and the big fireplace. Awesome for natural light, not so much for furniture placement.
Here's the living room after we painted (wall color is Agreeable Gray by Sherwin Williams):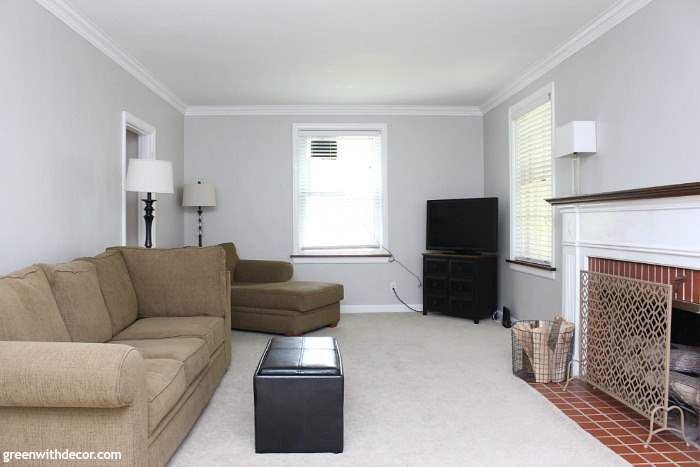 I basically started planning the room in sections, which made the big room easier to decorate:
The front part, with our pedestal table because I love it and it doesn't fit anywhere else in the house. (Hey, sometimes that's how decorating works!) Plus it looks great in that front corner.
The middle part, with the couch across from the fireplace
The back nook, with the chaise across from the TV stand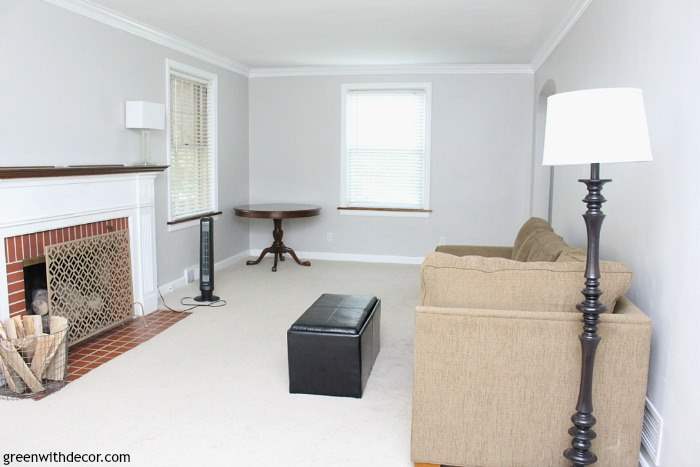 I finished the back nook first, which I looove (picture below). The rest of the room is getting there.
I'm still figuring out the exact decor for the mantel, coffee table and a few other smaller places, but I figured I'd share what I'm thinking for the rest of the space so you guys can follow along with progress we're making in this coastal rustic modern living room:
This post contains affiliate links. This means if you click the link and buy something, I may receive a small percentage of sales at no extra cost to you.
Click any of the product images below for more info (price, color options, etc.). You may have to double click on mobile.
Front of the living room:


GET THE LOOK: Pedestal table | Rustic ladder | Wood tray | State sign | Faux succulents | Gray blanket
Two of my favorite rustic elements – the ladder we use as a blanket shelf and the wood tray (with rope handles for that coastal touch) – will be here.
Middle of the living room/above the couch:


GET THE LOOK: Couch | Coffee table | End table | Tan chair | Floor lamp | Boat artwork 1 | Boat artwork 2 | Pier artwork | Fishing net artwork | Cream pillows | Green + white pillows | Blue + white pillows | Aqua + white pillows | Green wire basket | Faux succulents
I really debated about this huge wall above the couch, because we don't have a big wall like this in our Milwaukee house. I didn't want to spend a bunch of money on a big piece for the wall knowing we wouldn't be able to use it in the future.
I went with a gallery wall instead since I figured I could use the pictures in different smaller groupings later. We're mixing prints we bought with some we took on our vacation in Folly Beach, which is fun.
I'm excited about the circle wood and metal coffee table, too. The black ottoman was fine (we'll probably use it as a bench somewhere upstairs), but I was ready for something new, and the table is the perfect mix of rustic and modern.
The mantel:


GET THE LOOK: Fireplace screen | Metal basket | Lamps | Lanterns | Topiaries | Rope sphere | Driftwood | Bread bowl | White + blue vase | Aqua glass vase here or here
Still have to finalize the decor on the mantel, but we're basing it all around a gorgeous gray wood circle mirror Kalen surprised me with a few weeks ago. (Pictures to come!)
The mirror will be center stage, and I'm thinking green and aqua glass bottles along with that little rope sphere will bring in that coastal vibe. Since the mantel is so long, we may just keep these silver lamps on the ends for a modern touch to tie in with the metal fireplace screen.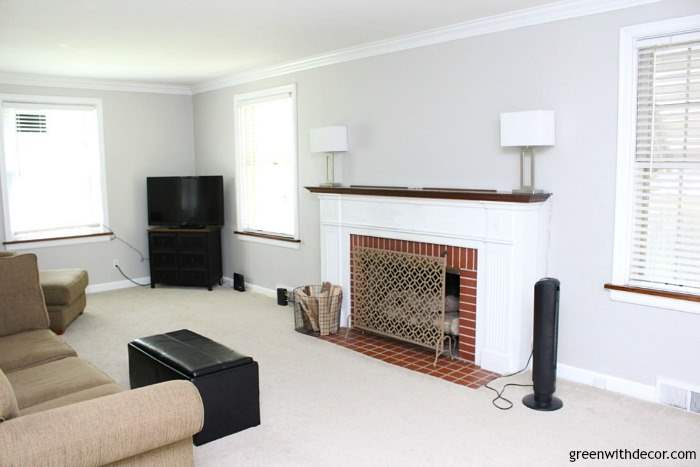 This big basket will sit on one side of the gold fireplace screen. Not that we really need logs for a fire when it's a million degrees out, but hey, they're good to decorate with. Lanterns, probably filled with more green and aqua glass, will sit on the other side.
Back of the room:


GET THE LOOK: Side table | Wall art | Floor lamp | Chaise | Cream pillow | Green + white pillow | Blanket | Curtains | Curtain rod here or here
I love this little nook. This corner stumped me at first, but the chaise from our sectional couch is perfect for it. Here's how the nook came together (while the rest of the room is still a work in progress):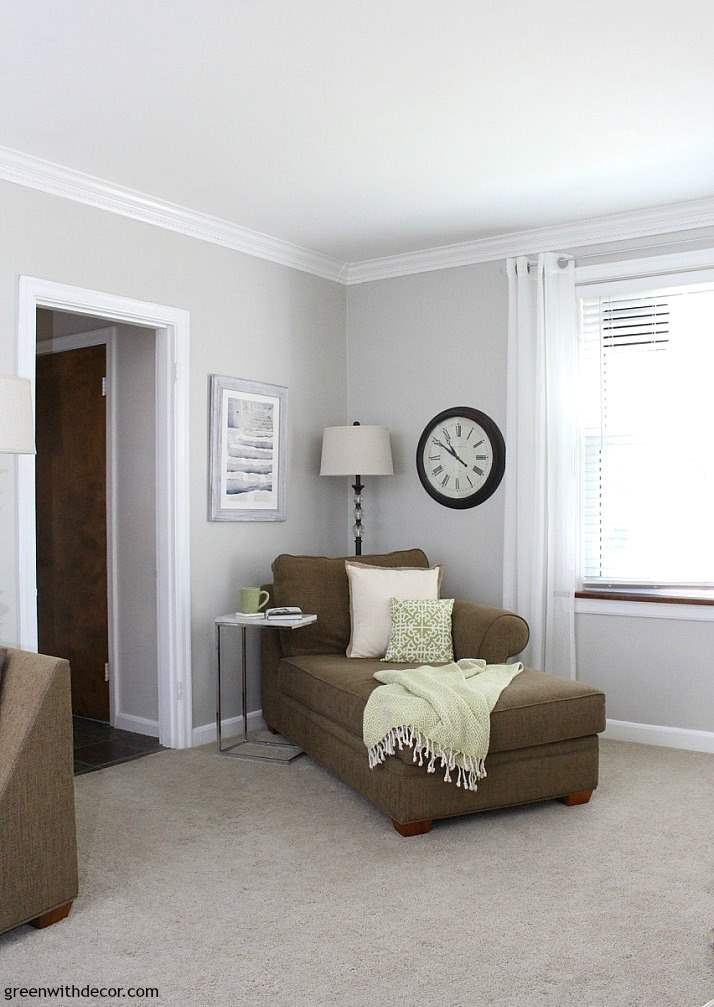 That side table adds some modern glam to the space, and the white stairs print and clock are perfect for the walls over here. We also have these beachy white curtains on all of the windows in the space, and I am in love.
In the corner opposite this one, we'll have the TV on a rustic white wood cabinet, similar to this one.
And that's the design plan for the coastal rustic living room. What do you think? Are you planning any room makeovers with a mix of coastal, rustic and modern touches? I'm thinking all of those design styles come together pretty nicely.
You can see all of the decorating and DIY projects for the living room here:
Remember to bookmark or pin this post if you want to save it for later!


Want to read more posts like this?
Follow along: Get my emails | Facebook | Pinterest | Twitter | Instagram