Disclosure: This post is sponsored by Vetrazzo/Polycor. All opinions, images and love of kitchen accessories are 100% mine.
I'm lucky because Kalen definitely does most of the cooking around here. He's good at looking at recipes – or even just eating something at a restaurant – and then cooking it with his own spin on it. And it's always delicious.
I, on the other hand, don't like cooking so much. I used to do more of it, but I just don't really enjoy it, and I'd rather spend the evening doing something else. Sometimes that means blogging and catching up on work; sometimes that means enjoying the summer weather on the patio.
So when Kalen has to work late or has plans, I definitely don't cook just for myself. One of my favorite non-cooking meals (actually it's not even a real meal) is just cheese and crackers.
I am definitely a Wisconsin girl, I eat a lot of cheese. And what better way to enjoy a warm summer night than out on the patio with some cheese, crackers and wine?!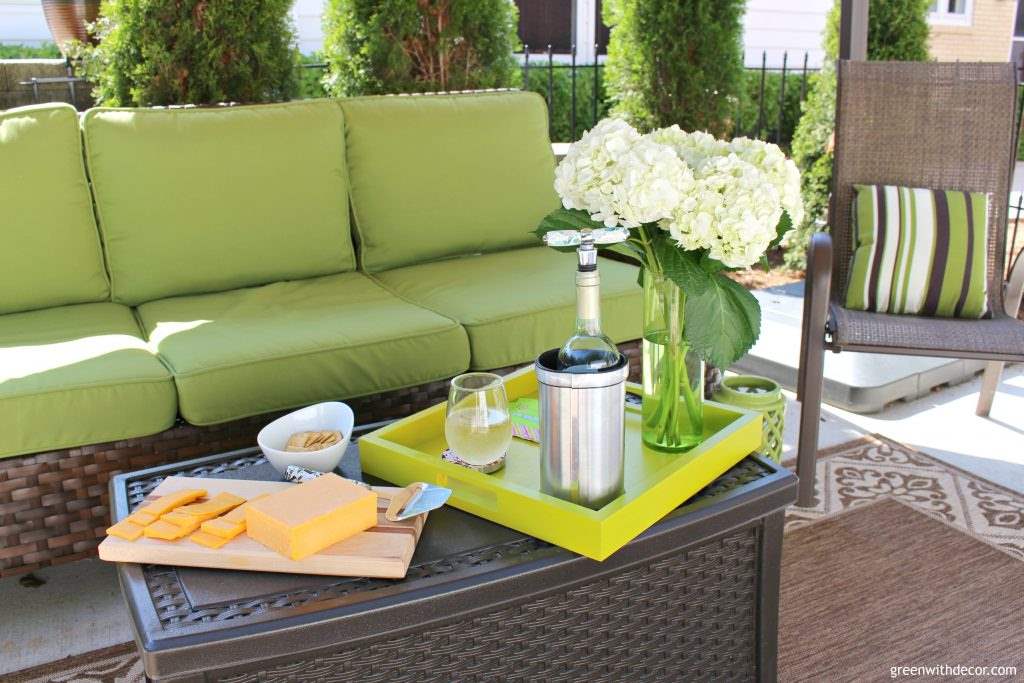 I may not like cooking, but I definitely like having fun accessories in the kitchen. I was excited when I came across Vetrazzo's colorful kitchen gadgets. They're a fun way to add some pops of color to your kitchen. (Or patio!)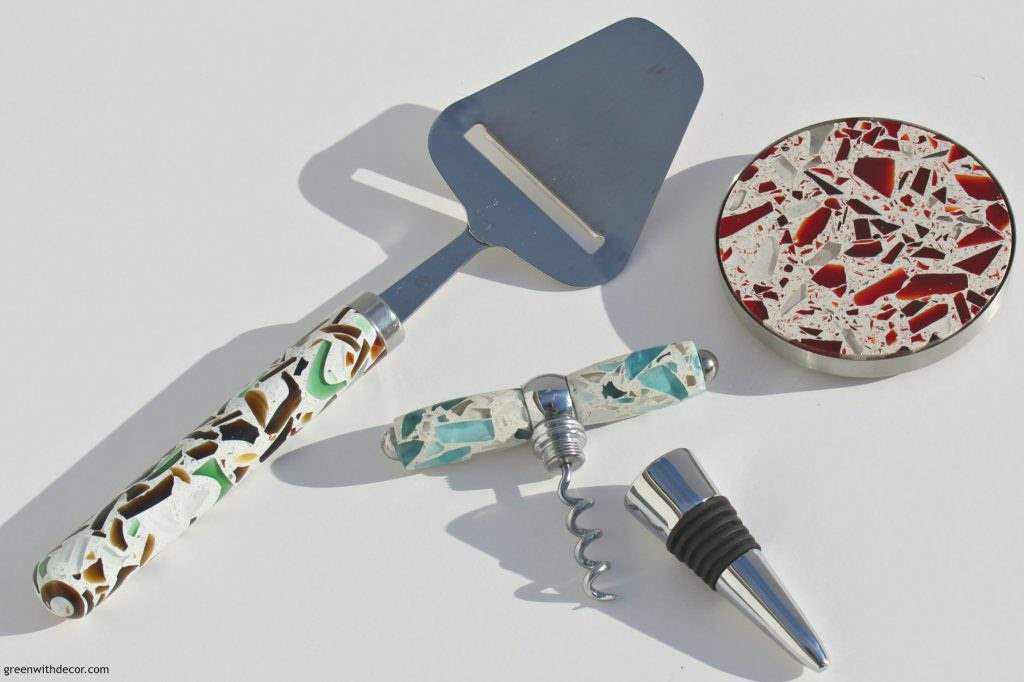 Given my love of cheese, you know I was all about the cheese slicer! It slices cheese so easily. And of course, I love those pops of green. This color is Alehouse Amber, made with glass from stained glass windows and bottles.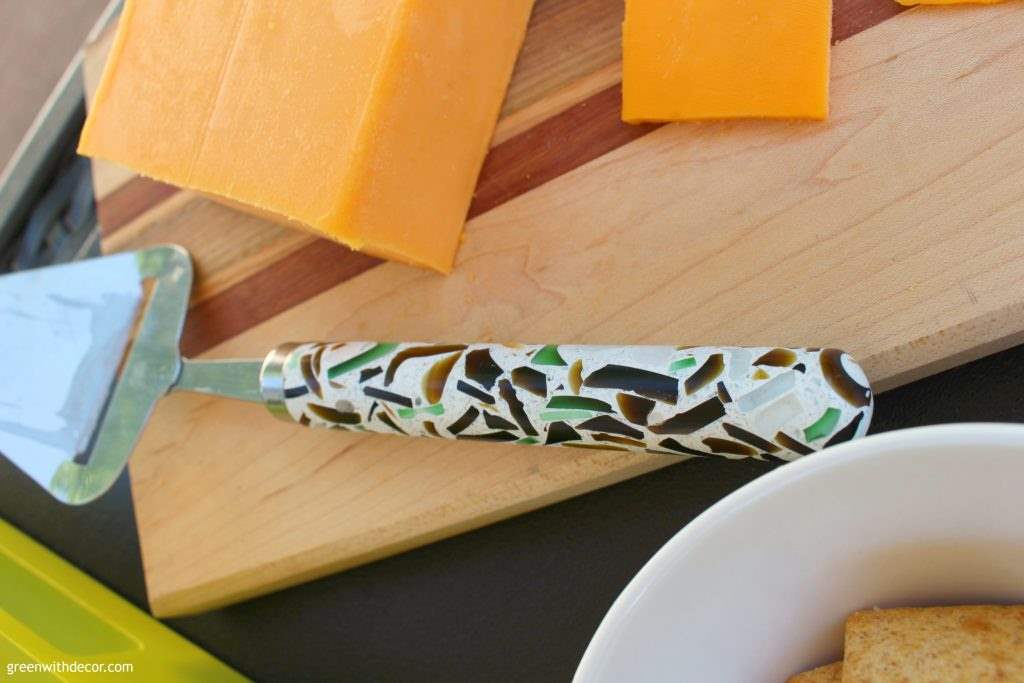 I love beer, but sometimes I'm in the mood for a really cold glass of white wine. Seriously, I put ice cubes in it. It's like I can't possibly get my wine cold enough!
This wine stopper (with the hidden corkscrew inside) is awesome.
Anything that serves two purposes and therefore takes up less storage space works for me.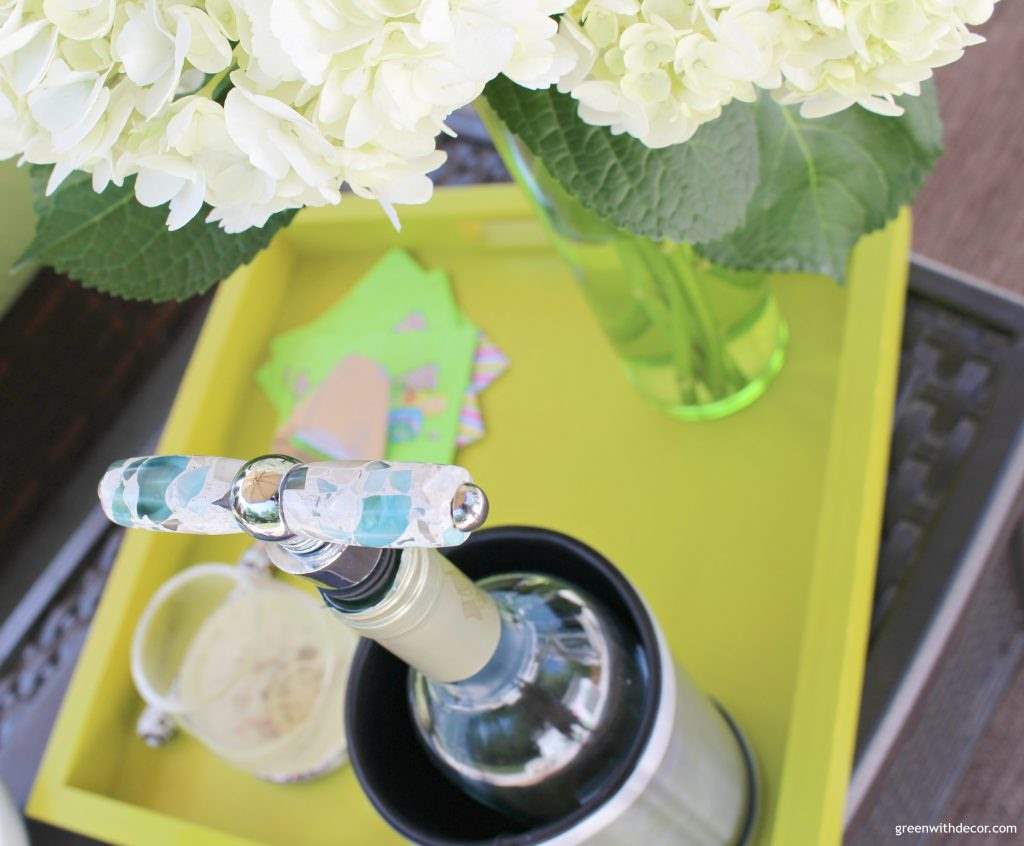 The Floating Blue color is so summery. It's made of glass from skyscrapers. Which is funny because it reminds me of the beautiful blue ocean in the Caribbean!
As a decorating addict, I have an obsession with too many things like throw pillows and trays. Coasters could probably be added to that list, too.
These Ruby Red coasters are perfect for our family room (updated family room pictures here), where I decorate with a lot of red.
And guess how the Ruby Red is made? By mixing the original glass with gold dust! Isn't that cool?! The colors are really vibrant.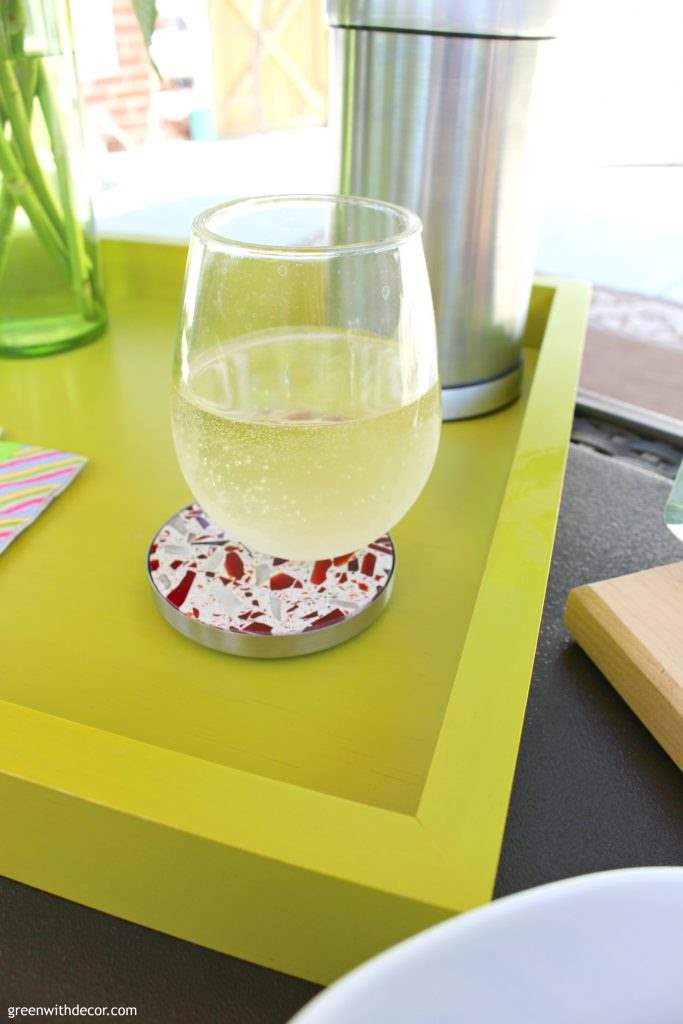 This post contains affiliate links. This means if you click the link and buy something, I may receive a small percentage of sales at no extra cost to you.
And a total side note, these acrylic wine glasses are perfect for the patio!
I love the backstories of all the different glass color mixtures. Vetrazzo has other fun products, too, like a cake knife, pizza cutter and even cabinet handles and tiles for backsplash.
For those of you who also don't like to cook, I think cake or pizza make for a perfectly acceptable dinner option, too! 🙂
A lot of Vetrazzo's products can be purchased on Houzz. If you love Pinterest, you'll love Houzz, too! So many gorgeous room designs and products!
GET THE LOOK:
Since a popular question I get is "Where'd you get that?!," here are links to the same or similar sources:
What about you? What are your favorite non-cooking ways to spend a summer evening?
See more patio ideas here:
Remember to bookmark or pin this post if you want to save it for later!


Pin it!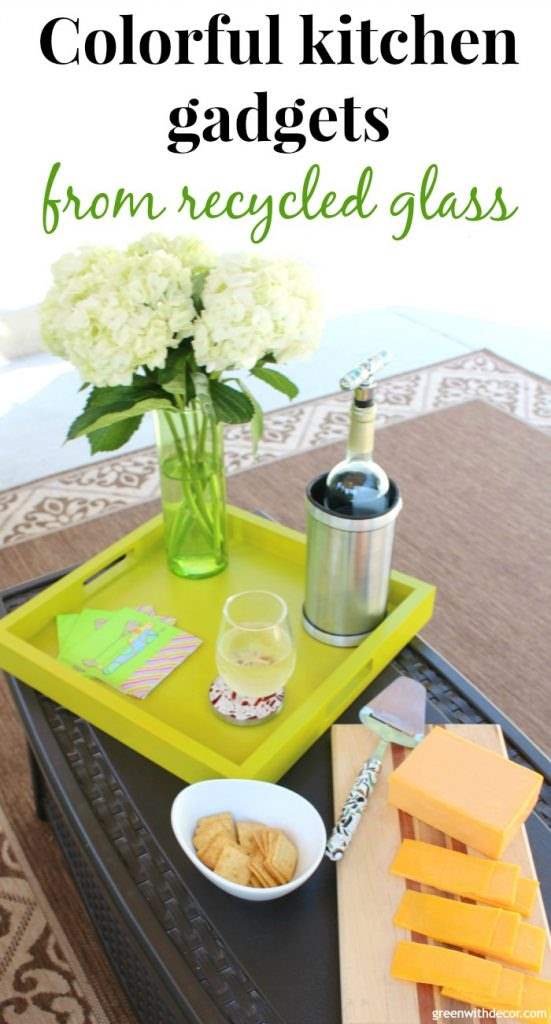 Want to read more posts like this?
Follow along: Get my emails | Facebook | Pinterest | Twitter | Instagram