I know, I know, I'm sure some of you are just cringing thinking you've bought enough already this season, and you're done – no more shopping!
But I absolutely love buying seasonal and holiday pieces late in the season. You don't usually get to use them that year, but you can get decor pieces sooooo much cheaper, and it's a fun surprise when you unpack them next year.
I've already started looking at some Christmas decor pieces online. It seems like sales start earlier each year, which I'm definitely not complaining about. Some of these pieces are already on sale! Plus some stores listed below have different sales/shipping deals going on through the weekend.
Shopping from the comfort of the couch just never gets old.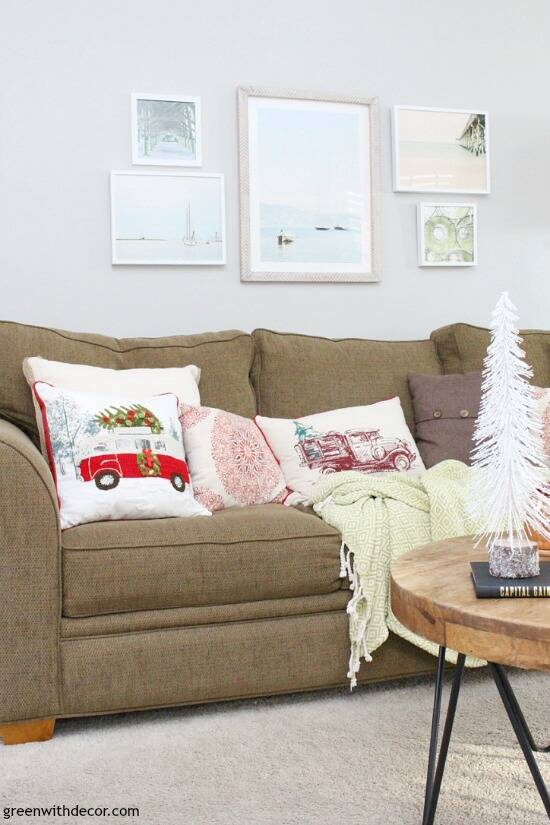 This post contains affiliate links. This means if you click the link and buy something, I may receive a small percentage of sales at no extra cost to you.
Just click any of the pieces below for more info, plus scroll left and right with the arrows for more pieces from each store.
We have some of these pieces already, but I just couldn't resist adding them to the list so you guys can get them, too!
Best Christmas pieces from Target:

You can never have enough mini Christmas trees, yes? My mom bought those red berry hurricanes, and they're so cute in person.
Best Christmas pieces from World Market:

I love that dog Christmas pillow, I'm so glad we bought it this year. That red 'Merry' truck is similar to the one we have on our front door that I've gotten questions about. I have my eye on those red striped napkins, too.
Best Christmas pieces from Pier 1:

Tree collars are everywhere this year, so it's a good time to stock up for next year. I love that pallet Christmas card holder, too!
Best Christmas pieces from Crate & Barrel:

Some of these pieces work for everyday decor and Christmas, which is even better. I pretty much keep anything red we used to decorate with in the Christmas bins now because it always looks festive this time of year.
Best Christmas pieces from Pottery Barn:

I love Pottery Barn, but sometimes it's out of the budget. Their sales are always worth looking at!
We have those stockings, and we love them. How cute is that Christmas tree sign?!
Best Christmas pieces from Macy's:

This is the perfect time to stock up on Christmas dishes … and mini ornaments because really, can you ever have enough? Nope!
Isn't this fun? I love a good sale, and it's fun to unpack 'new' pieces next year that you got on mega deal.
Do you buy a lot of decor after Christmas or after other holidays? It's worth it to push through a little more shopping!
You might want to see these projects, too:

Want to read more posts like this?
Follow along: Get my emails | Facebook | Pinterest | Twitter | Instagram | Google+