It's Christmas home tour week around here! If you missed the Christmas kitchen and bathroom post, click here to see it.
Today is all about decorating the foyer and the living room for Christmas! Come on in.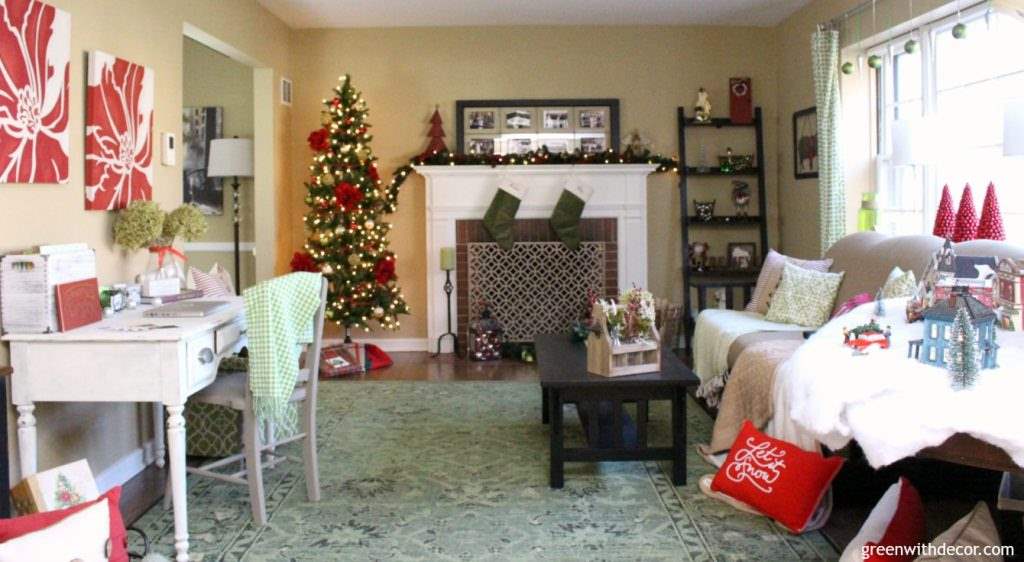 This is my absolute favorite room to decorate for each season. Probably because we don't really use it as a living room (we use our family room more often) so I get to decorate however I want in here and everything pretty much stays put.
Plus having a mantel and a ladder shelf always makes it fun to decorate and move everything around until it's just right.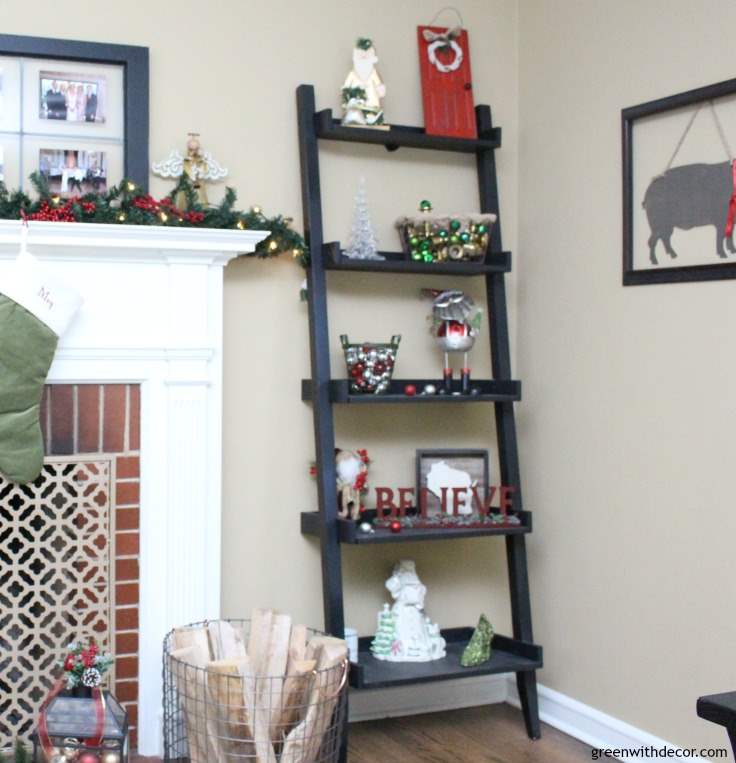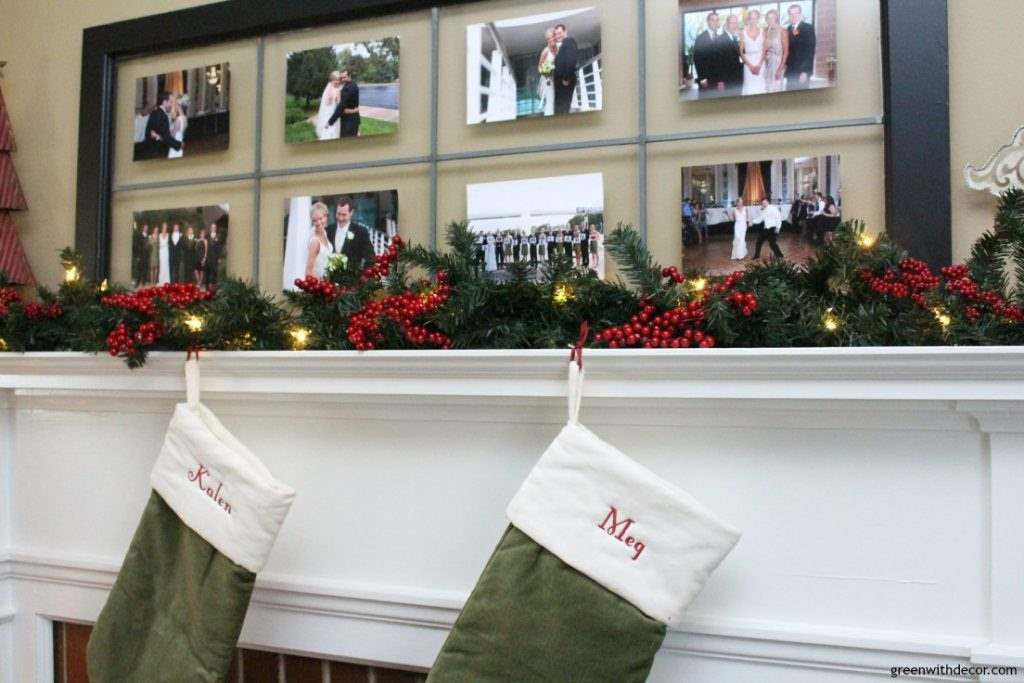 Today's home tour is part of the Simply Seasonal home tours hosted by Caroline of Organize Nashville. You can see all the other ladies' beautiful holiday tours at the link at this bottom of this blog post.
If you're hopping over from Craftivity Designs or one of the other blogs, welcome to Green With Decor! I'm all about decorating with green, renovating old awful rooms (our house was bad when we bought it!) and budget-friendly decorating ideas.
Caroline wants us to include a few tips as part of our home tours, which is perfect. I love sharing decorating tips! I put together our Christmas living room without spending much at all, which always makes me happy.
Pretty much everything in here is painted, repurposed, reused or bought on sale or from budget-friendly stores. I love decorating, but I don't spend crazy amounts on our house.
Back to our little makeshift foyer. This house doesn't actually have one; I talk about how we fake our foyer here.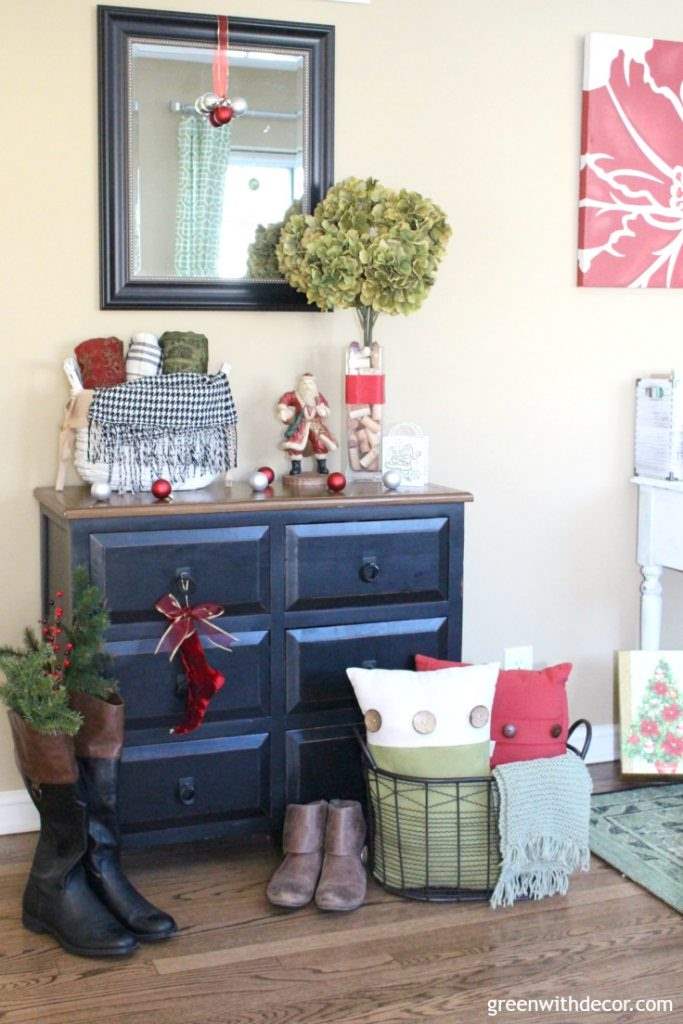 The chest is perfect for hiding gloves, sunglasses and some of Oakley's toys and leashes.
Budget-friendly Christmas decorating tip #1: Ribbon
Ribbon works wonders! And it's so cheap.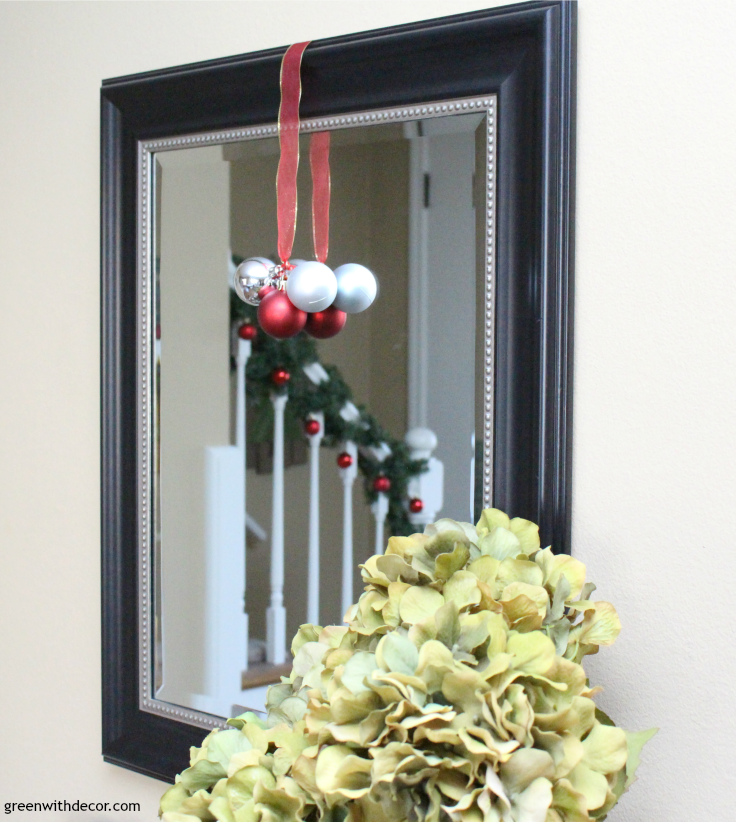 I added some red ribbon around the vase with the hydrangeas for a pop of festive color, and the ornaments on the mirror add some cheer without really getting in the way of the mirror. I just taped the ribbon to the top of the mirror – you can't see where the ribbon ends unless you stand up tall to look.
Our metal pig even got a little red scarf for the holidays.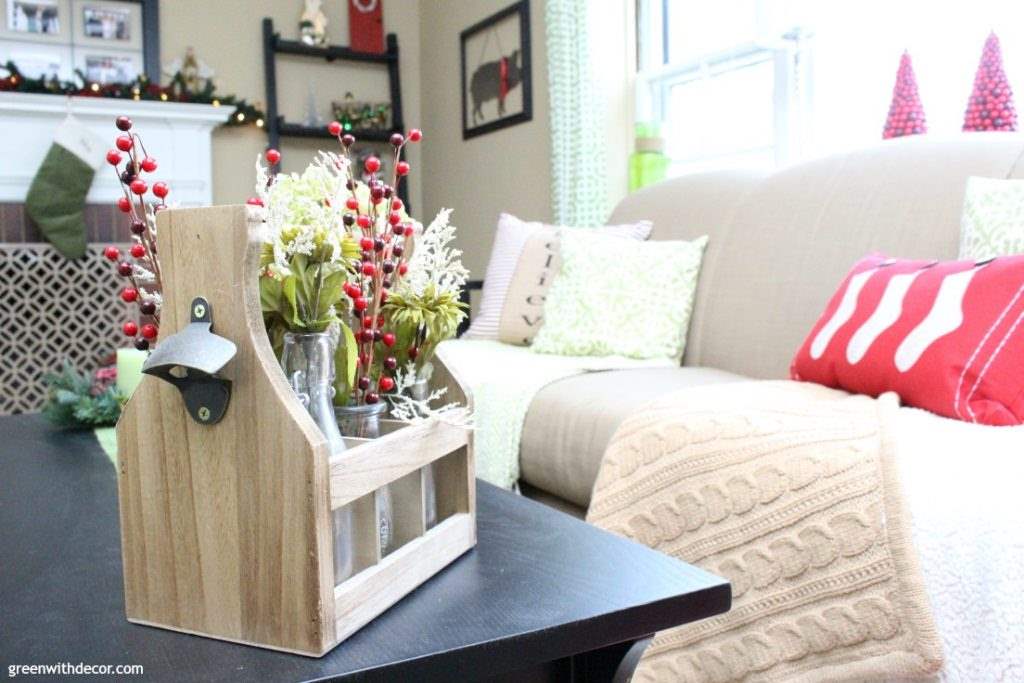 Budget-friendly Christmas decorating tip #2: Scarves
I have a little scarf problem collection. I've really had to force myself to stop buying them because I have way too many.
But they make such great decorative pieces, too, don't they?! They look so pretty all wrapped up in this little basket.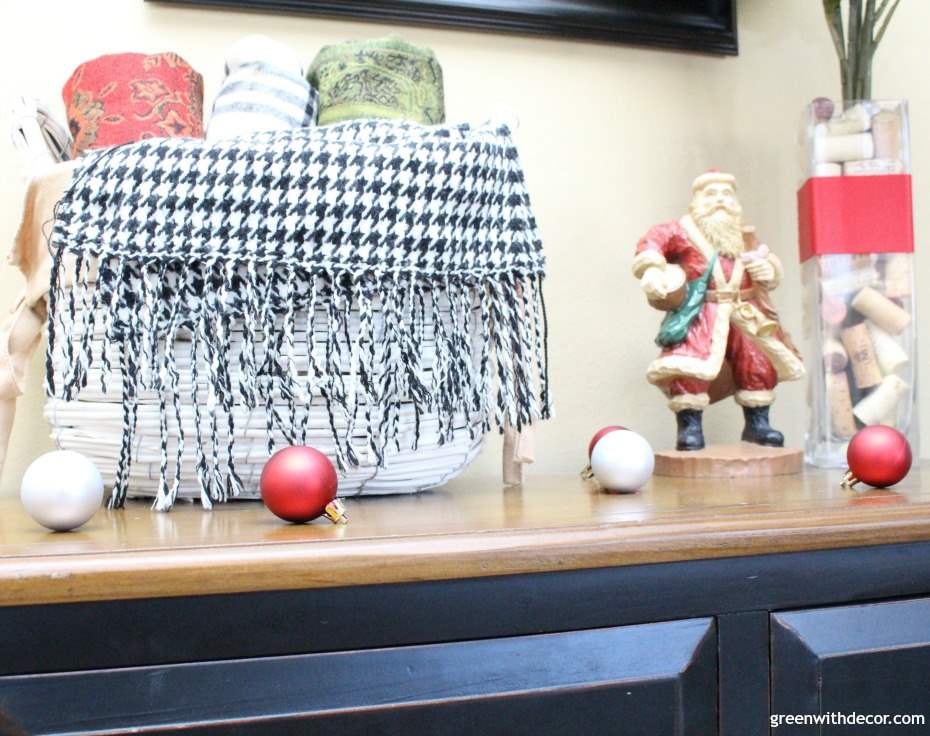 I also threw one over the desk chair for a little festive look. In the kitchen, I used a scarf as a tree skirt. They work everywhere!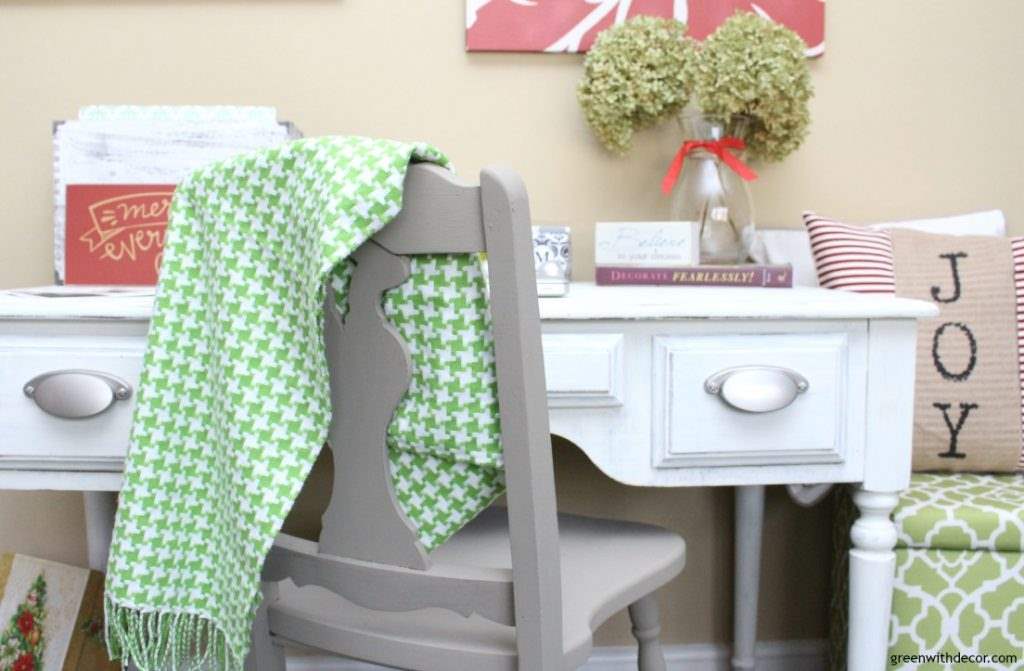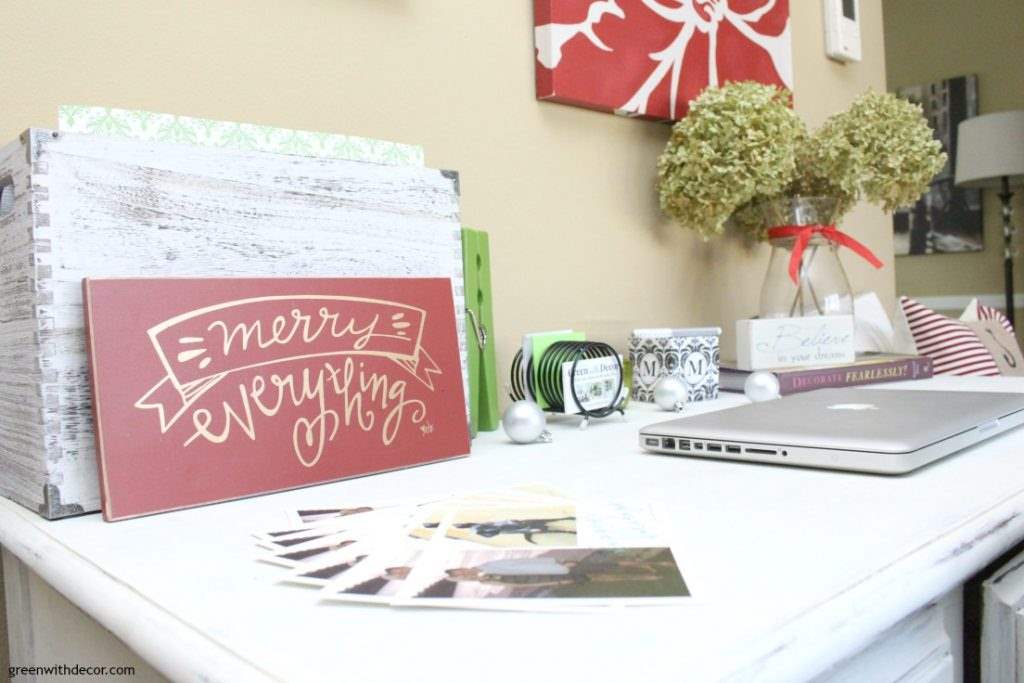 Budget-friendly Christmas decorating tip #3: Ornaments
I talked about this yesterday since I have ornaments all over the kitchen and bathroom, but really, they work wonders.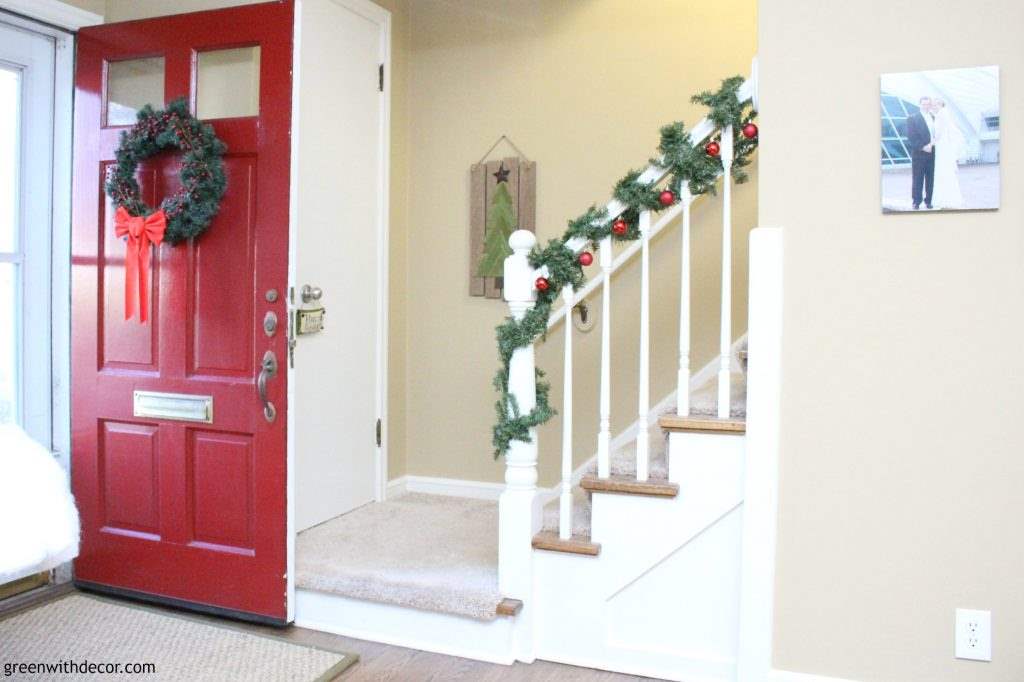 Grab a few colors – I went with traditional red and green plus some silver and gold for a little glam – and sprinkle them around the house. Boom, instant holiday cheer.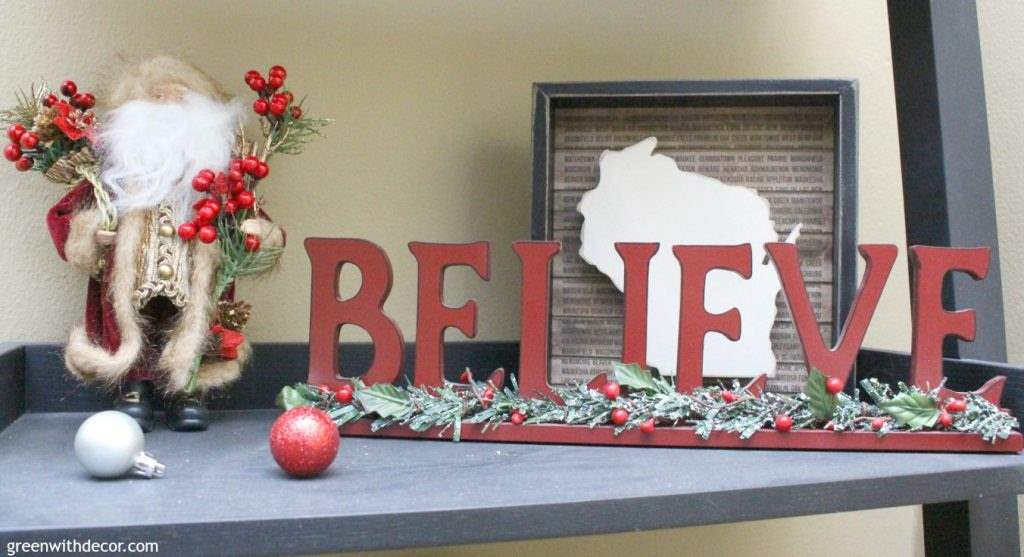 If you want to get really fancy, you can hang them up from a curtain rod over a window, too. I promise it was easy, although I think Oakley was confused why I kept standing up on the couch.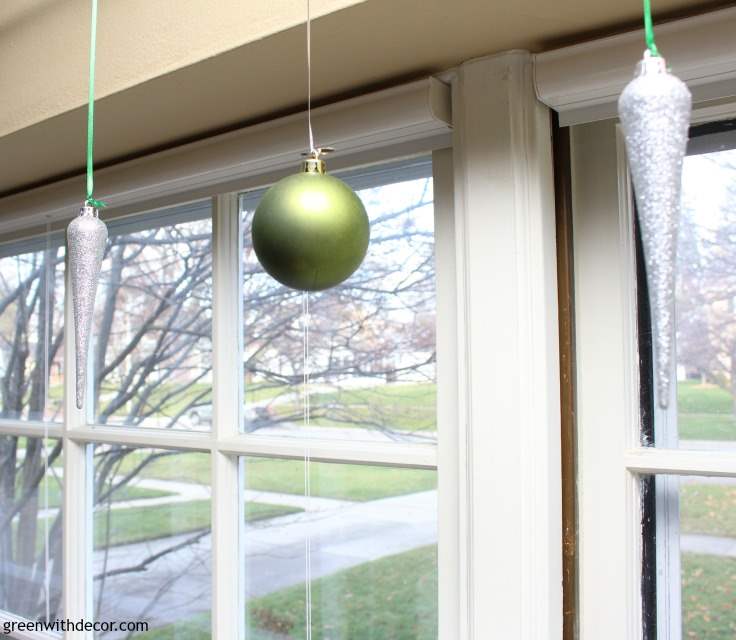 Budget-friendly Christmas decorating tip #4: Pillows and pillow covers
My throw pillow obsession is right up there with my scarf one. Really, I don't know which is worse. But when you find a good deal on a cute throw pillow, it's too hard to pass up!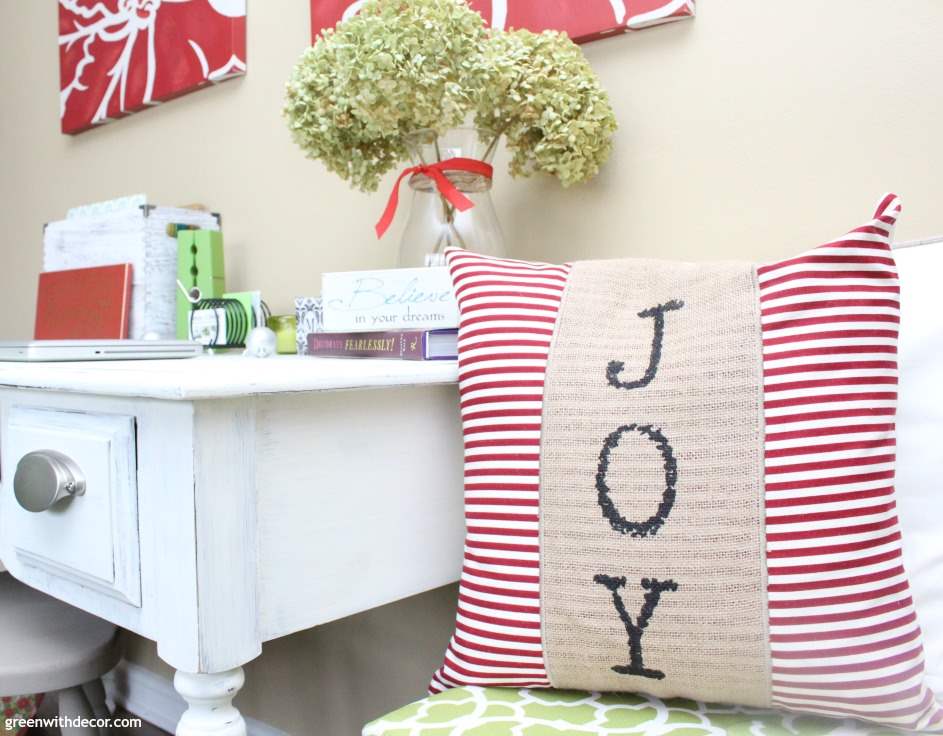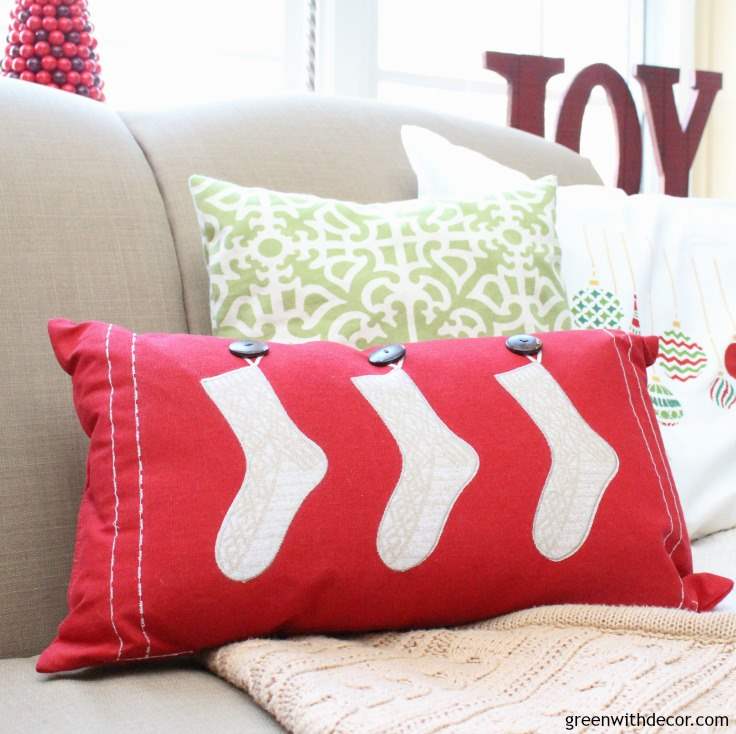 A few of these are just pillow covers, which means they're really easy to store the rest of the year when we're not using them.
Plus I can keep the pillow inserts for other holidays like this fall pumpkin pillow cover.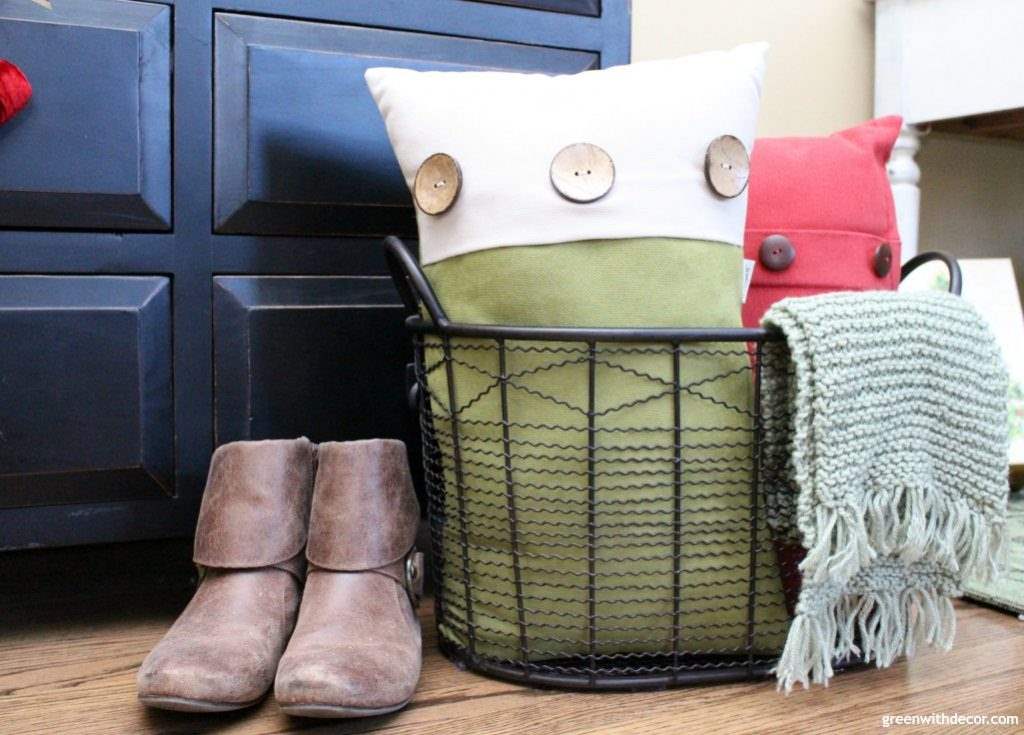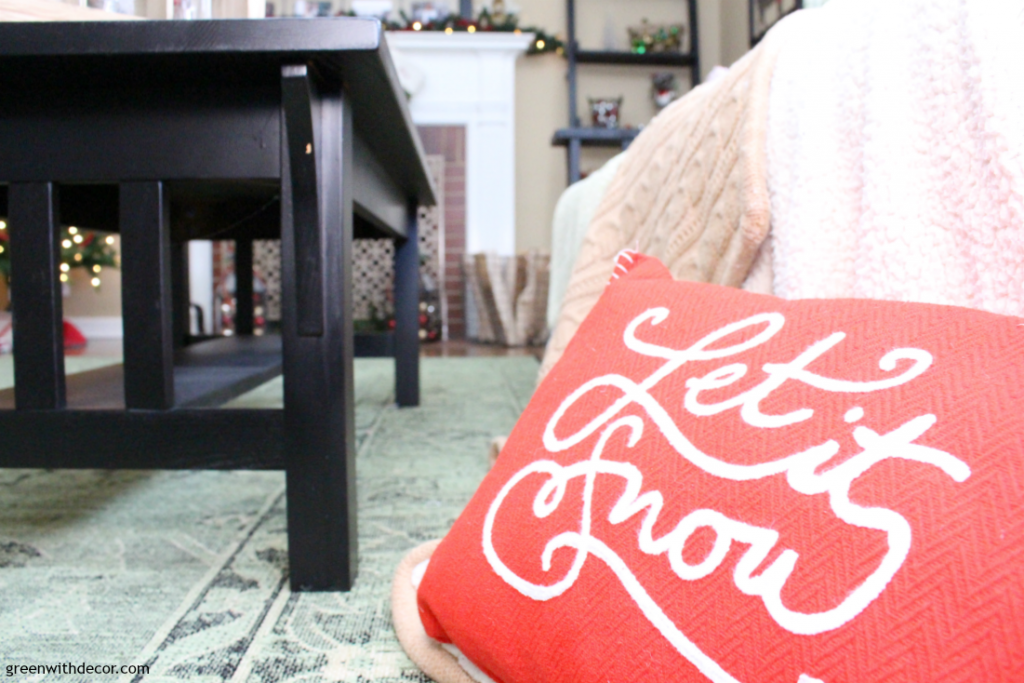 Budget-friendly Christmas decorating tip #5: Shop end of season sales
This one isn't quite as fun since you'll usually end up buying something you can't use for a year, but it's always worth it. It's always a fun surprise when a year later, you open your holiday boxes and see something you forgot you bought!
Those little red trees were on clearance at Target the day after Christmas a few years ago, and I love them!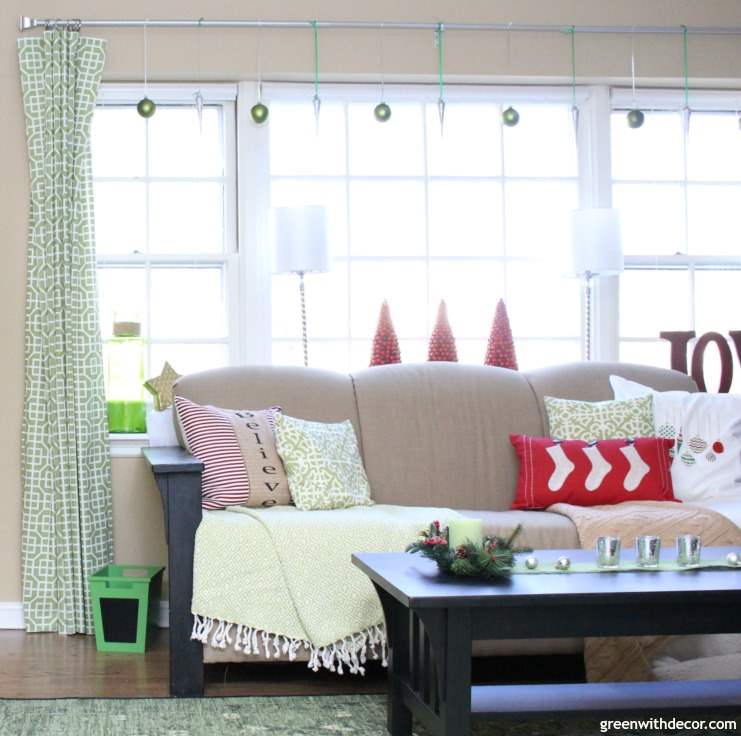 Between coupons, rewards and shopping at the end of the season, I typically try to not spend too much on holiday decor. I love decorating for different seasons, but it can get expensive if you're not paying attention!
Budget-friendly Christmas decorating tip #6: Use everyday items in festive ways
This basket pretty much stays out all year. I just fill it with different seasonal or everyday items (usually corks because they're the ornaments of everyday decor).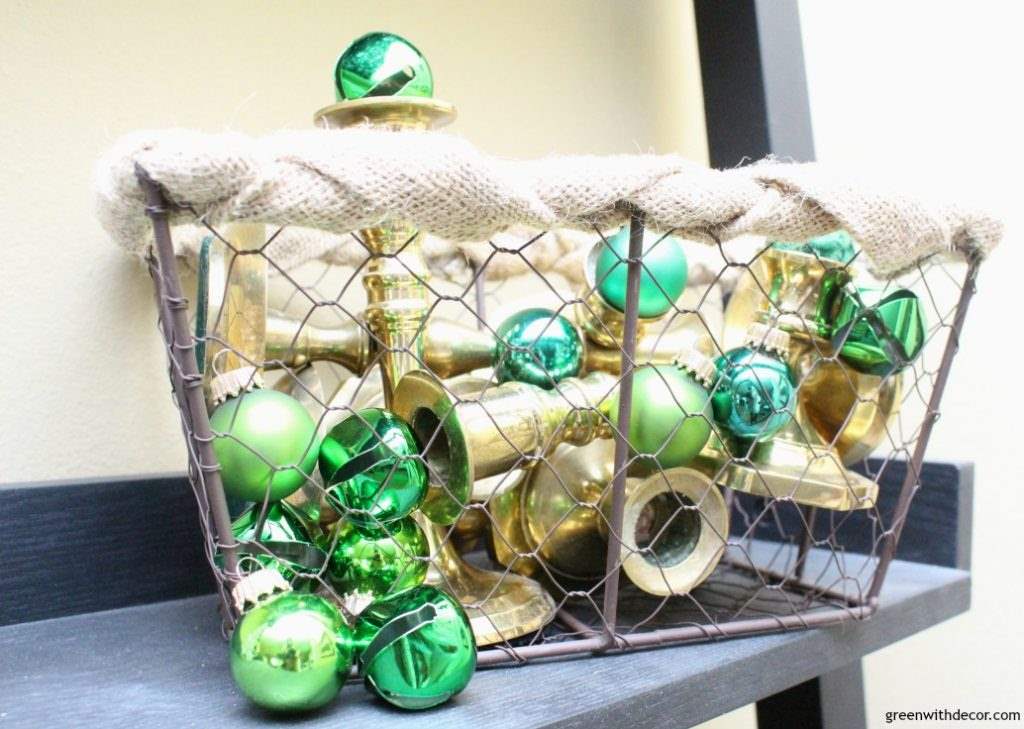 Plus how pretty do the gold candlesticks look all piled in there?
I had a bunch of Christmas decorations out on the kitchen counter trying to figure out where everything should go when I saw the candlesticks, and I knew they'd look fab grouped with some green ornaments.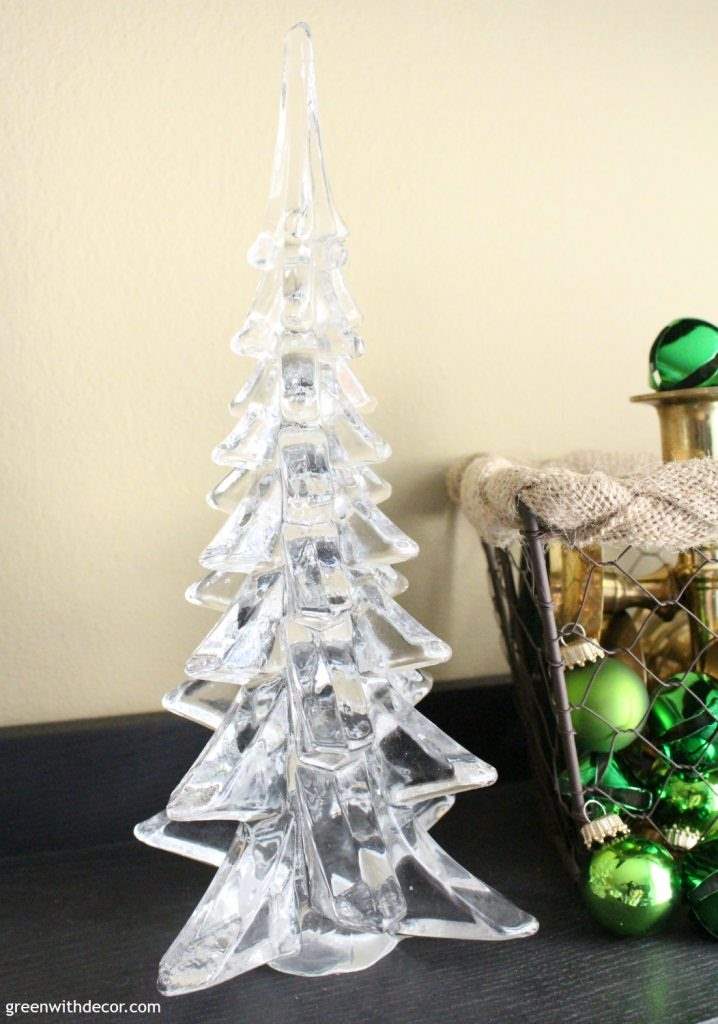 I use lanterns throughout the year. you can fill them with anything to make them festive. I tied a little ribbon around them for an extra touch. It's just so easy to add to everything!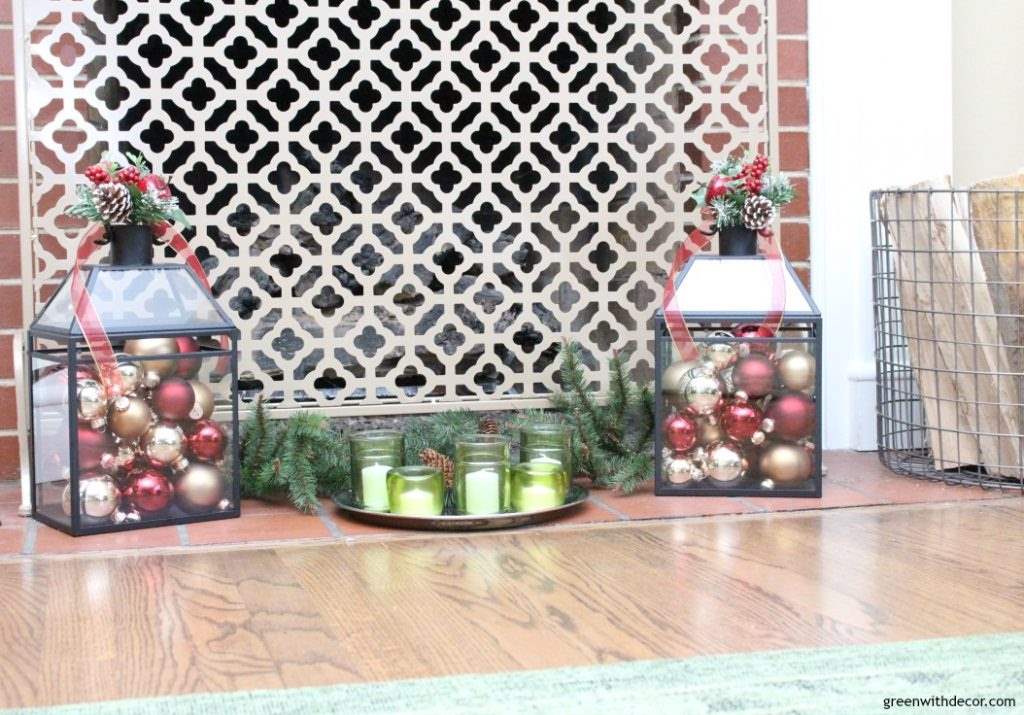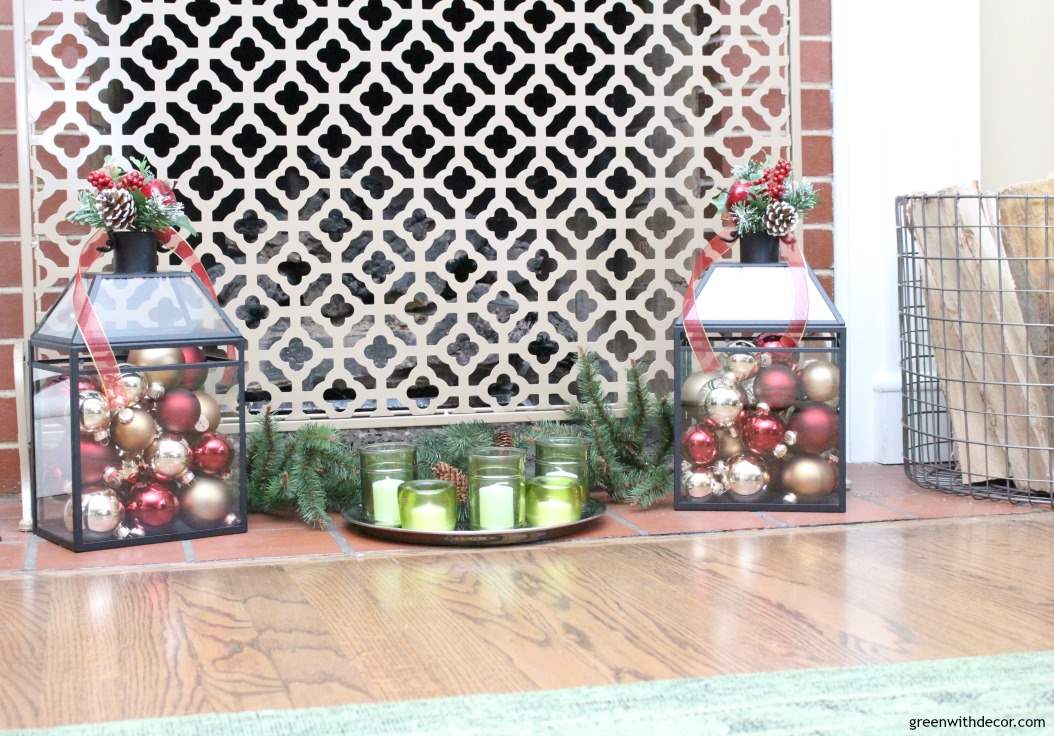 That silver tray with the candles is actually from a cocktail set we have. I was wandering around the house looking for something to put the green candles on when I came across it.
It's funny how decorations come together sometimes.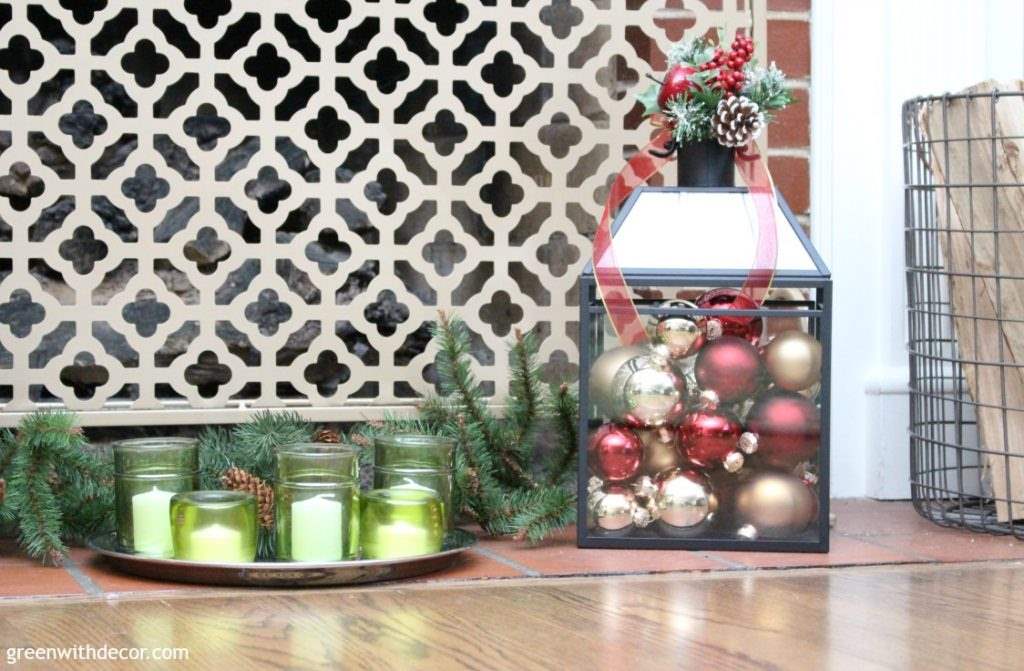 This little runner on the coffee table is actually leftover burlap from this St. Patrick's Day DIY project. Perfect!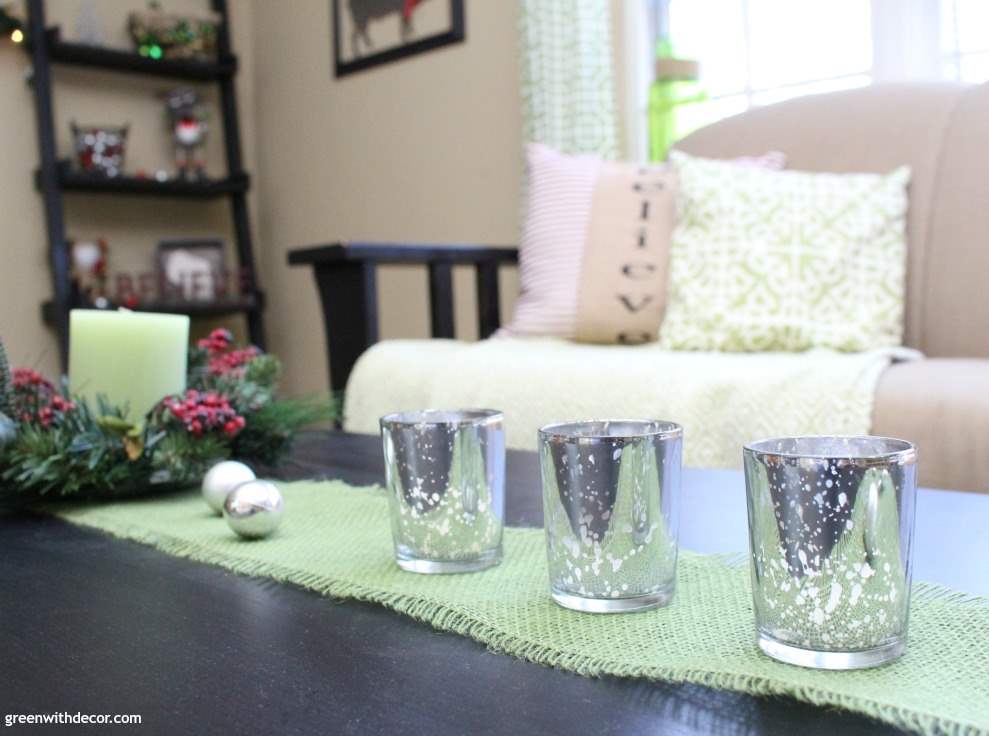 This wooden drink caddy is fun to fill with seasonal flowers. I was debating what to do with the dried hydrangeas for the Christmas season.
When I posted about it on Instagram, so many people said just leave them out, and I'm glad I did!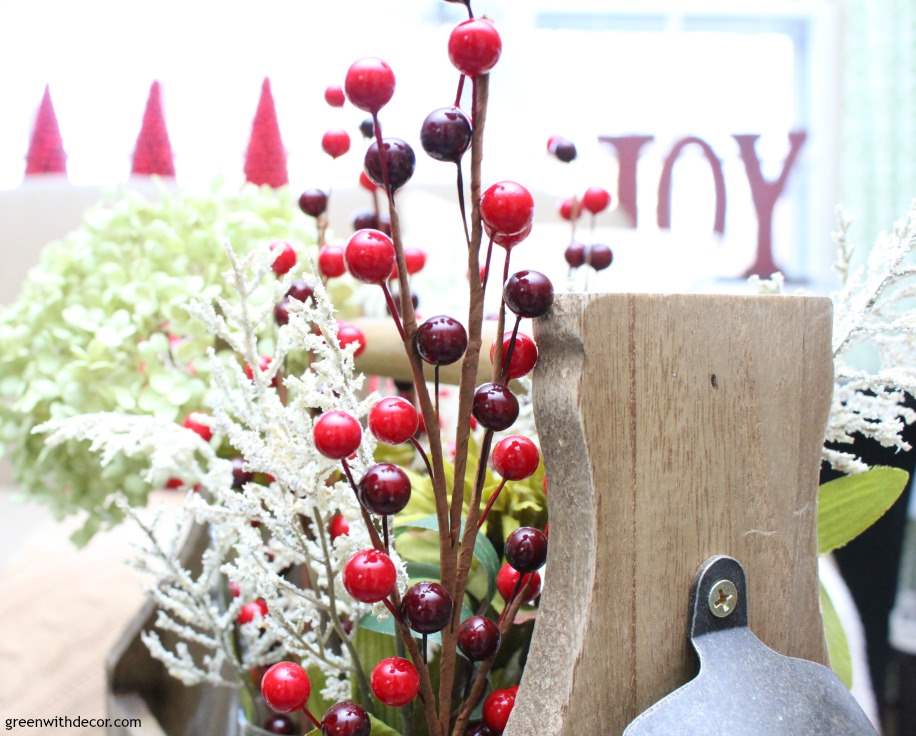 I just love the living room this time of year. It's such an explosion of Christmas in there, and the second tree really adds some sparkle.
There's nothing better than nights at home during the holidays with the lights twinkling, don't you think?!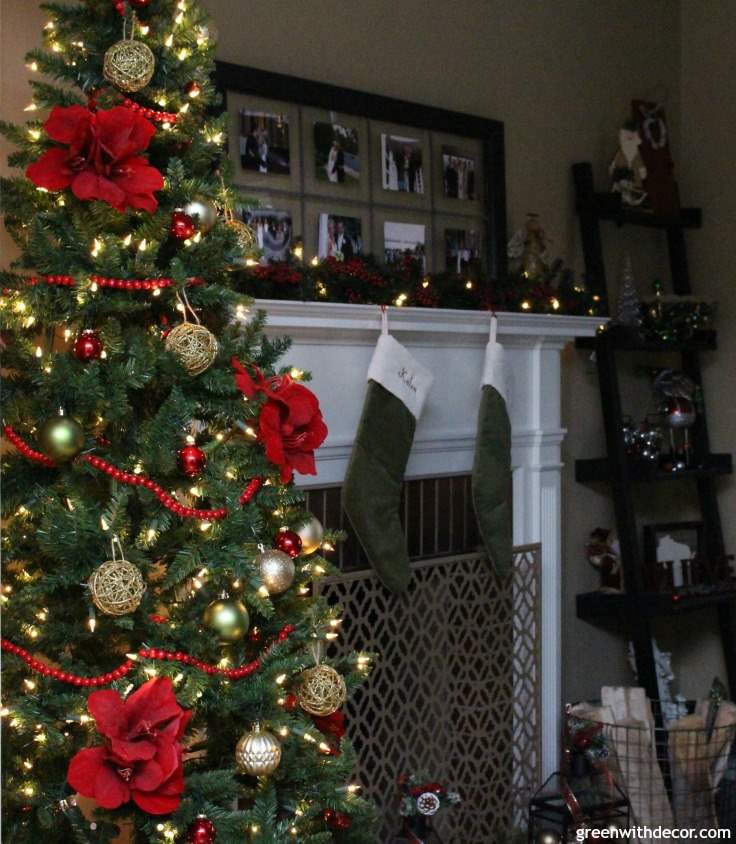 How else do you decorate for Christmas on a budget?
This post contains affiliate links. This means if you click the link and buy something, I may receive a small percentage of sales at no extra cost to you.
GET THE LOOK:
Since a popular question I get is "Where'd you get that?!," here are links to the same or similar sources:
Remember to hop over to my friend Amy from My Life at Home's holiday home tour next! I always love seeing Amy's house. Here are links to the rest of the bloggers' Christmas houses:
Organize Nashville | Creatively Homespun | At Home with Zan | Uncookie Cutter
Timeless Creations | Craftivity Designs | Green with Decor (you're here!) | My Life from Home | Two Purple Couches | Old House to New Home
Our Crafty Mom | A Purdy Little House | Roots North & South | Pender & Peony | Organize & Decorate Everything
Flourish & Knot | Rocky Mountain Bliss | Pocketful of Posies | Recreated Designs | Knock it Off Kim | The Interior Maven | Little Bits of Home
Love My Simple Home | Simple Nature Decor | 2 Bees in a Pod | Country Design Style | Finding Your Joy in The Journey
If you like Christmas decorating, tour the rest of our house here:
Remember to bookmark or pin this post if you want to save it for later!


Pin it!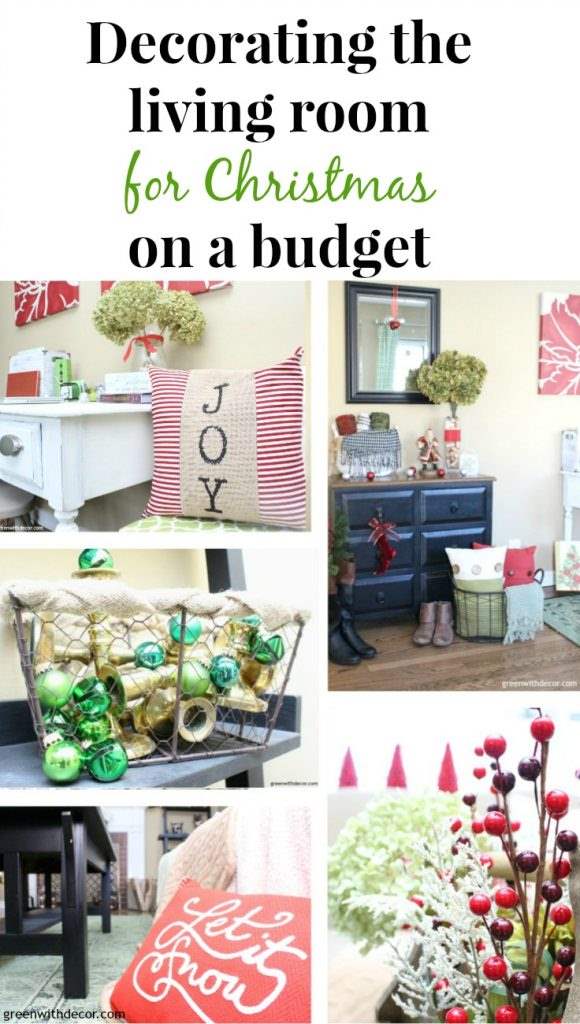 Want to read more posts like this?
Follow along: Get my emails | Facebook | Pinterest | Twitter | Instagram