Happy spring!!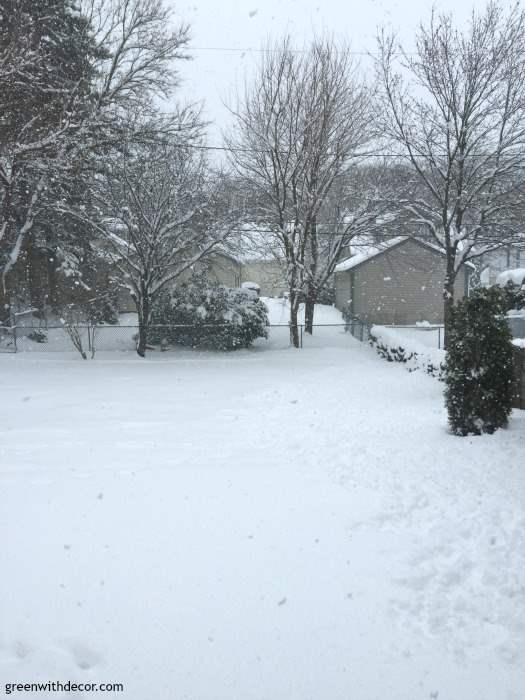 Yeah just kidding. It feels pretty funny to be writing a post about spring mantel decorating ideas considering we got something like 10 inches of snow yesterday. Luckily I had planned to work from home all day anyway so I didn't have to leave the house. Snow always looks so much prettier when you're inside.
Anyway, we're pretending it's spring though because my friend Amy from My Life at Home is hosting a spring mantel hop today!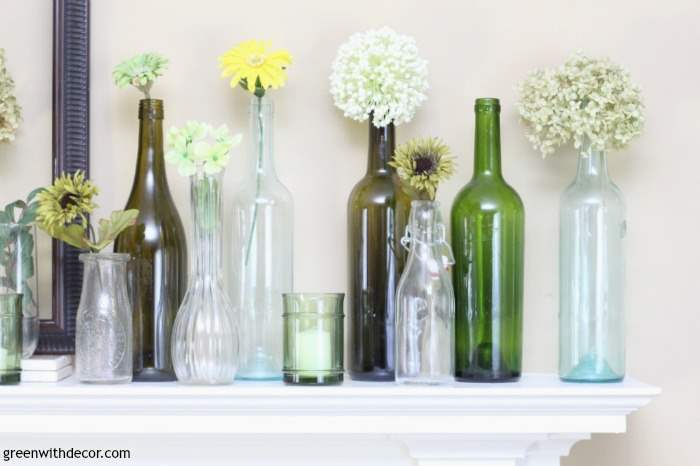 You can hop around to all the other ladies' spring mantels by clicking the links below. I love all of the creative ideas! I swap out our mantel decor a lot, and I always love seeing others' ideas.
I had a lot of fun with this one. I even took down the window turned picture frame that's usually on the mantel to get a true blank slate.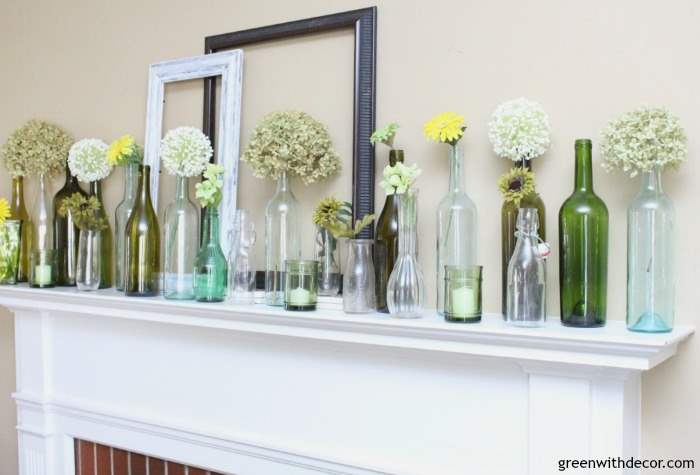 This post contains affiliate links. This means if you click the link and buy something, I may receive a small percentage of sales at no extra cost to you.
I basically just played around with a bunch of glass pieces until I liked how they looked all lined up. I used some old wine bottles (because of course I did), vases and a few bottles and jars I bought awhile ago. 
I mentioned yesterday I'm more into decorating with blue than I used to be, so I even threw in some aqua wine bottles with the green and clear ones.
I feel like I need to mention our neighbors/friends save their wine bottles for me haha, we didn't drink allll of this ourselves!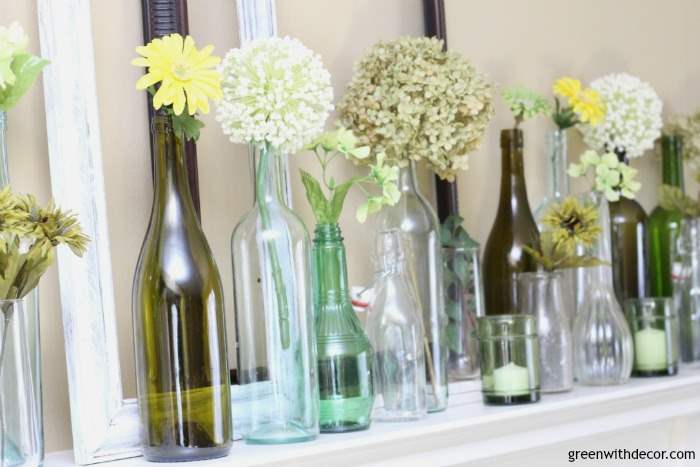 I used a few of our green glass candle holders, too to add some shorter pieces and keep everything looking kind of random.
I added some a bunch of flowers from my collection. I would love fresh flowers all the time, but it's just not practical, so I have a little collection of faux ones going that I swap out throughout the year. It's an easy, budget-friendly way to decorate for every season.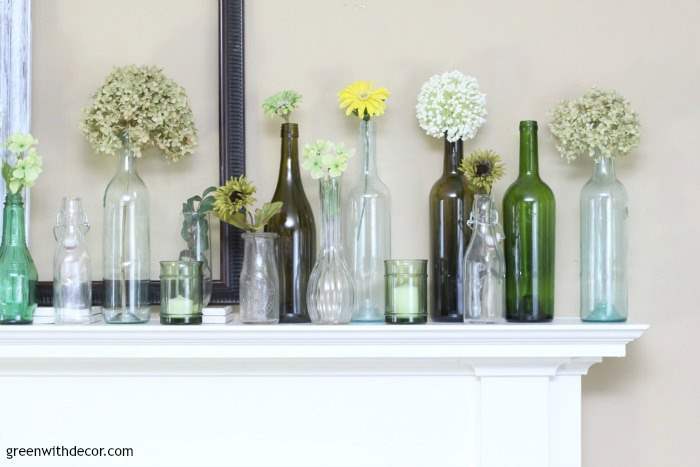 I turned on some country music and totally just played around with everything here, moving bottles and flowers around, looking at it, moving some of it around, looking at it again … until I decided I liked it. It was a fun little afternoon!
These dried hydrangeas are still one of my faves to decorate with.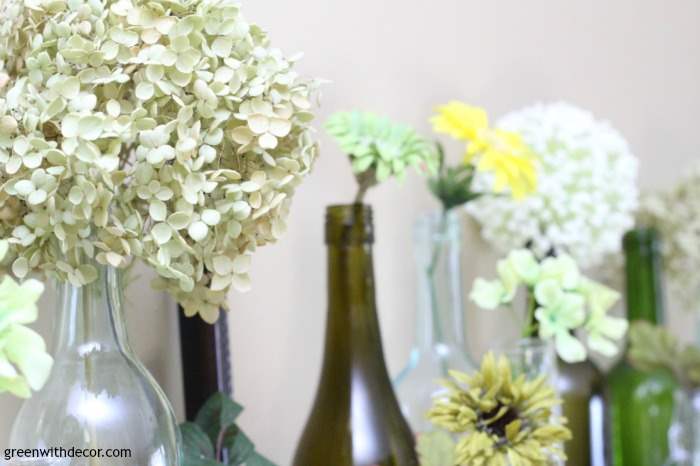 The frames I used are both really old. I can't even remember where that brown one is from. The white wood was an old wood one from Goodwill. I painted it for this Christmas project and kind of ended up with the distressed look on accident. Love when that happens.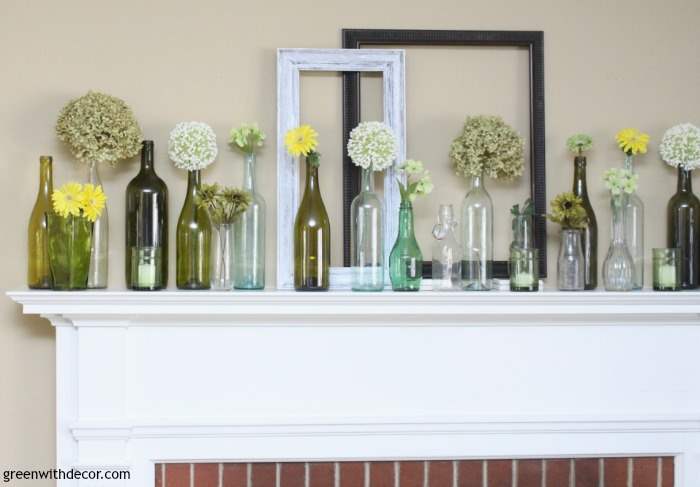 So that's my super easy spring mantel decorating idea, nothing too crazy! And if you don't look outside, you might even believe it's spring.
If you love spring decorating, you'll want to see these, too:
Remember to bookmark or pin this post if you want to save it for later!

Pin it!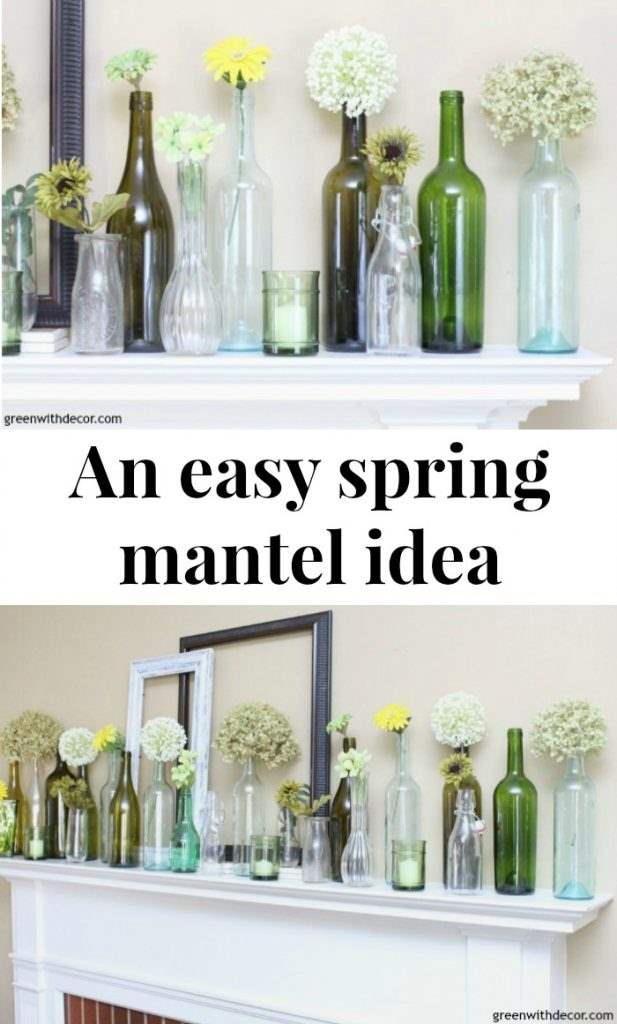 Want to read more posts like this?
Follow along: Get my emails | Facebook | Pinterest | Twitter | Instagram