Easy fall patio decorating ideas you can put together to enjoy the fall weather outside.
I'm excited to share our backyard again today. It's all decked out for fall!
Kalen and I spent a lot of time turning our backyard into an extension of our house, and even though we're in Wisconsin, we have no plans to put the outdoor furniture away anytime soon.
With our fire pit and cozy blankets, we can enjoy it for a while longer!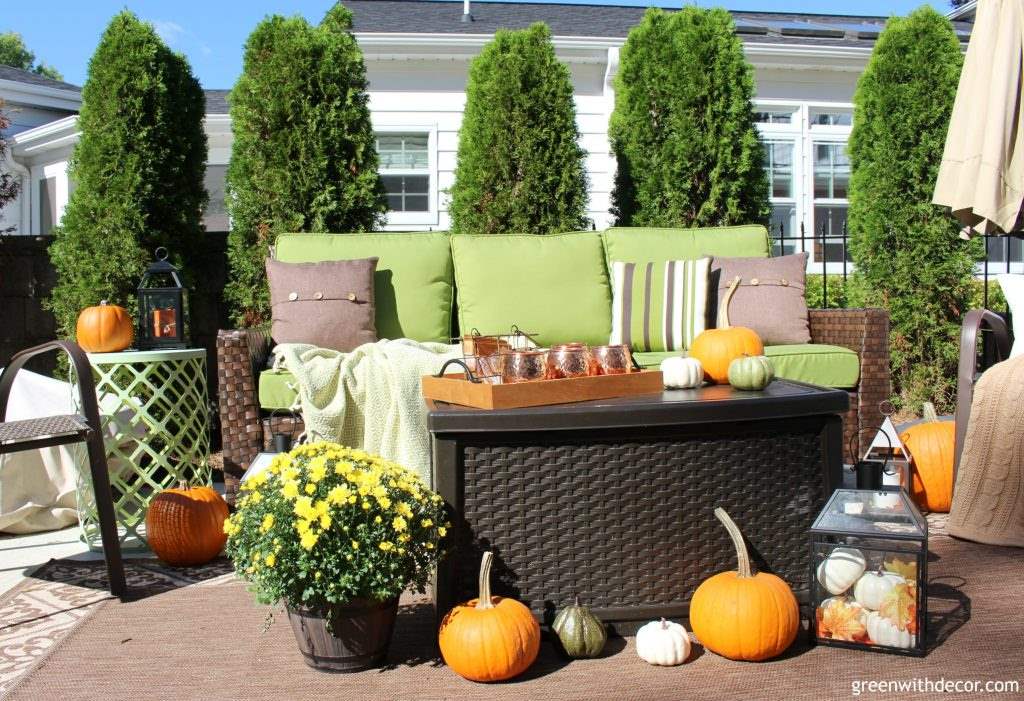 Tara from Lehman Lane rounded up 19 bloggers to share their fall outdoor spaces this week. Be sure to check out their pretty porches at the links at the end of this post.
If you're hopping over from one of the other blogs and are new to Green with Decor, welcome! I'm glad you found me! You can check out my fall indoor tour here or learn more about me and my blog here.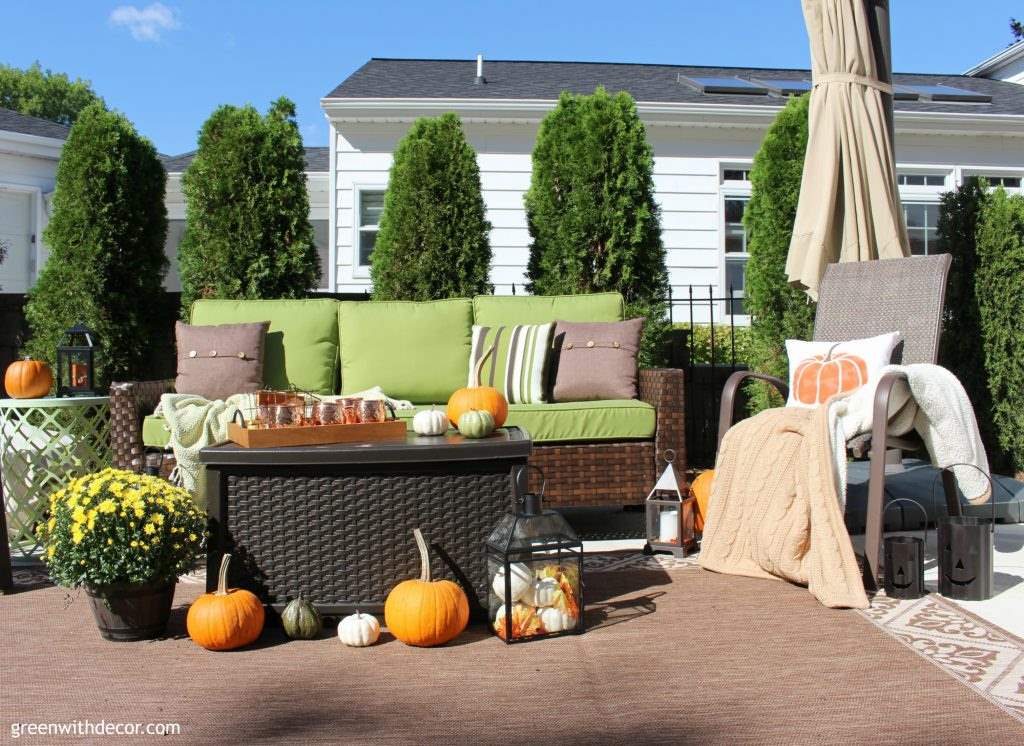 I'm sharing a few of my favorite pieces I use to decorate the patio for fall today:
This post contains affiliate links. This means if you click the link and buy something, I may receive a small percentage of sales at no extra cost to you.
Throw pillows and cozy blankets
No surprise, but my obsession with throw pillows continues well into the fall. We have a ladder shelf and a basket – both full of blankets – right inside our patio doors in our family room, so it's easy to grab one on your way outside on those chilly nights.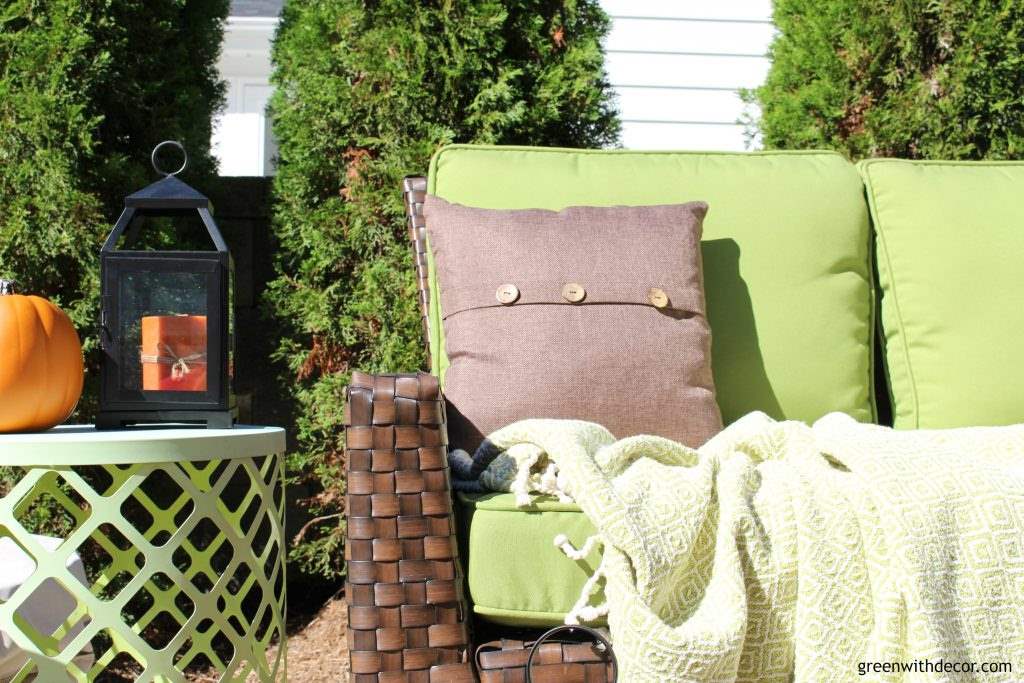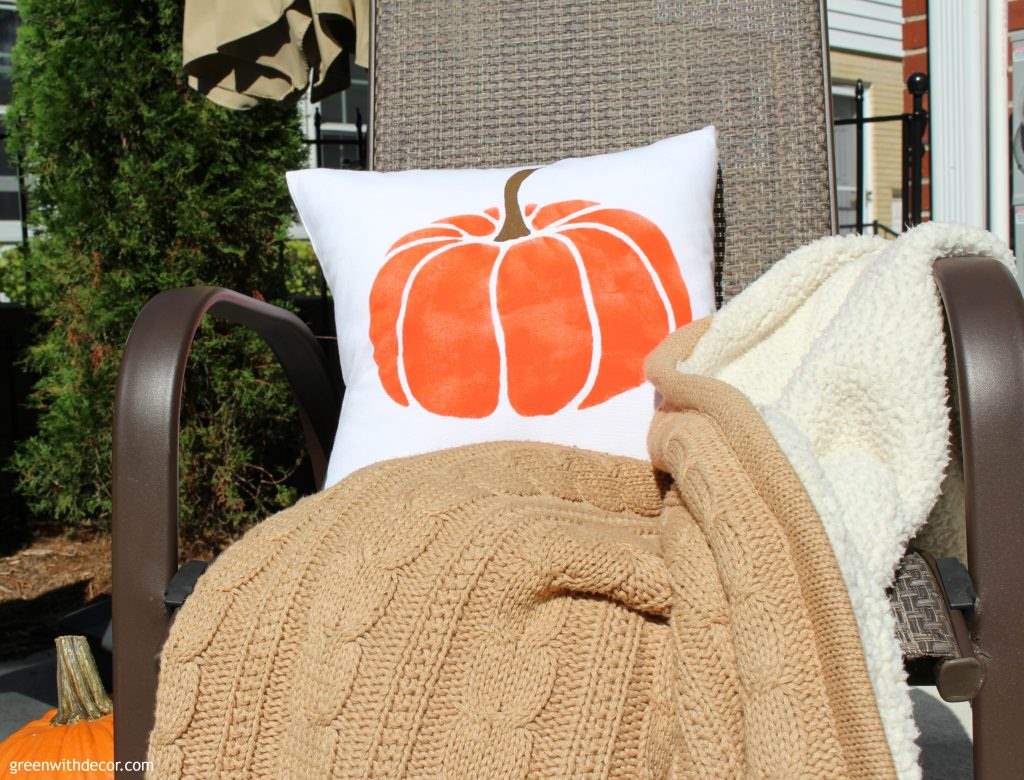 This DIY pumpkin pillow is one of my favorite fall DIY projects, and that tan blanket pretty much follows me around the house because it's so cozy.
Comfortable outdoor furniture
I've said it a million times before, but the outdoor couch is one of the absolute best purchases we made for this space. We waited till mid-summer last year so it was on sale, and it was well worth the wait.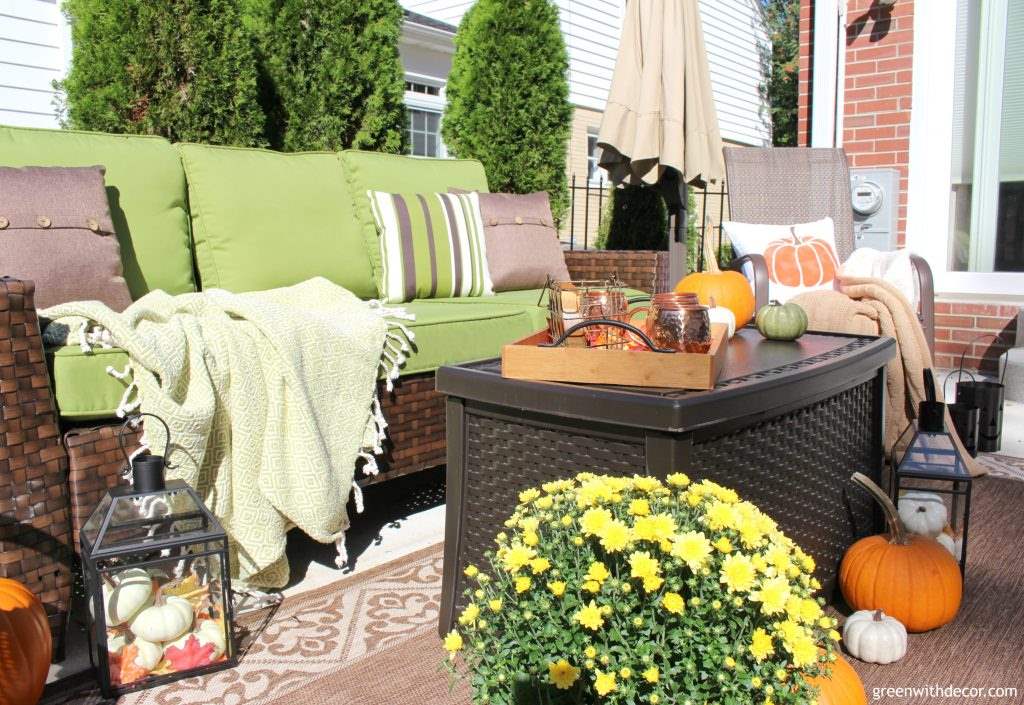 Outdoor rug
The rug was a new addition to the patio this year. It really makes it feel like a room out there. I look at pictures of the patio last year now, and I feel like it looks so empty without the rug!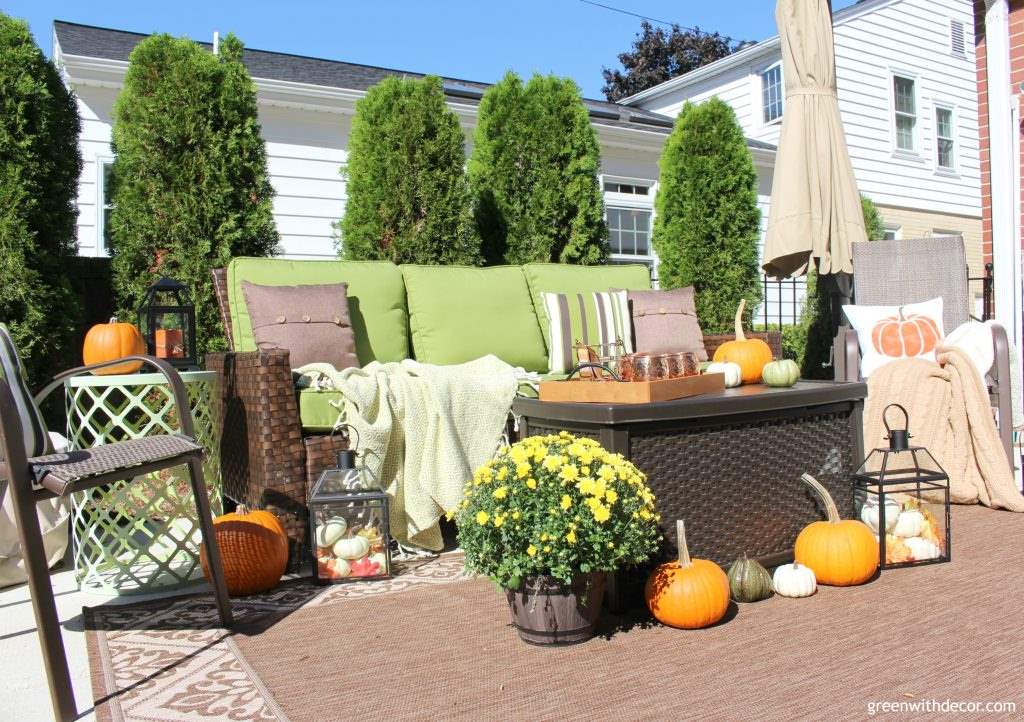 Pumpkins, pumpkins, pumpkins
Fall is the only time of year I decorate with orange, but pumpkins, come on, you have to! They're the perfect way to decorate the patio for fall.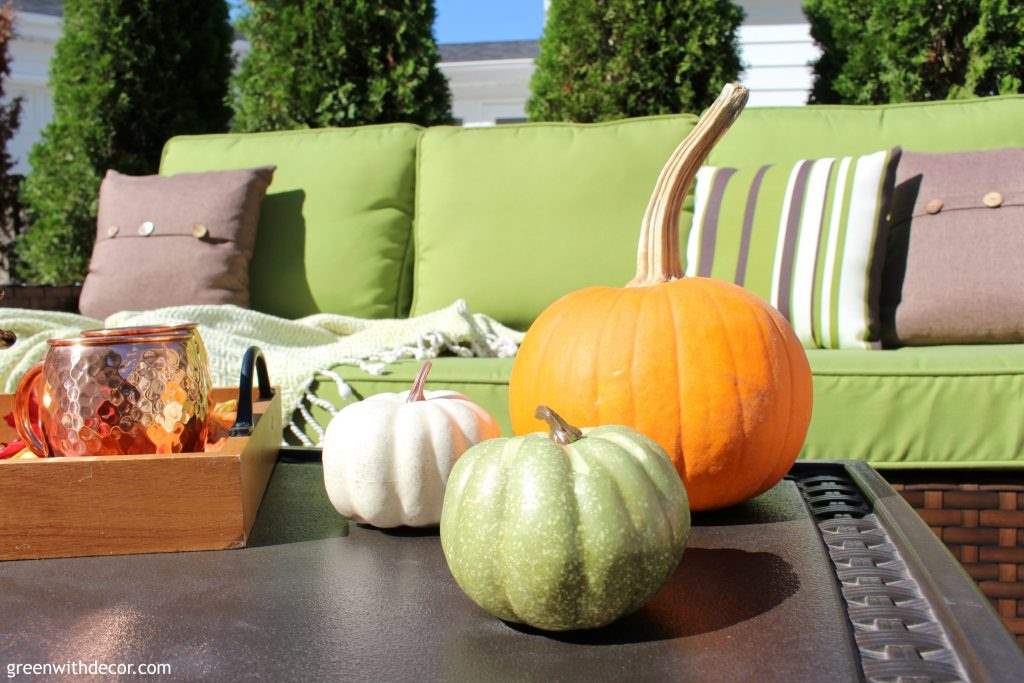 Of course, I have to add in my favorite colors green and white, too. I just love the little green and white pumpkins!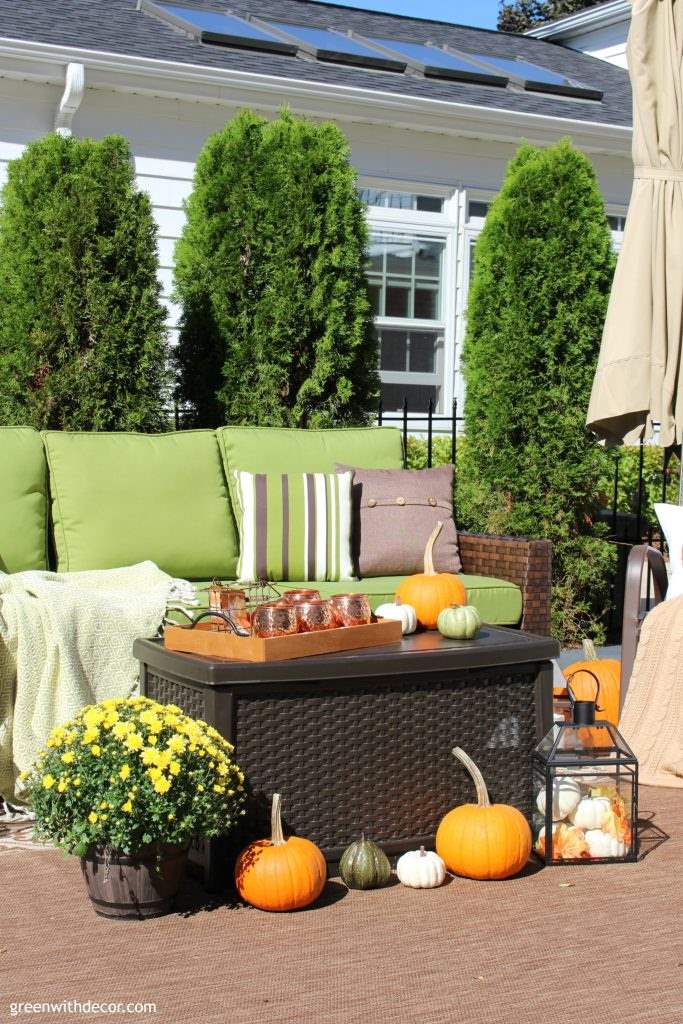 I have a mix of real and fake, because with how many pumpkins I like having around in the fall, I can't justify buying a whole bunch of real ones every year just to throw them away at the end of the season.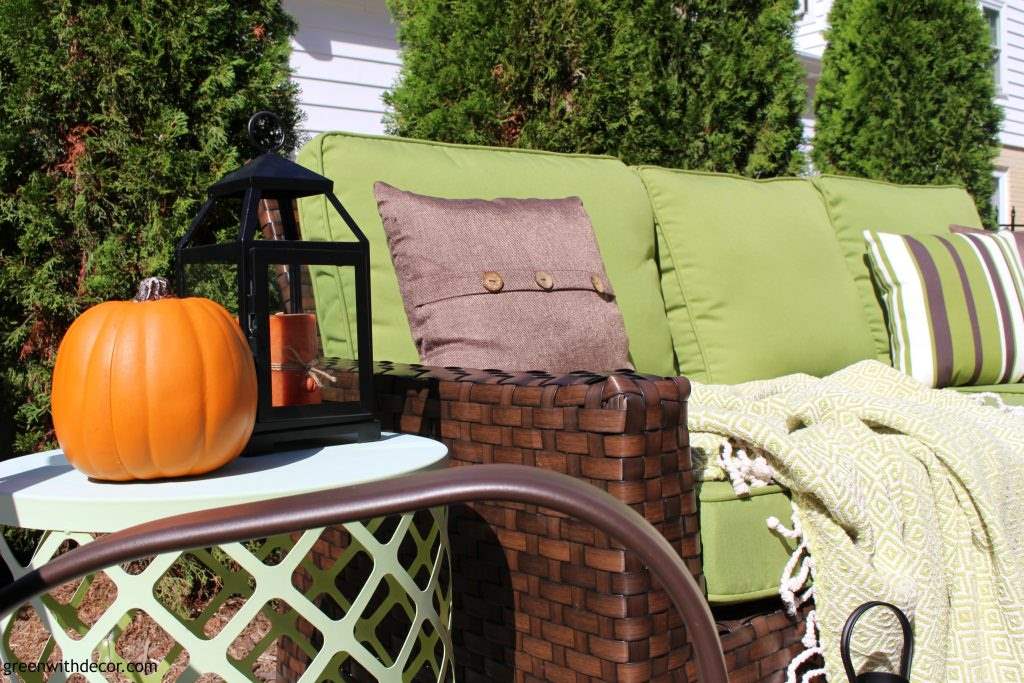 Lanterns
I can't get enough lanterns. They're just too much fun to redecorate for each season.
With some leaves and white pumpkins – or with a candle – you can easily turn any lantern into fall decor.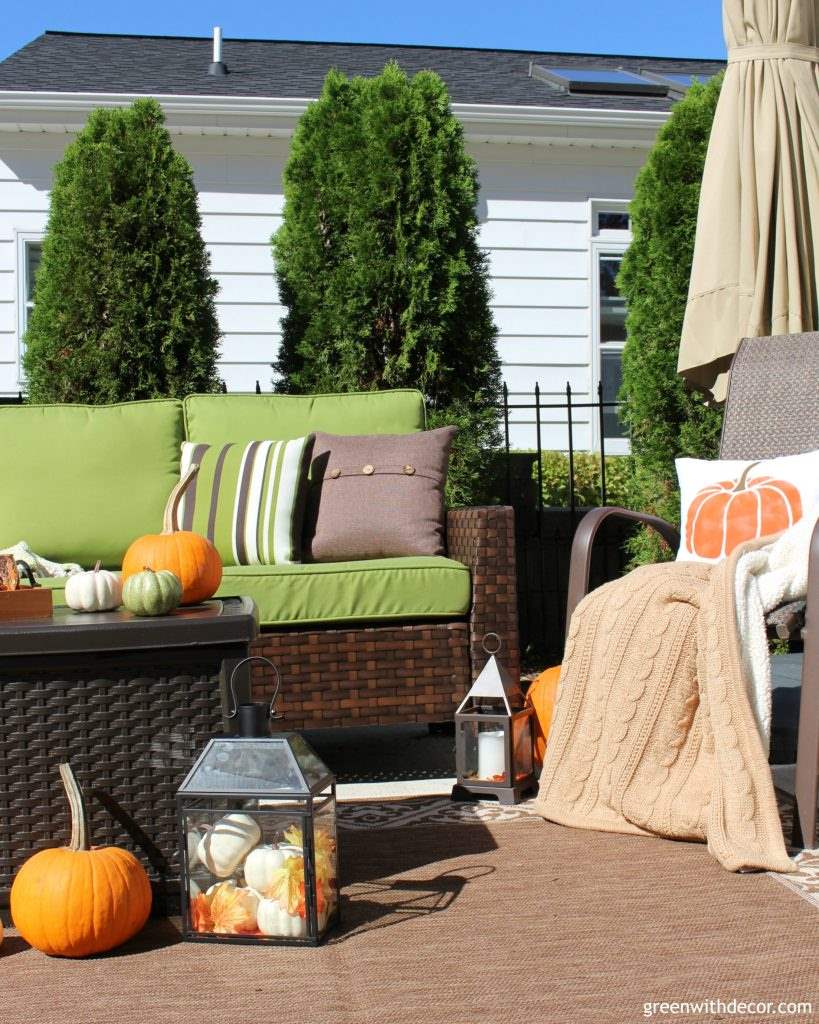 Mums
I saw this mum plant in the barrel planter last week and couldn't resist. Plus I think flowers make any space just a little better!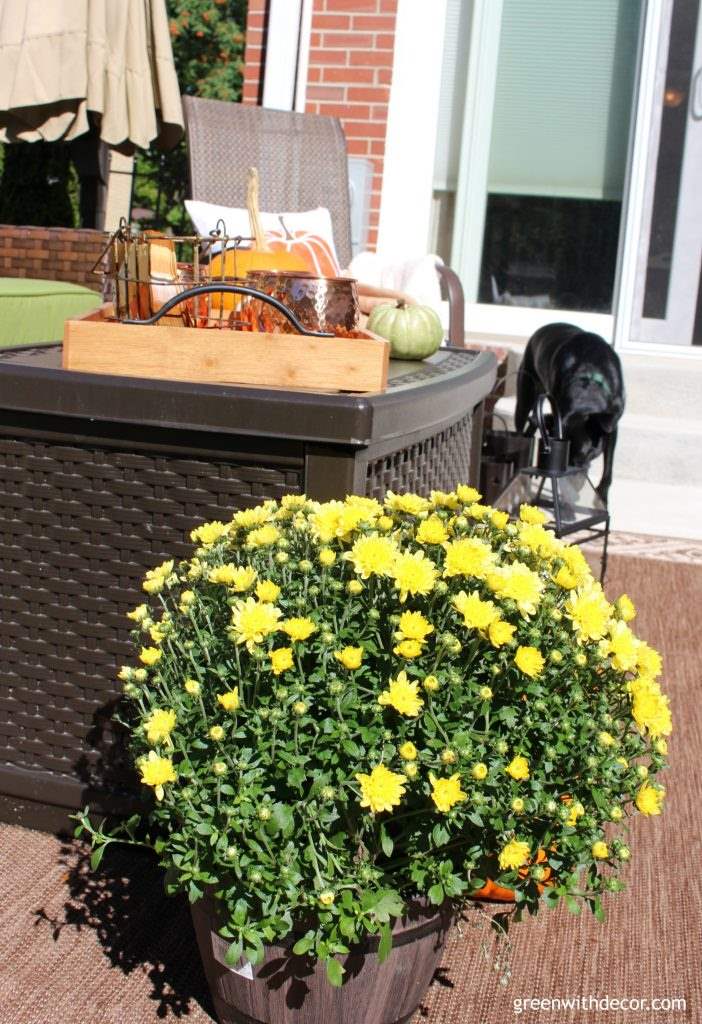 Oakley is always around here somewhere.
Tables
You need somewhere to put down your Moscow Mule mug full of apple cider, of course.
I love our tables on the patio. The coffee table is great storage, and the little green end table adds the perfect pop of color (green!) to the space.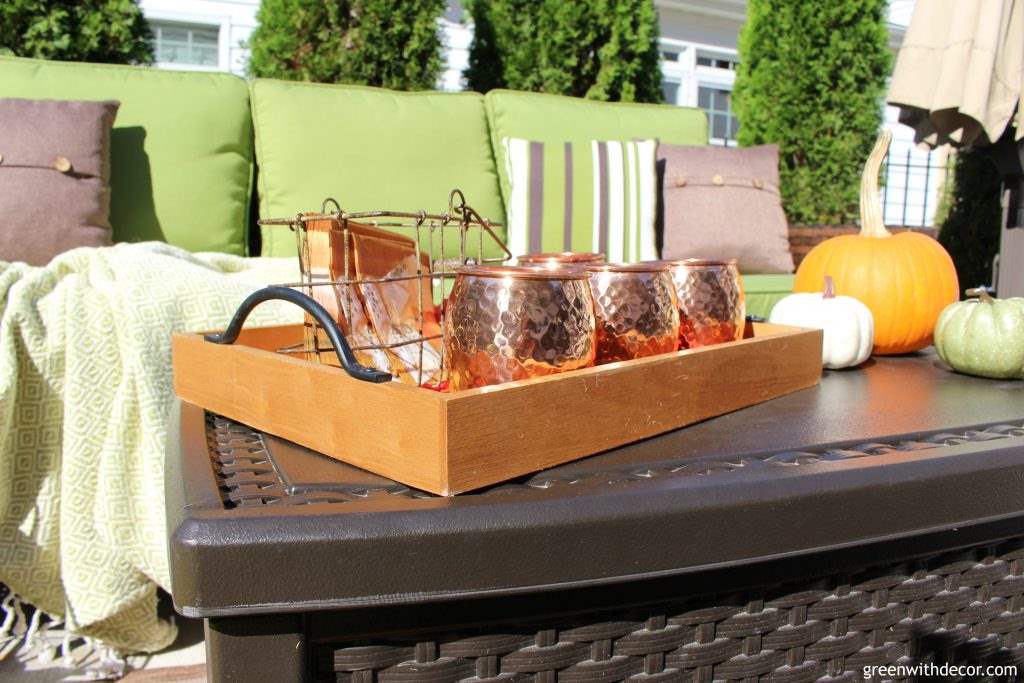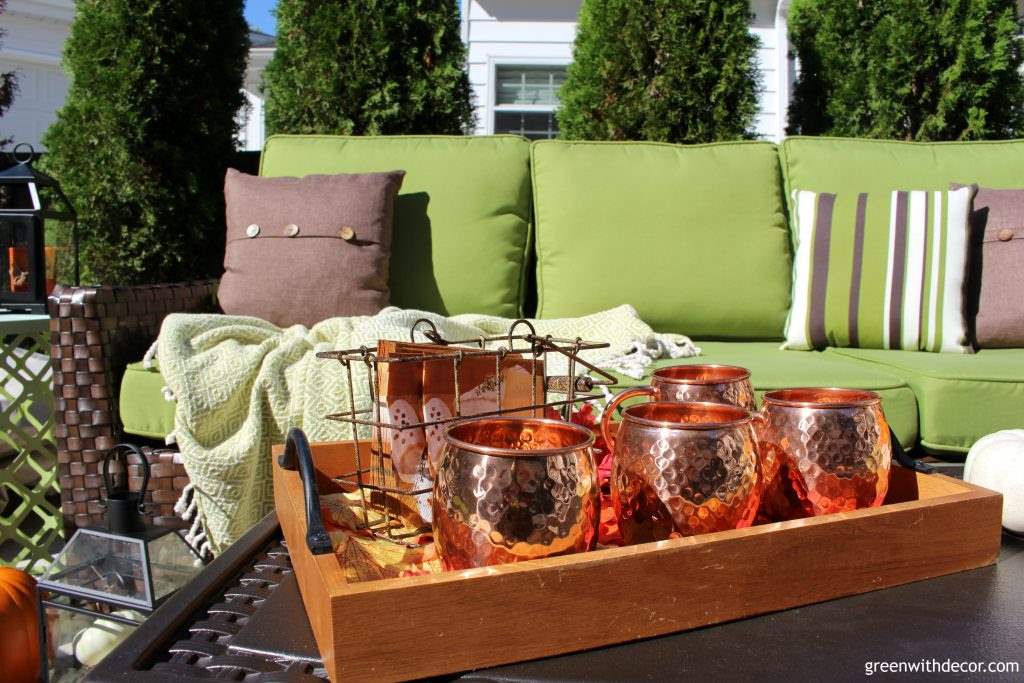 See the hammock down there?
That was a recent addition to our yard, and we are obsessed. The outdoor throw pillows are usually down there these days, but I brought them back to the couch for now!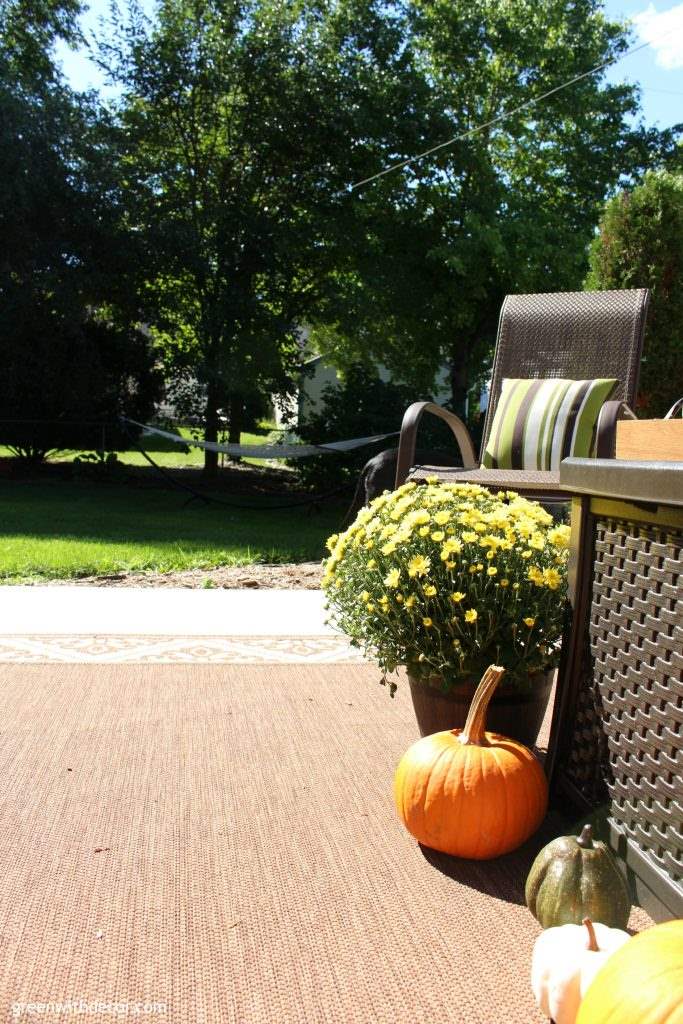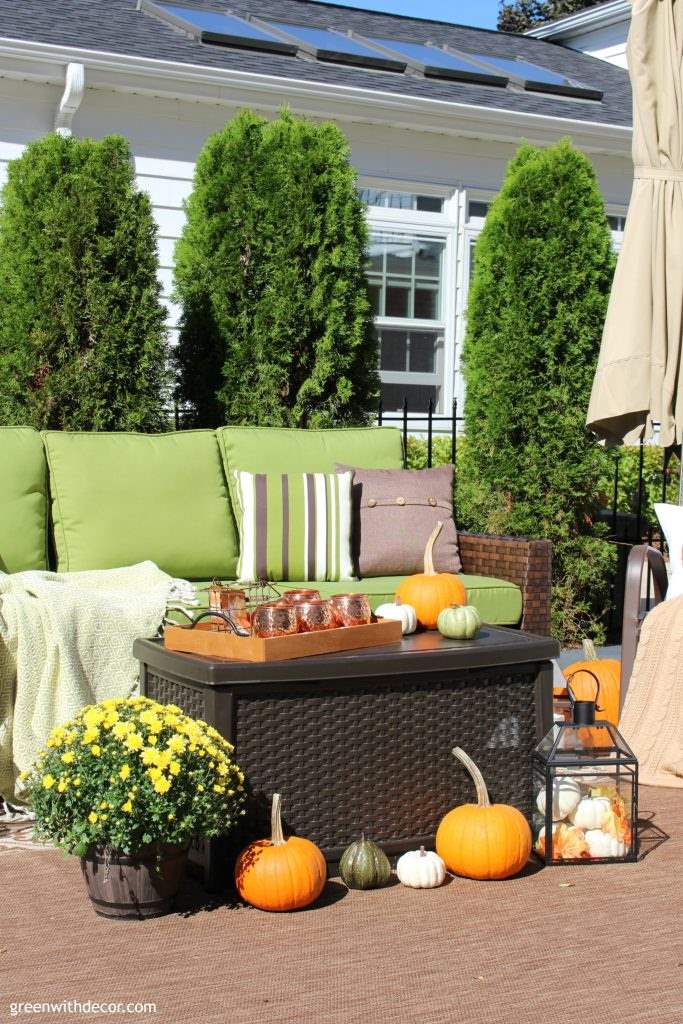 How do you decorate your outdoor space for fall?
GET THE LOOK:
Since a popular question I get is "Where'd you get that?!," here are links to the same or similar sources:
Remember to check out the other ladies' fall outdoor tours:
Lehman Lane | 2 Bees in a Pod #1 | My Life from Home | North Country Nest | Our Crafty Mom | Twelve on Main | Little Bits of Home | Beauteeful Living | Fun Home Things | Simple Nature Decor | Timeless Creations | Refresh Living | Uncookie Cutter | Two Purple Couches | Our House Now a Home | Knock it Off Kim | Green with Decor (you're here!) | 2 Bees in a Pod #2 | Joy in Our Home
If you like relaxing in the backyard, you'll want to see these, too:
Remember to bookmark or pin this post if you want to save it for later!

Pin it!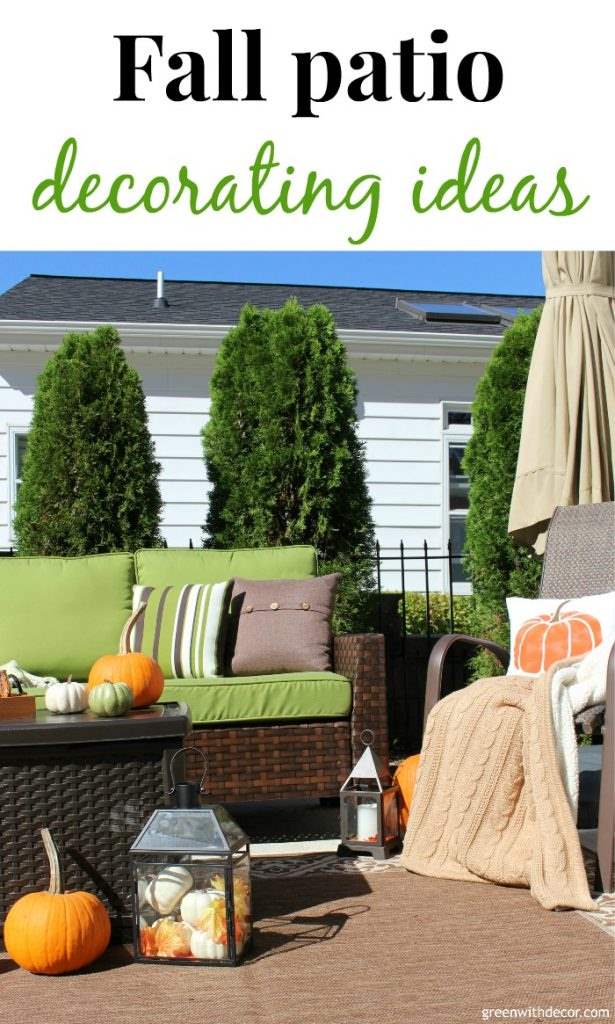 Want to read more posts like this?
Follow along: Get my emails | Facebook | Pinterest | Twitter | Instagram