We just got back from a week in St. Lucia, which was absolutely beautiful and very relaxing.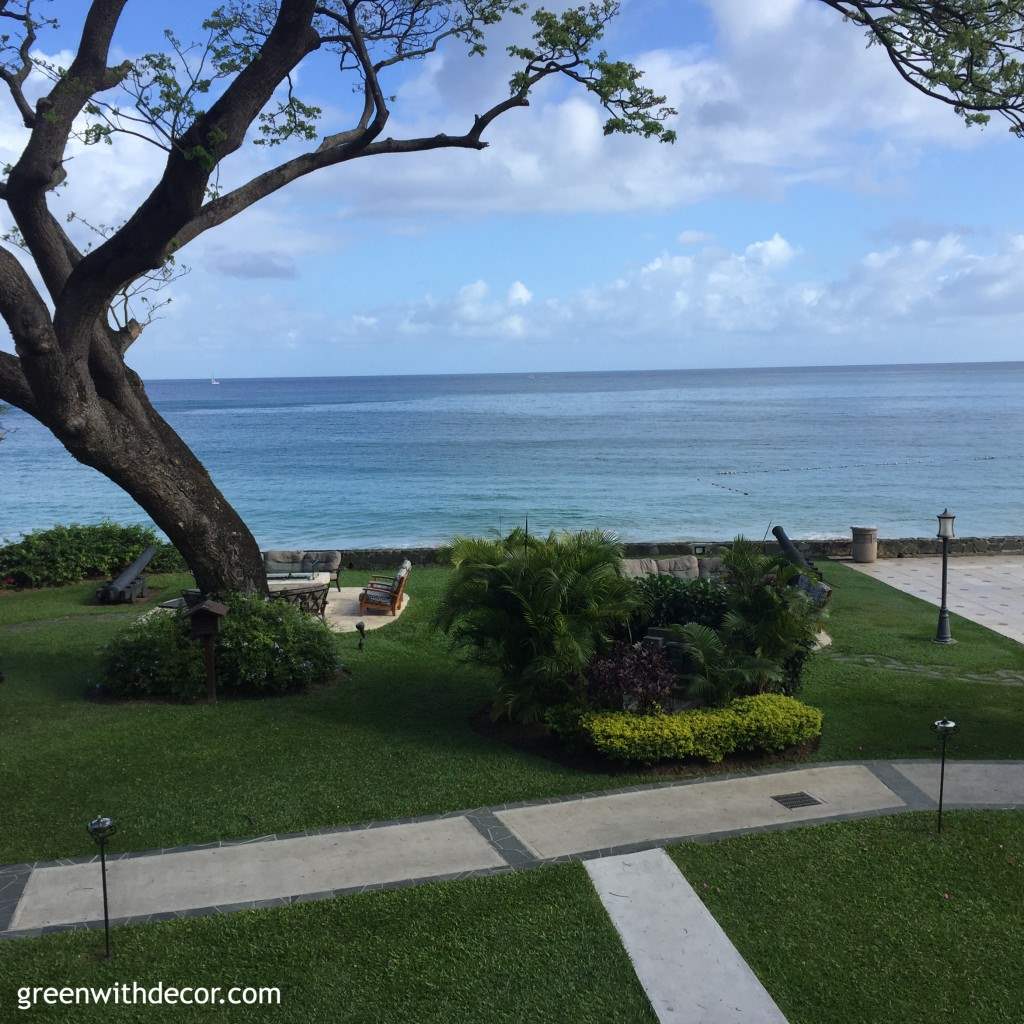 I couldn't resist sharing one picture! We loved it and already went to go back. 🙂
Seeing as I spent the better part of last week lying in the sun with a frozen cocktail in hand, I don't have any new DIY projects or decorating ideas to share.
I've wanted to share our Cincinnati kitchen renovation for a while but have been busy with current projects so it never seemed to fit into my blogging schedule.
Until today! All I needed was a little trip to the beach and a break in my schedule.
So, our Cincinnati kitchen. Here it is!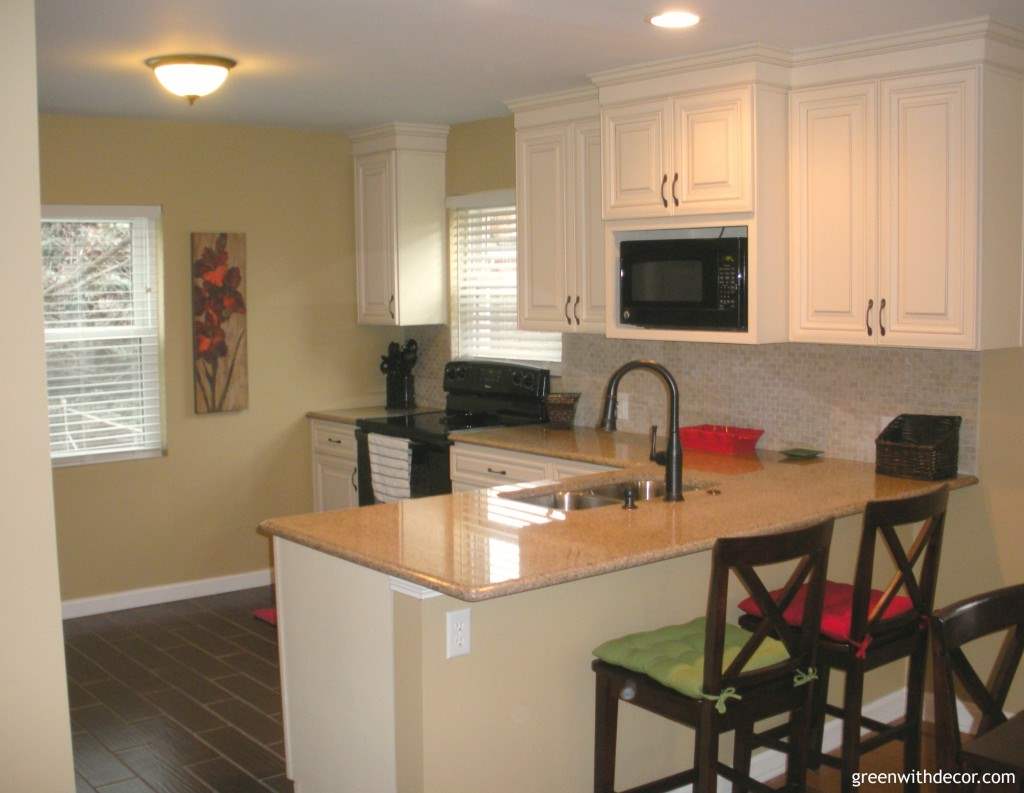 And here's how it started: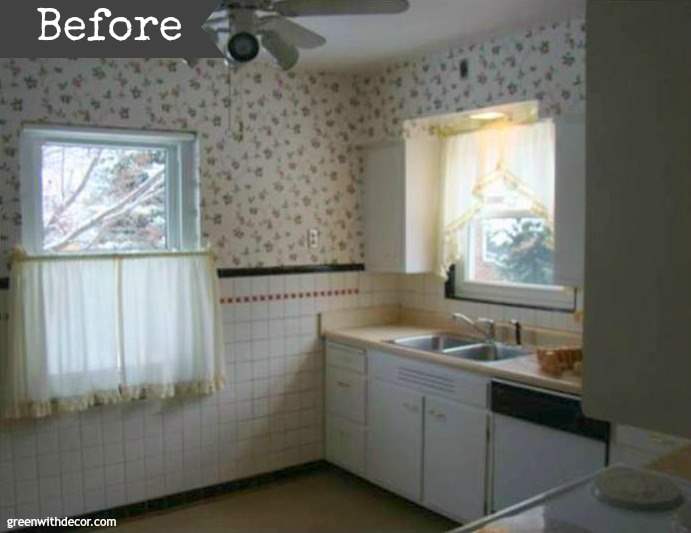 Cherry wall paper, old cabinets, overmount sink, white and red tile – what's not to love?!
Demo was painful. Those tiles are awful to get off of the wall. They were attached to the wall with a layer of wire mesh, similar to the tile in our bathroom in this house before we renovated.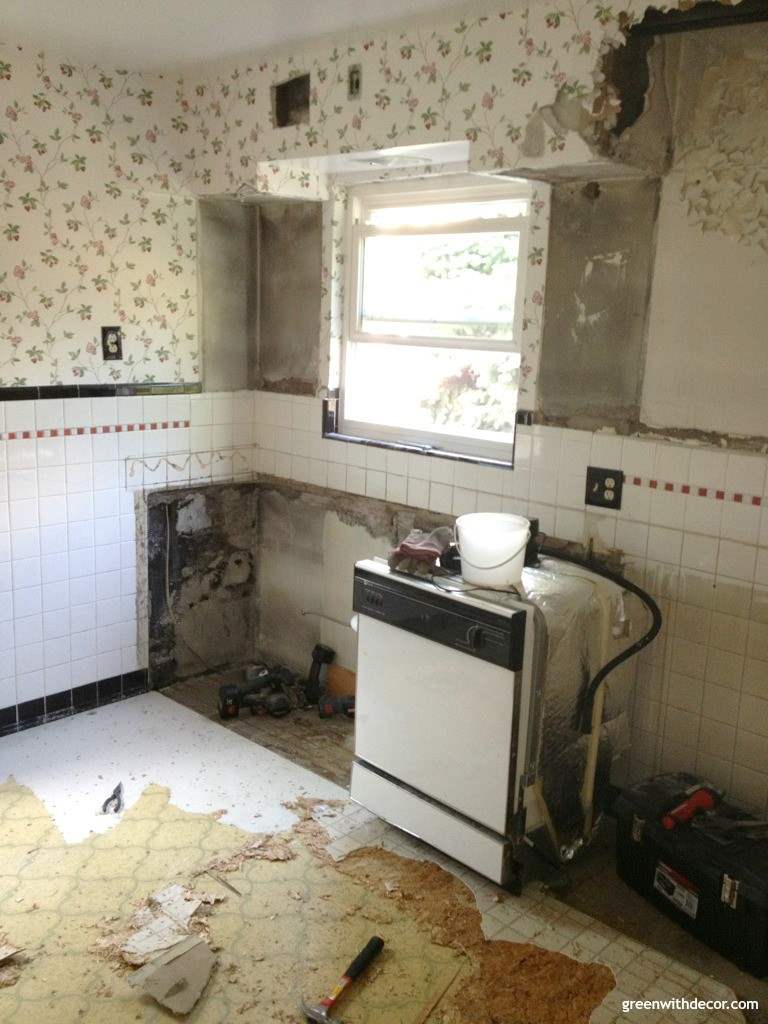 And the floor. Oh my gosh. There were SO MANY LAYERS of flooring and staples to rip out. Just thinking back to those demo days makes my back hurt.
The original dining room area had carpet to be ripped up.
After demo came my favorite part: planning the layout of the space and picking out the finishes! I absolutely love planning the layout of kitchens.
Our current kitchen is white everywhere with silver and green accents. Our Cincinnati kitchen was shades of cream, tan and bronze.
I like our kitchen now better, but it's fun to have done two different kitchen renovations.
The floor is tile that looks like wood from Lowe's. I loved the look of it, but it was always cold. I'm always freezing, so I wouldn't get it again.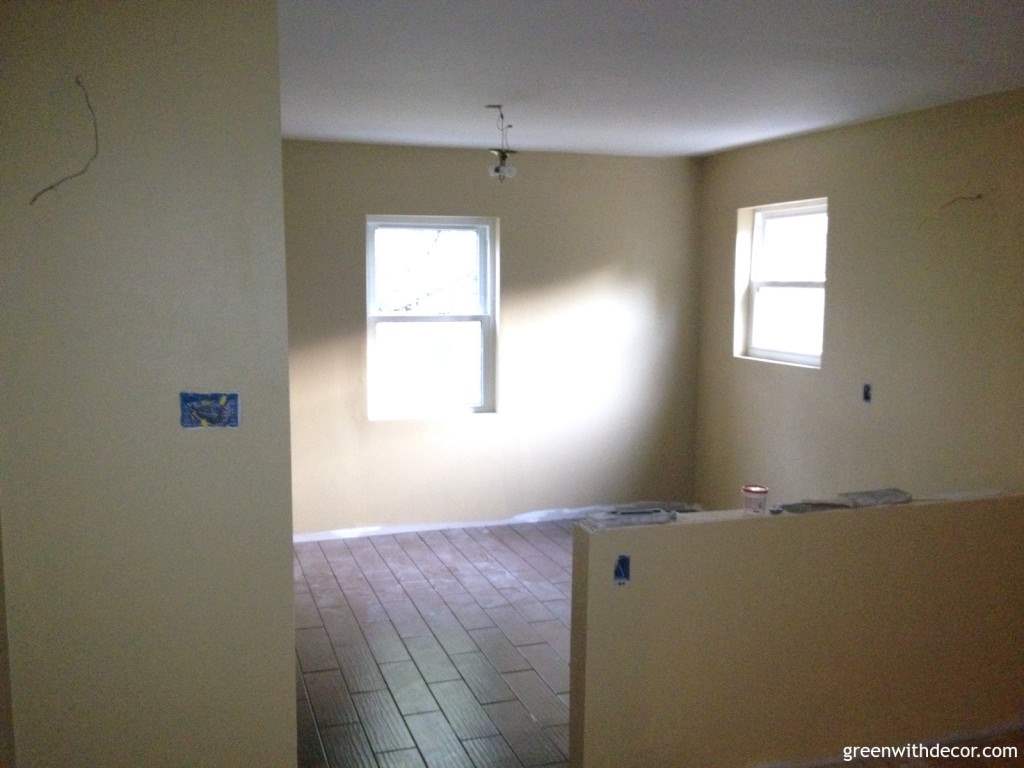 The wall color is Camelback by Sherwin Williams. Yes, the same paint color I use almost everywhere. I might be obsessed.
Related article: Tips for picking paint colors
The cabinets are Vanilla paint with a brown glaze. We looked at a lot of different countertops and decided on Desert Gold granite.
Related article: Selecting kitchen and bathroom countertops, quartz versus granite
(Sorry for the blurry picture!)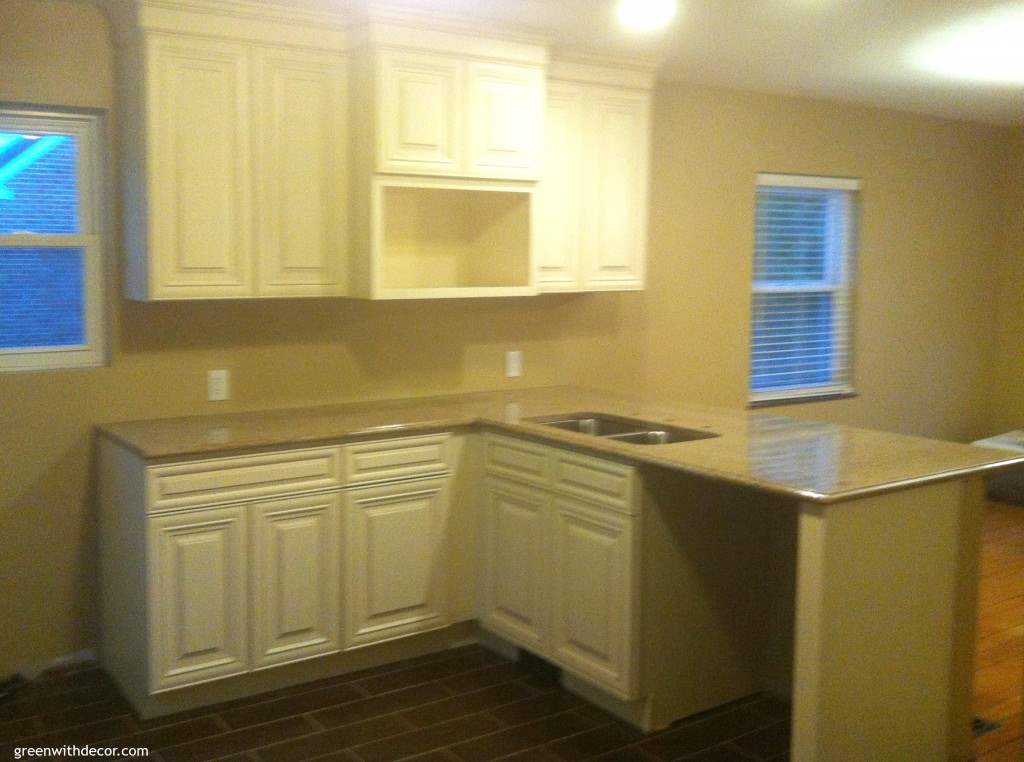 This is one of my favorite views of the finished kitchen. I love this arch!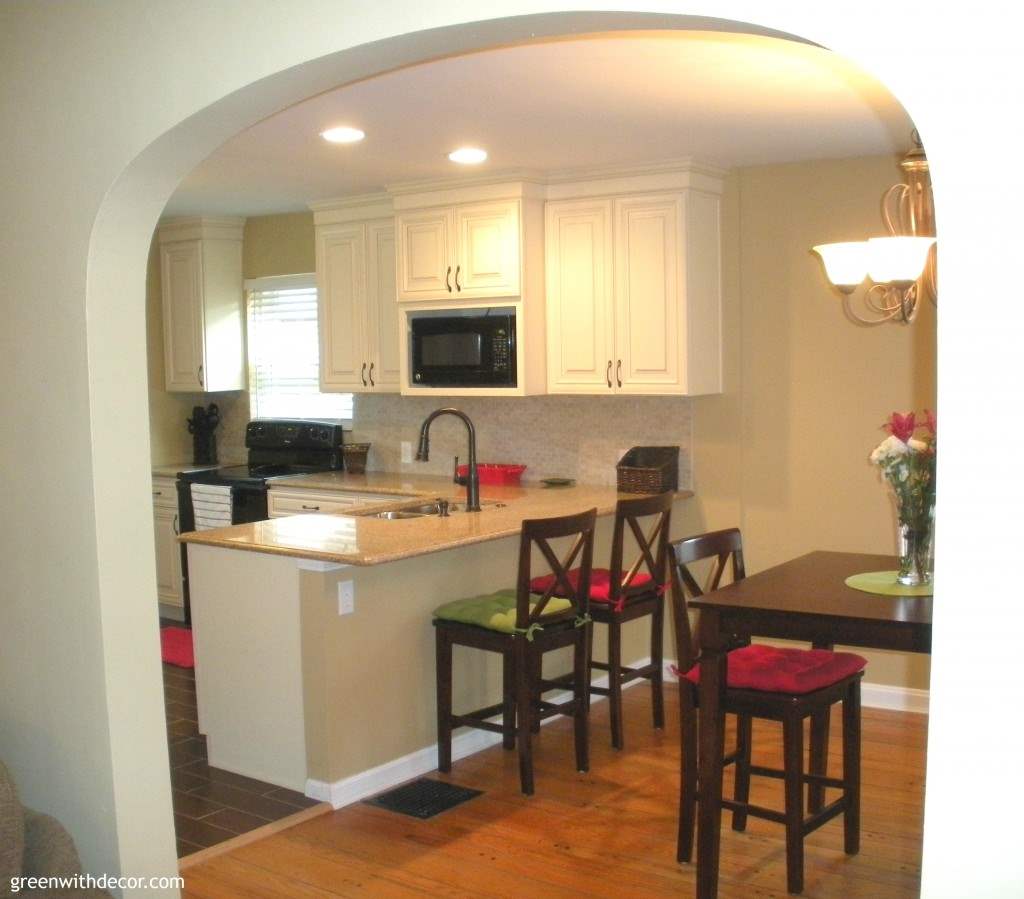 This post contains affiliate links. This means if you click the link and buy something, I may receive a small percentage of sales at no extra cost to you.
The backsplash is from Lowe's. Here's a link to the cabinet handles.
I wanted to put in window treatments/curtains, but after the renovation, we didn't live in our house much longer before moving to Milwaukee.
I love the faucet we had in this kitchen. It's similar to our current faucet, just bronze. It has the pull down feature, spray option, built-in soap dispenser. All my favorite things in a faucet!
Related article: Tips for picking a kitchen faucet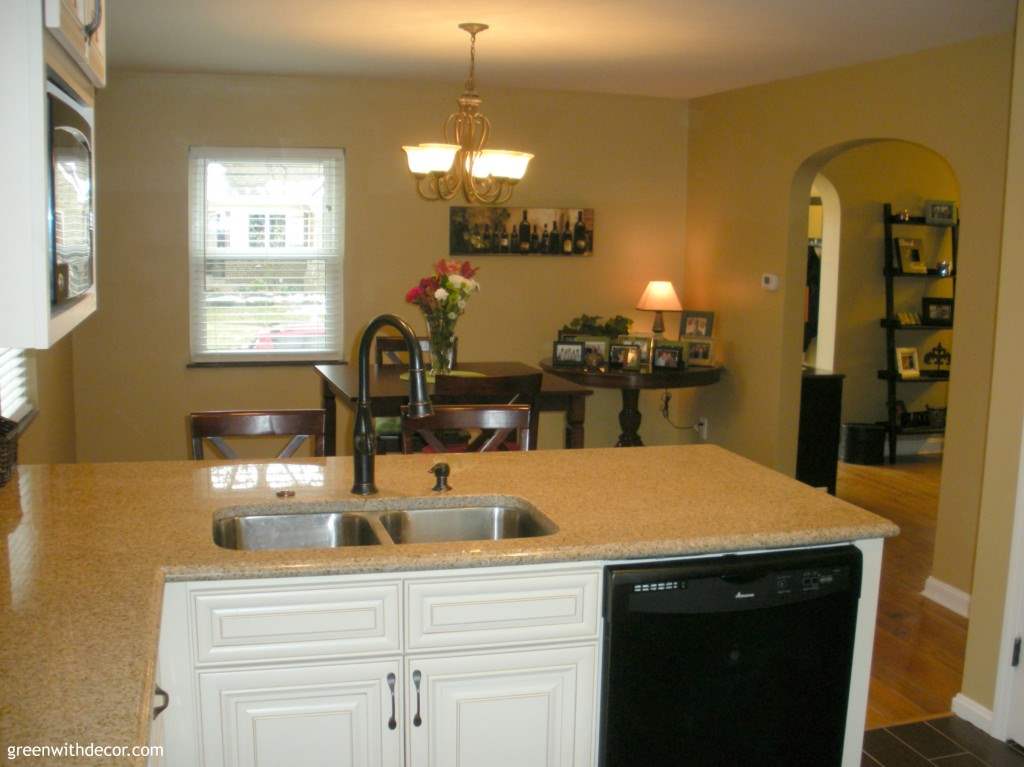 Our dining room was plenty big for our small pub table, so I put another table in the corner with pictures of our favorite people.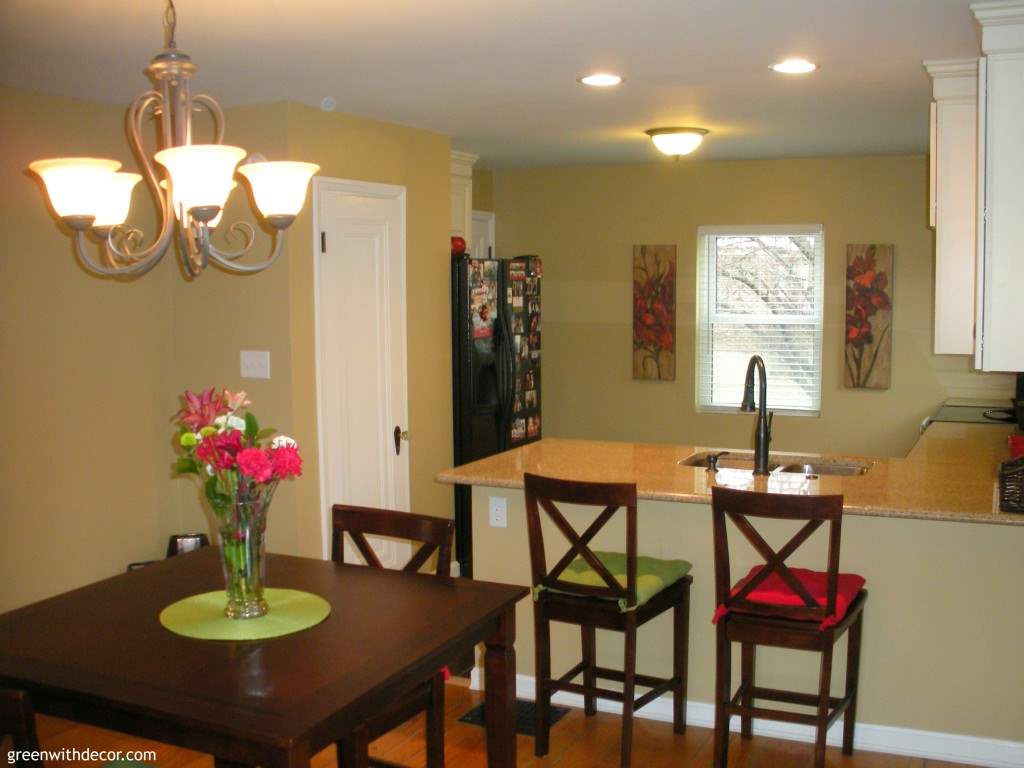 GET THE LOOK: Cushions (green)| Cushions (red) | Placemat
Well there it is. The kitchen renovation that started it all! I know a lot of people say after the first one, they'll never do it again. Not us. We got the bug. Now I want to renovate every old kitchen I see!
You can see the full tour of our Cincinnati house and all of its renovations here.
Remember to bookmark or pin this post if you want to save it for later!


Pin it!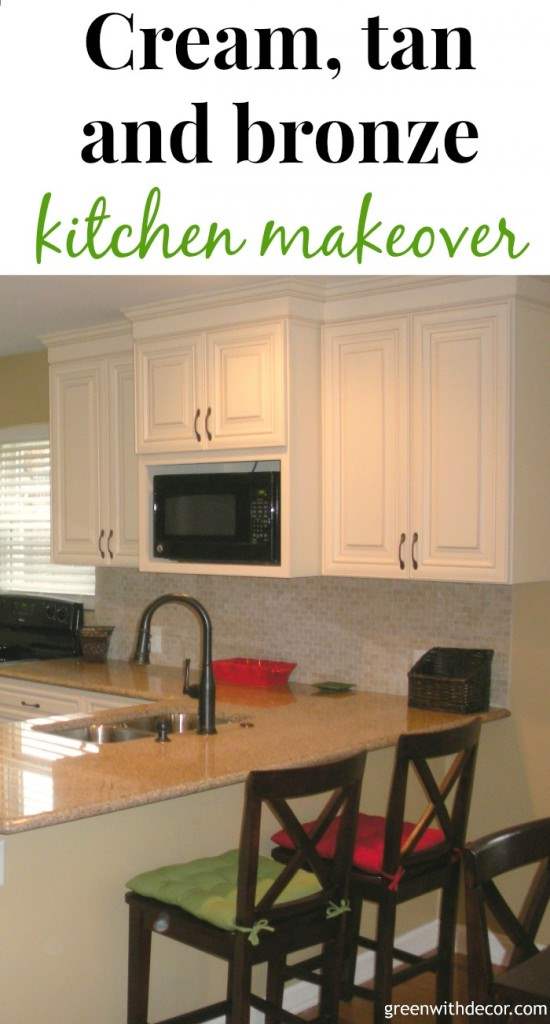 Want to read more posts like this?
Follow along: Get my emails | Facebook | Pinterest | Twitter | Instagram