I'm excited to finally share pictures of our new (well, new-to-us, the house is actually quite old) rental house today!
It's a really cool old house with some great character and A LOT of potential, but it needs some love – lots of painting and cleaning! I know it will look great (well as great as we can make it look without actually renovating) eventually, but it's a whole lotta work right now.
It kind of makes my heart hurt that this beautiful old house with so much charm needs this much work. These old treasures should be taken care of!
A lot of these pics were taken on the iPhone so they're not great quality.
FOYER
Yay for finally having a big foyer! I have always wanted a big grand entrance.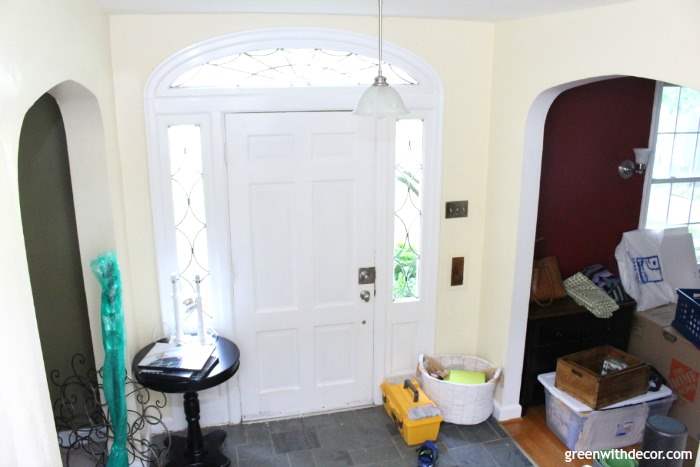 The pendant light isn't my choice, but, and I'm going to say this a lot, we're renting so it's just gonna stay for now.
I like the charm of the doorbell chimes. The arches into the living room and dining room are a cool touch, too.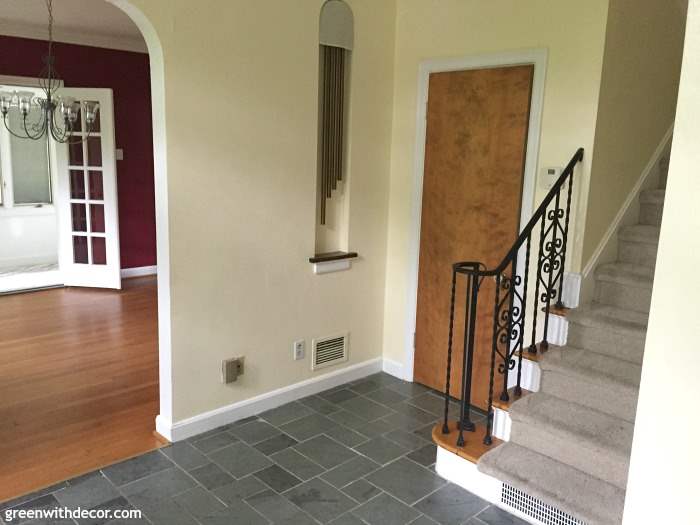 We're painting over the yellow (more on that when I talk about the upstairs hallway) and getting a big rug to cover up the dark slate floor.
DINING ROOM
Well this is the first of many, many colorful rooms you'll see on today's tour. We're painting this room.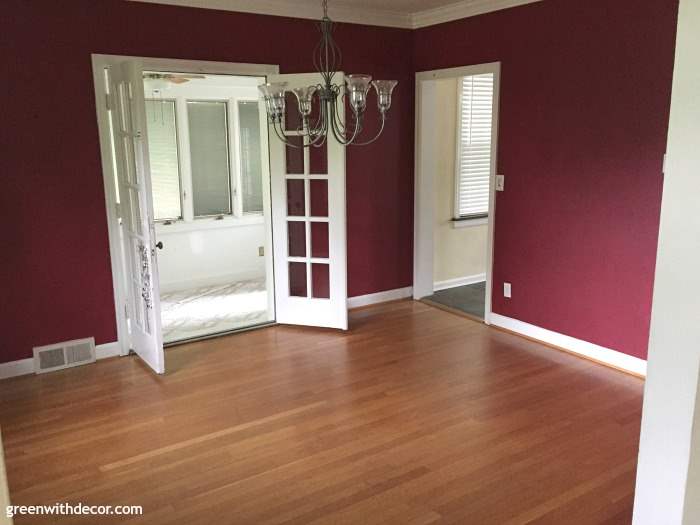 I love the french doors to the sunroom. If we owned the house, that light fixture would already be replaced. Okay maybe not, but I'd be counting down the days till it was.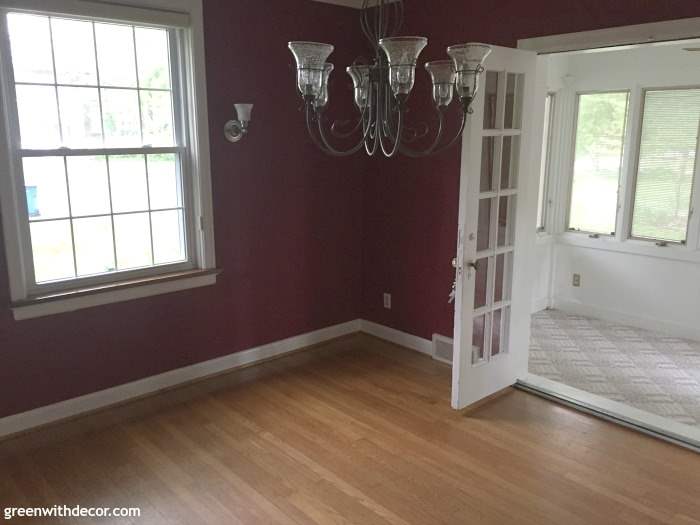 I'll probably set up my desk in this room. There's more space in the living room (more on that below), but I like to keep my work space separate from where we binge on Netflix.
This post contains affiliate links. This means if you click the link and buy something, I may receive a small percentage of sales at no extra cost to you. Thanks for supporting Green With Decor! 
SUNROOM
How cute is this sunroom!? So much natural light. We're going to put our outdoor couch in here since there's not much room on our patio outside. And we need some sort of rug because that old carpet really needs to be replaced.
LIVING ROOM
The living room is a great size, and that fireplace is so classic. Well it could use a coat of paint, but other than that.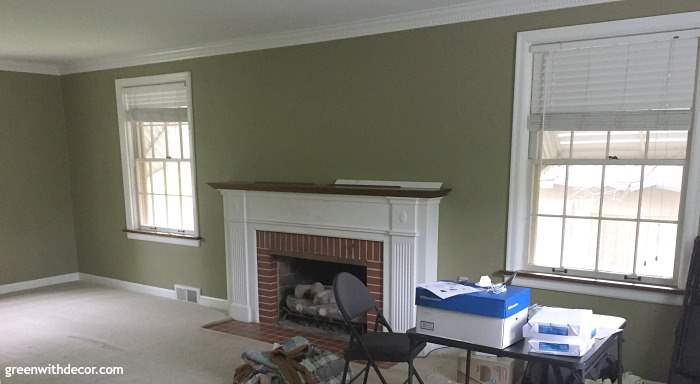 We just love, love, love the tall ceilings in this house, and the crown molding is beautiful.
I obviously love me some green, but this shade is somehow more brown and/or yellow-looking depending on how the light hits it, so it's gotta go. Plus the owners have awnings on several windows in here, which makes natural light much harder to come by, so the room needs a lighter paint color.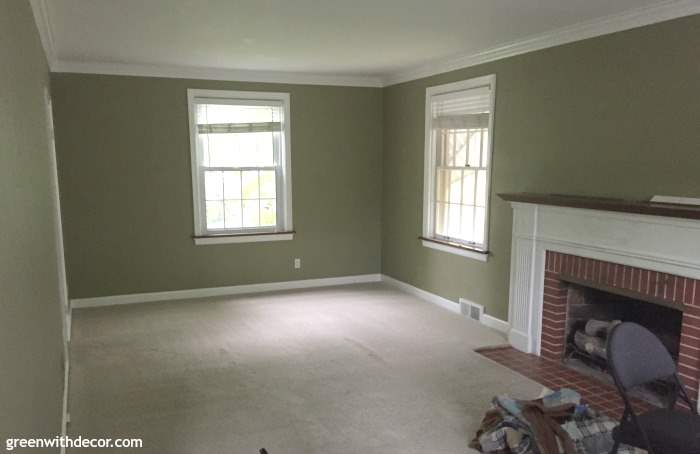 The windows have white trim but a wood window sill, and I can't decide if I think it's charming or if it looks like the painter forgot to paint it white. Thoughts?
Based on the flooring elsewhere in the house, I'd guess there is beautiful hardwood underneath this old carpet, but since we're renting, we'll never know. But if we owned this place, I'd definitely be all for the hardwoods. We may still put a rug down just to break up the space since this room is so huge.
KITCHEN
Well it's updated but dark. I already bought this rug to put over the dark slate floor to brighten it up in here and hopefully make it more comfy to walk on.
Oh and again, love that arch!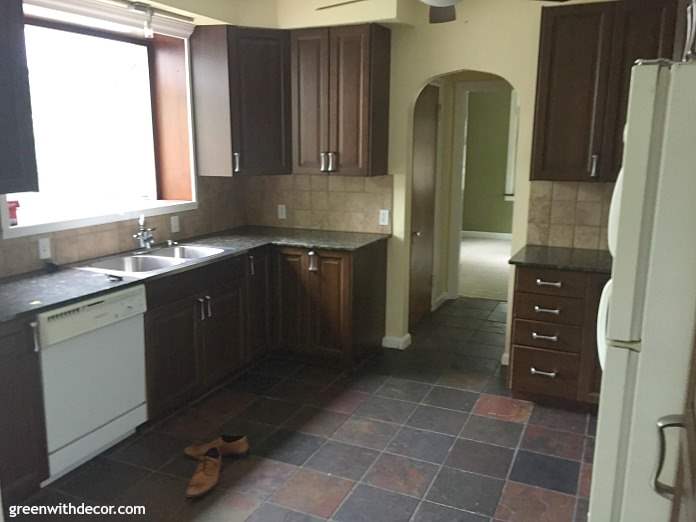 The white appliances are actually good in that they brighten up the space. I already miss having a side by side fridge though. Anyone have good small fridge organizing ideas? We need 'em.
Also a note for other renters, check out if you have a working ice maker (key there is working, not just if you have one) or stock up on these before you move in…
A weird small note, but the cabinet handles are really big. Small detail, I know, but I think we'll replace them while we're here.
The back door to the house is right off the kitchen, so I'm planning a little back foyer so we can drop shoes and hang coats (remember these hooks I bought recently?). I also just ordered this bench so hopefully it works in the space.
If we owned this house, we'd totally be knocking down the wall between the dining room and the kitchen and plopping in a nice white quartz breakfast bar, but you know, renting.
BATHROOM
We'll be painting in here and maybe hanging a new mirror.
The detail on the window trim is awesome and one of those things you just don't see in new houses anymore. The shutters are cute but in need of a coat of paint.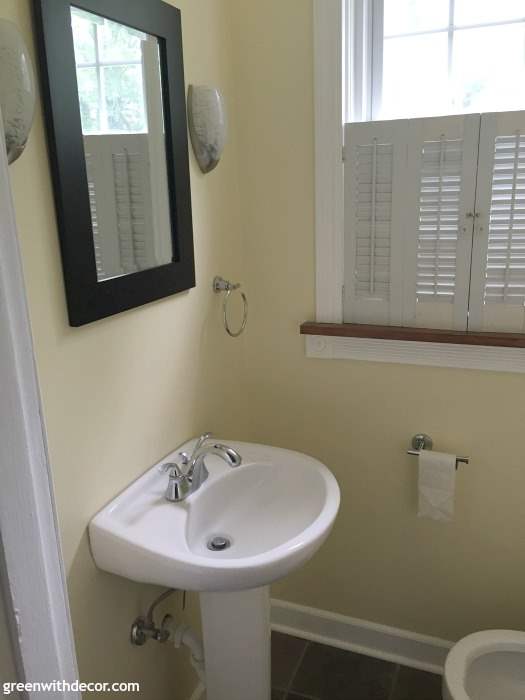 The light fixtures aren't our style (it's hard to see the swirls in this picture), and unfortunately, the slate floor continues in here but obviously will be staying.
I need to figure out some sort of storage in here, too since there's no vanity. Who has storage ideas? Let's hear 'em!
We have a pedestal sink in our house (I mean our other house. I don't know what to call it, haha. Our real house? Our Milwaukee house?), but we had a huuuuuge linen closet in there so bathroom storage was never an issue.
Update: See the finished bathroom here. 
HEADING UPSTAIRS … 
HALLWAY
We'll be painting over the yellow.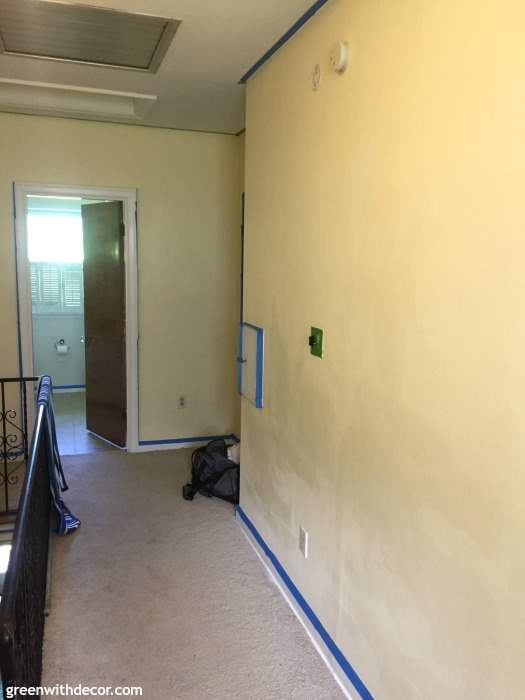 I need to snap a picture, but there's a cute old telephone nook at the top of the stairs. I just love the character of old houses.
BEDROOM/OFFICE
So. Much. Orange. Obviously, we're painting. That little built-in shelf is cute though.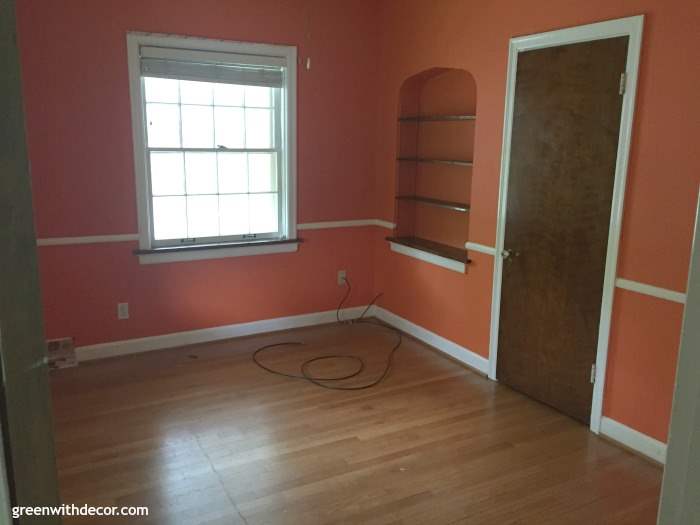 And a chair rail in the bedroom? I don't get it. Anyone? Was this a historical trend? We're so curious about the history of this house.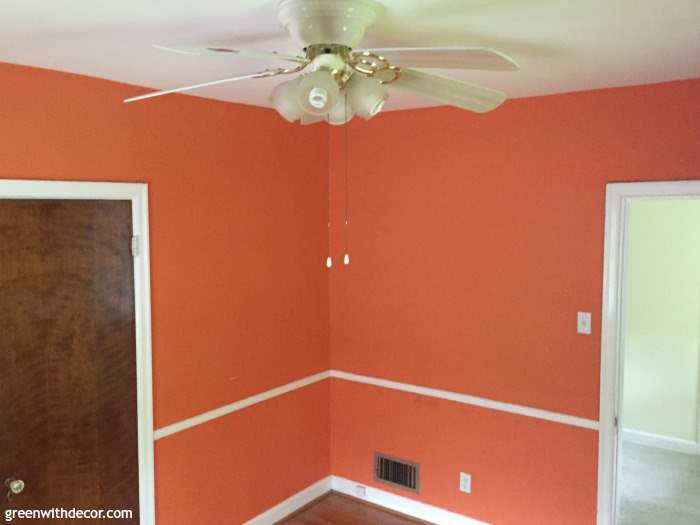 Oh this also reminds me, the ceiling fans are much needed in the hot and humid weather, but ehh I would just love to replace them all with something more modern.
GUEST BEDROOM
So obviously we're painting over these blue walls. They're somehow both bright and dark.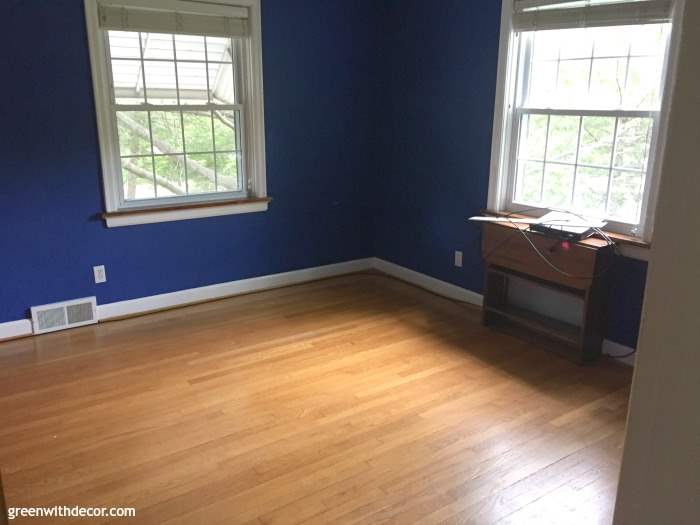 And someone help me, what is that wood piece attached to the wall under the window?
There's also a rifle cabinet attached to the closet door that's very bulky. Can't say I've seen one of those before.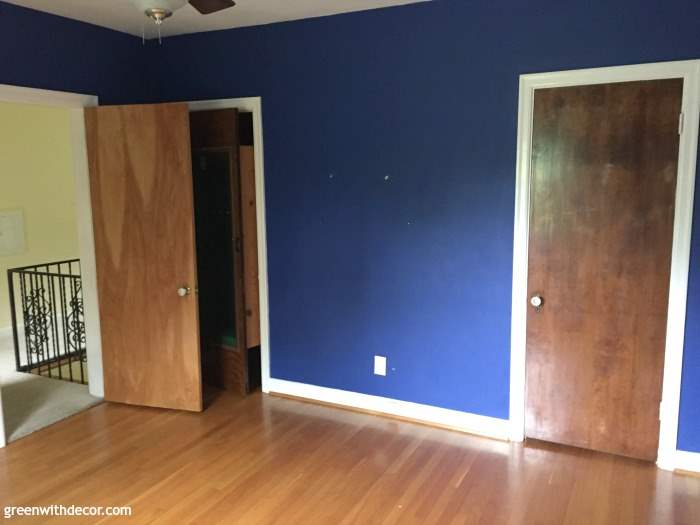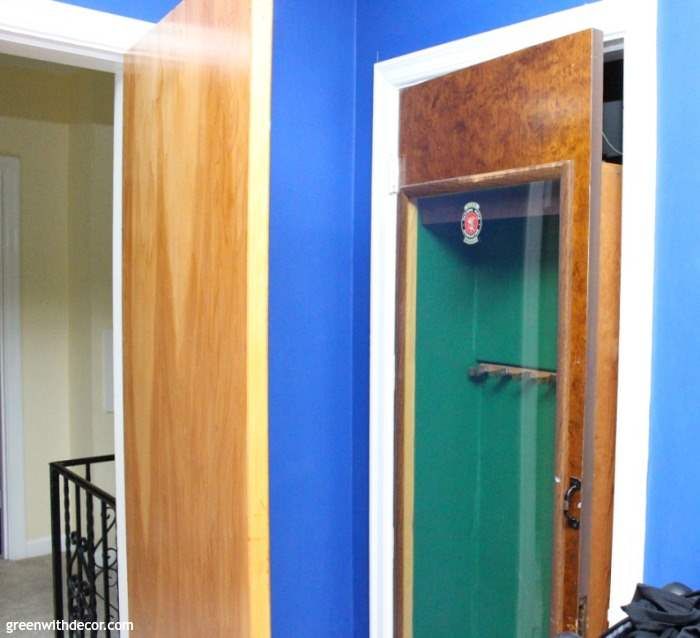 GUEST BATHROOM (SPACESHIP BATHROOM)
Guys, I can't even. Between the oval lights (both of which are missing a light bulb), weird towel bar and odd shaped tub, I just want to call this the spaceship bathroom.
We're painting it to at least spruce it up a bit. And hey, it has cute shutters on the window like the downstairs bathroom.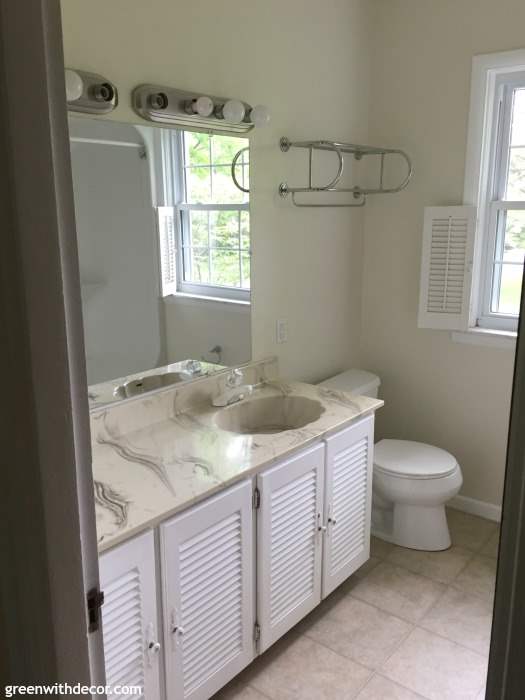 MASTER BEDROOM
Brown paint …? Yeah, painting over this, too.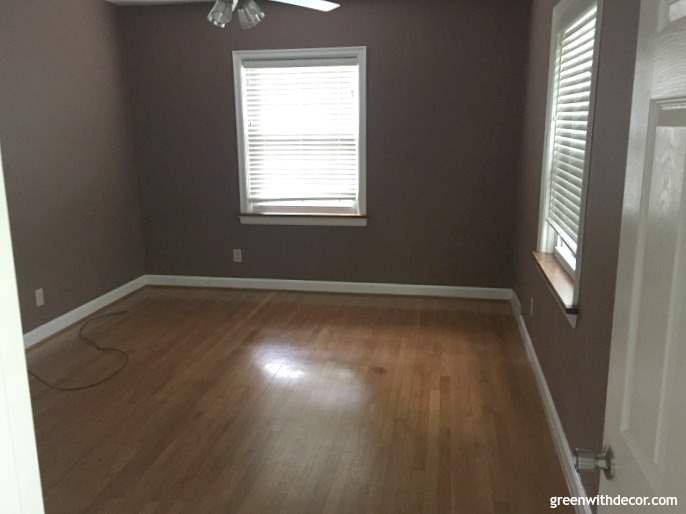 I like the hardwood floors throughout the second floor bedrooms, but I'd prefer to stain them darker instead of this orangey color, and to be honest, I much prefer carpet in bedrooms. But since we're renting, we'll just put a rug in here and pretend. 🙂
We do have a master bath, which is exciting (more on that in a minute).
We're thinking this house was originally four bedrooms (again, we would really love some back story on this house), and someone along the way converted the fourth bedroom into the master bath and master closet.
Great idea, yes, but the master closet still also opens to the hallway, and one of the closet doors is white and one is brown. (why??)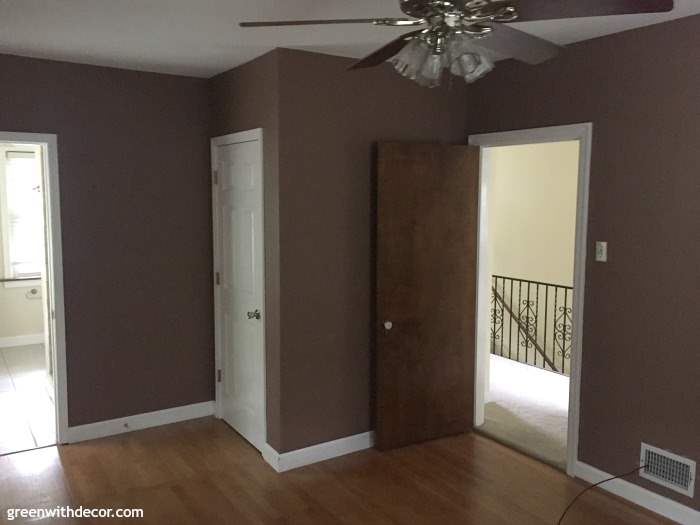 MASTER BATHROOM
I'd totally rip this whole room out and start over, but since we can't, we're painting over the yellow in here and going to need some kind of storage since counter space is really limited. And that pendant light in the middle of the room isn't our style, but again, RENTING!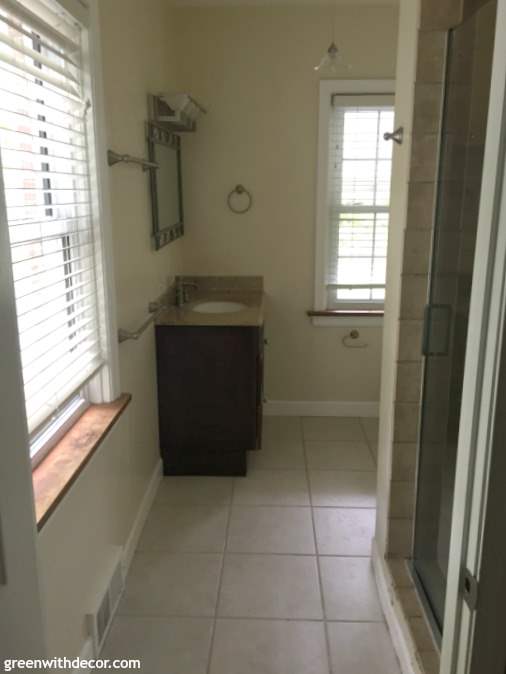 The bathroom itself is huge, but the setup means there's all this dead space in the room. I'm guessing this renovation was done before House Hunters started airing, because where's the double vanity?!
The vanity and the shower could be bigger to make the room more functional, but we'll figure something out.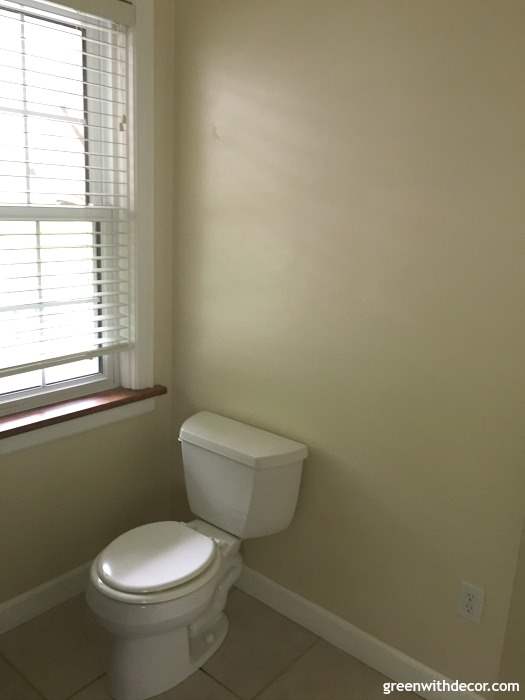 BASEMENT
By far, everyone we've shown pictures to so far is allllllll about coming to visit to drink in the basement bar. (Oh and to see us, obviously.) It's like stepping back in time.
It's funny and random, but it's in the basement, so I highly doubt we ever use this room for anything except storage. (Nope, I'm most definitely not breaking down those boxes just to tape them back together.)
So that's it! I'll share progress as we go. It will be fun to see it all come together. I'm already dreaming of decorating.
Just as soon as I wash all this paint and dirt off my hands. Because actually what I'm dreaming of is a world where kitchen floors are kept clean and walls never have to see orange paint again.
Send me your storage ideas for small bathrooms, small fridges and anything else I mentioned above! Paint brushes, cleaning supplies and booze welcome, too. 🙂
You can see full before and after pictures of our other houses here:

Want to read more posts like this?
Follow along: Get my emails | Facebook | Pinterest | Twitter | Instagram | Google+