Read on for a list of where to eat, drink and stay for a fun long weekend in Kansas City.
We went to Kansas City a few weeks ago and had such a great time!
There was so much to do, we couldn't even pack it all into our three and a half days there, but of course we tried our best.
I love researching (a bit obsessively) cities before we visit so we don't get home and realized we missed some fab restaurant or something. We tried several barbecue places, local breweries and hit some fun shops.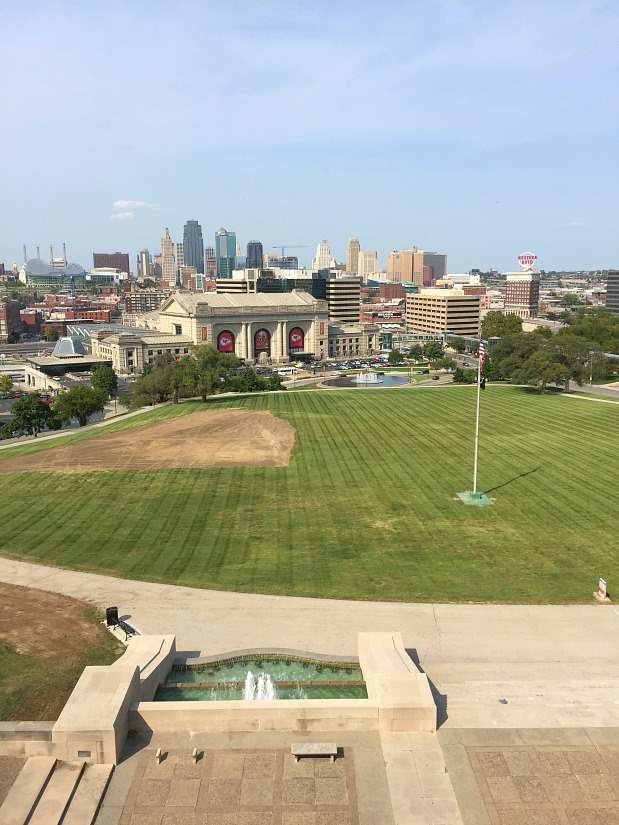 So let's dive into this insanely long list, shall we? I tried to group pictures together so you aren't scrolling forever and ever.
Best barbecue spots in Kansas City:
1. Q39
This was our favorite of all the barbecue we tried. Actually it was probably our favorite meal overall in Kansas City. It was just delicious.
We got the mac and cheese for an app at the bar while we waited. It came in one of those cute little cast iron dishes. The pulled pork sandwich and wings were also delicious.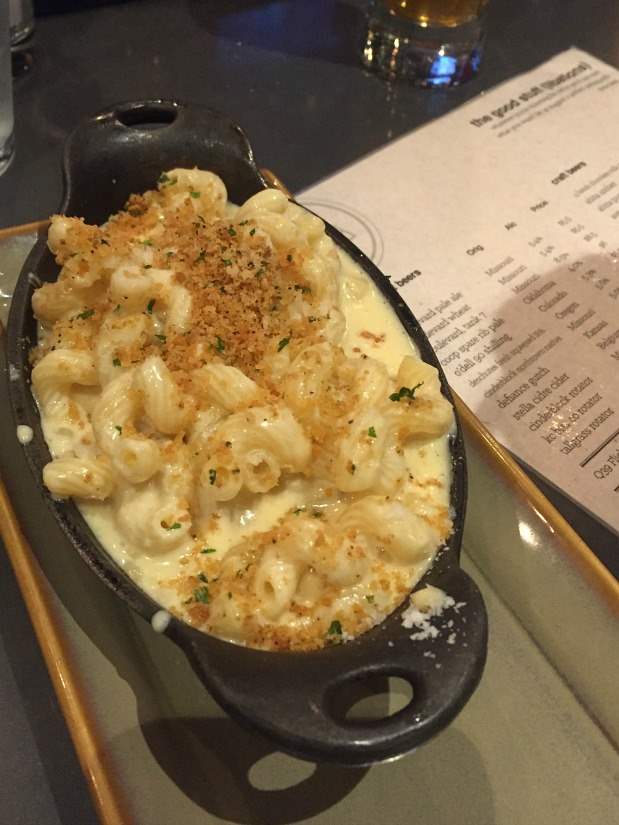 2. Joe's Kansas City Bar-B-Que
This was in Kansas, and it's funny how you're driving down a city street and all of a sudden cross the state line like it's no big deal.
Joe's is a gas station. Not like it used to be a gas station and now it's a restaurant, like it's still a gas station where you go inside to eat.
We were warned about long lines, so we went for an early lunch (around 11:00) to avoid the crowds and waited about 30 minutes.
The pulled pork, smokie Joe and creamy coleslaw were good — the seasoned fries were amazing. This was rated as #1 on basically every list we read prior to visiting, and it was good, but we both thought Q39 was our fave.
3. Arthur Bryant's BBQ
There's nothing fancy about this place, which makes it fun. You have to wait in line here, too, but the wait wasn't too bad. We tend to just go to crowded places at off times to avoid some of the crowds.
All sorts of celebrities have eaten here, and there's a wall of pictures of all of them you pass as you wait. We got the three-meat platter so we could try the ribs, pulled pork and burnt ends. The fries were good, too.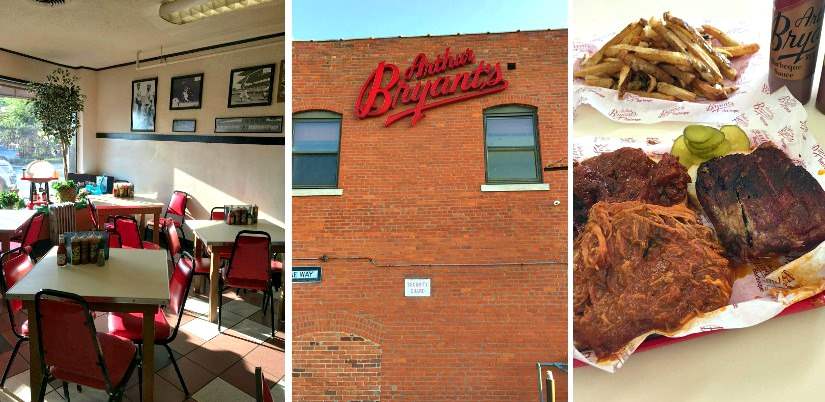 Other favorite restaurants in Kansas City:
4. Gram and Dun (Country Club Plaza)
This was such a cool place, I loved the architecture. They have gorgeous brick arches and pretty light fixtures inside, and the bar is open right to a huge patio.
We went for happy hour and got their potato chips (topped with cheese), which come with three kinds of ketchup. It was delicious. I don't even like ketchup (I know, weird), but these were all awesome.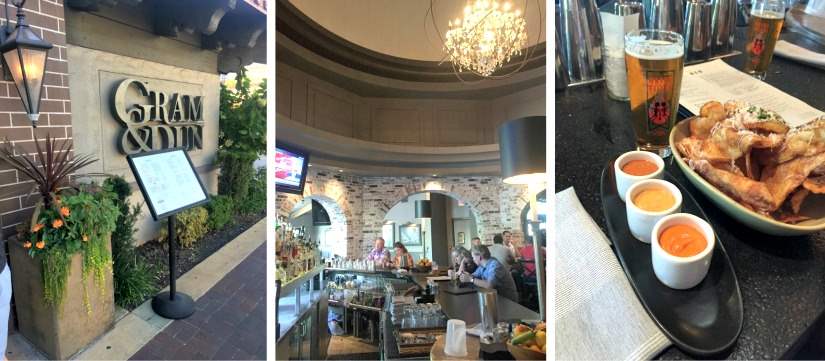 We also got the mac and cheese with burnt ends, which was creamy and delicious. (Yes, I pretty much get mac and cheese everywhere I eat.)
They had beers on special during happy hour, too, which were good. Even the napkins were pretty — navy and white and added a fun beachy touch.
We'd heard good things about brunch, lunch and dinner at Gram and Dunn, too, but we were pretty focused on trying barbecue places.
5. Grinders (Crossroads Art District)
My brother gave us this recommendation, and it was awesome. It's a bit of a dive (think graffiti on the walls), but it had a great vibe.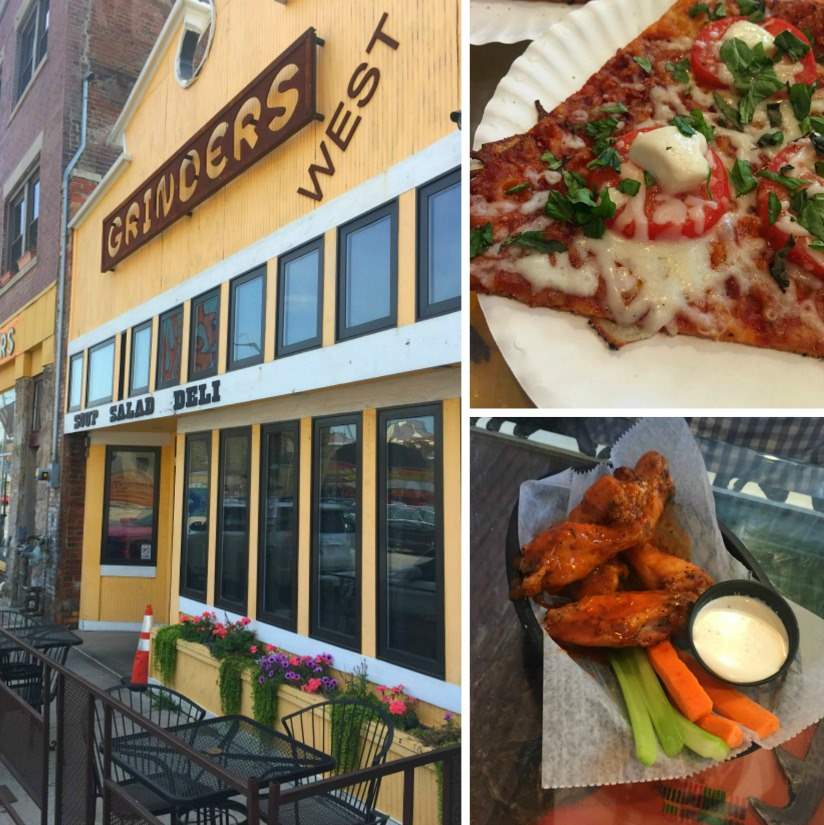 The menu was so big we had a hard time deciding what to get. We would have gone back for another meal if we had time.
I got margarita pizza (the pieces were huge!) and Kalen got wings.
They have a death sauce for the wings, which is apparently insanely spicy. I didn't even try it (I'm iffy when someone says something is mildly spicy), but Kalen got it on the side (at the server's suggestion) and was a fan. He loves spice though and even he said it was hot.
6. Doughnut Lounge (Westport)
We aren't really big breakfast people, but you have to love a good doughnut. Or four. Yes, we ordered four doughnuts, and they were all delicious – the lemon poppyseed, Oreo, s'mores and original glazed.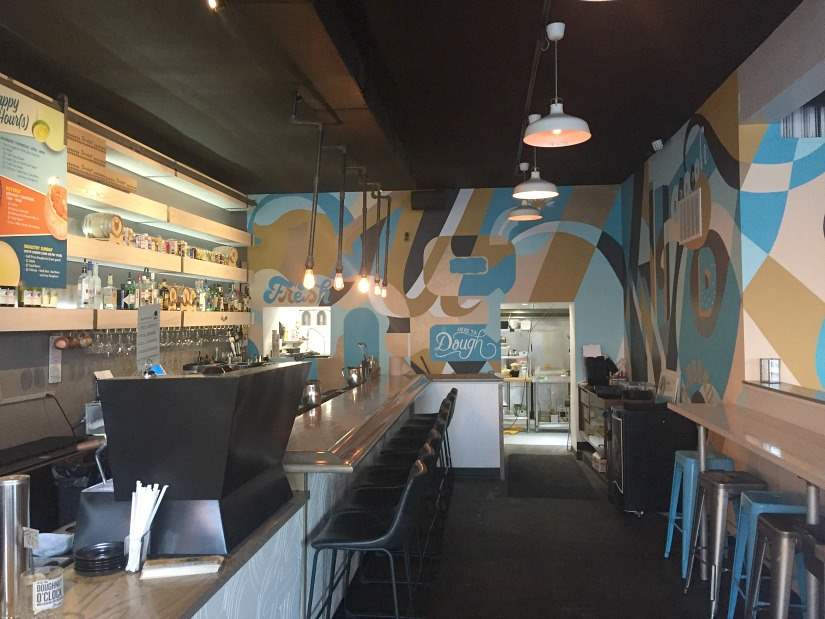 Favorite bars in Kansas City:
7. Manifesto
This was such a cool place. You can send a text to get a reservation (which is ironic because you're basically not supposed to use your phone inside as you step back in time to the land of speakeasys).
Then you enter through this random dark alley behind the Rieger hotel, and they take you down this set of old looking stairs into this very, very, very dark basement cocktail bar lit only by candlelight.
It totally feels like you're going back in time when you're in there. Well after your eyes semi-adjust and you're able to actually kind of squint enough to read the menu.
Our server was great, and the drinks (we got the Pendergast and Devil's Advocate) were delicious.
8. Tom's Town
This was a fun stop, too. The inside is decorated like a glam art deco 1920s speakeasy, complete with a tin ceiling, which I totally loved.
Their cocktails were delicious. They all looked good, it was hard to decide. We got the Pinky Blitz and the Angel of 12th Street.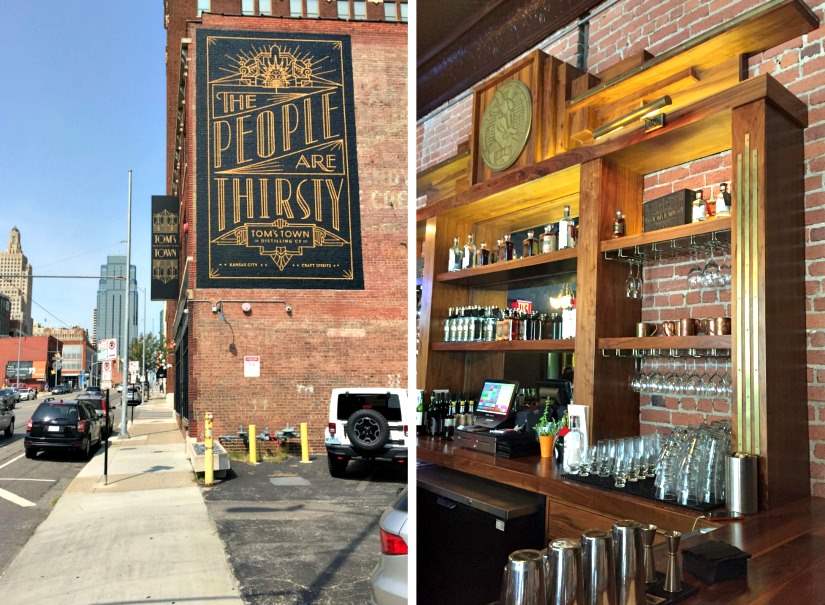 They have tours of the distillery, too, which we didn't end up doing.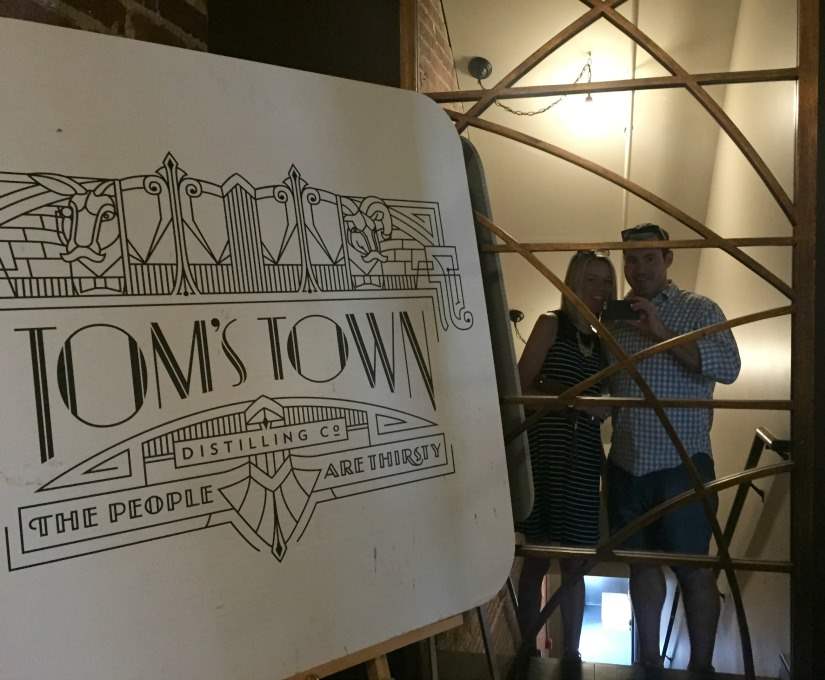 This post contains affiliate links. This means if you click the link and buy something, I may receive a small percentage of sales at no extra cost to you.
9. Snow & Co (Westport)
I'm not usually a big snow cone person, but this bar was a cool concept. It was huge and has a great outdoor area out the basement doors.
We played this big connect four game, and I'm now convinced we need one for our backyard.
They have happy hour every day. I got the lemonade and Kalen got the special – both were great and you couldn't really even taste the booze which could probably get a little dangerous!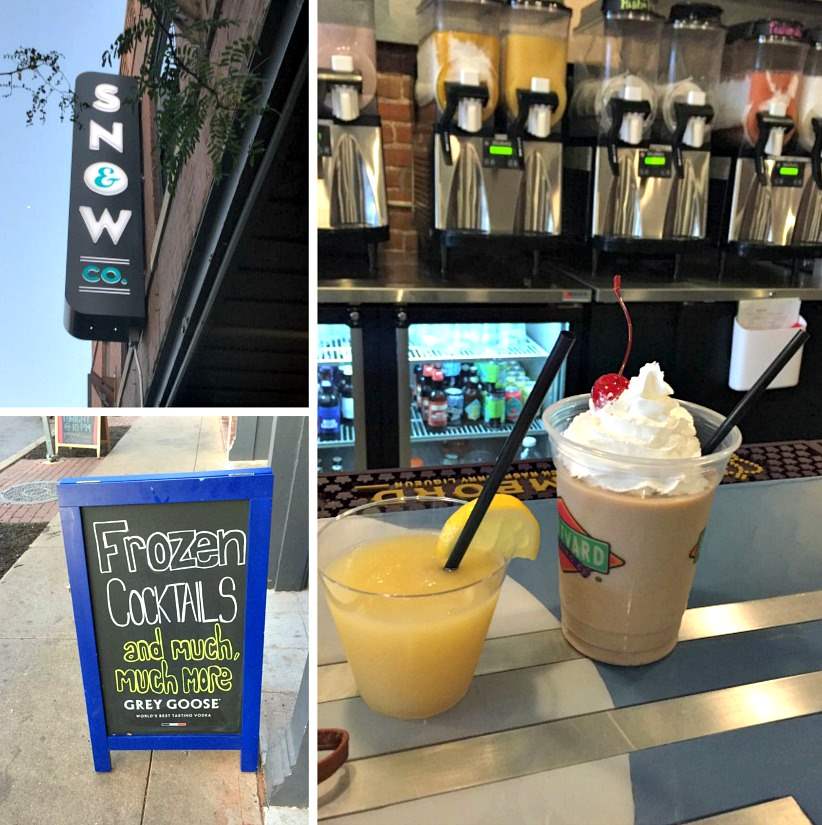 10. Ernie Biggs Dueling Piano bar (Westport)
I always think dueling piano bars are fun, and this one didn't disappoint. It was fun to hang out and listen to them play.
11. Char Bar (Westport)
A great outdoor area for a drink or two. They had all sorts of outdoor games to play and a big fire pit.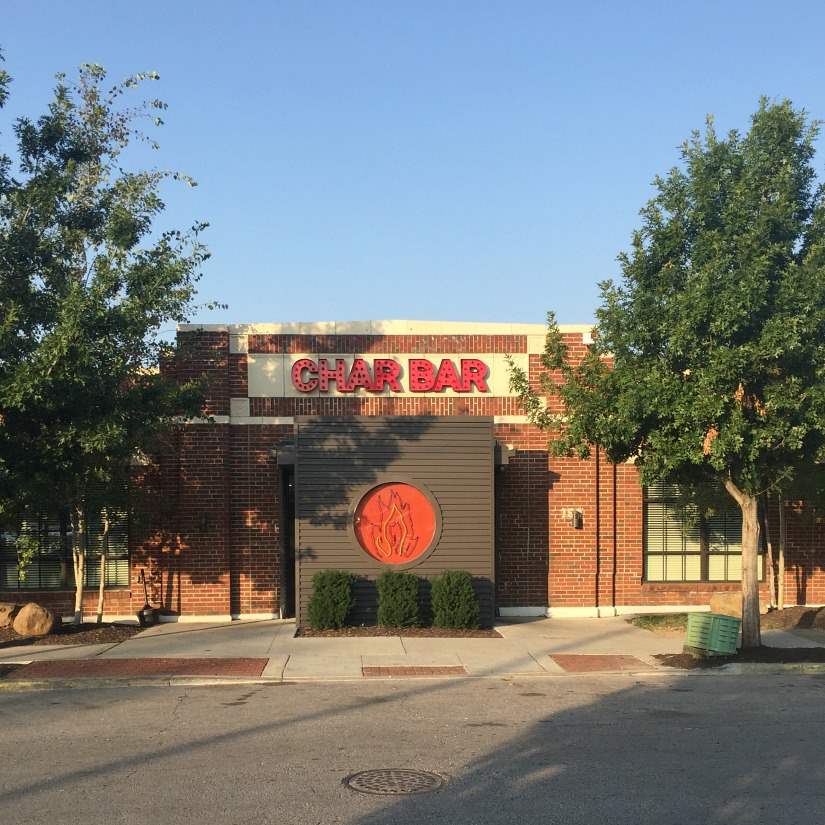 Oh, and it's dog-friendly! We brought Oakley along on this trip so we were on the lookout for dog-friendly bars.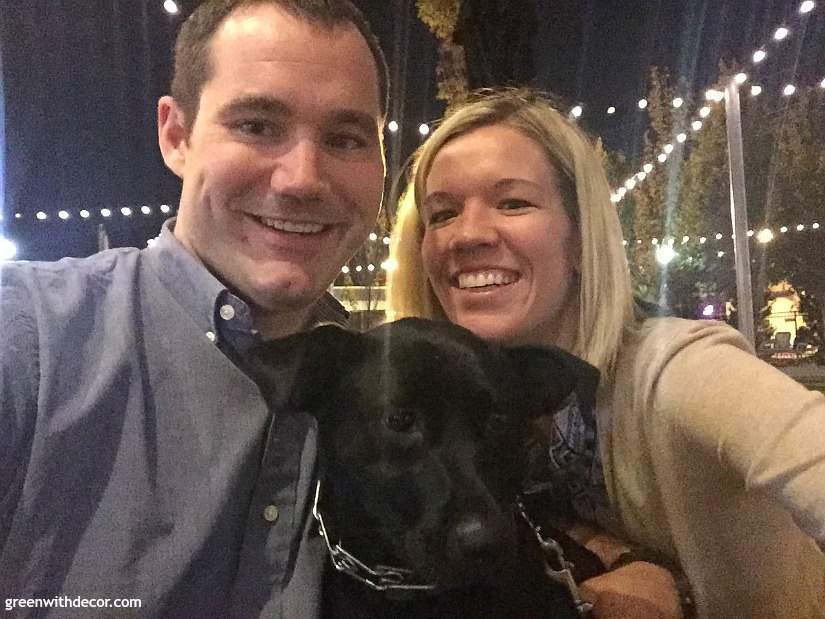 12. McCoy's Public House (Westport)
Also a fun (dog-friendly) patio for grabbing a drink. We got mozzarella sticks, too because along with mac and cheese, those are my weakness.
13. Julep (Westport)
If you love a good cocktail, stop in here. I loved the ladder they used to move around and reach all the liquors on the top shelves.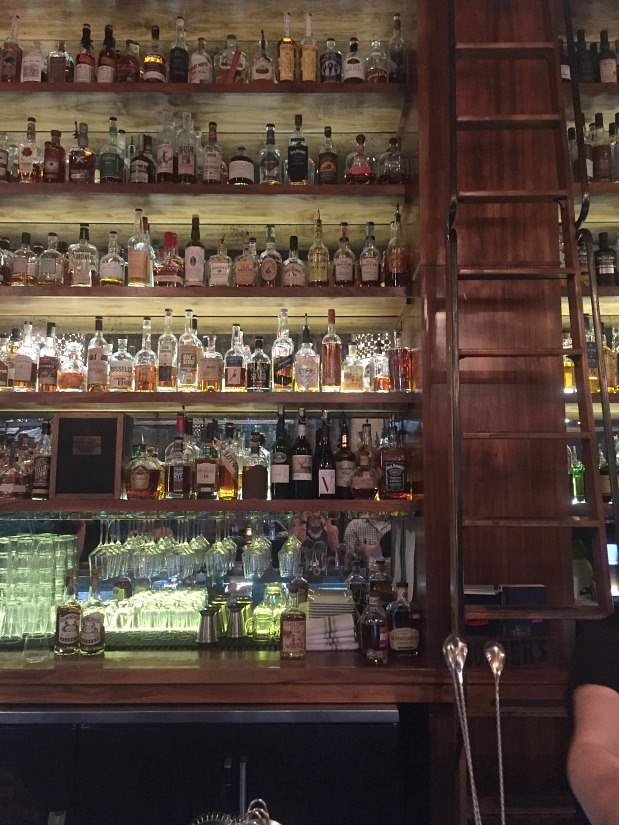 Best breweries in Kansas City:
14. Boulevard Brewing
We loved Boulevard and probably would have spent more time there if we weren't trying to squeeze in so many other breweries.
The tasting room is huge and so cool – gorgeous wood steps, pendant lights made of copper and glass, and pretty wood tables.
They had a lot of fun touches throughout the place like a wooden tap handle for water, hops outlined in the balcony railing and a vintage trailer photo booth. It was just so well done, I loved the design.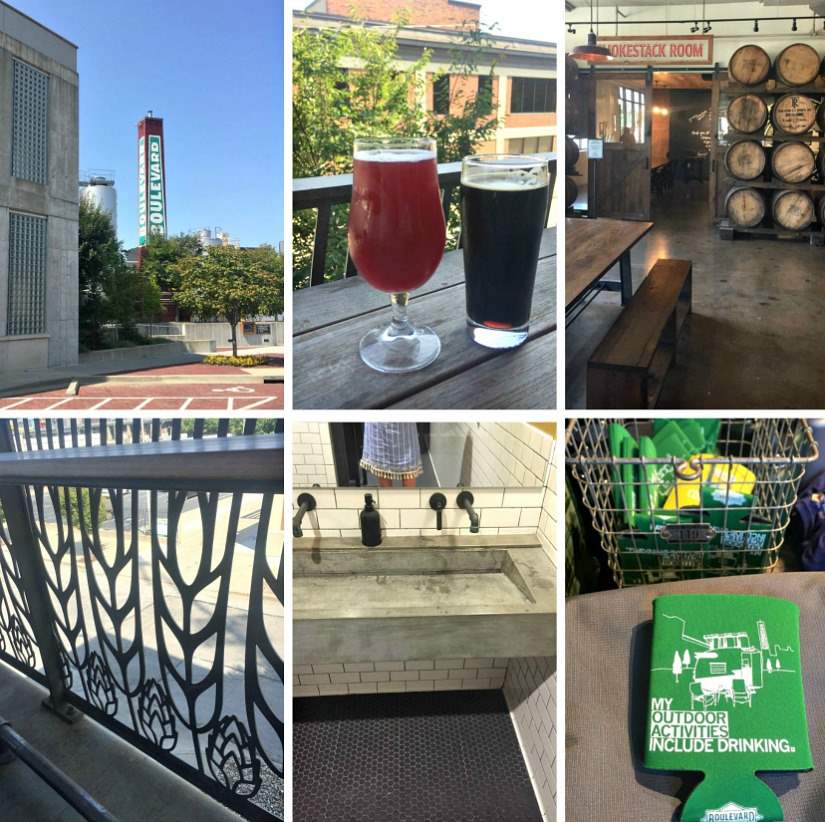 I liked the bathroom, too, with it concrete sink and subway tile everywhere. (My dress is linked here, I usually get questions about it.)
We tried a new berry flavor they were testing out, Tough Kitty Milk Stout and Tropical Pale Ale – all delicious. They have a little gift shop on the first floor, how fun is that koozie?!
We'd heard good things about the brewery tour, but apparently we just weren't in the mood for tours on this trip because we didn't end up doing any, haha. We were just kind of on our own schedule, which is perfect for a vacation.
15. Thou Mayest (Crossroads Arts District)
This is actually a coffee shop, but they serve beer and cocktails, too. When you walk in, you immediately feel like you're in Seattle (another city we love, you can read about our favorite things to do in Seattle here).
I loved the Pacific Northwest feel – lots of wood shelves, cool light fixtures and plants everywhere.
We were there on a Saturday afternoon, and there were a lot of college students studying and drinking coffee. We went right for the beer and outdoor patio!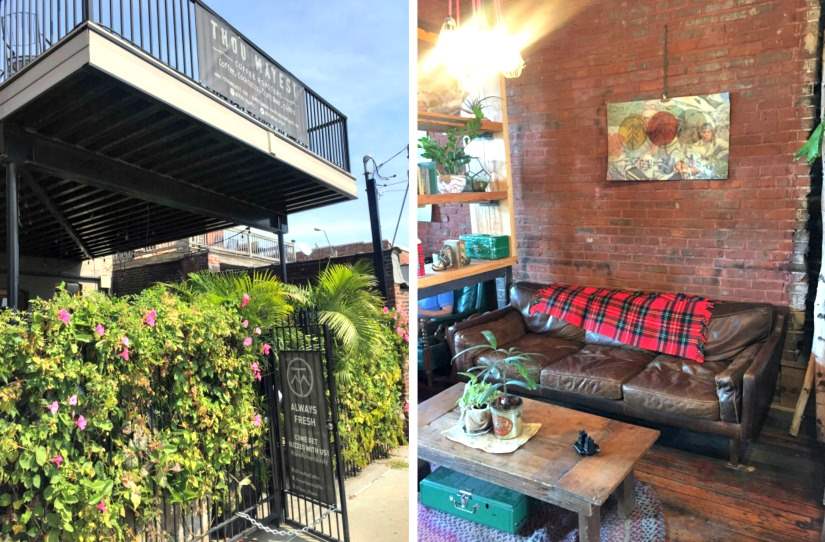 16. Double Shift Brewery (Crossroads Arts District)
Double Shift is right across the street from Thou Mayest (and Grinders, listed above). This was a fun atmosphere, too – long picnic tables, metal bar stools and this big chalkboard wall.
We got the Tessellation and Salt and Sea, both were good.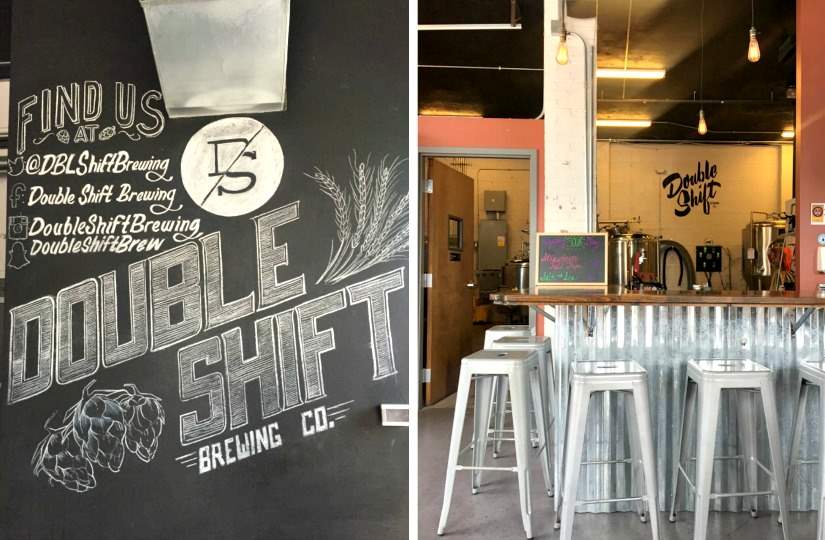 17. Torn Label Brewing (Crossroads Arts District)
This was probably our favorite of the small breweries. It's kind of off by itself, and we almost went right by it.
The owner was really friendly, and the beers were good. I love the Monk and Honey and wish we could buy it somewhere closer. We hung out inside (it was HOT outside), but they have a nice outdoor patio, too.
The chair legs for tap handles were a fun touch, too. (This picture is terrible since it was so dark inside, but I had to share!)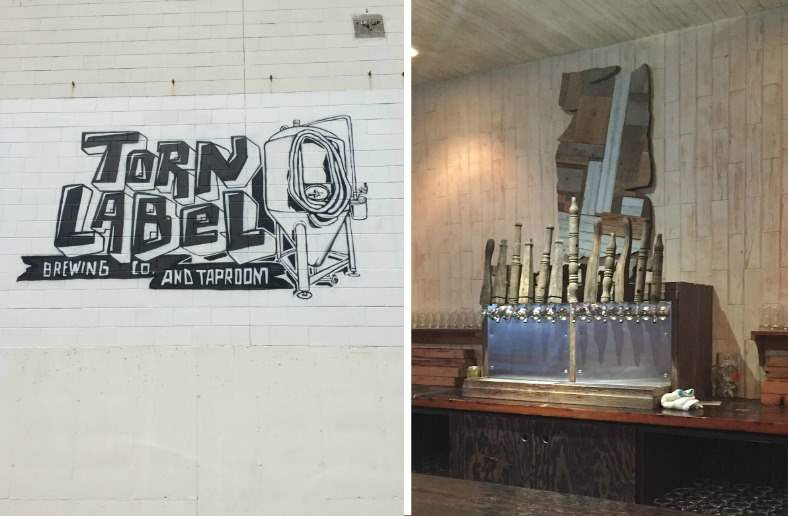 18. Brewery Emperial (Crossroads Arts District)
They have the front door closed off with that wood piece seen in the picture below so you walk in the side through the patio – I love fun design touches like that.
Plus they had cool open wood shelving on the wall and a fun wood accent wall (which I apparently didn't get a picture of).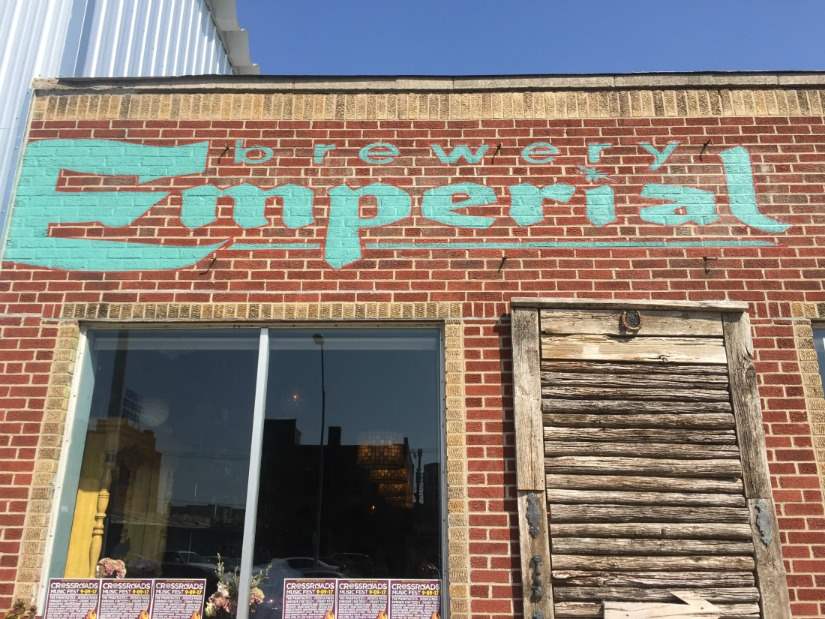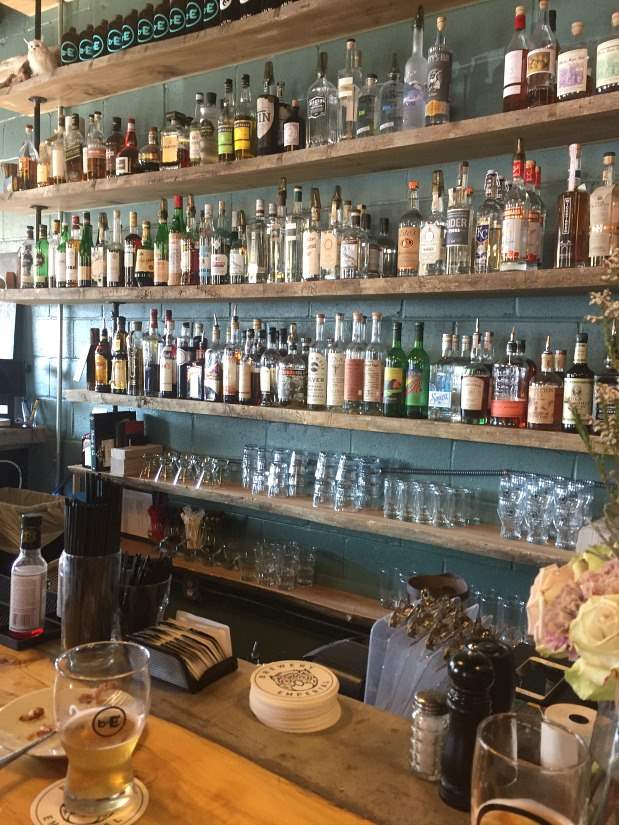 We got the White Ale and the Kolsch, both were good. Our bartender was awesome here, too and gave us all sorts of fun suggestions for things to do in town.
19. Border Brewing (Crossroads Arts District)
They had their menu hanging from rope from the ceiling, which was a fun touch.
Border Brewing and Grinders were the first businesses in this Crossroads area, which has clearly been growing a lot in recent years.
20. iTap (Crossroads Arts District)
This isn't really a brewery but still a fun stop for beer lovers. We actually didn't go into this location, because we've been to both of their locations in St. Louis multiple times (my brother used to live around the corner from one).
It's a fun stop if you've never been to one. They have something like a million beers so it's fun to stop in and try different beers.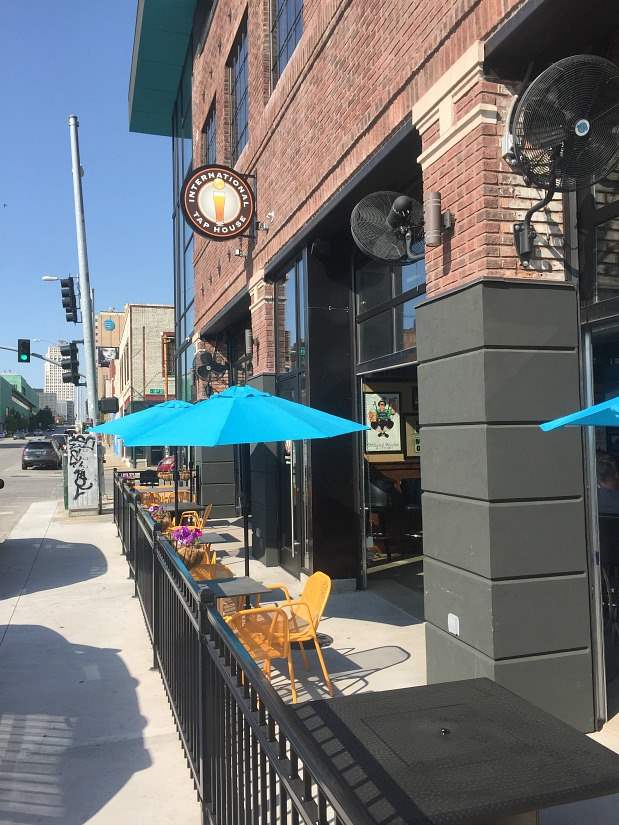 What to do in Kansas City:
21. National World War I Memorial/views of the city
Even if you don't go inside the museum, it's worth a stop up here for the gorgeous views of the city.
We were there on a beautiful day, and there were several wedding parties getting photos taken.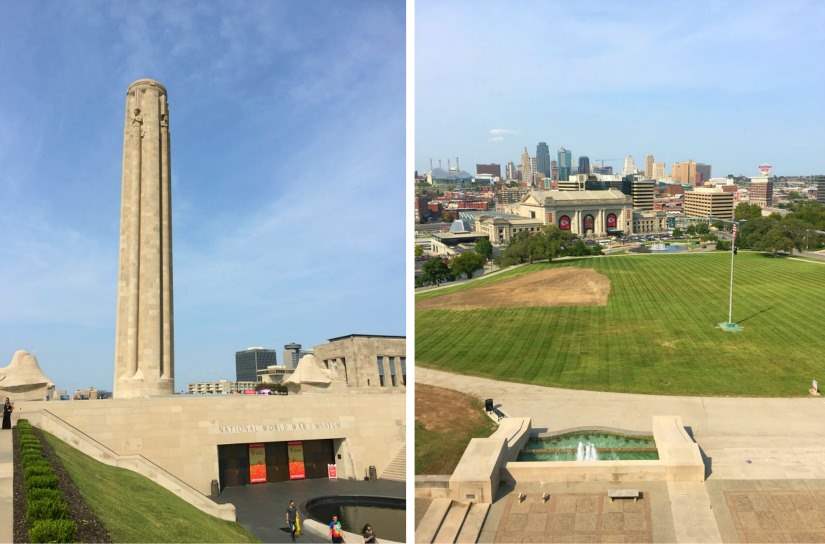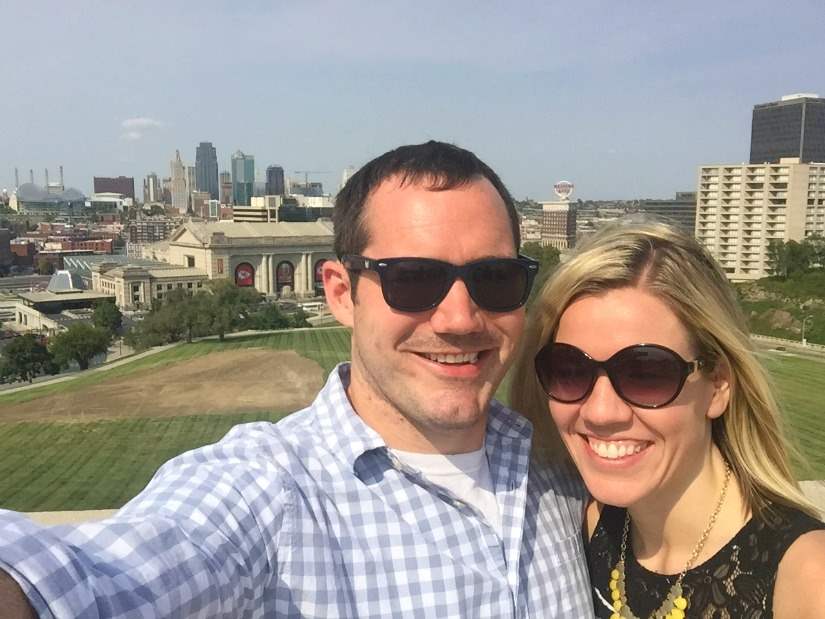 22. Crossroads Arts District
Based on everything listed above, I'm sure you figured this one out already. It's a fun neighborhood to walk around with lots of little places to stop in.
23. Power & Light District
This is another fun area to walk around – it's filled with 50-some bars and restaurants and has an area for concerts.
We stopped in Leinenkugel's, which was awesome. I loved the white shiplap walls. I can't believe we don't have one of these in Milwaukee!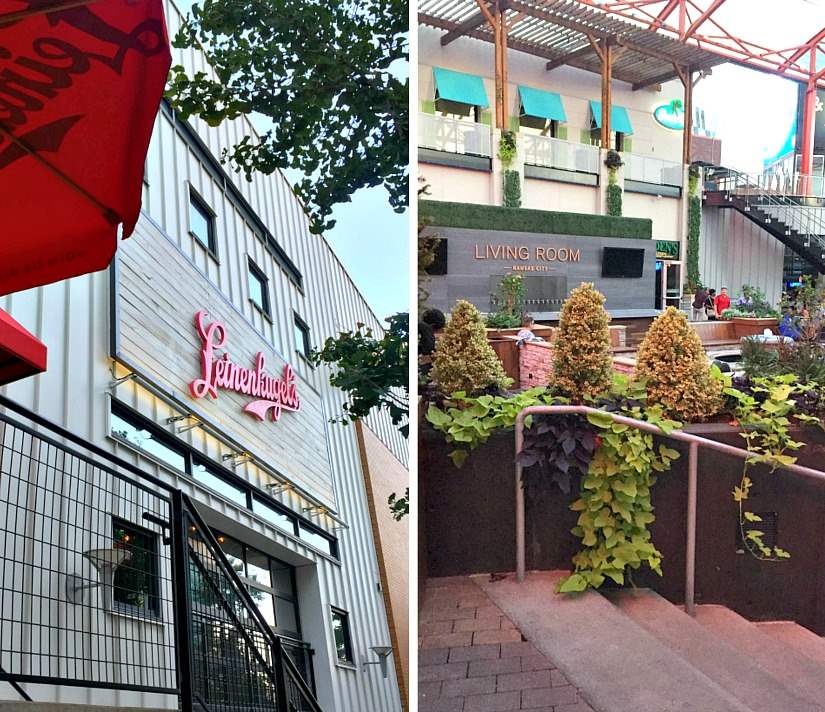 We also grabbed a drink at The Dubliner, which was a cool spot.
We were thinking it was an old bank they converted to a bar, but the bartender told us it's actually a relatively new space. They flew a lot of the building materials over from Ireland so it looks really old and quaint.
24. Country Club Plaza
This is a big shopping area (15 blocks!) full of high end shops, local stores and restaurants.
The architecture was just gorgeous, it felt like you were in the middle of Spain. Well so I hear, I've never actually been to Spain.
They had gorgeous flowers everywhere, which made me think one of these years we're going to actually whip our landscaping into shape. I really should have taken more pictures in this area.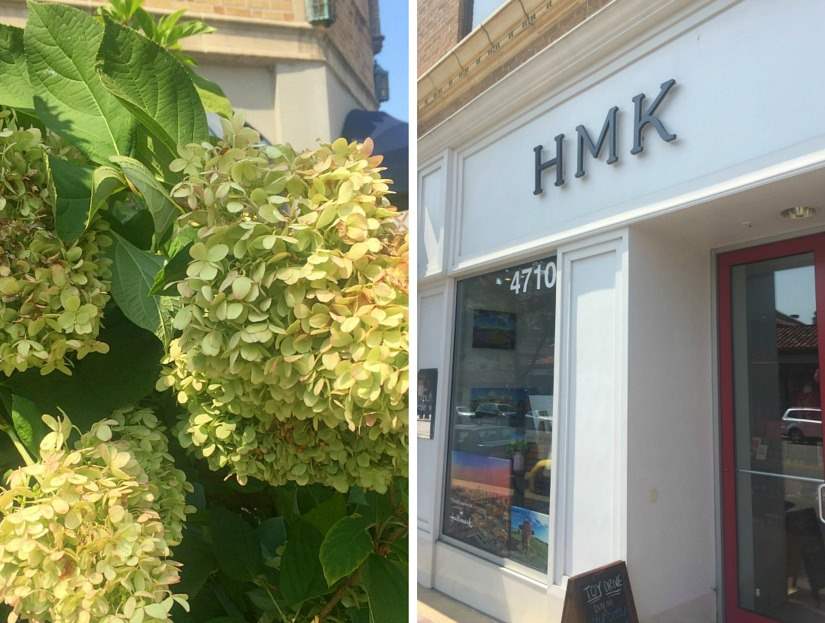 The HMK store (by Hallmark) was my favorite. They had a lot of cute local stuff plus some other home decor pieces.
We stopped in Paper Source, too, which I always love poking around in, but obviously those are all over the country. Gram & Dunn (listed above) was here, too.
25. Drive down Ward Parkway (near Country Club Plaza)
We tend to always end up finding cool houses to drive/walk by on vacations, and these were gorgeous. All sorts of cool old homes, I wanted to live in most of them!
26. River Market Antiques (River Market)
They have three huge floors of antiques, it took us a while to walk through it all, there was so much to look at!
There were a couple big furniture pieces I thought were cool, but we didn't have room to travel back home with them.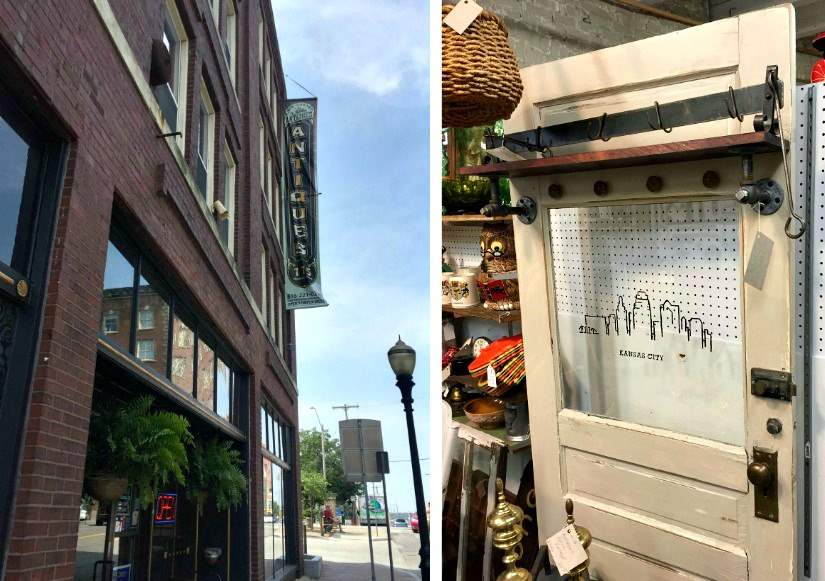 Where to stay in Kansas City:
We stayed in Westport and liked the location.
We could walk to several places, including Q39, Snow & Co, Ernie Bigg's, Char Bar, McCoy's and Julep, so it was always a good place to end the night. It was a quick Uber ride into downtown, too.
They were painting this mural in the neighborhood while were there. It was kind of fun to keep walking past it and see the progress.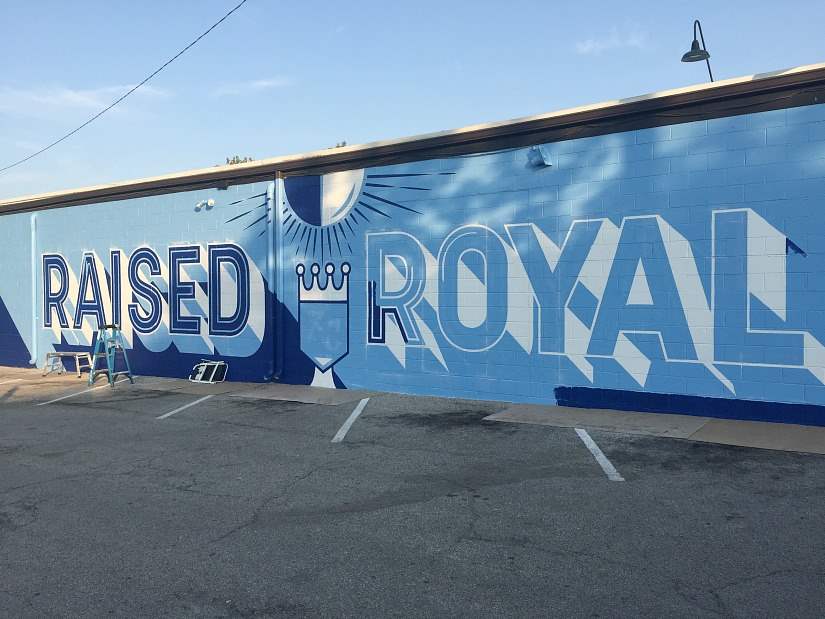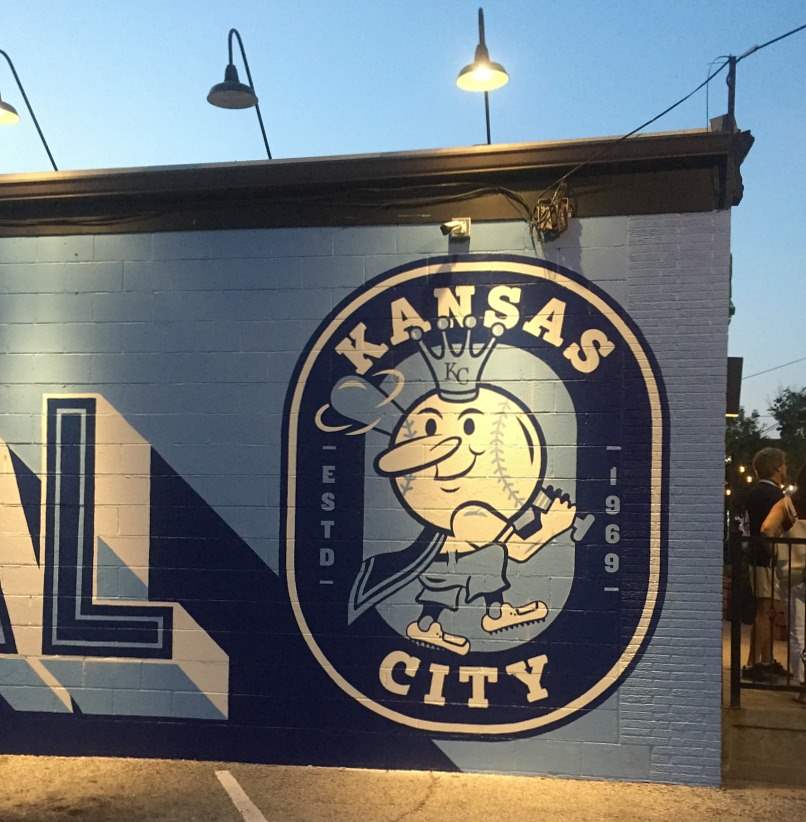 Have you been to Kansas City? What'd we miss? What are your favorite things to do in Kansas City?
We had such a great time, we're thinking we'll have to plan another trip sometime.
Download my free packing checklist
If you want a copy of my favorite packing list that lets me pack last minute with worrying about forgetting something, download it below.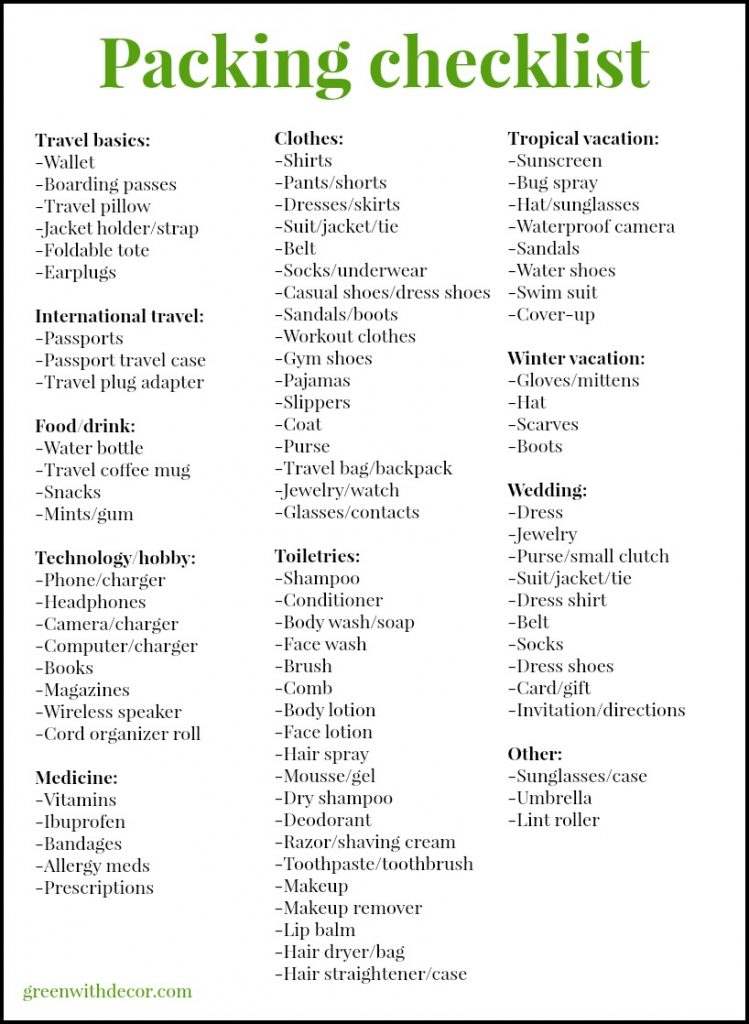 *Please note: All printables and downloads designed by Green with Decor are for personal use only. Please do not alter the files or claim them as your own. These files are not intended for resale, nor are the printed versions of these files.
If you love traveling, check out these posts, too:
Remember to bookmark or pin this post if you want to save it for later!


Pin it!


Want to read more posts like this?
Follow along: Get my emails | Facebook | Pinterest | Twitter | Instagram