This post contains affiliate links. This means if you click the link and buy something, I may receive a small percentage of sales at no extra cost to you.
Okay, this is a weird one today.
But sometimes the weird / small / easy tricks make for the most helpful blog posts.
When we bought our house, we added patio doors to the back family room so we'd have easy access to the backyard.
They're great, and we love how easily we can get outside, but that means anyone coming into the house from the backyard is walking all over our gorgeous family room rug.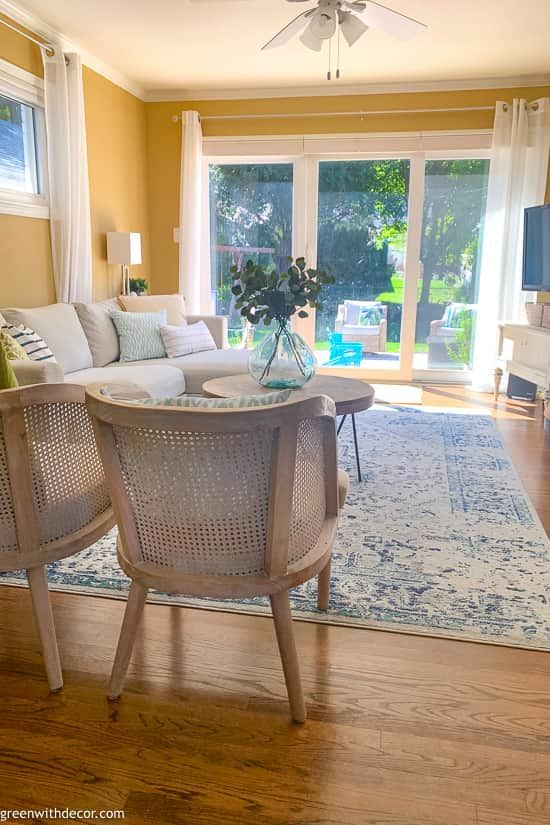 With a toddler and dog, especially on muddy days or when we have our little pool or sprinkler set up, that means allllll sorts of stuff is getting tracked onto the rug.
Short of adding a gorgeous mudroom to the back of our house (oh how I wish!), I decided on a more temporary, cheaper solution: getting an indoor/outdoor runner to lay over our area rug on the days we're running in and out all day.
So easy, and it works great!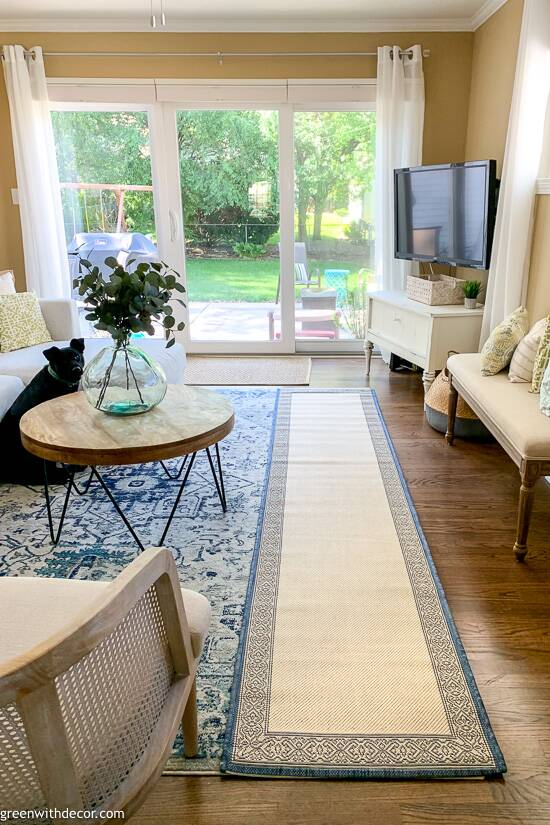 It's definitely not something you'd leave down permanently, but it does the trick of keeping the area rug clean, which is all I was looking for.
The runner collects all the dirt, grass, etc. that gets tracked in, and at the end of the day, it's easy enough to shake out outside before we roll it up and hide it behind our TV stand.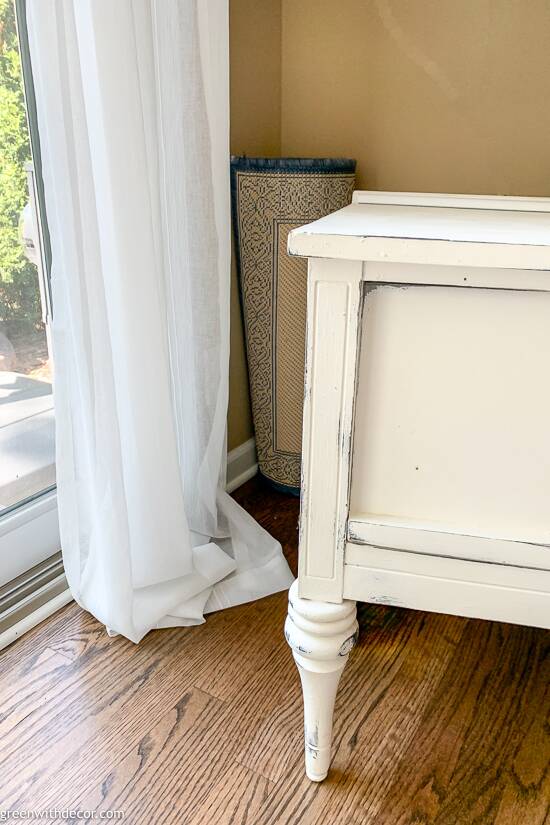 And because the runner is indoor/outdoor, if it gets dirty or anything gets spilled on it (this is also the walkway from the grill to the kitchen), we can just take it outside and hose it down.
Here's a close-up. (And here's a link to it.)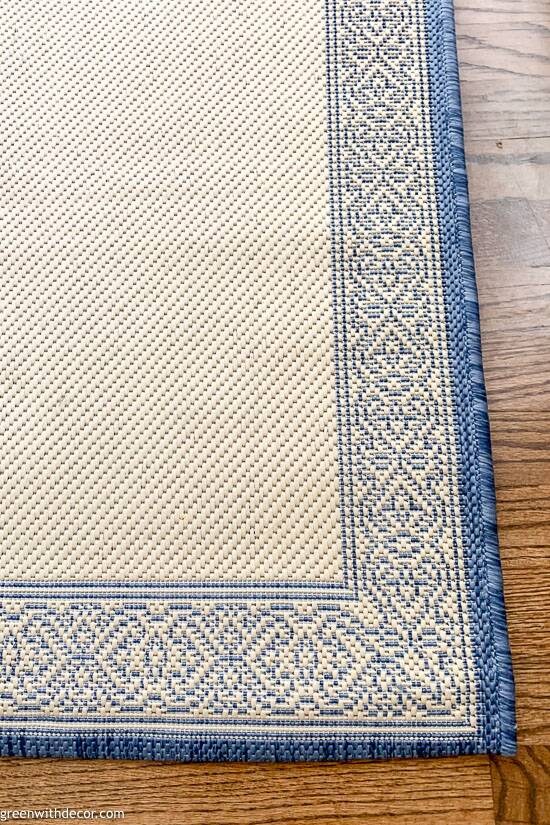 One other thing to mention is, we don't leave the runner down all the time. We get a lot of sunlight through our patio doors, which is sure to fade our big area rug over time, and we don't want it to fade unevenly if the runner is covering part of it.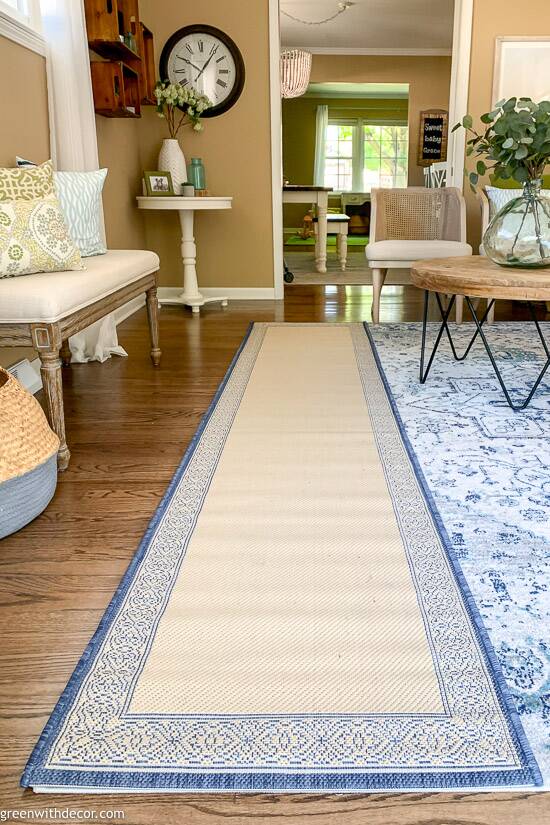 Pretty, affordable indoor/outdoor runners:
This is the runner I bought, and I rounded up a few others below that are all under $50 if you're looking for a similar solution to keep your rug clean:
Click any of the images below for more info. (You might have to double click on mobile.)


GET THE LOOK:
Since a popular question I get is "Where'd you get that?!," here are links to the same or similar sources:
If you want to see more of these spaces, check out these posts:
Any other simple tips for keeping your rugs clean? Or keeping the house clean when you're home nonstop all summer?! (Speaking of, our robot vacuum is saving my sanity, too!)
Remember to bookmark or pin this post if you want to save it for later!


Pin it!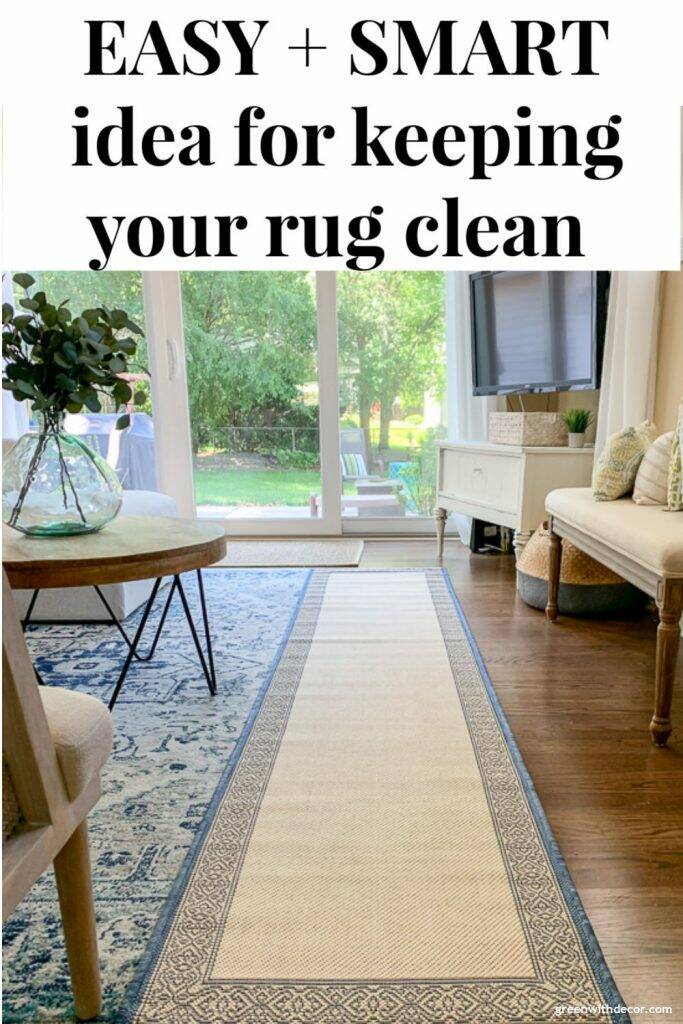 Want to read more posts like this?
Follow along: Get my emails | Facebook | Pinterest | Twitter | Instagram