I've mentioned in passing that cleaning out and organizing the basement has been something we've been tackling, oh, for the past year or so.
I mean the front room looked like this at the beginning of the year. (Can't believe I'm sharing this photo on the Internet but just keeping things real!)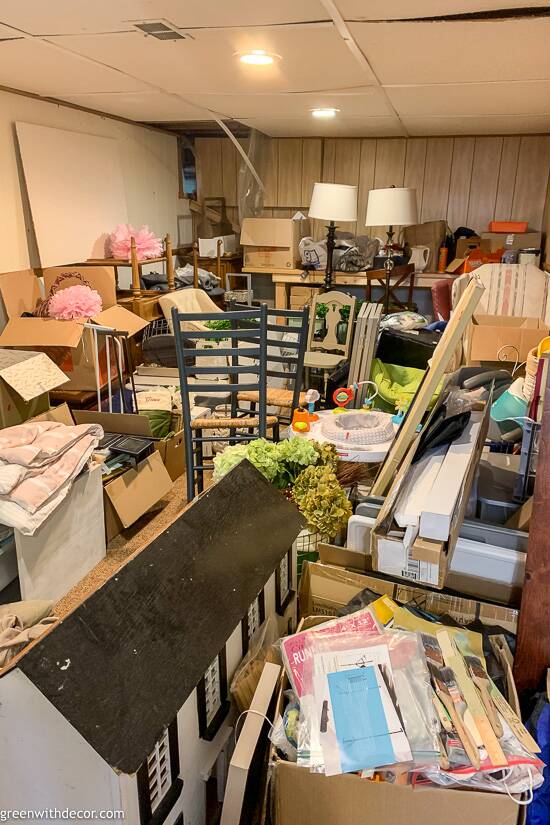 Yes, that's what happens when you move twice in a year and a half, and have a baby in the midst of it. Not recommended!
But we got the basement completely organized earlier this year. This room is all cleared out: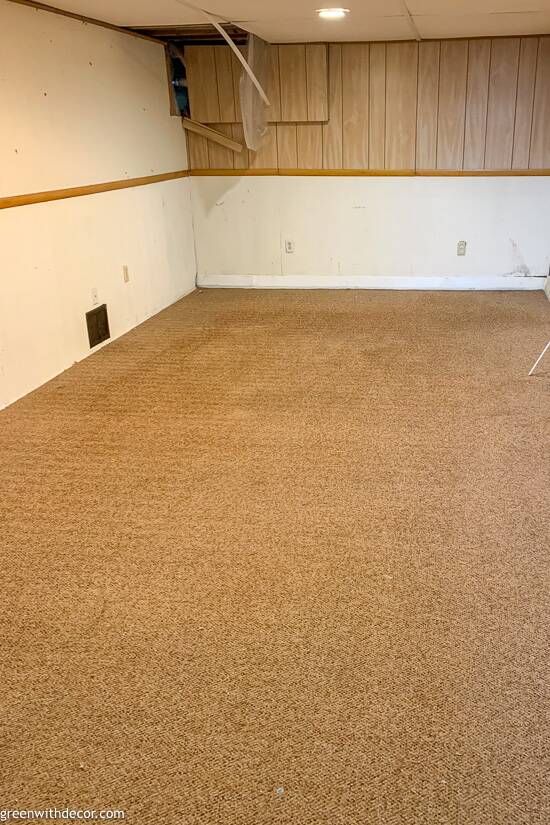 This post contains affiliate links. This means if you click the link and buy something, I may receive a small percentage of sales at no extra cost to you.
We have two other rooms down here: one with our laundry area / tool storage and one with shelving we use for Christmas decor, fall decor, baby items, furniture waiting to be painted, etc.
Cleaning out the basement involved a ton of sorting, organizing, purging, donating, etc. It feels SO GOOD to have it done! We literally don't have anything down here anymore that we don't want, use or need.
(Which has also led to a general decluttering of our entire house, and it feels GREAT to get rid of stuff. )
We started chatting about what we could do with this space to make it functional without just adding another living room space to our house.
We already have a family room and living room (see it here: how to decorate bookshelves) on our first floor. Truthfully, we don't even use the living room as a living space. It's basically a giant playroom (with really pretty bookshelves, ha!), which is perfect for the life stage we're at right now.
So we definitely don't need a third living space.
All of this to say, don't use rooms in your house just because they're 'supposed to be' a dining room or living space. Use rooms for whatever works best for your family, especially this year when we're all home more than ever. It's your house, it should work for you!
So instead of a third living space, guess what we decided would be really fun?!
A toddler / kid indoor gym with a ball pit, basketball hoop and all sorts of games! Basically taking our first floor playroom up a notch (or five).
Now comes the fun part: picking out wall paint, easy-to-clean flooring and ALL the fun things for little kids!
Kid-friendly basement ideas:
Here's what's on our list so far:
Mirror and ballet barre
Chalkboard (just like the one we have on our swing set – see our backyard tour here)
Some sort of fun way to display kids' artwork (more to come on this ….)
Kids' table and chairs (we have SUCH a fun idea for this!)
Dollhouses (I have two old ones sitting in our basement storage room I'm going to make over … someday! You can see one of them in that cluttered pic above.)
Some sort of fun painted wall treatment (I have too many ideas and need to narrow them down! We'll start with just painting the walls a solid color.)
We won't add everything listed here, since we still want some room for kids to just run around and have fun.
But it's fun to look at all the possibilities. This just seems like the perfect room to really have some fun with and make it an awesome space for kids to play in.
We're also organizing a closet in here for toy storage, and I have my eye on these bins. for *hopefully* easy storage.
Have any other kid-friendly ideas to add? Or have any of the above kids' toys and love / hate them? Let's hear it!
Adding all of the kids' toys to the backyard this year turned it into such a fun place for our daughter to play, and we know she'll love this space, too! We can't wait to see it all come together.
Stay tuned!
If you want more kid-friendly ideas, check out these posts:
Remember to bookmark or pin this post if you want to save it for later!

Pin it!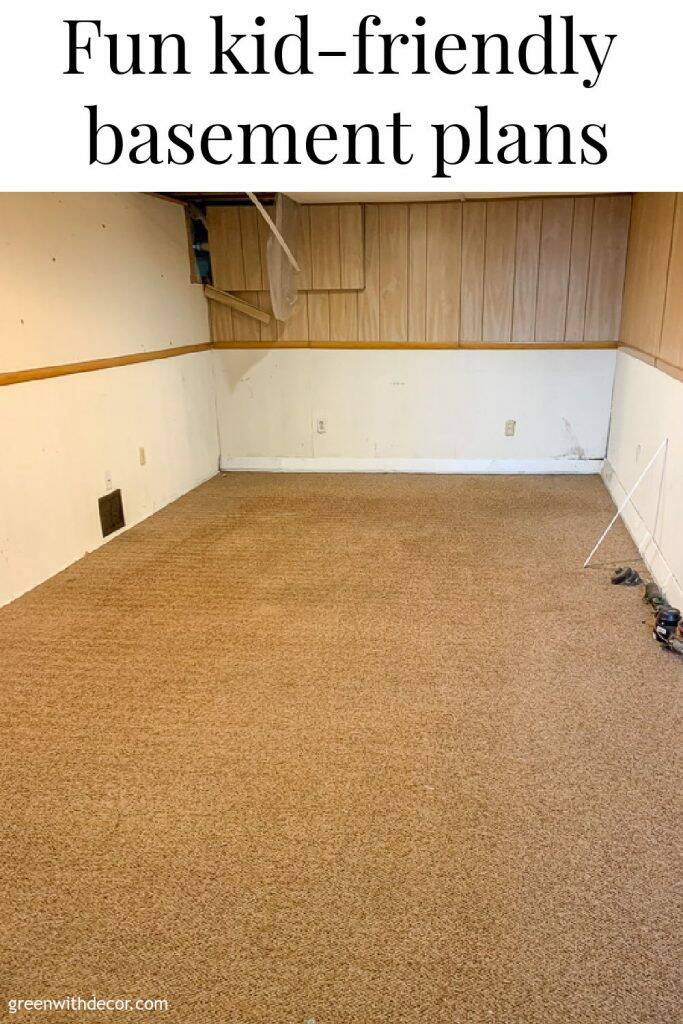 Want to read more posts like this?
Follow along: Get my emails | Facebook | Pinterest | Twitter | Instagram