I'm excited to share I've been nominated for the Liebster Award by a few fun bloggers!
Meghan from The Twin Cedars
Heather from Craft + Tell
Jess from Domicile 37
And thanks to Betsy from Happily Ever After, Etc. for the Sisterhood of the World Bloggers Award!
Thanks so much, ladies!
If you haven't heard about the Liebster Award, "Liebster" means "dearest" or "favorite" in German. It's also known as the "Love Blog Award."
The award is to show newer bloggers that they're appreciated and to help spread the word about new blogs.
Summer is flying by! I've been meaning to write this post for a while – some of those bloggers nominated me a couple months ago.
I've had so much fun reading all the Liebster Award blog posts around the web. It's a fun way to get to know the awesome people behind the blogs I read so often!
Here are the rules for the Liebster Award:
1. Acknowledge the blogger(s) who nominated you.
2. Post 11 random facts about yourself.
3. Answer the 11 questions the blogger who nominated you provided.
4. Choose 11 blogs you love and nominate them.
5. Create a list of 11 questions for your nominees.
6. Let your nominated bloggers know!
My 11 random facts:
1. I grew up in Milwaukee, then went to school at Xavier in Cincinnati. I lived in Cincinnati for 8 years before returning to Milwaukee with my husband Kalen. I'm so excited to be back!
2. I really am a Wisconsin girl. I'm obsessed with cheese and mozzarella sticks – and Miller Lite is my favorite beer.
3. I went to Xavier, and Kalen went to Dayton – big basketball rivals. We met at a bar in Cincinnati while the Xavier/Dayton game was on. (Xavier won!)
4. I love HGTV and watch it a lot. I remember watching Trading Spaces on TLC back in the day – I've always loved shows about renovating and decorating houses.
5. Speaking of houses, Kalen and I go to open houses for fun.
6. I love country music. I've seen Phil Vassar in concert somewhere around 15 times. He gives such a great concert!
7. I'm really close with my family – we have so much fun together! I love it.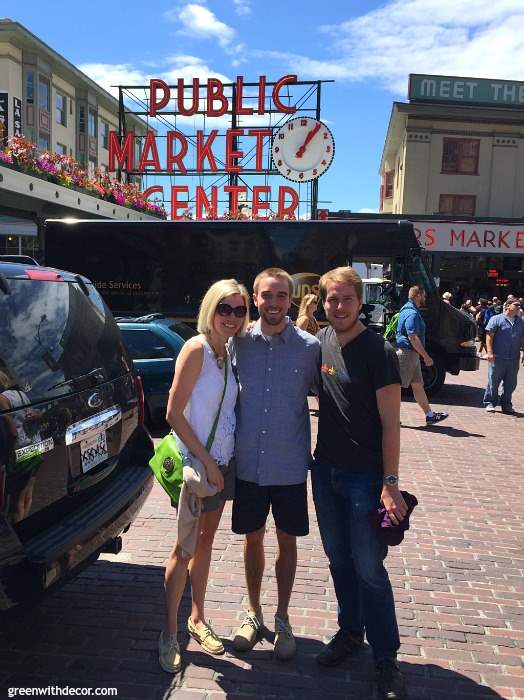 8. I look exactly like my mom, and she looks exactly like her mom – my Grandmom. The three of us will be out somewhere, and complete strangers will come to us and comment that we must be related.
9. I've always loved writing. My Grandpop was a writer and always encouraged me to follow my dream. He passed away in February, and I'm sad he doesn't get to read my blog and watch it grow.
10. I can't read anything without proofreading it. I can't stop!
11. I love Pilates, and I hate running.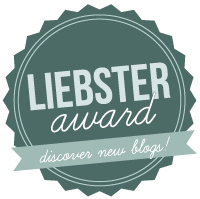 Since I was nominated by a few bloggers, I picked some questions from each of them:
1. What is your blog background story–why did you start blogging? When did you start?
I'd been reading DIY/decorating/renovating blogs for a while – all while Kalen and I were renovating and decorating our house in Cincinnati and then our house in Milwaukee.
I began thinking, "Hey, I could share all of our fun projects and adventures in renovating, too!" – so I did. I've always loved writing, renovating and decorating, so it seemed like a perfect fit. And I love it!
I officially started blogging in January.
2. What do you love most about blogging?
So many things! I love writing, and I love sharing the projects we do around the house. I've also loved connecting with so many other awesome bloggers. It's funny how you can develop friendships with other bloggers who live all over the country, but it totally happens!
3. How did you come up with your blog name?
Kalen and I were brainstorming blog names one night. I love the color green and, since I use green so often when decorating, I wanted it incorporated in my blog name somehow. Kalen came up with the name "Green With Decor," and I loved it!
4. What is your favorite TV show?
Hmmm, I have a few favorites! I love Fixer Upper, Beach Flip … basically anything on HGTV.
I'm also a huge fan of Scandal and Modern Family. My favorite show ever is Friends. I can pretty much repeat every line from any episode.
5. If I were to send you on an all expenses paid vacation for you and your family for two weeks, where would you go?
An all-inclusive resort on the beach! Somewhere in the Caribbean – with a swim up bar and flamingos! We went to Aruba for our honeymoon, and the hotel had flamingos on the beach – I was obsessed with them. They're so pretty!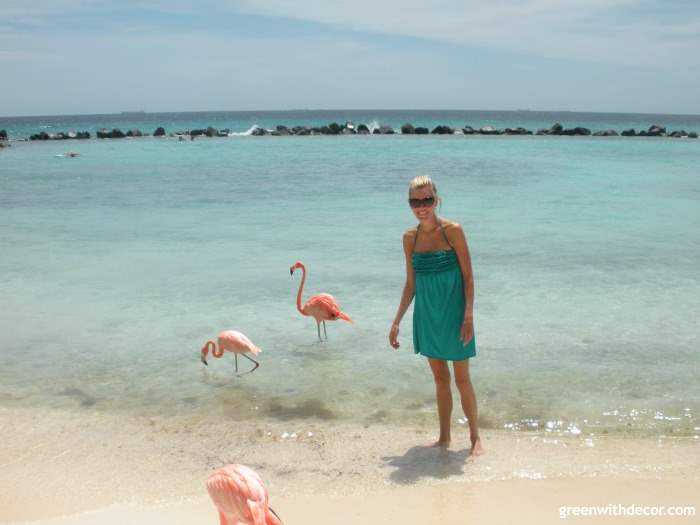 Europe also sounds great at some point, but life has been pretty busy lately. So laying on the beach with an umbrella drink sounds like heaven.
6. What would I find you doing in your free time?
Hanging with Kalen and our puppy Oakley, finishing up projects around the house and backyard, blogging and hanging with my brother Stephen who just moved back to Milwaukee. (My other brother David is moving to Seattle next week!)
7. What is your favorite store?
TJ Maxx or HomeGoods. For clothes, Ann Taylor Loft.
8. What one thing would you splurge on if money was not an issue?
Renovations to make our house exactly how we want it – and decor to finish off the look, of course! A close second would be fabulous vacations.
9.New build or old construction and why?
I'd rather buy an old, outdated fixer upper and renovate the whole thing to make it what we want. I love getting to pick out all the finishes and decide on room designs – all that fun stuff that comes with a renovation – and I love the charm that old houses provide.
10. What is your favorite season of the year and why?
I've always loved fall. I love wearing boots and scarves, watching the leaves change color, drinking apple cider and the smell of burning leaves. And my birthday and our anniversary are both in the fall, which makes the season even more fun!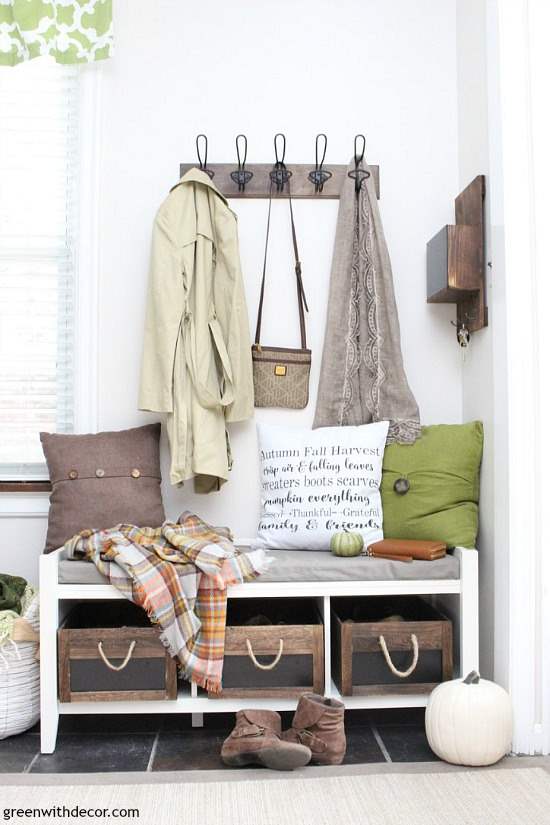 11. If you have kids or pets?
We got our puppy Oakley this spring. We named her Oakley after the neighborhood we lived in in Cincinnati, where we renovated our first house.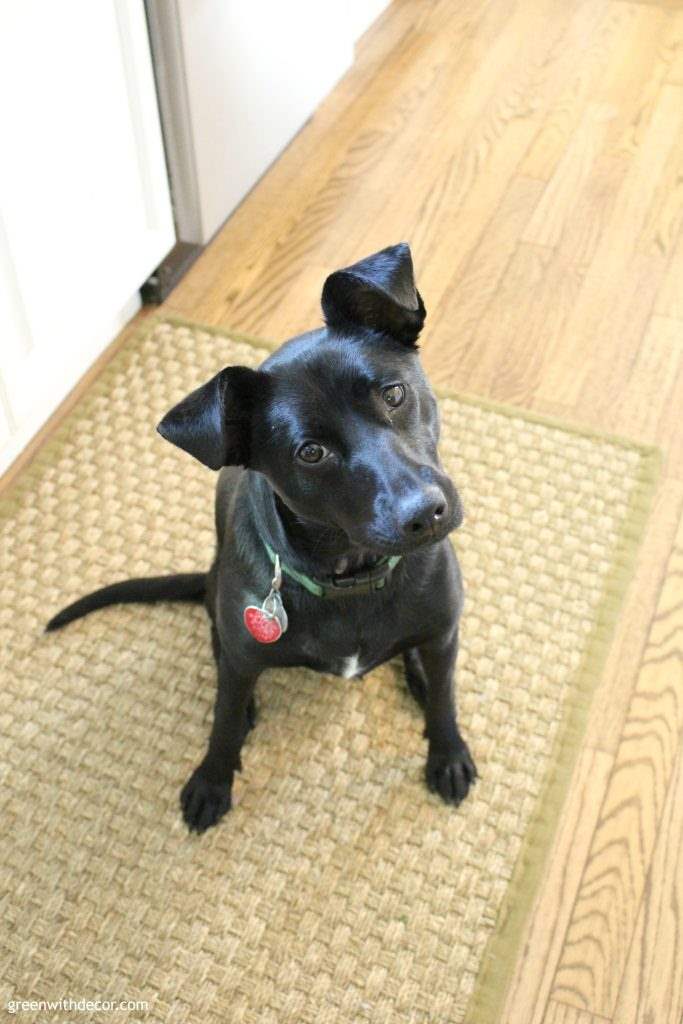 Learn even more about me on my About page. 
I'm nominating these fabulous bloggers:
Amanda from Old House to New Home
April from Uncookie Cutter
Bonnie from Farmhouse 40
Deb from Seeking Lavender Lane
Emily from Our House Now a Home
Iris from Around the Watts House
Roxanne from The Honeycomb Home
Ruthie from Refashionably Late
Sara from Shabby Grace Blog
Stephanie from Casa Watkins
My 11 questions are:
1. Why did you start blogging?
2. What's your favorite part about blogging?
3. How did you come up with your blog name?
4. What's your favorite color? Do you decorate with it?
5. What's your decor style?
6. New construction or old build and why?
7. What's your favorite TV show?
8. What's your favorite book?
9. What's the best vacation you've ever taken?
10. What's your favorite food?
11. What one thing would you splurge on if money wasn't an issue?
Can't wait to read your blog posts!

Want to read more posts like this?
Follow along: Get my emails | Facebook | Pinterest | Twitter | Instagram | Google+