One of the more common complaints among our neighbors is the overall lack of storage in our houses.
We all love the old charming, walkable neighborhood, no question, but older houses definitely lack some storage that comes standard in new builds these days.
Our family room is a room where we spend a LOT of time. Storage space is at a premium, especially when you add in baby and toddler toys, books and gear, and a few things for our dog Oakley.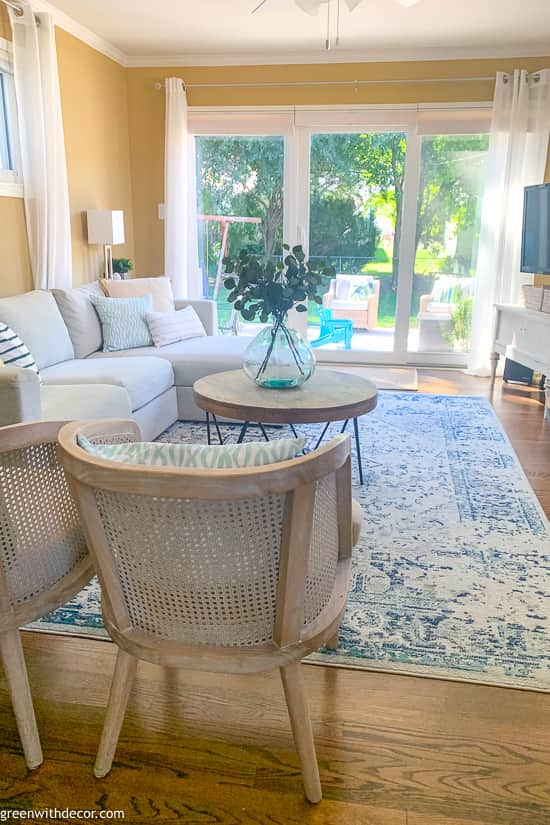 We've figured out how to really maximize storage in a small family room, so I thought I'd share some of our tips so hopefully they can help you, too!
This post contains affiliate links. This means if you click the link and buy something, I may receive a small percentage of sales at no extra cost to you.
TV stands + end tables with drawers
It's really easy to just ignore the automatic storage that comes in some furniture pieces like a TV stand or end table, but don't! And don't just kind of haphazardly throw some things in there and then call it a day.
It's free storage, use it wisely!
TV stands usually have bigger storage space, so use it for blankets, toddler toys, books, whatever you need.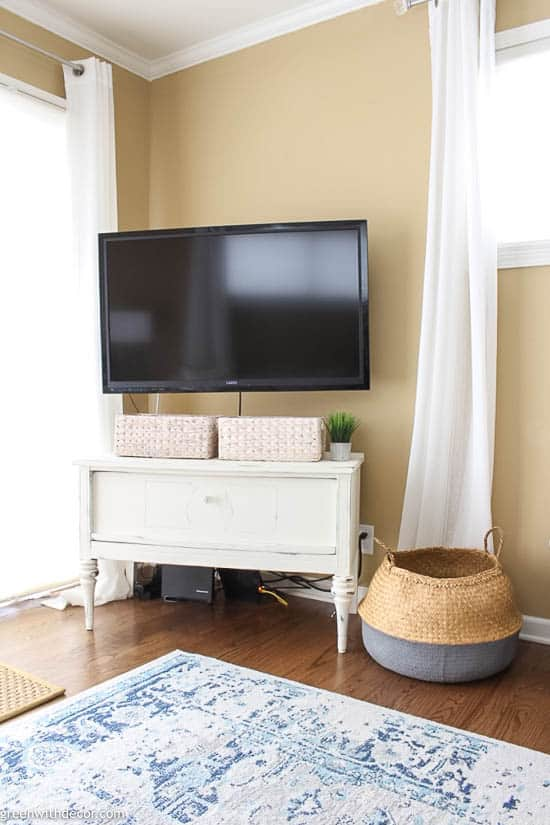 Since ours is right by our back patio door, we actually use it for a bunch of outdoor things we use outside all summer since they're easy to grab / put away as we're coming and going through the door.
End tables, even ones like ours with really small drawers, are still useful storage space. Remotes, extra coasters, lip balm, pens, paper, extra batteries, playing cards, extra birthday cards, thank you notes, dog toys, etc.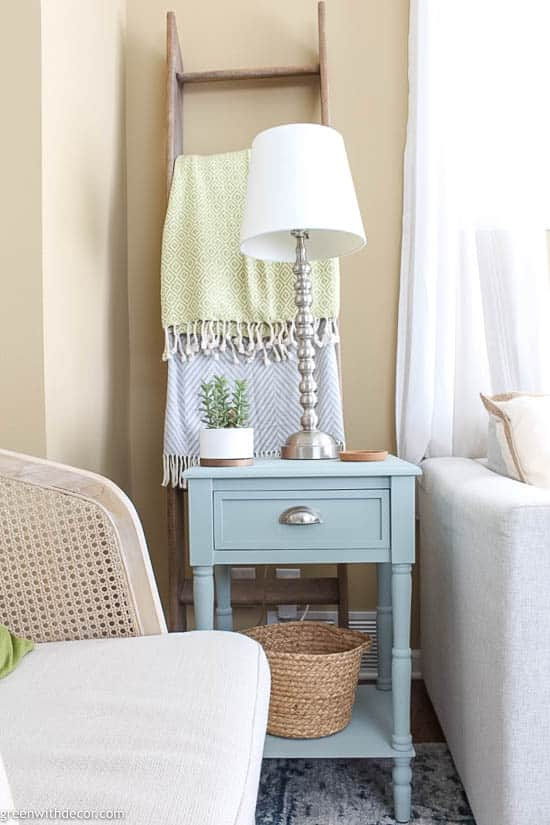 Think outside the box and use this easy-to-access storage space for things you need to store somewhere in the house anyway. No reason the random junk drawer can't be the end table drawer and free up a kitchen drawer!
Some coffee tables have drawers, too, but more on coffee tables in a minute …
Scroll and click/tap to shop tv stands + end tables with storage: (Click through for more color options.)

Couch that lifts up
We love our VIMLE IKEA sofa (which seems to be discontinued?) for a lot of reasons, and one of the extra perks is that the chaise lifts up for hidden storage.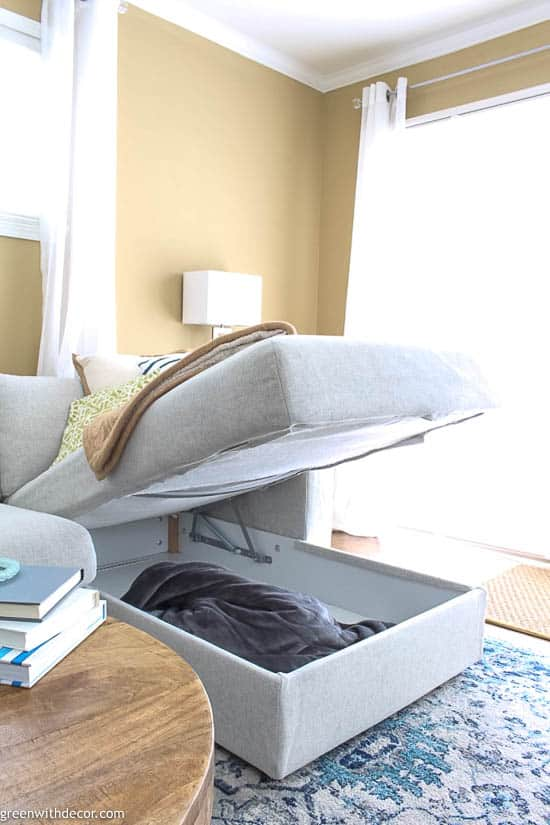 You'd never know it was there if you didn't know, and the chaise cushion is just as comfy as the other two cushions without storage underneath.
Look for furniture pieces like this that serve double duty. The extra storage is awesome.
Scroll and click/tap to shop couches with storage: (Click through for more color options.)

Ottomans as coffee tables
We've used this trick in the past (see our family room from years ago here – fun to see what this room used to look like!).
I will say this isn't my favorite storage trick, because it does require you to take anything off the coffee table before opening the ottoman to get whatever's inside, but it's still a good trick worth mentioning.
We used to use our old ottoman coffee table for movie storage but as streaming has taken over, we didn't really see the need for it anymore. This can still be a good trick for blankets, books or toys. though. (I have my eye on this gorgeous one even though we don't have a place for it!)
Scroll and click/tap to shop ottomans with storage: (Click through for more color options.)

Baskets
I know, I know. If you've been around the blog for any length of time, you know I LOVE a good basket.
But they work SO WELL for storing, well, everything. Toys, books, blankets, basically any loose things you'd typically have laying around a family room.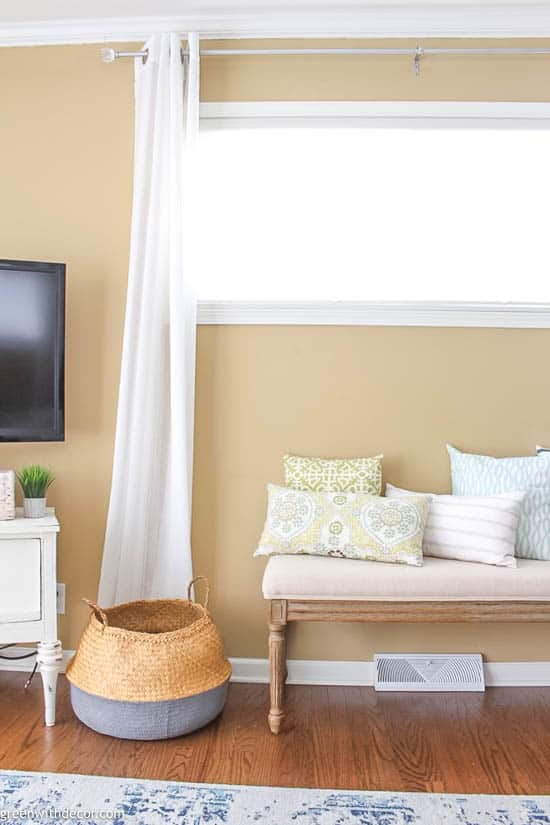 Throw things in a pretty basket, and they're instantly hidden but still easily accessible. Win-win all around. (I share my favorite pretty baskets here if you're looking!)
We use this big basket for blanket storage since it's large enough for several blankets and gorgeous (see it semi-hidden behind the chairs in the photo below?!), these seagrass baskets for toy storage, these bins for kid books under our bench, and these baskets for smaller toys on the TV stand.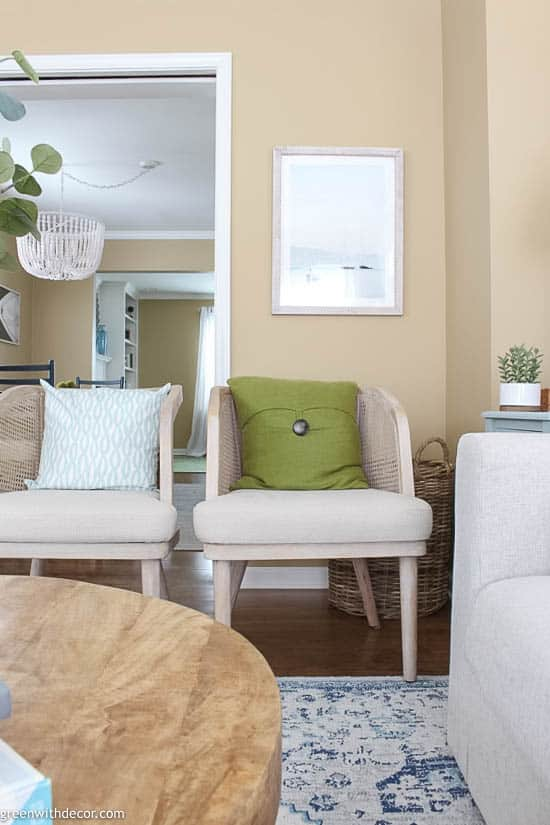 They're pretty, durable and keep the clutter of everyday life organized but easy to grab. Perfect idea for storage in a small family room!
Scroll and click/tap to shop baskets: (Click through for more color options.)

Ladder blanket shelf
Have I talked about blanket storage enough in this post? Ha. I'm always freezing, so we have a lot of blankets!
Ladders double as pretty, unique decor and blanket storage so it's another win-win. I even have ours tucked behind our end table so it doesn't take up extra wall space.
Scroll and click/tap to shop ladder blanket shelves: (Click through for more color options.)

And that's how we maximize storage in a small family room. Have any other great family room organizing tips or secrets? Let's hear 'em!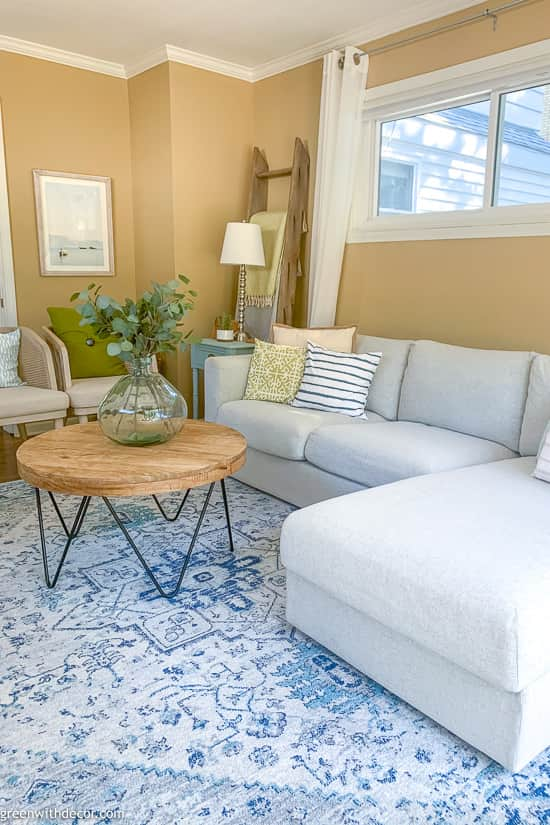 If you're looking for sources for anything, I have the full family room list below. You can also see more of our casual coastal family room makeover here or all family room posts here.
Hard to believe this room started with dark paneled walls and no patio doors, right?!
GET THE LOOK:
Since a popular question I get is "Where'd you get that?!," here are links to the same or similar sources:
Remember to bookmark or pin this post if you want to save it for later!

Pin it!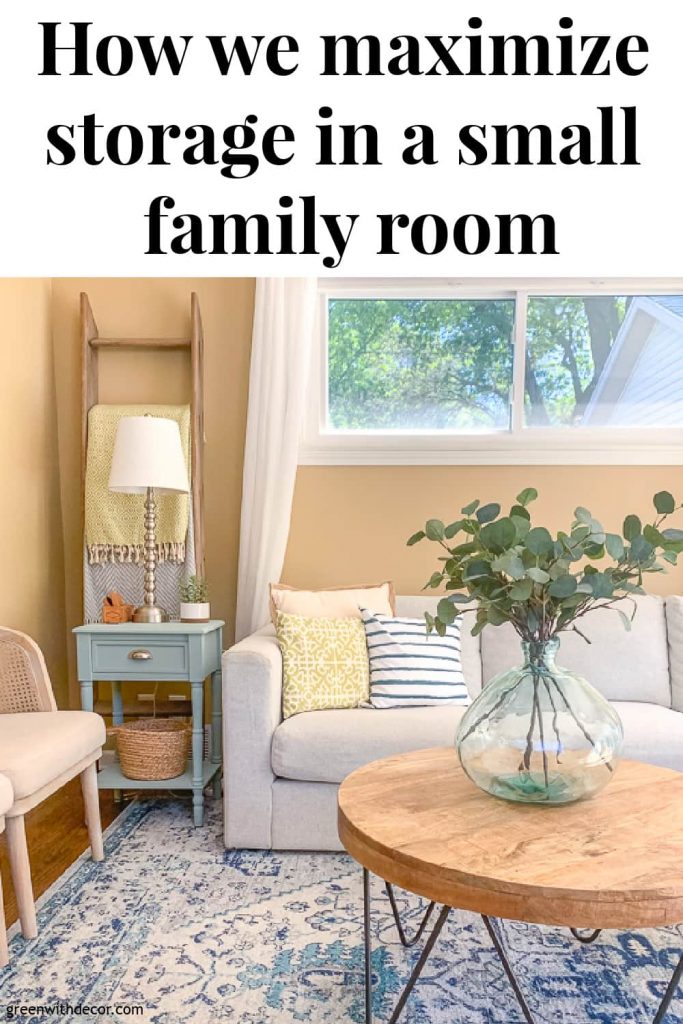 Want to read more posts like this?
Follow along: Get my emails | Facebook | Pinterest | Twitter | Instagram