Disclosure: This post is sponsored by Miniatures.com All opinions, images and love of decorating projects are 100% mine.
I was a pretty good kid growing up, although there is one Christmas story that makes me cringe.
Apparently I reaaaaaally wanted a dollhouse my friend had, and Santa brought me a different one. My mom had spent hours putting in 'wallpaper' and 'floors' and all sorts of stickers to get the dollhouse set up for me, and I came downstairs all excited only to start crying that this was NOT the dollhouse I wanted.
What a brat! I'm glad I don't actually remember it, ha!
Anyway, there's something about everything miniature that's adorable, especially around Christmas.
We've been obsessed with our Christmas village for years, and this year I made these little DIY Christmas list ornaments, added another snow globe to our collection, turned our lanterns into mini Christmas villages and … put together this cute little miniature Christmas living room!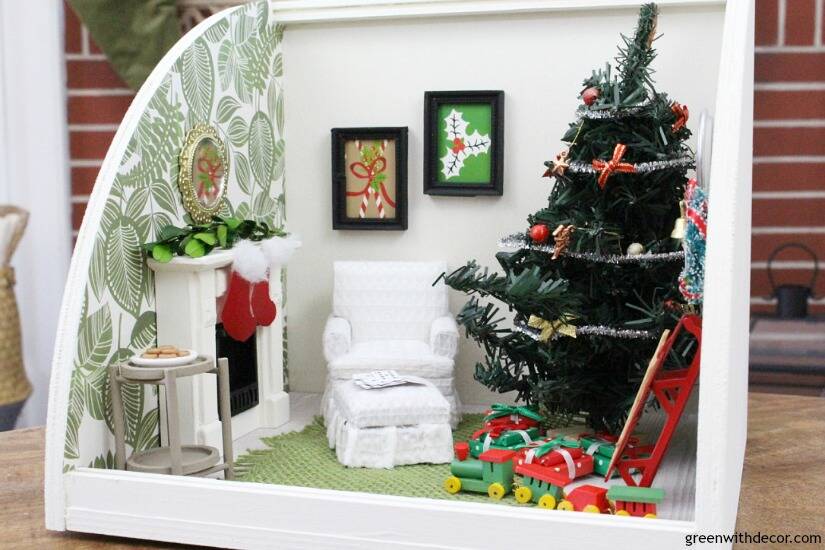 This post contains affiliate links. This means if you click the link and buy something, I may receive a small percentage of sales at no extra cost to you.
It was like decorating an entire room (with way less work), and we all know I love a good room makeover.
That wallpaper (scrapbook paper) gives me all the heart eyes. I want it. Isn't it just perfect as an accent wall?
I started with this corner room box from Miniatures.com and added scrapbook paper on the one wall, painted the other walls with Vanilla Frosting (by Country Chic Paint) and used another piece of scrapbook paper as the floor.
I taped the 'wallpaper' up, but I just placed the paper in the room for the floor so it'd be easy to switch out later.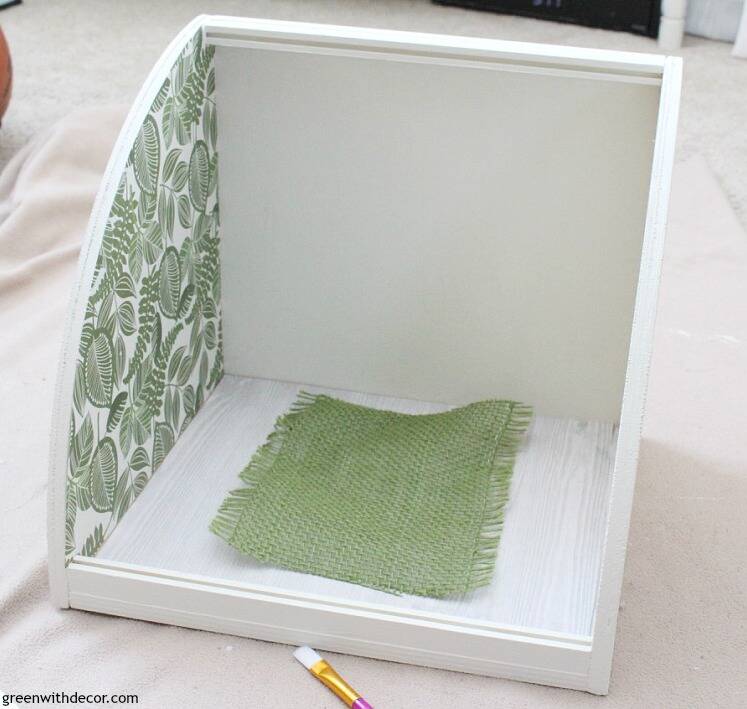 I added some green burlap as a rug. It matches the wallpaper SO well, I can't even believe it. So much gorgeous green – I want this living room for myself.
I'll link to all the pieces I used at the bottom of this post if you want to create a similar miniature Christmas living room or gather some pieces for your kids' dollhouse!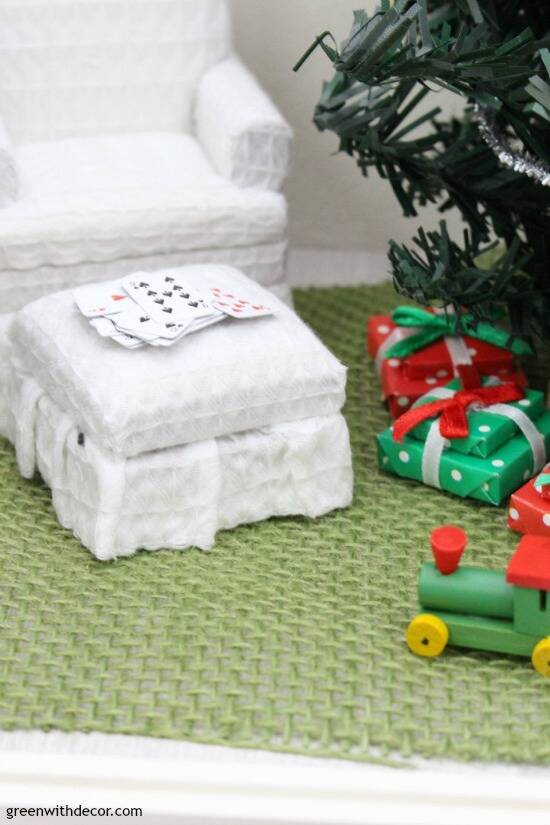 The fireplace and side table butler tray were both brown originally.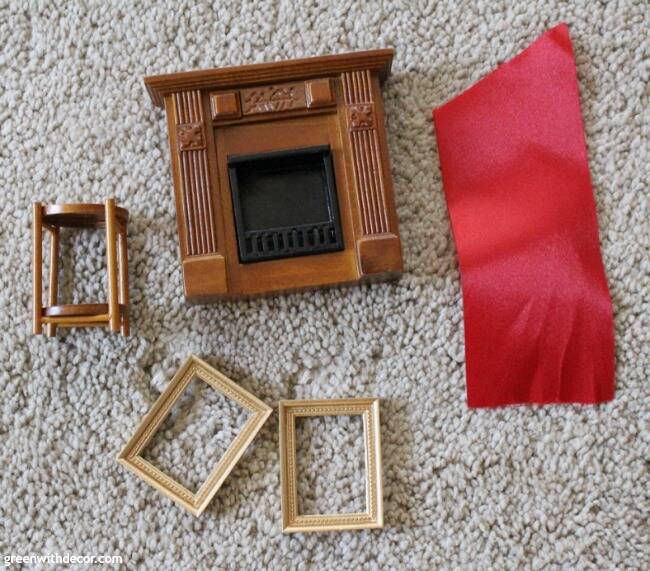 To lighten them up, I painted the fireplace Vanilla Frosting and the table Driftwood (another Country Chic Paint color – you may remember it from this chair makeover.)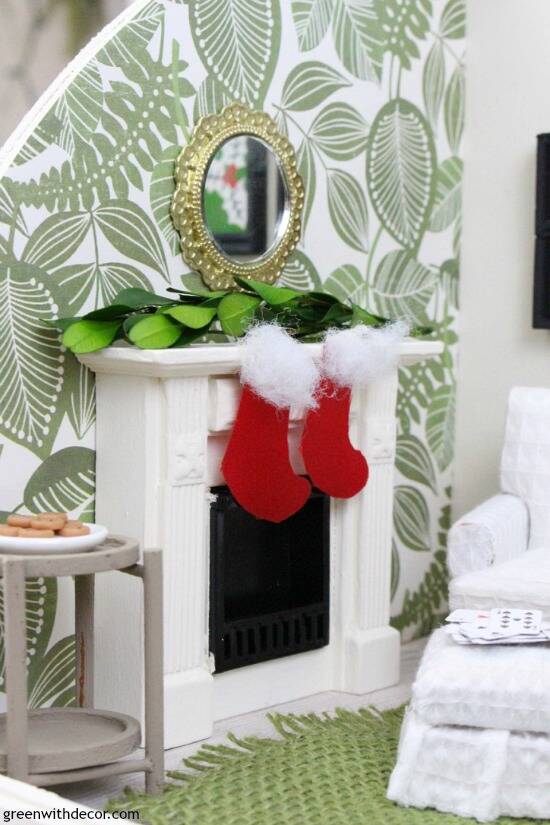 I used red ribbon and faux snow (I grabbed a little from our Christmas village) to create little stockings and just used tape to attach them to the fireplace.
That little artwork is actually two gift tags: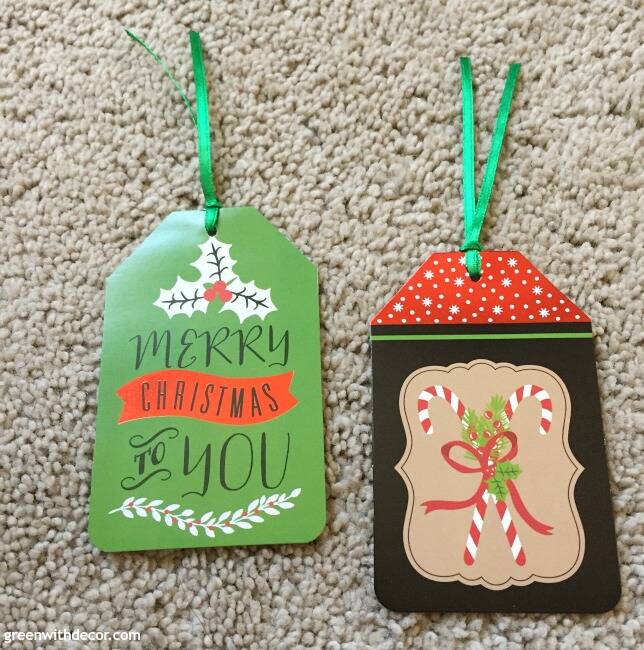 I painted the frames black and used tape to adhere the gift tags inside. They'll be easy to swap out for other artwork for everyday decor or St. Patrick's Day.
Wouldn't a mini little leprechaun setup be so cute?!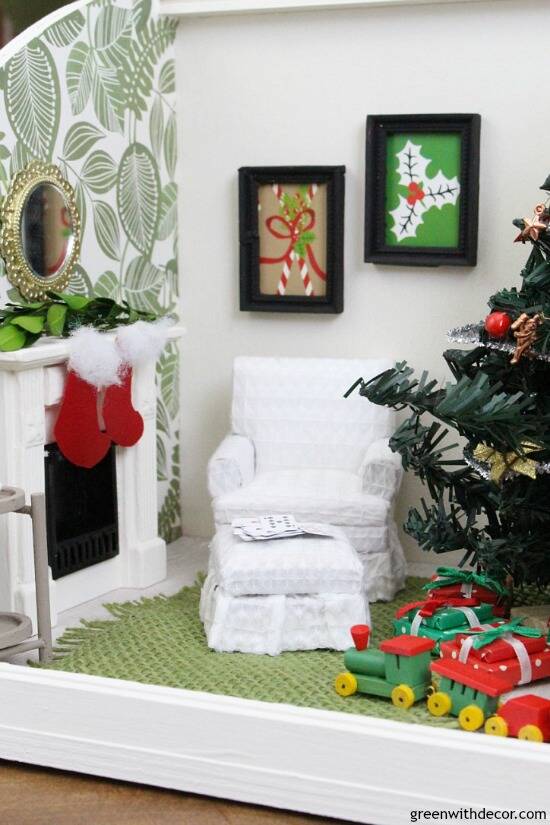 I just used tape to adhere the artwork, mirror, clock and wreath to the walls. Nothing has fallen yet (this has been up for a couple weeks) so seems like tape is all you need!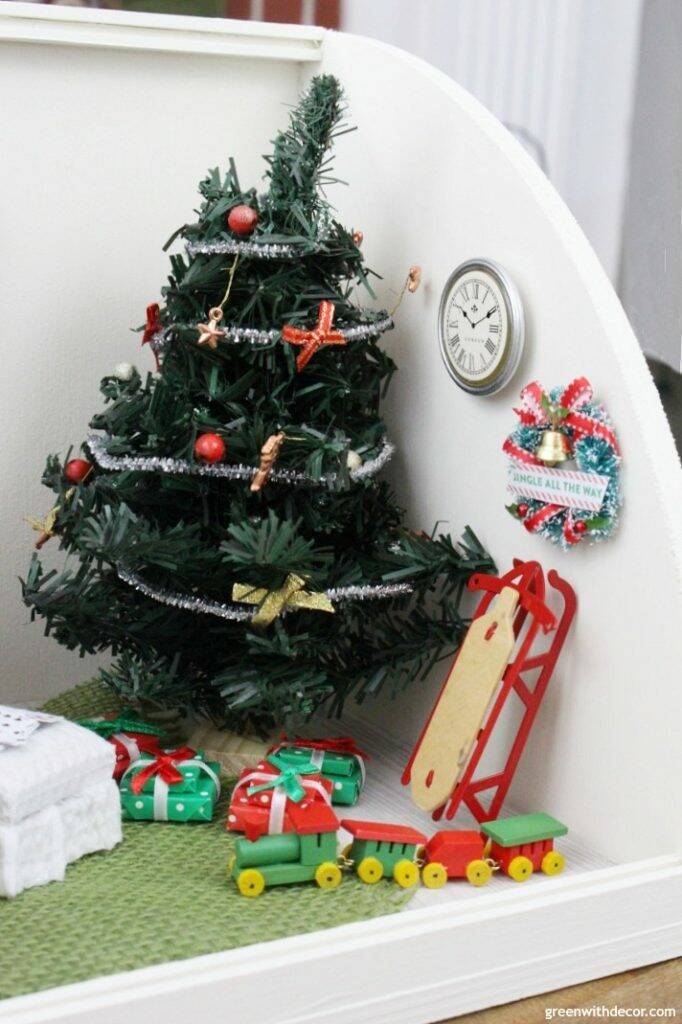 I just love all of the mini accessories. It was hard to not get all of it, it's too cute!
And what is it about trains that always seems so Christmas-y?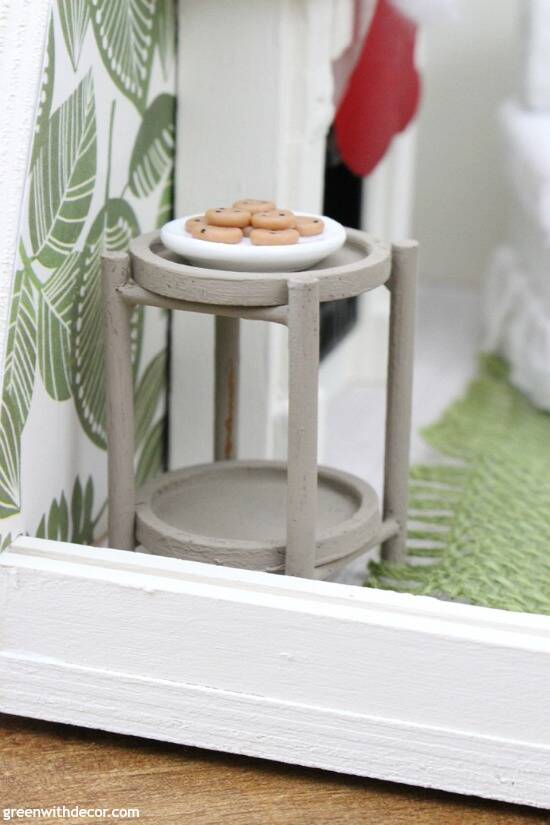 If only those cookies were real. 🙂
Pieces used for the miniature Christmas living room:
Miniatures.com's website is full of cute miniature pieces so if there's something specific you're looking for, I'm sure you'll find it there.
Have you created anything miniature for Christmas like a Christmas village or a little dollhouse set up like this?
Remember to bookmark or pin this post if you want to save it for later!


Pin it!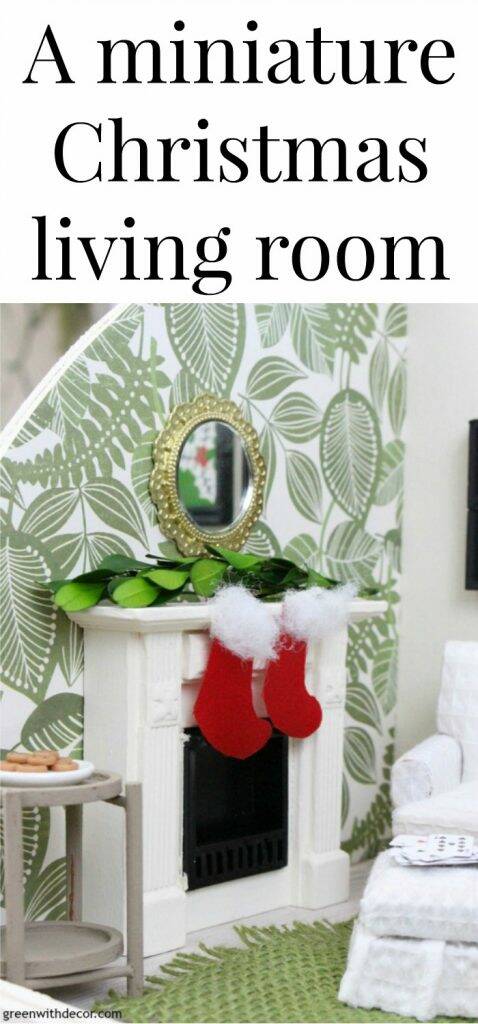 Want to read more posts like this?
Follow along: Get my emails | Facebook | Pinterest | Twitter | Instagram