A mirror gallery wall is a pretty, easy way to fill up a wall or corner. This post also has a great gallery wall hanging trick!
I'm so excited to share this fun project.
I had a pile of these little gold mirrors from my grandparents' condo that I wanted to do something with.
Some of them are such a unique shape and size, they just always remind me of my grandparents, so I knew I wanted to hang them somewhere.
This little corner of the nursery is perfect for them!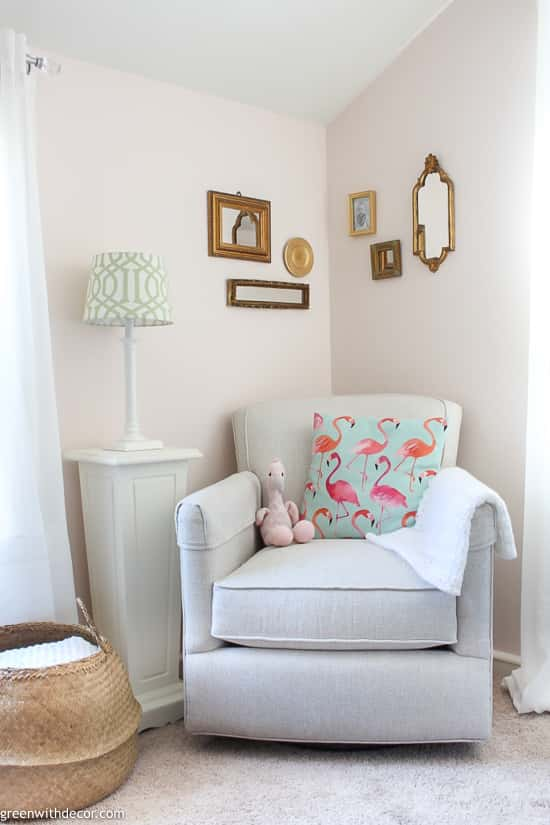 A mirror gallery wall is a pretty way to fill up the small wall space with something other than the usual artwork, which we already have plenty of in here.
This is a fun one if you come across gold mirrors (I'll link to some below) or have some hanging in your basement waiting for a project.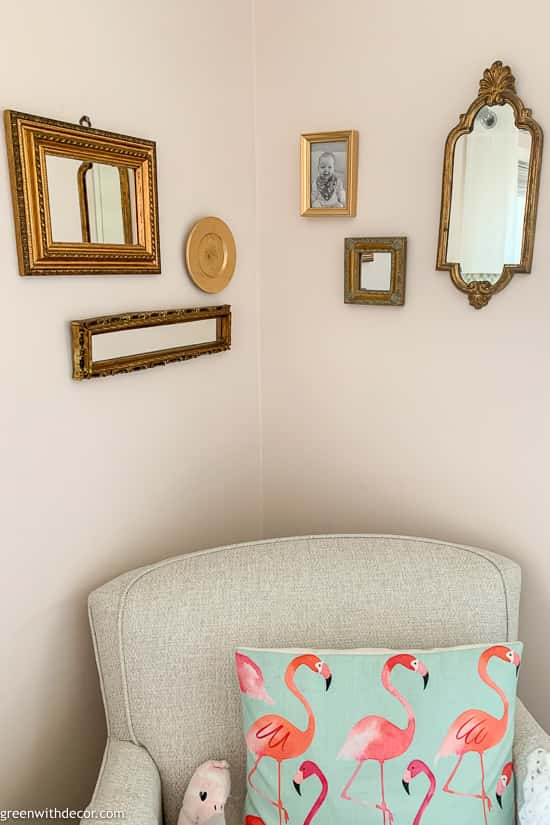 This post contains affiliate links. This means if you click the link and buy something, I may receive a small percentage of sales at no extra cost to you.
Supply list for a mirror gallery wall:
Gold mirrors (check thrift stores, garage sales or look online. I'll link some here, but the ones on Etsy often sell out so be sure to do a search on their website, too. You can also use anything small and gold like a tray, plate or frame.)
Pliers
Paper
Scissors
Hammer
Nails
How to hang a mirror gallery wall:
1. Remove any 'stands' from the back of standing mirrors and add sawtooth hangers.
Don't skip over any mirrors just because they're meant to sit on a table! Use some pliers and pry that stand right off.
Then you can add a sawtooth hanger in the back – they're easy enough to just hammer in – and you're good to go!
2. Cut out paper shapes of each mirror.
This might seem tedious, but I promise it makes hanging the mirrors less intimidating and more fun.
It's really easy to visualize how your mirrors will look on your wall when you have paper cutouts of each of them. And then you can play around with different arrangements till you find the perfect one.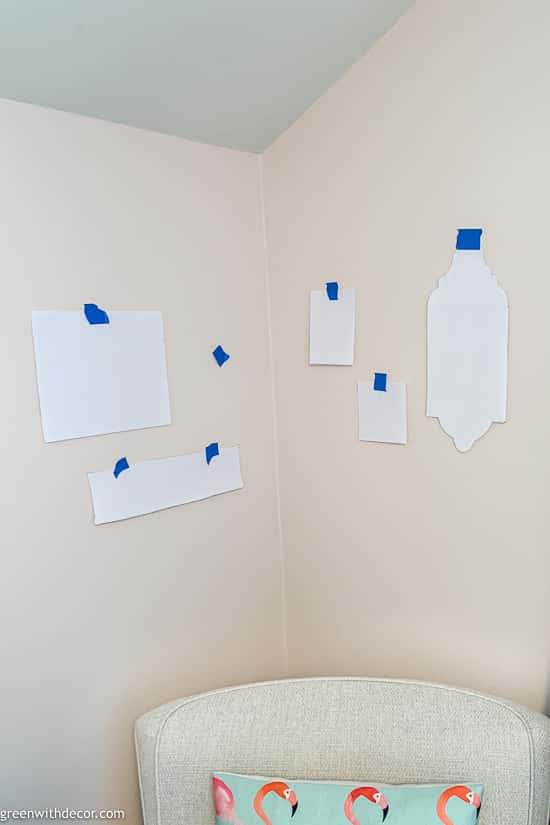 I always do this whenever I'm hanging gallery walls. It makes the process SO much easier!
Use painter's tape to hang up your pieces of paper so you it won't take off any of the wall paint when you remove it.
3. Hammer your nails into the wall for each mirror.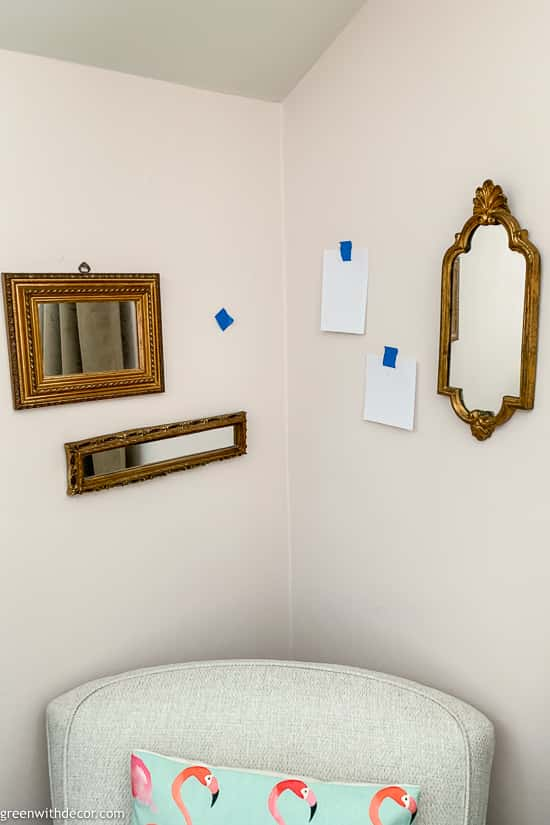 Take the paper down.
4. Hang up each mirror!
Easy, right?!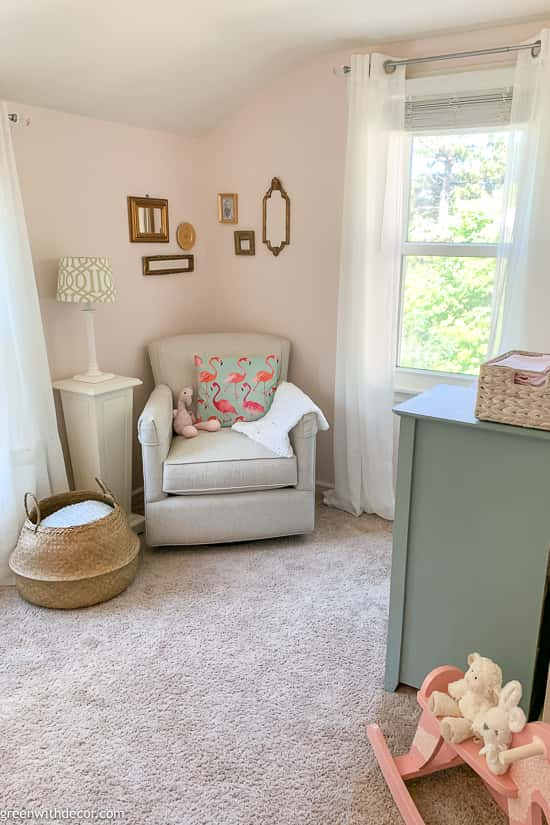 I love this mirror gallery wall idea. It's such a fun way to use old mirrors.
Have you done any mirror gallery walls?
GET THE LOOK:
Since a popular question I get is "Where'd you get that?!," here are links to the same or similar sources:
For more gallery wall ideas, check these out:
Stay tuned for more nursery progress. Almost done!
Remember to bookmark or pin this post if you want to save it for later!


Pin it!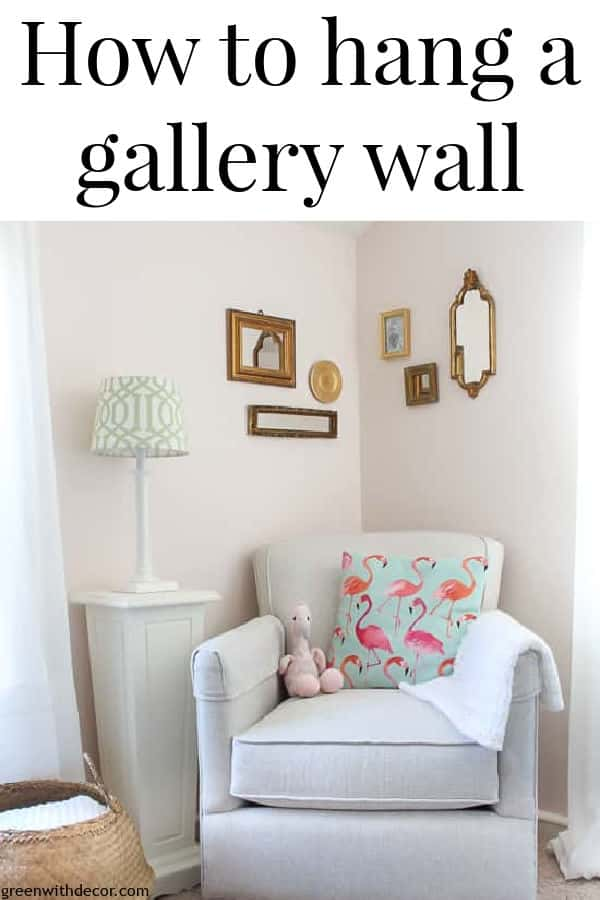 Want to read more posts like this?
Follow along: Get my emails | Facebook | Pinterest | Twitter | Instagram