Disclosure: This post is sponsored by Rug Pad Corner. All opinions, images and love of rug pads are 100% mine. 
We bought our family room rug over a year ago, but we got our puppy Oakley a couple months later so the rug sadly sat rolled up in the basement for awhile till we were sure Oakley was house trained.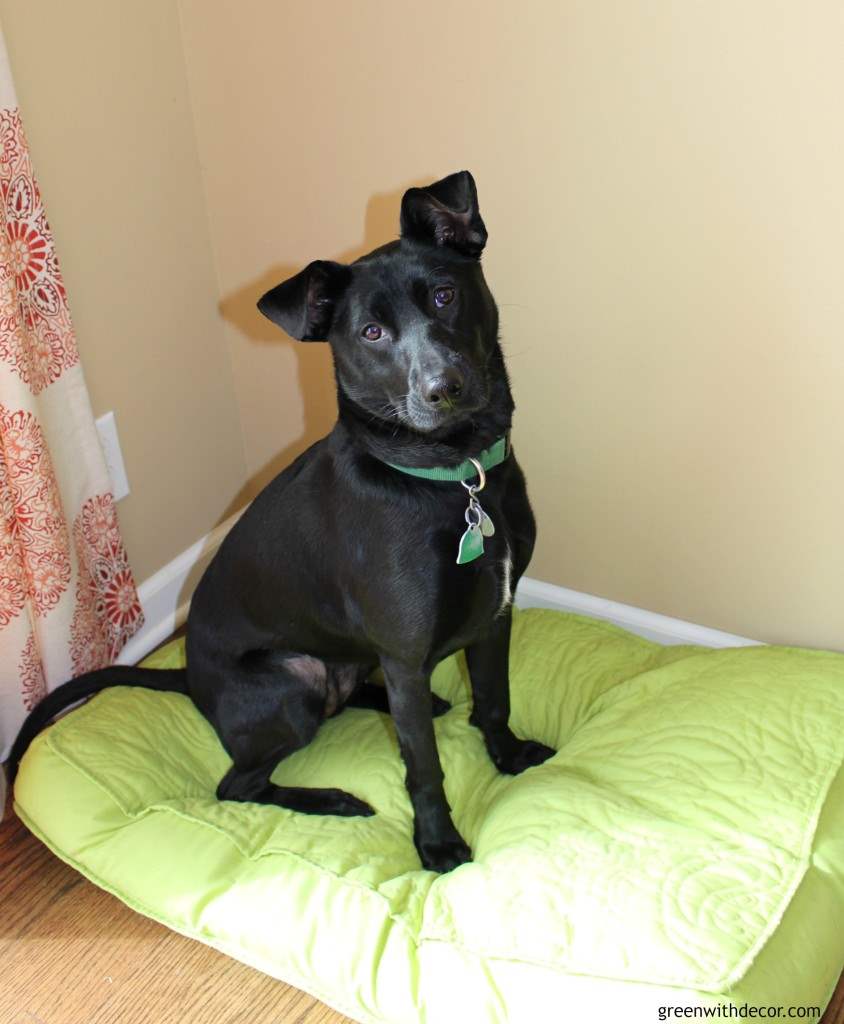 I knew we'd probably need a rug pad, but I put it off since we weren't using the rug.
We reached the point with Oakley where we were comfortable putting the rug back down in the family room. I was way too excited to put the rug back down. Oakley's cute and all, but a girl needs a rug.
It makes the family room feel so much cozier. Here's the most recent picture of our family room. Ignore the shamrocks on the windows. Sadly, St. Patrick's Day is over, so those are taken down and put away till next year.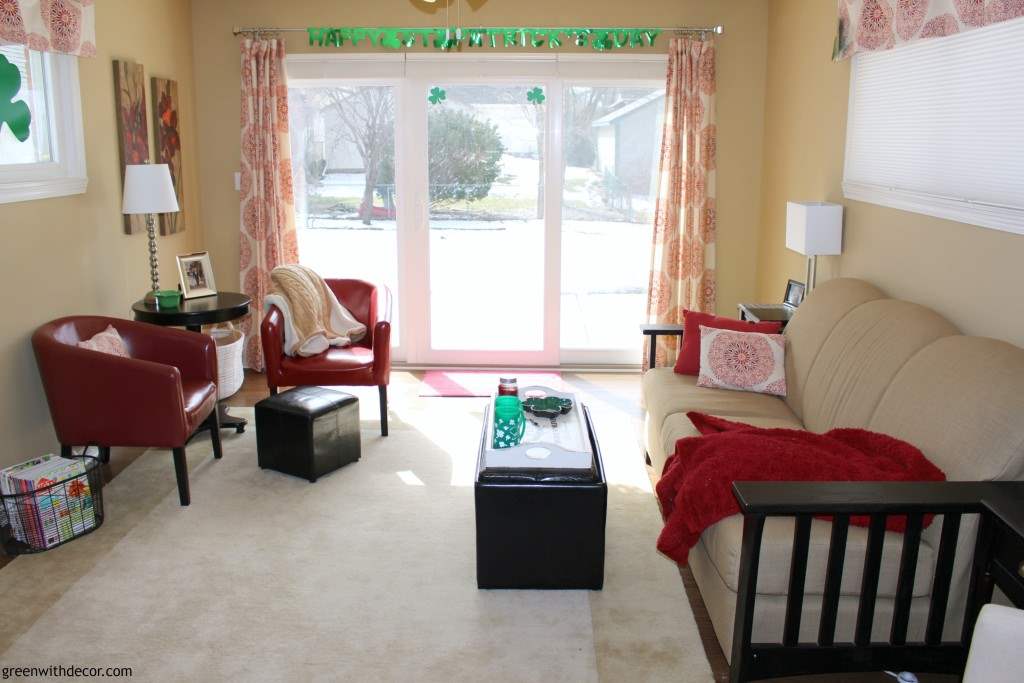 So I decided it was probably time to look into a rug pad. I wasn't 100% certain we needed one, but everything I read recommended a rug pad to protect your floors.
After some research, we went with the Superior Thick Felt Rug Pad from Rug Pad Corner. If you're looking for a rug pad, I have a discount code to Rug Pad Corner from my readers; scroll down to the end of the post to grab it.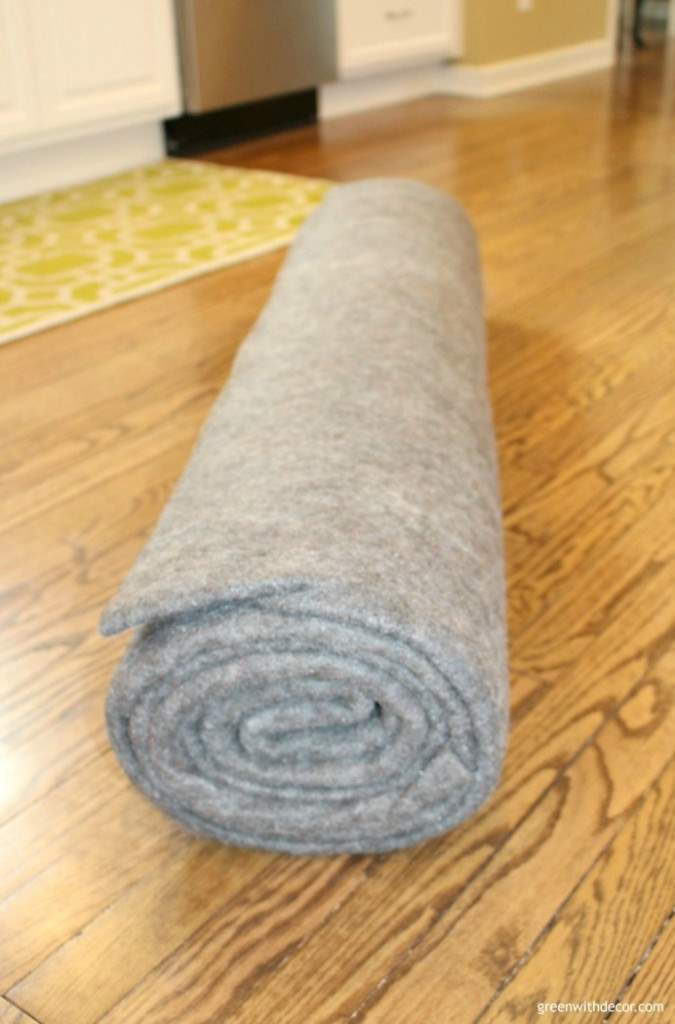 As long as we were researching rug pads, we also decided to get a Super Hold Rug Pad for the small rug in our kitchen in front of the sink. It was slipping a bit on our hardwood floors.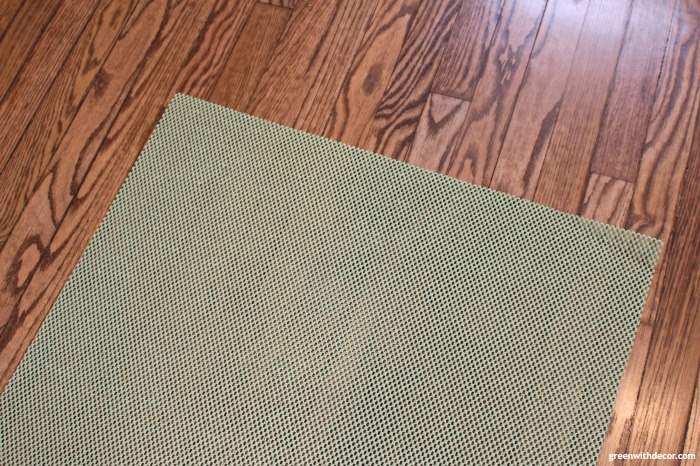 It's an indoor/outdoor rug so I'd guess the rug would be fine outside on a patio or deck, but it's probably best paired with a rug pad for indoor use.
Oakley tends to slip on the rug, too. She likes to chase ice cubes around the kitchen floor. It's entertaining to watch her run around, but she was slipping on the rug more and more.
I love the look of the rug and wasn't going to get rid of it, so we figured a rug pad was a good solution.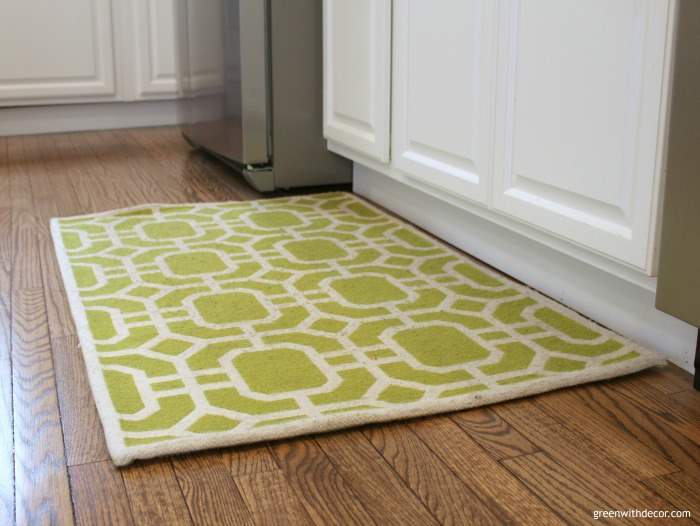 If you're debating if you need a rug pad like we were, odds are, you do.
Rug pads stop rugs from slipping.
Our family room rug is big (8'x10'), and we've never have any slipping issues with it, so a felt rug pad made sense for us in there.
Here's the rug pad rolled out. Oakley was instantly a fan.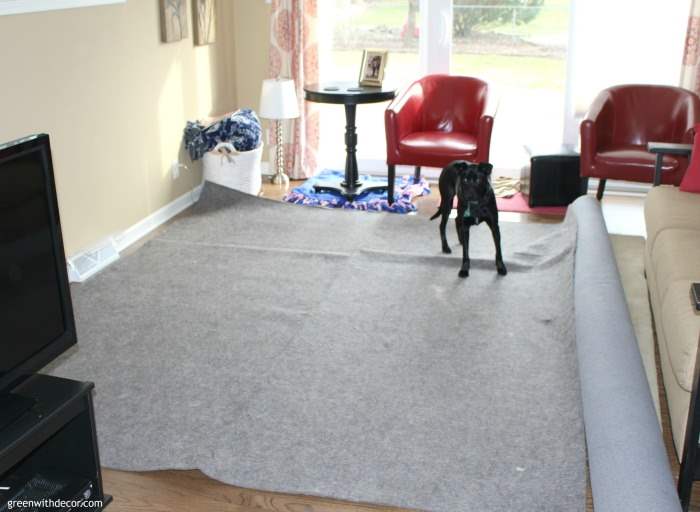 Given the slipping issue in the kitchen, we needed a non-slip rug pad in there.
Rug pads protect your floor.
I wasn't 100% convinced we needed a rug pad to protect our floor, but it turns out you do. On top of protecting the floor, rug pads also protect your rugs.
We have no plans to replace our floors – or even our rugs at this point – so I'm all for anything that prolongs the life of our floors.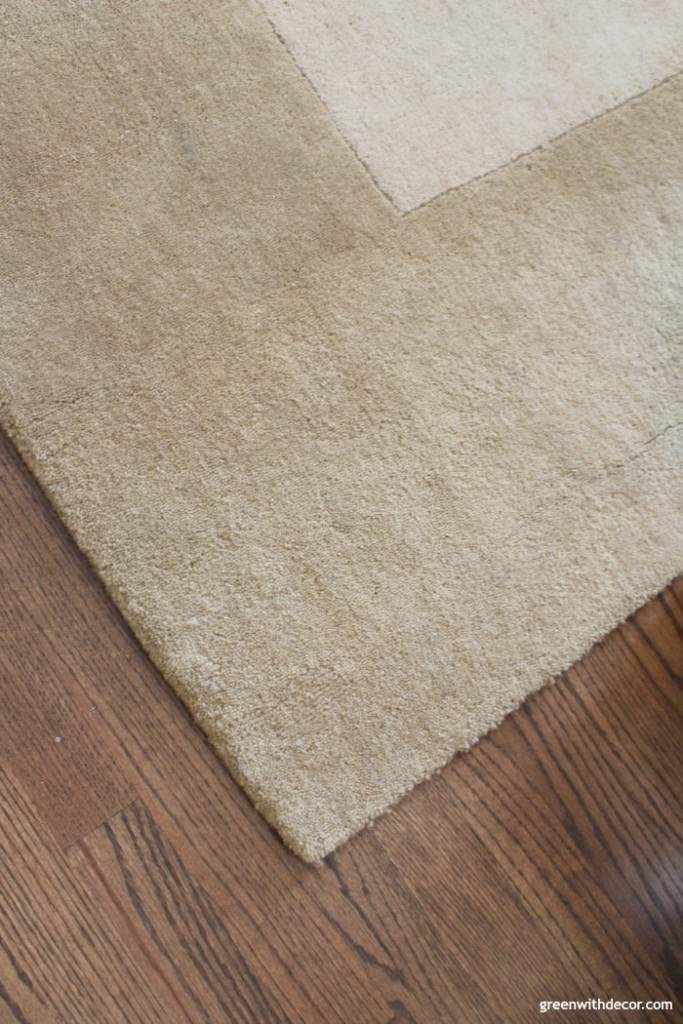 Rug pads also prevent furniture legs from leaving indents on your floors. We have the legs of our red chairs and our end table on the rug in our family room, so that was a factor for us, too.
Rug pads are comfy.
The Superior rug pad comes in 1/4" or 3/8" thickness levels. We went with the 3/8" so it'd be more comfortable. You don't even notice it under the rug.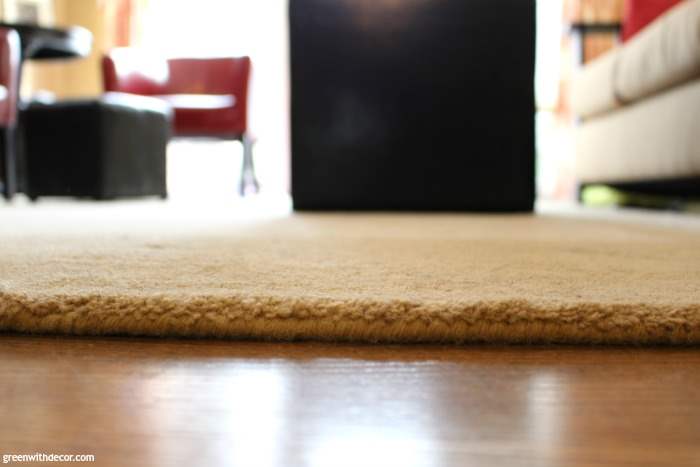 I couldn't believe how much more comfortable our family room rug was with the Superior rug pad underneath it.
I'm always freezing and pretty much have slippers on my feet at all times from about October through April. Even with my slippers on, I noticed a huge difference after we put down the pad.
It's so comfortable!
Oakley seems to like it, too. She's lying on the rug even more than usual.
Since the rug in the kitchen is so small (4'x6'), we went with a thinner rug pad (1/8" thick). It's not quite as comfortable as the Superior rug pad, but it's still pretty comfortable, which is great for when we're standing at the sink washing dishes.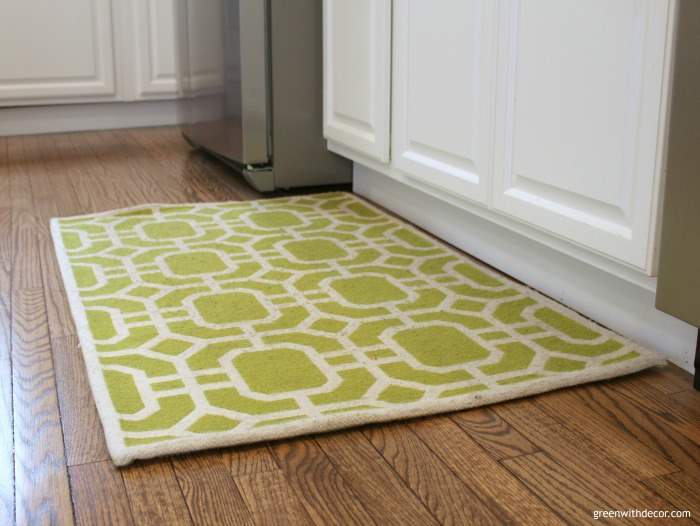 Rug pads can be organic.
With all the recent news stories about scary chemicals, I pay more attention to what we're bringing into our house than I used to. Rug Pad Corner doesn't use any chemicals, glue or adhesive in its rug pads.
The Super Hold rug pad is made in the U.S. with 100% natural rubber. We've used various rug pads under smaller rugs in the past, but they often seem to stick to the floors. The Super Hold rug pad doesn't contain any additives and isn't sticky at all.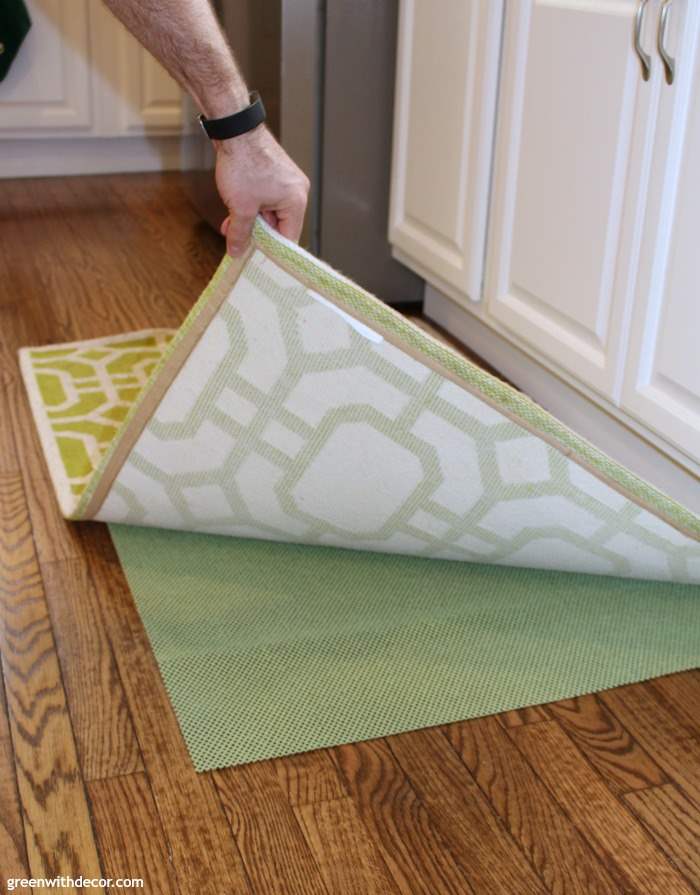 This post contains affiliate links. This means if you click the link and buy something, I may receive a small percentage of sales at no extra cost to you. 
We've had both rug pads down for about a month, and we've been happy with them. I mean they're protecting our floors and comfortable to walk in, what's not to love?!
So we can cross rug pads off the list, which is always a good feeling. Now I just have to find an area rug for the living room.
Are you looking for a rug pad? My readers can use "REVIEW15" for 15% off your entire order form Rug Pad Corner.
GET THE LOOK:
Since a popular question I get is "Where'd you get that?!," here are links to the same or similar sources:

Want to read more posts like this?
Follow along: Get my emails | Facebook | Pinterest | Twitter | Instagram | Google+