Disclosure: This post is sponsored by Chesapeake Bay Candle. All opinions, images and love of delicious smelling candles are 100% mine.
I found the best candles for summer!
I'm usually pretty picky about scents, and this pregnancy has definitely taken that to a whole new level – most scents just bother me to the point now that I'd rather have everything unscented. (And spices while cooking just drive me crazy lately!)
But I love having candles around the house, so I was determined to find some that wouldn't make me sneeze.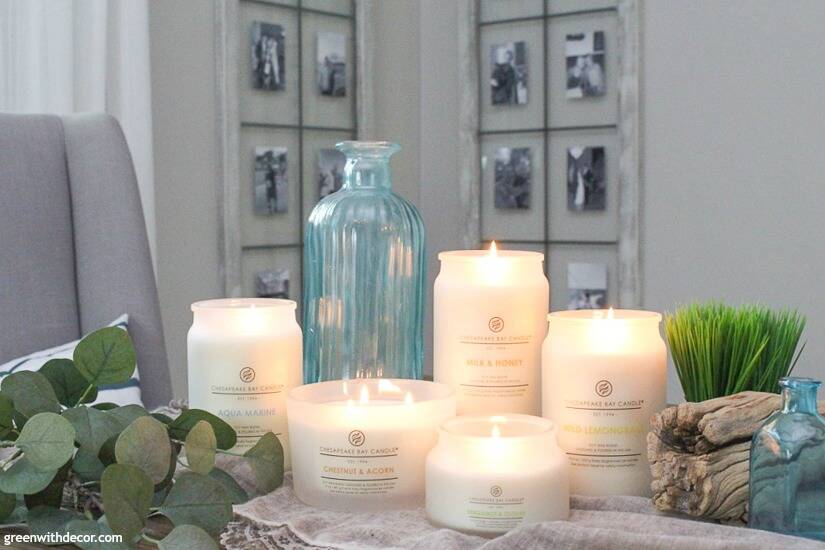 Good news, of all the scents I've tried from Chesapeake Bay Candle's Heritage Collection for summer, none have bothered me or made me all stuffed up! Such a win.
I like their Heritage Collection because it focuses on natural, rustic scents rather than anything too sweet.
Bonus, their neutral candles are pretty. I seriously love the frosted glass jars they come in, and even the wood lids with the twine are cool. They're perfect for the coastal rustic vibe we have going in this house.
We've had candles from Chesapeake Bay Candle before (remember their fall candles I love?), and I kept the old candle jars for some future craft projects because they're just too pretty to throw away. (Yep, my glass hoarding has extended beyond wine bottles and sauce jars, send help!)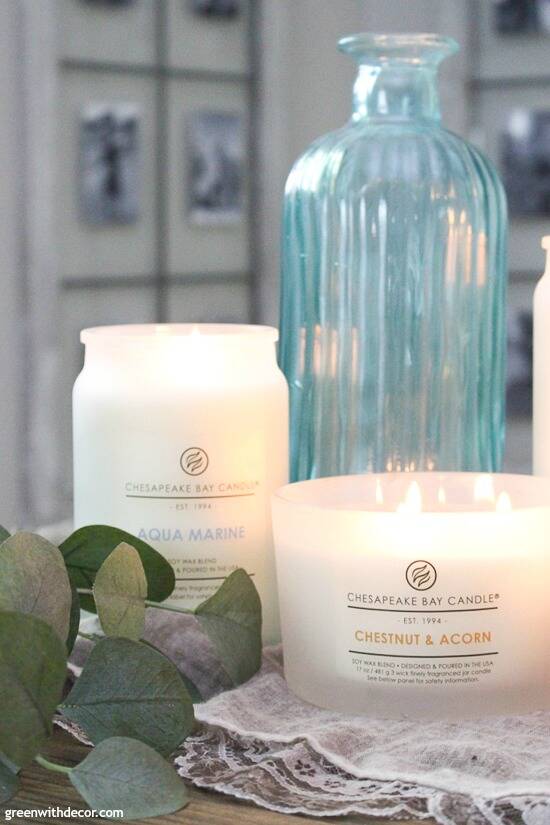 This post contains affiliate links. This means if you click the link and buy something, I may receive a small percentage of sales at no extra cost to you.
So far, we've tried five scents from Chesapeake Bay Candle's Heritage Collection for summer: Chestnut & Acorn, Aqua Marine, Bergamot & Clover, Milk & Honey and Wild Lemongrass.
We had the Chestnut & Acorn candle back in the fall, too, and it's one of my favorites so of course I needed another one.
It has notes of roast chestnuts, brown sugared pecan, cinnamon, nutmeg and walnut. Yum, right?!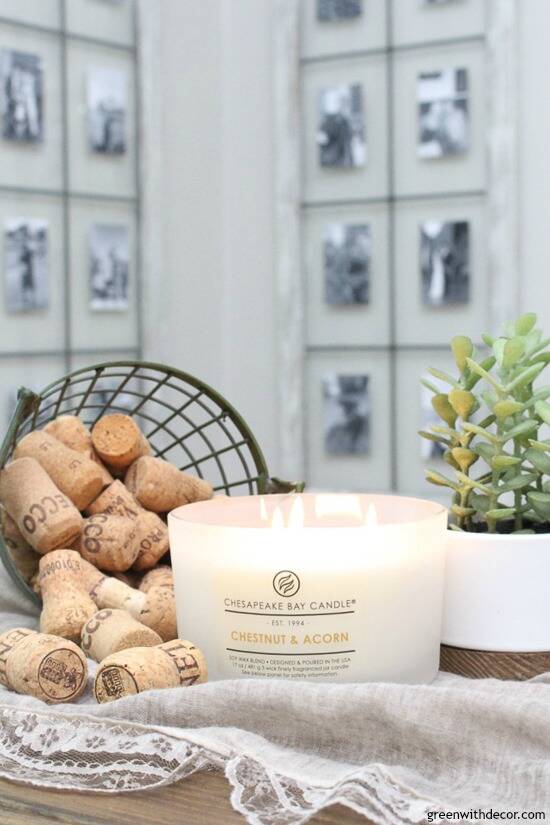 GET THE LOOK: Green basket | Scarf | Faux plant | Windows turned picture frames (DIY)
I was curious about the Aqua Marine candle since the name gives it the potential to go in a few directions. It has hints of bergamot, lemon zest, marine accord and pineapple – so perfect for summer! If you can't go to the beach, at least you can light this candle and pretend.
I love the blue text on the candle next to our aqua glass jar.

GET THE LOOK: Rope sphere
The Bergamot & Clover candle really makes me feel like it's time for a summer vacation with its mix of bergamot, citrus, lemon, lime, orange and verbena.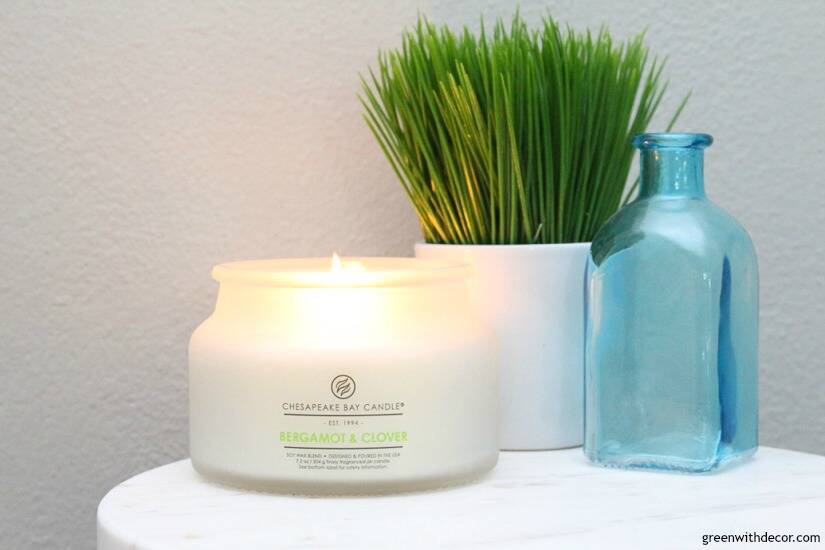 GET THE LOOK: Aqua bottle | Cake stand
When I was looking through the summer scents to pick out some new candles, I was probably most curious about the Milk & Honey. I mean what can milk smell like?
The candle has scents of white freesia, bergamot, honey blossom, honey-soaked almonds, Tonka bean, milky vanilla, rice flower and acacia – it's good!

GET THE LOOK: Palm pillow cover | Faux driftwood
The Wild Lemongrass candle is perfect for summer, too. It's a mix of sparkling verbena, lavender, cool garden mint, lemongrass and eucalyptus. It just smells like a relaxing summer day.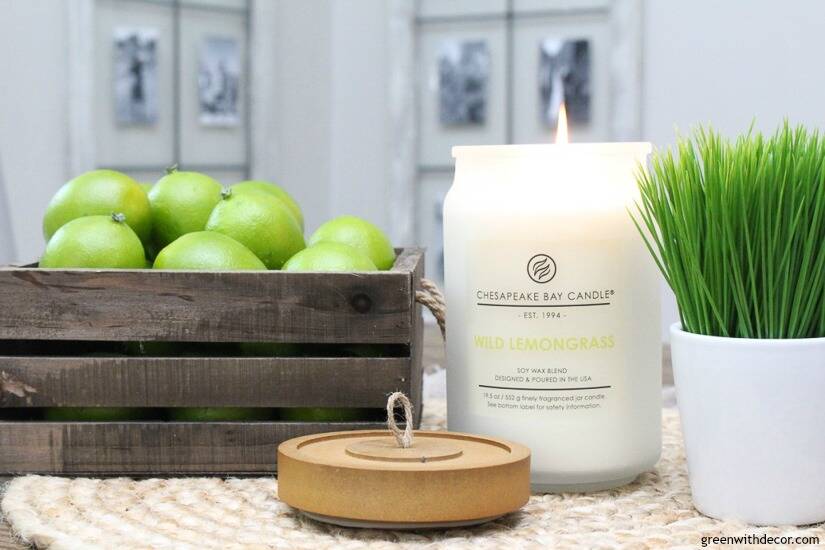 GET THE LOOK: Jute placemat
The frosted glass jars come in different size options (large, small or the wider coffee table size like the Chestnut & Acorn candle pictured above) or tin containers if you want something a little more industrial looking.
Aside from the fact I can light the candles without sneezing, I love that they're all neutral colors no matter what the scent so they easily flow with other decor in the house.
I hate when you find a scent you love, but the candle color totally stands out from everything else you have in the room!
You can see more of the Chesapeake Bay Candle Heritage Collection on Amazon. (They're currently working on their website, but Amazon stocks their candles, too.)
What are your favorite neutral candles for summer?
Remember to bookmark or pin this post if you want to save it for later!


Pin it!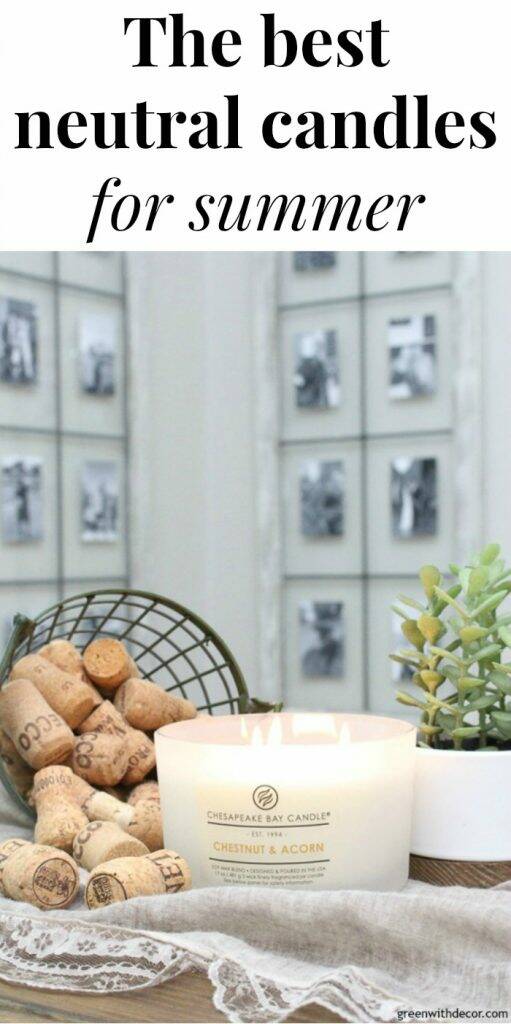 Want to read more posts like this?
Follow along: Get my emails | Facebook | Pinterest | Twitter | Instagram