This neutral rustic bedroom design plan incorporates easy ideas for a pretty bedroom makeover.
Pretty sure this happens to all of us … we have big plans to whip a bedroom into shape and get it all decorated, and then other more important rooms like the kitchen, dining room and living room take over.
At least, it always seems to happen to us. Bedrooms just take a back seat around here.
If you recall, one of the bedrooms at the rental was this lovely shade of brown when we got the house keys: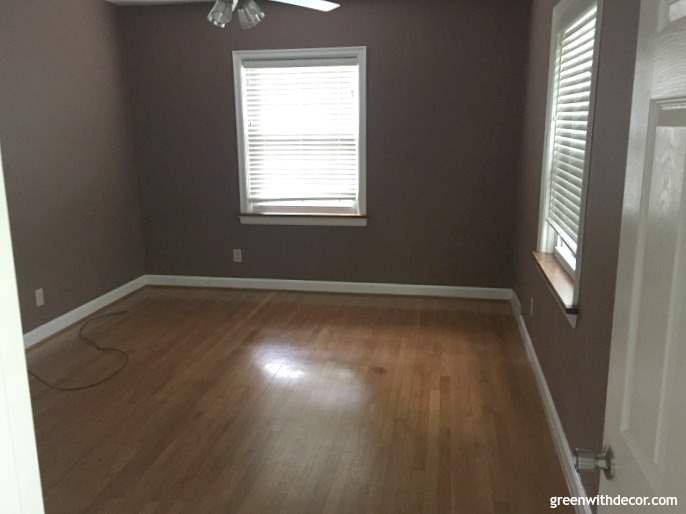 Wow, right?!
That's gotta go.
And here's another view just for cringe-worthy fun: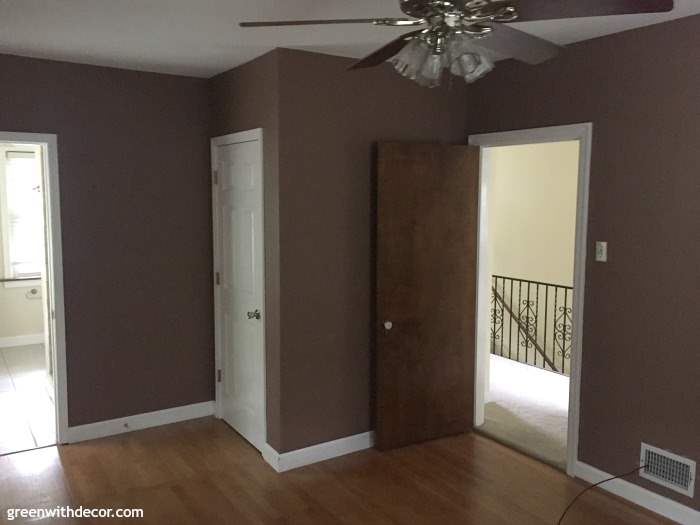 We painted the walls Agreeable Gray. Big surprise, that color is alllll over the walls in this house.
As for the rest of the room, I've had some design thoughts swirling around in my head and thought I'd share so you guys can follow along with decorating progress!
This bedroom makeover is on the easy side, which is always a win in my book. It's a mix of painting, shopping our house and shopping for a few new pieces, and an easy DIY or two. Basically the way room makeovers typically go around here!
We're going for a rustic, neutral calm vibe.
This post contains affiliate links. This means if you click the link and buy something, I may receive a small percentage of sales at no extra cost to you.
Neutral rustic bedroom design plan:
Click any of the images below for more info. (You might have to double click on mobile.)


To dive into a little more detail:
Comforter:


I've long wanted an all white bedding set, and I finally bought one!
We've had our new white bedding for a while, and we just love it. It feels so crisp and clean.
Bonus, if you don't make your bed every day (guilty), if everything is the same color, it somehow still looks put together even when it's a bit of a mess.
Headboard:


We actually don't have any plans for a headboard in here, but I thought I should mention it since that's usually a factor in a bedroom makeover, ha!
Furniture placement was kind of limited in here so the bed's in front of the window, which isn't my fave. (Personal preference, I know some people like it there.)
We have plans to DIY (or perhaps buy with a baby coming) a headboard in the future. Something like the ones pictured above.
But we'll just wait till we move again with the whole window situation going on in here.
Throw pillows:


Because of course, pillows! Can you ever have enough?! Nope.
This green and white pillow is new, I love the dots.
Blanket:


This throw blanket is one of my faves (and it doesn't cost much!). It tends to travel around from room to room. It's perfect for tying in green and white in here.
Nightands: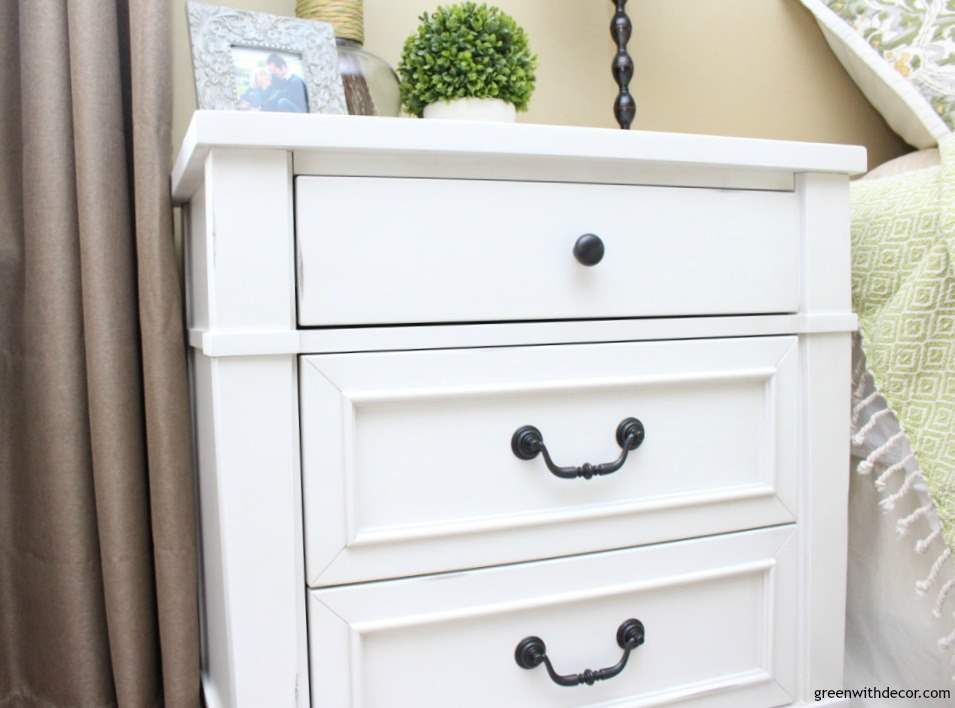 We've had these nightstands for a year or two, and we love them.
Rug:


We had this rug in our living room in our Milwaukee house.
One of my favorite things about decorating is shopping your own house. It's fun how pieces can work in different rooms and make it feel like you bought something new even when you haven't!
I love this rug because it's green and still pretty neutral. It adds some coziness to the floor in here.
I know everyone loves hardwood floors everywhere, but I gotta say, I love me some carpet in the bedrooms. My feet are always freezing and I'd rather step onto a rug or carpet in the morning.
Blackout neutral curtains:


These are the curtains from our other bedroom, and guess what?! We're totally breaking a design rule here.
The curtains aren't long enough for these marvelous tall ceilings (you may have missed those in the pictures above if you were focused on the brown paint!). But we already have them, they look great and the blackout thing is awesome, so we're going with them.
Plus with the one curtain on the window behind the bed, you really can't even tell it's not long enough to just perfectly hit the floor like curtains should. (So that's one point in favor of putting a bed in front of a window!)
Curtain rods:


I fully admit, I have an obsession with these crystal curtain rods, but they're so pretty and cheap!
They instantly add some glam to any room no matter what your decor style. (I'd hardly say my style is glam!)
Artwork:


Okay, this isn't the artwork I'm buying, but this is the closest thing I could find to show you guys some sort of picture of what I'm imagining in my head.
I'm working on a little DIY wall decor project that I'll be sharing soon. It's white and dark bronze (without writing like this one has). Stay tuned!
I'm also trying to figure out some small artwork for the walls above the nightstands, but I can't really decide what I want to do. Either something tall and narrow to fill the space or some sort of small gallery wall. More to come!
Old window:


Omg how perfect is a rustic old window?! I looooooove it.
I bought one from a local home decor store, but I found similar options online here, here and here if you want one, too!
Lamps:


We're using lamps and lampshades we have for now. I'm kind of on the lookout for new lamps, but these will work until I can narrow down what exactly I'm looking for.
Ceiling fan:


The ceiling fan in here is um, OLD, so we're looking at replacements. I have a few favorites I'm considering. Did you know there are SO many affordable modern options these days?!
It makes shopping for a ceiling fan actually fun. Weird, right?! I'll share our top picks soon once we look a bit more.
And that's what we're thinking in terms of a neutral rustic bedroom.
Are you planning any bedroom makeovers? What's on your must-have design list?
For more bedroom design ideas, check out these posts:
Remember to bookmark or pin this post if you want to save it for later!


Pin it!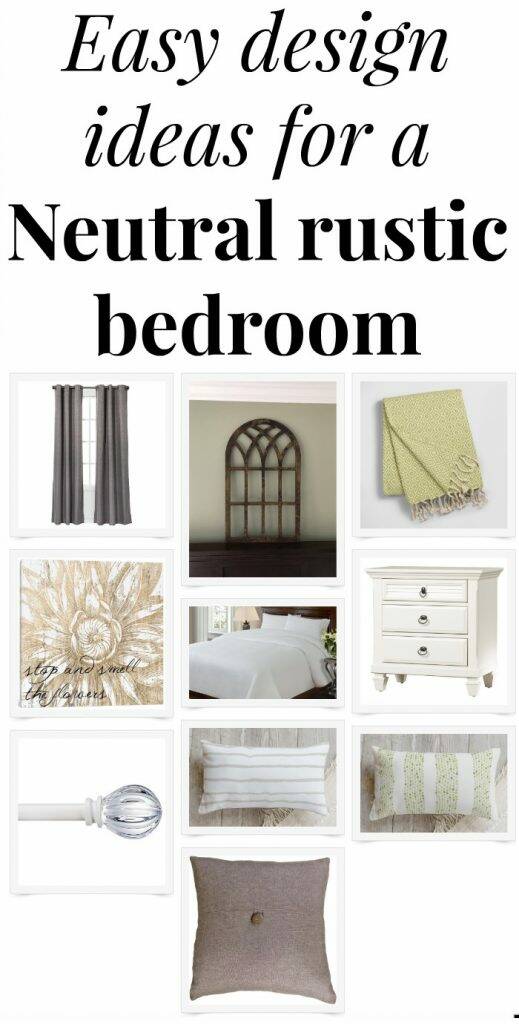 Want to read more posts like this?
Follow along: Get my emails | Facebook | Pinterest | Twitter | Instagram