Disclosure: I received one free copy of Bre's ebook, The Blogger's Guide to Copyright and Trademark Law, to review. All opinions in the below blog post are mine. 
Today's blog post is for my blogging friends. For my decorating and renovating readers, this probably won't interest you, but I'll be back soon with an easy bathroom project!
The blogging community is really fabulous. We all help each other so much, answering each others' questions about everything from website hosting and how often to post on Facebook to working with brands and copyright issues.
Everyone brings something different to the blogging community, which makes it really cool. Even within the home decor niche, there are lawyers, teachers and marketing pros writing blogs. It's fun to hear everyone's perspective, because we all have such different backgrounds.
Note: This post contains affiliate links. This means if you click the link and buy something, I may receive a percentage of sales at no extra cost to you. Thanks for supporting Green With Decor!
Which is why I was excited when Bre of Average But Inspired emailed me a couple months ago to tell me she (a lawyer) was writing her own ebook, The Blogger's Guide to Copyright and Trademark Law! And today is launch day!
Bre is offering a special bonus to those who buy between today and May 17. Scroll down for more details on the bonus.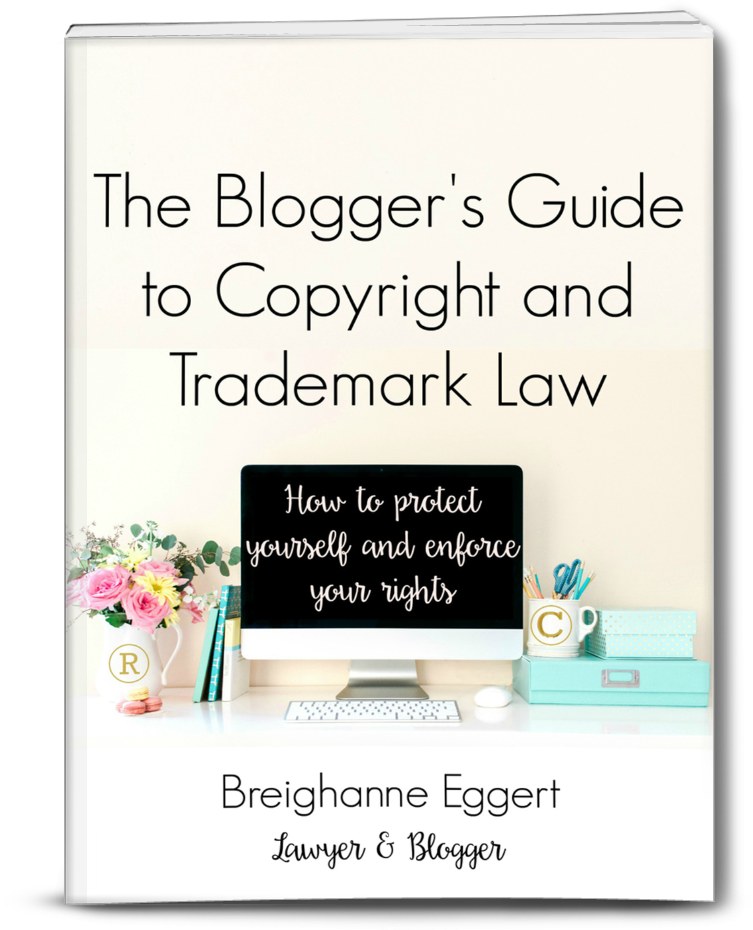 If you want to receive emails I send just to bloggers with blogging tips and tricks, sign up here!
Bre's ebook covers a lot of the basics of copyright and trademark law in an easy-to-understand manner. For those of us without a law degree, this is helpful!
It can seem easier to just look the other way when it comes to all these scary legal issues, but in reality, that's not a solution. We work HARD to build our blogs and create awesome content, so we should work hard to protect them, too, right?! Right!
Bre shares great examples from bloggers who (unknowingly) violated copyright law and got in trouble because of it. Ugh! Don't let this happen to you! It just turns into a huge headache. As bloggers, we have enough to do without dealing with any legal issues.
I was taking notes while I was reading the book and then realized Bre has an awesome checklist for us at the end of her book. Not only is the book helpful, but she put our to-do list together for us! How great is she?!
Without giving too much away, a few highlights of the book include:
The difference between copyright issues and trademark issues
Clarity on using images in gift guides/shopping guides
Direction on how to handle knock-off posts
Insight into copyright laws on photos of public buildings (especially helpful for those who recap vacations they've taken on their blog)
Clarity on font usage
Direction on what disclaimers to use when offering your readers a free printable
What to include in your blog footer to protect yourself
A glossary to familiarize yourself with all those legal terms
Learn more or buy your copy of The Blogger's Guide to Copyright and Trademark Law here!

Want to read more posts like this?
Follow along: Facebook | Pinterest| Twitter | Instagram | Google+