Disclosure: This post is sponsored by Steinhafels. All opinions, images and love of pretty furniture are 100% mine.
Usually it seems like bedrooms take a back seat on the decorating around here, but somehow we've managed to make awesome progress on our bedroom!
We've been wanting a headboard for… hmmm… ever and never made any progress on one. We talked about DIYing one (remember my blog post from when we moved back in our house?) and never quite had the time.
Which actually worked out quite well, because we just got this beauty from Steinhafels!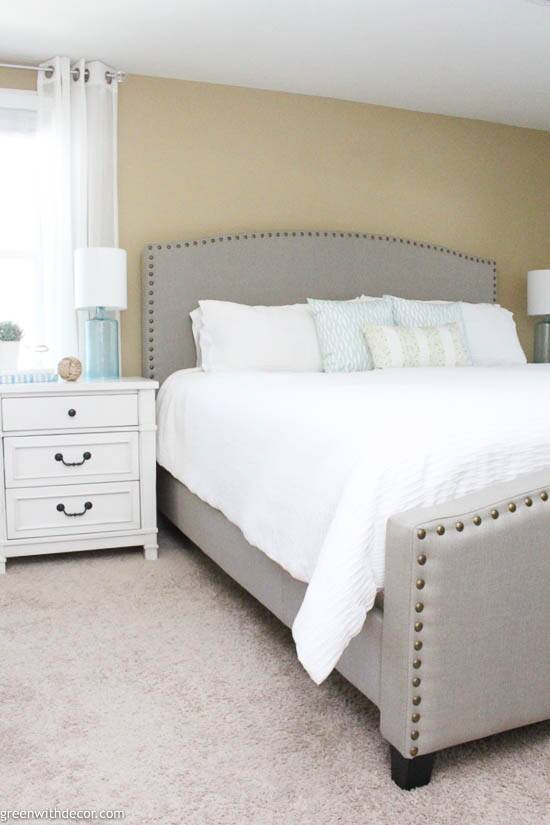 Isn't it gorgeous?! It seriously makes me happy every time I walk in our room.
It's amazing what a headboard can do to make your room feel FINISHED! It just feels like we finally have a grown-up bedroom, haha!
We've been making over the room in phases, and somehow the headboard is the piece that really feels like the room is finished.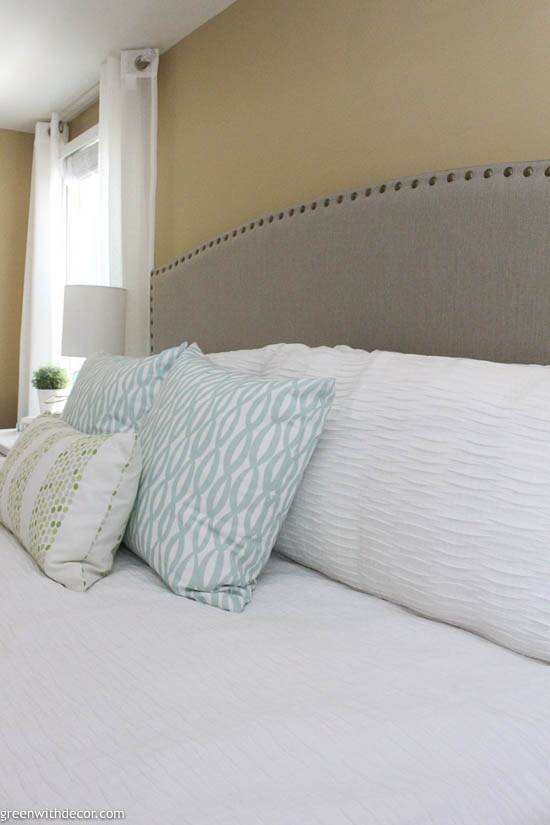 This post contains affiliate links. This means if you click the link and buy something, I may receive a small percentage of sales at no extra cost to you.
Even though it isn't actually … we're still thinking about artwork. I bought this piece for above the bed, but now there's not room for it. But I really like it so I'm not returning it! I'm thinking we can hang it over in that far corner next to the window.
Over time, we've managed to transform this room.
Proof that sometimes room makeovers can take years, and months can go by without any progress, but hey, buy a headboard and suddenly the room feels complete!
A reminder the room started like this: (I can't resist a good before and after!)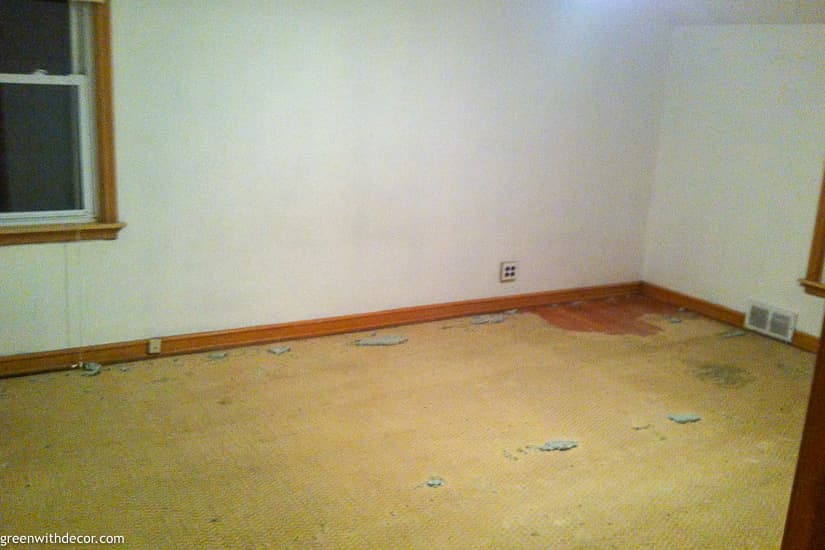 And now: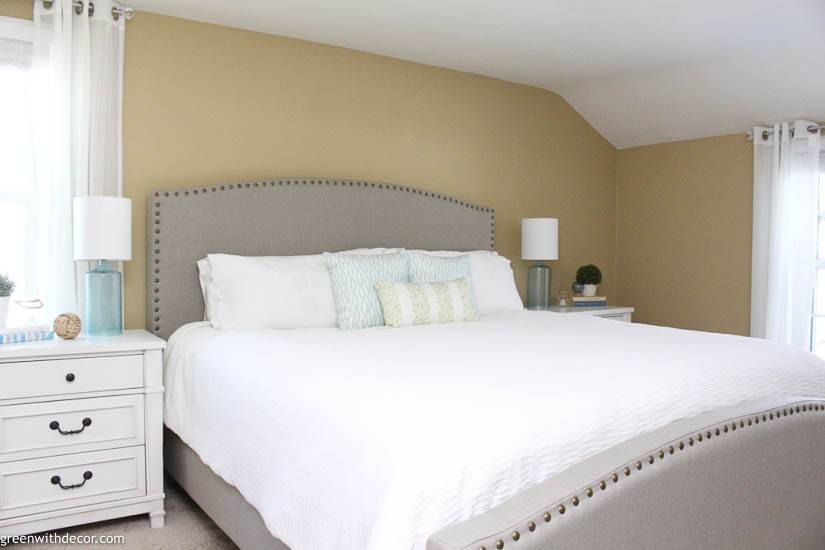 In five years, we've:
Painted the walls (Camelback by Sherwin Williams), trim and doors
Replaced the carpet
Got new all white bedding (I LOOOOOVE the all white look!)
Got new nightstands – with more storage! (also from Steinhafels – find them here!)
Switched the table lamps (just within the last month. We got these and love them!)
Replaced the shelving in our closet to maximize storage (I just realized I never blogged about that – adding that one to my list!)
And now, a new headboard!
We got the Kerstein Headboard. We looked at the Megan Headboard and Dekland Headboard, too, which are also pretty options (and similar looking to the Kerstein). Something about the upholstered look with the nailheads just gets me!

I liked the shape of the Kerstein best though.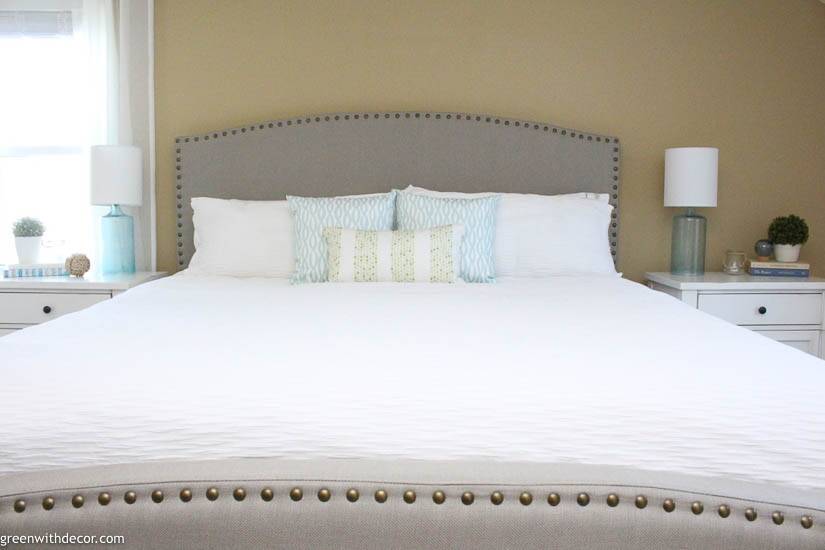 And somehow having the headboard is encouraging me to make the bed again every day. I think because the footboard manages to hold all the covers in at the end, it's easy to just pull them up. Amazing how much nicer your bedroom looks with the bed made, right?!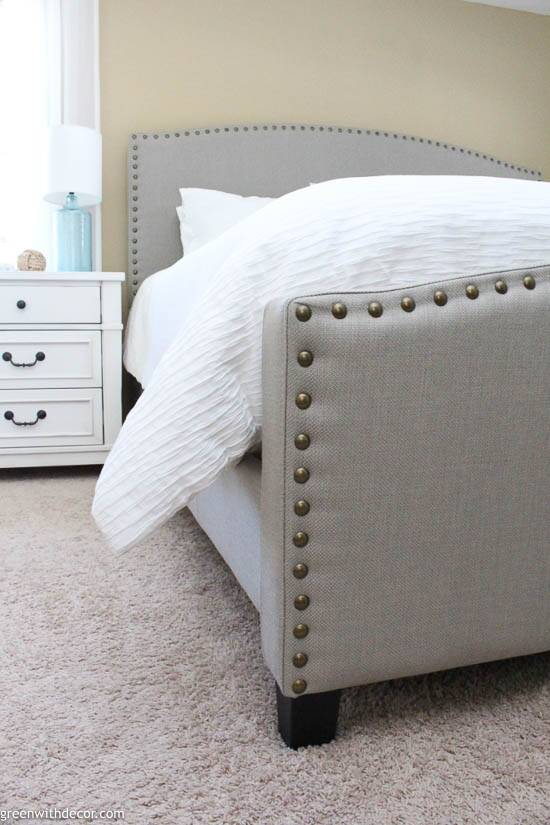 Our room is a pretty good size, but I was a little concerned about extending the length of the bed (since the headboard would add a few inches at the head and foot) since we have our TV stand across from our bed.
But the addition of the head/footboards is such a minimal increase, we barely notice it at all. Just thought I'd mention that in case you're wondering the same thing!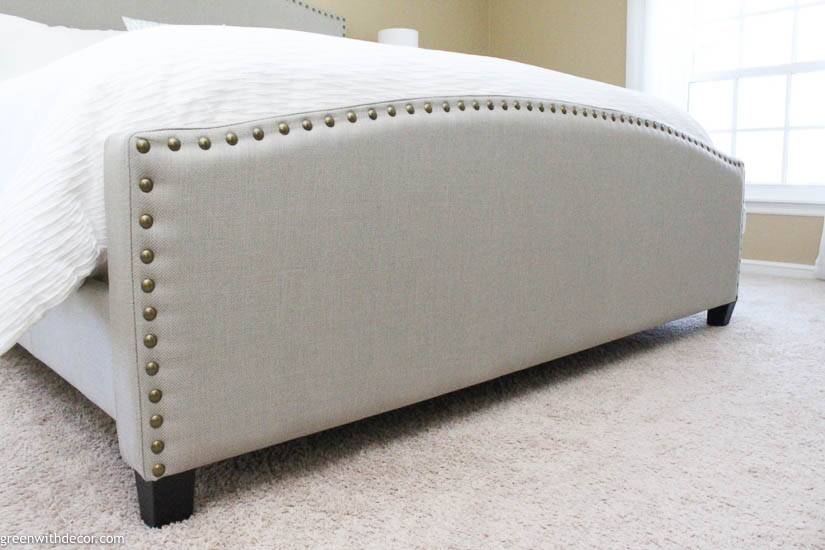 Speaking of length, this thing just *barely* fit in my car! A big shout out to the Steinhafels team who loaded it up for me and made sure all was secure before I drove home with it!
The Kerstein bed was relatively easy to put together, although having two people definitely made a difference just so you have enough hands to set everything up.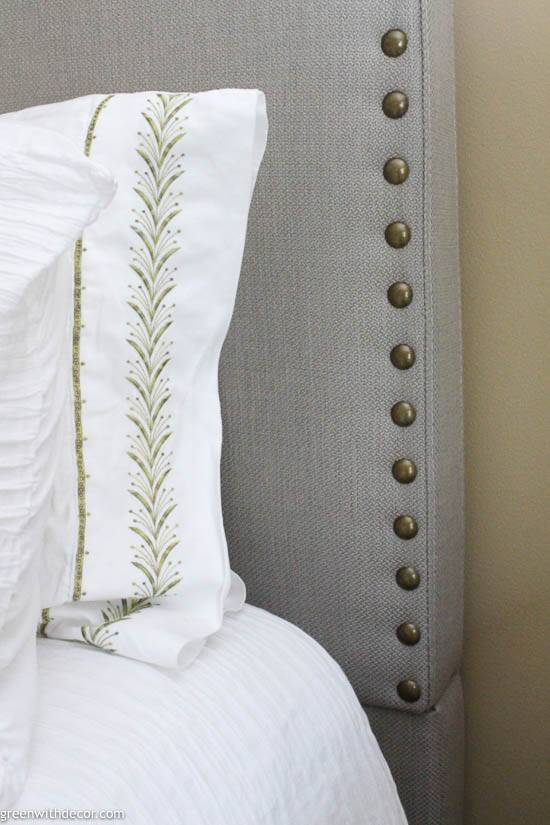 We're set on mattresses for the time being, but I thought I'd mention this in case any of you are looking. Steinhafels just launched their Dreams Luxe in a Box – literally a memory foam mattress you get in a box! It's such a convenient way to get a mattress home.
You can test it out in store of course. They look super comfy! You can see more on the Dreams Luxe in a Box here.
Still on the to-do list for our bedroom is:
Hang artwork – and I want to find something else for above our headboard
Mount our TV (it's currently across from our bed on an old furniture piece I eventually want to move to the playroom / basement rec room, which doesn't exist yet, ha! We're planning a basement renovation at some point.)
Hem the curtains (we used to have these blackout curtains in here, which I love, but I put them in our daughter's room to *hopefully* help her sleep and learn to nap. (My tutorial for how to hem curtains is here if that's also on your to-do list!)
I'm thinking we'll end up getting blackout shades in here so we can keep my favorite white curtains in here!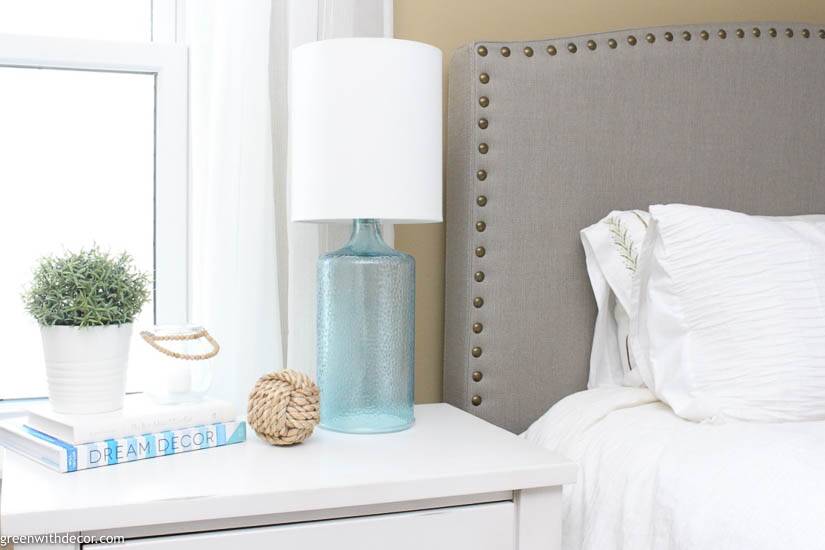 I also managed to completely go through all of my clothes and get rid of a LOT of them before putting everything away when we moved back.
It meant there were piles of clothes on our bedroom floor for weeks till I snuck in the time to go through them all, but it feels so good knowing I only have clothes in my closet that I'll actually wear!
Seems like we're finally almost done with our bedroom!
If you're also on the five-year bedroom makeover plan, I'd suggest jumping right to the headboard phase. It makes your room feel oh so finished, even when it's not quite there yet! 🙂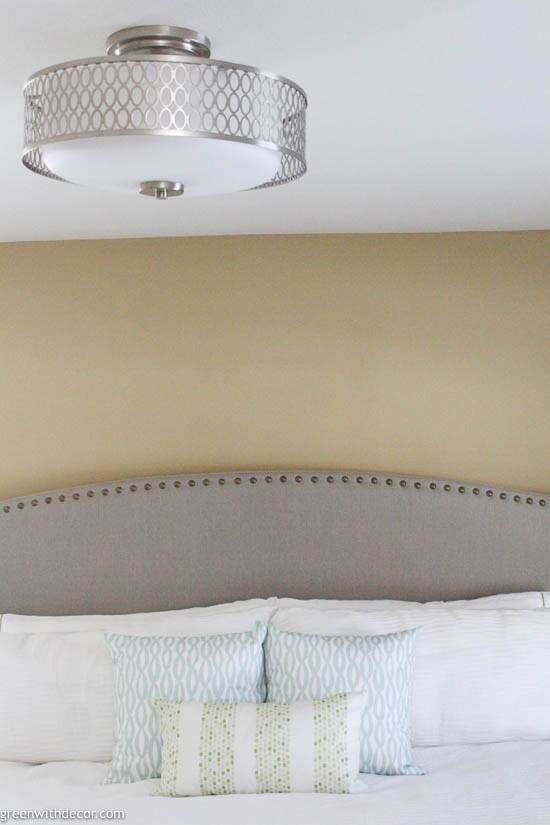 GET THE LOOK:
Since a popular question I get is "Where'd you get that?!," here are links to the same or similar sources:
If you're also working on a bedroom makeover, check out Steinhafels' website or visit one of their stores to see their headboards, nightstands, mattresses and more!
Remember to bookmark or pin this post if you want to save it for later!


Pin it!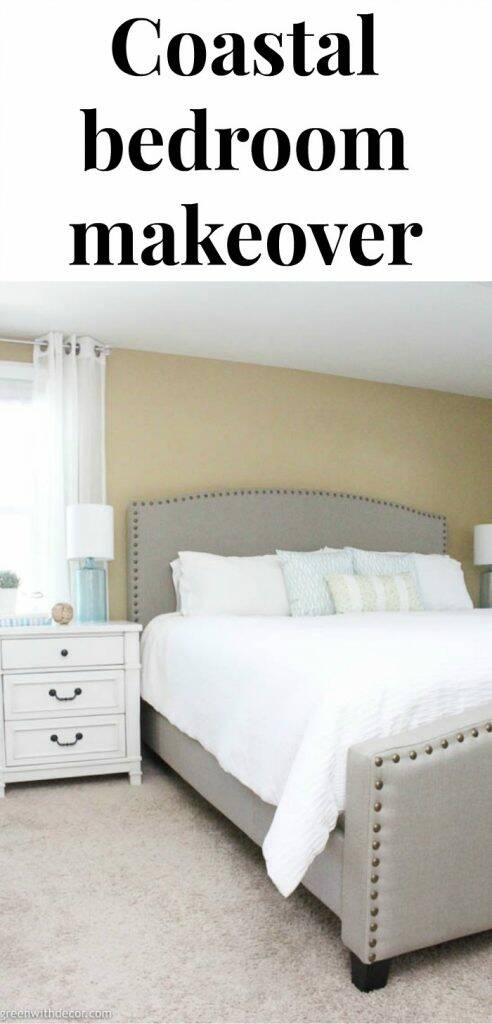 Want to read more posts like this?
Follow along: Get my emails | Facebook | Pinterest | Twitter | Instagram