Disclosure: This post is sponsored by Minted. All opinions, images and love of Christmas cards are 100% mine.
When it comes to any sort of decorating (even Christmas cards) around here, Kalen usually lets me run with whatever ideas I come up with.
But when I told him a few weeks ago that I was going to order the holiday cards, he said, "We're including, Oakley, right?" Haha, sure! We are both obsessed with her after all.
Somehow the only picture with both of us and Oakley is from the day we got her, which we put on last year's card. Which meant I was looking at card options with two photos so Oakley could have her own picture this year.
So along with my favorite picture of us in St. Lucia from earlier this year, Oakley is making an appearance on our Christmas card:
This post contains affiliate links. This means if you click the link and buy something, I may receive a small percentage of sales at no extra cost to you.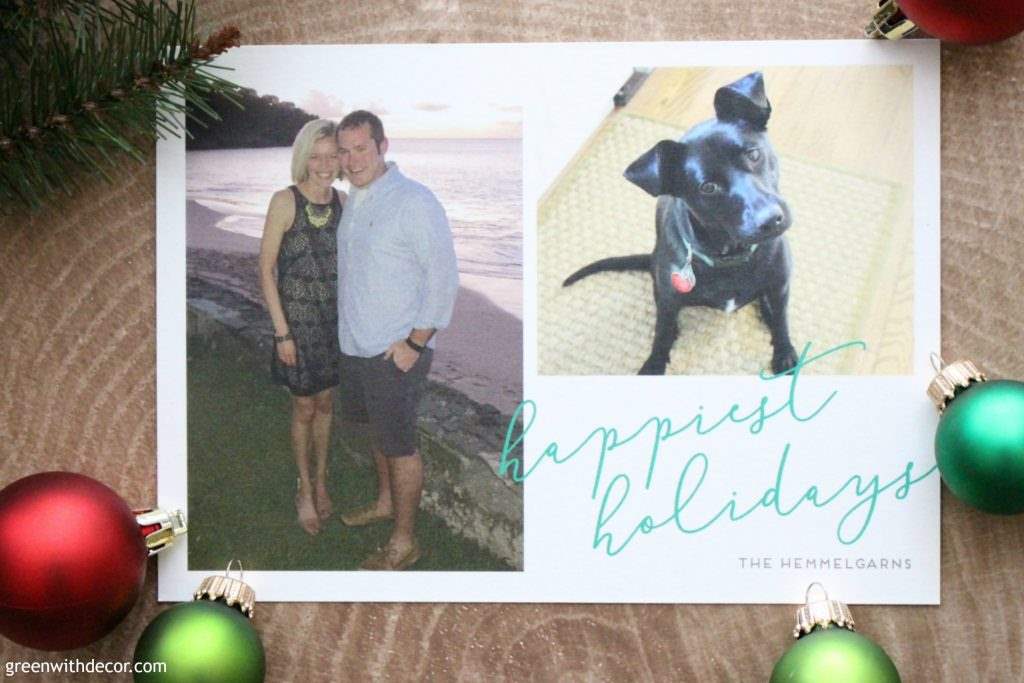 We got our cards from Minted. Their card options are gorgeous! This one's called the Twice As Happy, which seems like the perfect name for something that shows us at the beach and our favorite dog. Two of my favorite things. 🙂
If you still need to order your cards this year, here are a few of my favorites from Minted's new collection:
I tend to lean towards the cards with cursive fonts. They just seem a bit more fancy and festive.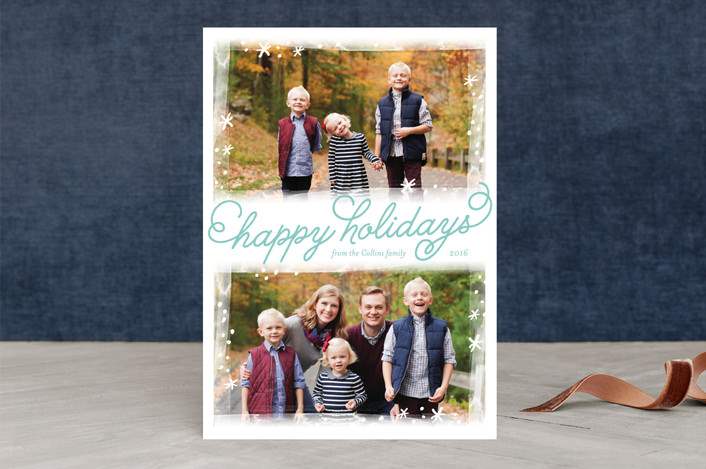 How cute is the saying "oh so merry"?!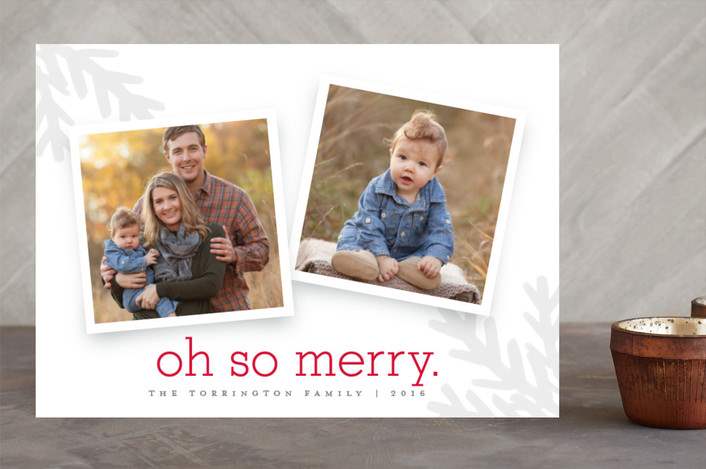 More pretty cursive font here.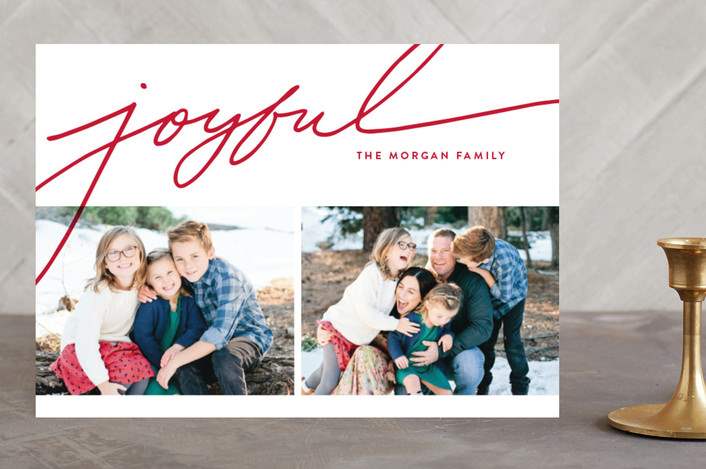 I love the classic look of these. They're perfect for newlyweds.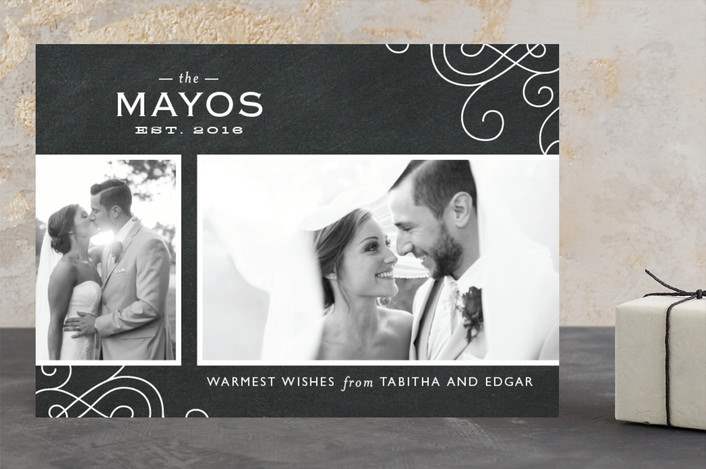 If you live in California, you have to get these cards. I love the personal touch of the state outline on there.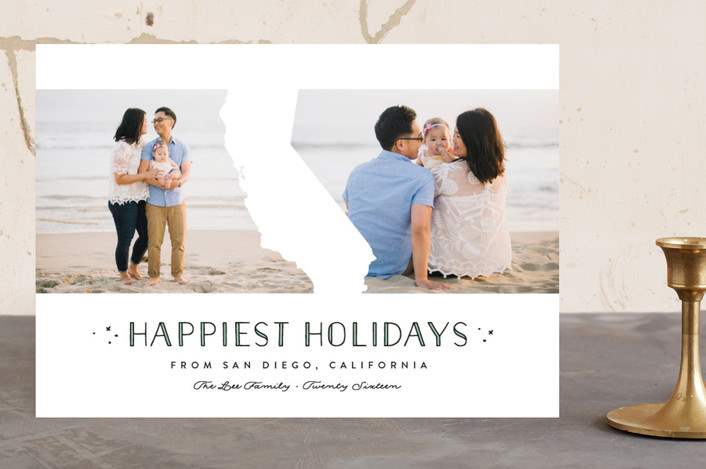 I settled on the Twice As Happy because I loved the cursive font and option to use green font (of course). I like the thicker card stock, too.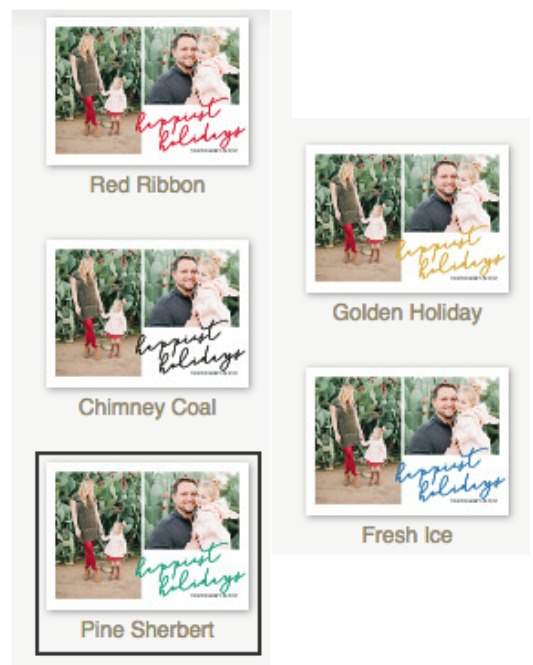 Customize your cards
The cards all offer a handful of color options so you can personalize them to use your favorite colors and/or colors that look good with the pictures you choose.
Minted offers various sizes, too. We ordered the 7"x5", but ours also come in the Petite size if you want something smaller.
Find It Fast
With the Find It Fast option, you can upload your photos and then see what they'll look like on various cards all at once. Yes for saving time!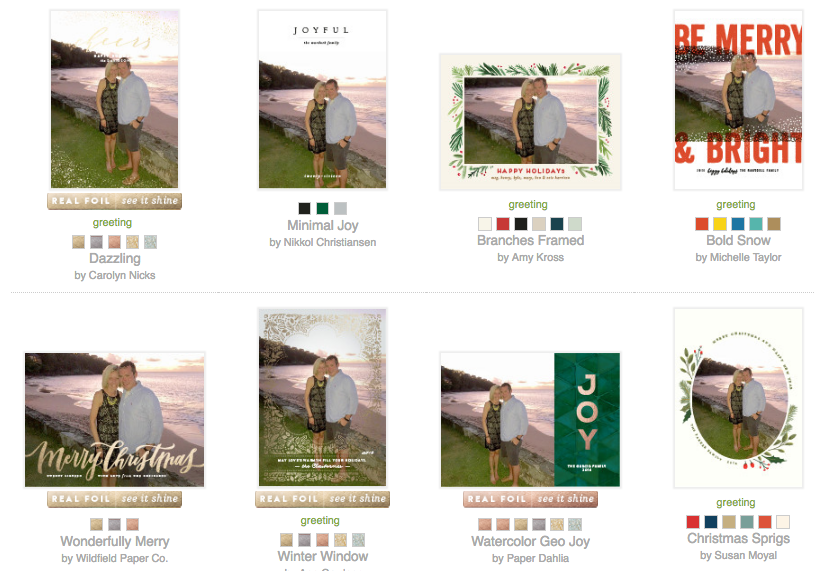 Free envelope addressing
Possibly my absolute favorite part of ordering from Minted was their free Address Assistant. At first I thought I read it wrong, because that sounded too good to be true, but it's not.
You just type in the names and addresses on your Christmas card list, and the envelopes show up at your door all printed and pretty. For free!
They look so nice plus you can avoid getting a hand cramp from addressing a bunch of envelopes.
I thought instead of broadcasting a picture of one of my family members or friends' addresses across the Internet without their permission (you're welcome, friends), I'd share the screenshot from Minted with the example address with you guys so you can see how they look: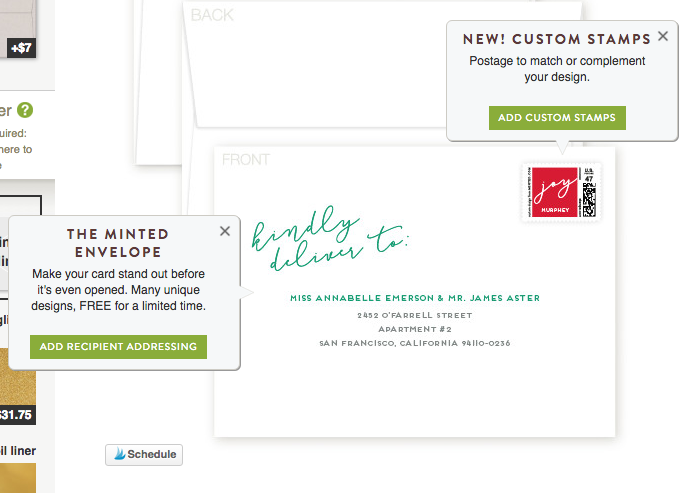 You can get return addressing printed on your envelopes, too, but we have a fun return address stamp I like to use, so I skipped that step.
With Minted's Buy Now, Personalize Later option, you can put your favorite cards in your cart to lock in their current promo price, then come back later and add in your favorite photos of your children (or dog, of course). I love that that's an option.
Here's to ordering holiday cards and getting one more thing crossed off that seemingly never-ending holiday list!
Now back to decorating! Our house looks like an ornament factory exploded.
If you love Christmas decorating, check these out:
Remember to bookmark or pin this post if you want to save it for later!


Want to read more posts like this?
Follow along: Get my emails | Facebook | Pinterest | Twitter | Instagram