Kitchen drawers can definitely become catch-alls if you don't have a plan for keeping them organized.
Since we had just renovated the entire kitchen, I was determined to set up our kitchen in a way that would help us stay organized. You can check out how we added extra shelving to our cabinets.
Today, I'm sharing how we organized our kitchen drawers.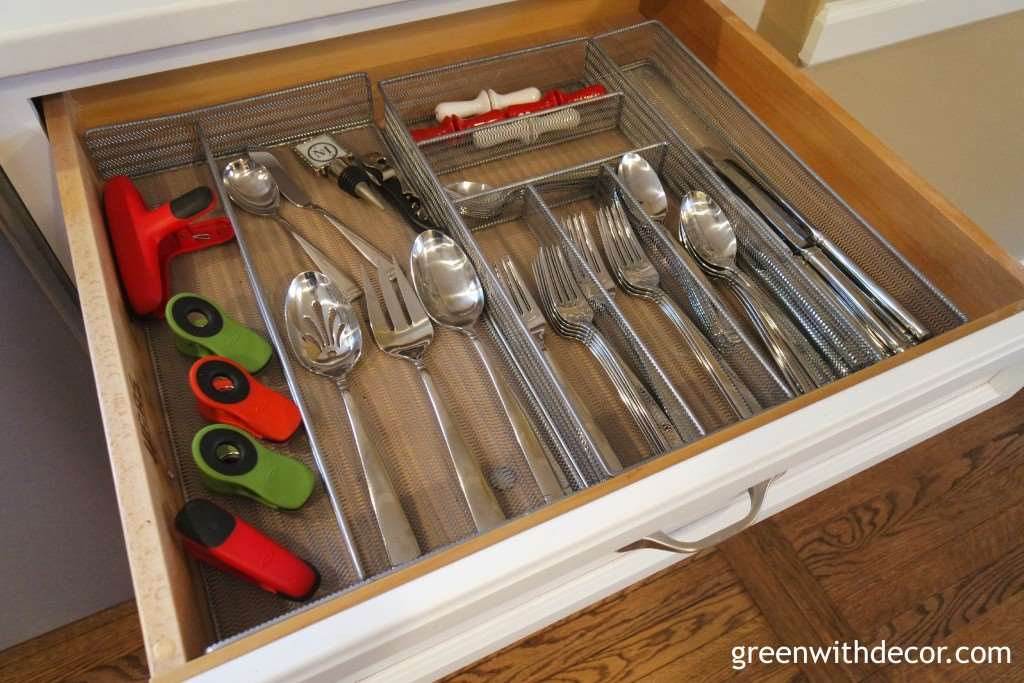 Of course, this led to a trip to Target. Because shouldn't everything lead to a trip to Target? I think so!
Serving utensils
We do leave some utensils out on the corner, which you may have seen in the post about the kitchen reveal.
This post contains affiliate links. This means if you click the link and buy something, I may receive a small percentage of sales at no extra cost to you.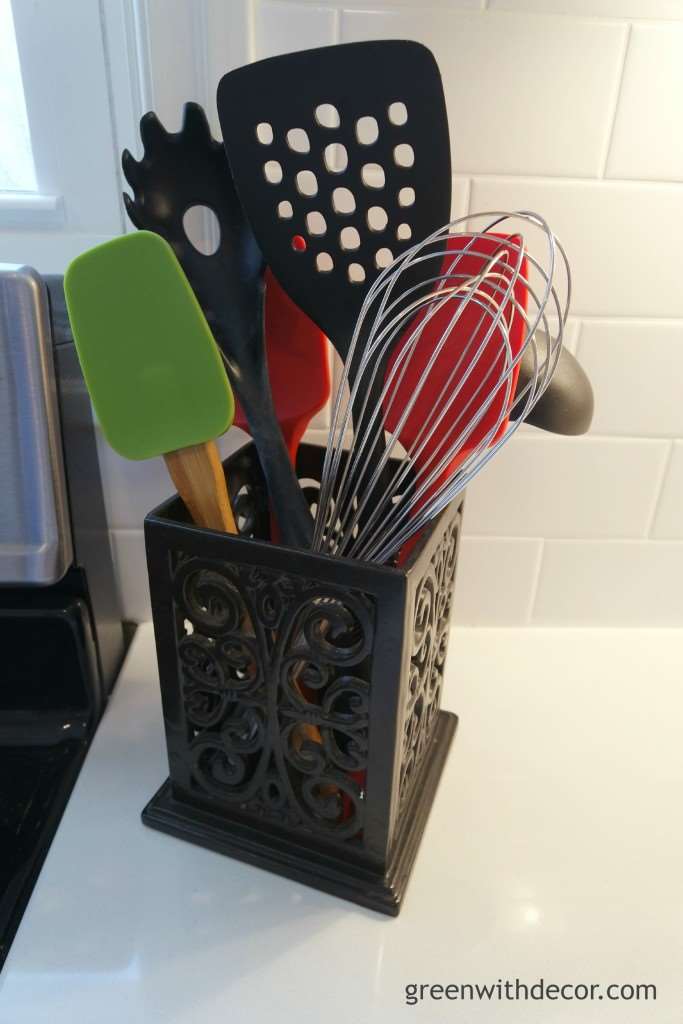 It's nice to have easy access to these, so we keep them in this pretty container right by the stove. I love the pops of color from the red spatulas and green one.
We wanted the rest hidden away in a drawer.
I found these cute red drawer organizers for serving spoons, spatulas, ladles, salad tongs, etc. They ever had little silicone feet to keep them from slipping and sliding all over the drawers.
It's nice having the organizers on the edges of the drawer with space in between for more serving spoons – and space above for a few items that are different shapes!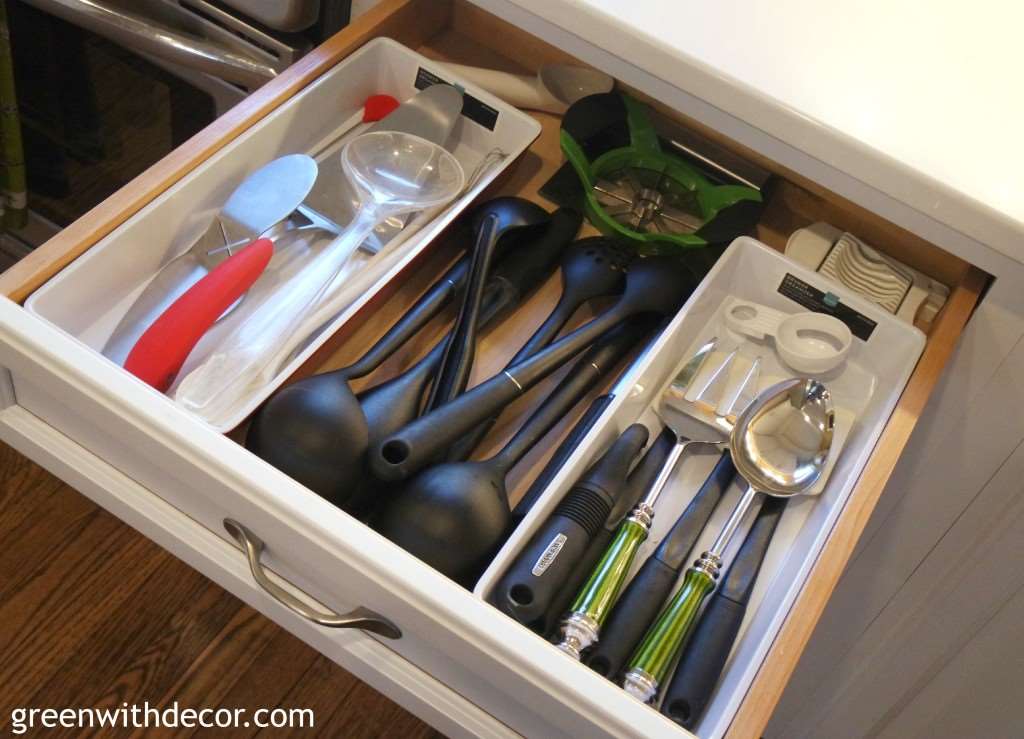 This high heel server is from my Grandmom – how cute is it!
We have a ton of black serving spoons and spatulas, but I love the red pizza server and green handled salad tongs. Some fun colorful pieces!
Silverware drawer
I found this silver silverware tray for our silverware drawer. It's actually three pieces, which is nice, because then you can set it up whichever way you want. You can even split up the pieces among different drawers.
Each piece has little grippers on the bottom, too, so they wouldn't slide around in the drawer.
And I loved that it had little holes on the bottom. Silverware drawers can end up with crumbs, and this way, we can just lift the silverware tray up to wipe out the drawer instead of having to take all of the silverware out and wipe down the tray.
I like that the tray has extra slots besides the standard knives, forks and spoons.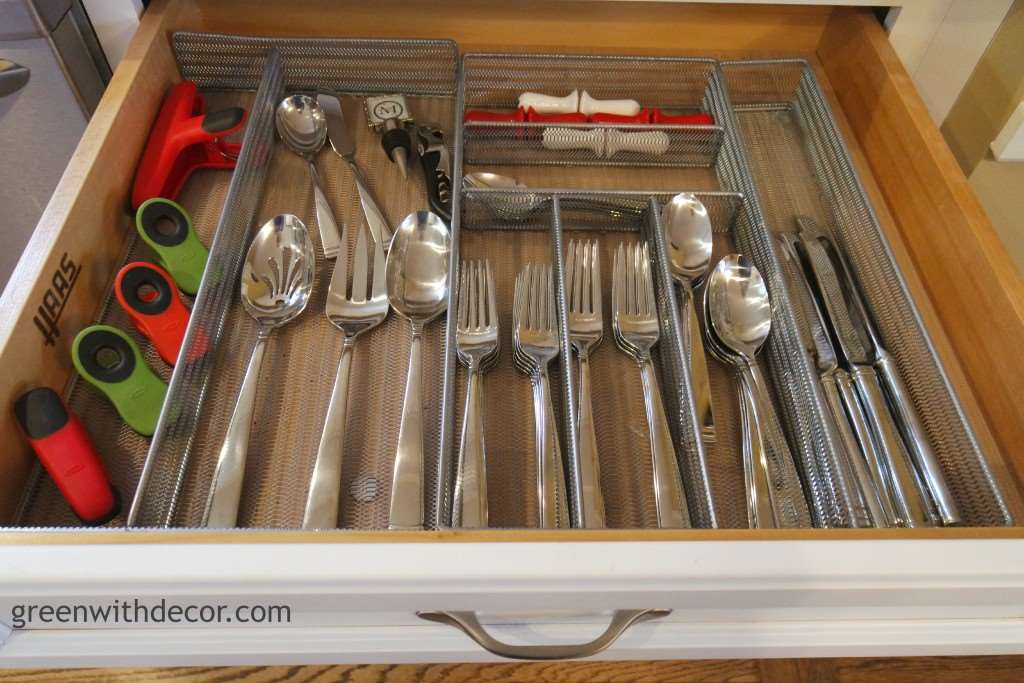 If you haven't picked up, I love green and red accents!
Those little clip magnets are perfect for hanging stuff on the fridge, but I stash them away when we're not using them. I love the red chip clip, too.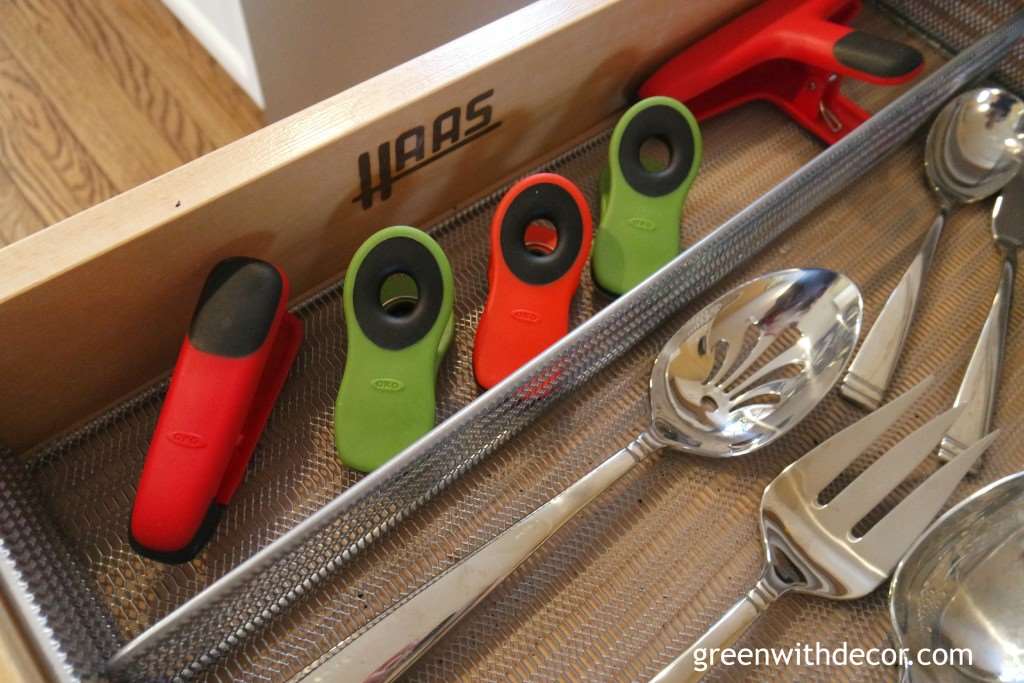 If you love corn on the cob, pick up some of these corn on the cob holders! They're awesome. No more messy hands!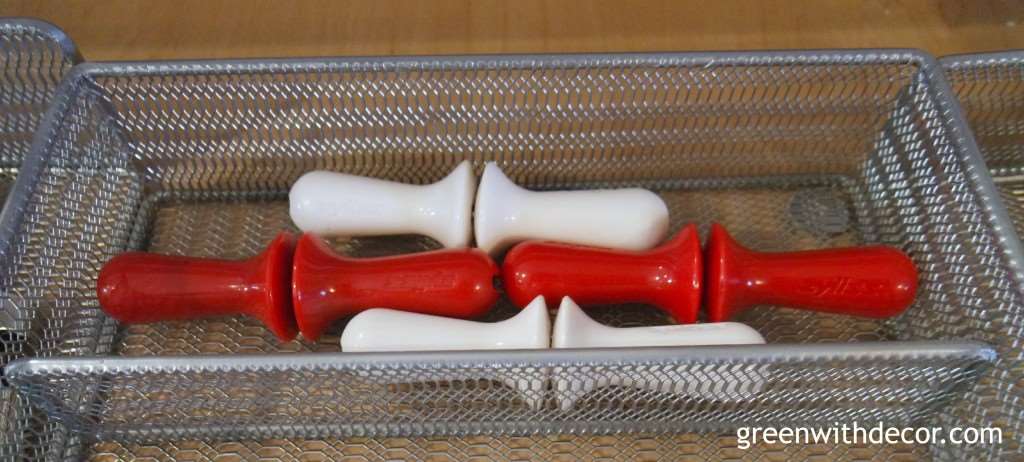 The junk drawer
I found these dark gray drawer organizers for the junk drawer. I picked up a bunch in different sizes to fit pens, paper, batteries, tape, lotion … the list goes on.
I had measured the drawer beforehand and hung out there in the Target aisle playing with different sized organizers to see which would be the best fit in the drawer.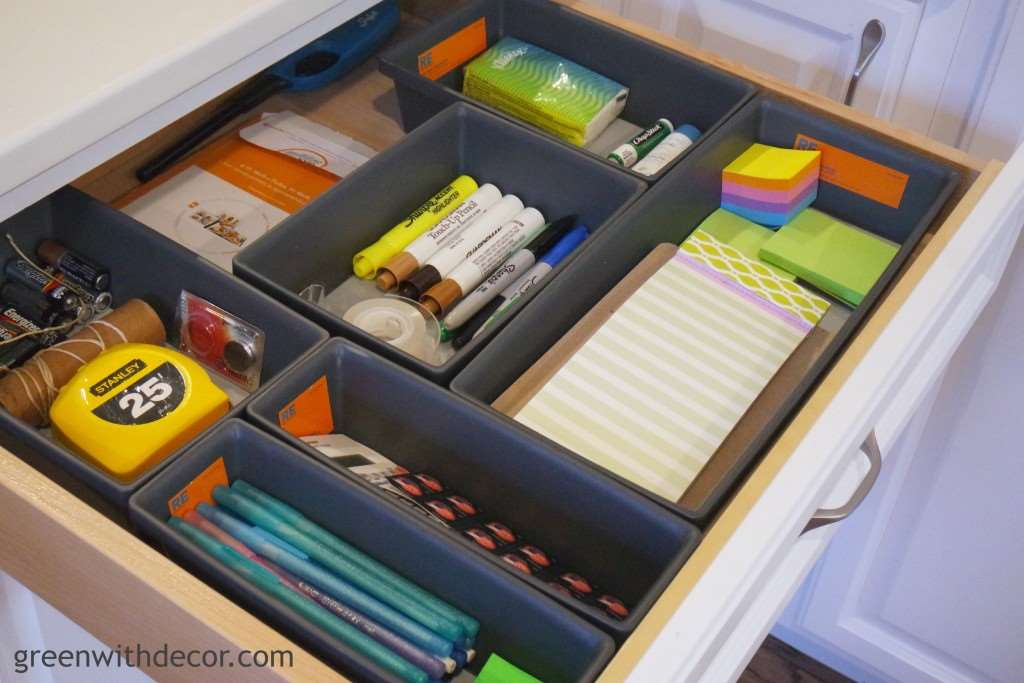 We ended up with slots for paper, pens, stamps, markers, batteries, and ChapStick and lotion. I pretty much have ChapStick stashed somewhere in every room of the house.
We also ended up keeping a bunch of 'before' pictures of the house in this drawer. Every time people came over, we were running upstairs to get them. Explaining the 'before' pictures to people just isn't the same as showing them!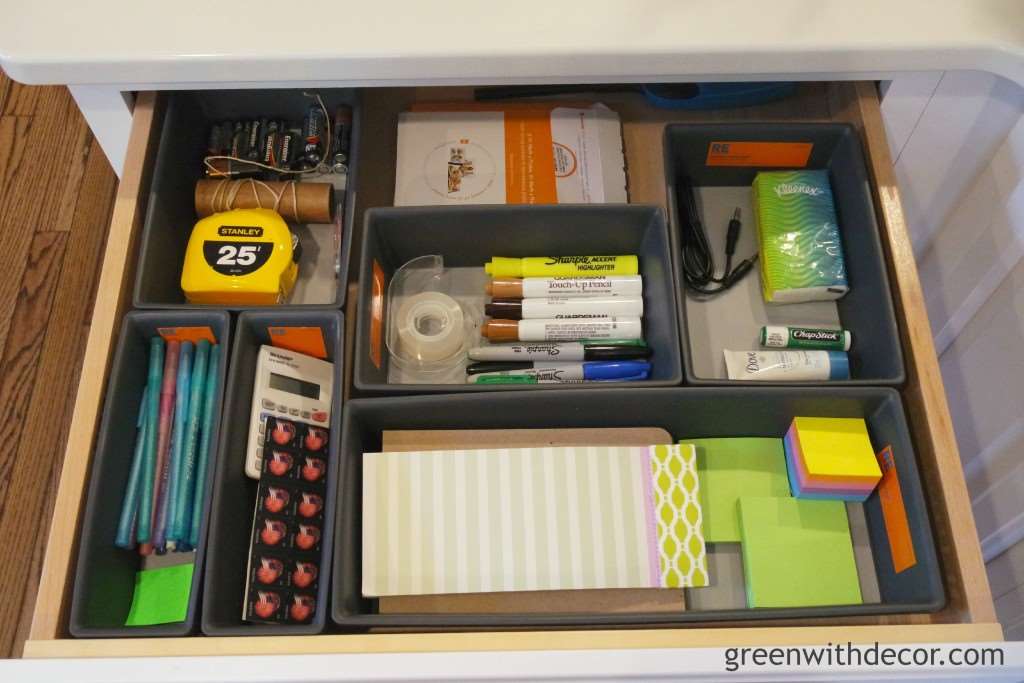 The tape measure was originally with the toolbox downstairs, but, being recently moved in, we were running to get it constantly as we measured where the best place to put furniture, wall hangings, etc. was, so now it has a home in the junk drawer.
What do you keep in the junk drawer?
Dish towel drawer
I also stash extra dish towels in a drawer right by the sink.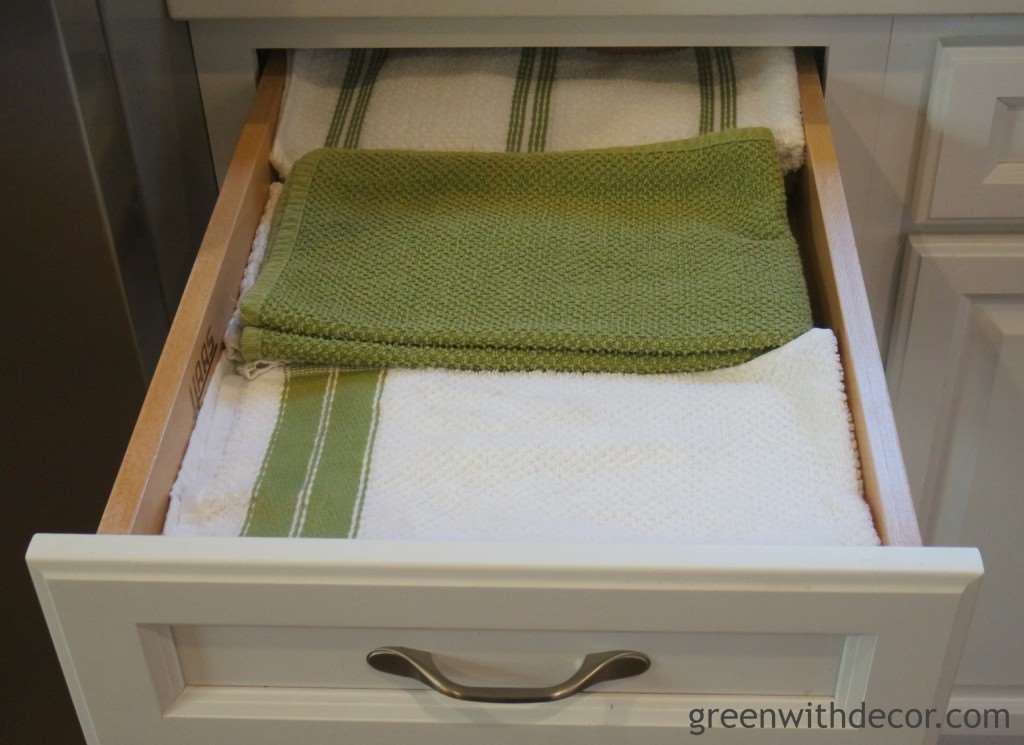 GET THE LOOK:
Since a popular question I get is "Where'd you get that?!," here are links to the same or similar sources:
How do you keep your kitchen drawers organized?
Check out these posts for more organizing ideas:
Remember to bookmark or pin this post if you want to save it for later!

Pin it!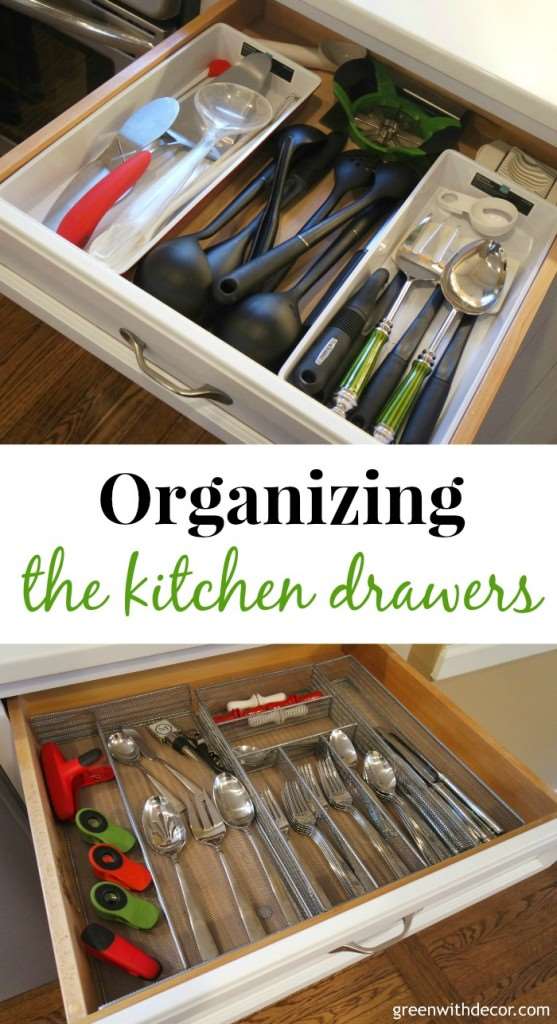 Want to read more posts like this?
Follow along: Get my emails | Facebook | Pinterest | Twitter | Instagram