It's no secret I love a good kitchen renovation. We've gone through two of them – in our first house in Cincinnati where we went with lots of cream and bronze details and in our second house in Milwaukee where everything is white and silver and perfect.
I miss that kitchen probably too much.
Today's post is part of the summer series Room by Room hosted by Amy from My Life at Home. A group of bloggers are each sharing a room from their homes each week, and you guessed it, today is all about kitchens! You can see everyone else's blog posts linked below.
If you missed last week's post on foyer decorating, be sure to check that out!
Our current kitchen in our rental house is pretty dark, and we haven't done much in there aside from painting it Aesthetic White, so we'll chat about our other two kitchens today. 🙂
We learned a thing or two after going through two kitchen renovations, so I'm linking to my most popular kitchen renovations posts below, like why I LOVE quartz counters and the easiest way ever to get more storage in your kitchen cabinets.
Plus I have a free kitchen renovation checklist, so be sure to download that if you're planning a renovation.
If you're new around here (hi and welcome!), here's a peek at our Milwaukee kitchen before and after.
This post contains affiliate links. This means if you click the link and buy something, I may receive a small percentage of sales at no extra cost to you.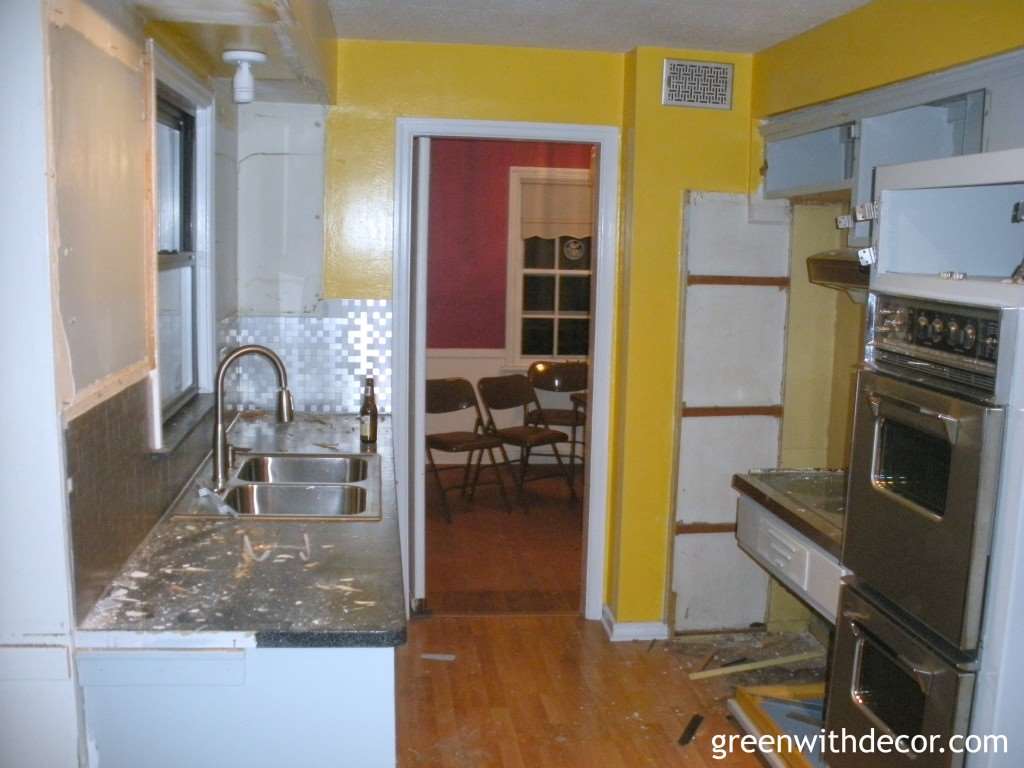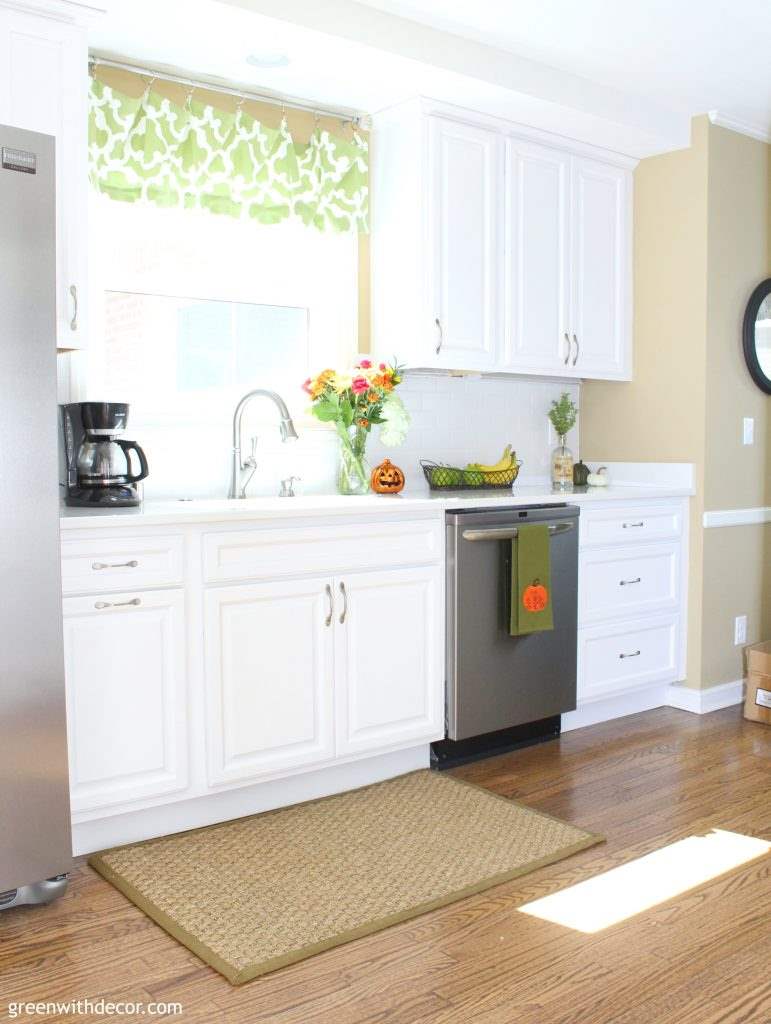 GET THE LOOK: Rug | Cabinet handles | Curtain rod | Window valance (DIY)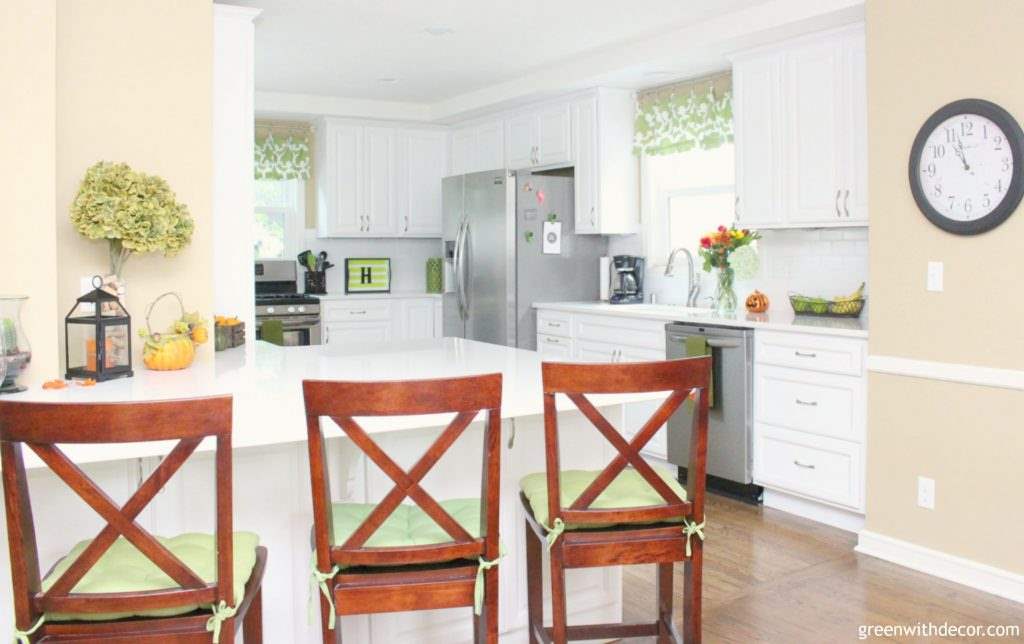 GET THE LOOK: Barstools | Green cushions | Lantern | Hydrangeas
Of all the rooms in our Milwaukee house, I miss the kitchen the most. White bright kitchens really are the best, aren't they?!
See all sorts of before and after pictures of the white kitchen renovation here.
Here's our Cincinnati kitchen before and after: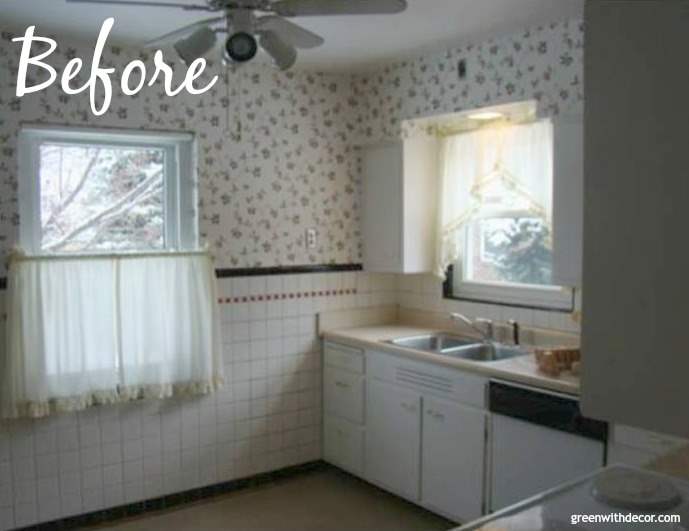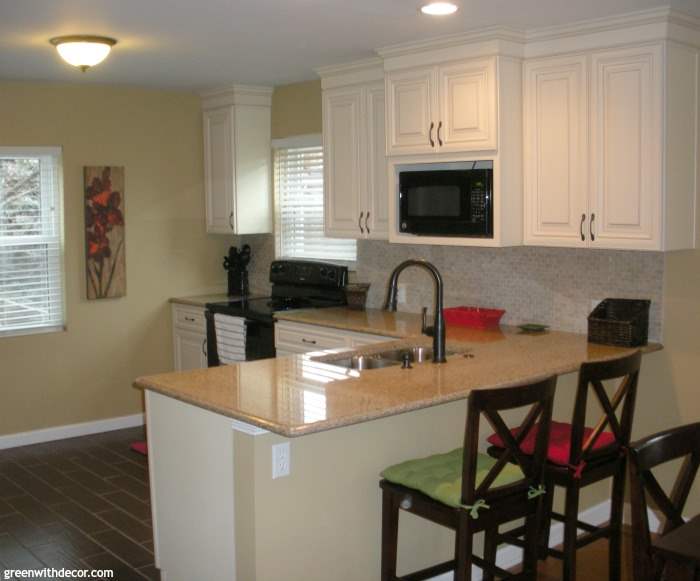 GET THE LOOK: Bar stools | Green cushions | Red cushions | Cabinet handles
See more of our Cincinnati kitchen here.
For all you kitchen renovation lovers, here's a breakdown of our Milwaukee kitchen renovation posts detailing each step that goes into a renovation:
Planning your own renovation?
Download my printable Kitchen Renovation Checklist so you can easily keep track of each step.
*Please note: All printables and downloads designed by Green with Decor are for personal use only. Please do not alter the files or claim them as your own. These files are not intended for resale, nor are the printed versions of these files.
You can see the other bloggers' Room by Room kitchen posts below, plus here are links to the other rooms in the series if there's a certain room you're decorating!
Remember to bookmark or pin this post if you want to save it for later!

Pin it!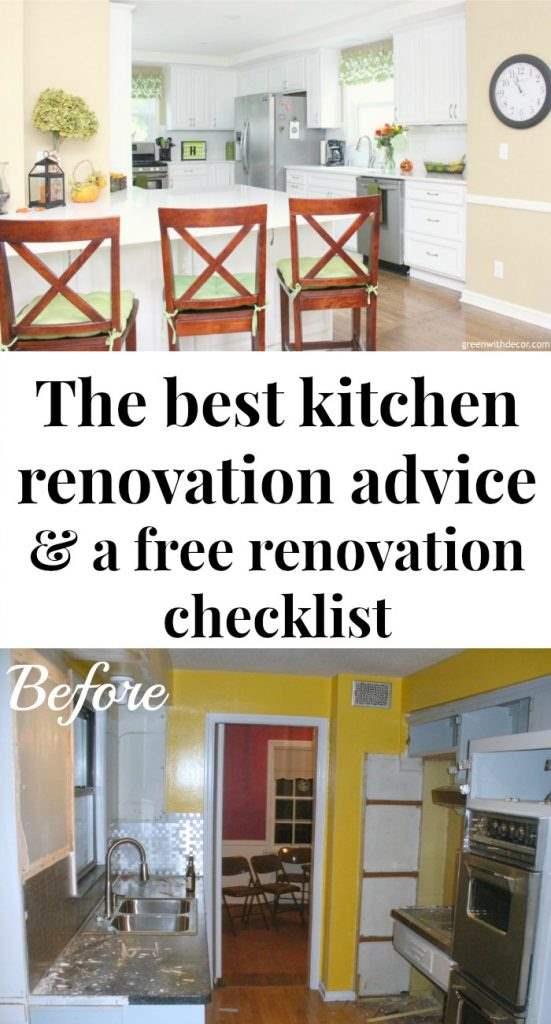 Want to read more posts like this?
Follow along: Get my emails | Facebook | Pinterest | Twitter | Instagram