After designing the kitchen layout (one of my favorite parts of the entire renovation!), we had to figure out how to fit in a few special cabinets, like a place for the garbage can, how to get the most space out of a corner cabinet and where to put the microwave.
This part was fun, too – kind of like figuring out a puzzle to get all the pieces to fit into place for a perfect new kitchen!
Garbage can / recycling bin cabinet
We wanted one cabinet to pull out as a big drawer – holding a garbage can and recycling bin. We planned to put this cabinet right next to the sink for easy cleanup after food prep and meals.
Corner cabinet storage
We had a corner cabinet planned in the far side of the kitchen. While I wanted to get the most storage possible out of the awkward-shaped corner cabinet, I've never been a fan of lazy Susans and didn't want one.
Instead, we planned a full bottom shelf and a U-shaped top shelf get the most storage room out of the space.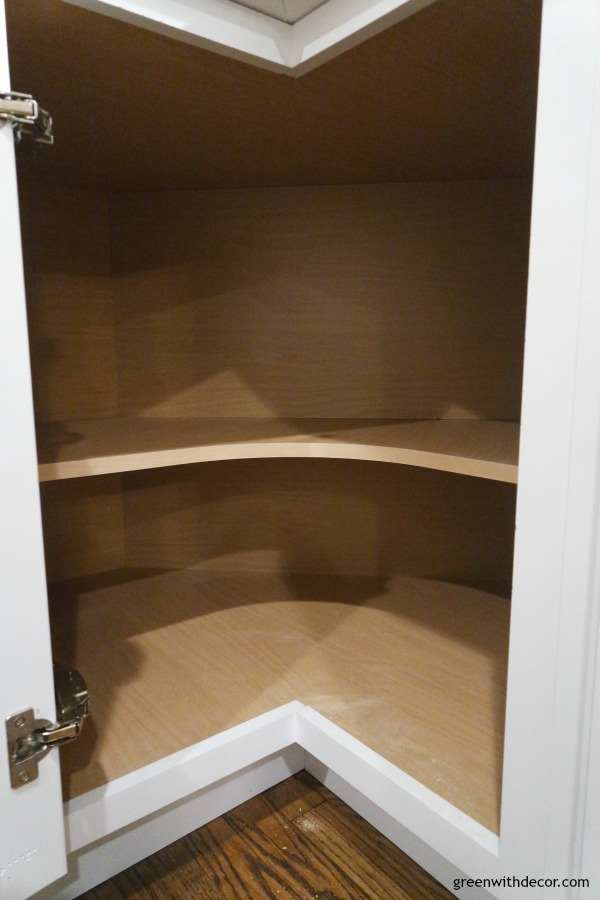 Big kitchen drawers
While most of our cabinets were typical vertical doors with horizontal shelves inside, we wanted one section of cabinets to be big horizontal drawers instead.
These are growing in popularity, and we were excited to have some of our own.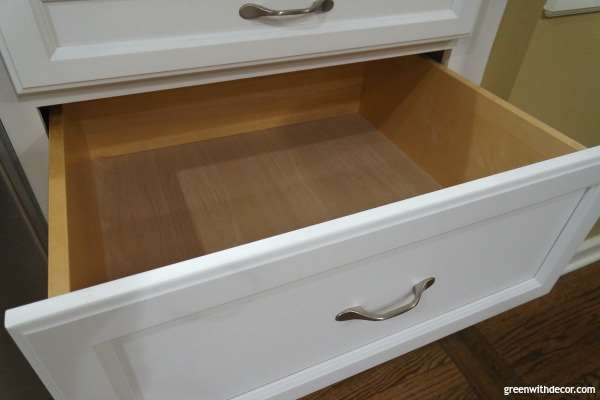 Microwave placement
One of the hardest design decisions was to figure out where to put the microwave. We moved this around a lot during the design process and really debated between putting it in a lower cabinet or an upper.
We liked the idea of placing it in a lower cabinet position to hide it a bit, but we thought it might become annoying to have to lean over to get hot dishes out of the microwave.
We finally decided to put it in the typical upper cabinet position.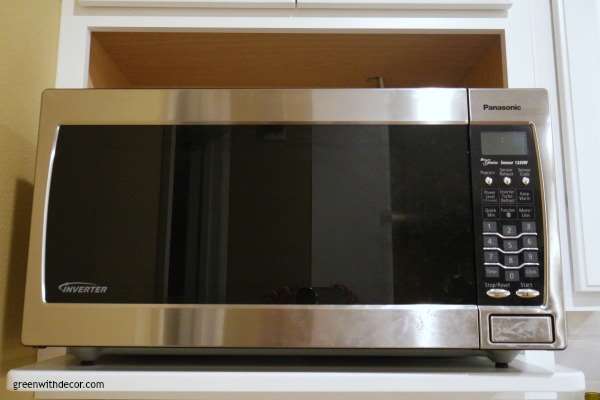 Storage under the breakfast bar
With such a deep breakfast bar, we had room for two back-to-back cabinets underneath, one to be accessed from the kitchen side and one from the breakfast bar side.
Since these would be underneath the overhanging counter bar, we put drawers inside these cabinets so it would be easy to access everything inside without having to lean too far underneath the breakfast bar counter.
Since these cabinets were a little harder to access than the typical cabinet, we planned to store occasional use items in these cabinets.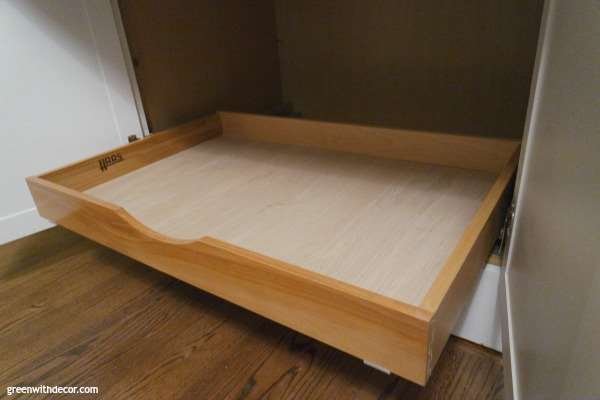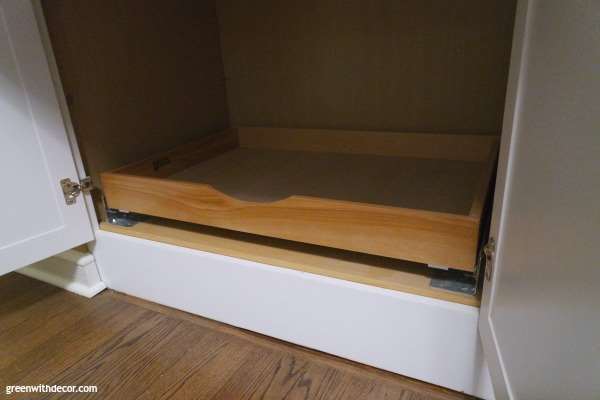 Have you picked out kitchen cabinets? What special cabinets are you sure to include?
Update: See the kitchen renovation reveal here.
Planning your own renovation?
Download my printable Kitchen Renovation Checklist so you can easily keep track of each step.
*Please note: All printables and downloads designed by Green with Decor are for personal use only. Please do not alter the files or claim them as your own. These files are not intended for resale, nor are the printed versions of these files.
Remember to bookmark or pin this post if you want to save it for later!

Want to read more posts like this?
Follow along: Get my emails | Facebook | Pinterest | Twitter | Instagram