Disclosure: This post is sponsored by Steinhafels. All opinions, images and love of using pretty furniture to stay organized are 100% mine.
I've mentioned before that I get my love of decorating from my mom. She's just so good at it.
Back when I graduated college and was moving into my first apartment – which by the way, at 22 I thought was nice, and looking back now, it definitely was not – my mom came to visit for a weekend to help me get settled.
I needed a nightstand. Literally just one because my bedroom was so small. But my mom recommended buying two anyway so I'd have a set later on.
Genius, right. I used one of the nightstands as an entryway table until I moved to my next apartment (which was actually a nice place). The bedroom was even big enough for my bed and TWO nightstands!
Well, those nightstands have been great and all, but they're pretty small and don't have much storage, so they've been moved to the guest room.
All of this to say, we got beautiful new nightstands in our bedroom!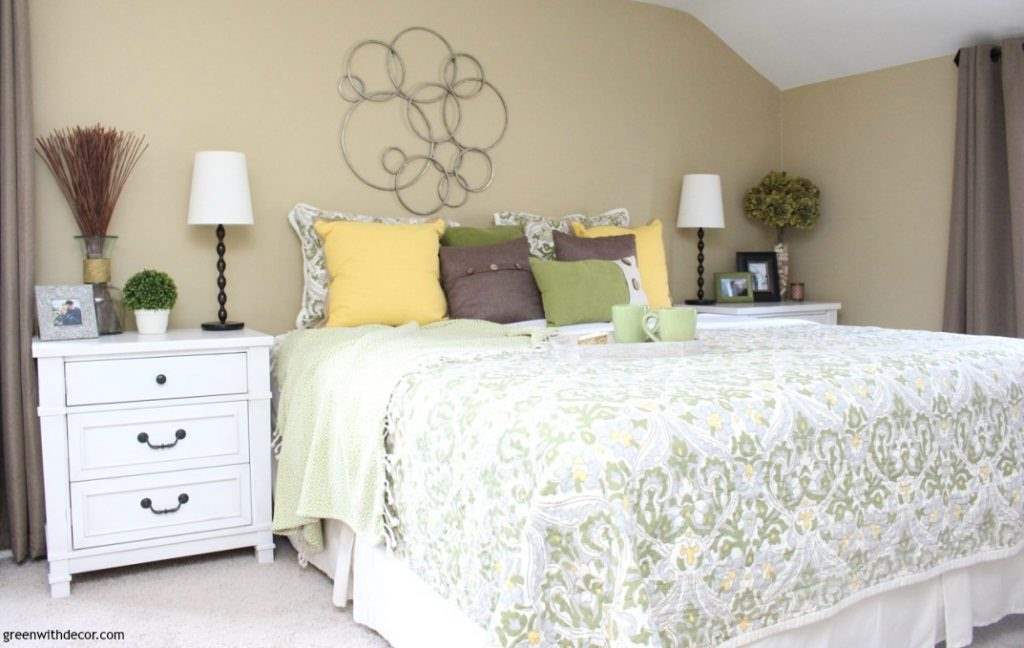 It's funny how new furniture can make you so happy. Every time we walk in our room now, Kalen and I both say something like, "Oh my gosh, the nightstands just make the room look so much better!" or "I just love these nightstands!"
Yep, not just me, Kalen is saying those things, too. That's how good these nightstands make our room look.
Like everyone who ever decorates a house, the main bedroom kept sliding to lower priority on our list. Kitchens and bathrooms are important, but you know what? So is your bedroom! Why do we all put this off so much!?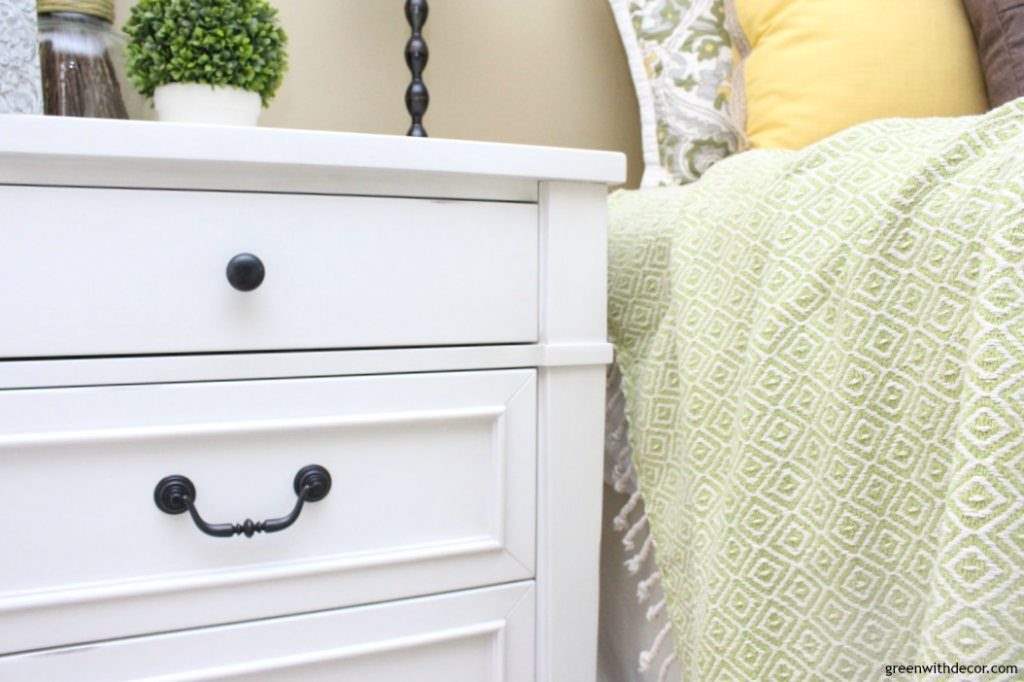 These nightstands seriously make the room look so much more complete, and I wish we'd decided to update these from my old post-college nightstands a long time ago.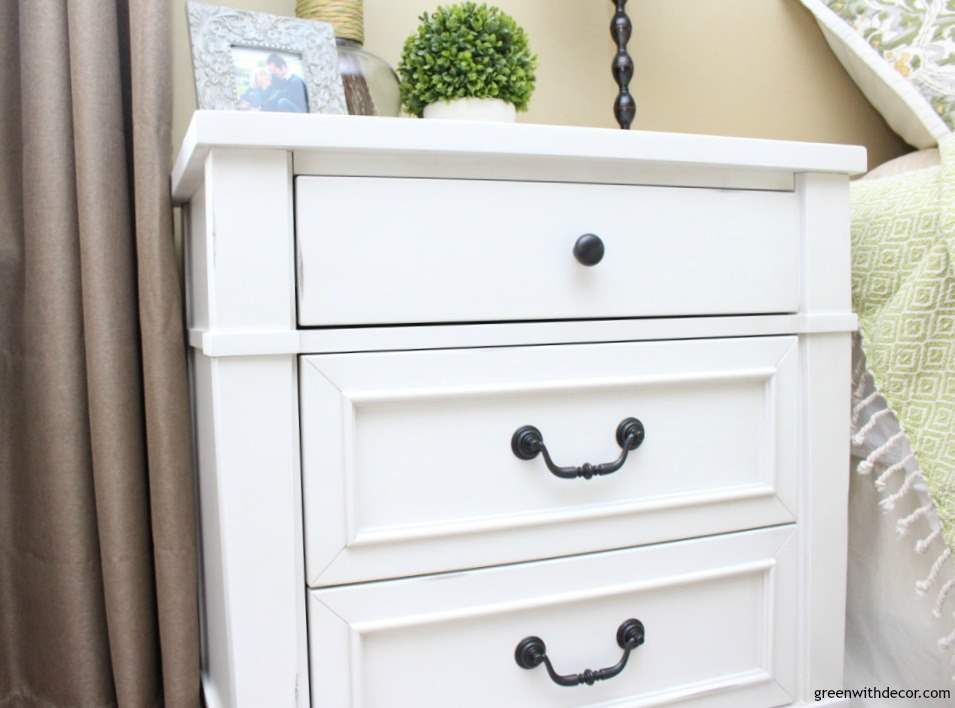 I'm partnering with Steinhafels today, and their nightstand selection is gorgeous. We've bought a few pieces from Steinhafels over the years (like the file cabinet in our home office), and we've always been impressed with the look and quality.
Plus my parents have been shopping at Steinhafels since I can remember.
The best part of our new Williamson Nightstands is that they're gorgeous AND have plenty of room for storage. Those are the best kind of furniture pieces!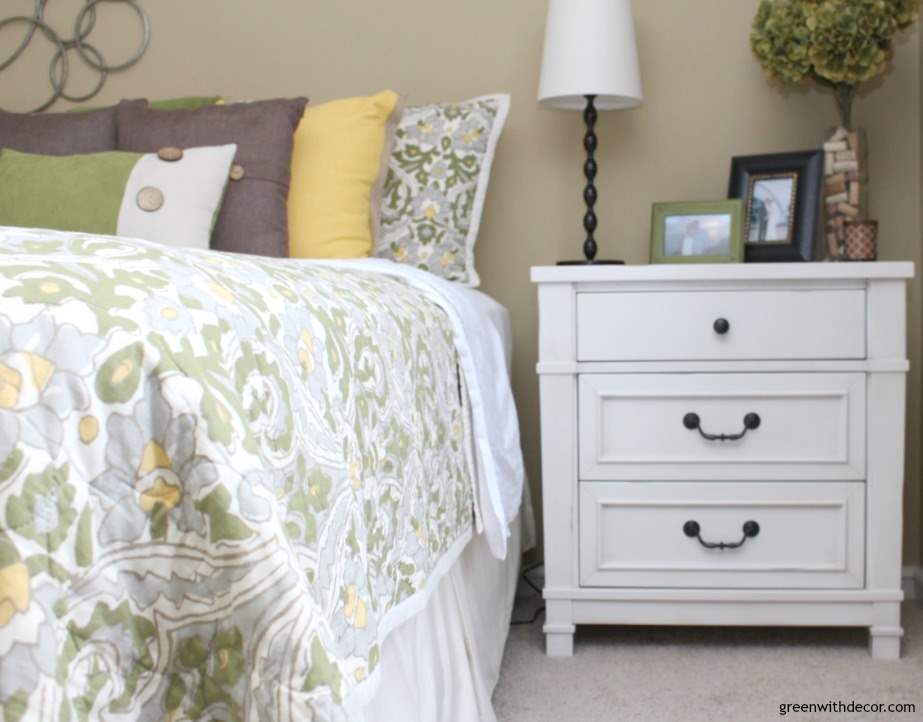 A few tips for picking pretty nightstands:
Color:
I wanted something white to brighten up our room. I love the slightly distressed look of these. Plus the antique white gives off that beachy coastal vibe I like.
(As I type this with a blanket wrapped around me here in Wisconsin!)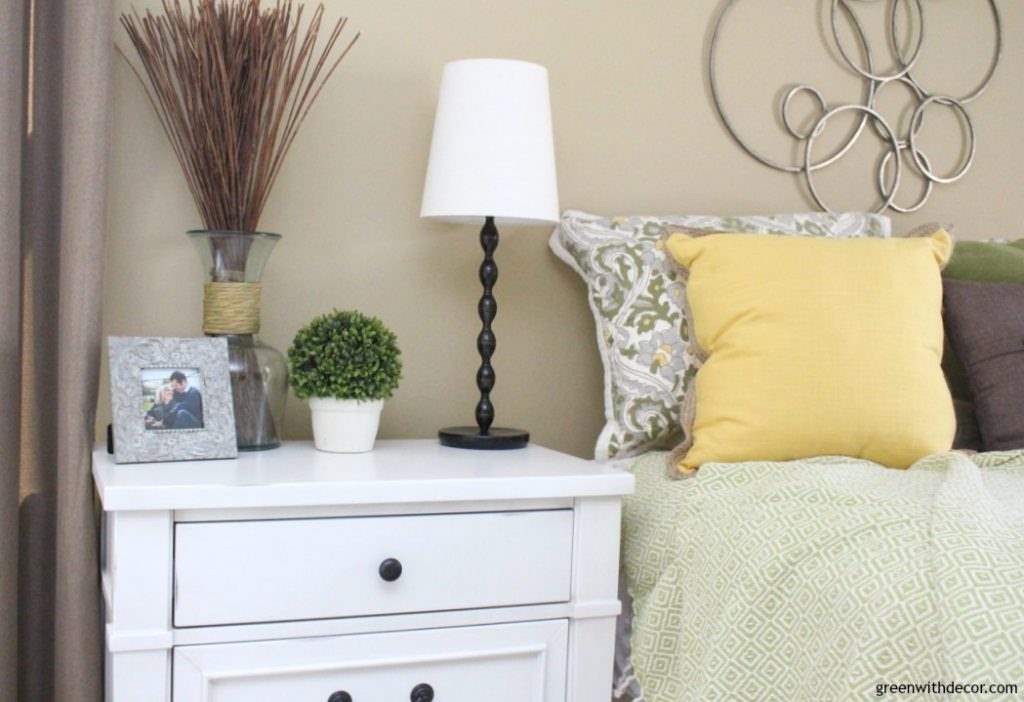 Storage: Drawers vs. open shelving:
Our old nightstands just had the one shelf, and oh my gosh, how did we ever live without this much storage before?!
The drawers are perfect. More on organizing them below, but we love all of the storage here.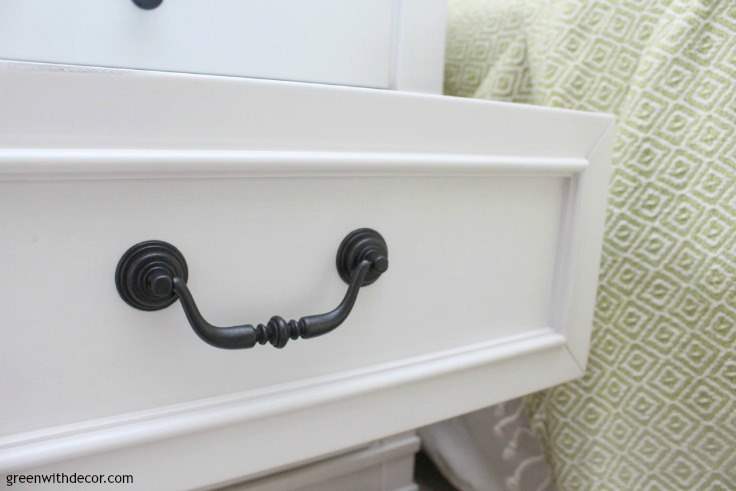 Size of surface area:
Instead of filling the top of a nightstand with a lamp, a phone and a glass of water, and then being out of room for any decorating (ugh), these nightstands have so much room to decorate, too!
You know how happy that makes me.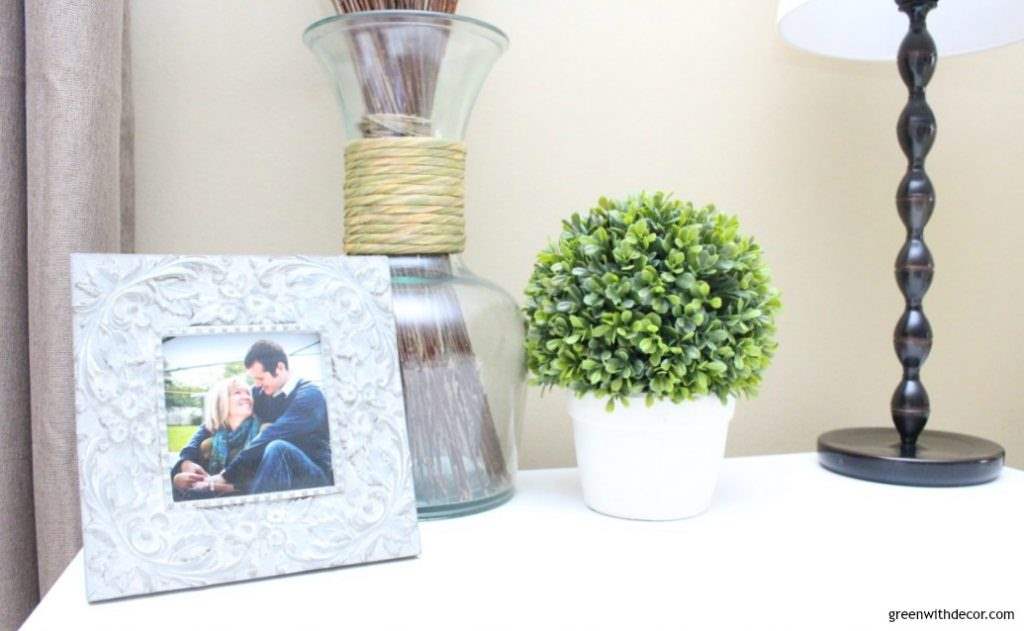 Even Kalen said he loved how I decorated his nightstand. I told him to move any of it if it's in the way, but he was all about leaving it all nice and decorated because there's still room for him to set down his phone and water glass when he goes to bed.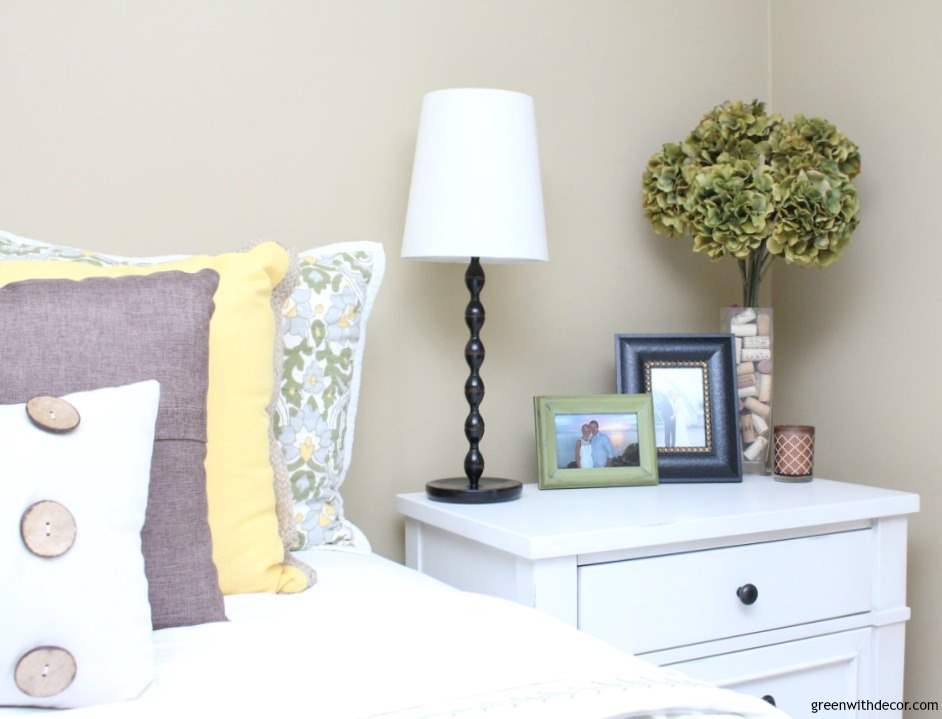 Open legs:
Big nightstands can seem bulky, but one of my favorite little design secrets is picking furniture pieces with open legs.
It gives the illusion of more floor space in a room without even trying.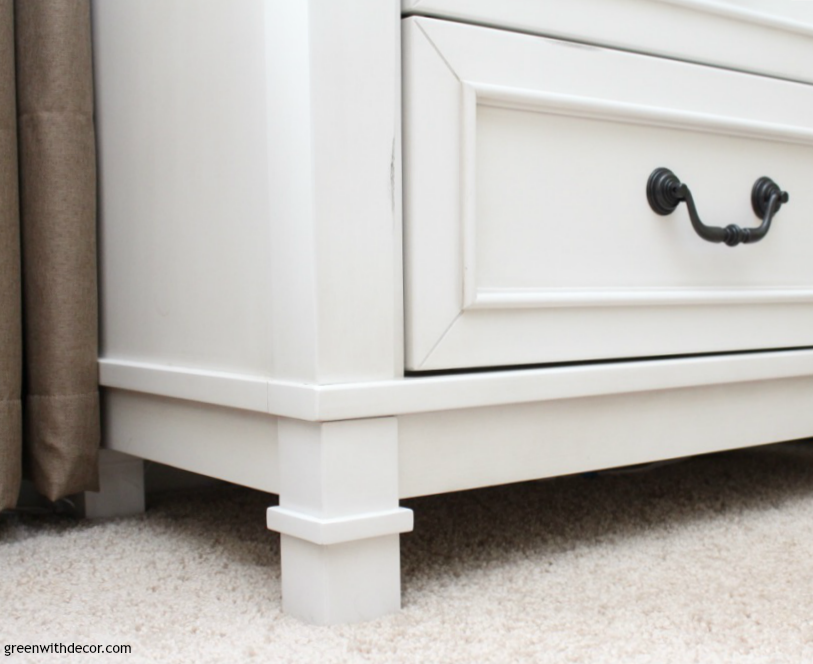 Plus these beauties came all put together minus the legs which took just a few minutes to screw on. That's my kind of furniture assembly!
And now onto organizing those pretty new nightstands. Because gorgeous pieces are great, but I love them even more when they offer easy storage and organization. These new nightstands combine them in the best way.
Organizing your nightstand:
The best part about getting new nightstands, aside from updating the look of your bedroom, of course, is that it forces you to take everything out of your old ones.
So even if you're not getting new nightstands but want to organize your current ones, take everything off and out of it. Pretend you're starting with a new nightstand.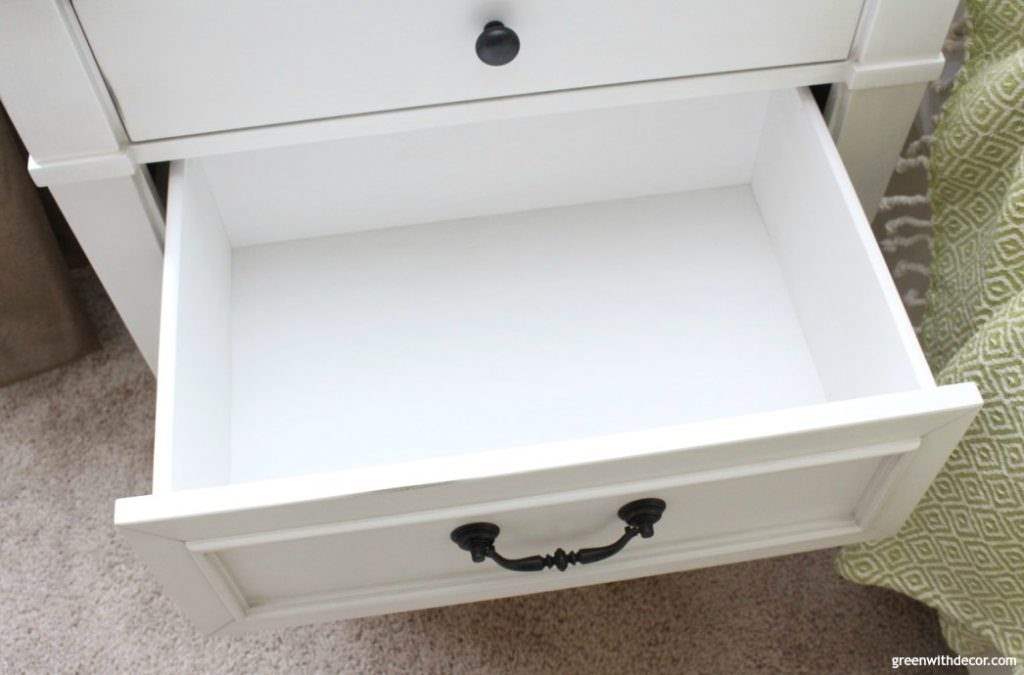 Then start purging. It's amazing how an ibuprofen bottle with just one left or a pile of bookmarks can end up in the back of a nightstand drawer. Get rid of them! I've been (slowly but surely) cleaning out every closet, drawer and dresser in our house over the past year, and it feels so good to just throw stuff away. Seriously, do it.
Be conscious of what you're putting back in your nightstand. Basically if it's not something you truly need while in bed, you really don't need it in your nightstand. Don't fill the drawers just because they're there.
I mentioned this little tip back when I organized the craft closet in our office, and it's still working for us. Don't cram stuff in a storage space just to fill it!
Be mindful of what you keep in each drawer, too. Don't just throw stuff in any drawer, keep everything in its place, and it's easier to keep your nightstand organized.
Here's how I filled mine if you want some inspiration:
Top drawer:
I used this for the basics: medicine, chapstick (can't live without it), the remote, a flashlight and a pen and paper.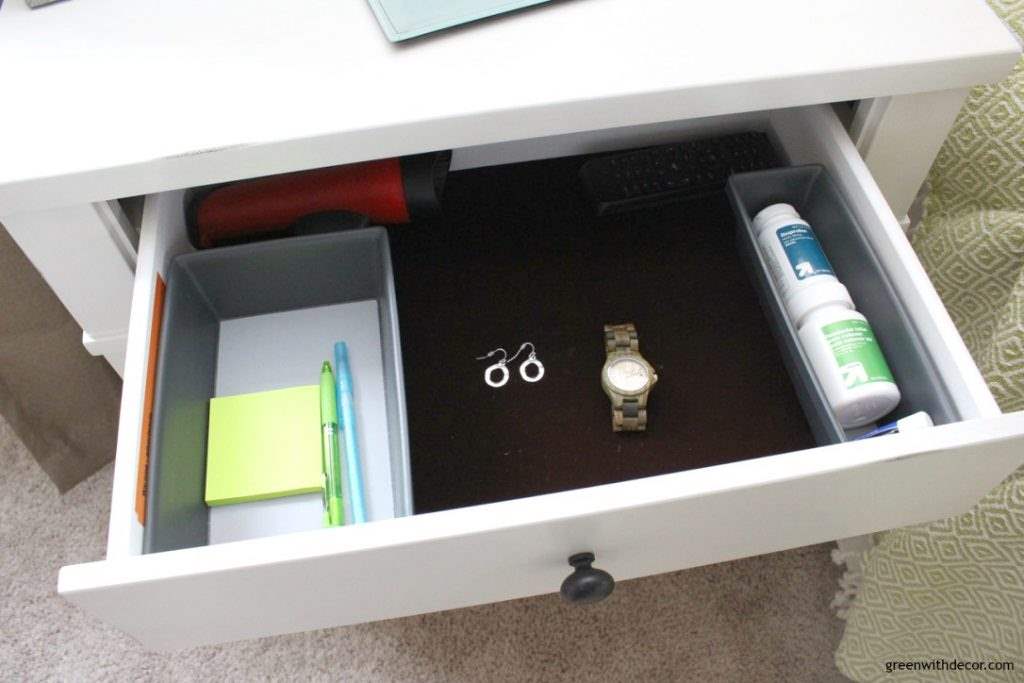 I'm terrible (or good?) at thinking of things I need to do right as I'm falling asleep, and sometimes just writing them down is enough to get rid of the stress of thinking about them.
My dad is Mr. Safety and loves flashlights more than anyone I know, and it's been ingrained in me to have flashlights easily accessible. I will always be prepared if the power goes out.
The top drawer is felt lined for jewelry, too, which is perfect.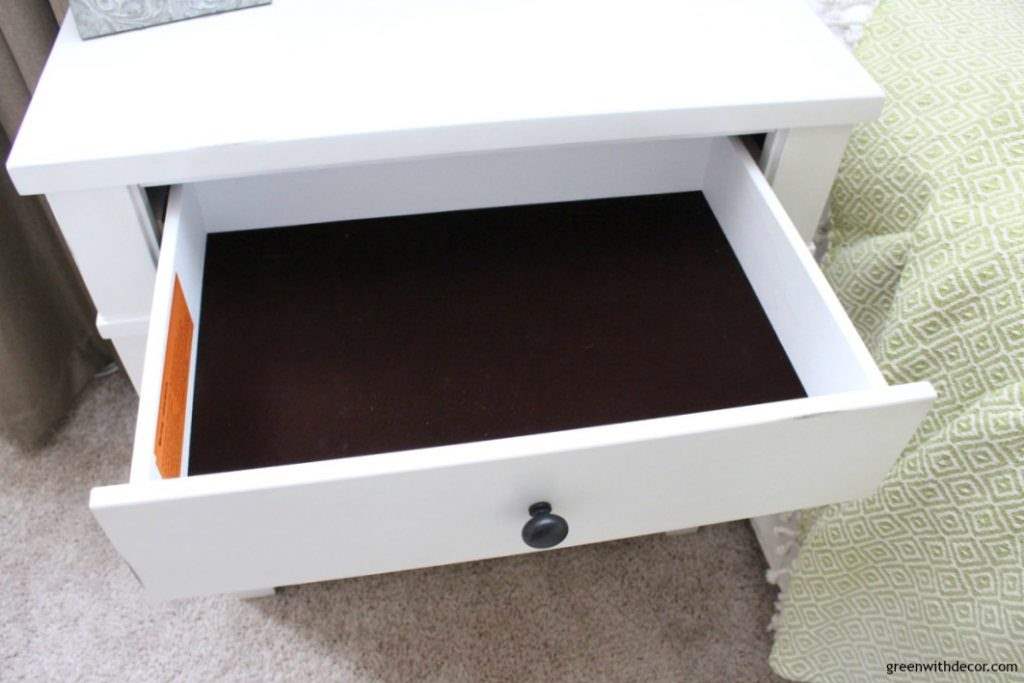 Middle drawer:
Tissues because what is more annoying than waking up with a cold and having to get out of bed? Nothing.
And a book and a heating pad. The heating pad is a bit random, but it's one of those things that has kind of floated around our house and never really had a home. We figured since we actually have nightstands with extra storage now, this is the perfect spot for it.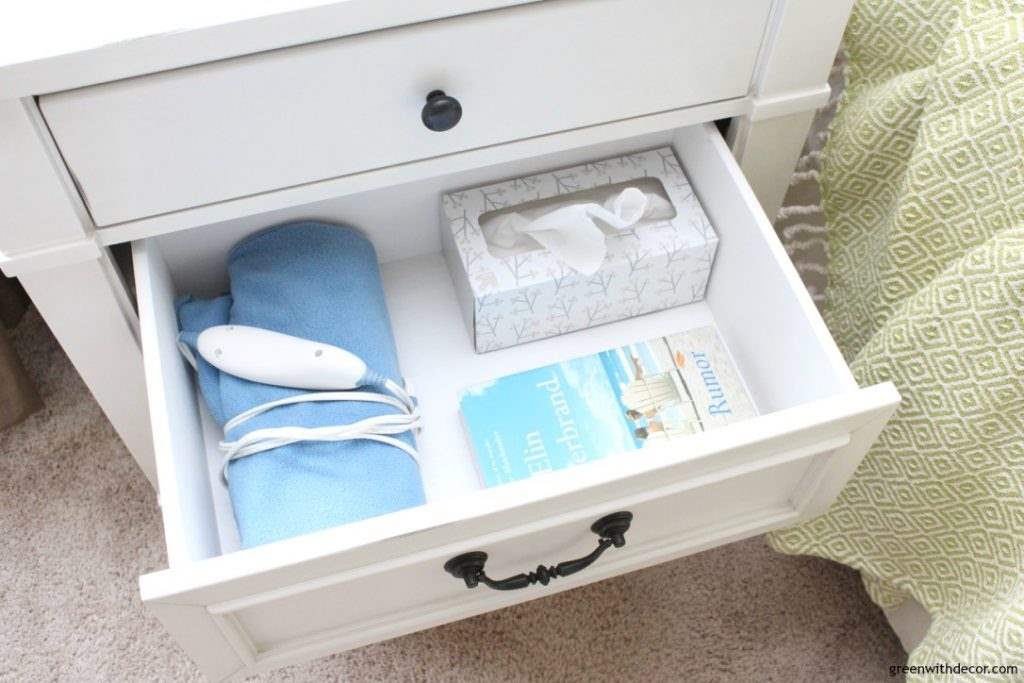 Bottom drawer:
Socks. My feet are always freezing. I really mean always. It's awful. I'll get in bed and want an extra pair of socks but not want to get up, and I go back and forth in my head about a million times before I realize I should have gotten up 15 minutes ago to get socks from my dresser because my feet are still freezing. No more of that!
You may recognize that basket from our bathrooms. They're the perfect little storage baskets.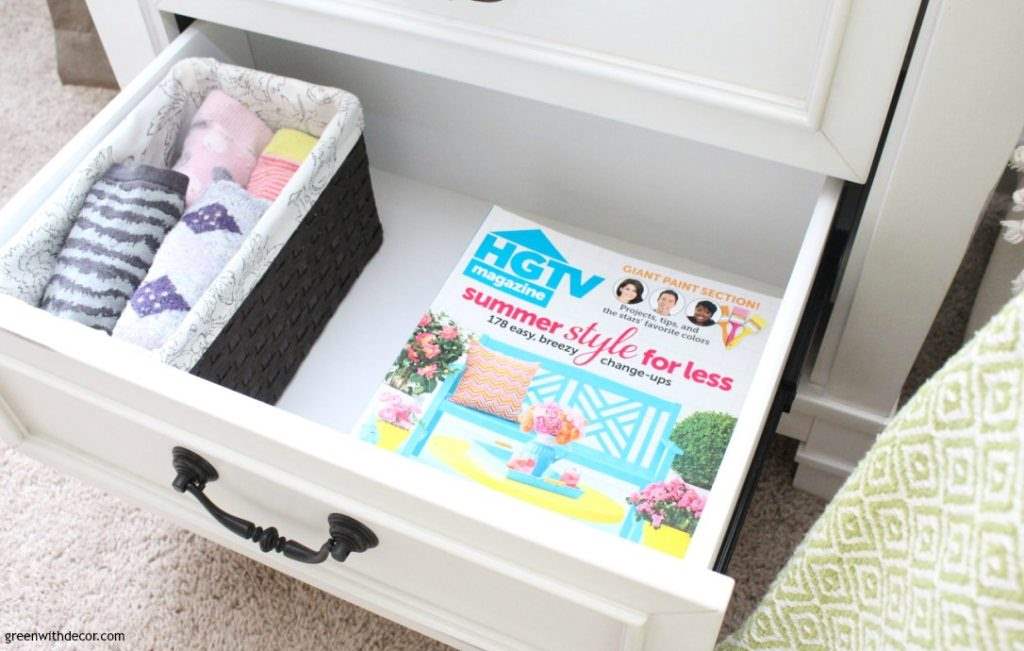 And extra home decor magazines because I love to have them around the house for when I just want to relax and look at pretty houses and decorating ideas.
Now that we have these gorgeous new nightstands, I feel like I'm re-motivated to work on a few other updates in our bedroom. I'd love a headboard and some different artwork above the bed.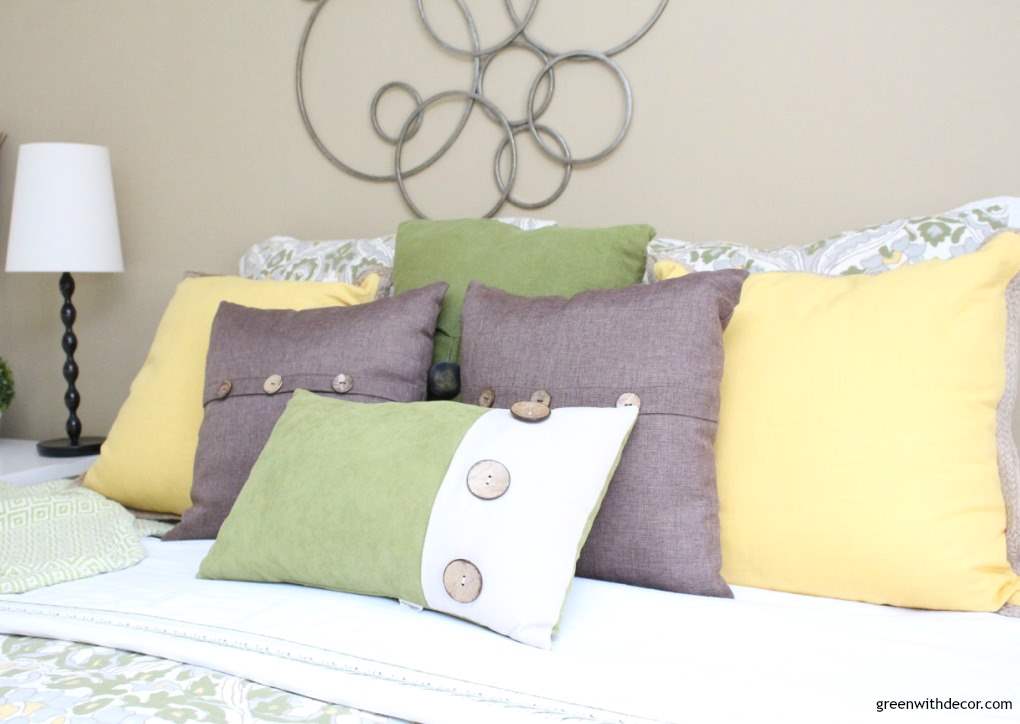 Which is why those metal circles are slightly off center. We had to move the bed over a bit to fit the new nightstands, but I didn't want to move the metal piece and drill another hole in the wall if I'm replacing it anyway. So thanks for just ignoring that off center artwork and not judging. 🙂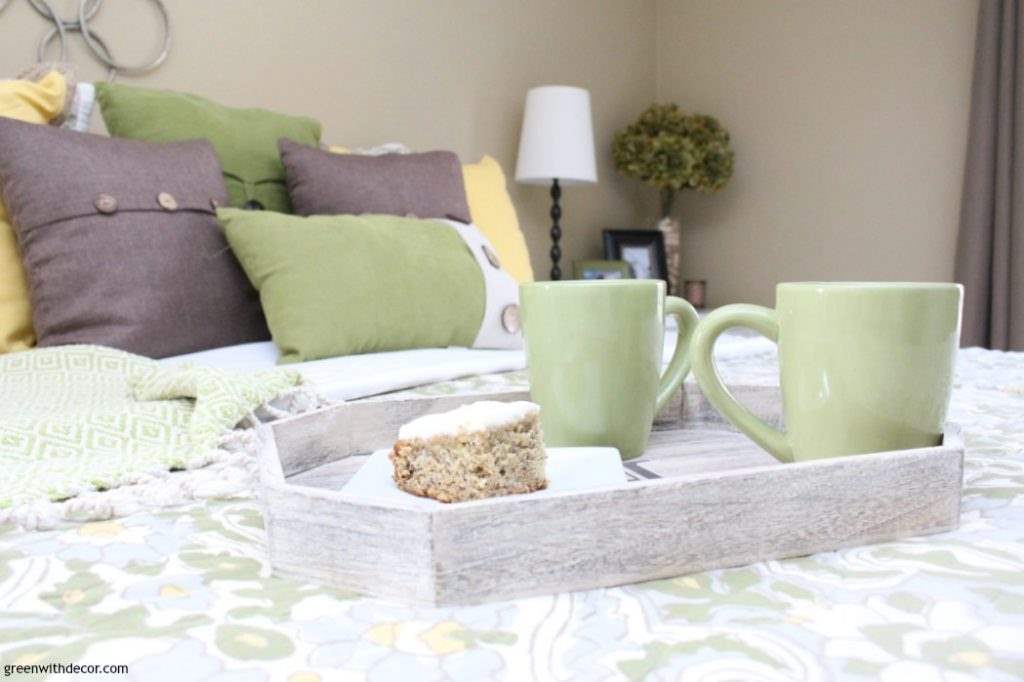 More to come on bedroom updates at some point. Meanwhile, if you want to shop for pretty new nightstands so you can get organized, too, head to Steinhafels website or one of their stores. Their blog is full of fun decorating tip and tricks, too.
This post contains affiliate links. This means if you click the link and buy something, I may receive a small percentage of sales at no extra cost to you.
GET THE LOOK:
Since a popular question I get is "Where'd you get that?!," here are links to the same or similar sources:
Remember to bookmark or pin this post if you want to save it for later!


Pin it!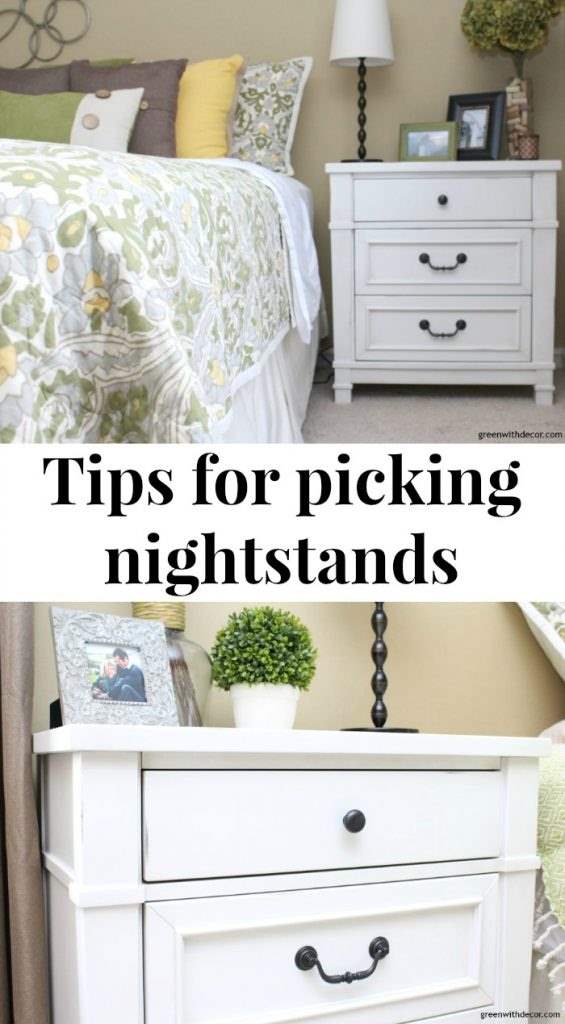 Want to read more posts like this?
Follow along: Get my emails | Facebook | Pinterest | Twitter | Instagram