I love jewelry. Nothing too fancy, just fun necklaces and bracelets to add a little color to an outfit.
But I'd never wear any of it if it wasn't organized and easy to grab on my way out the door. I'm all about an easy morning routine.
Plus I just feel better when things are organized.
I hate having random clutter – including jewelry – sitting out, so I've come up with some pretty ways to organize jewelry.
Organizing bracelets
This pretty bowl with the gold trim is actually my Grandmom's old salad bowl.
When I got it, I loved the gold trim and wanted to leave the bowl out on display.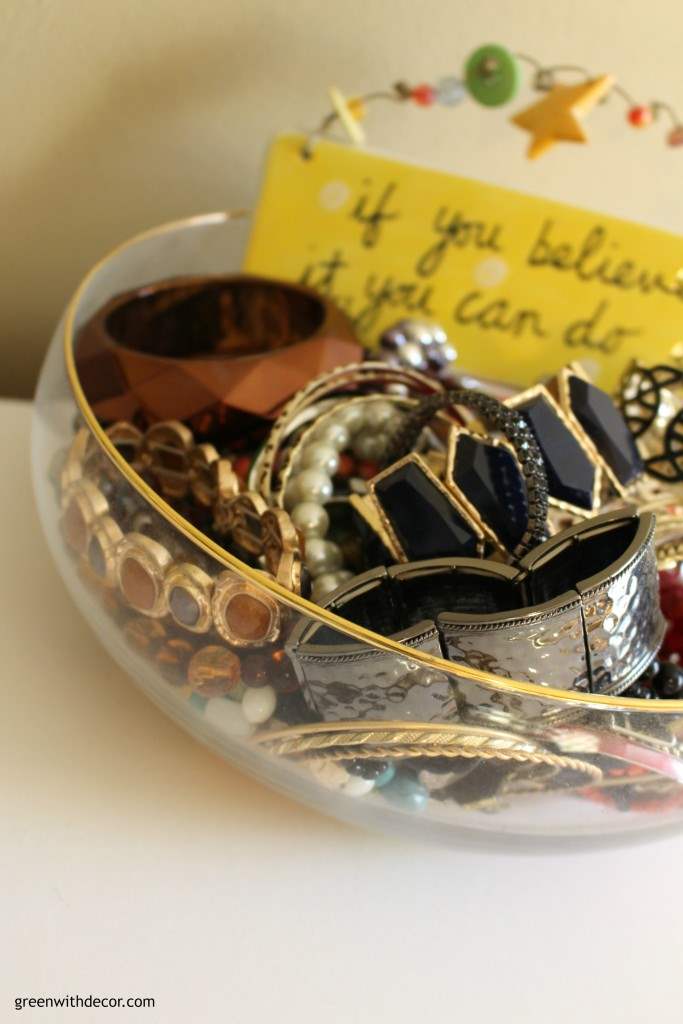 This post contains affiliate links. This means if you click the link and buy something, I may receive a small percentage of sales at no extra cost to you.
It's perfect for displaying bracelets. Plus, with a glass bowl, it's even easier to see where that one bracelet you're looking for is at any given time.
I try to include links to products I use so you guys can buy anything that you like, too. But since a lot of the pieces I use for organizing jewelry were gifts or found at TJ Maxx, I can't link to them.
So instead, I found some similar options for you guys if you're interested! This clear salad bowl would be a fun way to organize bracelets!
Organizing necklaces
I saw one of these stands in a magazine several years ago and then searched high and low until I found one for myself. It took months. I couldn't find it anywhere.
(This is why I include links to products I use for you guys! I hate when I read something and love a pillow or rug or, you know, a necklace stand they use, and I can't find it anywhere!)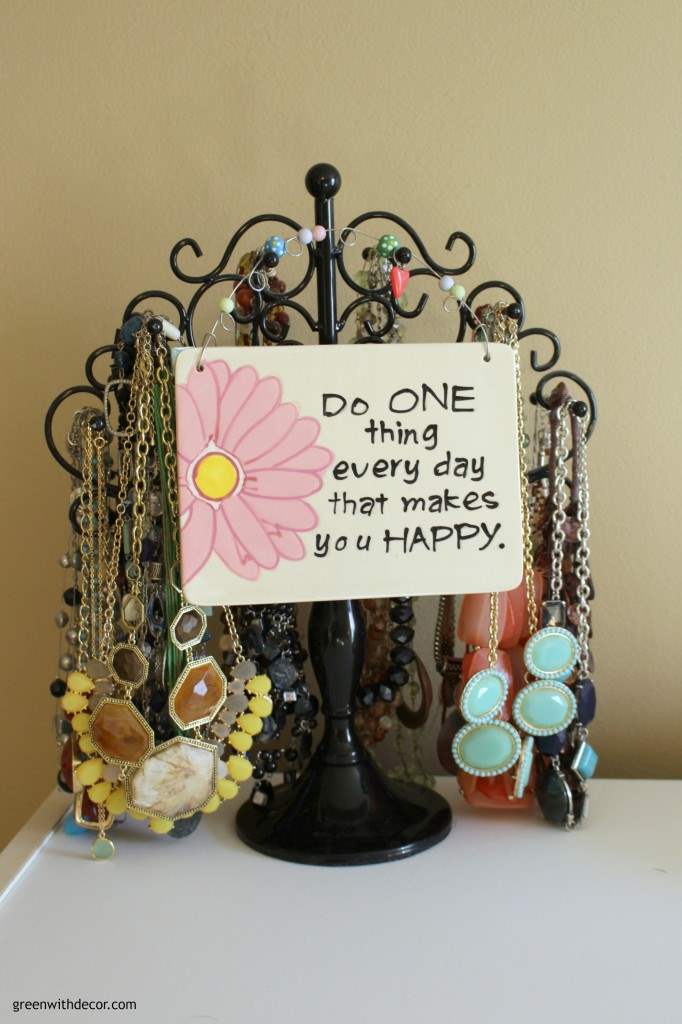 And then one day at TJ Maxx, I found it. Good thing I visit TJ Maxx so often, I might have missed it! (I might definitely have a TJ Maxx addiction.)
But seriously, I love this stand. It's perfect for organizing short necklaces.
Here's one I found that's similar.
For long necklaces, I attached these Command Hooks to the side of my dresser. This is such an easy solution.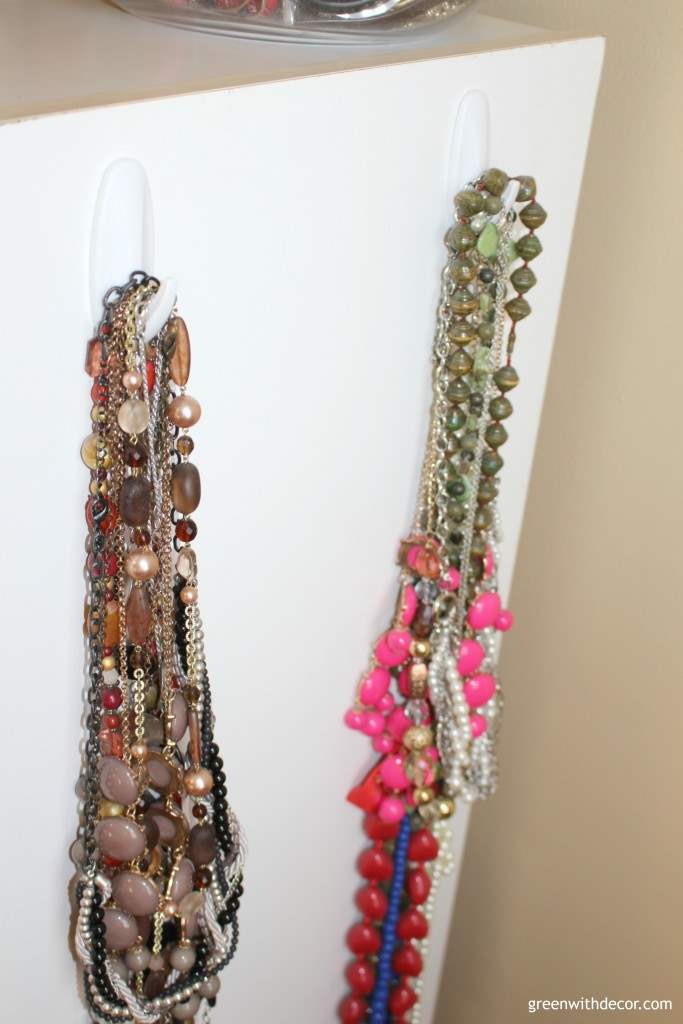 To keep the hooks hidden, I stuck them on the side of the dresser you can't see when you walk in the room.
Organizing earrings
I got this jewelry holder at TJ Maxx years ago. It's double sided so there's plenty of room for earrings, but I use just the one side to keep all my earrings in one easy-to-see place.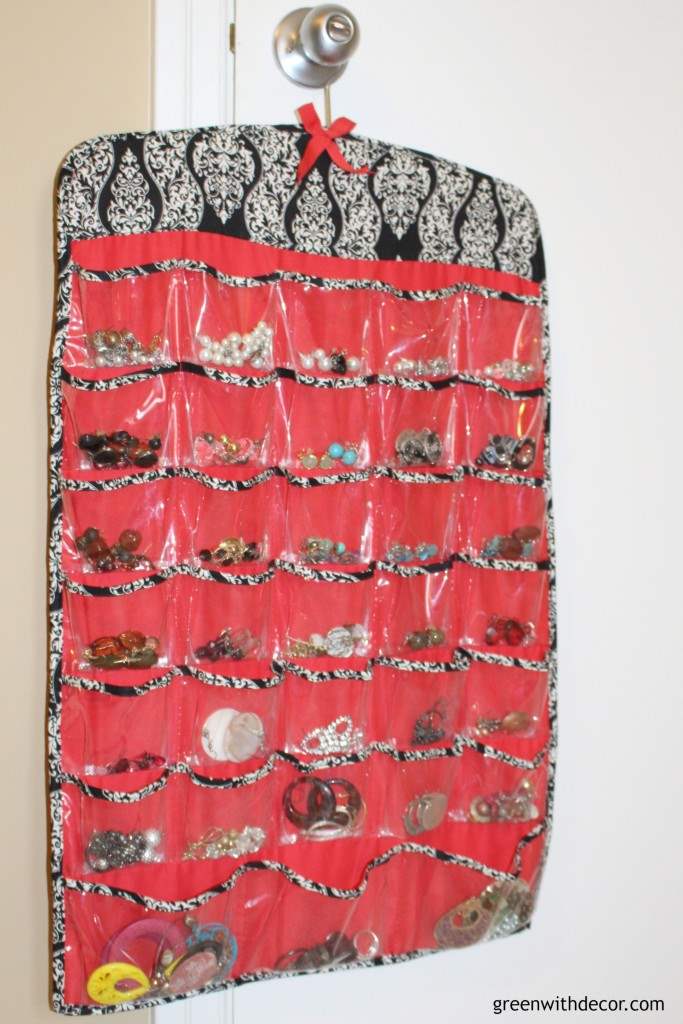 Not so funny story: When we were moving into our house, the jewelry holder was hanging up with the empty side facing out – I was convinced that all of my earrings had fallen out somewhere between Ohio and Wisconsin and were all gone forever.
Needless to say I was panicking. Ummm no need to worry, I just had to turn the earring holder around. Whew.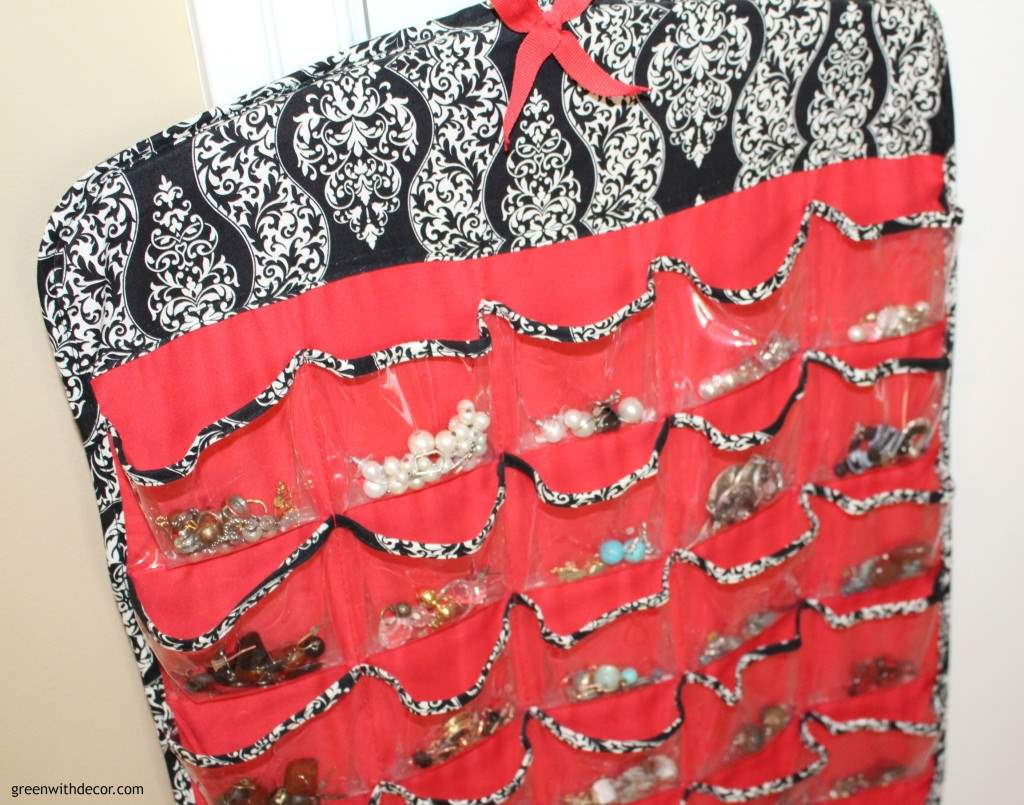 I normally have it hanging in the closet so it's out of the way, but I took it out for a few quick pictures.
(Similar earring holder here.)
Jewelry tray
I love jewelry trays. I think every dresser should have one.
You may remember the little green one I have in the guest room.
I keep this little "Hers" out on the dresser for this bracelet and my watch, both of which I wear pretty much every day.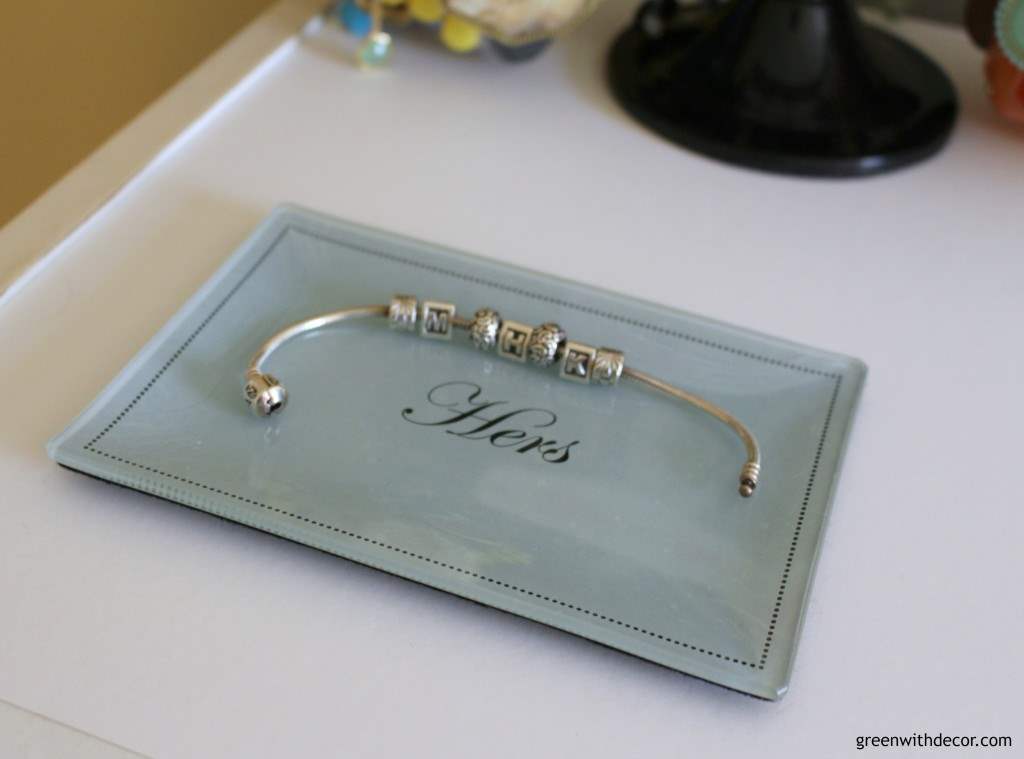 Kalen has a "His" tray on his dresser. Although I'm pretty sure he doesn't really care about trays as much about it as I do!
But aren't they a cute set?!
How do you organize your jewelry? Share your best tips!
You can see more organizing tips and ideas here:
Remember to bookmark or pin this post if you want to save it for later!


Pin it!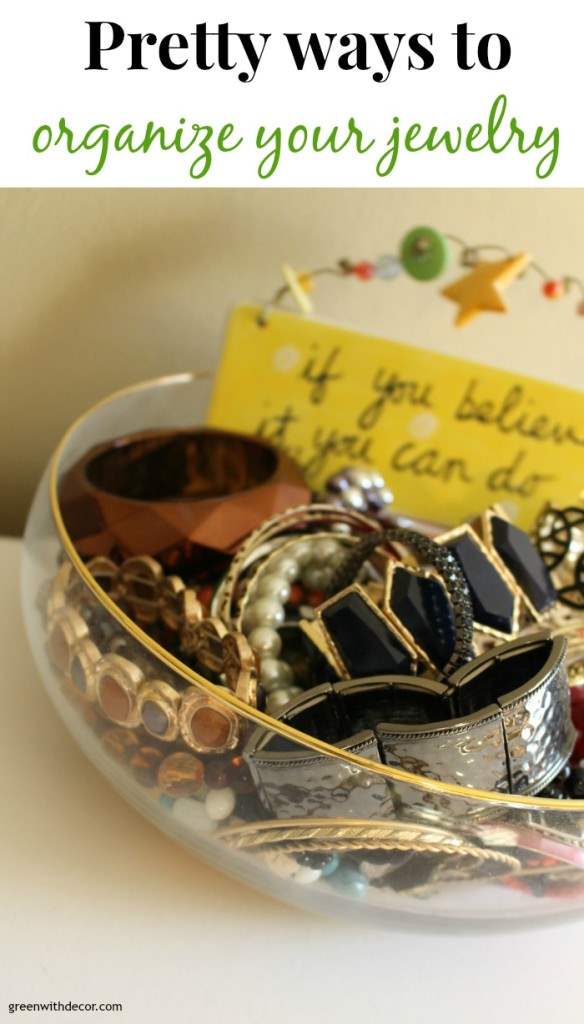 Want to read more posts like this?
Follow along: Get my emails | Facebook | Pinterest | Twitter | Instagram