If you've been around for a while, you know two of my favorite things are white kitchens and kitchen renovations.
And when the two are combined? It's the best.
I enjoy any kind of before-and-after, but a good kitchen renovation always gets me. Every single time.
I know a lot of you guys share these loves with me so today I'm sharing some of my favorite white kitchens from around blogland for you guys to enjoy!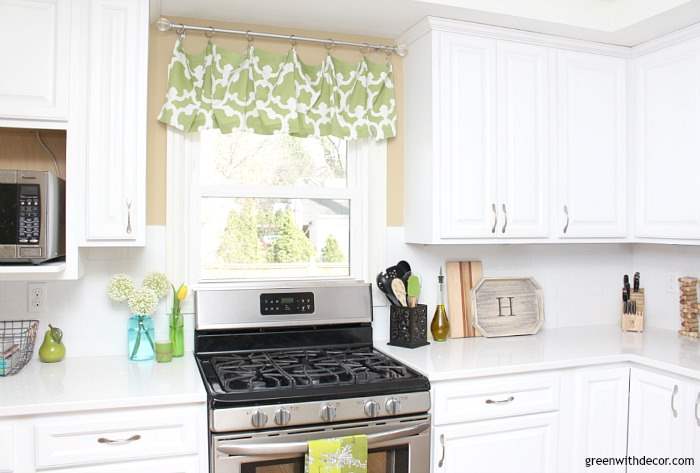 We're talking serious eye candy here plus some smart renovation ideas.
I LOVE seeing how people rework a layout to make a house work better for them, especially in the kitchen because it's a room we all use so often.
First up, here's our white kitchen that we completely renovated. It started out as a galley kitchen with light blue cabinets and was completely closed off from the eating area.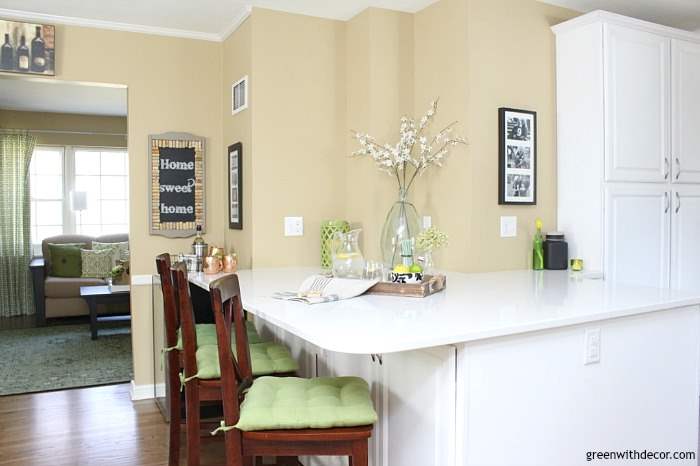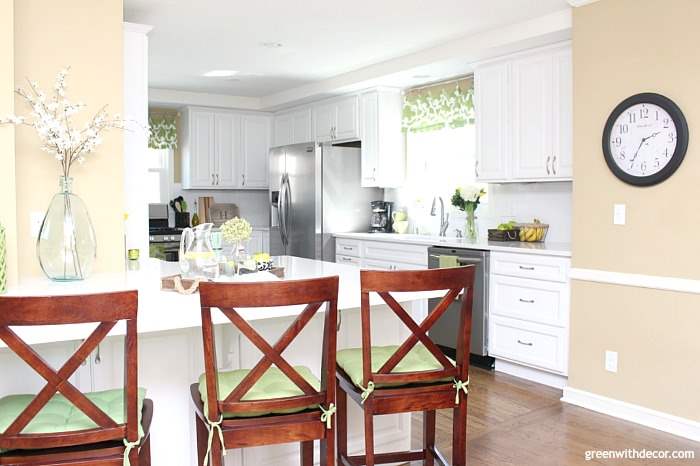 You can read all about the kitchen renovation here. And my 5 must haves for a kitchen renovation here.
I rounded up a variety of white kitchens, but first up:
All white kitchens
[Please pin all images from the original source.]
Kristin from Bliss at Home just wrapped up a gorgeous white kitchen makeover. Her mix of white, black and gold is so pretty.
I love all the light fixtures she used!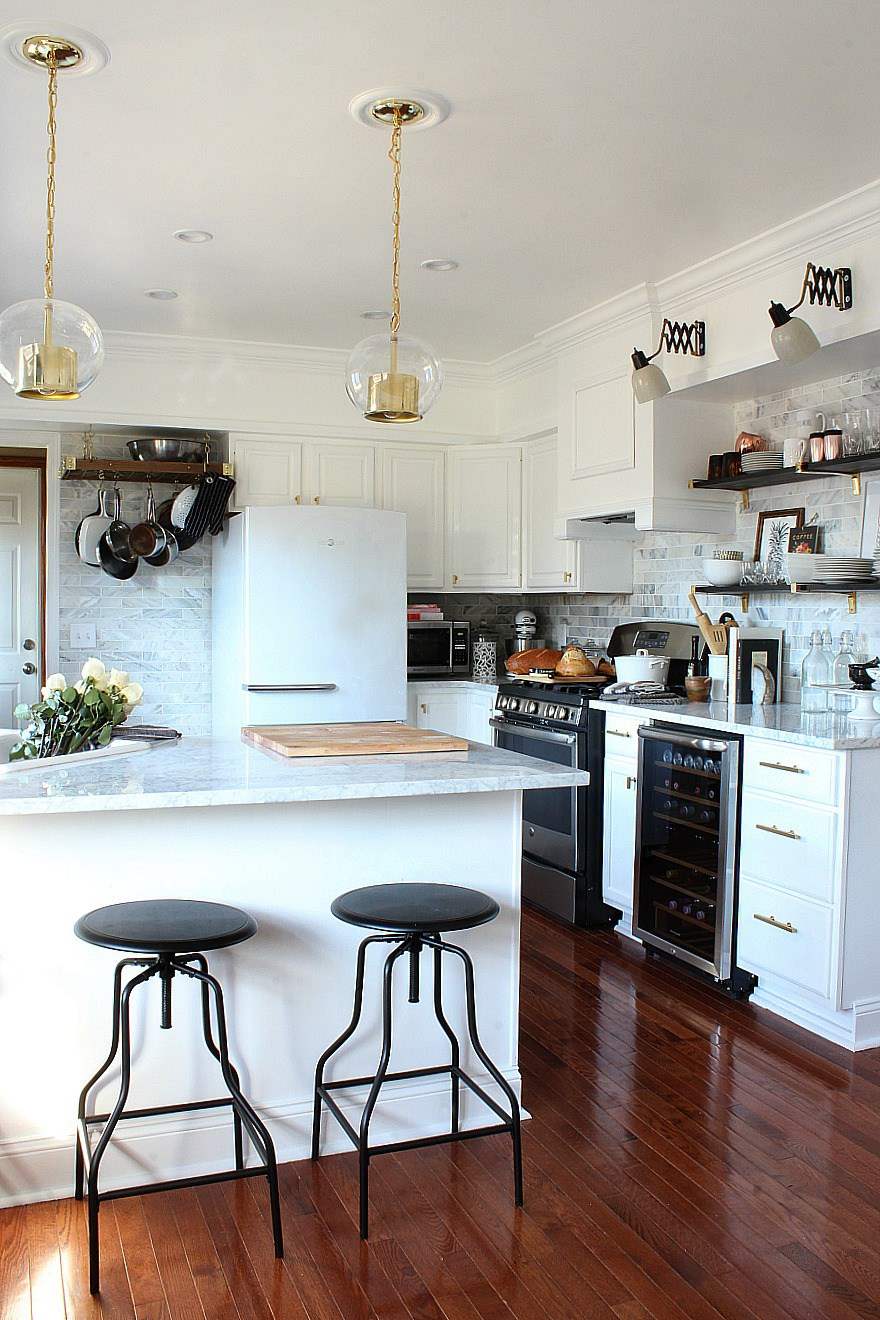 Sara from Shabby Grace Blog has a gorgeous white kitchen! Sara was one of my first blogging friends – I saw her pretty kitchen and knew we'd get along!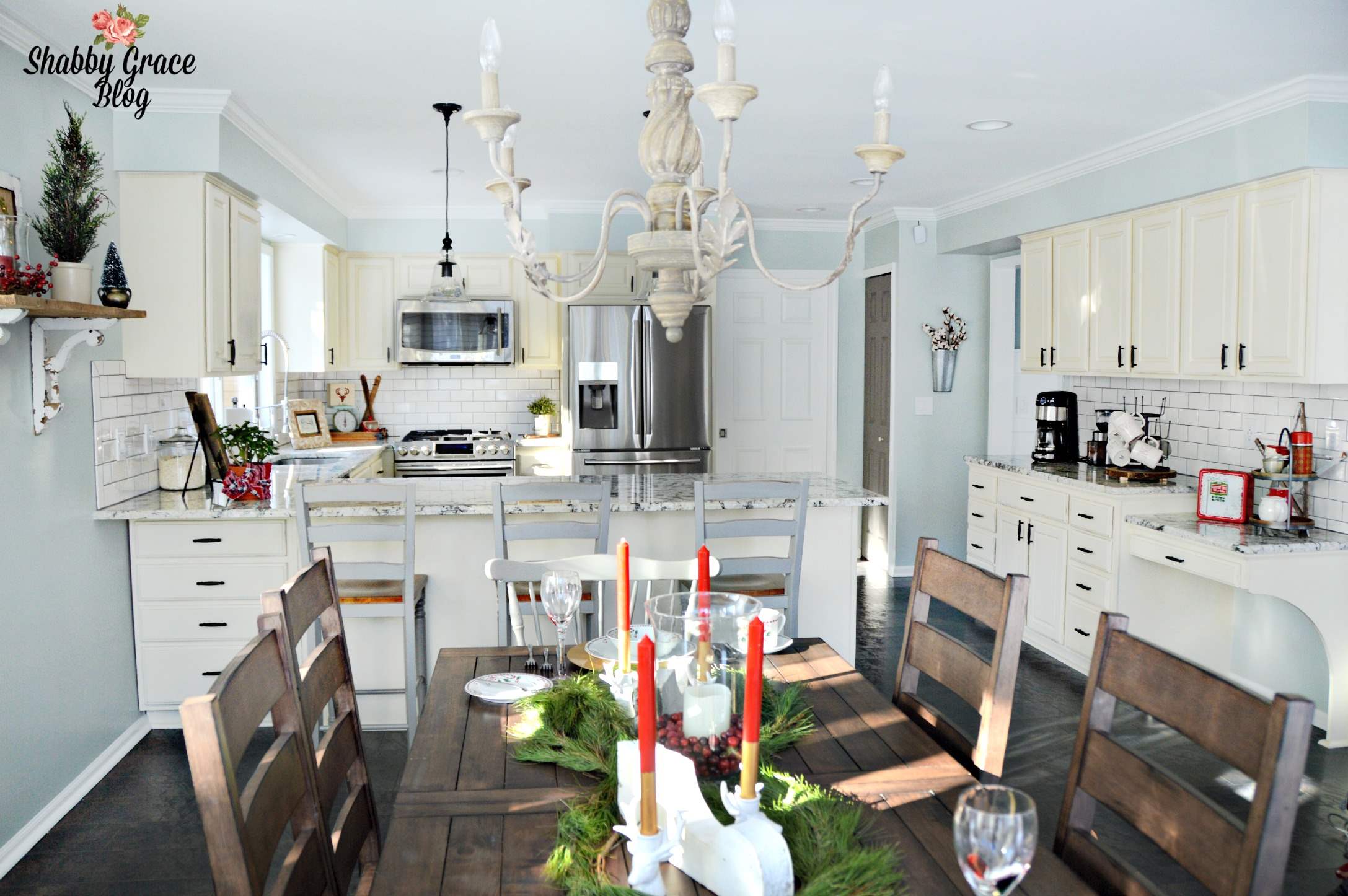 If you love decorating with neutrals, Jamie from So Much Better With Age is your girl. She has awesome style and has done a few all white kitchens – I've loved every single one.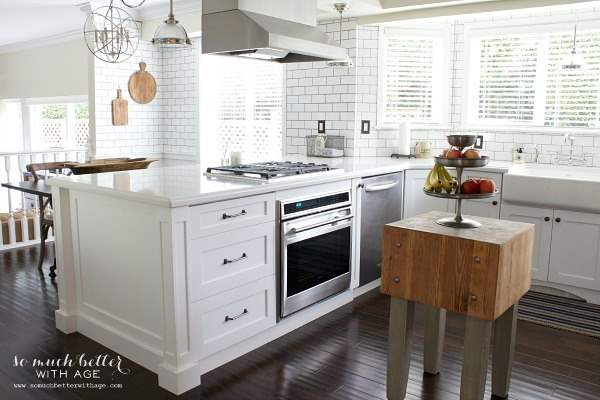 If you're as into before-and-afters as I am, you'll love Erica from Designing Vibes. Her room makeovers are so pretty!
And isn't that white brick in her kitchen cool? I love fun touches like that.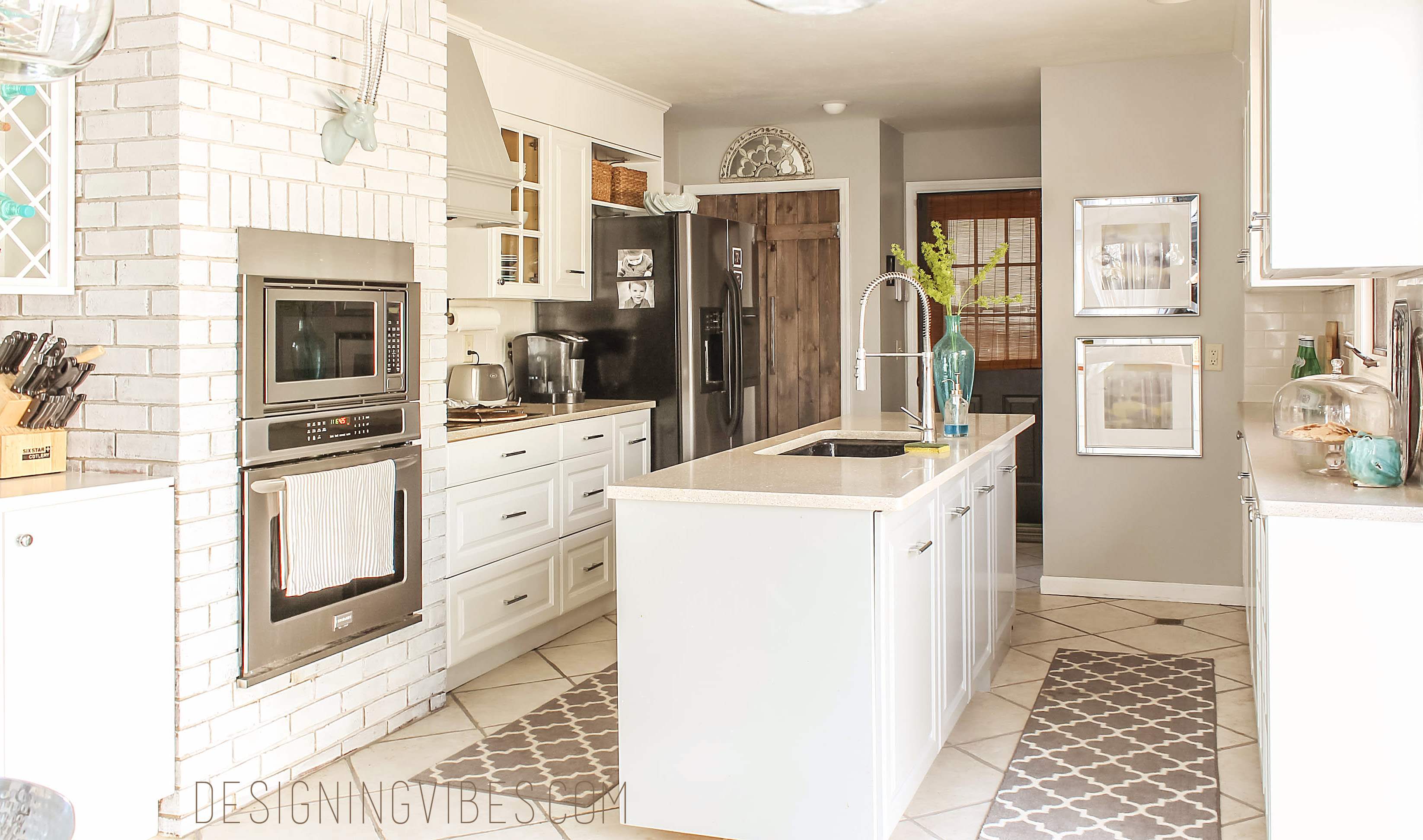 Abby from Just a Girl and Her Blog recently revealed her white kitchen makeover, and it's gorgeous. She has such a way of styling a space with fun little details.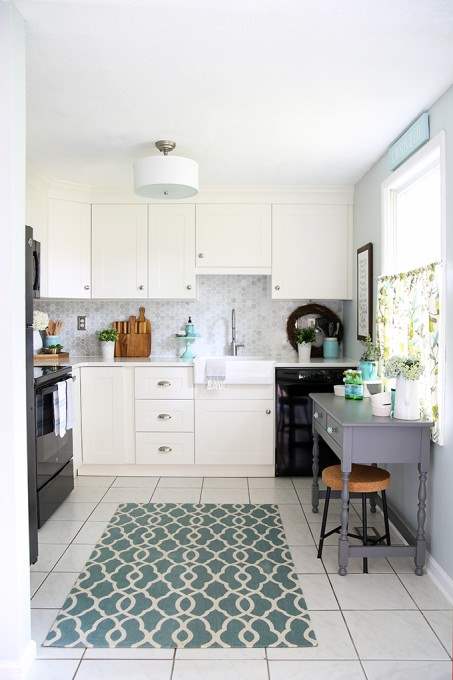 I love Lynzy from Lynzy & Co.'s white kitchen makeover. Those beams!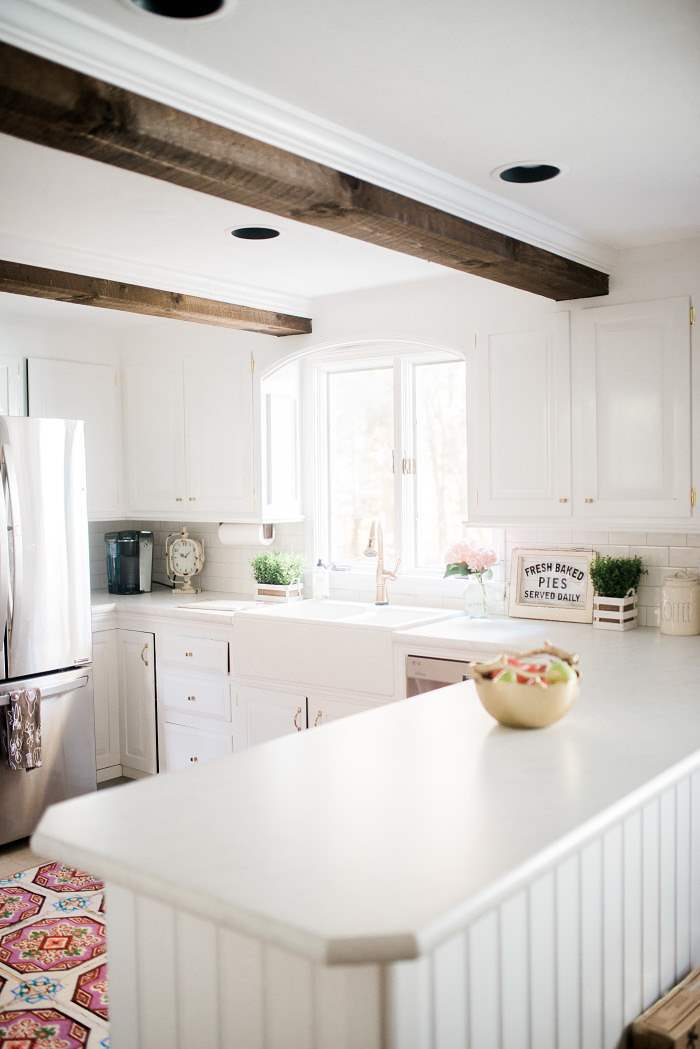 Colored lower cabinets:
Now we know I'm a big fan of all white kitchens, but painting the lower cabinets or an island a different color than the rest of your cabinets has been a growing trend.
The top white cabinets still give a kitchen that bright, white feel, while the bottom cabinets add a fun pop of color.
Jenna from Rain on a Tin Roof transformed her all white kitchen to include blue lower cabinets and gold hardware. It looks awesome!
You can read all about the painting process – and her DIY kitchen island – on her blog.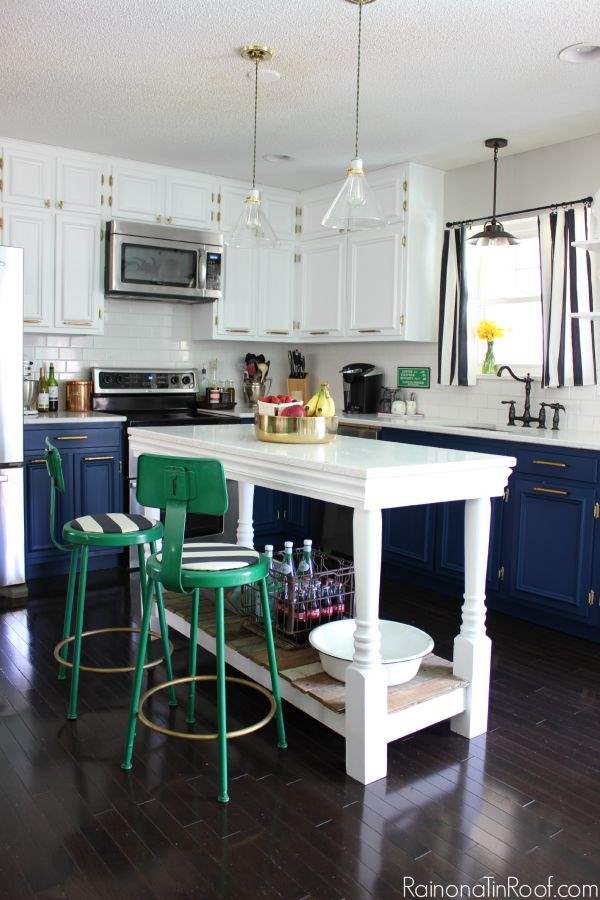 If you're into a more neutral color to pair with your white cabinets, check out this pretty gray island from Kim of Hunt & Host.
And isn't her Dutch door charming!?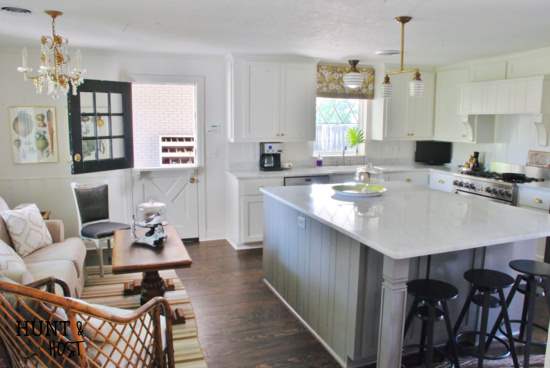 For black lower cabinets, Katie from Little House of Four has you covered. And you have to see how she made that MARKET sign above her sink – I want one!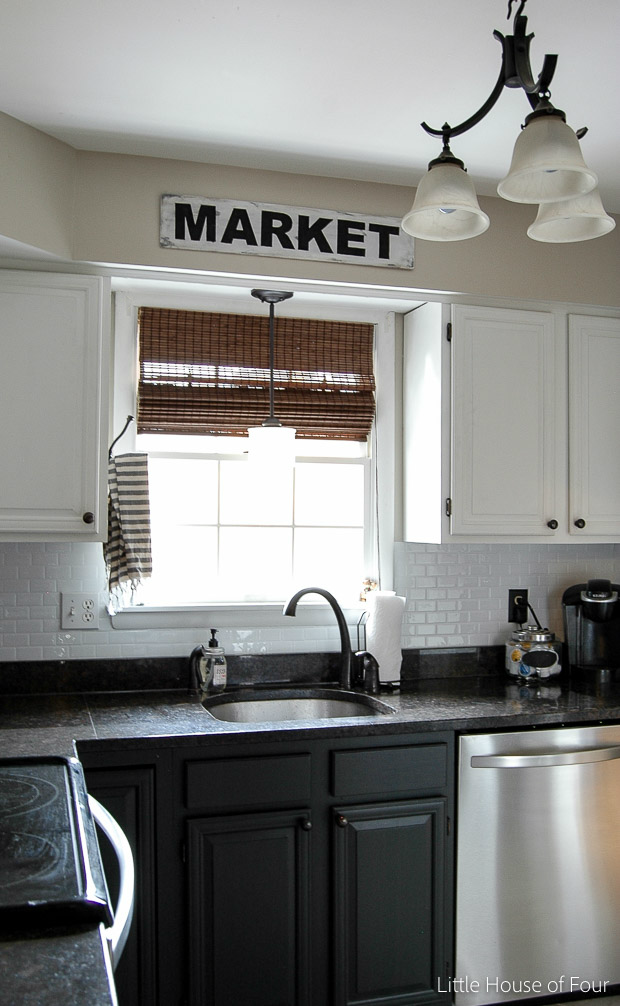 Christina from The DIY Mommy has great decorating style. Her kitchen has white upper cabinets and lower black cabinets – AND marble backsplash! Of course I love her silver finishes.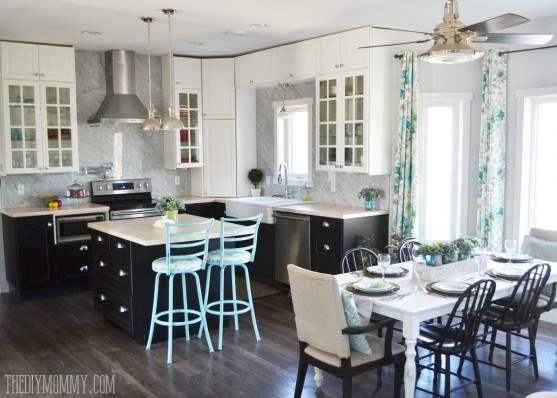 Non-white counters
And the last kind of white kitchens – white cabinets with non-white counters.
This white kitchen with butcher block counters from Emily of Go Haus Go is so pretty. And that marble tile? Love it!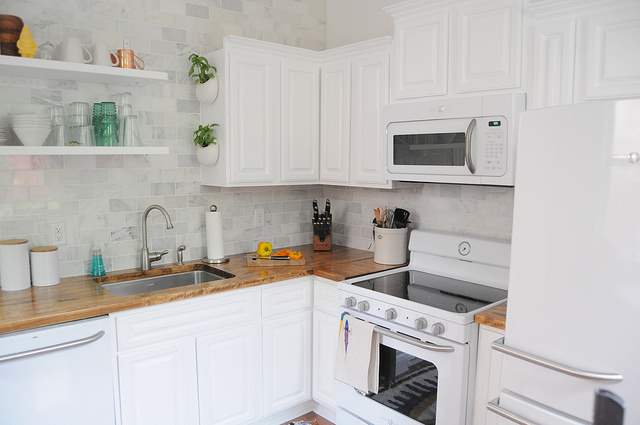 Ashley of Cherished Bliss has a pretty white kitchen with butcher block counters, too.
I love how she added the DIY kitchen island to make the space work better for her family. Small layout changes like that get me every time – it's all about making a space work for you!

Maria from Simple Nature Decor has a gorgeous kitchen. The use of reclaimed wood is so pretty. Be sure to take a look at her wine rack!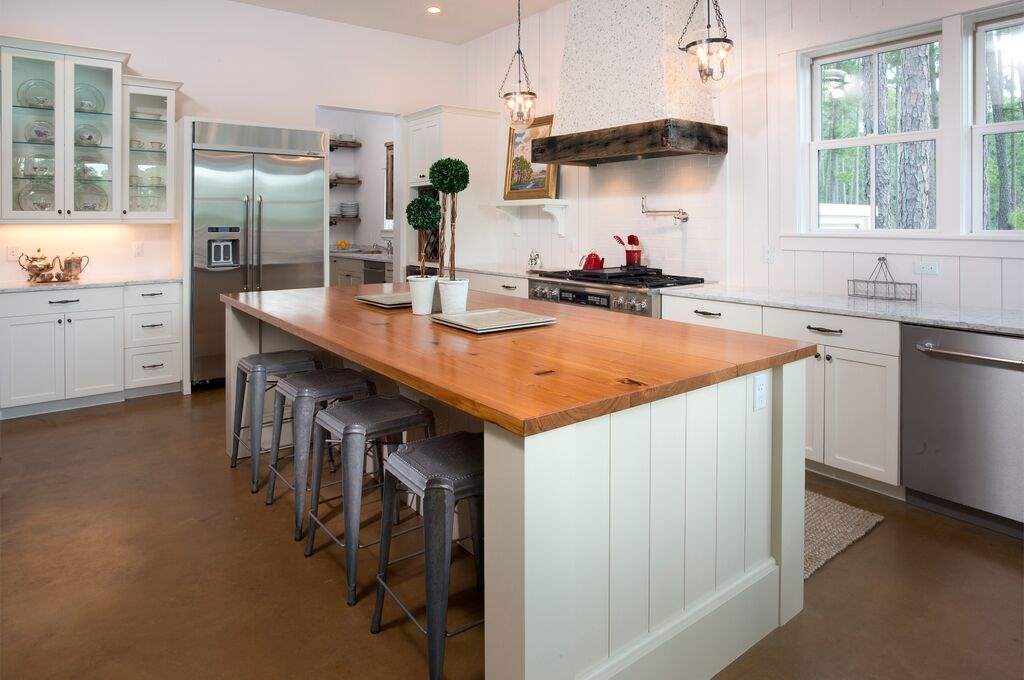 For a beautiful white kitchen makeover, take a look at Nina Hendricks' blog. She has such an eye for design. I love her room makeovers.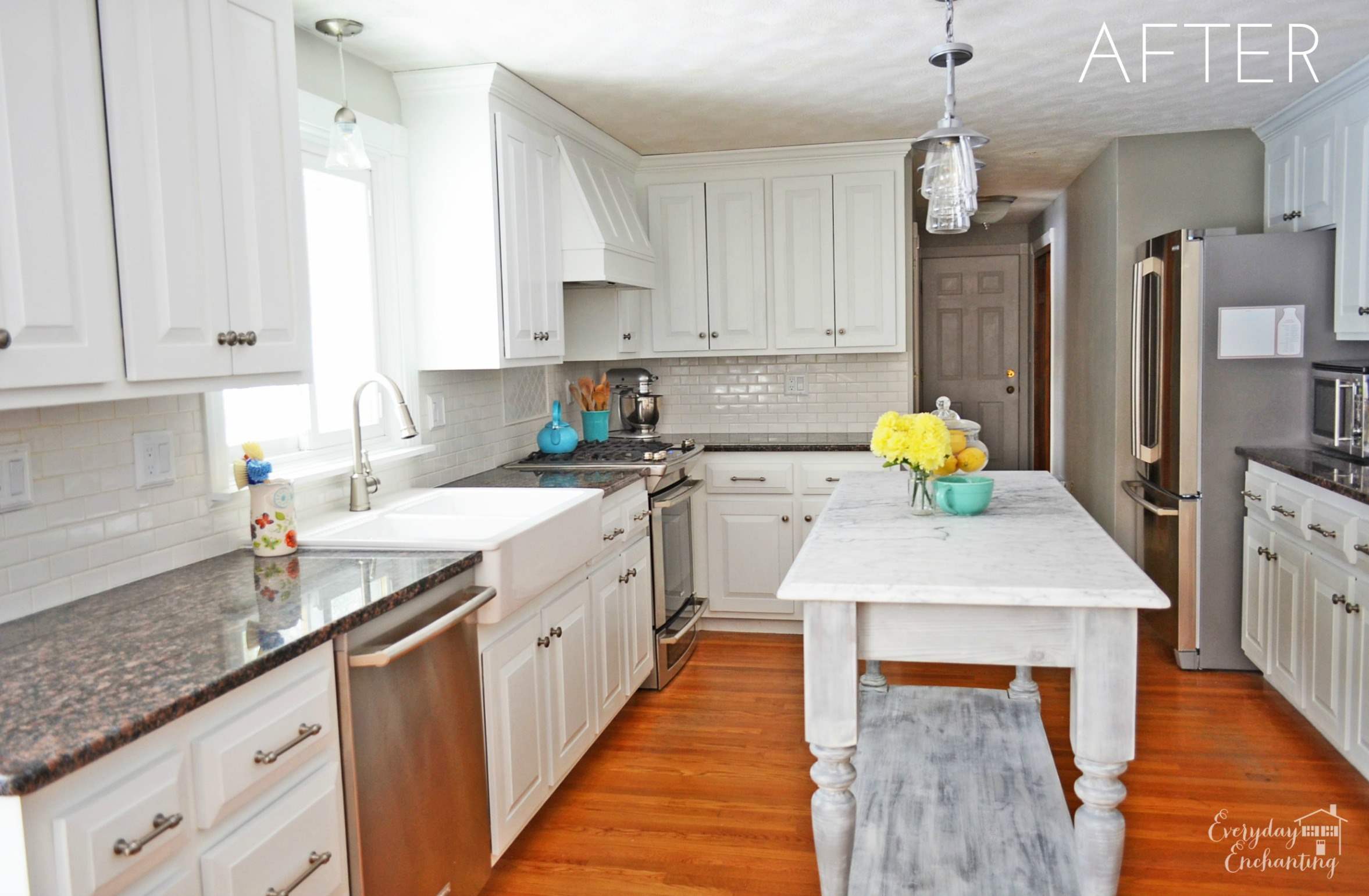 Rachel from Maison de Pax did a beautiful kitchen renovation at her last house. I love all the silver finishes she used.

Deb from Seeking Lavender Lane has cement counters in her kitchen, and it's such a cool look with the white counters and backsplash. Her whole kitchen makeover was just $400!

Amy from My Life From Home painted her kitchen cabinets white (for only $250!!), and the difference is so great! White cabinets just make a kitchen so much brighter!
I love the coffee bar and dry bar areas in her kitchen.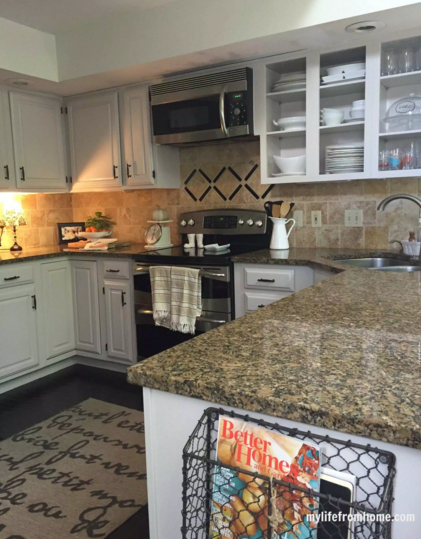 Ruthie from Refashionably Late JUST finished painting her kitchen cabinets. Isn't her kitchen pretty? It's so bright!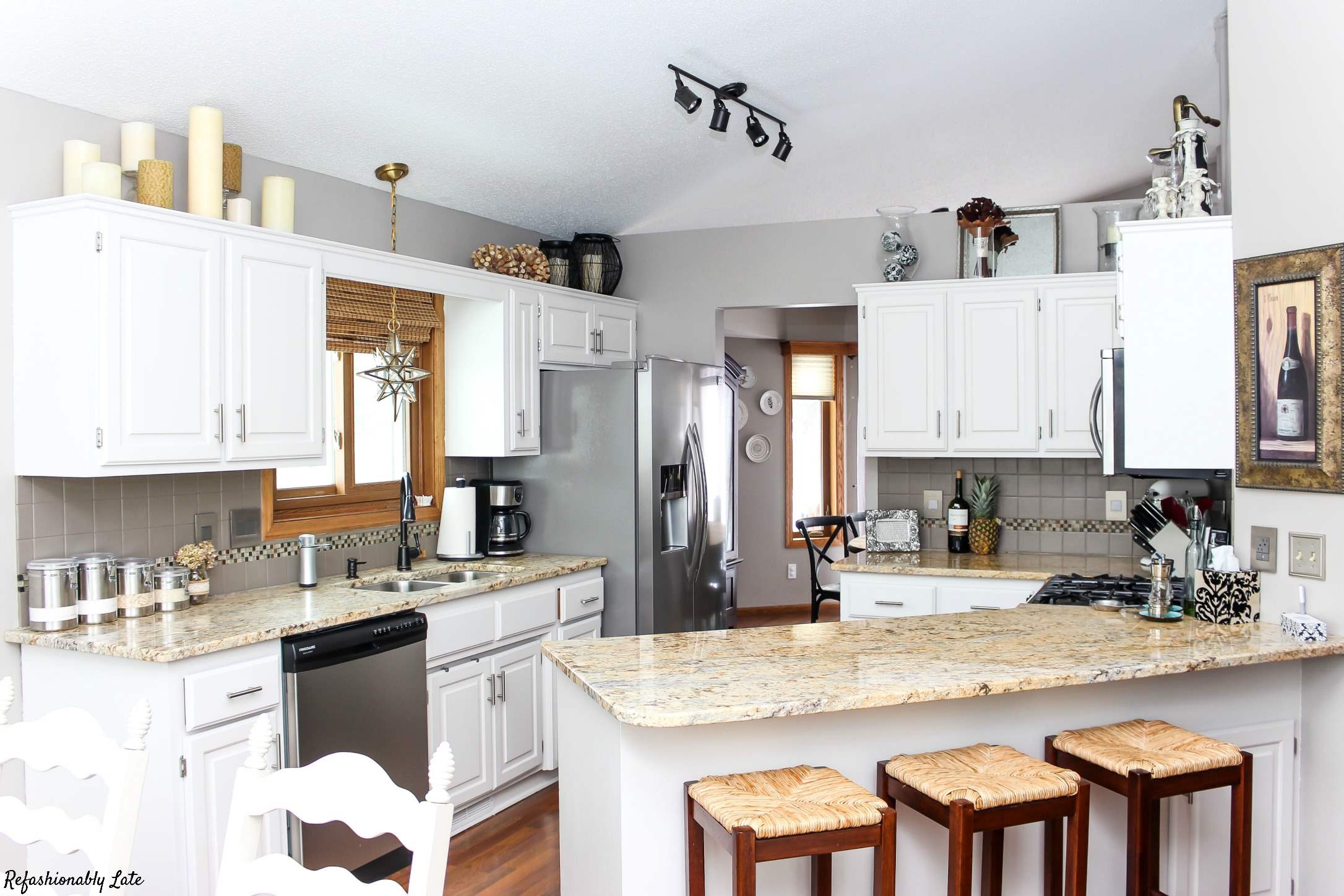 This post was so much fun to put together. I could look through pictures of white kitchens all day.
I hope you have fun clicking around to see all the beautiful kitchen photos!
Planning your own renovation?
Download my Kitchen Renovation Checklist so you can easily keep track of each step. 
*Please note: All printables and downloads designed by Green with Decor are for personal use only. Please do not alter the files or claim them as your own. These files are not intended for resale, nor are the printed versions of these files.
Remember to bookmark or pin this post if you want to save it for later!


Pin it!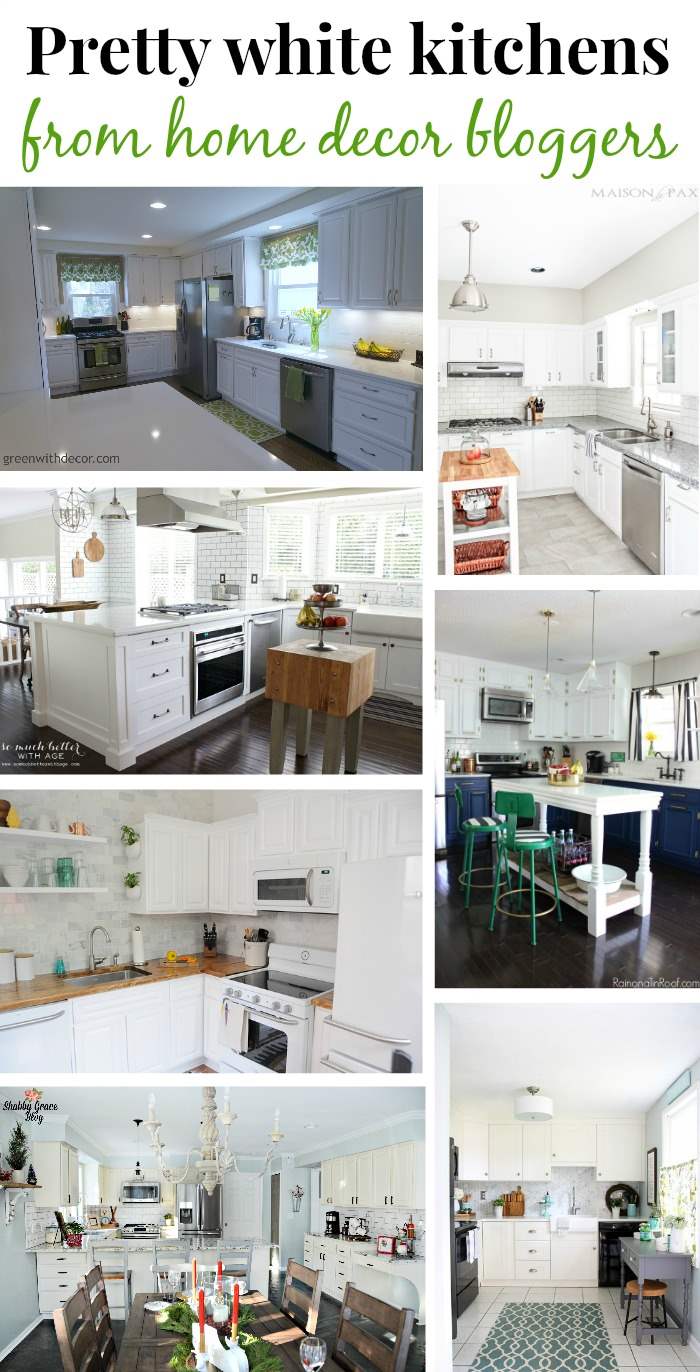 Want to read more posts like this?
Follow along: Get my emails | Facebook | Pinterest | Twitter | Instagram