Room reveal days are always some of my (and your!) faves!
We don't have a separate foyer in our house. The front door opens up pretty much right into our living room.
I've always designated a small spot at the front of the room as a 'foyer' because I like having at least the appearance of a foyer!
Plus it's a nice way to squeeze in some extra storage!
Here's how our foyer started: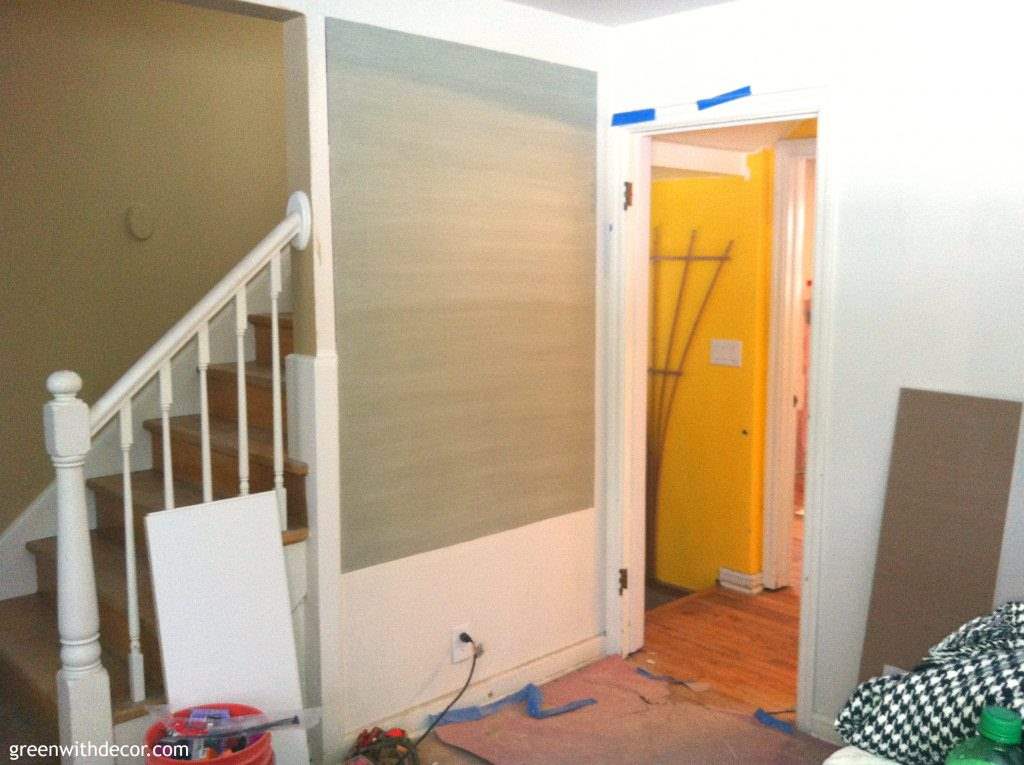 And now: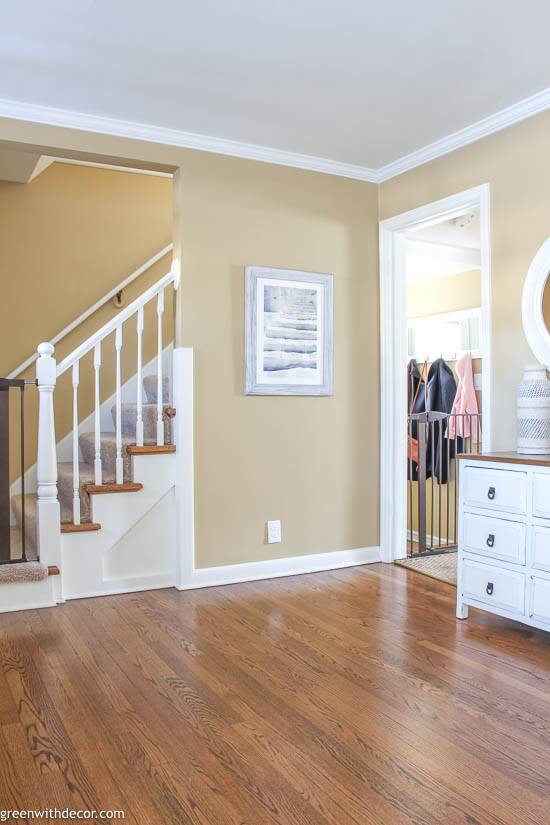 I love the airy coastal feel of this space now!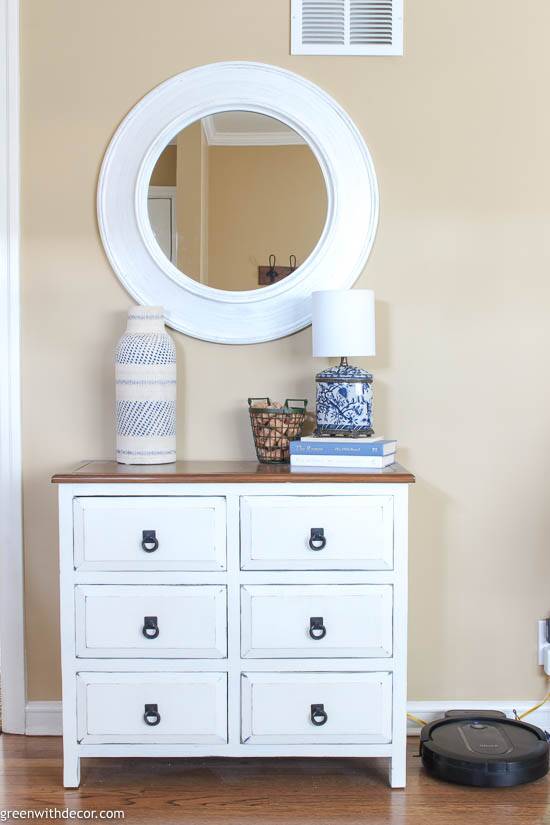 I love seeing how rooms transform over time, and sometimes the big before/afters make it seem like these things happen overnight. They definitely don't!
So here's how this space looked for a few years before this: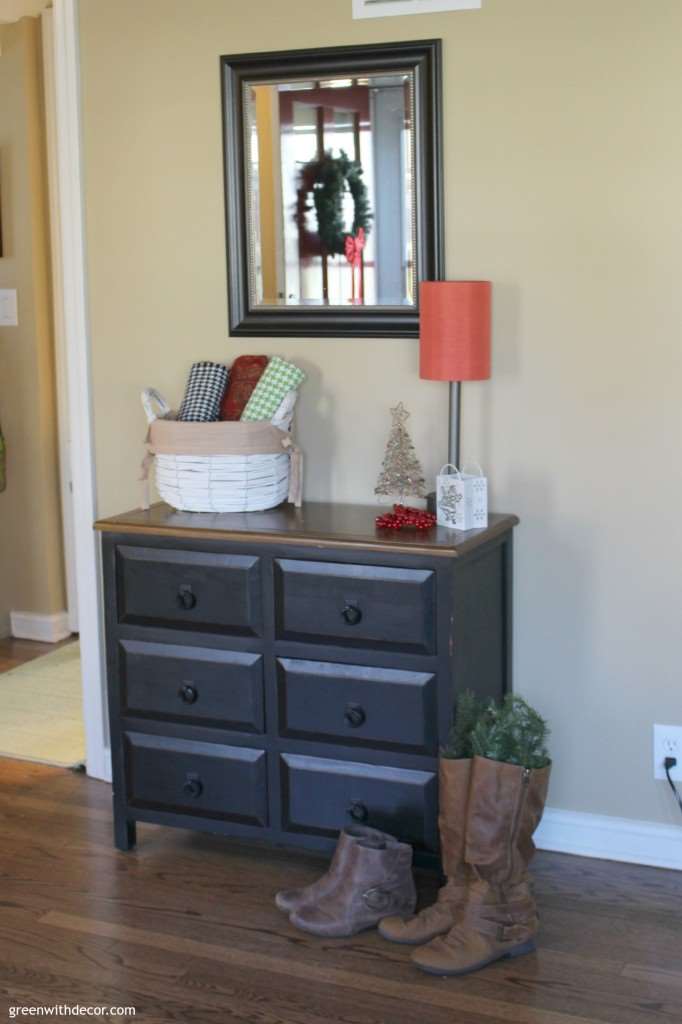 And way back when: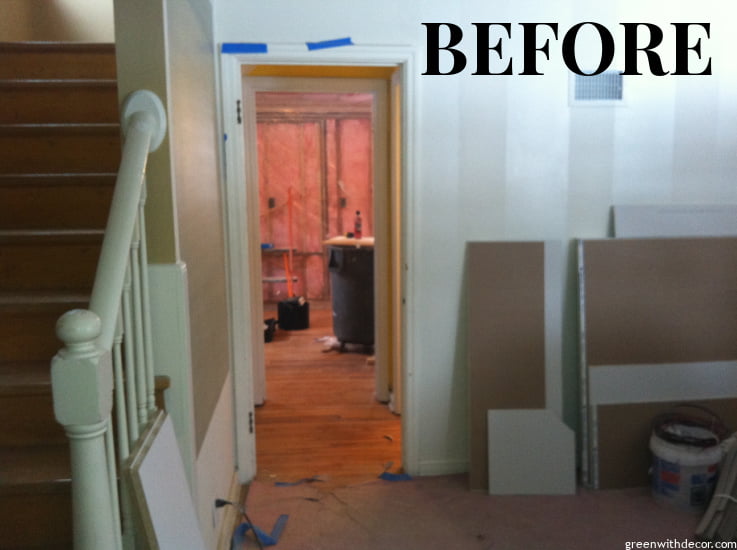 Now let's dive into the details, shall we?!
This post contains affiliate links. This means if you click the link and buy something, I may receive a small percentage of sales at no extra cost to you.
Dresser:
It's always amazing what paint can do. Painting this black dresser white instantly brightened up this whole space!
See the tutorial here: How to distress a dresser for a chippy farmhouse look.
Or this dresser has a similar look if you want to buy!
Plus a little dresser like this in a foyer is awesome for extra storage.
Mirrors:
I went on a big online search for a white round mirror (see them all here) perfect for a coastal foyer, and I picked this one.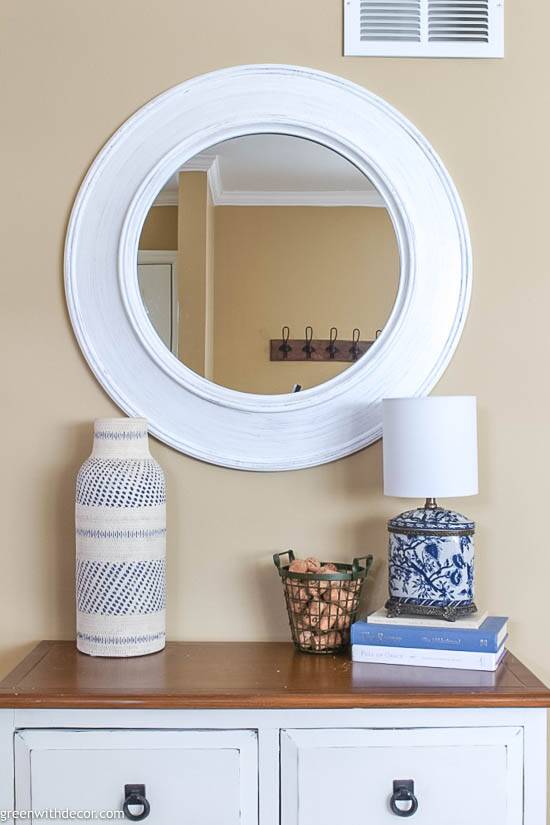 I also added this pretty wood mirror at the bottom of the stairs. I LOVE the shape of it!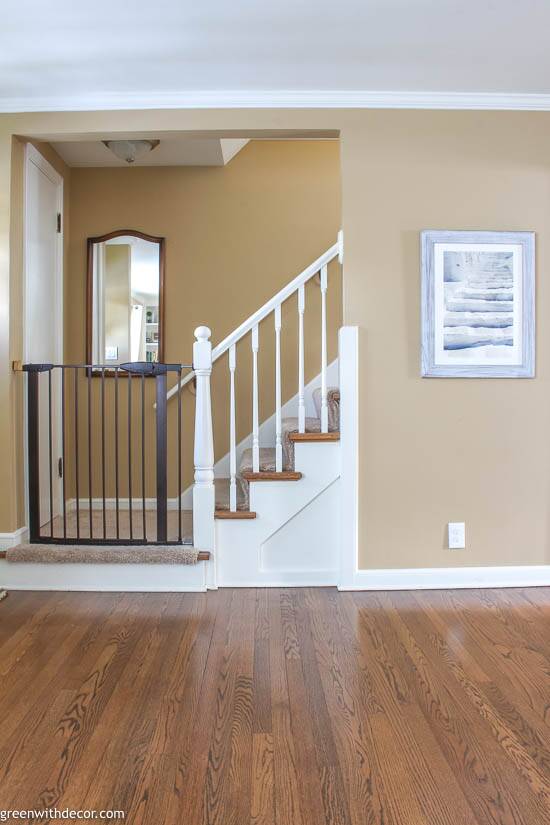 I still want to swap out that light fixture on the landing above the mirror, but I haven't found something pretty and low enough.
Artwork:
I may actually swap this artwork out for something more colorful because I feel like this wall is too neutral.
But I love this white stairs print so I'll use it somewhere else if I move it from our coastal foyer!
Vase:
This vase was a Target find a couple years ago, and I love it. I looked online but can't really find anything similar, sorry!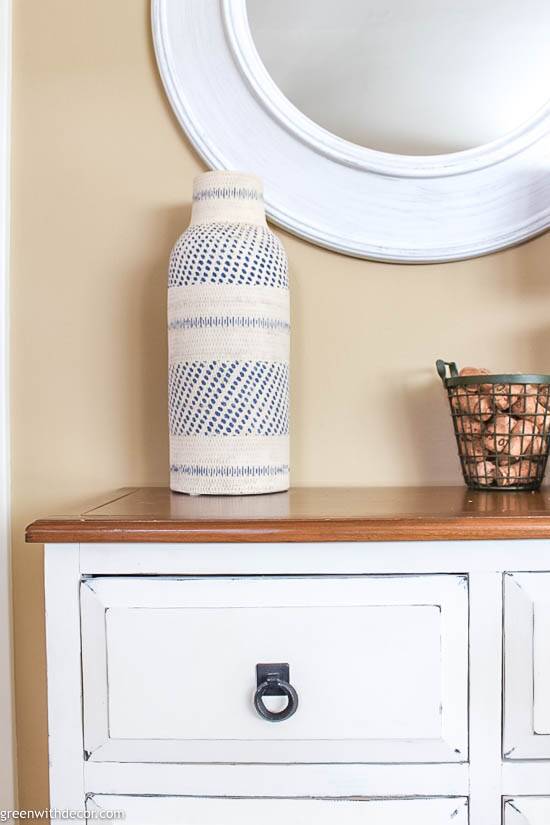 Lamp:
This cute lamp used to be my grandparents, which makes it even more special.
I just swapped out the lampshade. I actually ended up buying a new little lamp (just for the shade) because it ended up being cheaper than just buying a new lampshade. Something to remember if you're looking for a new lampshade!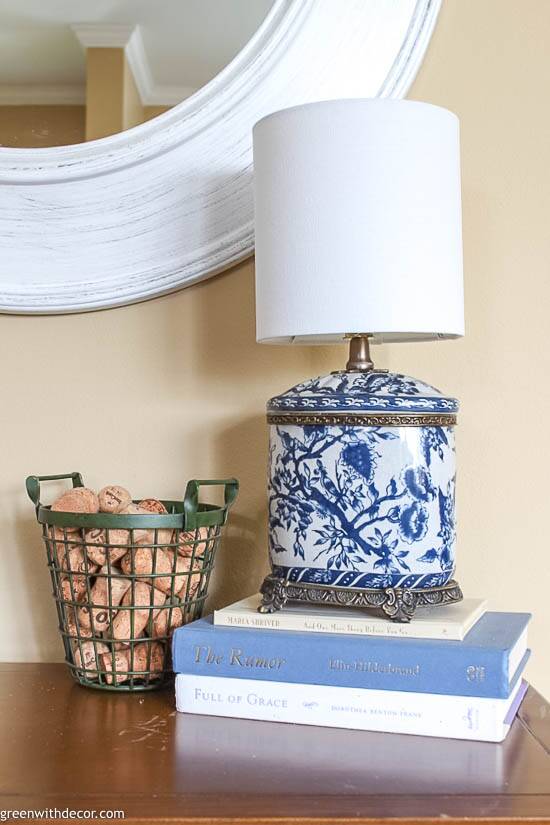 Books:
Books are the best for adding a little height!
Basket:
Corks are great for adding (free) easy texture. (And if you're looking for more cork ideas, check out this post: easy DIY wine cork projects.)
Crown molding:
We had crown molding added around our whole first floor when we added the white built-in bookshelves around the fireplace.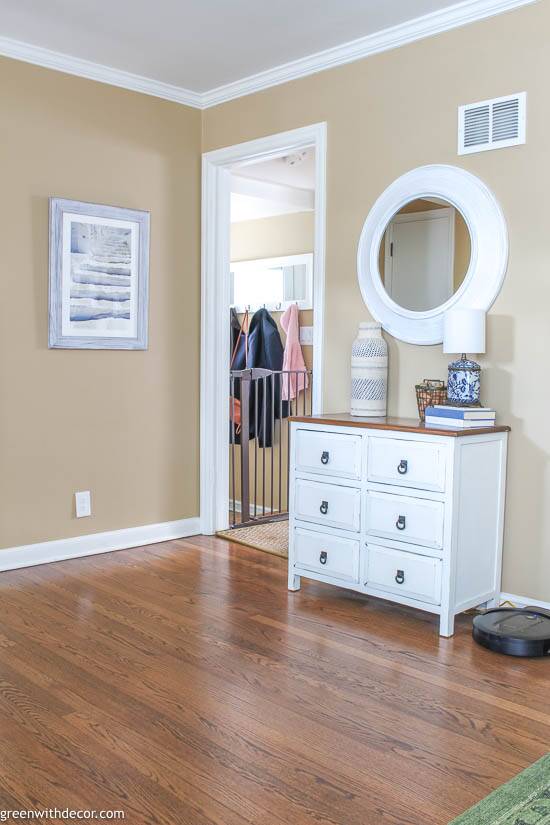 It makes such a difference in making a room feel finished!
And unrelated but since it's in a few of the photos, we got a robot vacuum a few months ago and LOVE it. I only wish I could automate dusting and cleaning the kitchen counters, too. Not having to vacuum anymore is AMAZING.
GET THE LOOK:
Since a popular question I get is "Where'd you get that?!," here are links to the same or similar sources:
If you missed our small entryway reveal a few weeks ago (you can catch a couple glimpses of our side entry in the photos above), check out that post next, especially if you're looking for small entryway storage ideas.
Or see how we painted our front door here: how to paint an exterior door.
Have any other favorite coastal foyer decorating ideas? Let's hear 'em!
Remember to bookmark or pin this post if you want to save it for later!


Pin it!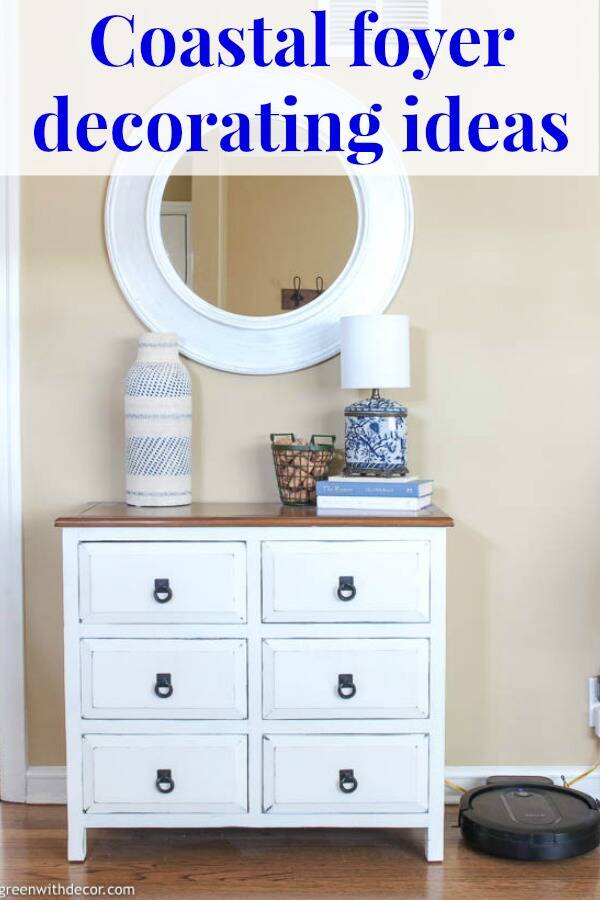 Want to read more posts like this?
Follow along: Get my emails | Facebook | Pinterest | Twitter | Instagram