This post has 7 fun St. Patrick's Day kitchen decor ideas! Gotta love easy St. Patrick's Day decorating!
I'm so excited for today's blog post! I've been planning this one for a while.
We're talking alll about easy St. Patrick's Day decorating ideas today.
I invited a few of my blogging buddies to join me for today's post as part of the Home With Decor series, so be sure to scroll down to the end of this post and hop on over to the other bloggers' posts to see even more fab St. Patrick's Day and green decorating ideas.
(My favorite kind!)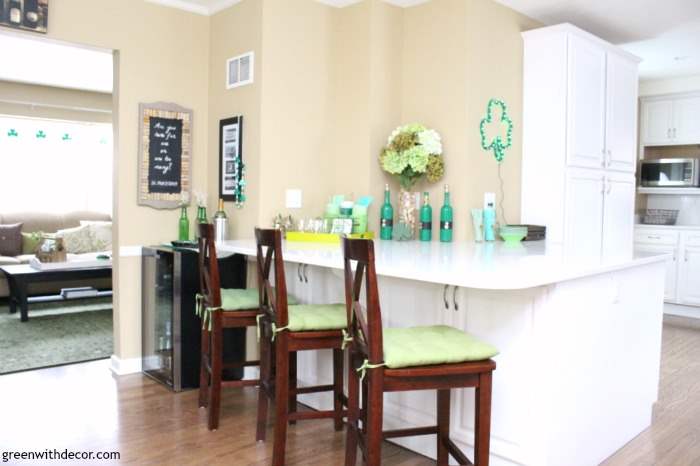 We had a St. Patrick's Day party on Saturday with our friends, and it was SO MUCH FUN.
It's always nice to catch up with everyone, we even had friends come from nearby Madison and Chicago we don't get to see as often.
This post contains affiliate links. This means if you click the link and buy something, I may receive a small percentage of sales at no extra cost to you.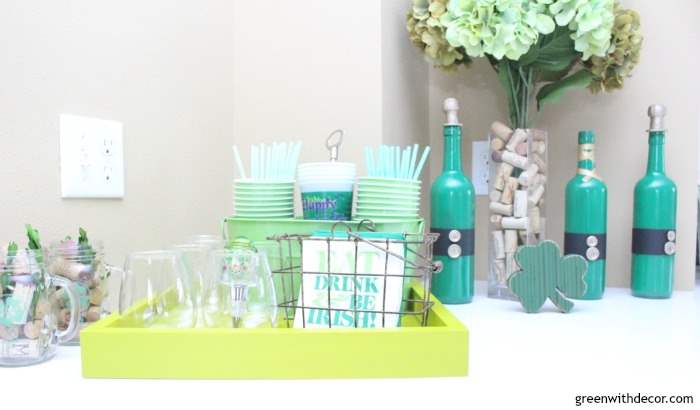 I spent a lot of time over the past week decorating for St. Patrick's Day and getting our house ready, and I took soooo many pictures.
Way too many for one blog post!
I'll share the St. Patrick's Day kitchen decor today and the living room/foyer and family room in other posts.
Although you'll get a little sneak peek of our mantel in some of the pics below.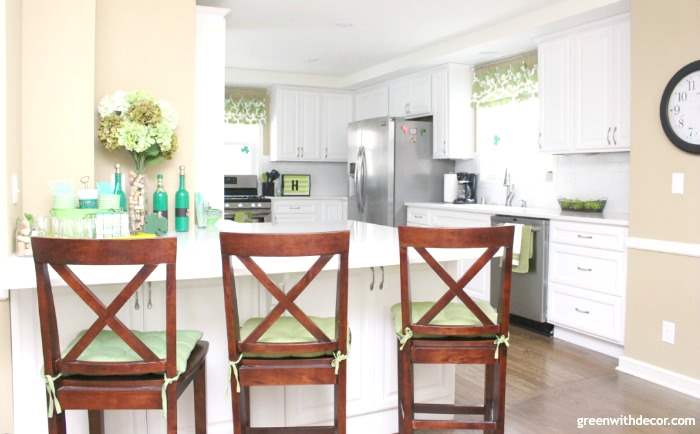 I just love all of the green!
Here are my favorite easy St. Patrick's Day decorating tips:
1. Green flowers
I mixed a few different green hydrangeas to fill the space on our peninsula, and I love how the different shades work together.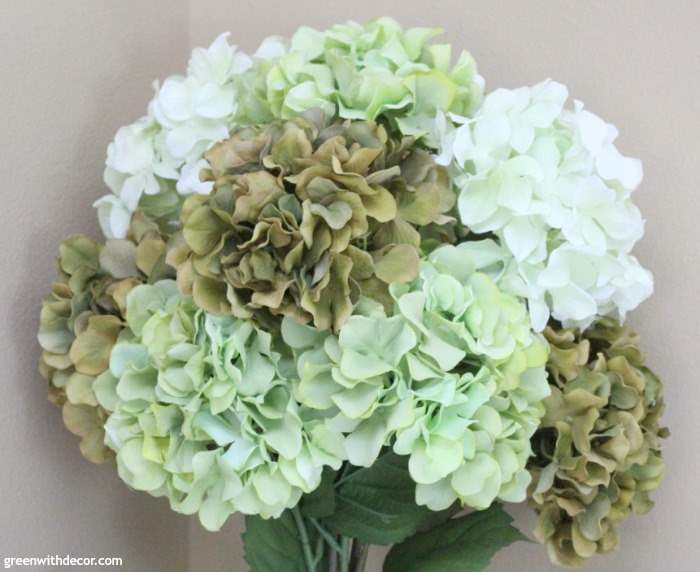 2. Chalkboard message
This is the easiest way to decorate for every holiday.
I discovered a new way to get perfect lettering on a chalkboard, and I am just so excited about it!
The fear of not switching out the message on the chalkboard because my handwriting won't look good is long gone. I'll be swapping out the message waaaay more often now.
Everyone on Saturday was saying how great the chalkboard looked, I was sharing my new secret all night!
Oh, and this cork chalkboard is such an easy DIY if you're interested.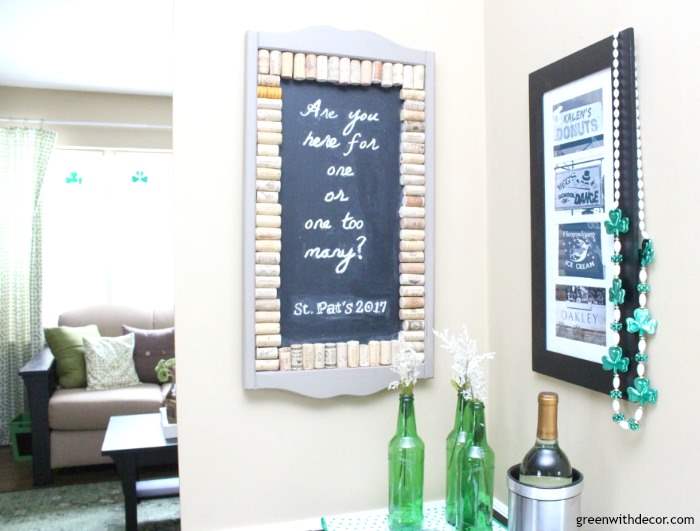 3. Green bottles
These are old green beer bottles, of course. They're such a good size and beautiful color, how could I possibly toss them in the recycling!?
And they're perfect with some white sprigs inside.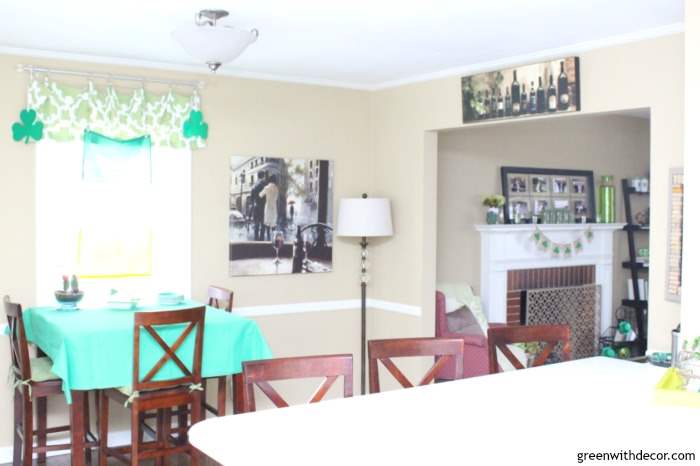 4. Greenery
I got this boxwood wreath back before Christmas, and I haven't taken it down since.
I say it counts as St. Patrick's Day decor, too!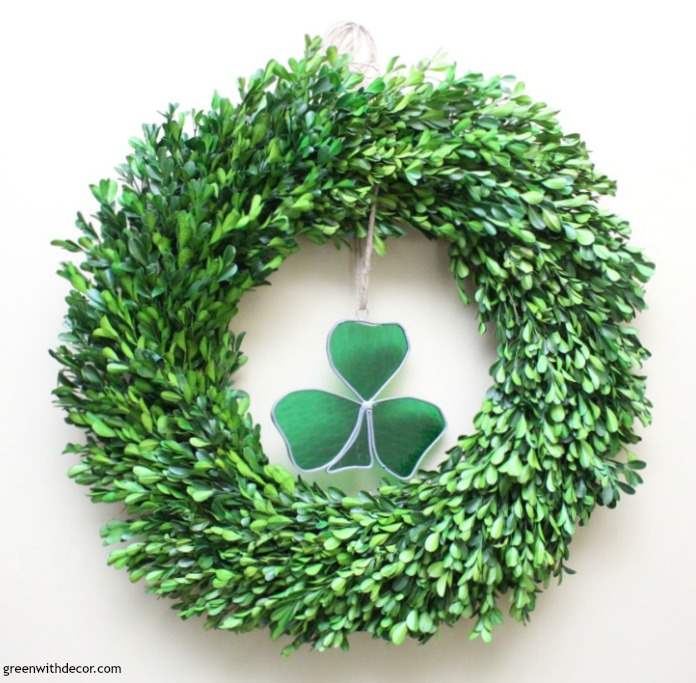 I just love it, and it feels so springy!
And doesn't that glass shamrock just look perfect with it?!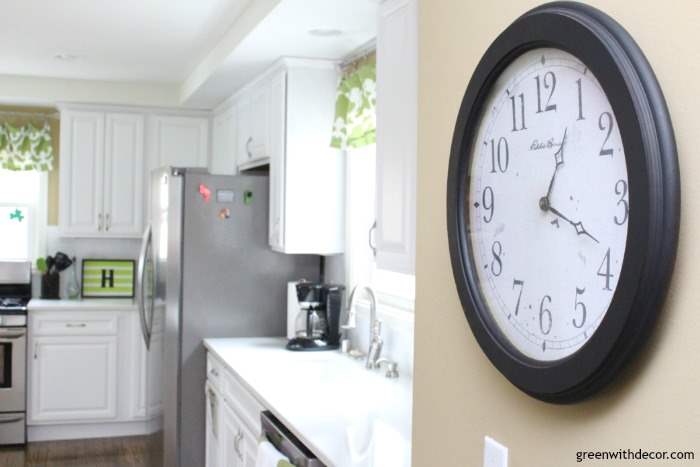 I love this little light-up shamrock.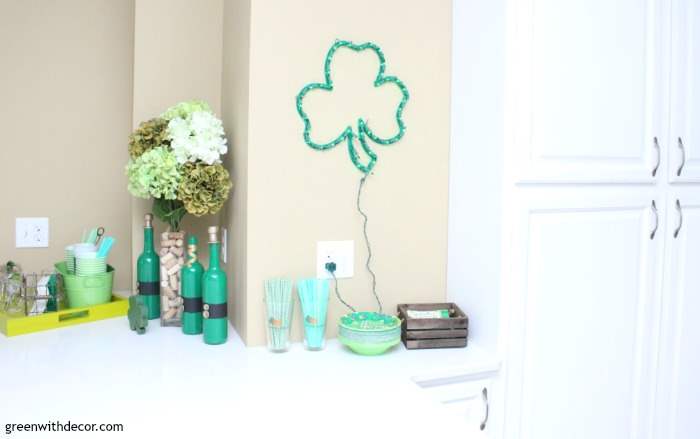 My brother Stephen and Cathie got us those cute 'Irish I were drunk' glasses.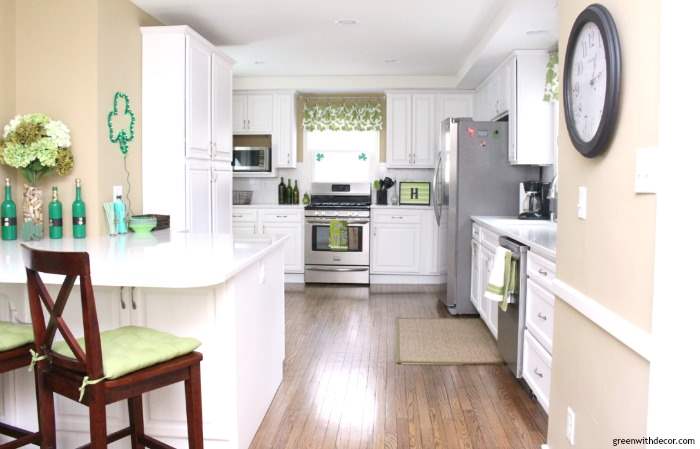 Lots of St. Patrick's Day kitchen decor goodness, right?!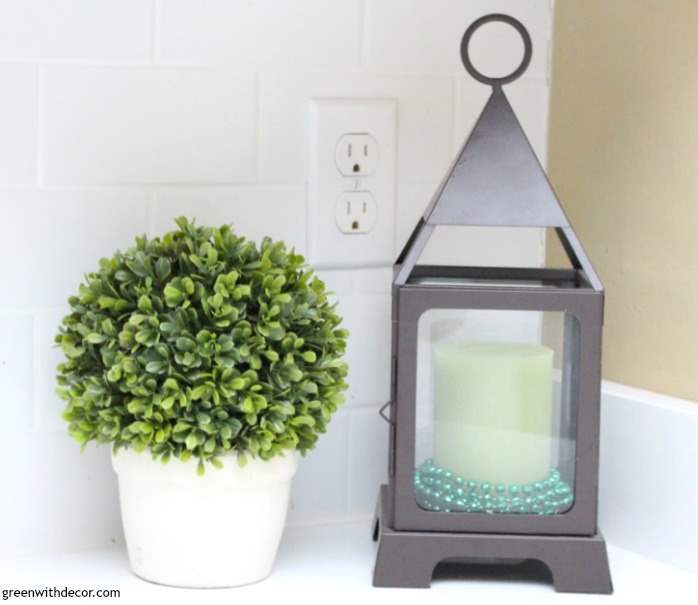 5. Green beads everywhere
Remember around Christmas when I was using ribbon and ornaments everywhere?
Well, green beads are my easy, cheap decorating solution for St. Patrick's Day.
You'll see a lot more of these when I share the St. Patrick's Day living room, but they work so well everywhere!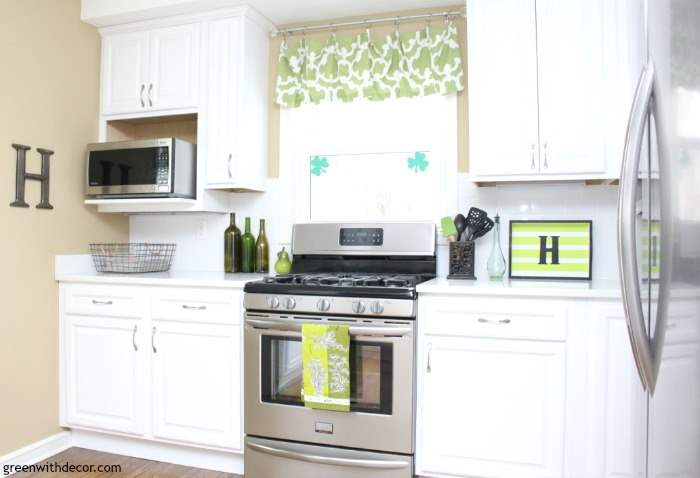 6. Paper shamrocks
I mentioned this last year, but my parents used to have an annual St. Patrick's Day party, which is where we got the idea.
It's the perfect time of year to have a party. Everyone is sick of winter and ready to get out and have some fun!
My parents had a lot of St. Patrick's Day decor that we've inherited, including these paper shamrocks I have taped up on all the windows.
They'd be easy to make with a stencil and some green cardstock.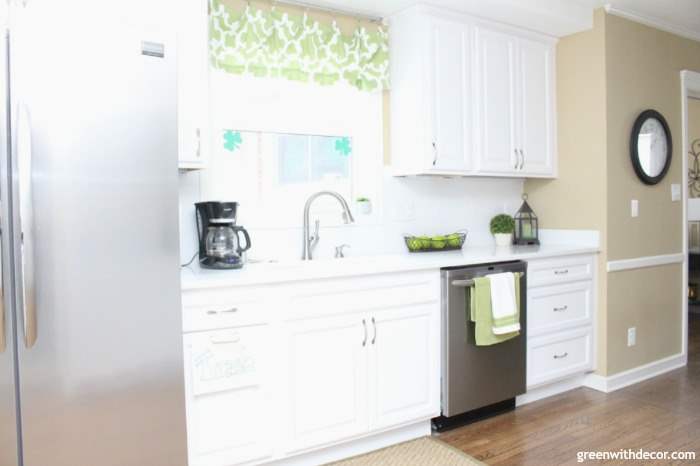 Oakley always follows me around when I'm moving stuff around decorating and then taking pictures.
She's too cute to not snap a few pics of!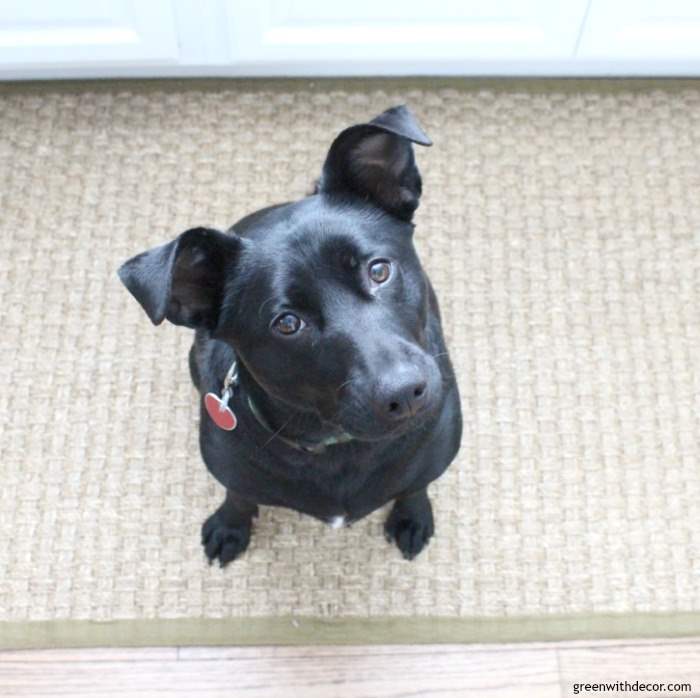 I was at Michael's the other day and found this cute little succulent for 40% off.
It just hopped right in my cart. Kalen thought it was real when he first saw it, it really looks great!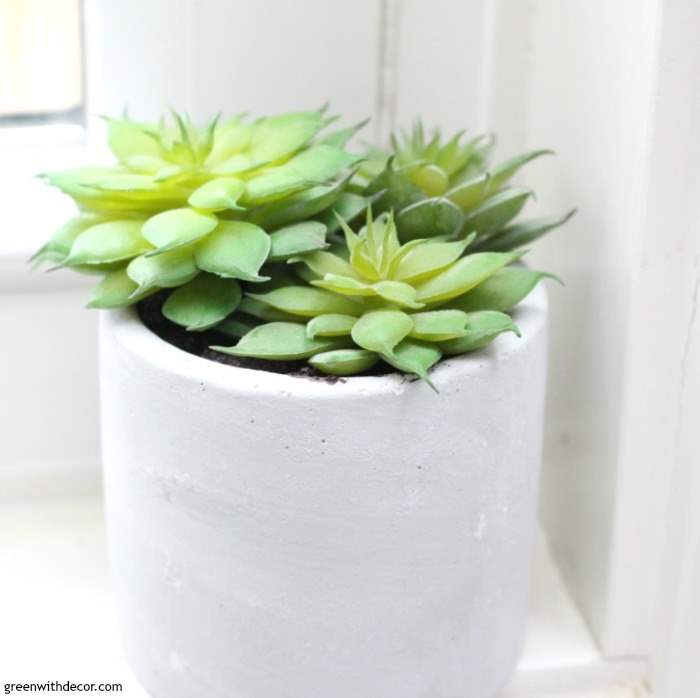 I love the concrete pot it's in, too.
7. Trays to corral everything
I love this square tray and use it for decorating a lot throughout the year.
We have such a big stockpile of green paper plates, napkins, solo cups, etc., I feel like we won't run out for years, haha!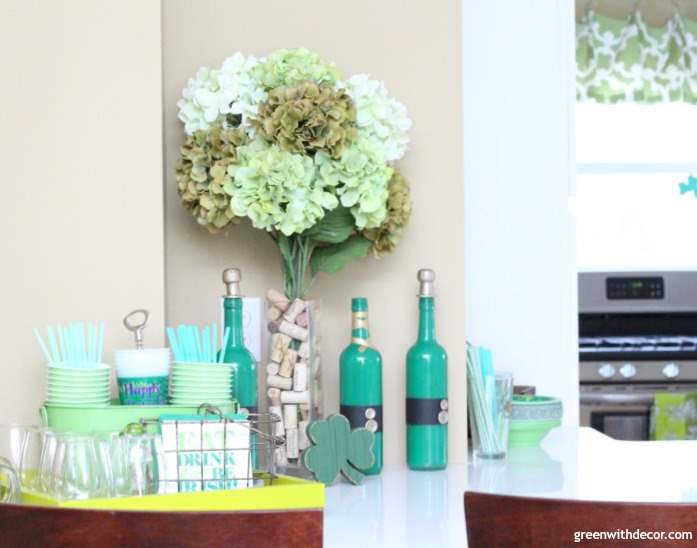 And for another fun way to use old bottles as decor, you can see how I made those easy St. Patrick's DIY leprechaun bottles here.
Do you go to any fun parties for St. Patrick's Day? Or have any other easy St. Patrick's Day decorating ideas?
GET THE LOOK:
Since a popular question I get is "Where'd you get that?!," here are links to the same or similar sources:
If you loved all of this St. Patrick's Day kitchen decor, you might want to see these other easy St. Patrick's Day decorating ideas, too:
Remember to hop over to the other ladies' St. Patrick's Day decorating posts!
Remember to bookmark or pin this post if you want to save it for later!


Pin it!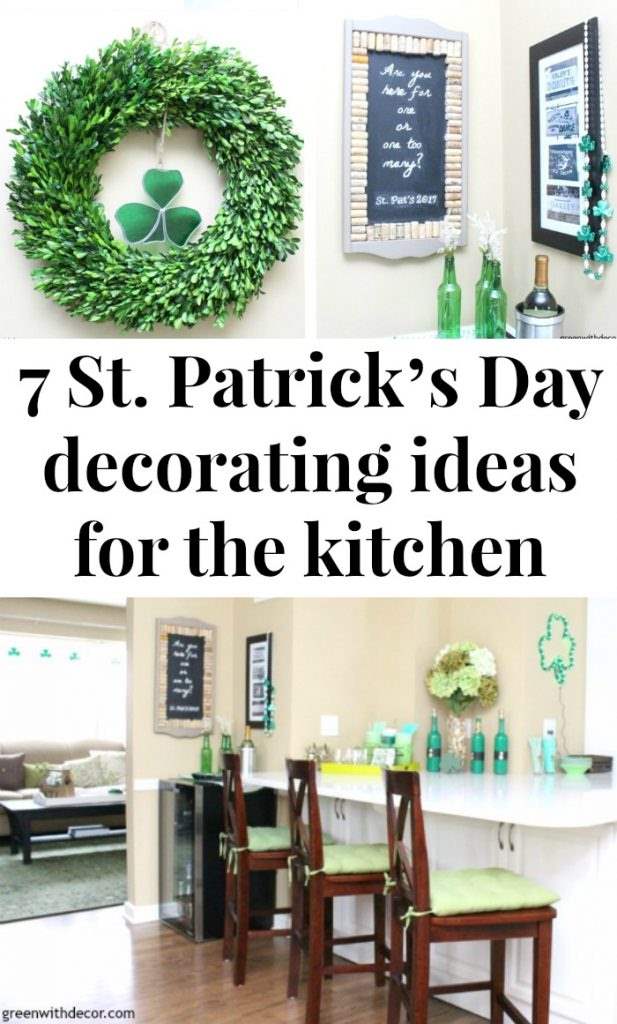 Want to read more posts like this?
Follow along: Get my emails | Facebook | Pinterest | Twitter | Instagram