If we didn't have a St. Patrick's Day party, I probably wouldn't do much in terms of St. Patrick's Day decorating in the family room … the green doesn't look the best with the red in here.
But since we *do* have a party, it means I have to decorate. Yes, have to. 🙂
This post contains affiliate links. This means if you click the link and buy something, I may receive a small percentage of sales at no extra cost to you.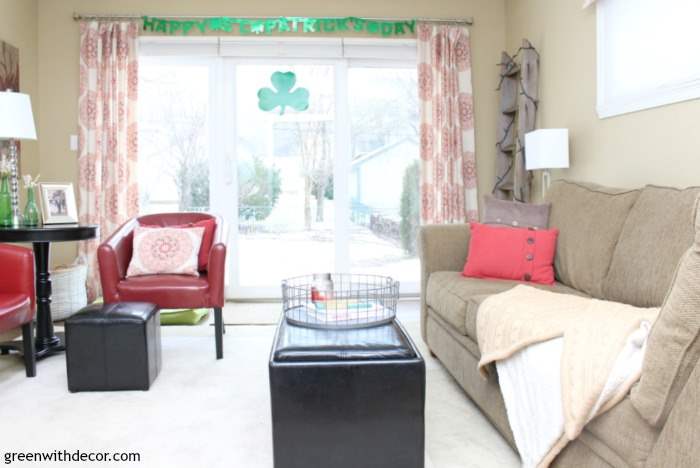 If you missed the kitchen or the living room/foyer/bathroom tours from last week, you can check those out by clicking the links above.
I added some green Christmas lights to the ladder we usually use for blanket storage, which adds a fun festive touch. And then of course we realized the day after the party that we totally forgot to even plug these lights in. Whoops.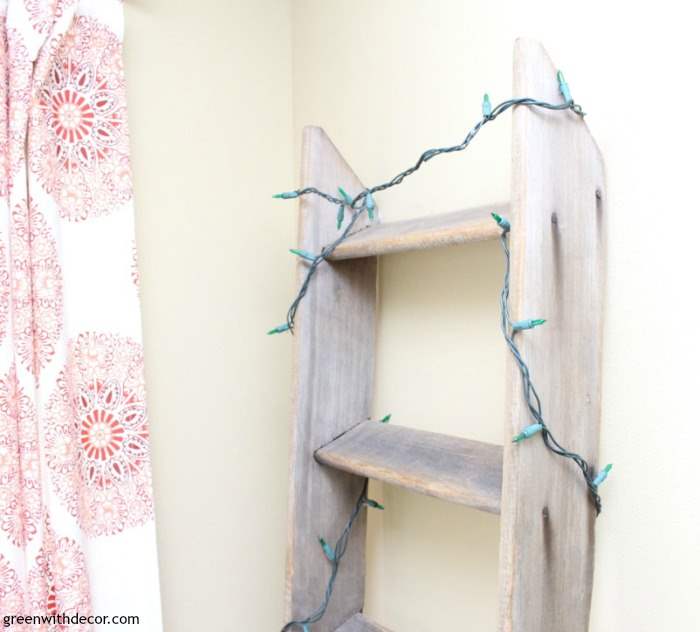 Just like in the kitchen, I have more green bottles in here. I loooove these dark green glass bottles, they're so pretty and I'm feeling like it's totally acceptable to leave these out for spring decorating, too.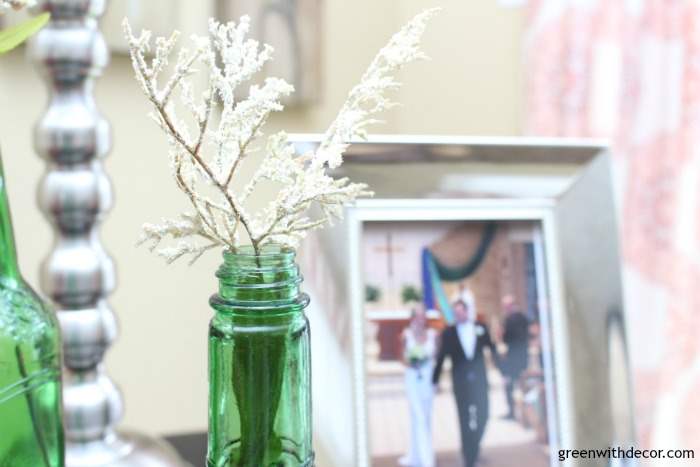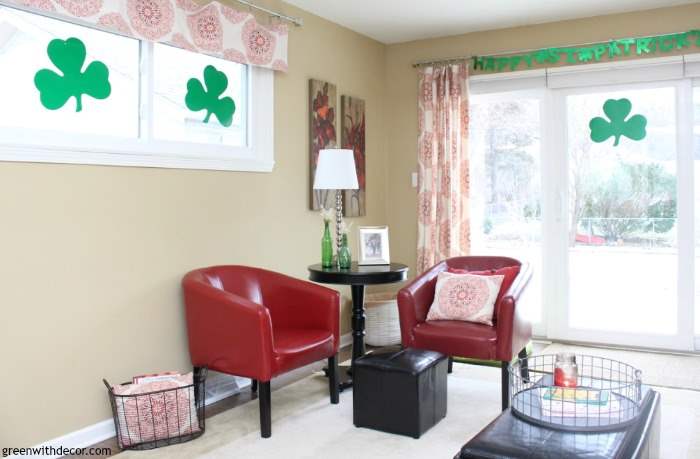 I used to love decorating with red and lately, I'm leaning more towards the green/blue family. Well, I've always been into green, obviously, but blue is a newer color for me.
I've decided the red chairs and curtains have gotta go. Getting to decorate the rental house, aka a blank slate of a house, is definitely a big plus! I've been decluttering like crazy, and we're just feeling kinda 'eh' about. Too much work.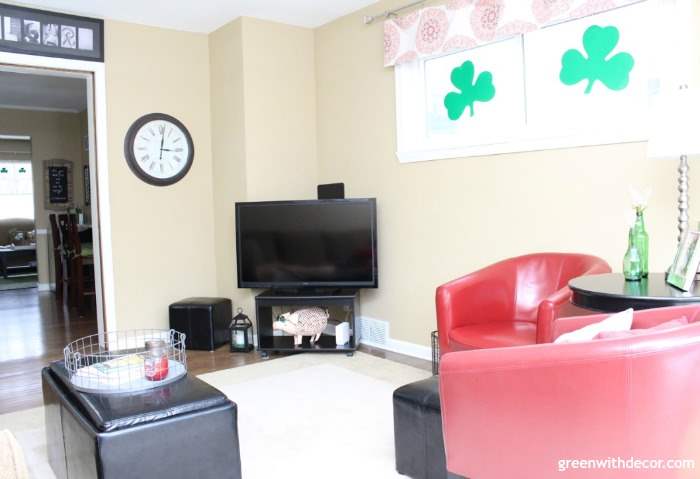 We never got around to getting a new TV stand and/or mounting the TV in this room, so that's definitely on the future to-do list.
Our little pig just looks so festive with the shamrock sunglasses, doesn't he?! (she? I don't know.)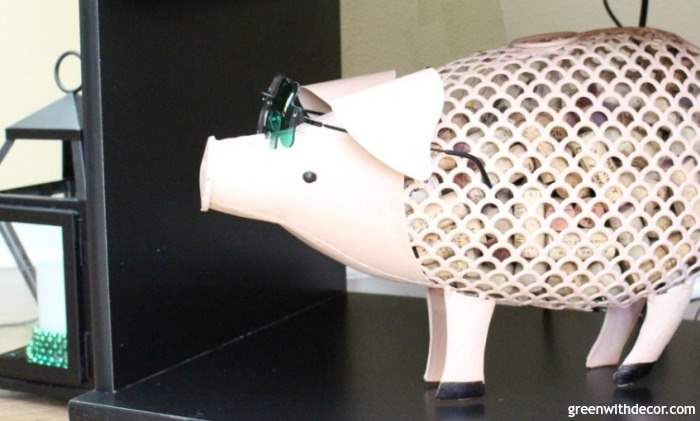 I got this new silver circle tray at HomeGoods a few weeks ago, and I loooove it.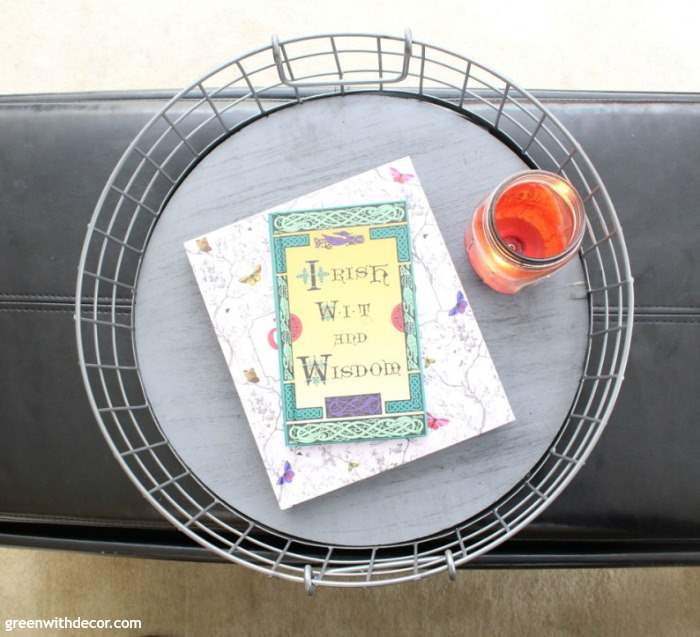 Plus it makes it way easier for us to put our feet up on the coffee table next to it than the old white tray did.
Don't worry, I still love the white tray in all its distressed prettiness, so it's in the living room now.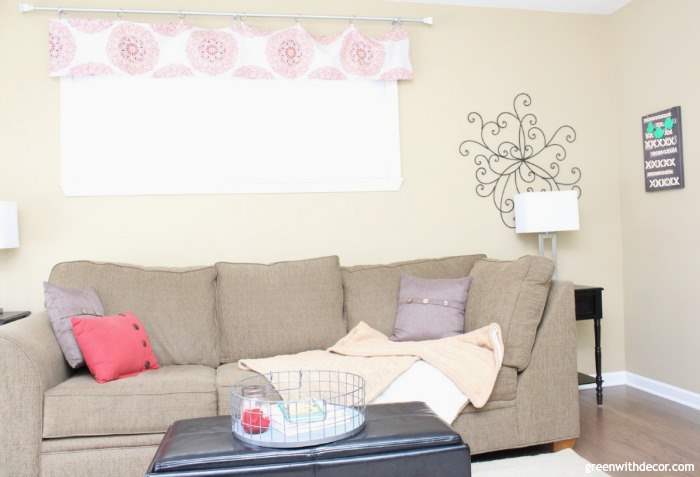 Back around Christmas, I talked about how we swapped the living room and family room couches. I meant to get new end tables in here to match the size of this bigger couch but haven't gotten there yet. So I don't love how this looks, but guess what? This couch is so freaking comfortable, it's totally okay with me!
Those little green shamrocks on the sign were all attached to bead necklaces we picked up along the way at some bars we were at for St. Patrick's Day years ago. I took the shamrocks off the beads and made a little garland from them, and it works perfectly. (Heaven forbid I'd ever throw anything away!)
So that's the quick St. Patricks' Day tour of the family room. Nothing too crazy but just a few touches of green to make it feel festive.
How do you decorate for St. Patrick's Day?
GET THE LOOK:
Since a popular question I get is "Where'd you get that?!," here are links to the same or similar sources:
If you want more festive St. Patrick's Day ideas, check these out:
Remember to bookmark or pin this post if you want to save it for later!


Pin it!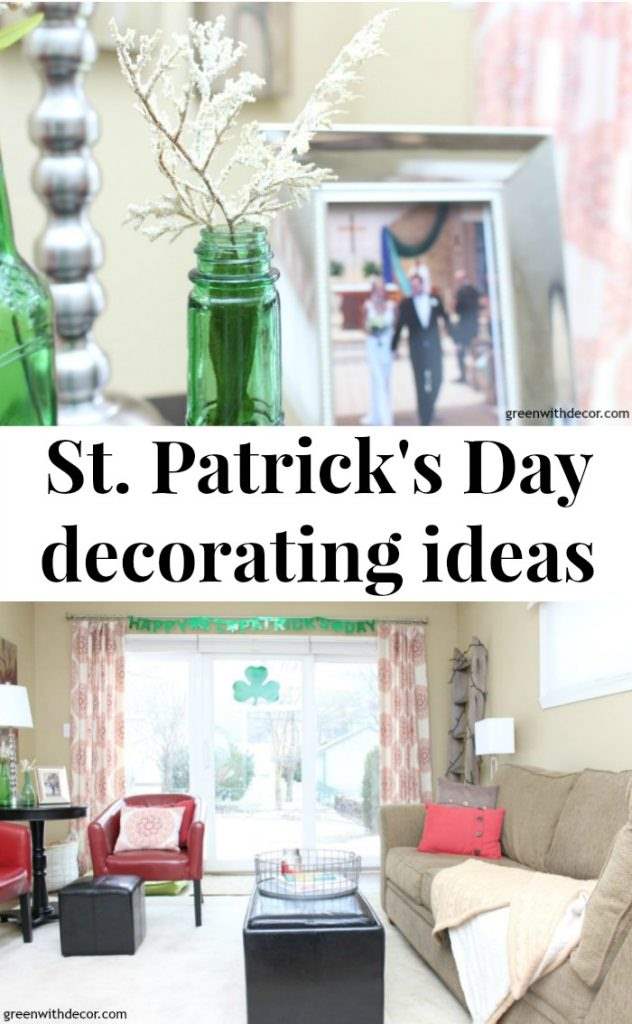 Want to read more posts like this?
Follow along: Get my emails | Facebook | Pinterest | Twitter | Instagram