It was a bit quiet on the blog last week! I got back from Haven, an annual home decor and DIY conference for bloggers, late late late last Sunday night, and I was exhausted all week! And if you follow me on Instagram, you know that I had a rummage sale last week, too.
The past week was busy busy busy trying to catch up on life/work and get ready for the rummage sale. The project and decorating posts will be back soon. My mom and I just painted a table for her foyer, and I'm excited to share it.
But first, let's talk Haven. It was an absolute blast. I can't stop thinking about it!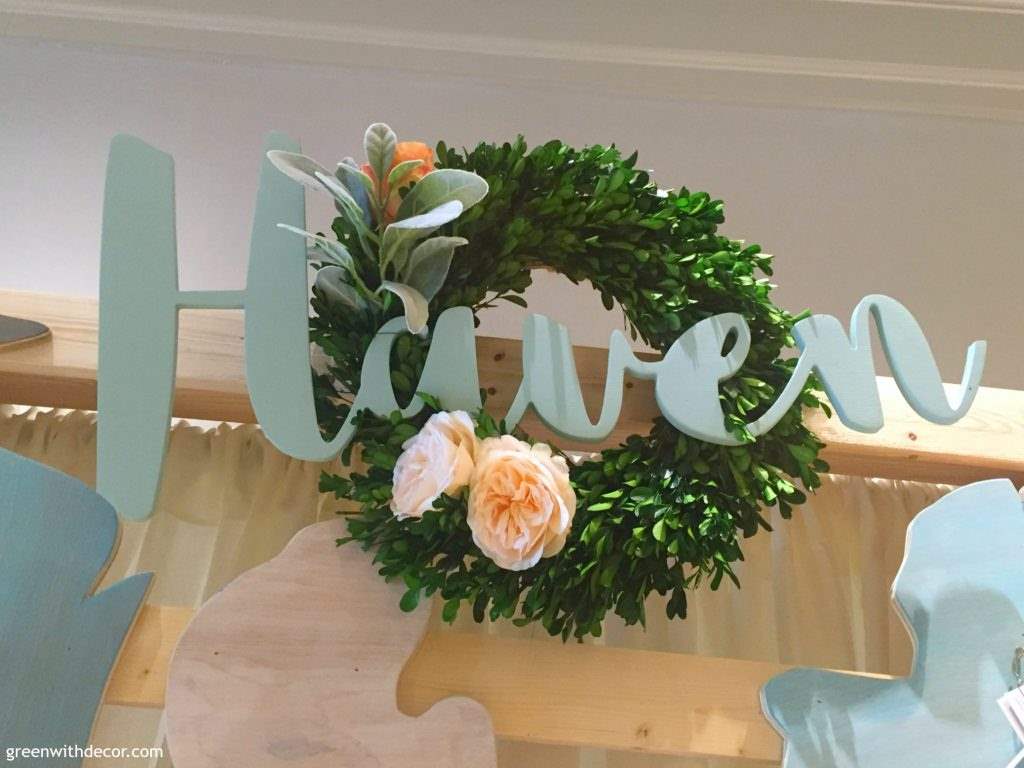 Sorry in advance for the grainy iPhone pics here. I didn't bring my camera to the conference and honestly did a terrible job of taking pictures to capture the event, because I was having so much fun. This post may be a bit text heavy!
I've been following home decor blogs for probably four years now, and I've seen bloggers attending Haven for the past few years. I wanted to go immediately – getting to meet those awesome bloggers in person, take classes to grow your blog and just be part of the fun – how could that not be the best trip ever?!
Last year, I was still a newer blogger and just figured I wasn't ready for the conference. And I didn't know any other bloggers in person so the thought of going to Haven by myself scared me.
Shortly after I started blogging, I started making friends with other bloggers friends via Facebook groups. If you're not a blogger, that sounds so weird, I know. But it happens all the time, and there are some bloggers I talk to nearly every day now! Crazy, right?!
We live all over the country so a year later, I'd still never met anyone. But a bunch of us all kind of decided that we were going to head to Haven for the first time this year. Tickets went on sale in the spring, but I kept putting off buying my ticket.
To back up a little, I quit my full-time advertising agency job at the end of April to pursue freelancing and focus more on blogging (uhhh talk about taking a risk!). It was definitely scary to give up a regular paycheck, but I am soooooo glad I did it. Once I had steady freelance work coming in, I bought my ticket to Haven.
I immediately was, one, SO excited to go and, two, completely panicked that I didn't know anyone and I was going to have a terrible time because I wouldn't have anyone to talk to. Like really panicking. Kalen joked that he should come with me and introduce me to my own blogging friends because he's so much more outgoing than me. I half considered it, ha!
If this is you next year, BOOK YOUR TICKET! Seriously. Everyone is beyond nice, and those bloggers that you talk to every day, they are your real friends. You will have a great time, and you won't be all alone without anyone to talk to! There's something about the blogging community that really is unique. We all support each other and help each other. And we talk to each other at conferences!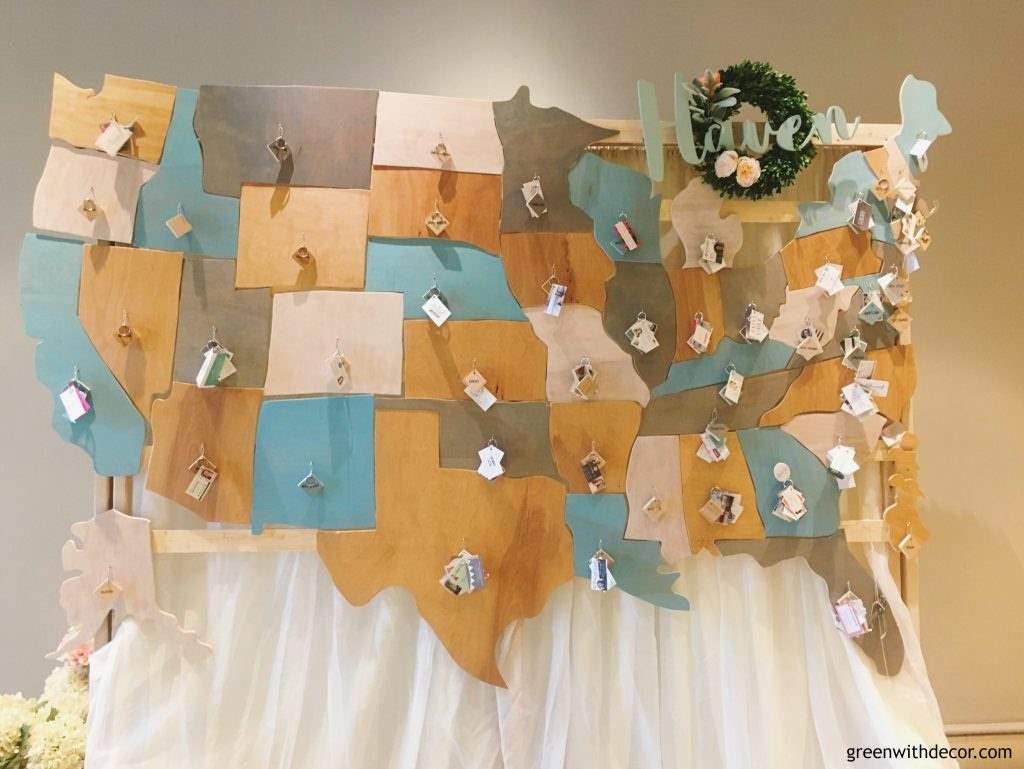 How cool is this map? Jamie from That's My Letter made it!
I flew in Thursday morning and had made plans to meet Amy of My Life from Home and Emily of Two Purple Couches at the airport and head over to Haven together. We found each other at baggage claim (whew!) and honestly I don't think we stopped talking until we left on Sunday. Later that night, it somehow came up in conversation that Amy and I had only met that morning, and another blogger was shocked thinking we'd been friends for years. A few hours of chatting and it totally felt like it!
Amy and Emily are both from Cincinnati – where I lived for eight years – and Emily and I realized we have a mutual friend (a 'real life friend' as us bloggers like to say) – how crazy is that?!
We grabbed lunch and ran into other bloggers. None of us had met before, and we had so much to talk about right away. Seriously, I think I know what the phrase "I've found my people" means now!
We headed to the bar – because why not – and met so many other bloggers. A lot of bloggers from our little Facebook blogging group met up for drinks and within minutes, I felt like I knew these ladies for years. Talking to other bloggers who 'get it' and have the same interests and passions as you is crazy fun.
One girl (I won't name her! 🙂 ) had a hilarious story about a disastrous experience getting her eyebrows waxed a few days before in an effort to look great for the big conference. She ended up getting most of her eyebrow waxed off – not the look you want when you're meeting your blogger friends for the first time in person! We were crying we were laughing so hard.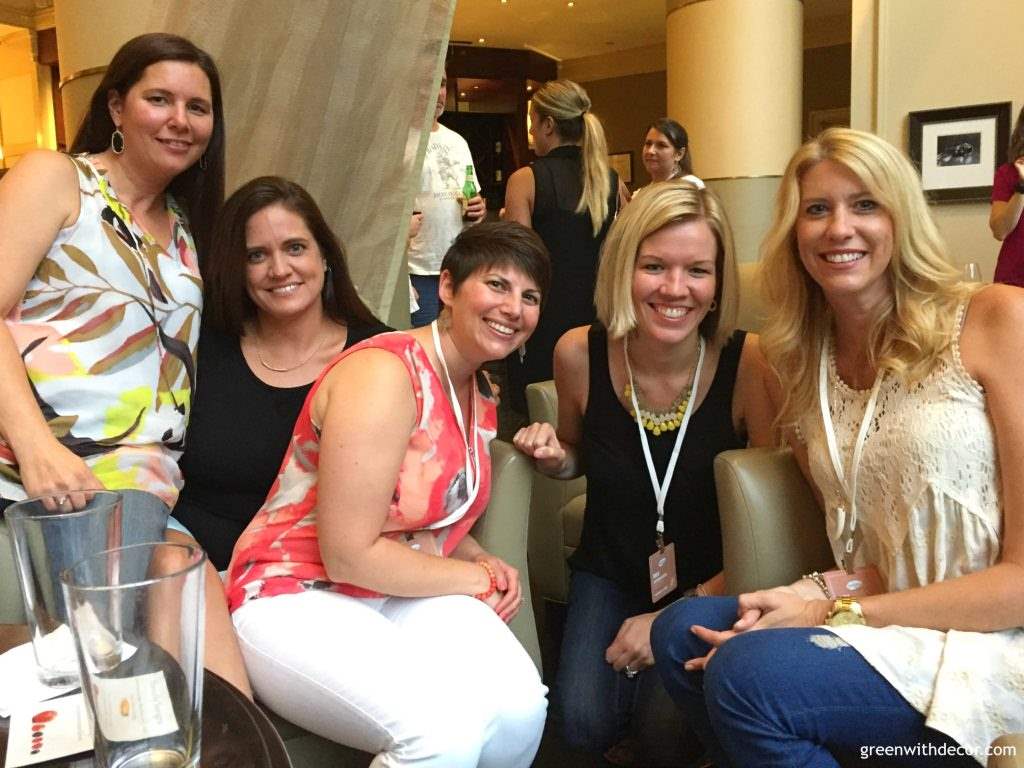 Kim, April, Emily, me and Amy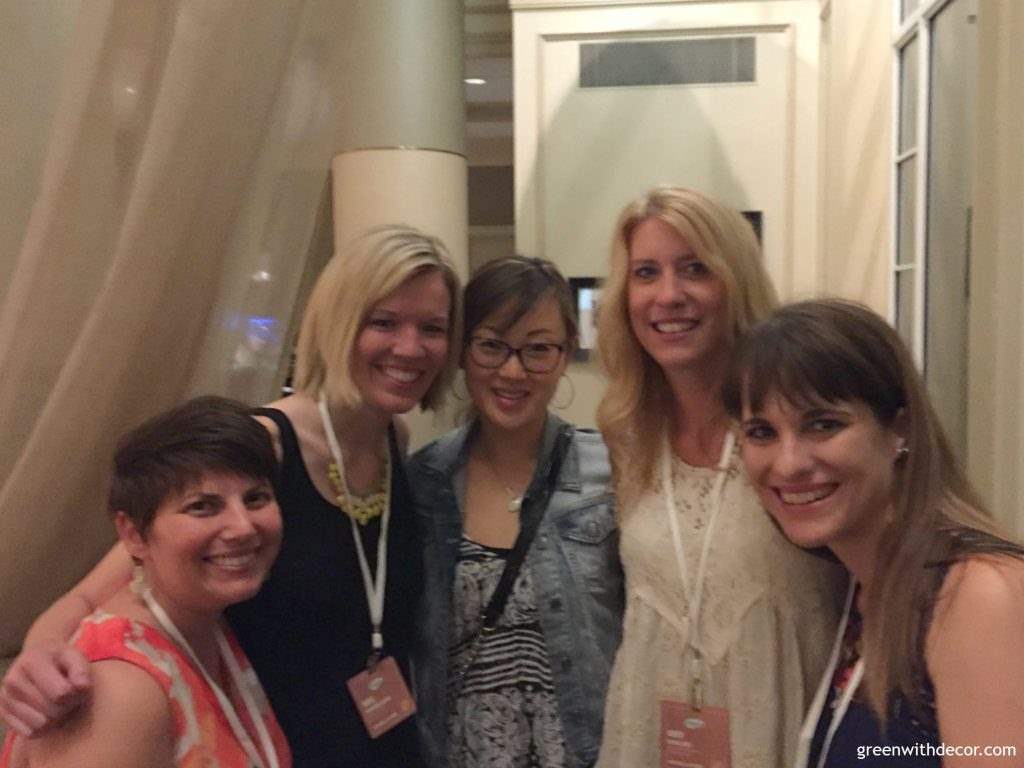 Emily, me, Yuni, Amy and Amanda
Meeting these girls was so much fun! And I should have taken pictures with so many more bloggers, but it's hard to remember when you're chatting away.
Of course, everyone was scoping out their favorite 'big bloggers'. As the weekend went on, I talked to every blogger I wanted to meet. And they were all nice!
It was so fun to get to talk to the people whose blogs you've reading a few times a week for years. You feel a little crazy-stalkerish because walking up to a total stranger and telling them you love their kitchen is weird, yes?
It's funny, because even within our little group, the bloggers that we each just absolutely love are different for everyone. April builds awesome furniture and the people she was so excited to see were totally different than who I was excited to meet. Too funny!
And just further proof that if you want to start a blog, take a risk and DO IT, because everyone wants to see something different. We all have different styles, and bloggers of all kinds are successful! Some of the bloggers I read regularly have decor styles totally different than mine, which really makes them fun to read.
I was honestly not expecting anyone to come up to me and tell me they read my blog, because you know, I still just consider myself a new blogger, and when it happened, it was the best thing ever. THANK YOU to you the awesome ladies who came up to me and told me you're reading my posts! It seriously made my day.
Marian of Miss Mustard Seed and Shauna of Perfectly Imperfect did the opening ceremony on Friday morning, and they were hilarious and fun. I felt like we were just sitting around chatting over a cup of coffee instead of listening to them talk to 300 people.
Classes ran Friday, Saturday and Sunday, and one was better than the next. The biggest problem was deciding what to take, because you could only squeeze in eight. I wanted to go to pretty much all of them!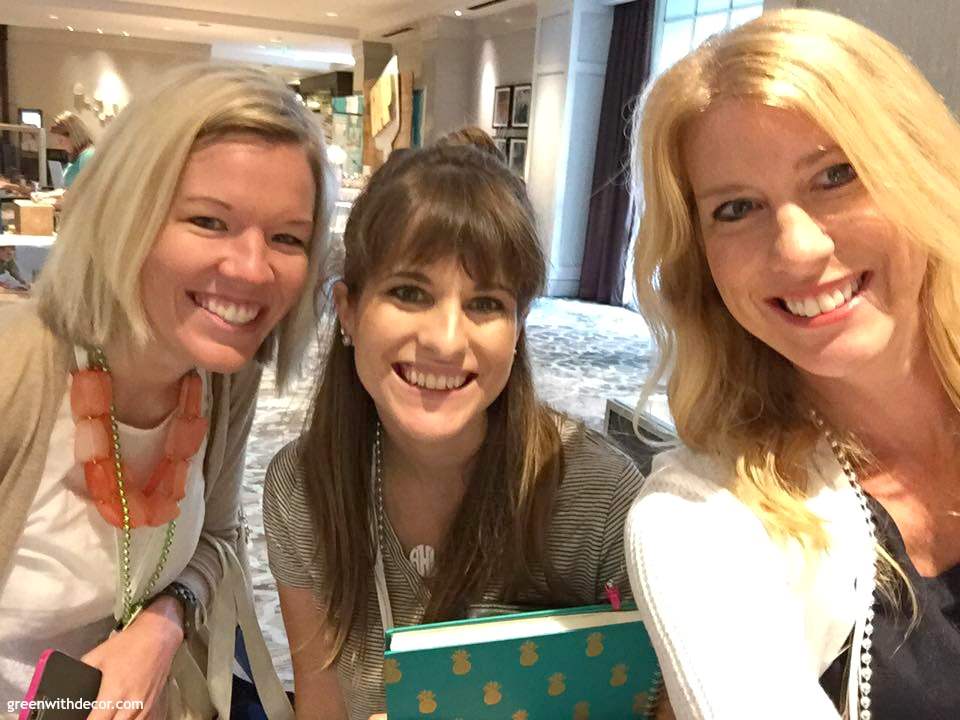 (omg I look so tired!)
Amy, Emily and I stopped at the Amy Howard Home booth and got to do a little 20-minute painting and waxing tutorial, which was fun. It was the perfect little 'project break' between all of the classes and talking, talking, talking that went on all weekend!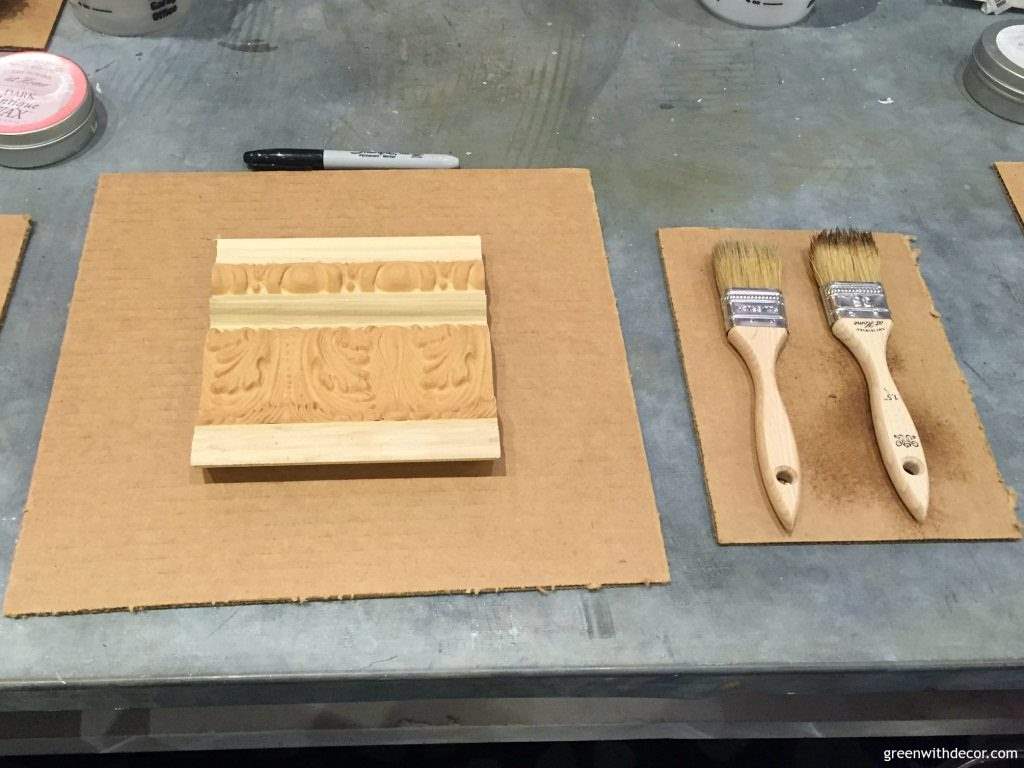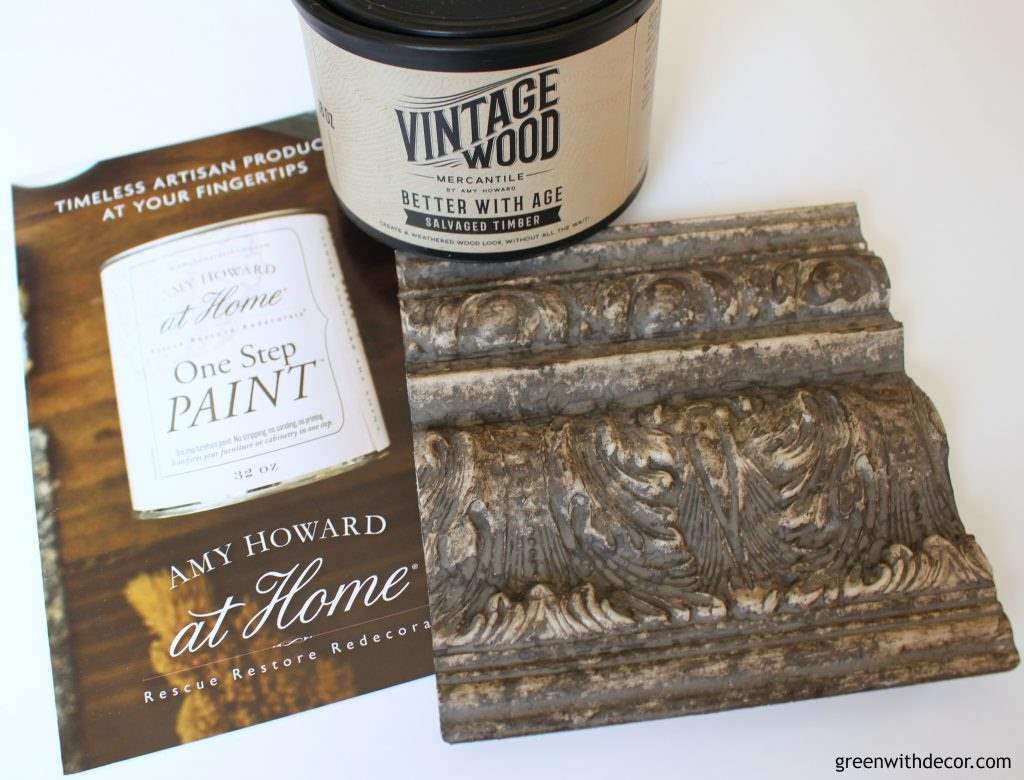 This post contains affiliate links. This means if you click the link and buy something, I may receive a small percentage of sales at no extra cost to you.
So many sponsors had great booths around the conference.
ScotchBlue has a new Platinum line that can bend around curves (painting circle mirrors just got way easier). They also have Ultra Flexible Sanding Sheets making it easy to sand ANYTHING!
I'm also excited about the Comfort Spray Paint Grip from Rust-Oleum. No more tired fingers from spray painting!
I even got a huge cool umbrella from Shaw Floors that wouldn't fit in my suitcase, boo!
A few of us did a workshop with MD Products and built these fun jewelry holders over lunch one day.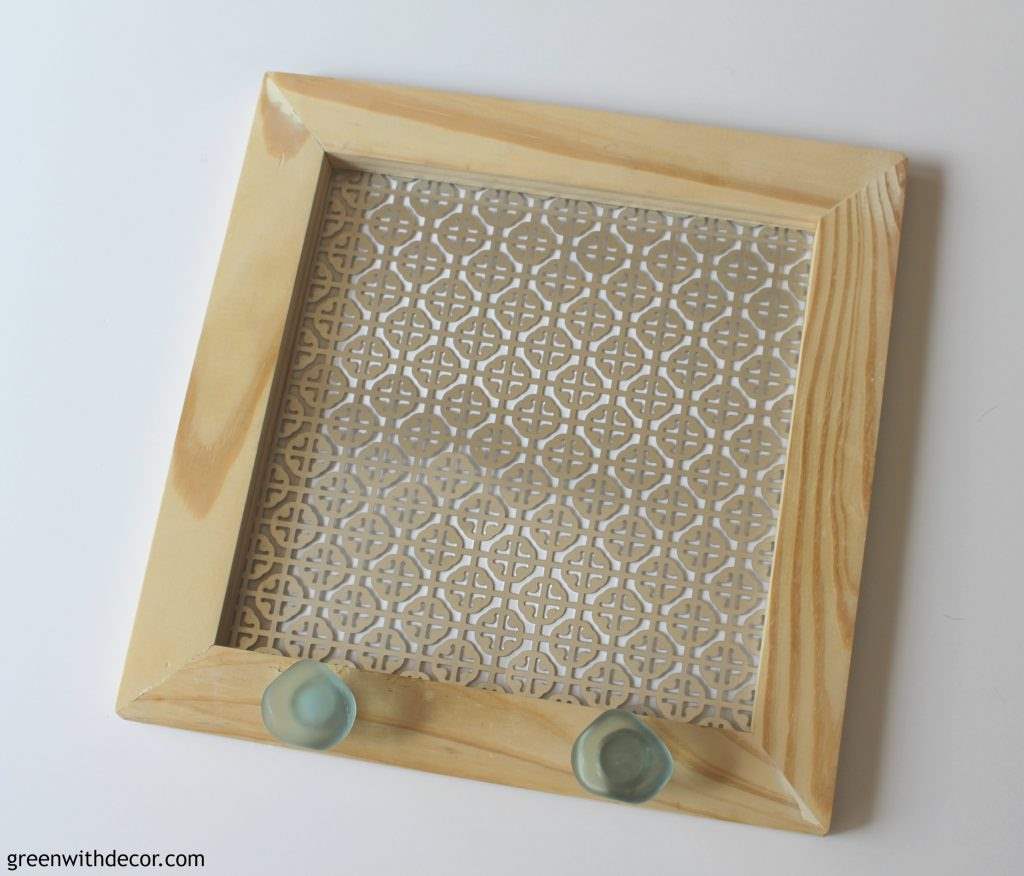 They gave us extra sheets of aluminum for future projects, and of course, that was just *this much* too big to fit in my suitcase, too and didn't make it back to Wisconsin. Such a bummer, because the pretty designs are perfect for future craft projects!
I also grabbed metallic (gold) and chalky finish (gray) paint from DecoArt. Painting projects to come! I feel like the metallic gold is just perfect for a Christmas project.
I also got to try the paint sprayer from Wagner, which was so fun. I definitely need to get a paint sprayer!
Home Decorators Collection had the prettiest vignettes set up around the hotel, and of course the only picture I only managed to snap one picture of them the whole weekend!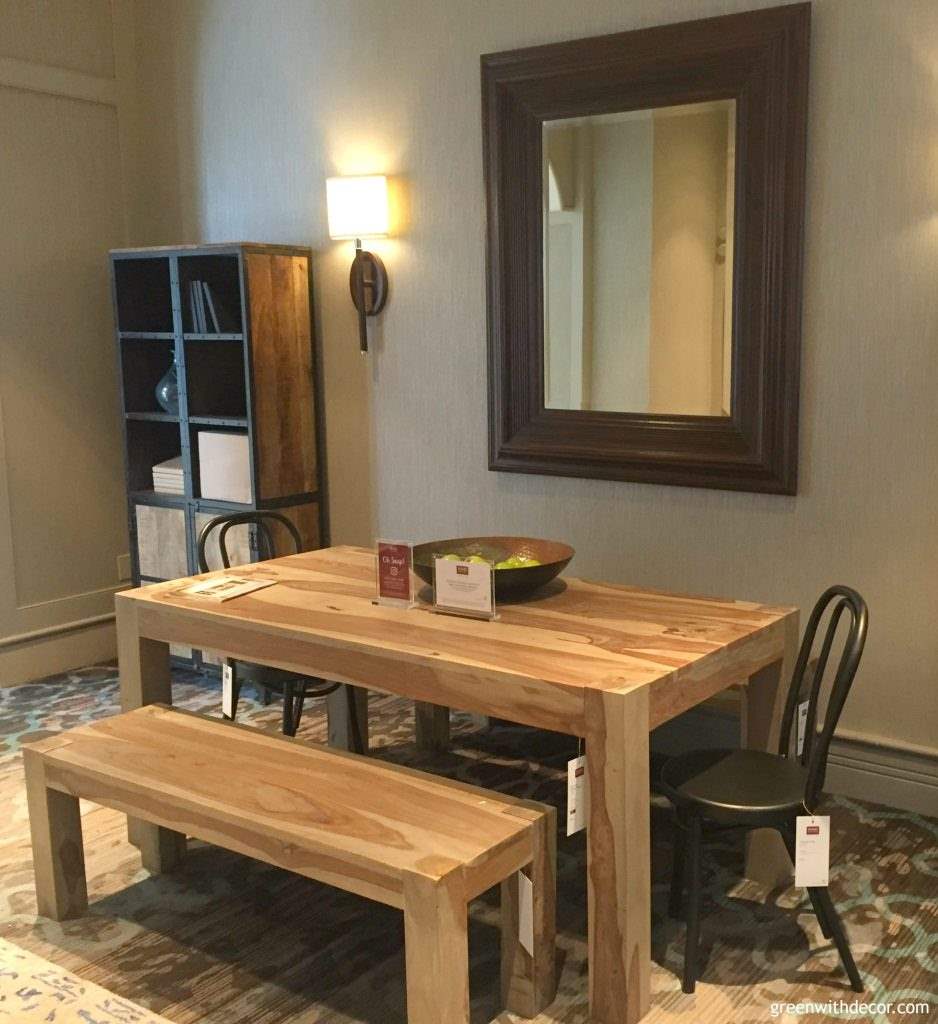 The view from our hotel room was beautiful!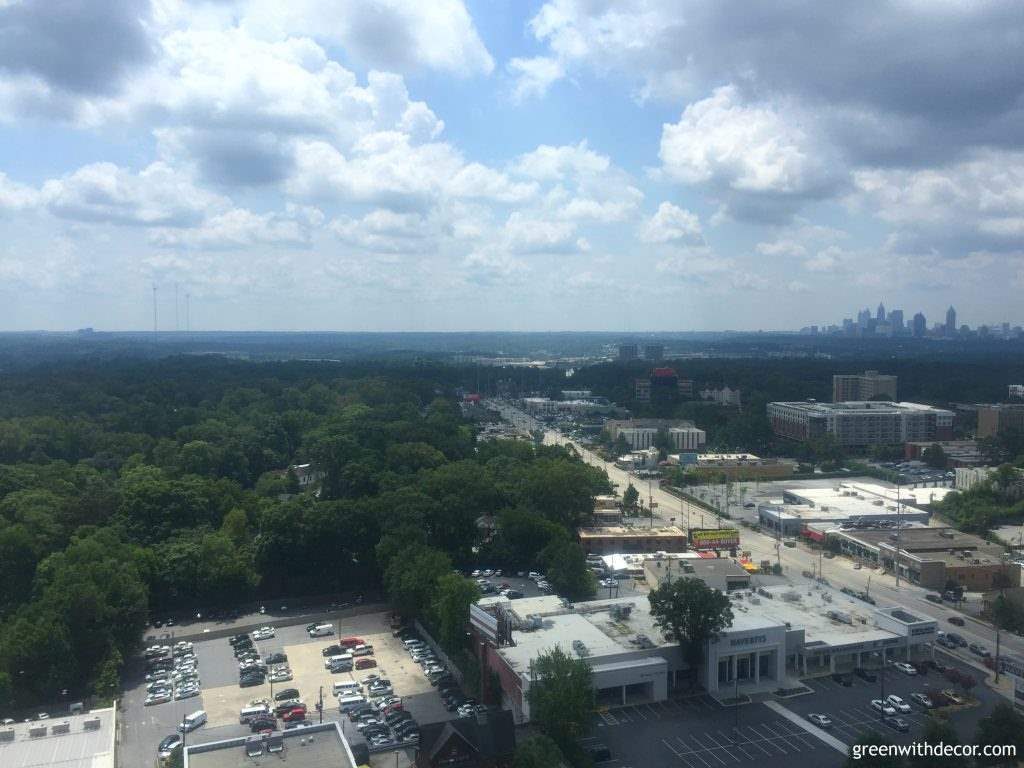 I got off the elevator Friday morning and ran into my friends Meghann and Chris (my 'real life friends') – we had worked together in Cincinnati.
We were all like "Wait, what are you doing here?!" They're still working in advertising agencies, and were there representing one of their clients at a vendor booth at Haven. I hadn't seen them in a couple of years, and it was so much fun to catch up! I never thought I'd run into someone (two people!) I knew at Haven!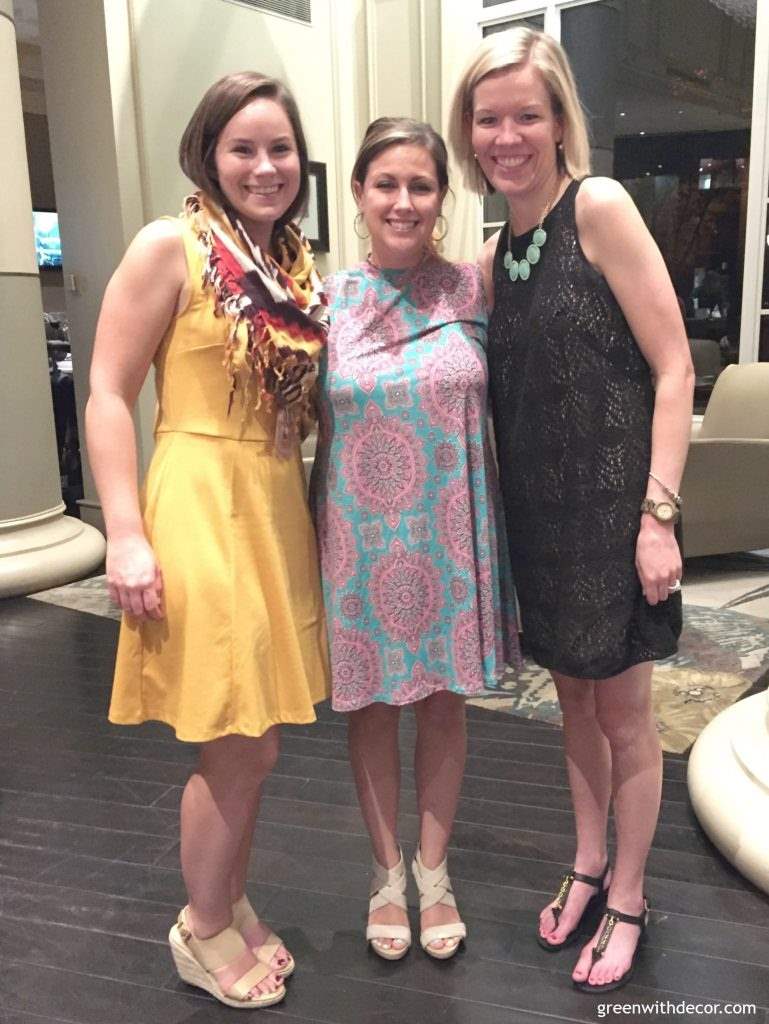 It was funny, because throughout the weekend, everyone's always wondering who goes with which blog (sometimes people don't look like their head shots!), and a few times, someone would ask me which blogs Meghann and Chris were with.
And I'd always, say, "Oh, those are my REAL LIFE friends!" Ha!
There were fun events Friday and Saturday night. And I of course ended up in the bar after the events both nights. Which is where some of the best conversations always happen, right?!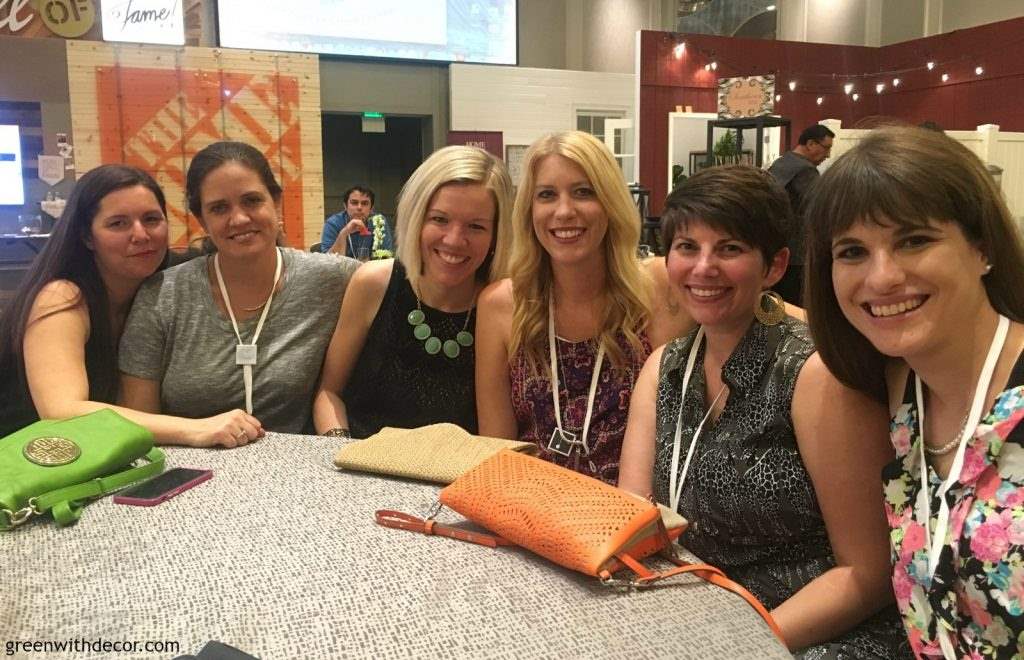 Kim, April, me, Amy, Emily and Amanda
I met so many awesome ladies in person, which really was the best part of Haven. I should have taken so many more pictures, but oh well.
I've 'known' Bre of Average But Inspired for months, and she lives in Chicago just about two hours from me. We realized she lives near my cousin and I live near her mom. Crazy!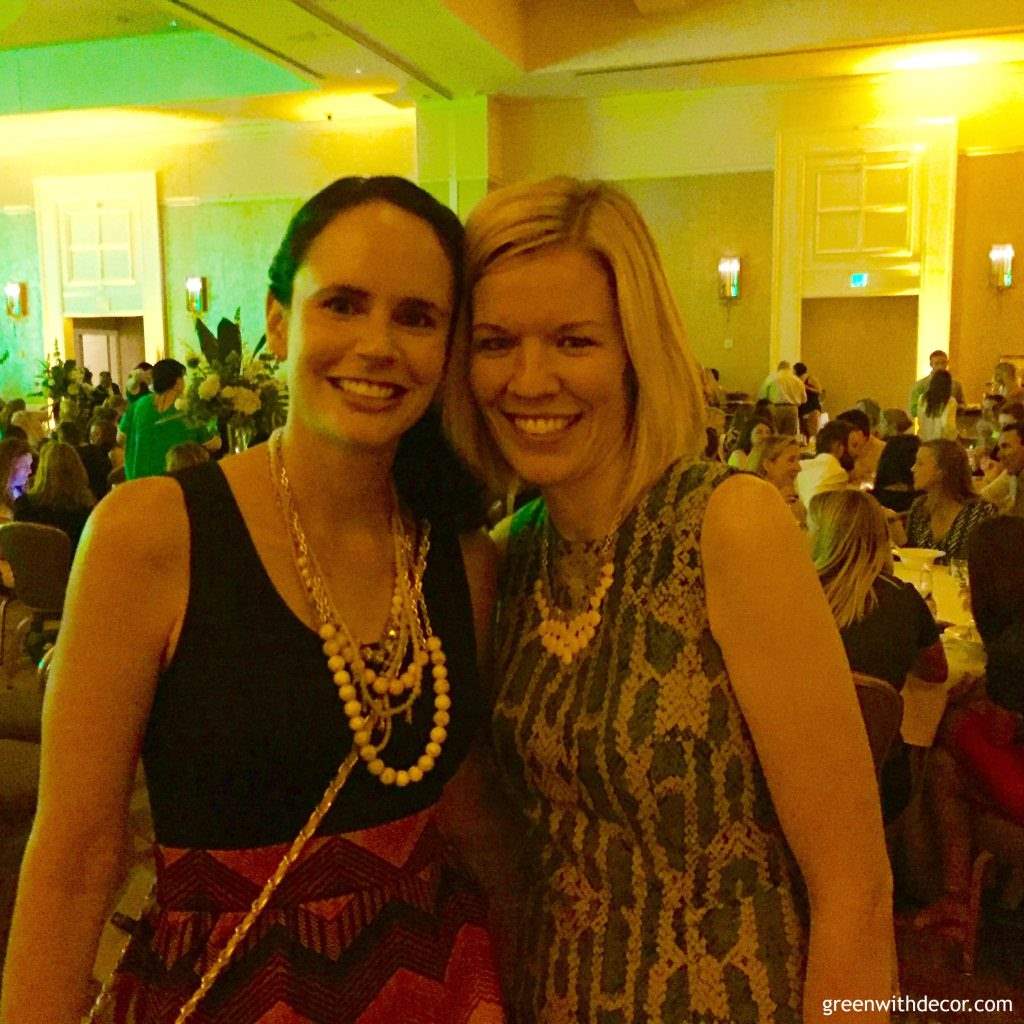 I've been reading Jamie's blog, So Much Better With Age, for years. It was one of the first blogs I read, and meeting her in person was so much fun.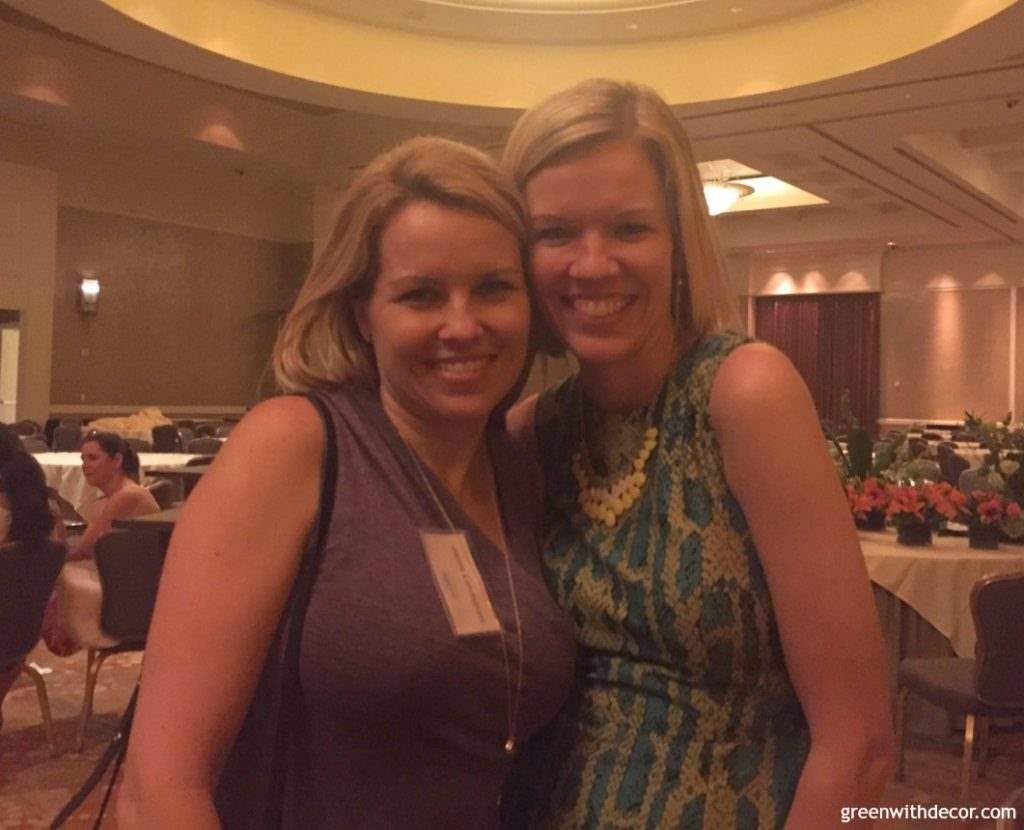 Kellie from Design Asylum is just as funny as she seems on her blog.
I love her design style and her awesome Velvet Finishes paint, so getting to chat with her throughout the weekend was fun!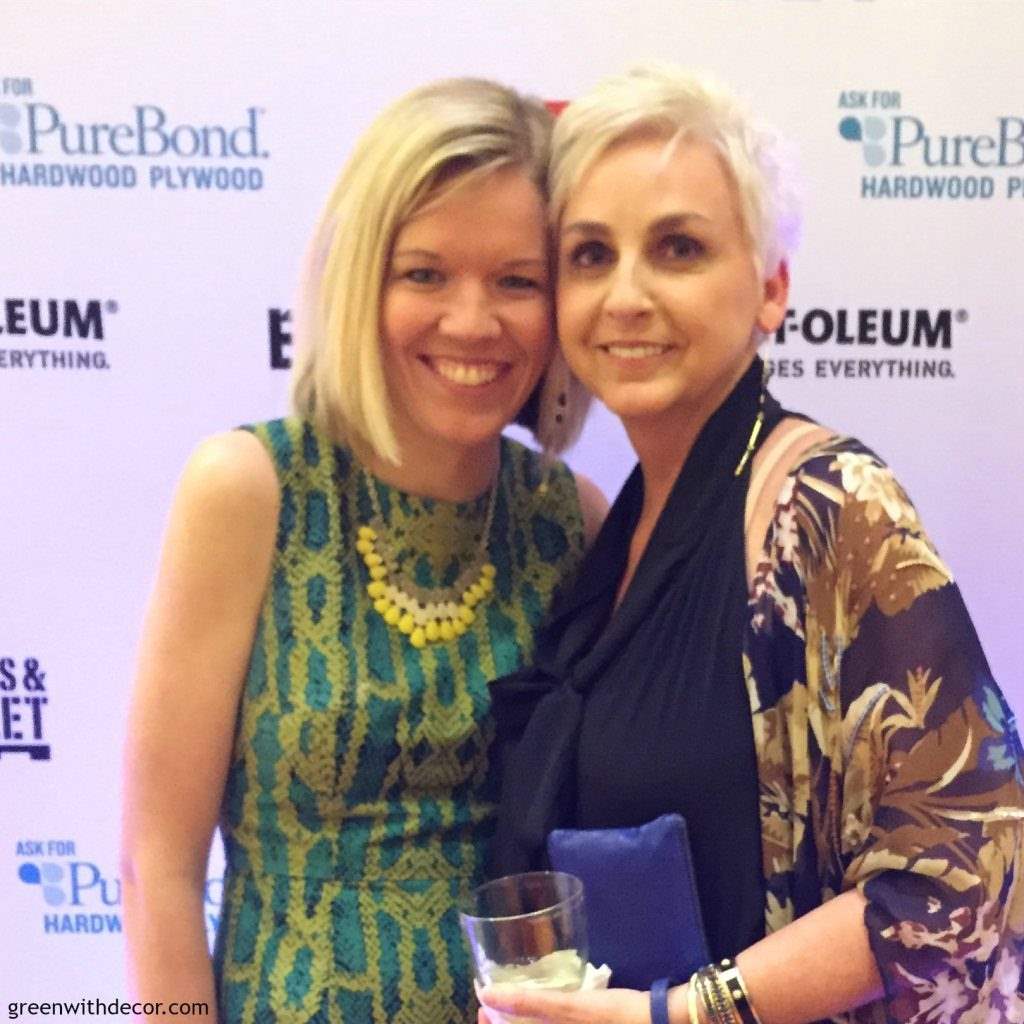 Lindsay from Crazy Organized was so fun to meet, too. We realized she lives right my brother David in Seattle.
The world is a small place!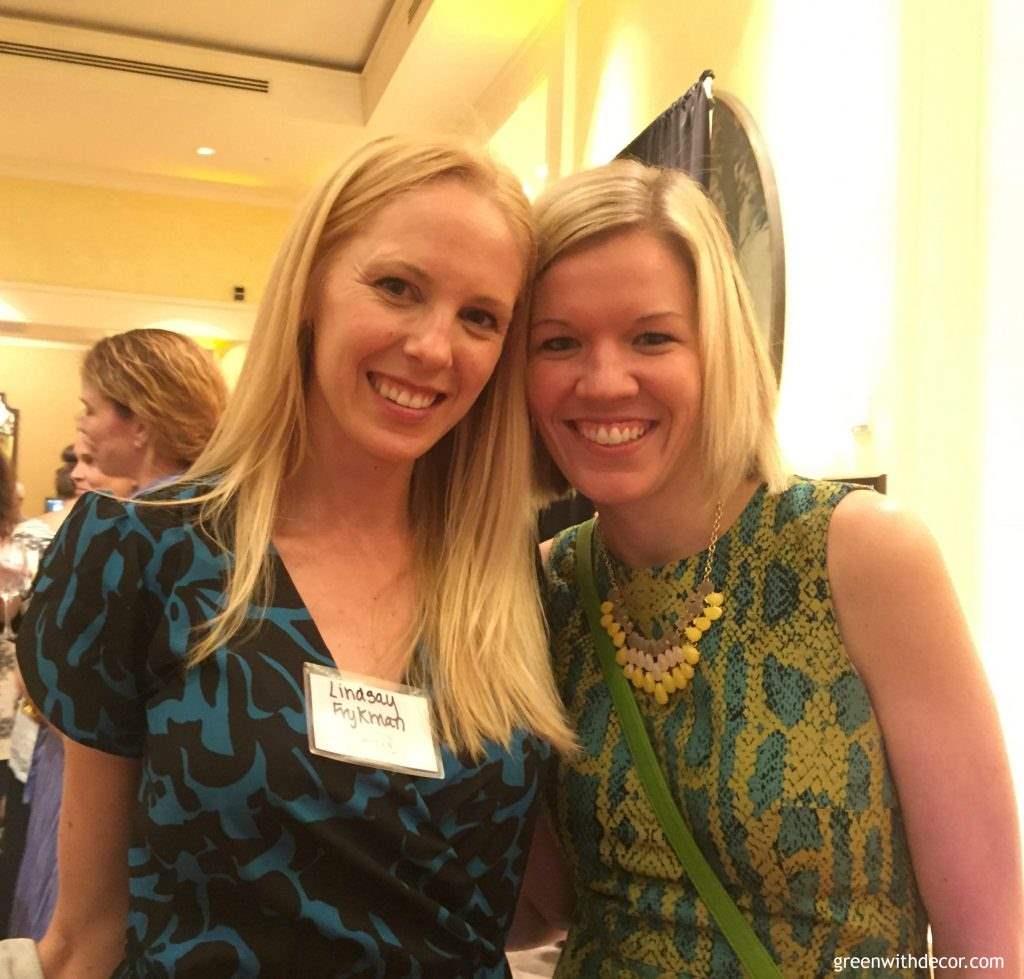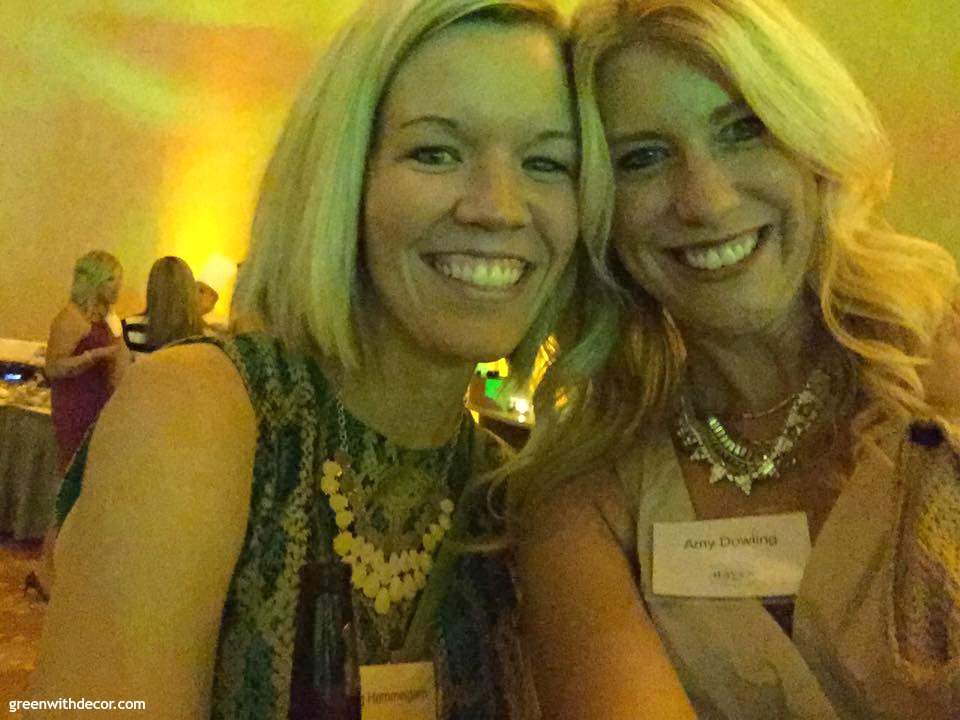 Here are a few group shots of some of my favorite blogging ladies (and guys!) from the party Saturday night.
We spent A LOT of time together over the weekend! Some of these girls have been my blogging buddies since the very beginning, and getting to spend the weekend with them was so fun it's hard to really even describe.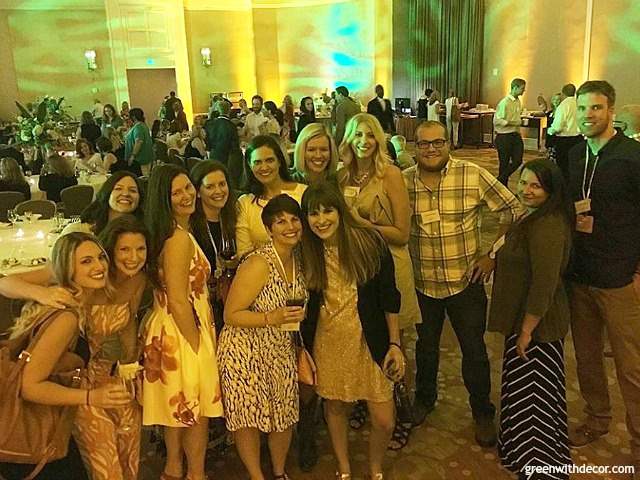 RYOBI, Home Depot, 3M, Crates & Pallet, PureBond, Rust-Oleum (my favorite spray paint!) and Behr sponsored Saturday's party, and it was such a great time!
Plus RYOBI gave us awesome backpack coolers, which really, can you ever have enough small coolers making it convenient to carry your favorite beverages around? I don't think so.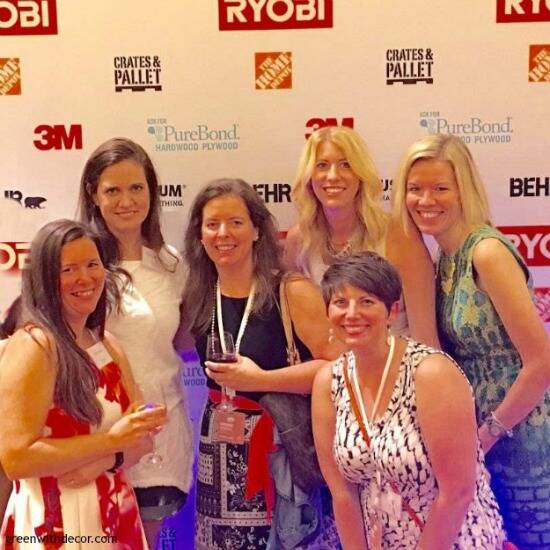 Kim, April, Roxanne, Amy, Emily and me
John and Sherry of Young House Love spoke at the closing ceremony on Sunday. They were just fabulous.
Listening to them talk about their blogging journey, why they stopped blogging, and what's really important in life (laying down when you're tired instead of insisting on taking pictures of the beautiful bedroom before you ruin it — oh the life of a blogger) was really inspiring.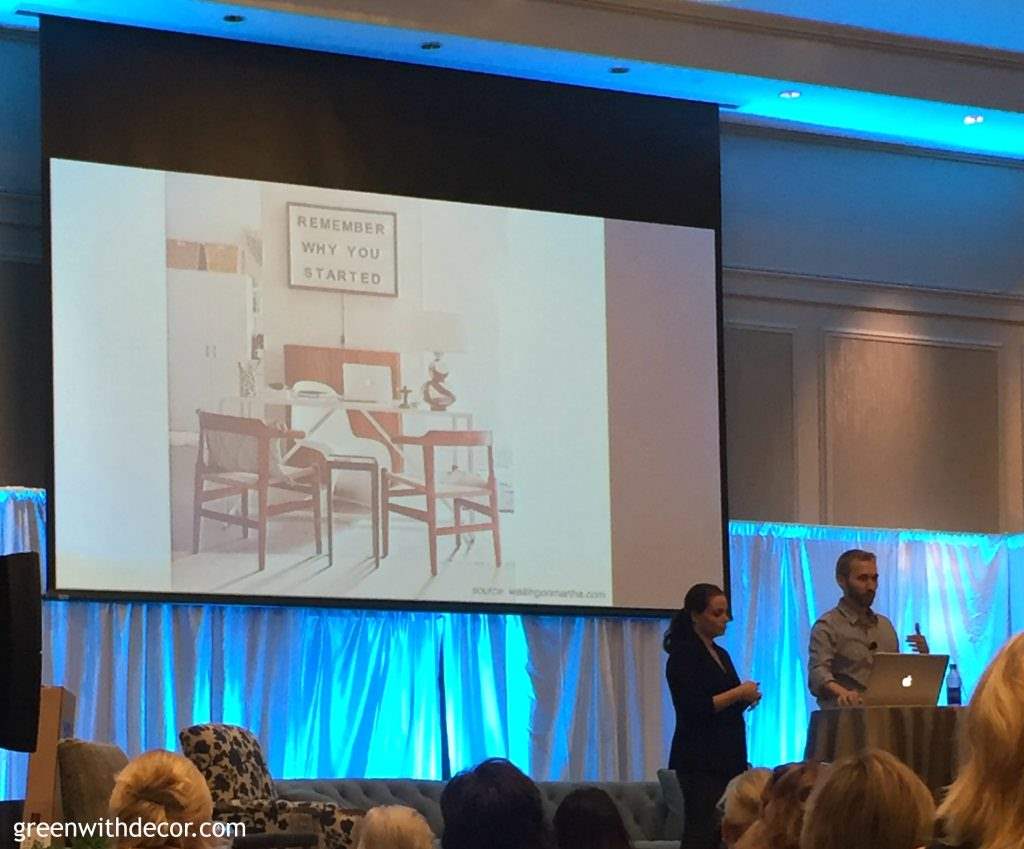 I ended up in the elevator with John, Sherry and Katie from Bower Power later that day, and of course, I was so tired I completely forgot to get a picture with them.Ugh!
But they were nice and funny, it was fun just to get to chat with them for a few minutes while they weren't surrounded by people. It's always funny realizing those people you read about for years are just real people like the rest of us!
A huge THANK YOU to Rhoda, Chris, Traci and Kristin for putting on Haven. I've done event planning for clients before – nothing as big as Haven – and I know how much work goes into it. It was AWESOME! I've been following Rhoda for a long time online, and getting to meet her was great.
I'm so glad I didn't listen to that little voice in my head that was telling me the conference would be terrible and I'd have no one to talk to! Because that was the complete opposite of what happened.
If you're considering starting a blog, do it. (My favorite blogging resources are here.) I thought about it for way too long before I started.
And if you want to quit your job and freelance, figure out how to make it work, and do it. It's been a crazy year, but I'm so, so, so happy with the risks I've taken.
If you're thinking about Haven next year but you're afraid you're too shy or not a big enough blogger or whatever excuse you're telling yourself, forget it. Take that risk and buy your ticket! Even a week later, I just keep thinking about how fun the event was and how much I learned. It really reenergized me to keep focusing on this little blog of mine.
Whew, if you made it to the end of this super long post, thank you!
And if you're interested, you can read about my second year at Haven here – spoiler, I got to meet Clint Harp!
Remember to bookmark or pin this post if you want to save it for later!


Pin it!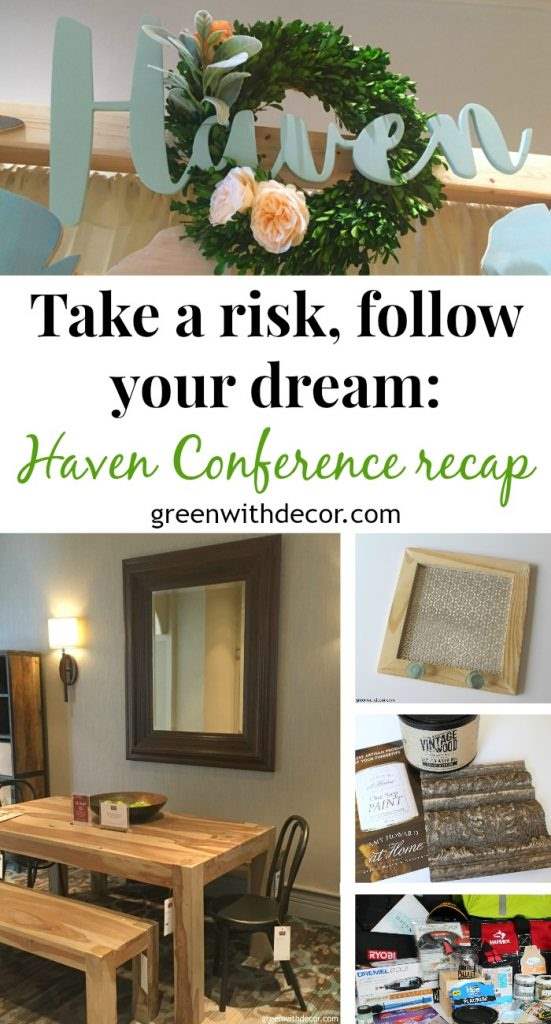 Want to read more posts like this?
Follow along: Get my emails | Facebook | Pinterest | Twitter | Instagram