Disclosure: This post is sponsored by Wagner. All opinions, images and love of DIY projects are 100% mine.
One of my favorite things about the heat gun is how many uses there are for it.
We've used it for everything from burning wood to cleaning our grill and now … for a temporary flat roof fix.
Because when your flat roof starts leaking into your kitchen in the middle of winter, you need a solution ASAP. And in Wisconsin, you can't really get a flat roof replaced in the middle of snow season, so a temporary fix it is.
This is a random problem but hopefully for anyone in the same boat (no water pun intended here), this handy solution is just what you're looking for till the weather warms up!
To back up, we have a flat roof above our family room, and it started leaking during the polar vortex last year. We've since had it completely replaced over the summer, but I realized I never shared on the blog what we did for a temporary fix last year.
Our leak started because the caulk seal between our kitchen addition and the flat roof over the family room broke, leading to water leaking into our kitchen soffits and dripping all over our counters. Yuck!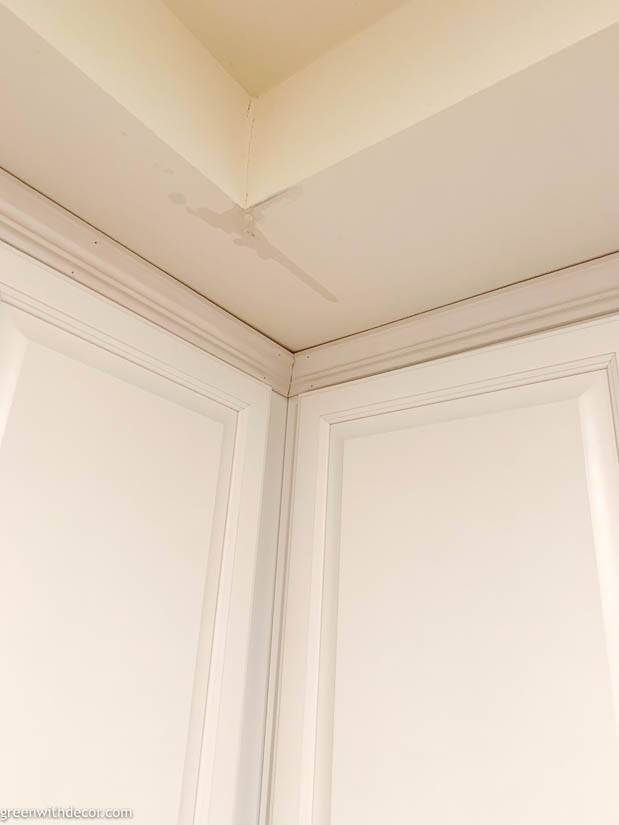 It was a pain but thankfully could have been much, much worse. We're lucky we didn't have a bigger mess and that we didn't have to replace any cabinets or soffits.
We had buckets and bowls all over the place collecting dripping water, plus box fans pointed up at the soffits blowing for DAYS to help everything dry out in hopes we wouldn't have to replace anything.
Good news, the fans worked.
When we finally turned them off approximately 875 days later, I'd almost forgotten what it was like to have a conversation at a normal volume level.
But we didn't have to replace anything in our renovated kitchen so we'll take it!
Onto our temporary roof fix …
This post contains affiliate links. This means if you click the link and buy something, I may receive a small percentage of sales at no extra cost to you.
Supply list:
Insulation board
Tar paper
X-ACTO knife
Wagner FURNO 750 heat gun (also available here)
Extension cord (if needed)
Heat resistant gloves (wear while the heat gun is on)
Step by step:
Step 1:
Clean the roof so you can be sure the tar roofing will stick to the membrane of the flat roof.
Step 2:
Use the insulation board to make triangles the size of the joint where your two exterior walls and the flat roof meet.
This allows you to build up the sunken area, so you can place the tar paper over the top and ensure it pitches away from the house.
Step 3:
Use an X-ACTO knife to cut the tar paper into a triangle that, when spread over the insulation board and connected to where the leak was, will adhere and keep the water.
Step 4:
Place the tar paper into position.
Step 5:
Select your heat gun attachment (the FURNO 750 comes with 4 attachments) and place it on your heat gun.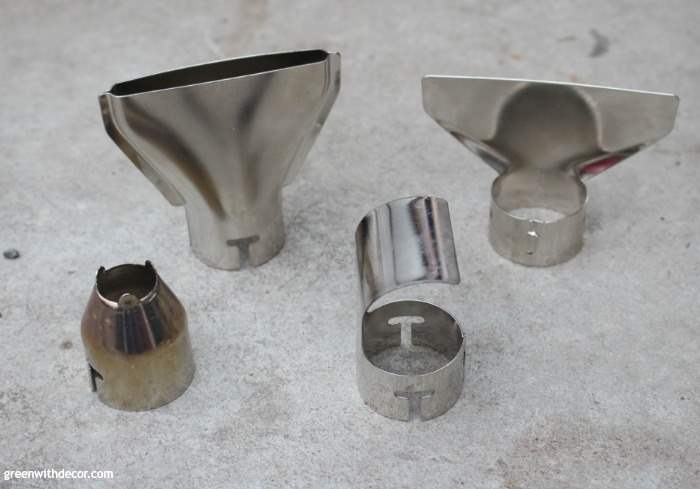 Step 6:
Turn your heat gun on and let it heat up. Press the red '+" or "-" buttons to adjust the temperature.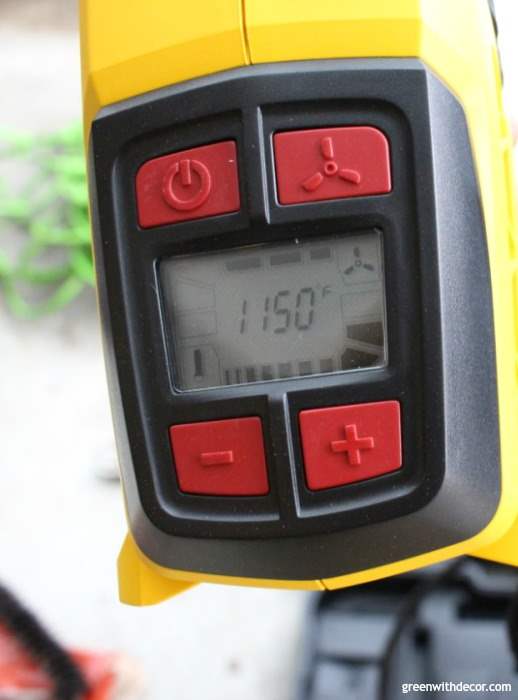 It's easy to prop the heat gun up on top of its case while it heats up. Then you don't have to worry about it accidentally falling over.
If you're not sure about what temperature to start with for a heat gun project, it's always best to start low. It's way easier to slowly increase the temperature as you're working then it is to start a whole project over because there was too much heat.
And even better, the FURNO 750 manual lists different heat gun projects and the recommended heat settings for each, so check that out if you're stumped on where to start.
Step 7:
Hold your heat gun at an angle, and begin heating the bottom adhesive portion of the tar paper.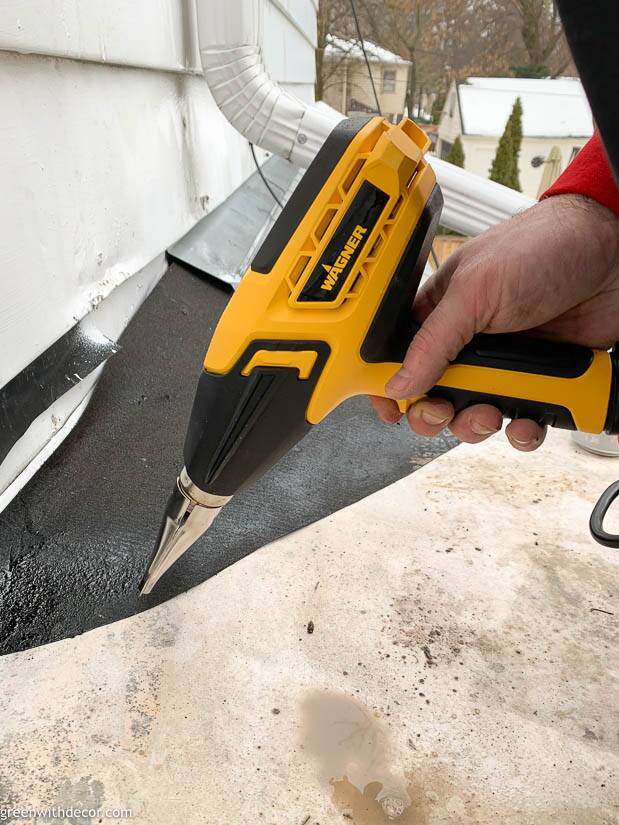 Heat through the top of the tar paper.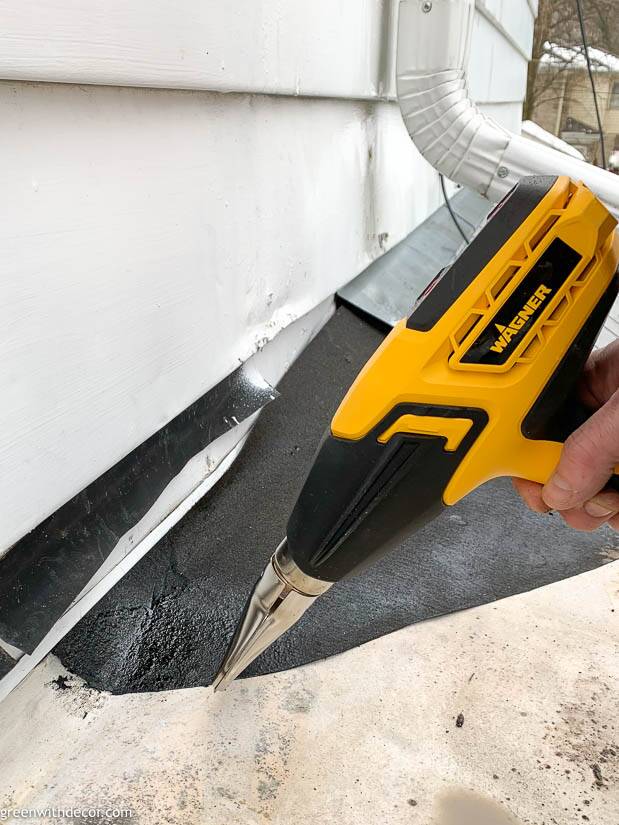 Step 8:
Once it's hot, the adhesive portion will then stick to the caulked edges, the insulation board and the flat roof.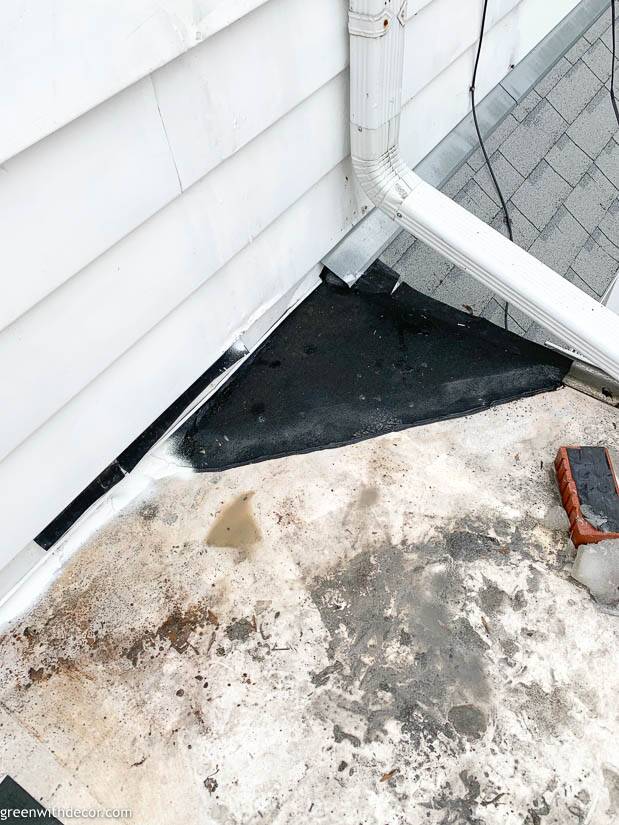 Whew. So glad we had the heat gun on hand to heat this up on such a cold day!
Step 9:
Let your heat gun cool. Press the red power button to begin the cool down process.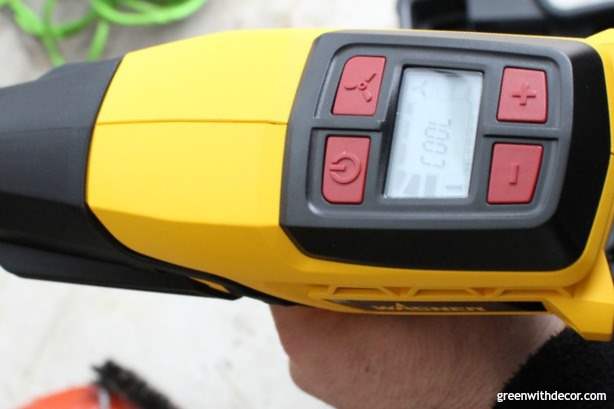 Place the heat gun back in the slot on top of the case until it's cooled down.
Step 10:
Once your heat gun is cool, remove the attachment and put the heat gun away.
And then wait until the weather warms up and get your roof replaced! It's about as much fun as paying for a fancy vacation. ; )
For more heat gun project ideas, check these out:
And to see our fancy new flat roof, check out this post: How to paint a metal railing with a paint sprayer.
Remember to bookmark or pin this post if you want to save it for later!

Pin it!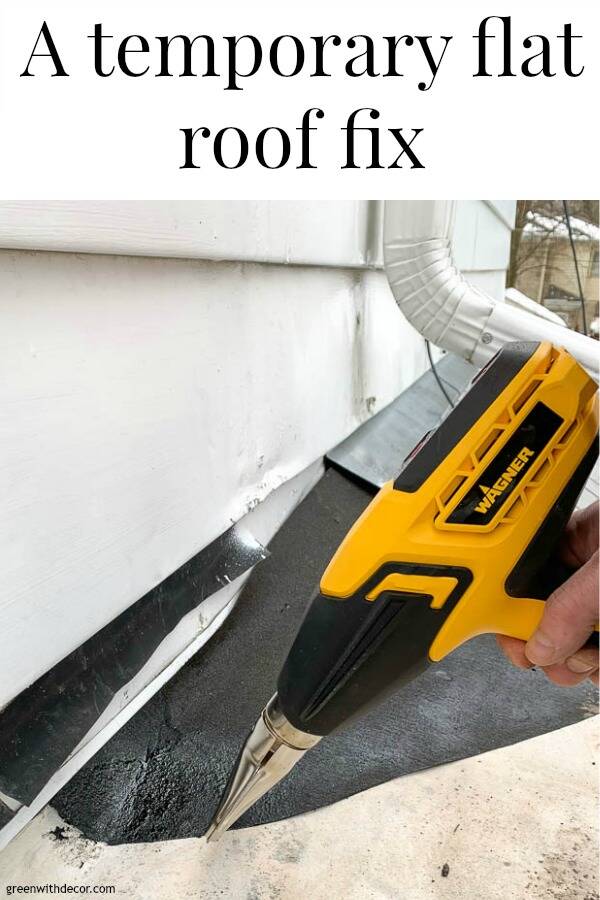 Want to read more posts like this?
Follow along: Get my emails | Facebook | Pinterest | Twitter | Instagram