How's everyone doing on those New Year's resolutions? I'm guessing all of us are trying to save money and get more organized this year, and today's blog post does both in such an easy way!
We aren't crazy couponers or anything. We mostly save coupons for the grocery store, Target, the local pizza place and those World Market coupons that keep coming in the mail because I just can't resist that place!
Even so, a while ago, it seemed like the mess of coupons was getting out of hand.
We'd go grab pizza and realize we never sorted through the pile of coupons to find the one we needed or we'd get to Target and realize all of the stuff we just stocked up on in the cart would have been cheaper if we bought it last week. You know, before our handful of coupons expired.
Who's been there?
Those troubles are over. One day I had enough of it and came up with this super easy way to organize coupons, and I've never looked back.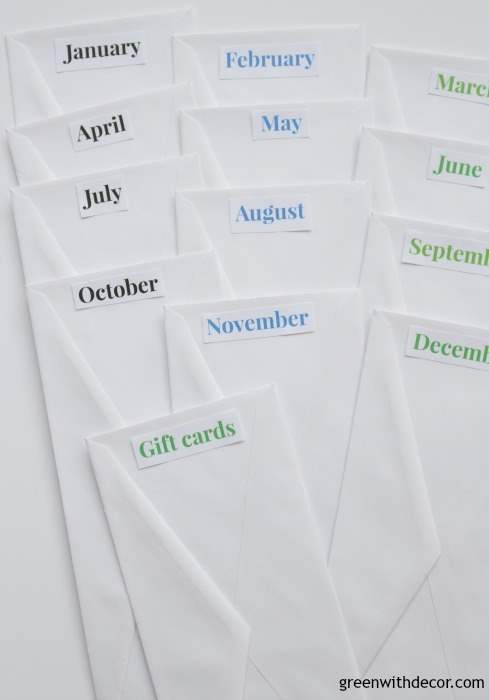 This post contains affiliate links. This means if you click the link and buy something, I may receive a small percentage of sales at no extra cost to you.
I took 12 envelopes and labeled them for each month. Then I stuck coupons in each based on their expiration date.
So simple, right?!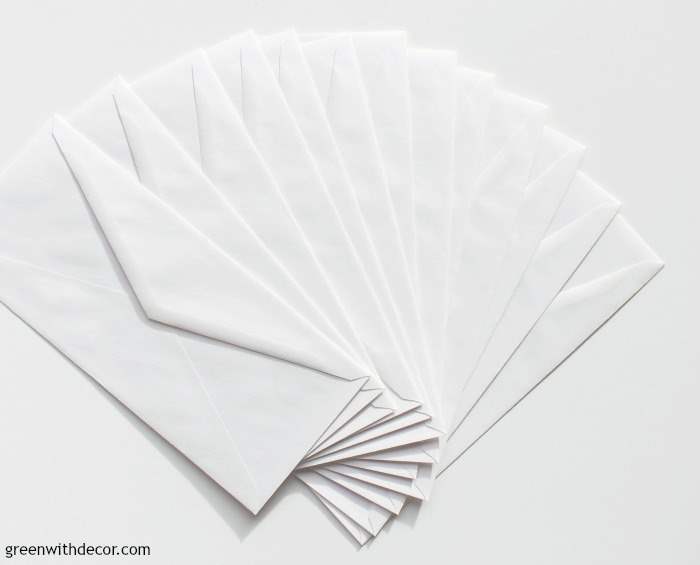 Plus, at the end of the month, you can just toss all the coupons leftover in that month's envelope without having to sort through a stack of coupons to see which ones are expired.
I also used a 13th envelope for gift cards. Because you know what ruins a Friday night? Being excited all day to go to your favorite restaurant and then getting home and realizing you have absolutely no idea where you put that gift card you got for Christmas. Don't waste precious cocktail time searching for your gift card! 🙂
To make this coupon organizing idea even easier for you guys, I'm sharing my printable labels I used for our envelopes.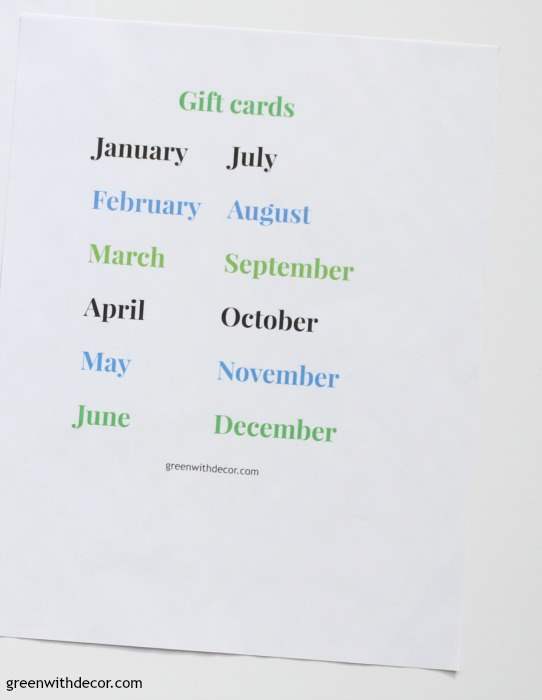 How to download the free coupon labels:
Sign up in the box below, and the link for the free printable will arrive in your inbox shortly. You'll also be signed up to get blog posts and alerts about new printables moving forward. (If you're already an email subscriber, you won't get added to the email list twice.)
*Please note: All printables and downloads designed by Green with Decor are for personal use only. Please do not alter the files or claim them as your own. These files are not intended for resale, nor are the printed versions of these files.
After you've downloaded the coupon labels, print them off and cut them out.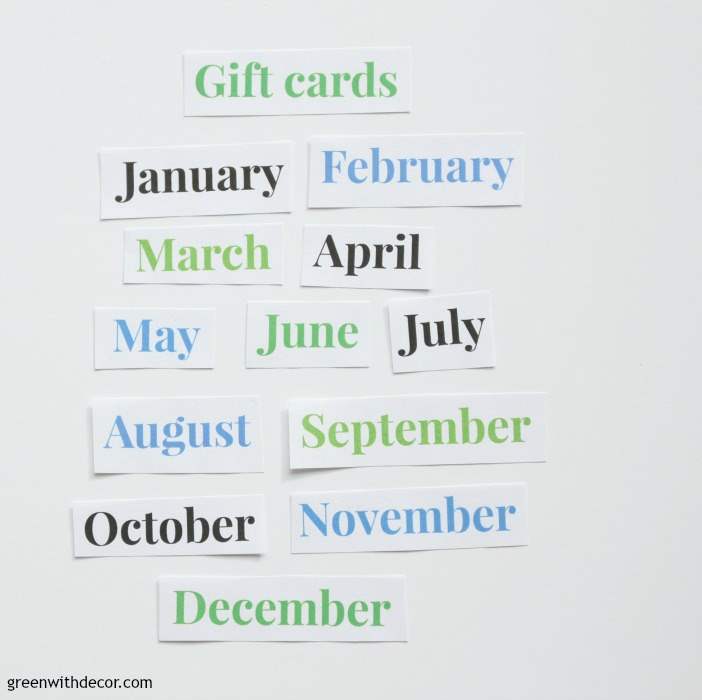 Use double sided tape to stick them to the envelopes. The labels are just a little bit bigger than a piece of double sided tape so it works perfectly.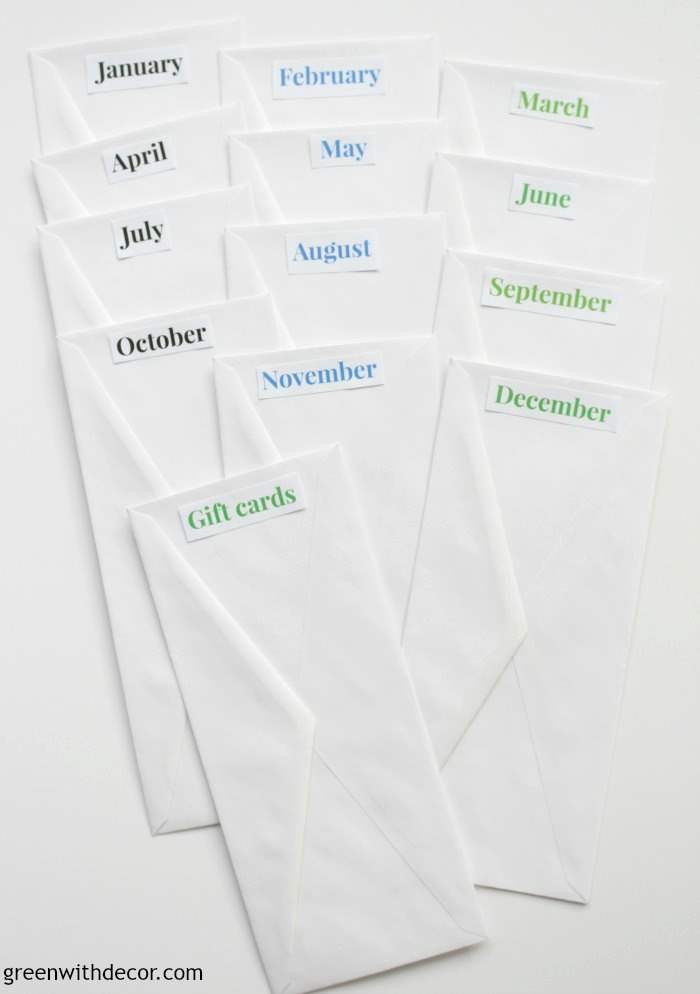 Then stick all of those coupons in the right envelopes and smile because you'll know exactly where that gift card is next time you're craving a margarita and a taco from your favorite restaurant!
Cheers to saving money and staying organized this year!
If you love organizing, you'll want to see these, too:
Remember to bookmark or pin this post if you want to save it for later!


Pin it!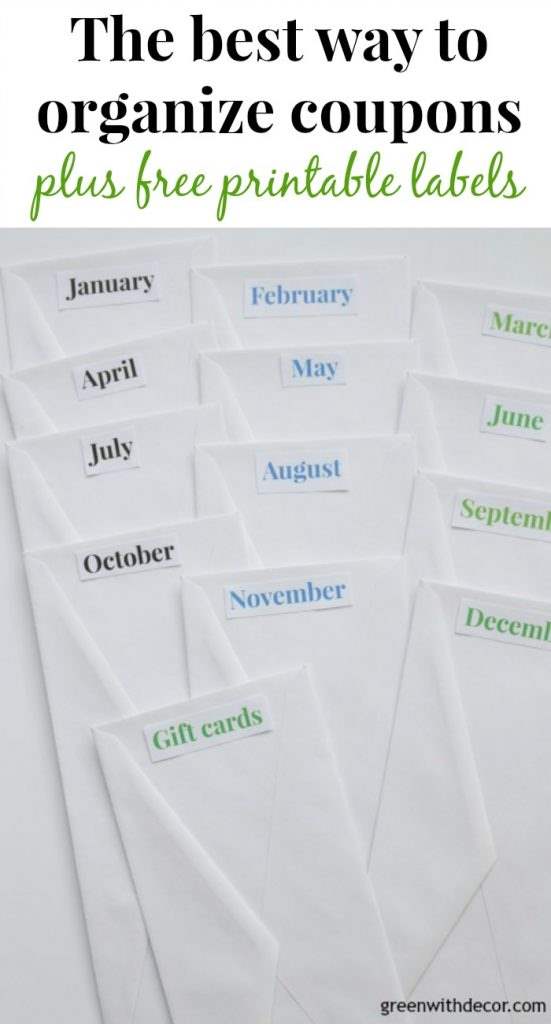 Want to read more posts like this?
Follow along: Get my emails | Facebook | Pinterest | Twitter | Instagram