Back to the upstairs bathroom! After demo and picking out the quartz countertops, we worked to figure out the layout. We weren't sold on the original layout.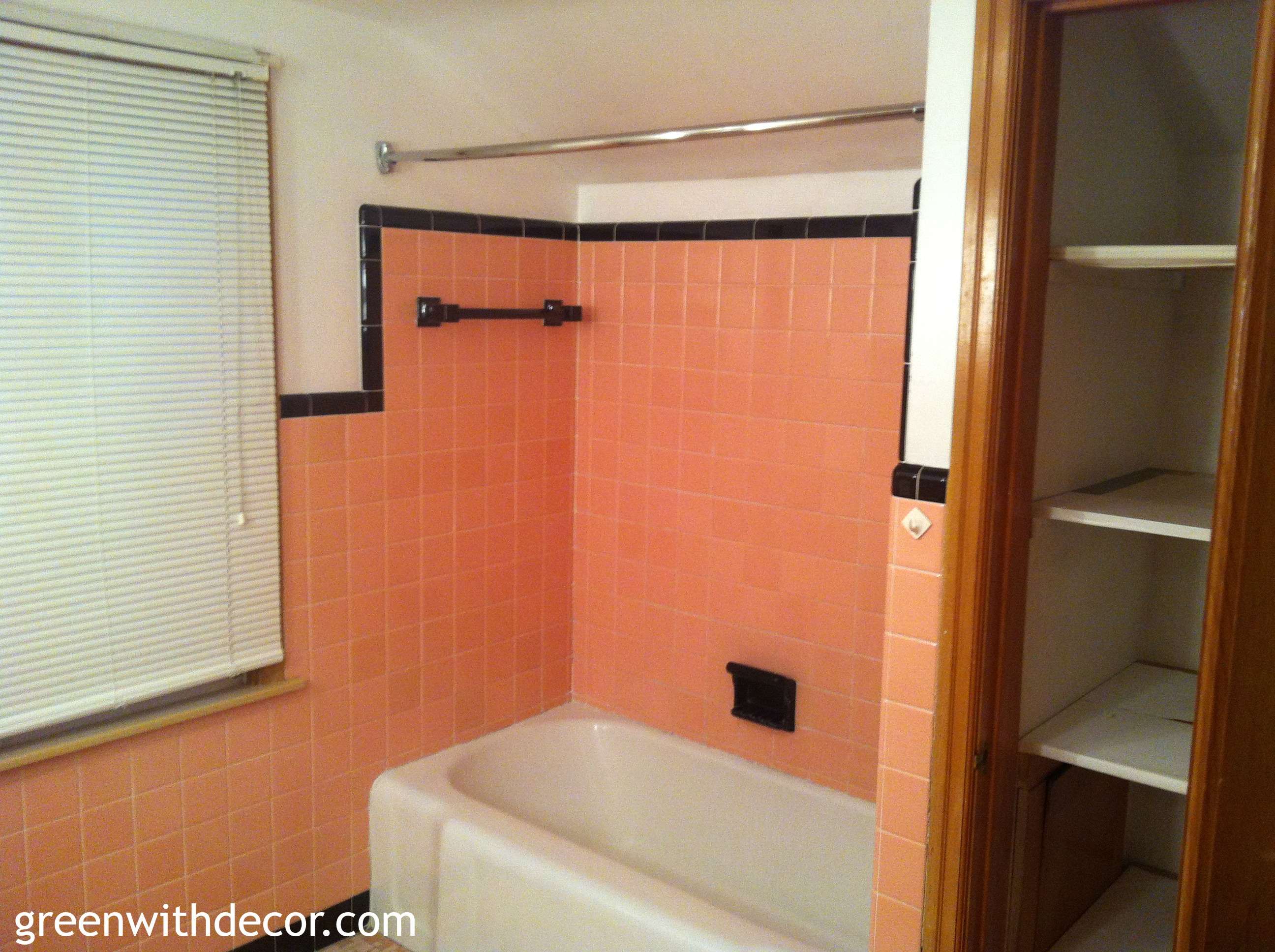 We felt like there was some wasted space along the wall adjacent to the linen closet in the original layout.
Counter space
I also really didn't like the lack of counter space in the original layout. In the bathroom in our Cincinnati house, we had a vanity a similar size, and I always felt like there wasn't enough counter space.
So going into this renovation, we were determined not to end up with the same problem in this bathroom.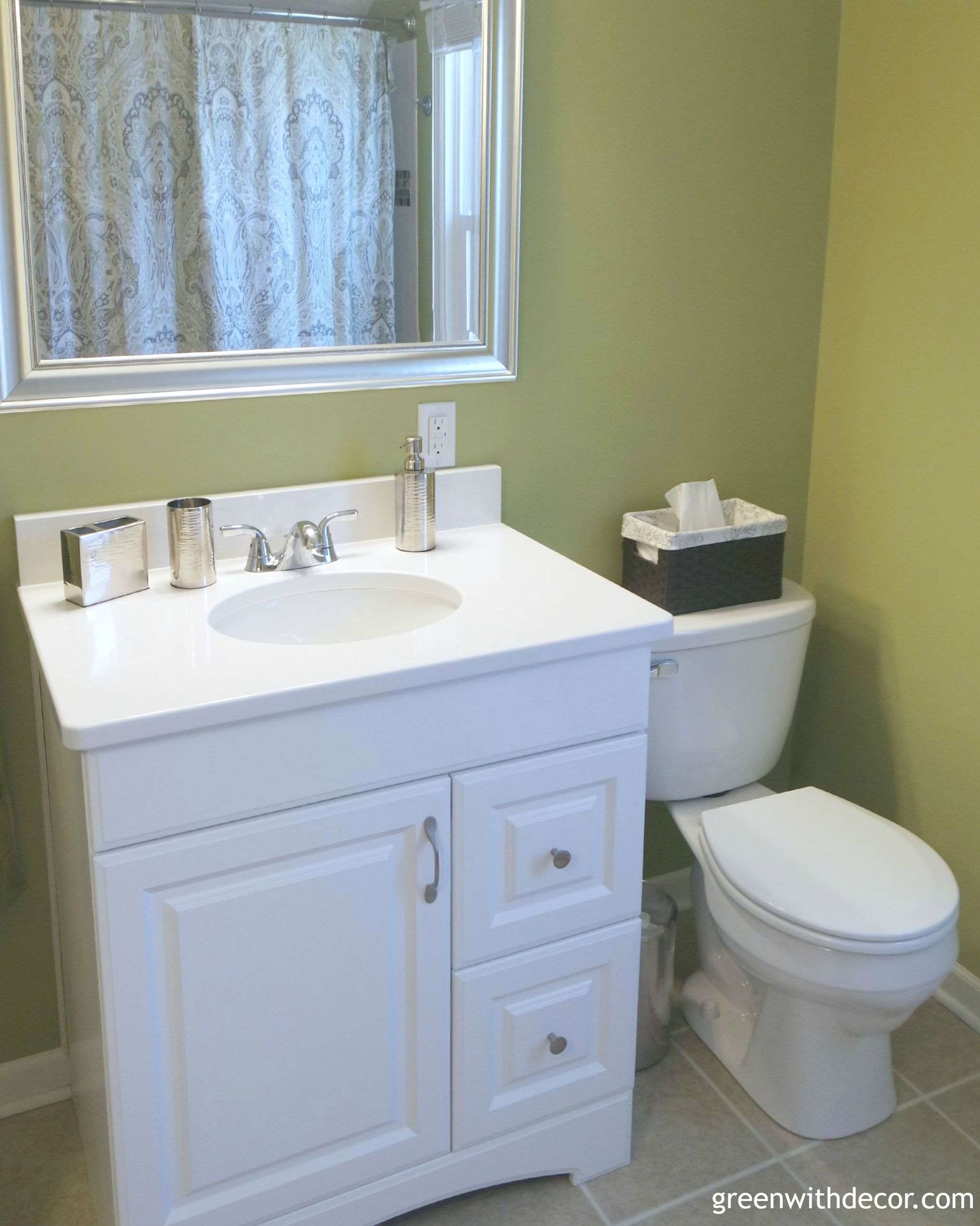 Original plumbing location
We talked about a lot of different options. Well, moving plumbing sounds like it would be expensive – and it definitely is! We also realized that under the original bathroom floor, there was a thick layer of concrete. It was just too expensive to move any plumbing.
We settled on putting the new tub, sink and toilet where they were in the original bathroom. However, this didn't solve the counter space issue.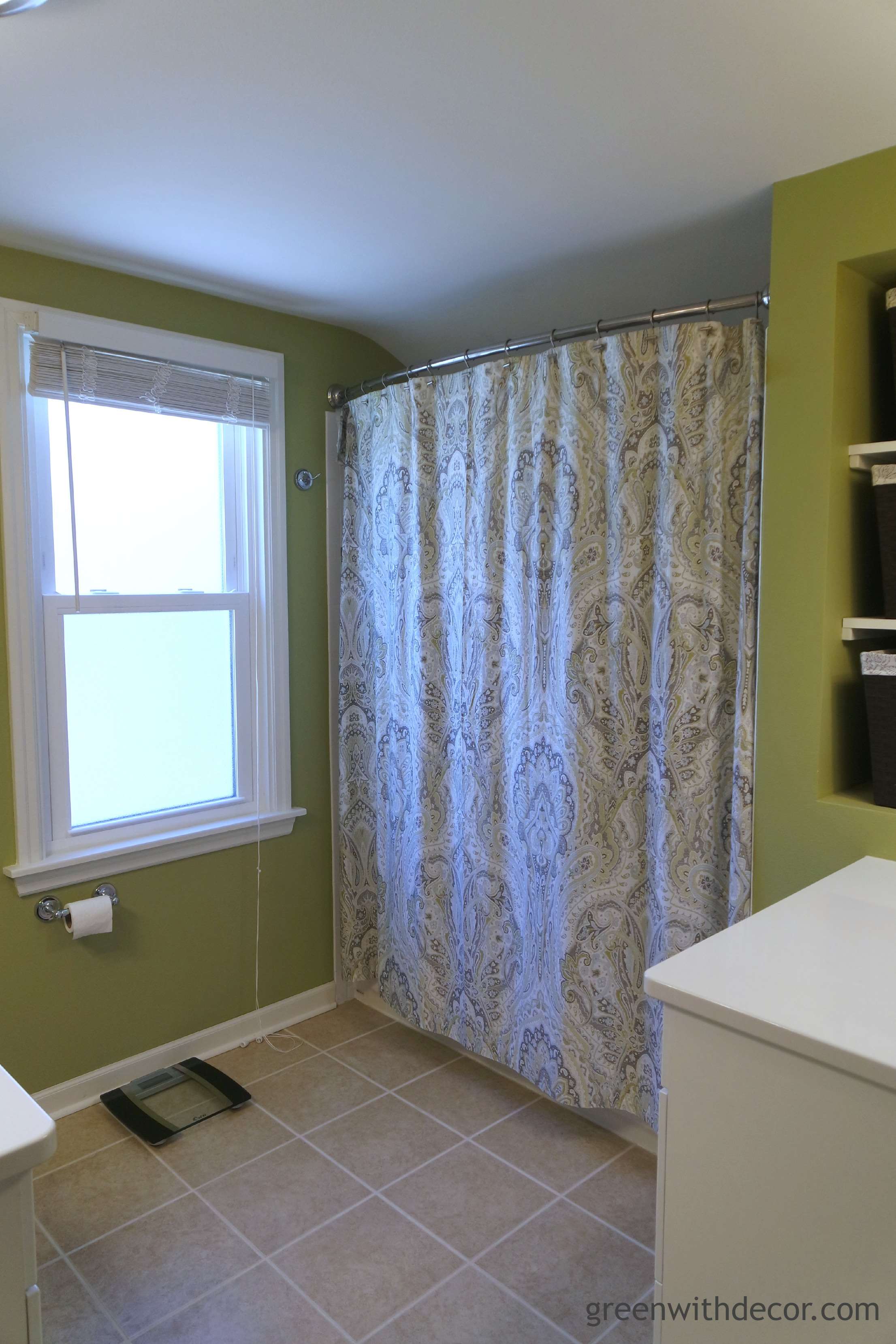 Bathroom storage
In thinking about the linen closet, we weren't sure that we really needed all that storage space. We didn't have one in our Cincinnati house (because we took it out in a renovation to make that bathroom bigger plus one of the bedrooms had two closets), and really, we never missed it.
We kept extra toiletries in the vanity cabinet and kept extra towels in the guest bedroom's second closet. Plus, in this house, our powder room downstairs had a huge closet, so we figured we could keep cleaning supplies there.
Do you have a linen closet? Could you live without it?
If we were willing to forgo the linen closet, we could put a second vanity along that wall. Instead of giving up all of that space where the linen closet was, we gave up only the bottom half.
In the top half, we decided to put in shelves and nice baskets for storage. With these shelves and two vanities, we felt like we had a lot of storage for a relatively small bathroom.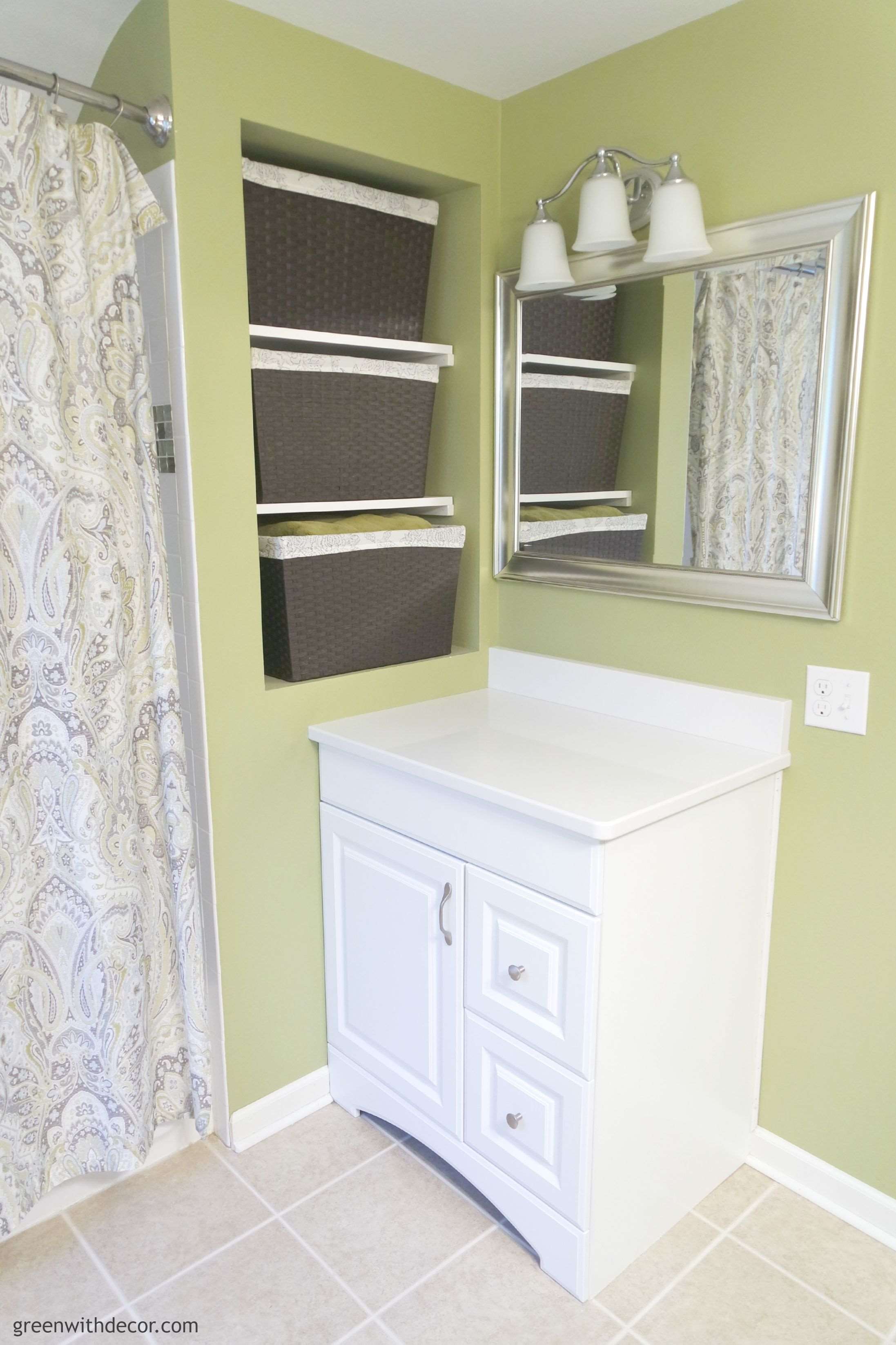 How many vanities? How many sinks?
So we had two vanities! But we decided not to go with two sinks – but to keep just one in sink, in the original vanity. I know everyone wants two sinks – at least that's what every buyer on House Hunters is always saying.
But I thought putting a sink in the second vanity would defeat the whole purpose of putting the second vanity in to gain more counter space.
With the room we had, each vanity would have to be 32 inches wide. Putting a sink in takes up about 14 inches at its widest point, meaning there is about 9 inches on each size of the sink. That didn't sound like a lot of extra counter space to me.
So we didn't go with the second sink. Just extra counter space. And honestly, I LOVE it!
With the layout decided on, we were ready to pick out flooring, vanities, sinks, faucets, towel bars, shower tile, a tub, baskets for our new linen closet shelves … all fun stuff!
This post contains affiliate links. This means if you click the link and buy something, I may receive a small percentage of sales at no extra cost to you.
GET THE LOOK:
Since a popular question I get is "Where'd you get that?!," here are links to the same or similar sources:
Planning your own renovation?
Download my printable Bathroom Renovation Checklist so you can easily keep track of each step. 
*Please note: All printables and downloads designed by Green with Decor are for personal use only. Please do not alter the files or claim them as your own. These files are not intended for resale, nor are the printed versions of these files.
Remember to bookmark or pin this post if you want to save it for later!


Pin it!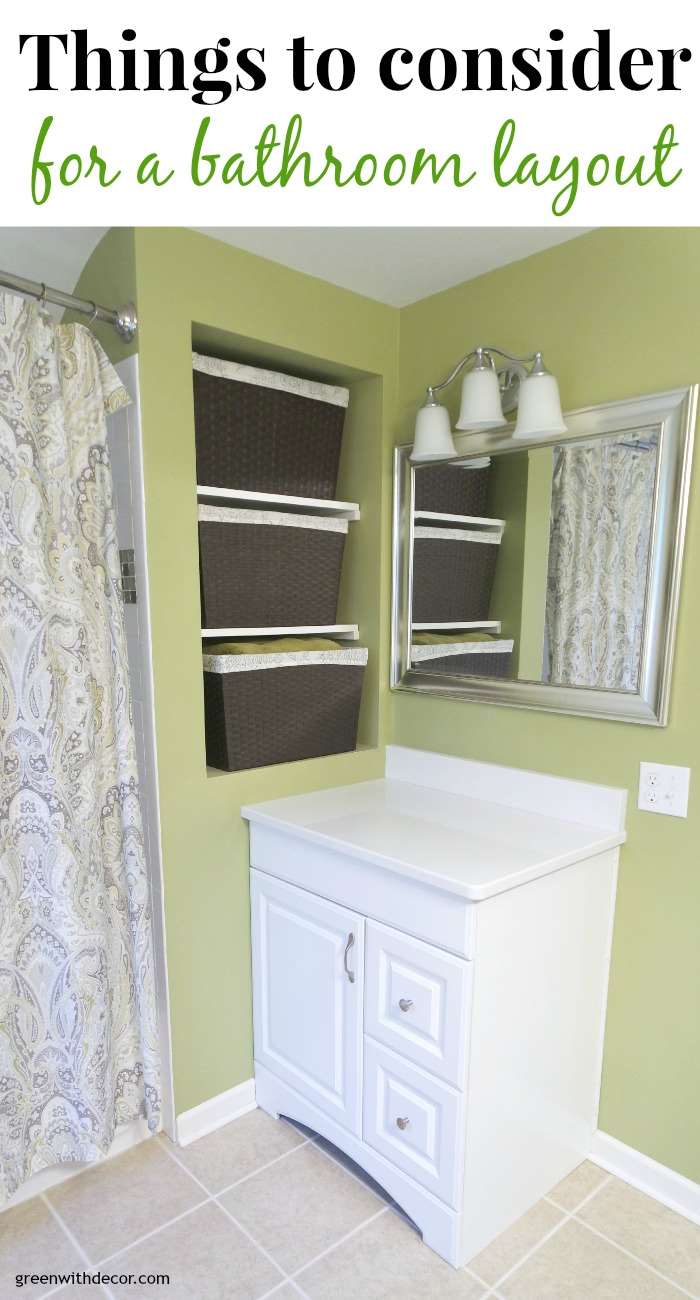 Want to read more posts like this?
Follow along: Get my emails | Facebook | Pinterest | Twitter | Instagram