Know what I wouldn't recommend?
Moving with a colicky two-month old. But you probably already thought that was a bad idea before I said it. 🙂
That's just how things worked out for us though so here we are – we're back in our Milwaukee house! (This pic is from fall a couple years ago. Fall decorating definitely didn't happen this year, but I figured a shot of the front door was fitting!)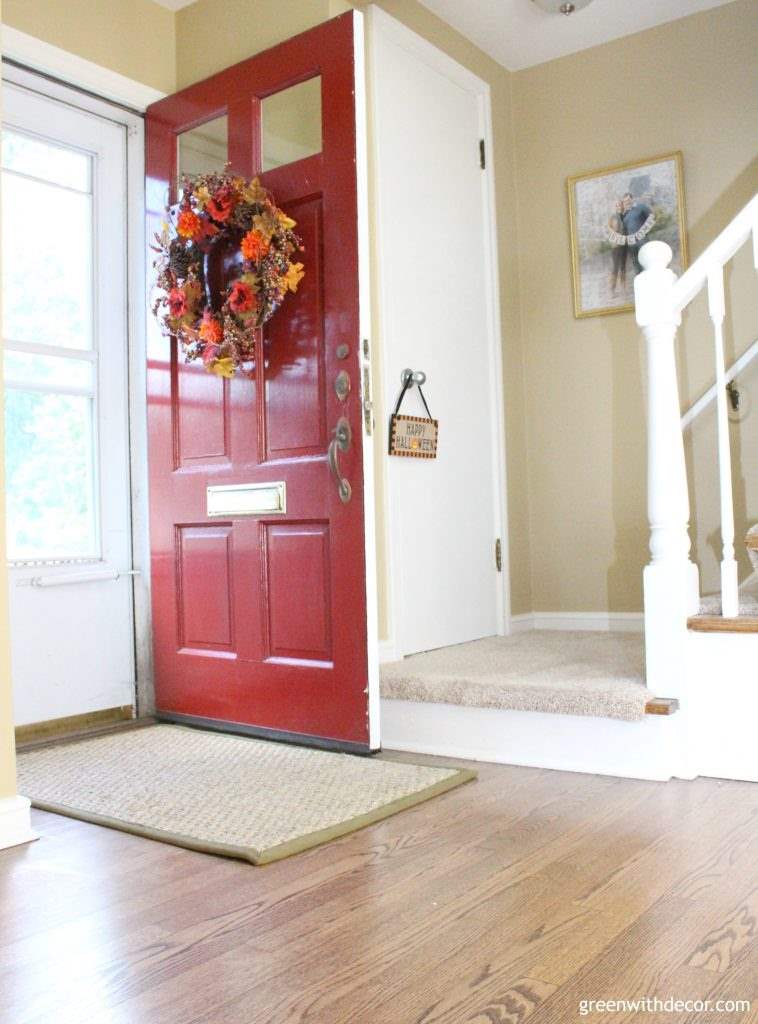 We are soooo very glad we kept our house. Because you know what sounds worse than moving with a colicky baby? Adding house hunting to the mix!
Plus we love our house and our neighborhood so we're pretty glad we didn't give either of those up permanently!
(If you're new around here, we bought our house a few years ago, renovated most of it and then moved out temporarily so my husband could take a work opportunity. We planned to be back at some point so we kept the house!)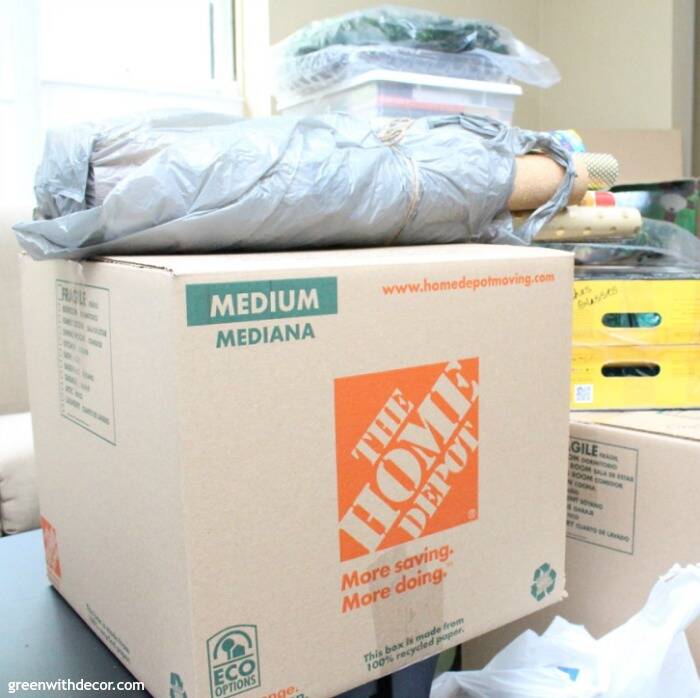 We have big plans for decorating and some fun DIYs around the house. It might take us a while (forever) with a new baby, but it's fun to plan!
Setting up the nursery and the family room – along with organizing the kitchen – are our first priorities. (This post on where to start when you have a whole house to decorate is serving as a good reminder so we don't get totally overwhelmed!)
The front living room really looks like a bomb went off because as we're unpacking boxes, anything extra is just getting tossed in there till we get a game plan.
Somehow it seems like moving back into your own house shouldn't be THAT hard since you had a place for everything before, but we've gotten some new stuff (hello, gorgeous DIY farmhouse table — and lots of baby stuff), plus we figure as long as literally every single thing is out of the kitchen cabinets, we should rearrange them a bit to make everything more functional.
So it's taking forever.
But we're back!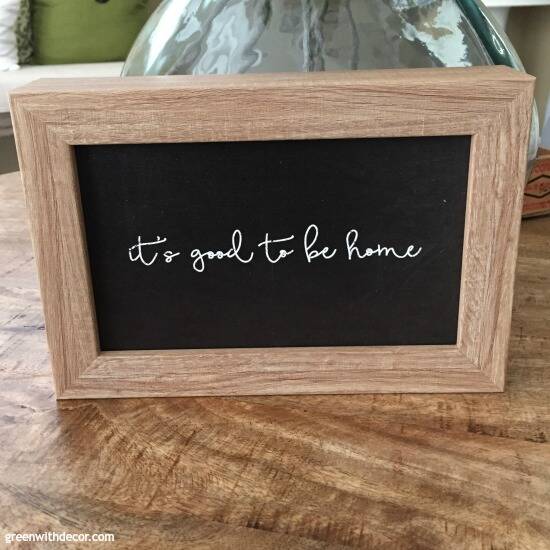 How cute is that sign?! I saw it and had to buy it. (Local Milwaukee friends – it's from Birchwood Wells in Cedarburg. Everything in that store is gorgeous!)
If you want a full refresher for how the house looked all decorated last year before we moved out, check out this house tour page.
This blog post will basically be a mix of pictures from last time we lived here, moving day and a few pics from the rental house with ideas we want to implement here.
This post contains affiliate links. This means if you click the link and buy something, I may receive a small percentage of sales at no extra cost to you.
Foyer / living room:
Here's the empty room right before everything arrived: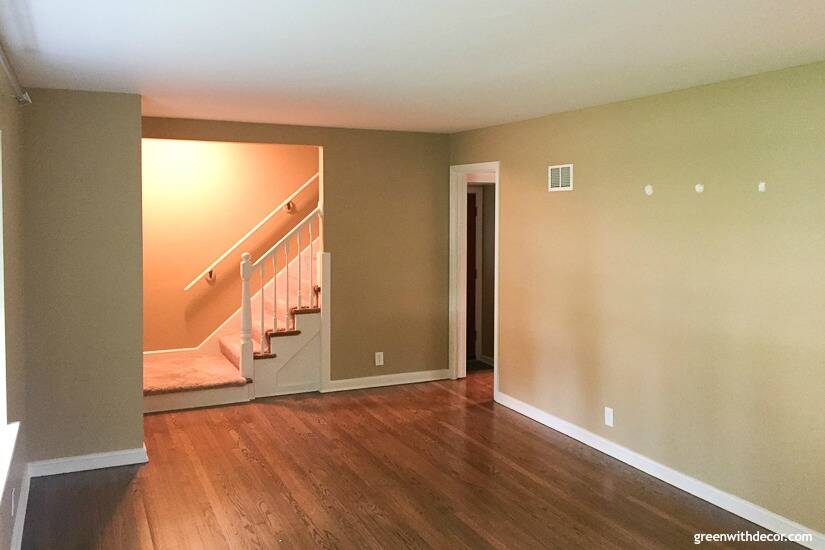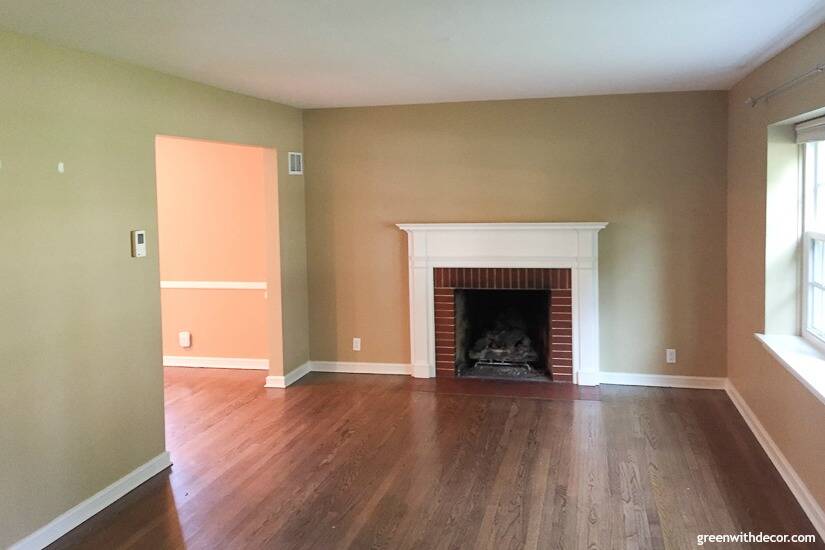 Like I said, this room currently looks like a bomb went off. Nobody wants a picture of that!
Last time we lived here, it looked like this: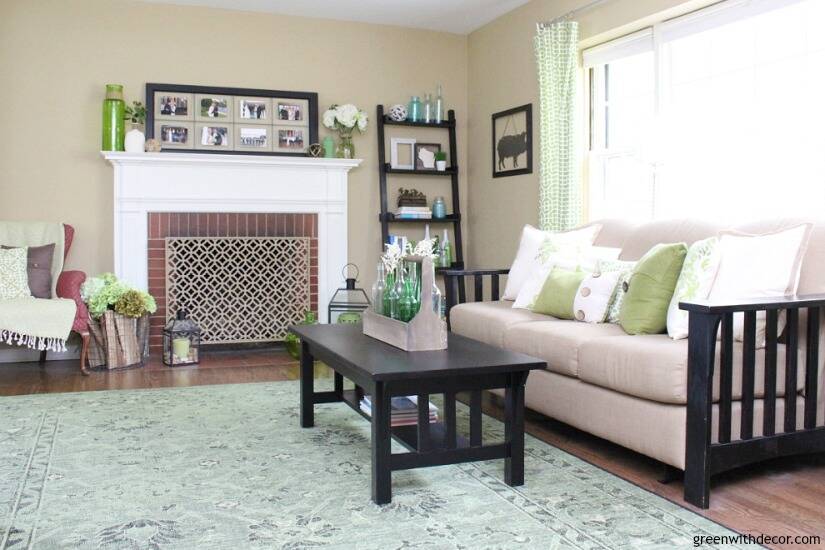 GET THE LOOK: Rug | Window turned picture frame (DIY) | Coffee table | Ladder shelf
We want to set up a little mudroom/foyer area at the front of this room (similar to our mudroom area in the rental house, pictured below).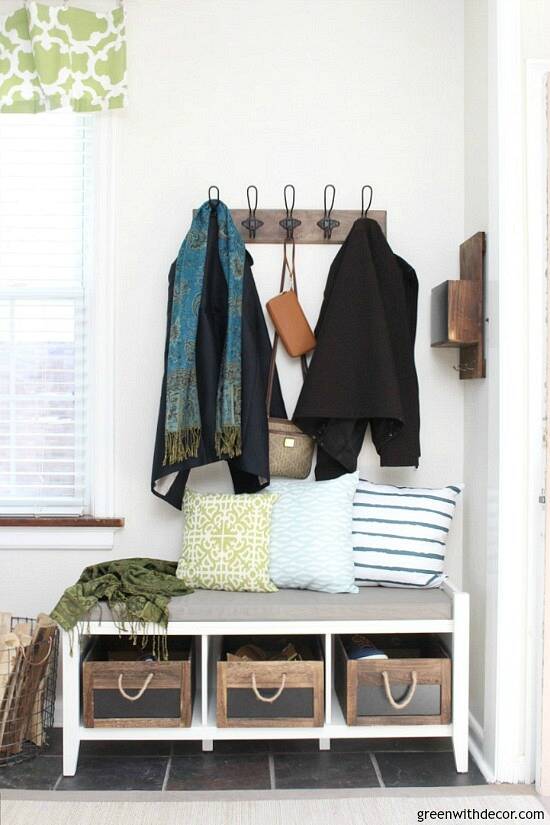 GET THE LOOK: Hooks | Scarves: blue and green | Message center | Bench | Crates | Rug | Pillows: aqua + white, blue + white, green + white | Window valance (DIY)
And we're getting my grandparents' old piano, want to paint the brick on the fireplace and the tile below it, add built-ins on either side, figure out furniture placement in here (which may lead to building a sofa table) and decide where to even put my painted desk with everything else going on in here.
Okay, even just typing all of that is making me tired so let's move on.
This room is pretty low on the priority list anyway.
Kitchen / dining room:
The farmhouse table looks sooooooo good in here! We just love it. Here's a quick cell phone shot on move in day: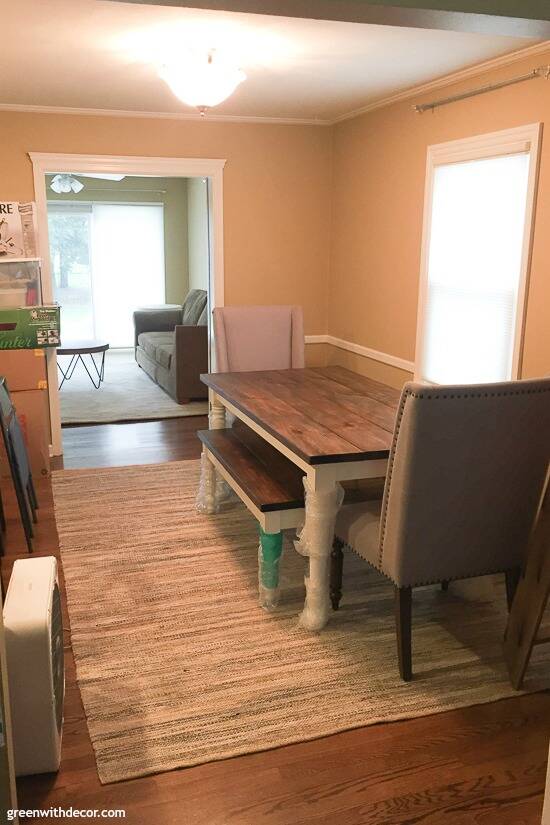 So glad it worked out since we built in when we weren't living here and couldn't lay out the measurements on the floor to be sure we liked the size. Whew!
And here are some cell phone shots of the empty kitchen so you can remember/see the layout. It's so nice to be reunited, I really missed this white kitchen!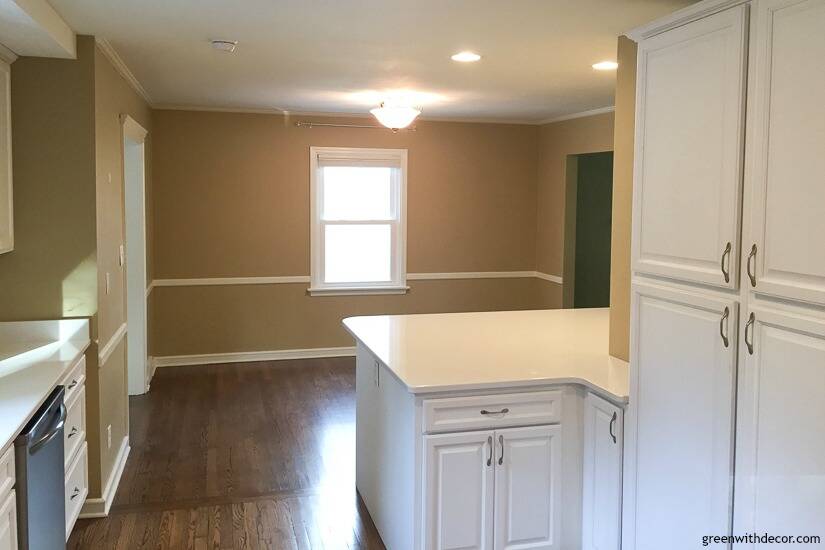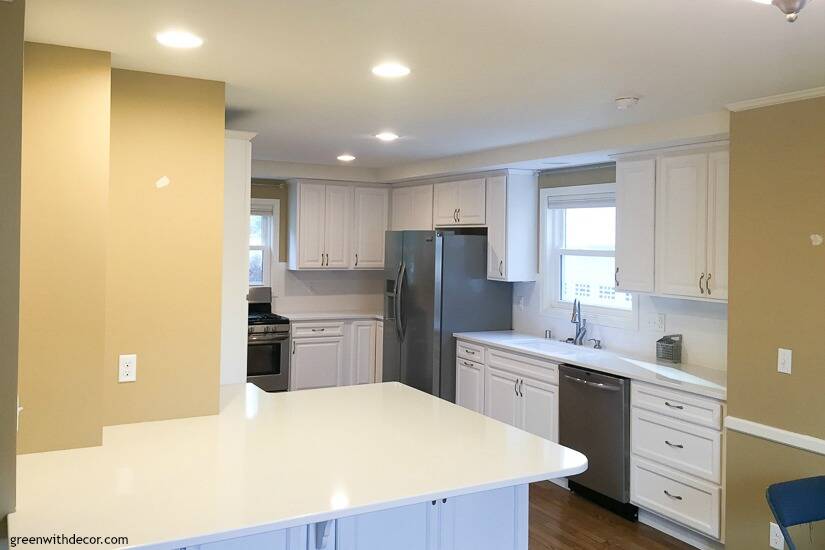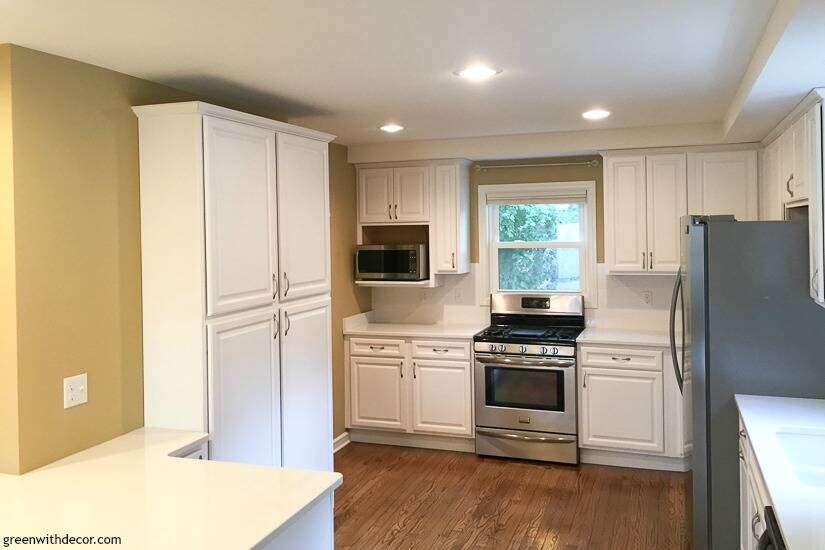 Just a reminder what this space looked like when we bought the house! Eek!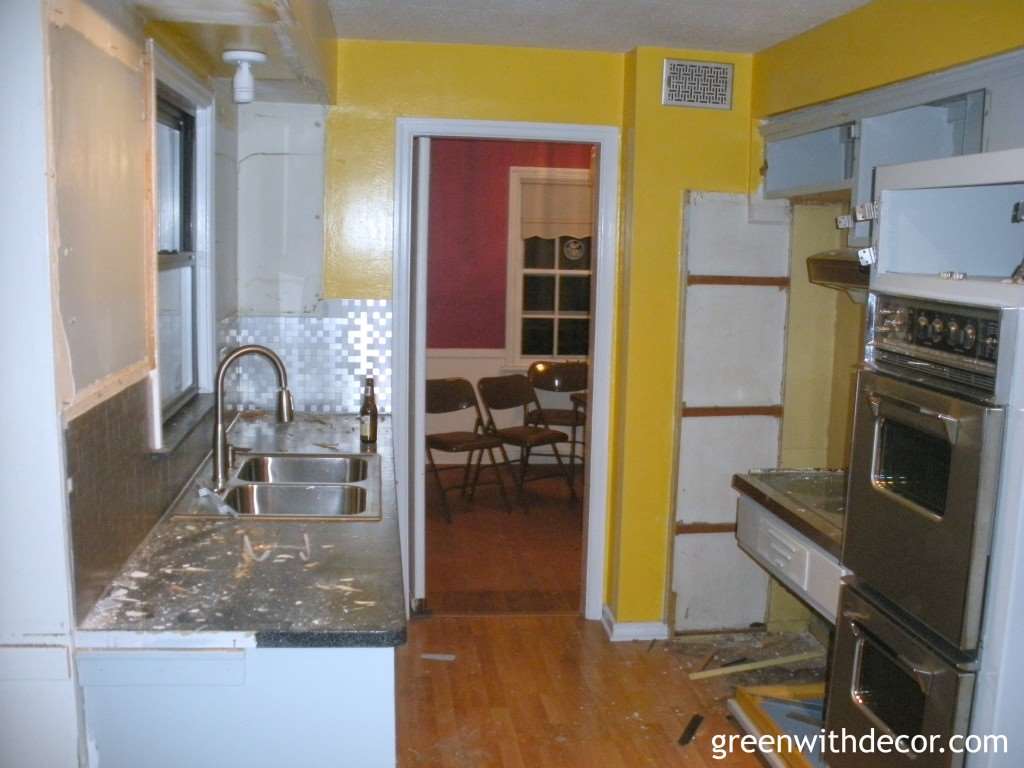 The kitchen is mostly done, obviously, since the big kitchen renovation happened a few years ago. We're currently working on organizing and adding even more storage to our cabinets.
Here's a shot from last year. My goal is for it to look like this again soon!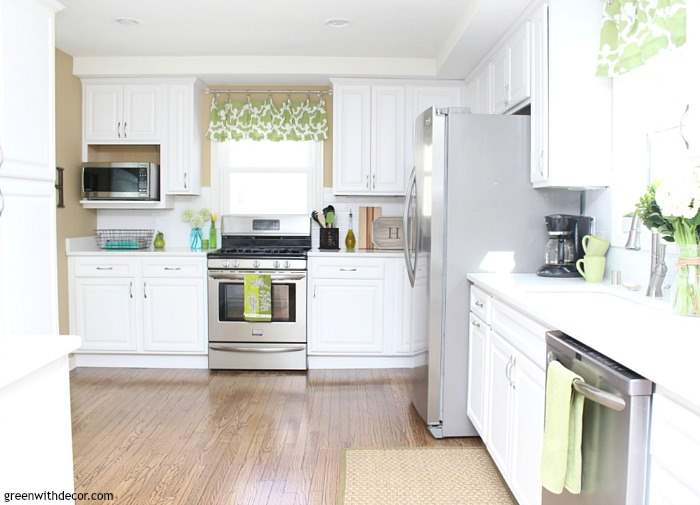 GET THE LOOK: Cabinet handles | Metal basket | Rug | Window valance (DIY)
I have my eye on this beaded chandelier for above the dining table and want new bar stools. (These are my current faves!)
Oh, and new chairs for the heads of the table. Black Friday shopping will be in full force this year!
Family room:
A quick cell phone shot before everything was moved in: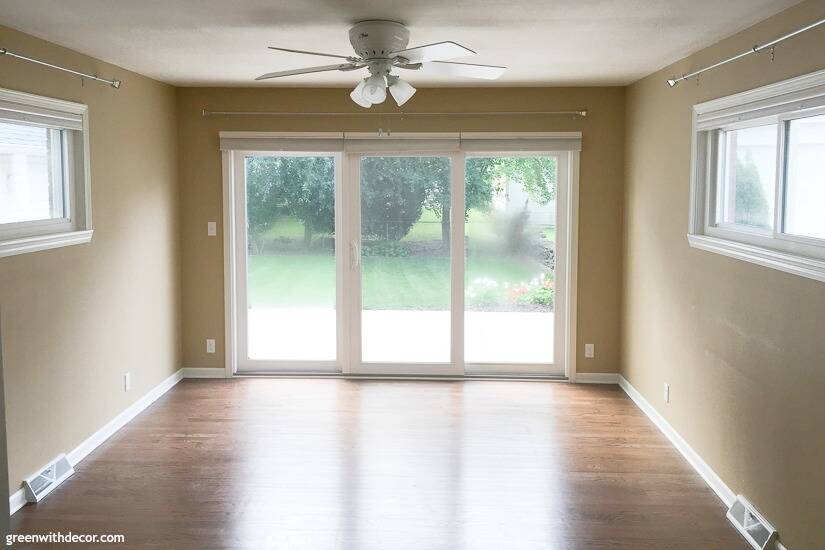 Here's how the room looked when we bought the house (the first day of demo).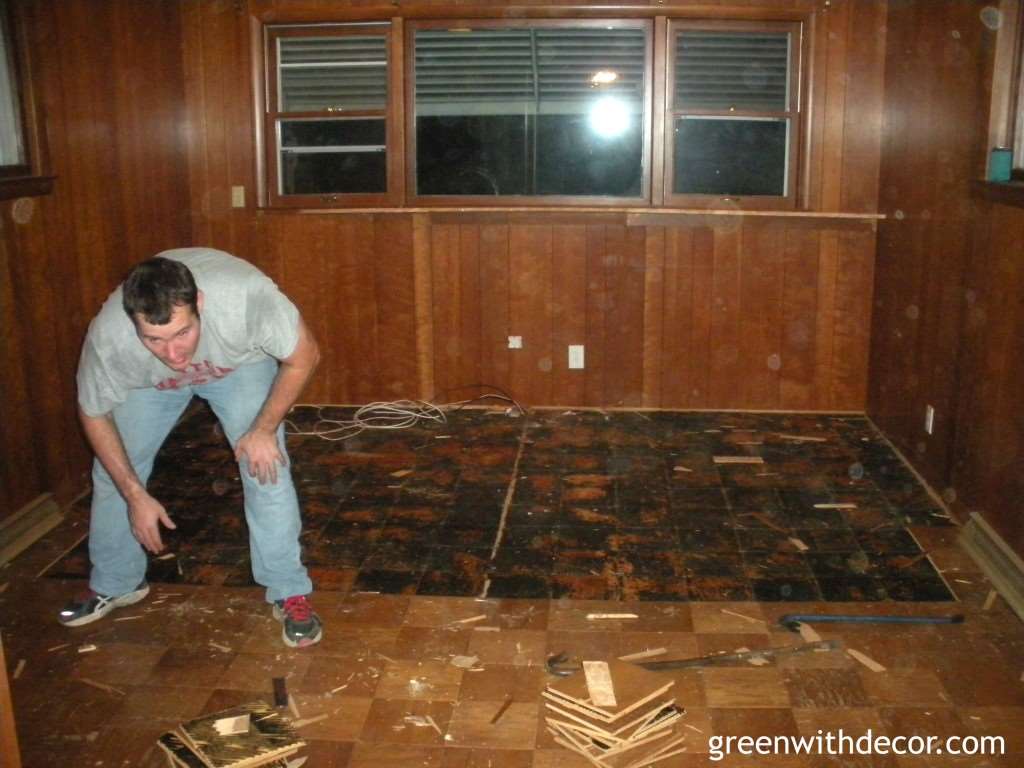 This room is going to look totally different than before, and I am soooo excited about it! (See the previous family room here or pictured below.) We're changing the accent colors from red and black to blue and green.
(You can see my favorite tips for decorating in a new color scheme without going broke here.)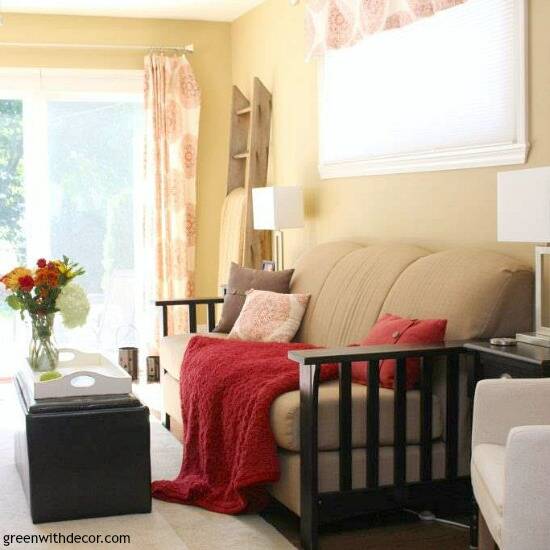 GET THE LOOK: Ladder here or here | Rug | Curtains | Red pillow | End table| Lamps
This room is a top priority since we hang in here the most.
I've already started shopping for a new couch, chairs, a rug … once you start changing a room, it's easy to just keep going.
Plus we have our round coffee table and painted TV stand (a Facebook Marketplace find!) to fit in here from the rental house living room (pictured below).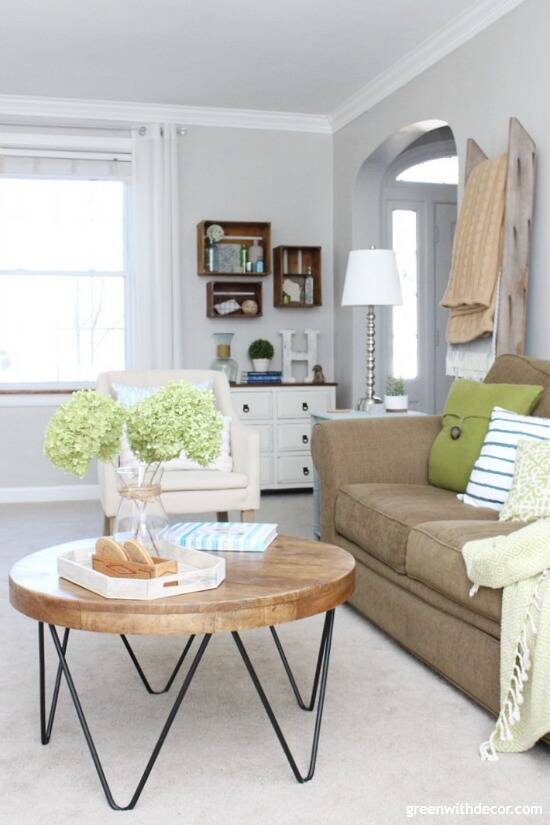 Side note, we have to find a place to hang those crate shelves in this house, too! We don't have nearly as many walls as we did in the rental house so we have to figure out which wall decor we're keeping and what we don't have space for. 
Oh, and the baby swing and Oakley's dog bed have to fit in the family room, too. Lots to do!
Bathroom / powder room:
I'm thinking of painting in here. Ah, I know. Over the green! But it might be time for something new. Stay tuned.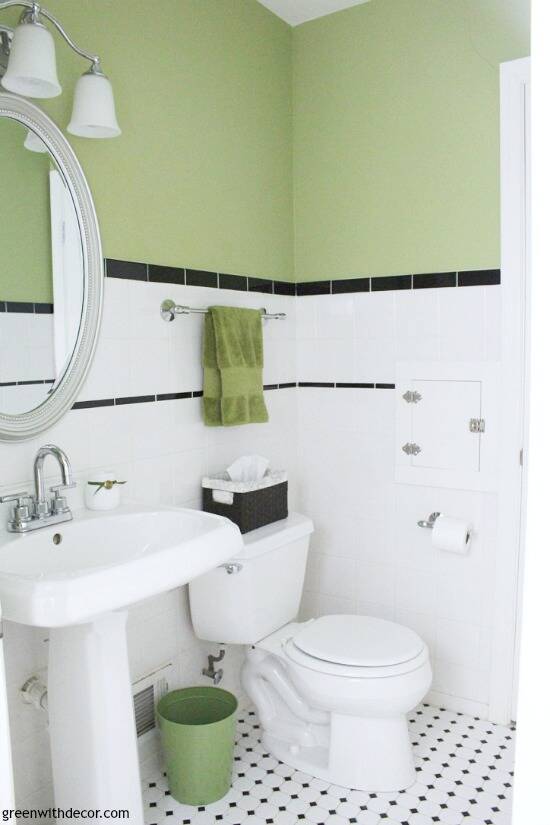 GET THE LOOK: Tile floor | Basket
Nursery:
This was the old home office. So this room is obviously getting a major overhaul. More to come!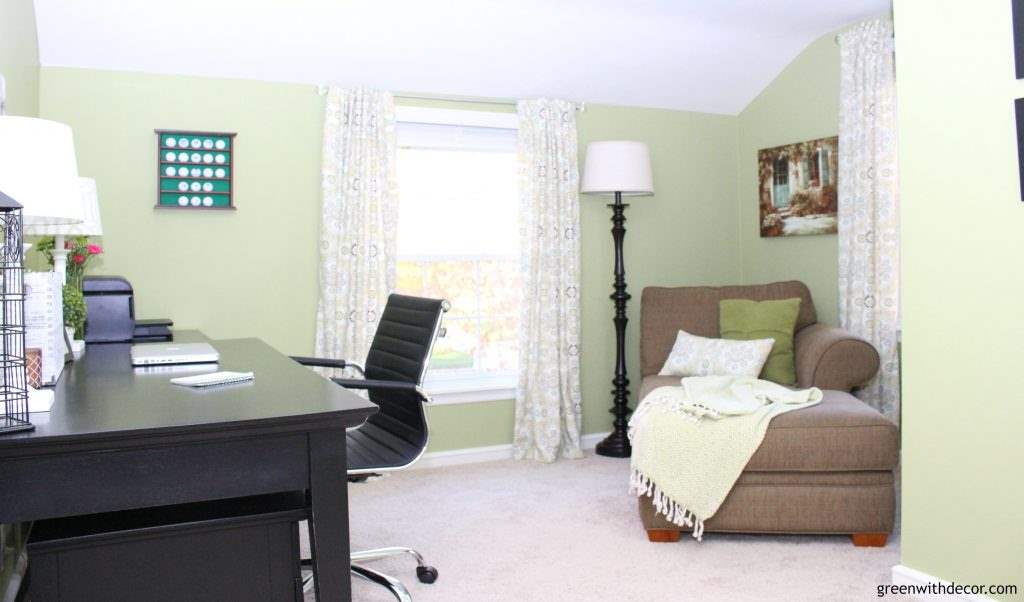 GET THE LOOK: Curtains | Blanket | Chaise | Desk | Desk chair | Golf ball display cabinet
Our bedroom:
Here's how our bedroom looked previously: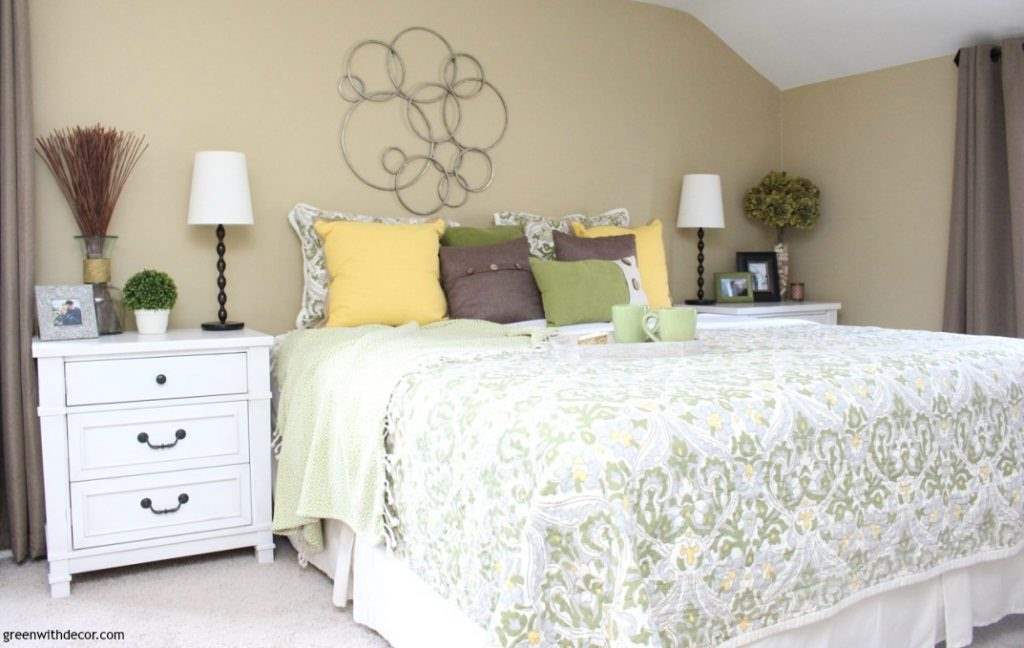 GET THE LOOK: Lamps | Metal wall decor | Green blanket | Pillows: Yellow, brown, green
We switched out the bedding at the rental house (see that bedroom here or pictured below), so I'm excited to have the all-white look going on here!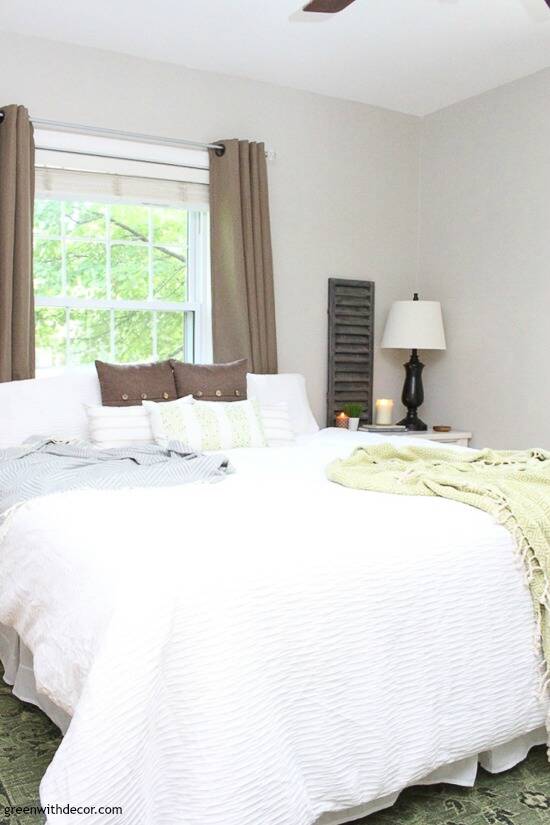 GET THE LOOK: Comforter | Pillows: green + white, striped, brown | Green blanket | Shutter | Rug | Curtains | Curtain rods
We want a headboard at some point, too. We're debating whether to DIY or buy. Based on the project list above, I'm guessing buying will win out.
Organizing is a big theme around here right now. I'm really trying to be intentional about where we put things and what we keep/get rid of so we're making the most of our (limited) storage space.
Which means I have a big pile of clothes sitting on the floor next to the closet that I need to go through … at some point!
Guest bedroom:
Here's a cell phone shot from move-in day. (Think we have enough side tables/nightstands?!)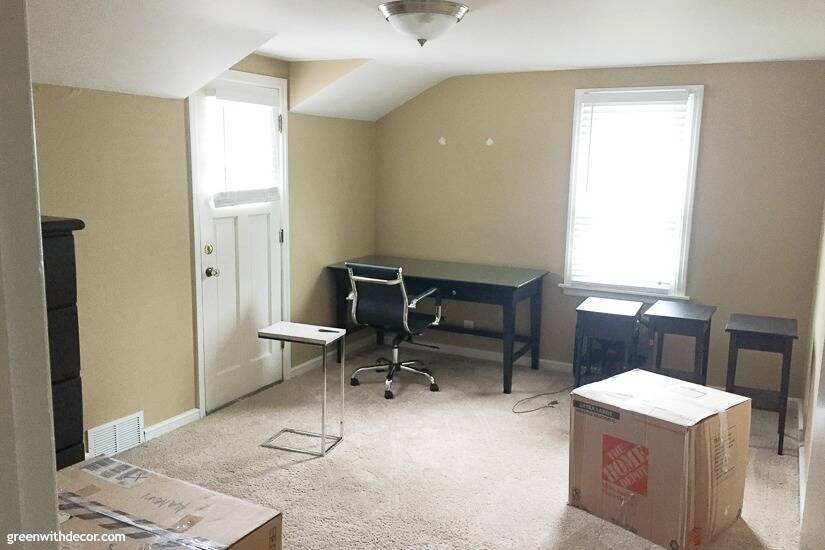 This will look way different than before, too. (See the previous guest bedroom here.)
We still have to figure out where exactly all of our furniture should go as we shift some rooms around and lose the dedicated home office room. For now, the desk looks pretty at home in that corner!
The color scheme will be similar to the guest bedroom at the rental house (and our old bedroom in this house) since we're using the same bedding set.
Bathroom:
We did a bathroom renovation in here a few years ago. Remember it started with this coral tile?!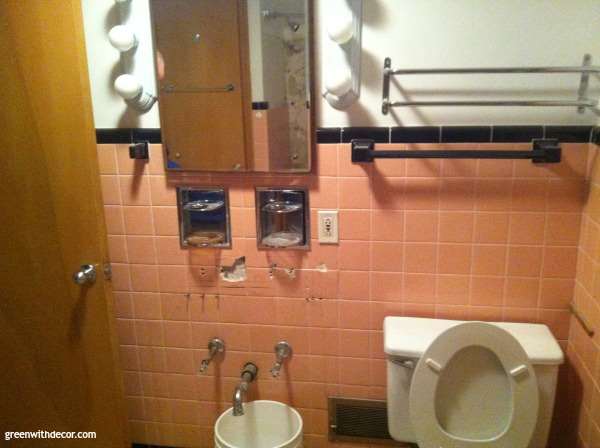 So there won't be anything crazy happening in here.
(Although I'm realizing now I need some updated pictures of this room, I haven't taken any in years!)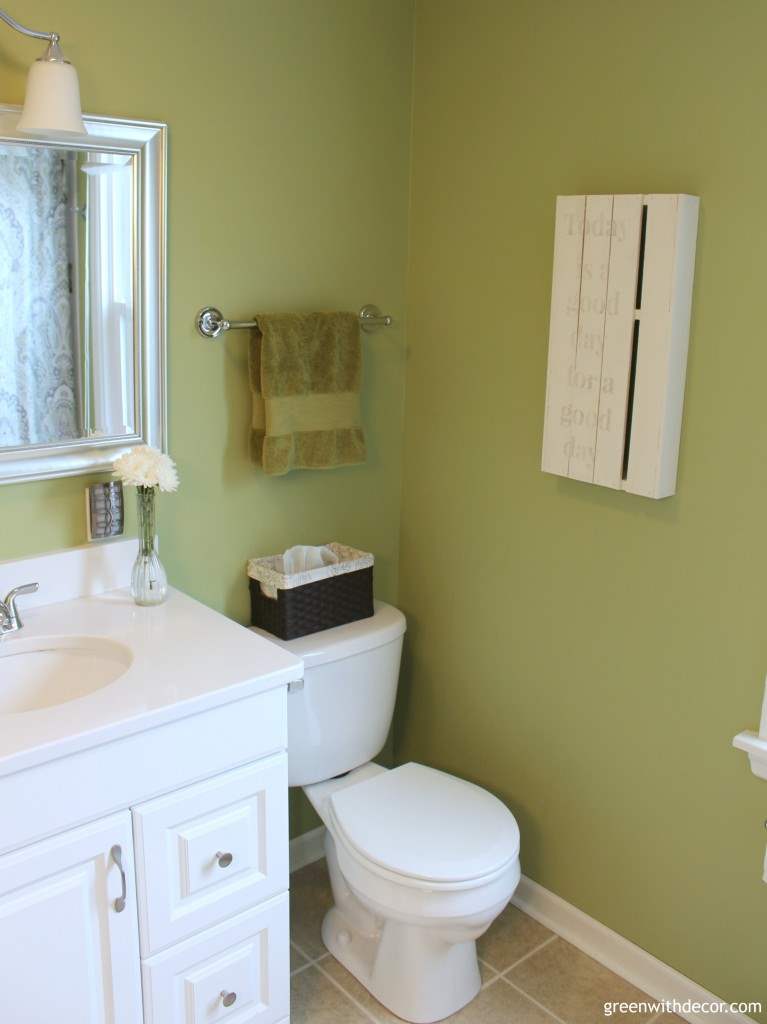 GET THE LOOK: Vanity (handle and knobs) | Mirror | Nightlight | Basket | Towel bar
I do have a few small updates in mind that would be nice, but this room is pretty low on the priority list since it's renovated and functional as is!
Well this blog post got super long! That's a lot of project ideas for people with a baby who doesn't sleep unless someone's holding her! 🙂
We'll get there eventually. Just as soon as all of the moving boxes are unpacked and everything is put away and organized! So in a few years. Just kidding. Kind of.
As always, I'll be sharing it all on the blog as we go!
Remember to bookmark or pin this post if you want to save it for later!


Want to read more posts like this?
Follow along: Get my emails | Facebook | Pinterest | Twitter | Instagram