Time to pick out the stain color for the hardwood floors!
We'd decided on hardwood floors for our first floor and carpet on the stairs and second floor.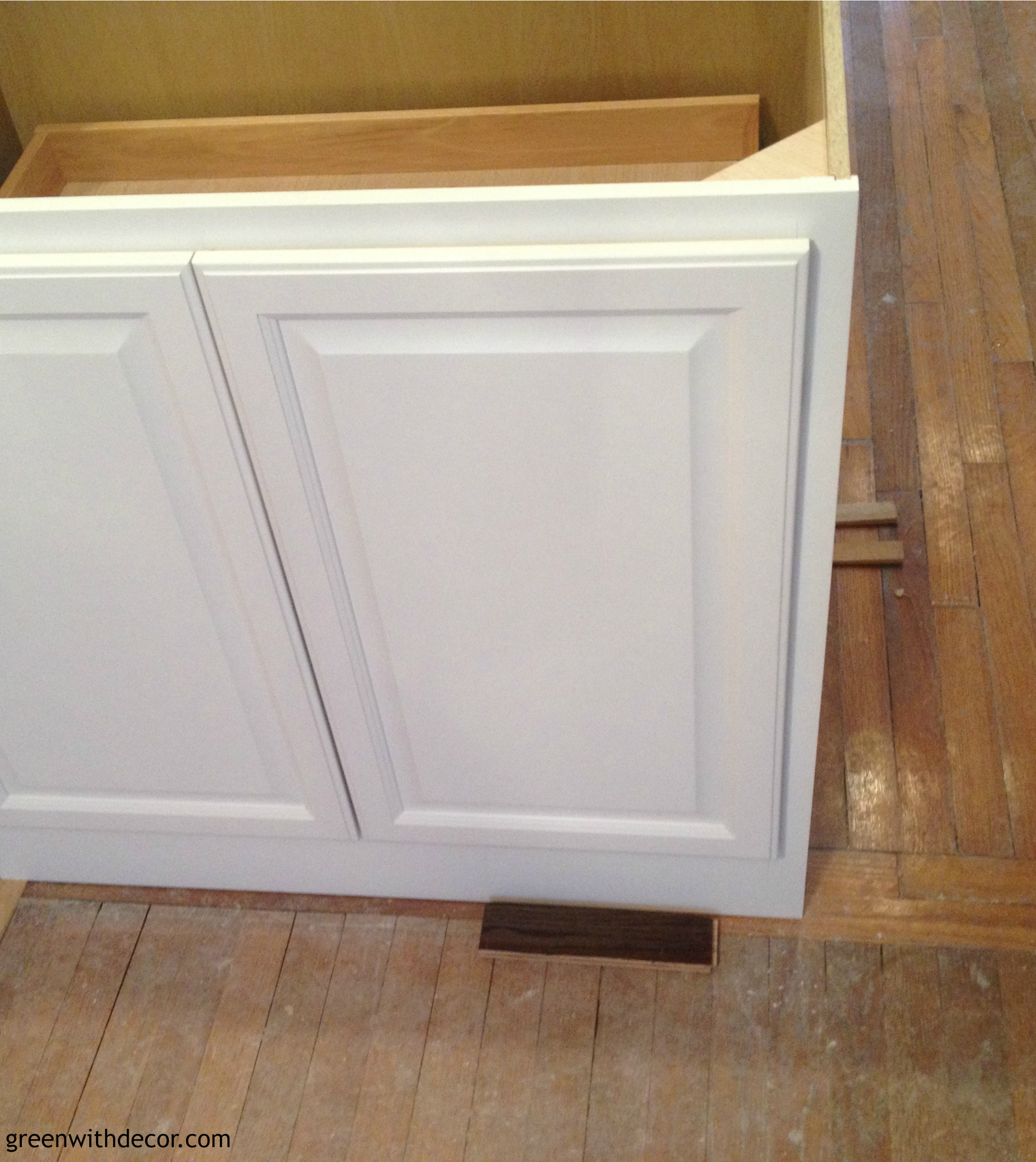 Here are some tips for picking a hardwood floor color:
COLOR SCHEME
Be sure the floor color matches your overall color scheme. This is not to say everything has to be matchy-matchy. Contrast can look great, but clashing colors don't!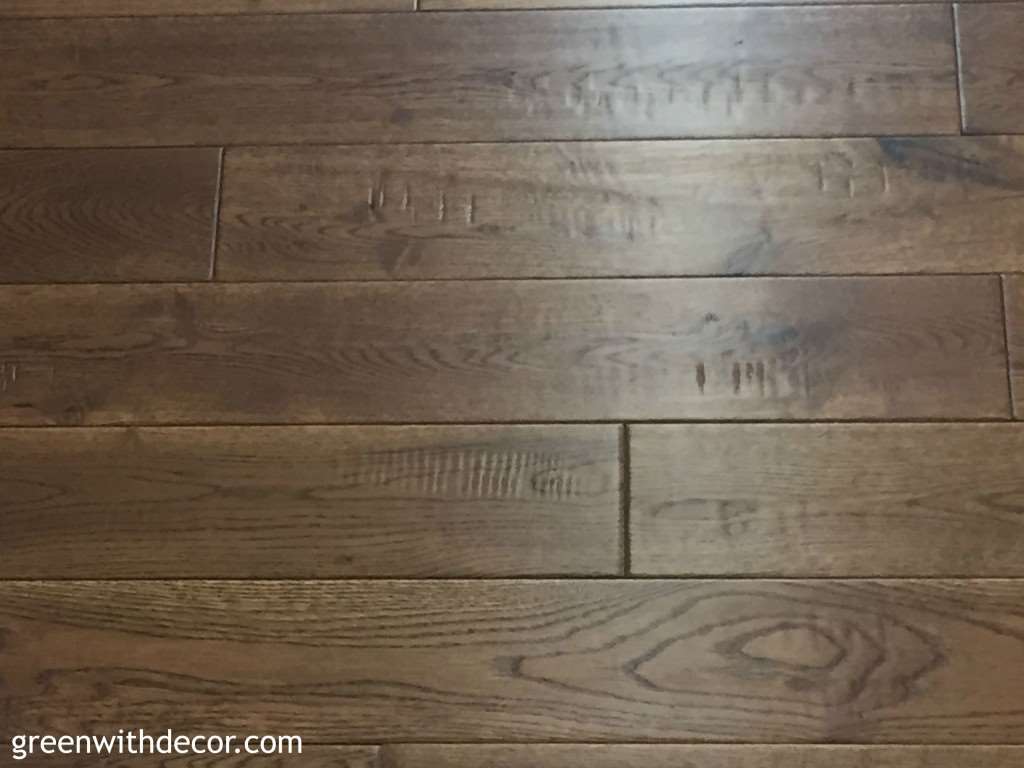 We'd picked out Camelback from Sherwin Williams for the walls on our first floor – except for Ryegrass paint in the bathroom, but we'd already decided we were keeping the charming original tile in there!
So we had a pretty neutral color scheme to work with throughout the rest of the first floor.
MIX AND MATCH SAMPLES
Visit a flooring store/showroom or bring flooring samples home to see them in your space – if enough of your renovation is complete you can really see what the floor color would look like in that room.
If you visit a flooring store, take along whatever samples you can to get the look and feel of your house – paint chips, fabric swatches, cabinet color samples, etc.
Our cabinets were installed so we could check out the floor samples in the kitchen – and even though the first floor wasn't painted yet – our second floor was, so we could take the floor samples up there to see what different samples would look like against the wall color.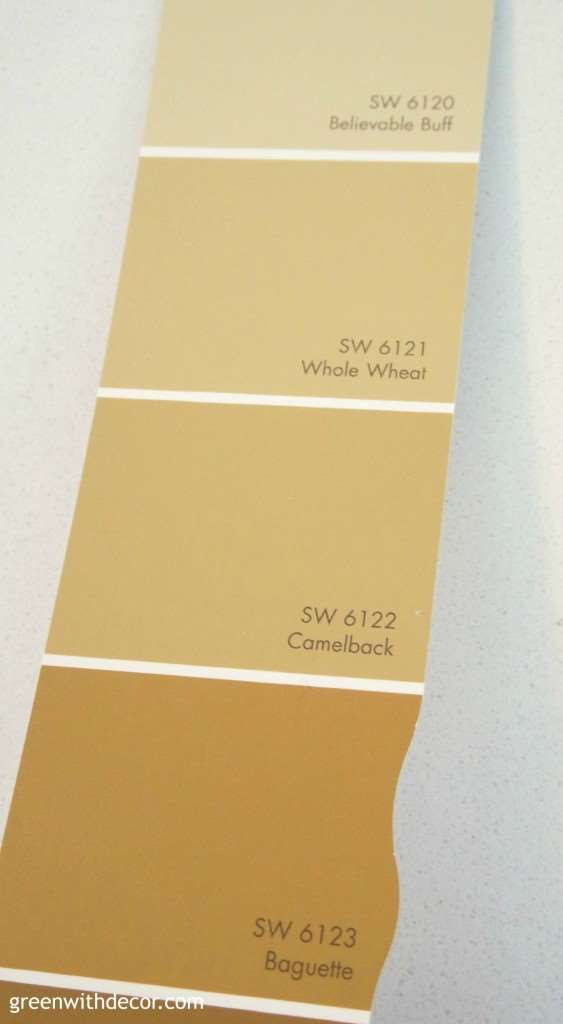 LIGHTING
If you take samples home, check them out in different lighting – natural light, nighttime, lamps … be sure that you like your favorite sample in each of these different lightings.
Have you ever loved something in natural light and then seen it at night and realized the color looked totally different? It happens!
HAVE A DOG?
If you have a dog that sheds, pick a floor color that will help hide some of that hair!
It's definitely not going to make it invisible, but white hair on a dark floor definitely stands out more than black hair on a dark floor.
We're planning on getting a dog in the future but haven't yet. A renovation isn't exactly prime time for a new puppy!
FINAL CHOICE
We really liked the Dark Walnut sample we brought home. I liked the thought of bright white cabinets, neutral walls and a dark floor to bring the kitchen together.
We looked at a few options – including Golden Oak, which was very similar to the original floor color – but I really loved the darker colors.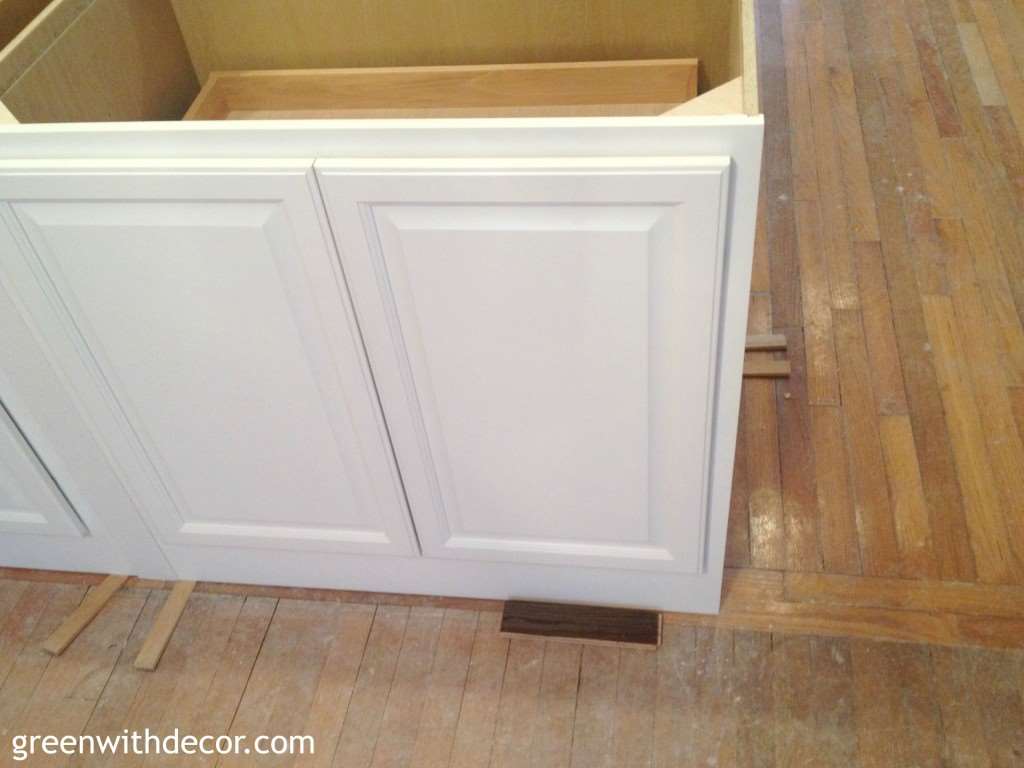 We debated between Dark Walnut and Jacobean, but the Jacobean stain can make the black ridges in the hardwood stand out more, so we went with Dark Walnut.
I loved it!
PLANK WIDTH
Color is important, but so is the plank width.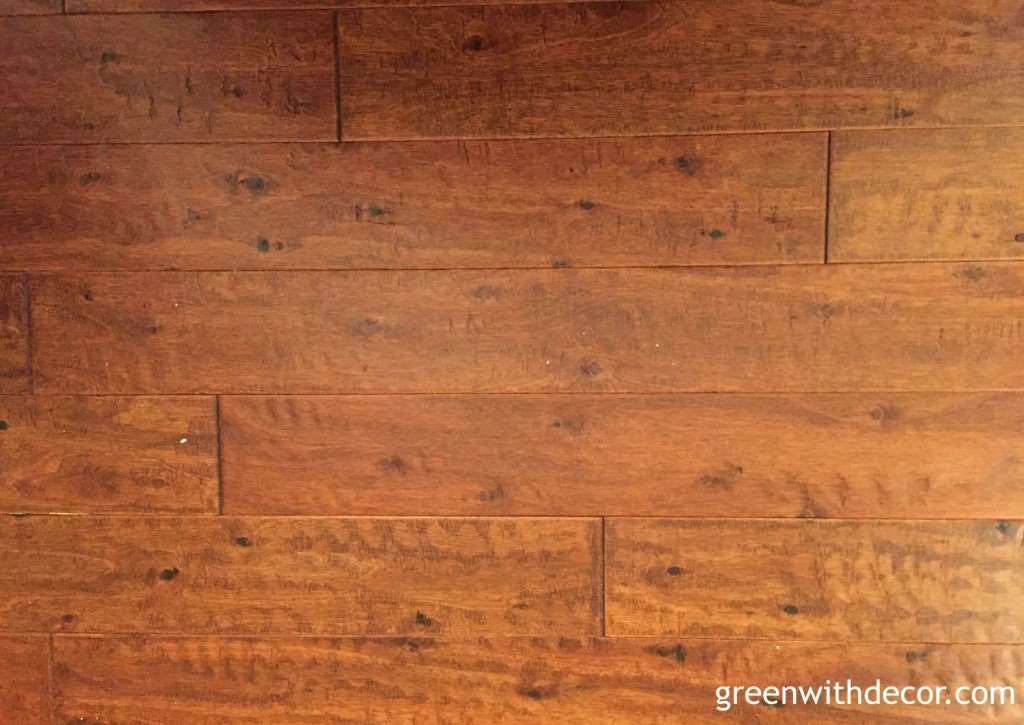 I love wide planked hardwood floors, but our living and dining room already had skinny planked floors. And staining those was waaaay cheaper than replacing then.
So, to be consistent, we were going with skinny planks in the kitchen, too.
We were lucky enough to reuse old hardwood flooring planks from a friend's cottage for our kitchen flooring.
The planks were red oak – different than the white oak we had throughout the rest of the house, but the chance to lower our costs and add some additional character to our house was an opportunity we couldn't pass up!
We did have to figure out a way to make the new kitchen floor and old dining room flooring come together without looking 'off'. (Update: You can see how we did that here.)
Cross that off the list!
You can see the finished hardwood floors here.
Planning your own renovation?
Download my printable Kitchen Renovation Checklist so you can easily keep track of each step.
*Please note: All printables and downloads designed by Green with Decor are for personal use only. Please do not alter the files or claim them as your own. These files are not intended for resale, nor are the printed versions of these files.
Remember to bookmark or pin this post if you want to save it for later!

Pin it!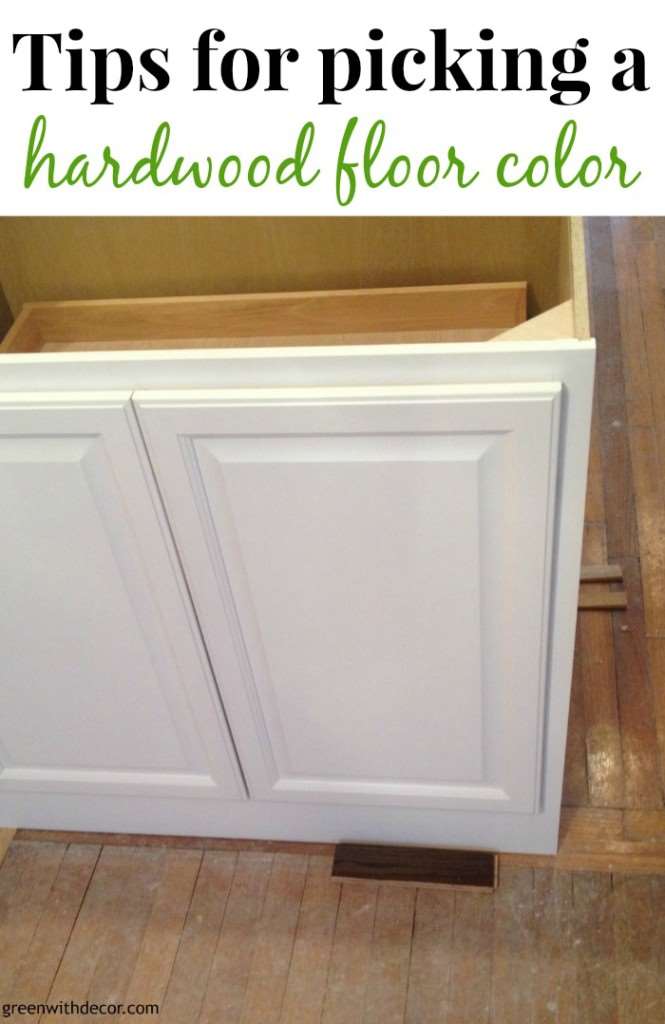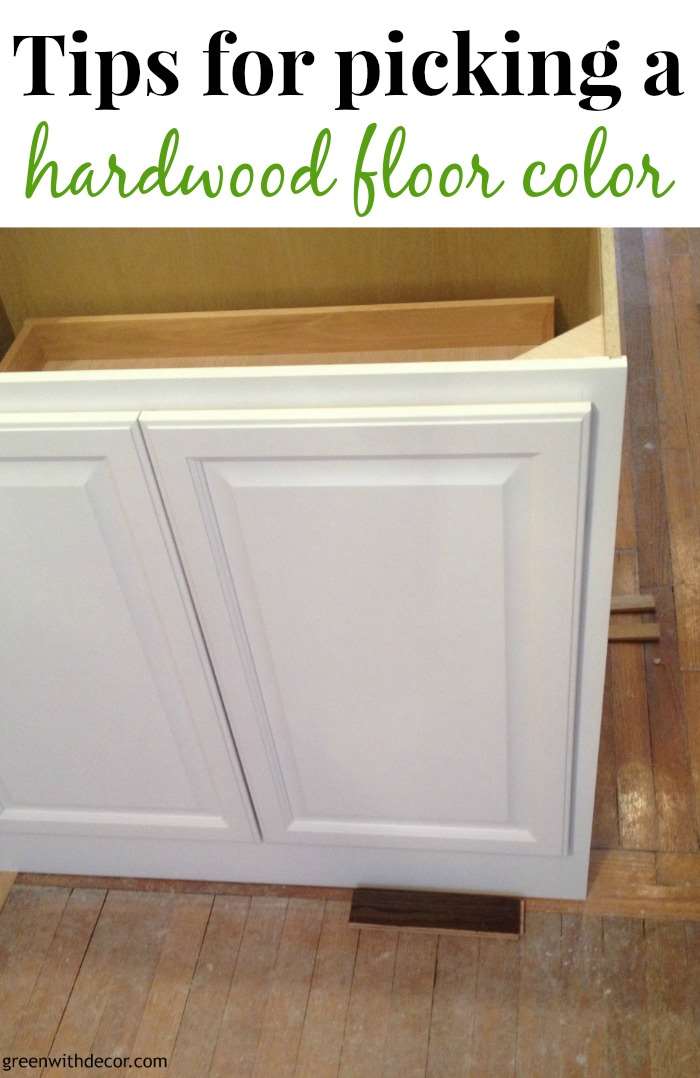 Want to read more posts like this?
Follow along: Get my emails | Facebook | Pinterest | Twitter | Instagram