Disclosure: This post is sponsored by Rug Studio. All opinions, images and love of rugs are 100% mine.
We've done a lot of projects around the house, but one thing we hadn't gotten around to upgrading was our rugs. Well except for the family room and the patio. Funny how the outdoor space got a new rug before most of the inside rooms!
We had an assortment of rugs near the front, back and side doors to the house and by the kitchen sink.
None were the same, and while they didn't look terrible, they certainly didn't look like something a designer would pick out for a cohesive look throughout the house. I'd had a couple of them since my first apartment!
I finally did something about the rugs! We have new MATCHING rugs from Rug Studio near the front door, side door and kitchen sink.
I think rugs by any and all outside doors are a good idea anywhere but especially in Wisconsin. When you have snow on the ground for several months of the year, you need a place for all those wet snowy shoes and boots to land.
But enough about winter, that's still months away. Let's talk about these beautiful new seagrass rugs instead: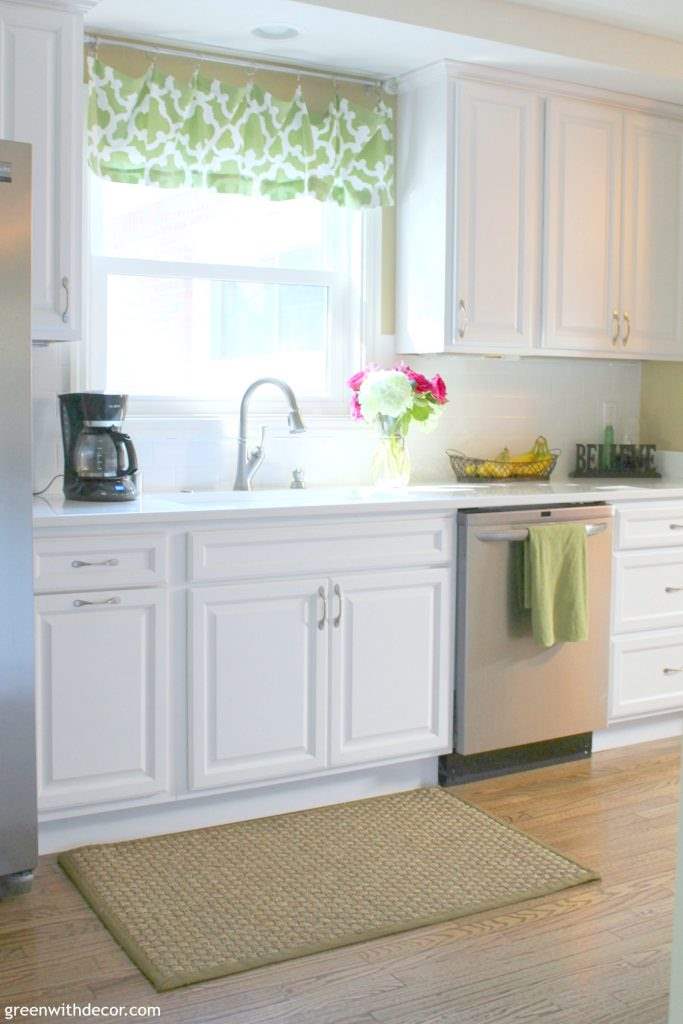 Of course I went with rugs with a green border. I love how the seagrass and green border flow with the color of our hardwoods. (Which, if you remember, I hated the color of our hardwoods when they were first stained.)
We put the rugs down about a month ago and a few people have been over since then and have asked if the seagrass rugs are comfortable.
Since so many people asked, I thought I'd write a blog post about how much I love them.
THEY'RE COMFORTABLE!
They really are comfortable! Not in the soft, plush rug kind of way of course, but they feel great on the bottom or your feet.
I really love that we have one near the kitchen sink so when I'm standing there washing dishes, I like the little massage my feet get.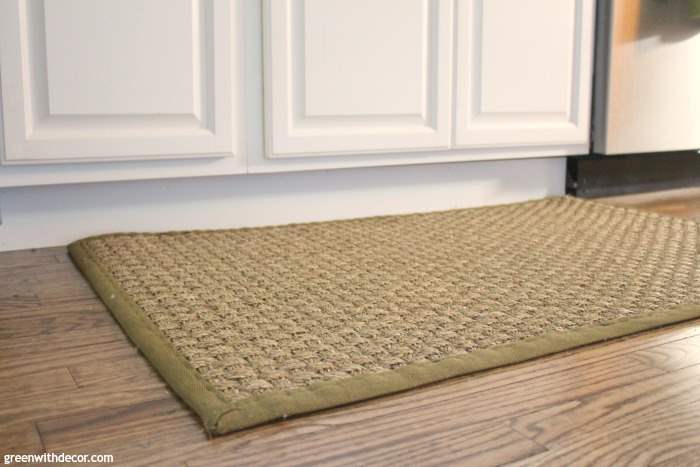 Now, I always have socks on. And I really mean always. My feet are always freezing and Oakley has a strange obsession with licking toes, so between those two factors, I always have socks on.
Kalen is usually barefoot and doesn't totally agree with me on the seagrass rugs being sooooo comfortable.
But he thinks they're fine. I think he should just wear socks around the house and then he'd love the little foot massage he'd get every time he walked across the seagrass rugs like I do!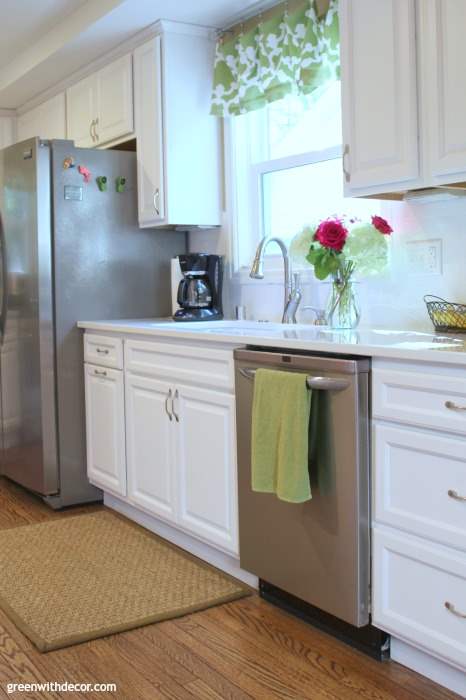 Even Oakley thinks they're comfy. And she's VERY particular about what surfaces she lays on. I'm not kidding.
She knows which of our blankets in the family room are the softest and she always goes towards those even if we've moved them around. I really don't now how we created such a monster.
Needless to say, I was thinking she wouldn't like the seagrass rug as much as the softer one we had by the kitchen sink before, but she still sits there while I'm doing dishes or Kalen is making meals.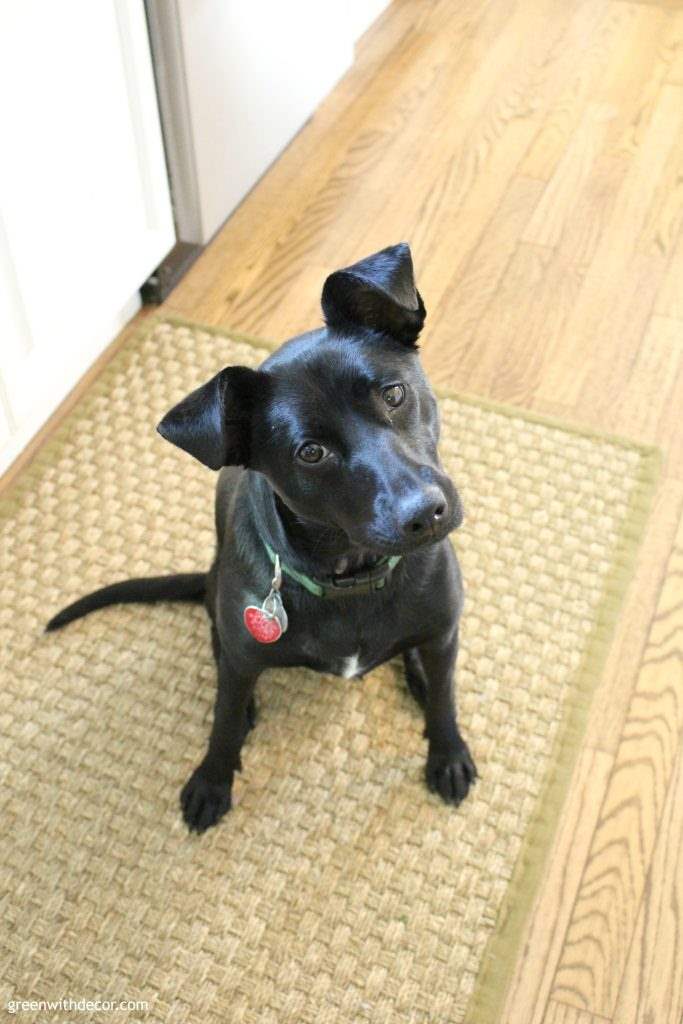 Because our little back hall area is right next to our powder room, we can't put a patterned rug here.
I tried it once with the old kitchen rug, and it just looked bad next to the tile floor in the bathroom.
But the seagrass rug is perfect next to the tile!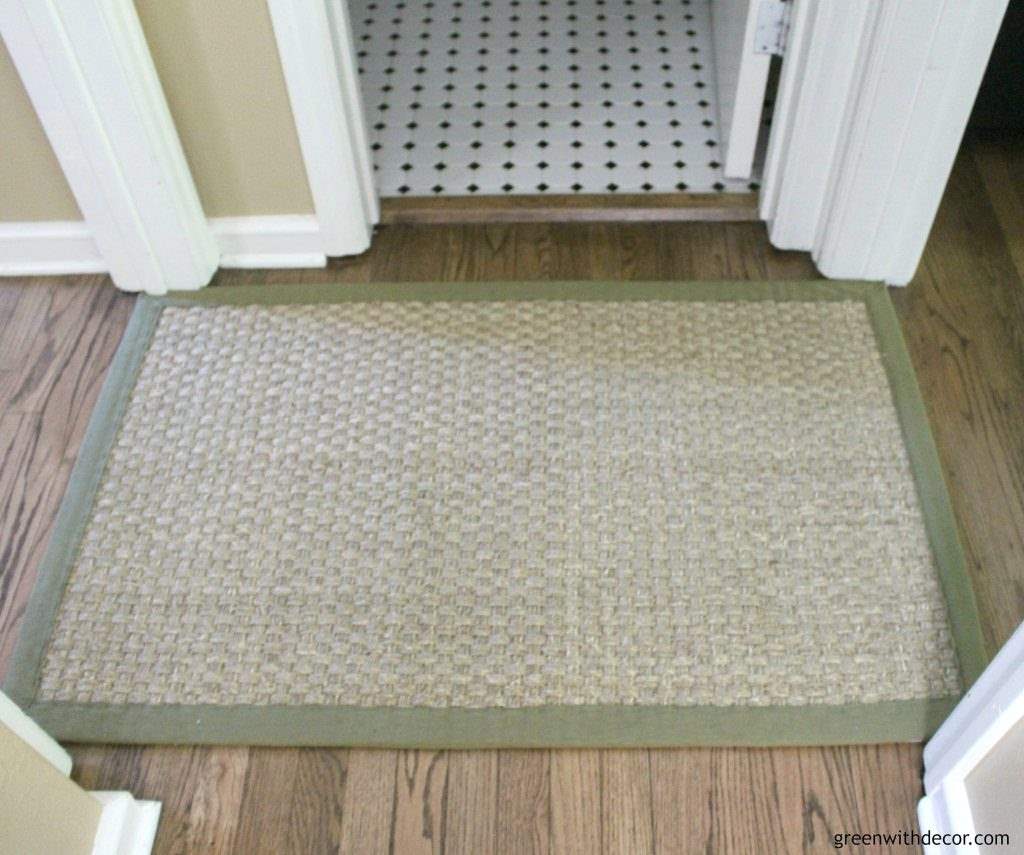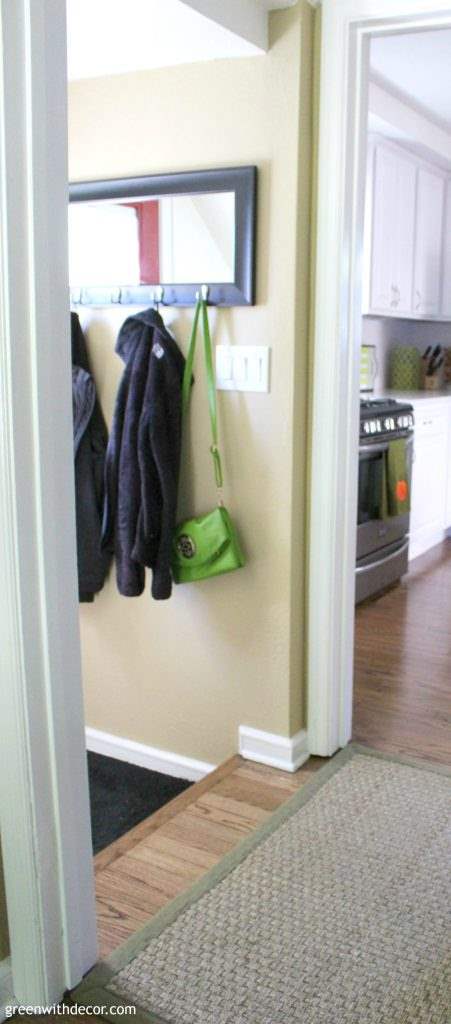 THEY HIDE DIRT!
Another of my favorite things about our new seagrass rugs? They hide the little woodchips Oakley likes to play with in the backyard and sometimes brings inside.
Usually she leaves them outside, but every once in awhile she forgets my rules about leaving outside crap outside and she sneaks a little piece of wood chip into the house.
It's nice if they end up on the seagrass rug because our house at least doesn't look as messy despite the fact the dog brought pieces of wood chips into the house!
THEY'RE EASY TO CLEAN!
Speaking of, the rugs are also easy to vacuum or shake out.
(Don't worry, we don't leave the wood chips Oakley brings inside just lying there forever.)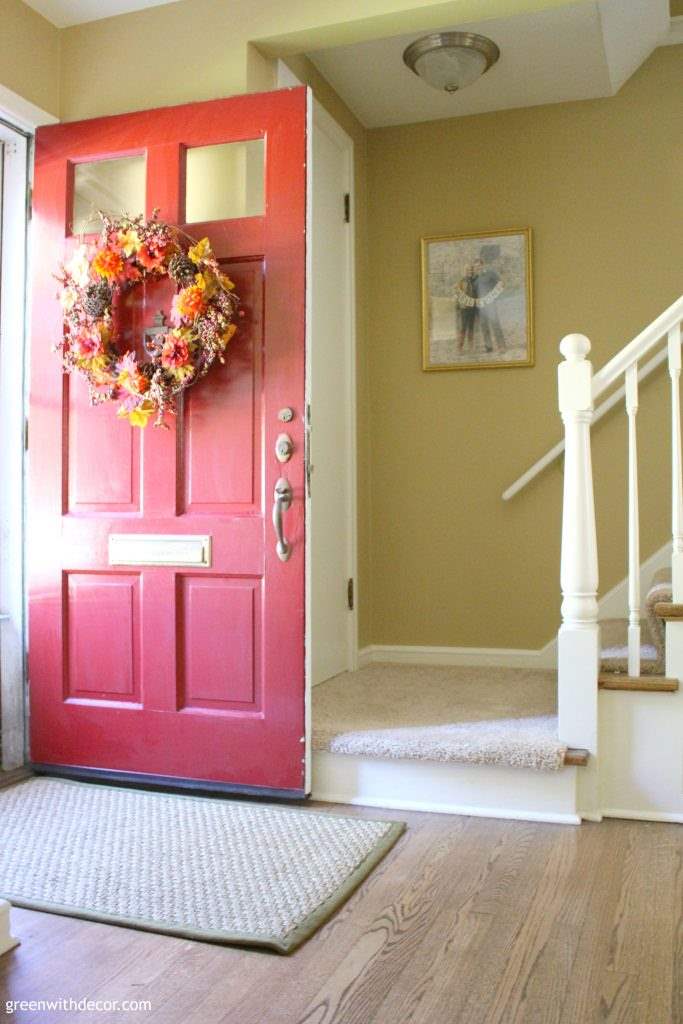 RUG PAD?
A friend asked if I get rug pads for the seagrass rugs. I did. We got our rugs from Rug Studio, and they recommended rug pads for the rugs.
We got these, and I cut them to size for each rug. They're great. The rugs haven't slipped at all.
Have I convinced you to buy a seagrass rug? If for no other reason than they feel like a foot massage when you walk across it with socks on! And they look good, too!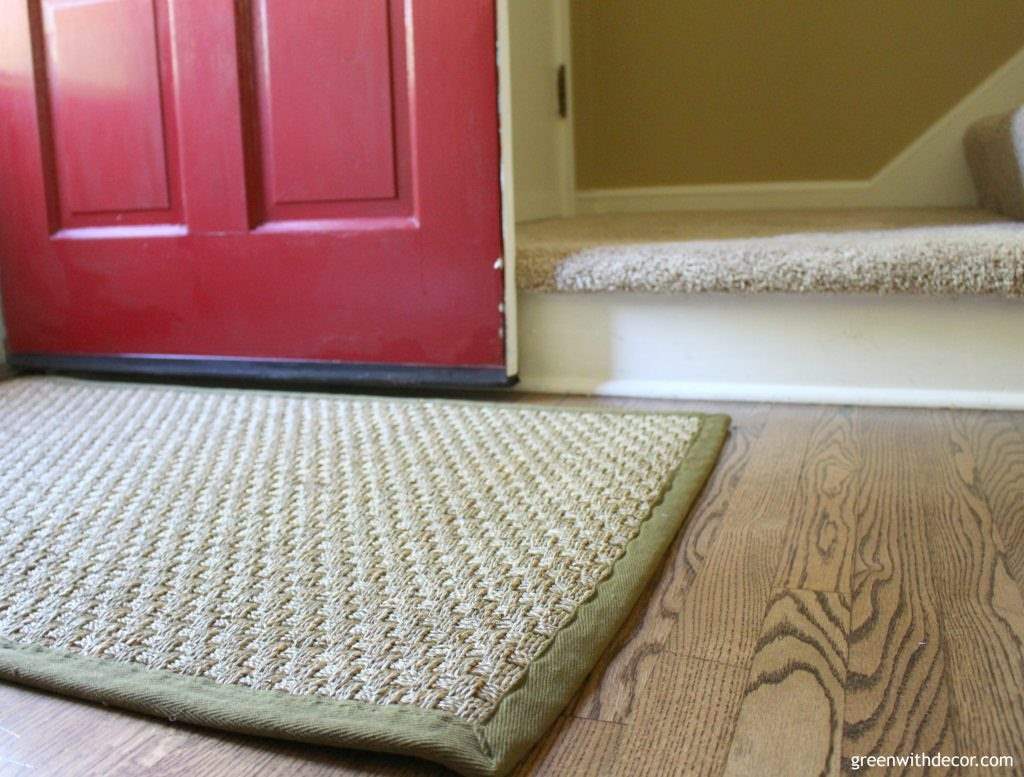 This post contains affiliate links. This means if you click the link and buy something, I may receive a small percentage of sales at no extra cost to you.
This post contains affiliate links. This means if you click the link and buy something, I may receive a small percentage of sales at no extra cost to you.
If you like decorating, you'll want to see these, too:
Remember to bookmark or pin this post if you want to save it for later!

Want to read more posts like this?
Follow along: Get my emails | Facebook | Pinterest | Twitter | Instagram